Hit my 10,000 SPI growth investment token target | Plans for becoming a millionaire

Last Sunday night, after a year of growing, I hit my 10,000 SPI target: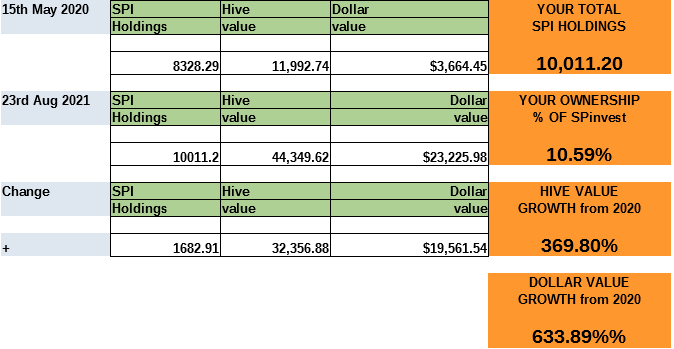 SPI is a Hive Engine growth investment token. In its third year, SPI has grown from $13,000 to a $203,146 fund - my share has grown from an investment of about £700 to £18,580. I loved the idea of being part of an investment club and it's been a great experience! SPI has achieved far more for me with my £700 (part of a PPI settlement, for people in the UK) than another way I might have used it. The compounding element is important, and the skilled investments (no nonsense).
Here's how my SPI portfolio looks: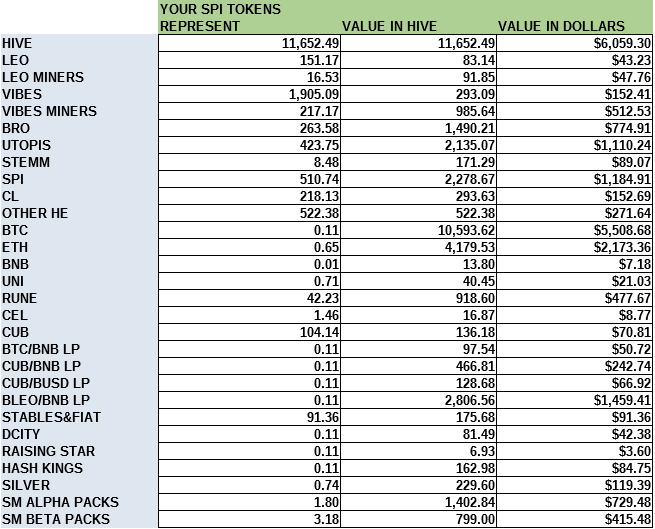 SPI fund holdings at 23 August 2021.
The Fund is great for someone like me: it is built on clear objectives (Get Rich Slowly), has a knowledgeable and dedicated founder (@silverstackeruk) with a sound reputation and a good network and a small team of interested active members who help to grow the fund. There are transparent weekly reports, and @silverstackeruk is easily accessible if there is a query. You can ask questions on the weekly post or through Discord.
I like the idea behind SPI, too: that all the holders of SPI pool their resources to increase their collective wealth (SPI stands for Socially Pooled Investments - great concept for a blockchain)! In the early days we saved up, week by week, and voted collectively for our first investments. I was especially thrilled with getting our first Bitcoin, and also silver, although it is a very small part of the portfolio now.
So what next? I bought SPI as an investment for the future - one of the reasons for my early ambition to own 10% of the Fund. Just for fun, I put the current value in a compound interest calculator for five years with the same rate of growth as the past year: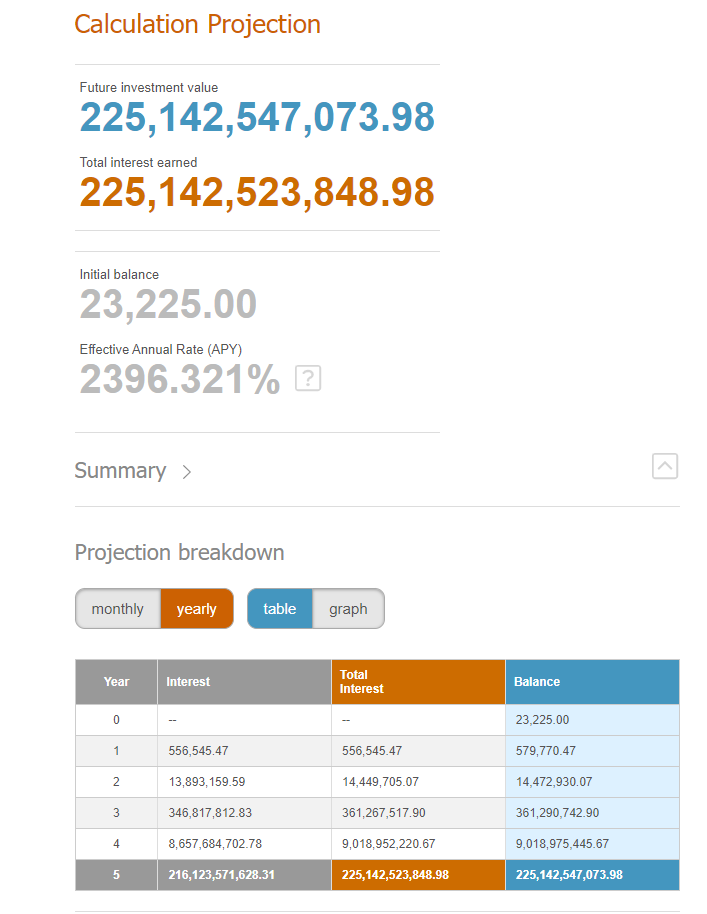 I don't even know how much money that is, but a compound growth rate of 85% over five years will create £1,000,000.
That will do nicely 🙂.
You can buy SPI tokens on Hive-Engine. Other tokens in the group include LBI, a LEO-asset backed investment growth token and two income tokens, EDS (for HIVE) and CL (for LEO). All four tokens pay weekly dividends. After SPI, my personal favourite is EDS - we give away two every week in the Saturday Savers Club on the @eddie-earner account.

Saturday Savers Club
I run a savings club every Saturday over on the @eddie-earner account. We're aiming to save £670 ($800) by the end of the year using the 365 day savings challenge. You can join any time of the year and set your own goals and plans (some people are saving Hive, others Bitcoin, some their local currency). We share savings tips and there's a free giveaway every week.
Wednesday Wellbeing Club
I'm hosting a Wellbeing Club on Wednesdays from 11 August until 24 November 2021 in the Natural Medicine community. It's for anyone who wants to make a lifestyle change. We have a weekly check-in and hot wellness tips, and a weekly giveaway. Here's the back story and the launch post with more information. Everyone is welcome.

Three things newbies should do in their first week and, for most things, forever afterwards!
---
---