Hive Power Up Day - 1 March 2022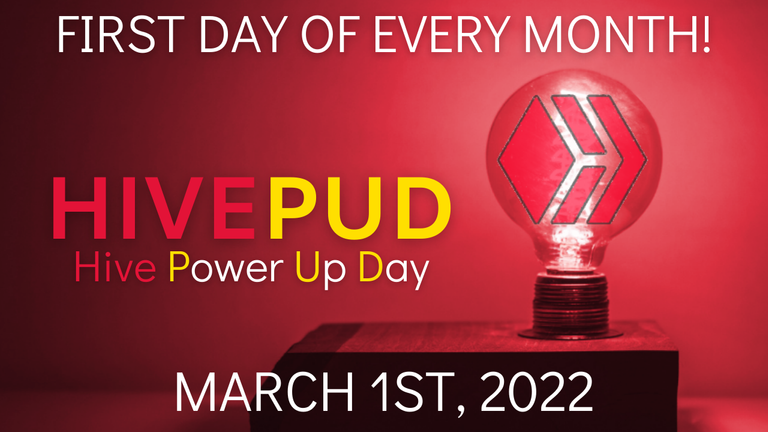 Source Hive Power Up Day co-ordinated every month by @traciyork. Follow for regular updates - eligible accounts may win prizes.
Why Power Up?
I'm sorry that the world is in such a sorry state as we're taking part in this HivePUD. I'm glad we have something like Hive that can get messages and crypto where they are needed. I hope that humanity prevails and this mess and all the others around the world are sorted out. For me, those messes and the destruction of people's lives presses home, all the more, the reason to grow your stake in Hive.
For anyone who is interested in alternative ways of organising, I posted a fundraiser for a new book about anarchism and how it applies today.
Portfolio
I have a small portfolio of tokens selected against the following:
the model for the token: what is the long-term project? is there a plan? is it viable?
the team behind the token: what is their reputation and experience, how accessible are they?
what risks are involved and how are they being managed? is the project sustainable?
how transparent and accountable is the project? is there regular reporting?
how does the token fit with my own values and plans and attitude to risk?
Hive, Hive Power and HBD
After investing in Steem, the predecessor to Hive, for about a year, I went to what was then SteemFest, in Krakow, Poland. I went to check out, in person, what was involved in Hive - witnesses and developers, project leaders and the community. Since then, I've been to several meetups in the UK: it is always good to meet people (and fun), and I get a much better feel about what I am investing in. I believe Warren Buffet says the same: know the company blockchain 😁.
My primary target now is building towards 100,000 Hive Power by the end of December 2024. I had a small windfall recently which I used to increase my investment in Hive and HBD.
SPI (growth token)
Disclaimer: I hold approximately 11% of the SPI fund and I am part of the leadership team.
SPI comes from a great idea - pool the resources of all the investors and use it to earn income which is then re-invested and continue to grow the pool. It is run under UK Investment Club rules and the early days were very exciting: we'd save the income and when we had enough we had a group vote about what to invest in. The most exciting one for me was when we saved for the silver we hold. It's one of the smallest assets now, but it was the first time I had invested in precious metals!
The fund has grown from a starting place of $13,000 dollars and currently has a value of $280,300 approximately 30 months later. Having made initial investments and secured a wide portfolio of assets, the fund continues to grow. The value is consistently increasing and decreasing, depending on the value of Hive and other holdings, but the fund has the following benefits:
every token is fully asset backed.
a skilled asset manager and a small team of dedicated active token-holders.
it reports every week with full transparency and accountability.
SPI is a long-term investment - three to five years is a sensible amount of time to HODL. The fund pays approximately 8% dividends to fund holders every Sunday, at the same time as the token value continues to grow. Dividends are paid in SPI, and from 20 March 2022 will be paid in Hive. Later, there will be a token split, separating the growth element from the income element.
I loved the opportunity to become involved in investing first-hand with a comparatively small stake: SPI offers a much lower barrier to entry than other forms of (off-chain) investing. I can be as involved or detached as an investor as I want to be: I don't have the time to investigate pools and farming and I'm delighted that other people are managing that for me. At the same time, I know who the people are and can ask questions at any time.
It has always felt to me that SPI is a continuation of other collaborative ideas to build wealth and follows on from the long tradition of credit unions, pardnas and co-operatives. I have invested as part of my retirement (passive) income.
EDS (income token)
Disclaimer: I hold approximately 10% of the EDS circulating and I run the Saturday Savers Club.
EDS has to be my favourite token. It follows a similar principle to SPI in that resources are pooled and used to create a Hive income, currently about 22%, which is then distributed to token holders each Monday. This token is fully asset-backed with Hive: post and curation rewards are powered up, all second layer tokens are sold for Hive and also powered up.
EDS are available to buy, however, the main route to EDS now is through purchasing a miner. The current miners, EDSM, cost 10 Hive and have a 20% return each year. There is a long-term plan for EDS, including a second miner when the current one has sold out. The project is run by the SPI team and benefits from the same fund manager. Both SPI and EDS have contingency plans in place.
Again, EDS forms part of my plans for a passive retirement income. I have always thought, though, that EDS is a great token for grandparents who want to set up a savings fund for grandchildren. It is so straightforward and a great way to help children and young people get the savings and money managing habit. The income could be used to reinvest in more EDS tokens and over 18 or 21 years would grow to a significant amount - just right for a contribution to college or housing expenses.
Summary
| Token | January 2022 | March 2022 | Value | Notes and Plans |
| --- | --- | --- | --- | --- |
| Hive Power | 60,000 | 61,100 | $57,218 | target: 100,000 |
| LEO | 3,293 | 3,742 | $755 | target: 5,000 (delegated to @meowcurator) |
| Hive | 500 | 1840 | $1,740 | target: 1,200 savings |
| HBD | 170 | 508 | $502 | organic savings |
| SPI | 10,227 | 10,336 | $30,801 | growth token Hive dividends from Sunday 20 March 2022 (@spinvest) |
| EDS | 2,184 | 2,312 | $1,952 | income token Hive income on Mondays (@eddie-earner) |
| LBI | 5,000 | 5,000 | $1,876 | growth token Leo dividends Saturday (@lbi-token) |
| EDSM | 25 | 30 | $281 | Miner 20% return |
| CL | 1001 | 1001 | $362 | income token Leo income Friday |
| STEMM | 20 | 20 | $431 | Miner |
| UTOPIS | 100 | 100 | $76 | Hive income Monday |
Notes
SPI - Starting fund $13,000; Value 27/02/2022 $280,304; Assets: 39% Hive; 15% BTC; 6% ETH; 25 other income streams.
Portfolio: @susie-saver
| Token | January 2022 | March 2022 | Value | Notes and Plans |
| --- | --- | --- | --- | --- |
| Hive | 0.1 | 16.53 | $15.50 | 2022 Saturday Savers Club savings |
| Hive Power | 1,215 | 479 | $449 | powering down to transfer to @shanibeer |
| HBD | 0 | 0 | 0 | transferred to @shanibeer |
Notes
Alt account to deposit weekly Hive savings as part of 365 day challenge on @eddie-earner account.
Portfolio: @shani.jahming
| Token | January 2022 | March 2022 | Value | Notes and Plans |
| --- | --- | --- | --- | --- |
| JAHM | 397,434 | 406,440 | $166 | wild card! |


Three things newbies should do in their first week and, for most things, forever afterwards!

---
---