Hive Power Up Day | 1 October 2021 - Building Wealth for Retirement | Getting to the first million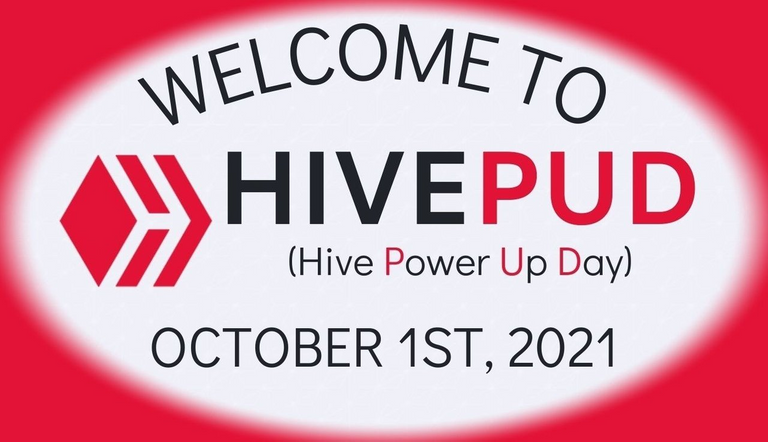 Source Full details about the monthly Hive Power Up Day on this post by @traciyork.
Hello Silver Bloggers,
Well, we are being lashed with the weather in the Middle Lands of England this week. Mostly heavy rain and then a few seconds of brilliant sunshine to tempt you out to get caught in the next deluge. It's definitely Wellington boots time.
Meanwhile, I'm safe in the warm putting together my Hive Power Up for October 2021. I'm aiming to build my Hive account over time to 100,000HP and this month, I'm powering up to 58,000HP. Last month, I notice that I put some great plans for increasing the number of posts I publish each week, then I went back to work after a holiday and hit reality!
I've really got interested in this idea about building £1,000,000 for retirement. This is really down to a changed mindset about my relationship with money. I never thought being a millionaire was anything to do with me, but, why not? Of course, it gets easier every year with inflation, but still, it is moving beyond the essentials required to have enough for my needs and starting to play with what could be possible. I would enjoy having some extra but, in the same way as on Hive, it is also about having influence. I don't mean making donations to political parties or lobbying for this or that; I do mean having the wherewithal to invest in the changes I want to see.
So here's a brief summary of some of the things I'm doing on my way to that £1,000,000.
Keeping an eye on and managing investments
I moved most of my pension funds from various places into one investment pot. I check it every month and have a review with an independent financial adviser each year. We've made a few changes over the past couple of years, but mostly this is about leaving things where they are and letting them grow.
Building an emergency fund
Recently, I wrote about building my emergency fund for retirement. I'm aiming to have a fund equivalent to roughly twelve months outgoings so that I know I could cover all my living costs for a year without having to draw on savings or investments, if I needed to. I'm saving a regular amount each month, I'm 67% of the way there, and it should take me another 4 months to reach my threshold - so by 31 January 2022. That will be great. I will also be free of another time suck by then.
In addition, I've been having a look at where I'm spending money I could be saving. The Saturday Savers Club, over on the @eddie-earner account, has just completed a NO-BUY month. I wrote a mid-month report and now, having reached the end of the month, I'm really pleased with the results:
I reviewed where money is going and made a few changes. These were really simple things like setting the washing machine to come at night when there is a cheaper electricity tariff and turning off anything on standby or with an LED display.
I changed my shopping habits, cutting down on casual trips "for a pint of milk".
Postponed all large or non-routine expenses and put them on a list for planned purchases.
I'm doing the final accounting (and another post) tomorrow, but I estimate I've saved an additional 13% this month towards my emergency fund. This has been prescient as, in the UK, energy prices are surging with estimates that fuel bills could increase by between 30%-50% over the next twelve months. Having a greater awareness of where money is going and stopping it leaking away will help to mitigate those increases.
Getting a side gig
In many ways, the easiest and most accessible side-gig is Hive. Back in Saturday Savers Club, we are going to be looking at side-gigs through October, especially anything you can do that doesn't require qualifications or investment of capital. I've come up with ten different ideas for the five Saturdays of October. I guess an easy win would be using the research I've done to write some complementary Hive posts and help towards my Hive Power Up ambition.
Can you become a millionaire through Hive?
I guess it depends on three things:
how long you're prepared to wait - HODLing is fundamental.
being consistent with working at it - whatever that work might be.
whether your mind is open to it.
It may not be Hive itself that provides the million, but it is definitely a route!
Happy Power Up Day!

Saturday Savers Club
I run a savings club every Saturday over on the @eddie-earner account. We're aiming to save £670 ($800) by the end of the year using the 365 day savings challenge. You can join any time of the year and set your own goals and plans (some people are saving Hive, others Bitcoin, some their local currency). We share savings tips and there's a free giveaway every week.
Wednesday Wellbeing Club
I'm hosting a Wellbeing Club on Wednesdays from 11 August until 24 November 2021 in the Natural Medicine community. It's for anyone who wants to make a lifestyle change. We have a weekly check-in and share wellbeing tips, and a weekly giveaway. Here's the back story and the launch post with more information. Everyone is welcome.
First Monday - NeedleWorkMonday Community
Every First Monday of the month, I host a Live Chat for an hour from 7pm for the Needlework Monday Community. Bring your knitting, sewing, crochet (or nothing, that's okay, too), a nice cup of something, and join us for a relaxing hour of chat. Find our more in this post
Three things newbies should do in their first week and, for most things, forever afterwards!

---
---