HPUD | 1 April 2023 | 79,400 HP | HBD Savings | Getting ready for the bull run: XV Token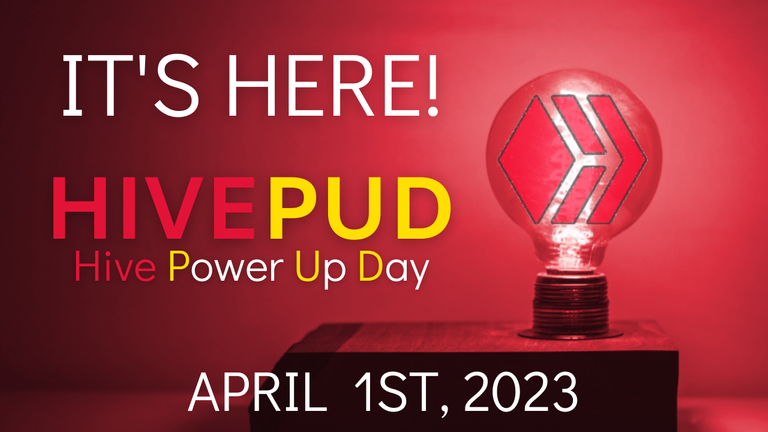 Source Hive Power Up Day - details here hosted by @traciyork
Primary Goals
I forgot to report on these last month. Let's see what's happening.
Work - Have agreed a new contract. Very happy about that!
Travelling Books - Have three assignments on the go. I'm on holiday for a few weeks, so I will have time to spend on them after a very hectic March.
House Up-Do - We've moved to the compromise budget (that's the one where the builders have submitted their quotes and your ideas collide with reality). It's going well, though, and I've put alternative accommodation in place for when the work starts.
Debt and Emergency Fund - One increasing and the other wiped out by my shock decision to buy a caravan last month! It was a good deal and I'll have somewhere to live while the house is done.

HIVE POWER
I found some odds and ends in various accounts, refunds and cashbacks, which I had forgotten about. I decided to buy some more HIVE and so this month I'll have a total of 79,464HP over last month's 78,000HP. Last time I looked, I was knocking on the door of the top 200 HP holders at number 201. I'm hanging on by my toenails - will I keep my position or get batted back to 202 or 203 or even 210? 😁
HIVE POWER is long-term, of course, building the platform and a future. I continue to vote as an Orca and delegate most of the remainder to three curation projects to support as many accounts as possible.
I will continue to buy small amounts of HIVE in the next quarter using unplanned monies (my car insurance just wrote to tell me they had made an error in the price of my breakdown cover and would be returning some money to me - that sort of thing). I'm going to wait until later in the year for any big HIVE purchases, mainly because I think the price will drop.

HBD savings
I enjoyed getting a dollar a day in interest for a month and then I decided to put away regular HBD savings towards a big purchase I will have next March. I have a plan B in case it doesn't work out, but I thought it would be interesting to use HBD savings for a real commitment.

XV Token - Launched 1 March Sales Close 10 May 2023
This has been designed to coincide with the next bull run. There's lots that I like about it - it's a set and forget investment, just HODL until the time comes not to; the investments are spread over a range of tokens; a low price of entry; and, most importantly for me I've learned over this past month, there is a set date when everything will be sold and cashed out.
I liked the idea, and it's run by @silverstackeruk, who already has four years reputation running SPI investment fund, plus two years with the silvergold community before that. I knew I was going to invest in it, but my primary goal this year is building my HP. I was pondering how to finance the XV investment.
Over in my Hive-Engine wallet, I have a holding which was nearly 20% more than my original target (I had always planned to hold 10% of that fund). I 've had a big struggle reconciling myself to the idea that I can sell some of that holding to finance the XV investment 😂. I was the same with my savings: I struggled to spend them, even though it was for something I had planned!
I got there in the end, and my investment is growing nicely. There's about six weeks left to buy tokens, by which time I should have reached my target. The fifteen tokens are already in the basket and earning - latest information.
TL:DR
available for sale for 10 weeks from 1 March (1 billion available).
issued by SPinvest (@spinvest): gold standard investment and growth fund.
all HIVE from tokens sales invested in basket of 15 cryptos ranked in top 50.
cryptos held in offline wallets, some maybe earning APY.
basket re-balanced every six months, monthly reporting.
June 2025, SPinvest converts cryptos back to HIVE and buys back XV tokens.

Everything Else
Hit 10,000 SPS and 6,000 LEO in the past week or so, and still at number 30 in the ListNerds rich list with about 24,000 LISTNERDS.
I hope the CTP team are able to get round to releasing the updated version of ListNerds soon, it's a great programme and deserves more use. Even with the reduced numbers, I still find new and interesting content.
It does take a while to learn how everything works, but there is a free subscription (one email and four votes per week) and it is an ideal way to reach new people if you are a small account on Hive.




Page dividers courtesy of @barge | Saturday Savers banner by @raj808
Posted Using LeoFinance Beta
---
---