Hurrah! Holidays - Travelling Light
I'm really enjoying getting back to travelling again and I have several short trips planned over the next couple of months, including the UK HIVE Meet-Up in June. There's also a suggestion that we meet in person for the Strategy Day planned at work. This would the first trip I've made into London since 5 March 2020.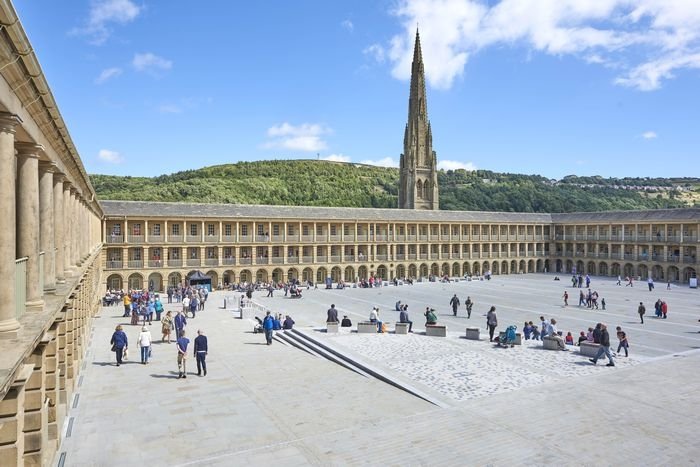 Source The Piece Hall, "a Grade 1 listed Georgian masterpiece and the oldest remaining Georgian cloth hall in the world", one of many amazing things to see in Halifax, where there is a UK HIVE Meet-Up in June 2022.
I like to travel light, and there are a couple of things I think about when I'm planning what I'm going to take with me: what am I going to be doing and what will the weather be like. Is it a few days at the beach - all you need is some swimwear, a cover-up and some flip-flops. Or rock climbing with maybe some specialist shoes or gear involved. Or a formal event like a wedding or a trip to the opera.
One of the great things about fashion over the past couple of years is the blurring between smart and casual, so hoodies and joggers are being worn with blazers and heels, as well as with trainers and a water bottle. Last year, I went to a family wedding wearing the 2021 Summer edit of Crocs, at the time at the peak of their fashionable popularity (who would have thought that would happen), with a smart dress and cropped denim jacket. (I was delighted my fifteen year old great-niece told her mum that she wanted shoes just like mine. Result)!
What's happening is that the same clothes can have multiple uses in different situations, smart and casual, and that's really great for minimalist packing for a few days away. Another consideration is how well a garment travels: can it come out of the suitcase ready to wear? I tend to buy things that are wash and wear, don't need ironing, and creases will drop out once they've been hung up for a couple of hours. A top tip is to hang things in the bathroom where steam will help reduce packing wrinkles.
When I was travelling regularly for work, my base uniform was jeans and boots with socks, which never varied, summer or winter. I found them the most practical and comfortable in any weather, including high and humid temperatures, especially for avoiding blisters.
This made travelling very easy, I could add changes of light cotton tunics and tops, a knitted linen top layer (which doubled as a dressing gown) and a mac that folded into on its own pockets. The linen layer and mac together also provided warmth, if needed.
This all worked really well, I could pack everything I needed for a couple of nights, plus diary and reading book, into a messenger bag. Until one summer, I was caught in torrential rain and my jeans were soaked to the knee. No amount of blotting with towels and hanging up in the window of the hotel dried those jeans enough to be comfortable wearing the next day.
I've moved over now to joggers or cargos made of materials like tencel or viscose, and carry a pair of leggings in my bag. That way I have an alternative or I can wear both layers if it is cold, and either layer will dry quickly if it gets wet (or I want to wash them while I'm away).
For travelling I have four different receptacles: my messenger bag (great for overnight and weekend stays) and three suitcases from aircraft cabin size, medium-sized for a week-stay or carrying my mini-kitchen and one of those rolling wardrobe size for long-stays. All are sturdy and will stand up to getting thrown around or dropped from a great height and the suitcases are lockable. And they all have wheels, an innovation that made travelling so much easier.
I pack in bags: you can get packing squares (not always square), but I've kept several robust packaging bags from things like curtains and bed linen. They have fasteners, either zips or poppers, and fit my cases perfectly. Those are supplemented by some transparent zip up cases for things like chargers and cables. I have a light weight travelling tote bag that folds into its own pocket, and I usually have a couple of folded carrier bags and food bags in one of the case compartments.
I like to fold clothes for packing, aiming for the least amount of creases. Underwear and nightwear tend to go in one packing square, and top layers shared between one or two other bags, depending how long I'm going for. I also have cotton shoe-bags and numerous other little lightweight bags for things like toiletries or if I am taking any knitting with me. Everything is stored in the suitcases when I'm not using them, which seems obvious but took me a while to learn to do.
Travelling is where the capsule wardrobe concept can really come into its own. In a capsule wardrobe, everything can be worn with everything else, especially in terms of colours, and then have an additional small items (scarves, jewellery) that can make each outfit look individual. I've got a lot of blues and greys in my wardrobe, easy to pull together, and tend not to show the wear and tear of travelling, unlike the white top I bought last summer.
I like this formula for putting together a capsule wardrobe. I tend to lay everything out on the bed so I can see it all, before I start packing:
bottoms or anchor pieces: these tend to be cargos, joggers or leggings for me.
pairing pieces - tops, all will go with all of the anchor pieces, and can be layered with each other for added warmth or look.
layering pieces or toppers - hoodies, cardigans, blazers.
statement pieces - could be shoes, an overcoat, or a stand alone piece like a dress.
sprinkle pieces - bags, belts, scarves.
It's a good checklist for thinking about things, and deciding whether you want something in that category or not. This model comes from Emily Wheatley, although there are many other similar models around. I've found this one dead-easy to adopt over time.
Okay ... don't forget your wallet and phone and whatever you want to read on the journey!
Happy holidays!
A response to Option 4 in The MINIMALIST's travel blogging challenge


Three things newbies should do in their first week and, for most things, forever afterwards!
HIVE UK MEET-UP: Saturday 18 June 2022 | 12.00-5.00pm | Halifax, West Yorkshire.

---
---