I'm Making Socks! Getting a better fit and looking after your hands
Customised Fit
I've started my customised socks, adapting a simple pattern for plain socks to my personal measurements. The main adjustment has been the heel flap - I've made it longer to match the length from the middle of my outer ankle bone to the floor. I've also made a slight adjustment to the length of the foot.
I'm really pleased with the fit of both so far (I've only been trying them on as I'm making them, I haven't worn them yet). The modified heel flap is really snug around my ankles, it makes the socks almost like a little bootee and the length is very comfortable.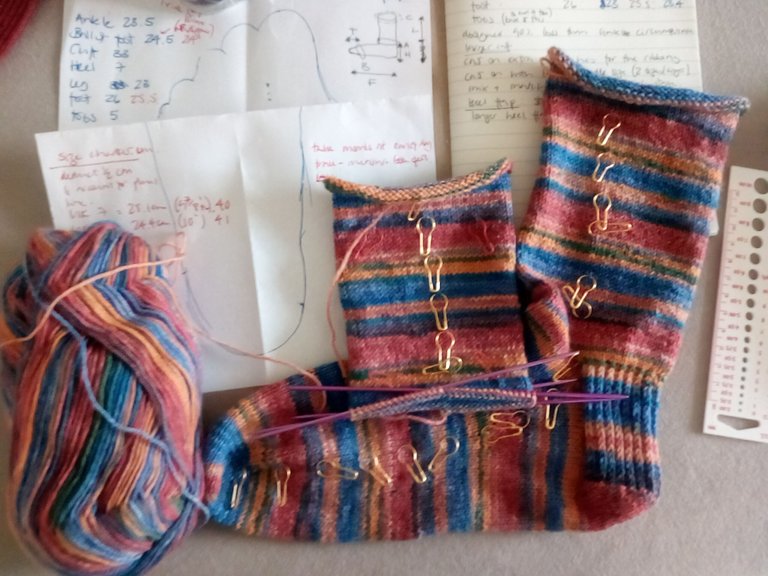 .
You can see where the fabric of the sock is drawn in at the heel flap - so comfortable and snug around the heel. I'm placing the stitch markers every ten rows so it is easy to keep track and match the second sock against the first. I've left the cuffs for now, I wanted to see how much wool was left and whether I could make the leg longer before adding ribbing.
I tried this sock on and then one I had made earlier. The difference in fit and comfort was noticeable, the earlier sock is wearable, but the latest adapted one is much more comfortable.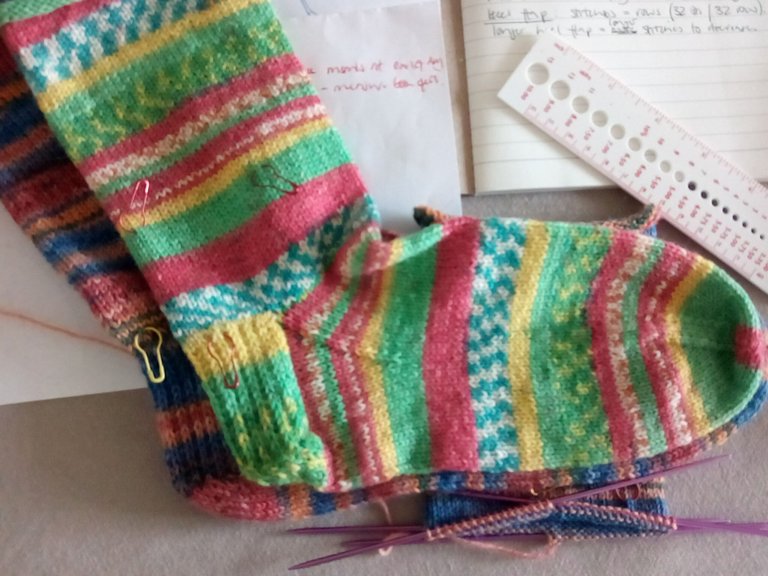 The stitch markers show where the heel flap starts on each sock. The latest one is about 1.5 cms longer and designed for my feet. The foot length is also slightly longer with additional rows.
DPNs vs Circular Needles
I'm knitting the latest socks on double pointed needles (dpns) rather than circular needles. Whichever tool I use, I find the start a little tricky, and the gauge is much looser in those first few rows. Once I get into the swing of knitting, I find the dpns are much easier to use and much faster. The magic loop method was driving me mad - so much messing about moving the stitches from the cable to the needle!
Other circulars have been recommended, with a more relaxed cable and a better joint between the cable and the needle. There are also those tiny circulars with one short needle and one longer one - these look like knitting may feel a little cramped; and the pack of three dpns with a flexible cable between the two needle ends. These might be good for socks or other small projects - has anyone tried them?
Meanwhile, as I'm planning to do stranded colour work and dpns seem to be the best option for controlling floats, I'm happy to keep practising with dnps. The recommendation is to knit lots of plain socks to become really good at managing the materials and equipment and controlling gauge.
Metal vs Bamboo vs Carbon DPNS
I'm using metal dpns at present, a set I bought at a Knitting Show when I wanted to start some knitting to pass the time. I have bamboo needles, which are recommended for beginners as they provide a bit more friction to keep the stitches on the needles, they are warmer to handle but also slightly slower to knit with (there are about 20,000 stitches in a pair of socks). I wonder, as well, how sturdy they are when they are so thin - I'm using 2.5mm diameter needles.
The metal ones can feel very cold and uncomfortable to use if your hands are cold, too. I find they are also quite harsh and tend to aggravate the arthritis in my thumb joints, especially on the right hand, even with lots of breaks and hand exercises. I've discovered carbon needles with metal tips - very light, warm to the touch and they flex slightly without breaking. I've ordered some to try, I hope they will be less harsh on my hands without sacrificing speed and durability.
Gauge
This is improving mightily with practice, I've gone from 28-29 stitches to 32 stitches per 10cms. I'm aiming for 36 stitches per 10cms, the recommended gauge for socks for durability and fit. I've ordered the new carbon dnps in slightly smaller diameters - 1.75mm, 2.00mm and 2.25 mms - to see which size will give the correct gauge. Amazing how much my sock knitting has come on since my first experiments!
Hand Exercises and Good Practice
I'm getting much better at taking breaks when I'm knitting. I've adopted a similar pattern to the one I use for computer working: twenty-five minutes knitting and then I get up and move around for five minutes, sometimes a bit longer, it depends what I'm doing (I keep all my little chores for these moments).
After trying different chairs, I've found I am most comfortable if I sit at the dining table to knit and use one of the upholstered dining chairs with a back and arm rests. I get the least back and shoulder stiffness and the best knitting (although my tension is tighter when I'm lounging in the recliner)! I've also invested in a daylight lamp which makes knitting, especially with dark yarn, much easier and more enjoyable. I don't think I have the perfect set up yet - it's a work in progress.
I do 20-30 minutes Pilates each day which really helps with preventing stiffness (and headaches); then I do a couple of hand exercises when I take my breaks while I'm knitting. One of these is to open and flex the fingers and thumb as wide as you can and then to clench them as tightly as you can - repeat eight times. the other is to rotate the hands outwards in a circular motion and then inwards: repeat each way eight times (I don't know why eight, that's what the Pilates teacher does, it seems to be a magic number).
I've found the best exercise for when my arthritis starts to get sore is the yoga position "downward dog". I remember being really wary about trying it at yoga, thinking that putting all that weight on my hands was going to be really painful. It turns out it was not, on the contrary, it doesn't hurt and it really helps to reduce the pain. I'm guessing that it increases blood flow to the hands and helps to build the bones and muscles.


Three things newbies should do in their first week and, for most things, forever afterwards!

t
---
---