#marketfriday | Off to Market Harborough in search of espresso coffee cups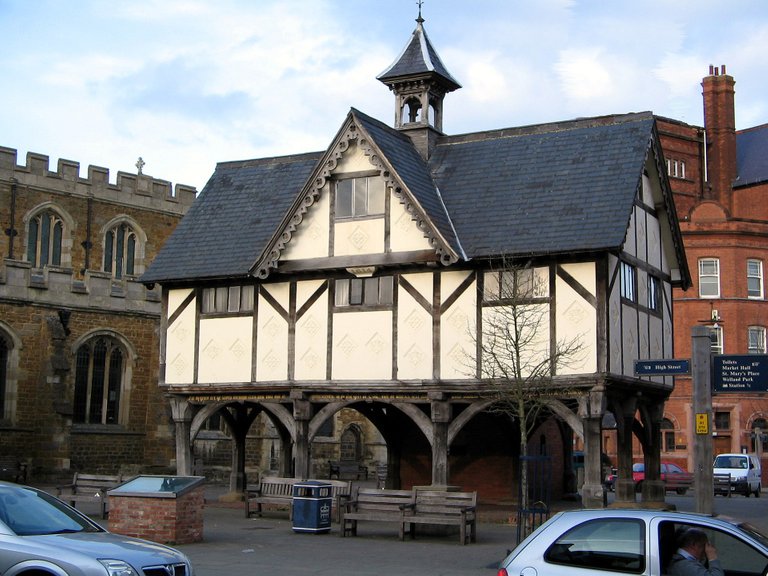 Source The Old Grammar School, Market Harborough, built in 1614. The School was a room on the first floor, where pupils learned Latin, Greek and Hebrew and many went to Oxford and Cambridge Universities. The school was built on stilts so that the Butter Market could be held underneath. The building has become symbolic of Market Harborough.
Once a month, on a Thursday, I make my way over to Market Harborough for my sewing group. Long ago, before COVID, when I worked in London on a Thursday, I would get the last cheap train from London at 4.15pm arriving in Harborough about an hour later.
It was lovely in the summer. I would cross the road from the Station and find my way to the Millenium Walk along the River Nene, passing the high rise retirement blocks, their balconies all facing towards the late afternoon sun, and then the car parks for LIDL, Waitrose and Sainsbury's, the concrete a stark contrast to the lush greenery alongside the river and the occasional splash of coots and moorhens.
I'd turn into the town centre at St Mary's Place, passing the Market Hall and arriving at Pizza Express for my monthly treat. It used always to be American Hot or Diavolo but I graduated to Veneziana and then to a plain, unadorned Margarita, creamy Mozzarella contrasting with the sharp acid and brilliant crimson of the tomato Passata.
I like to get there early, before the evening rush of families and young couples. Occasionally, there is another older couple, or a singleton like me, or a happy, slightly merry, group finishing a relaxing afternoon in the sun after a lunch time meal. Somehow, the waiting staff always know that a table for two won't do. They take me to a four seater, out of the way of boisterous children or unhappy babies.
Through the winter, since the end of lockdown, I get the train from Leicester, a short journey of about thirteen minutes, but since the lighter evenings, I've been driving. This month it was still light as I turned into the drive at the end of my journey.
I went in about three o clock in the afternoon, slaloming between the SUVs picking up children from the High School next door before turning out onto the A6 London Road south bound. I wanted to do a little shopping before I went for my meal.
It's been ages since I wandered among the shops on a weekday afternoon. Market Harborough is a pretty little town, with a mix of independent shops and chains. It has come top of the league table of the most liveable places in England. It's very pleasant, very English.
There have been people dwelling in Market Harborough since Saxon times and by the eleventh century it was part of Rockingham Forest, a royal hunting forest, more like a park with open woodland and owned by the monarch (hunting by the local folks was forbidden - see what happened to Robin Hood, further north in Sherwood Forest.
Harborough (from from the Saxon name meaning "oat hill") has had a market since 1204 AD, which has been held every week on a Tuesday since 1221. The little town sat on a crossroads running north-south from London up to Leicester and Derby and on to Manchester, and east-west from Birmingham and the M6 north bound to Felixstowe, a port on the east coast.
The little town grew in the 18th century and still has a broad stately High Street lined with Georgian buildings. It became a staging point for coach travel between London and the Midlands and North West, once roads were regularly repaired making year round travel by coach a possibility. It also had a branch of the London to Birmingham canal, making it a communications and transport hub of its time, and later, a station on the main line London to Leeds railway.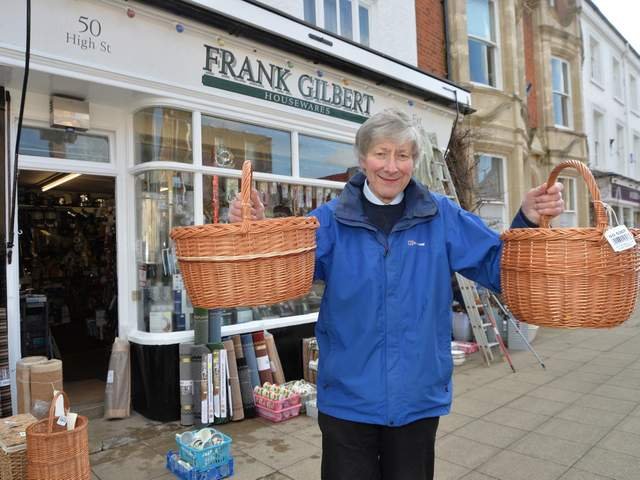 Source On this particular visit, I was on my way to Frank Gilbert's, looking for espresso coffee cups for my coffee obsession. This is Jim Gilbert, who you will usually find in a little cubby-hole at the back of the shop with housewares on all sides.
I love Frank Gilbert's, it is truly an Aladdin's cave, tiny with a central gondola as well as shelves all around. It's not a great place for anyone on the large side, or clumsy. But if you can contain yourself and any bags within a small space, and move cautiously with a mind on obstructions on the floor, up the walls and over your head, you'll be grand.
I like coming to look, they have everything. It may take you a while to find it.
I was after some espresso mugs or cups and saucers. There were several to choose from, but none were quite right. Then I came to the shelves with Cornishware. First made in 1924, Conishware is created using a lathe-turning technique that strips the blue slip from the ceramic to reveal white bands of clay underneath. First produced in blue and white, the stripes reminded an employee of the blue skies and white crested waves of Cornwall, which is how Cornishware got its name.
It was manufactured by T G Green in Church Greasley, Derbyshire for many years before the pottery was closed down in 2007. But the story didn't end there: Cornishware is so popular that the brand was rescued and production continues in the West Country and Stoke-on-Trent.
Well, I found two little Cornishware espresso cups and saucers and proudly took them off to the counter, where Jim wrapped them in tissue and brown paper bags, held closed with a dab of sellotape. It turns out, Jim told me as he was wrapping the cups, that they aren't made any more, he'd found these two when he was doing the stocktake. I'm sure the coffee will taste all the better for that.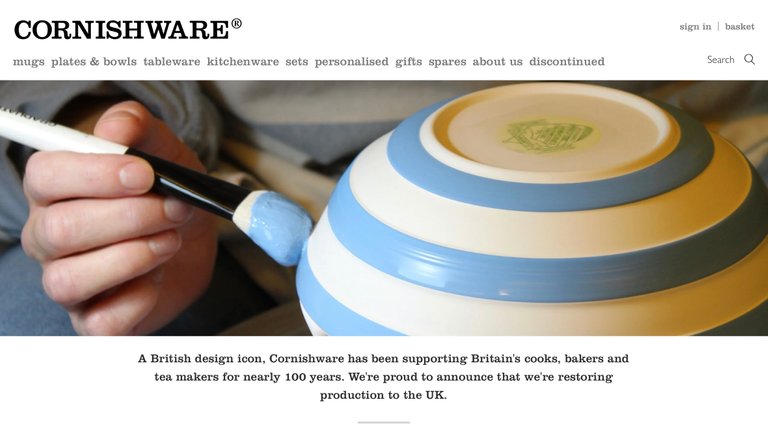 Source Blue and white Cornishware. A British icon.
#MarketFriday by @dswigle - you can join every Friday in the Market Friday community.


Three things newbies should do in their first week and, for most things, forever afterwards!
HIVE UK MEET-UP: Saturday 18 June 2022 | 12.00-5.00pm | Halifax, West Yorkshire.

---
---