#needleworkmonday | Andrew Wynne at My Sewing Group and Moving on and Letting Go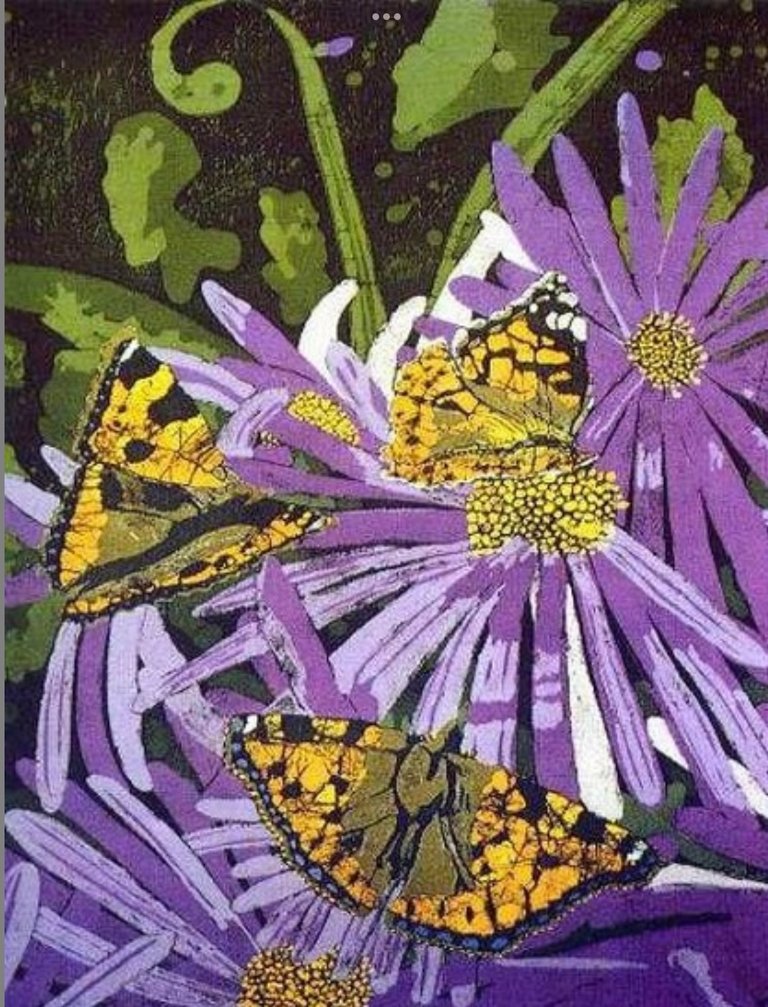 Source Batik by Andrew Wynne, a local artist and teacher.
I made it to my Sewing Group this month, the first time since the inaugural meeting in September. It turned out to be quite a feat, too: I had work meetings in the morning; then a hairdressing appointment postponed from last Friday, when Storm Eunice was out and about, followed by a visit to the dental hygienist, also postponed, before popping into Slimming World for my weekly check-in and a drive down to Market Harborough. I didn't get any dinner!
It was lovely to be there, though, and see everyone. There was lots of chatter, the tea urn was bubbling and steaming, I got my badge and membership receipt, and made my way into the busy room. The Group had been meeting in a smaller room in the same building during COVID restrictions but now we were back in the main hall. There was room for all the work on show, a sales and donations table, the tea table with the urn and, thank goodness, a tin of biscuits (I ate too many and felt sick 😂 - not a good substitute for dinner).
The February meeting always has a local artist to speak and give a demonstration, I guess so there a fewer problems about travel when the weather might be challenging. This time it was Andrew Wynne who lives, literally, down the road from where we meet. Andrew is a multi-talented artist working in batik, mosaics and photography, and a talented teacher, working mainly in primary schools.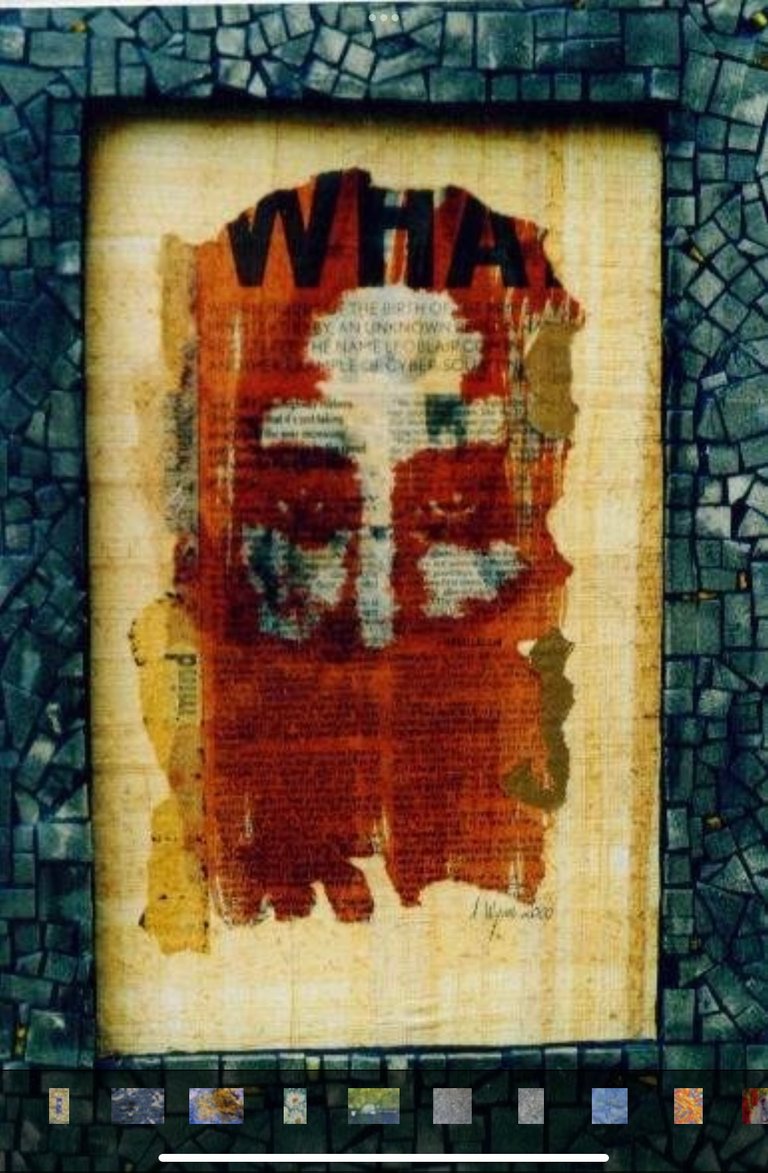 Source Batik with mosaic frame by Andrew Wynne
.
I love hearing from other artists, their journey, their thoughts, their influences. Even if their work is in another medium, I really enjoy hearing their experience - hence my determination to get to the Sewing Group, in spite of all the other distractions along the way. Andrew had a lovely, gentle style, and comes across as very relaxed. His work was beautiful and before I knew it, I was deeply engrossed in learning about batik - its history and about expertise from elsewhere around the world, as well as Andrew's own approach to creativity.
I've chosen a couple of the works he presented - all on his website, which has a lovely gallery. The first one, with the butterflies, I've chosen because I thought you would enjoy it, needleworkers 😍. But I also love the colour palette and that's why it resonated with me. I've become fascinated with green and purple, which I started to notice when I bought cut tulips in the Spring. The colours were so rich and I liked the contrast. In Andrew's work, I loved the delicacy and subtlety of the work and the addition of yellow, with the detail of the black.
Andrew explained that creating such works can take place over many months: the techniques themselves and managing the fabrics and dyes and the wax resists can take many days for each layer. Within the presentation, he had an example which showed the different layers and how the overall image was built up over time. Batik, like other dyeing techniques, can be unpredictable. Andrew gave a great insight into the interaction between mistakes, unexpected outcomes and creativity. I loved the way he seemed to become immersed in what he was doing, even when he was talking about it.
The second image I chose because of the print that has been incorporated with the image and, again, the colour palette, especially as this is one that I would not have selected myself. I like the abstraction, the showing through of another layer, without it being explicit or clear what the print is saying. I love the graphics of the blocks and different sizes of print. It reminded me of other artists' work that I like - Picasso's collages and Cezanne's monumental bathers with the paint scraped over the canvas, barely covering it in some places. I was also interested by the mosaic frame, I'm not sure how I feel about that.
There is lots in Andrew's work. One of my takeaways, though, is the use of colour. Some of the pieces use traditional colouring and techniques, with a very restricted colour palette, like indigo tie-dye. Some are very restrained and use a restricted colour palette with great impact - like the flowers and butterflies above. Others are a complete riot of colour. What I liked about them are how clean and clear and crisp the colours are. Although there are many colours layered over each other, they retain a clarity and don't become muddy.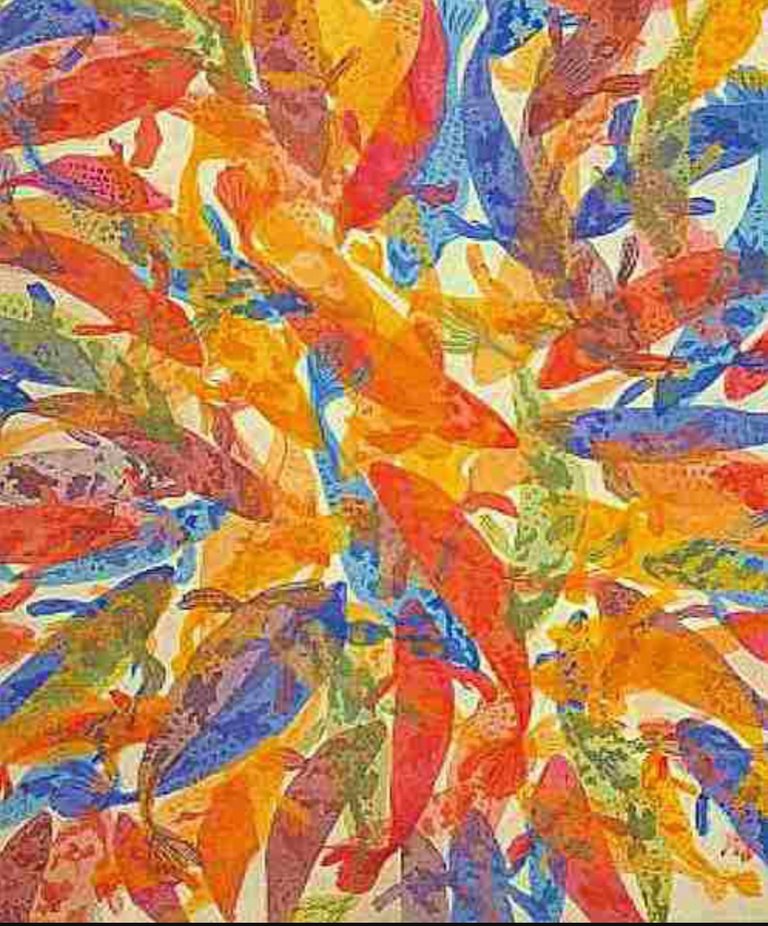 Source Batik by Andrew Wynne.
I don't think this final picture was shown in the presentation. There were some similar ones of dragonflies, but I especially like this one of fish which I found on Andrew's website. The use of colour is so joyful and so skilled, and I love the movement in the image. Beautiful for dark winter days!
At some stage in the presentation, I began to be flooded with ideas about my own work, with thoughts cascading and tumbling over each other. I started thinking of fabric sculptures, fabric and wood, with the fabric distorted and bound and knotted, torn or falling into holes from bleach damage, held in place by wire, twine and yarn. The ones coming into my mind were visceral and dark and burned, but thinking about them today, and reviewing the beautiful colours, they could be an outpouring of colour and regeneration.
Of course, my thoughts turned to knitting, how I could use colour and shapes and start to build 3D sculptures. I fumbled for my sketchbook and captured a few passing thoughts while I was there. Back home, I felt inspired to continue with clearing out my garage to create a workshop so I have a large-ish space (3m x 5m, roughly) to build something and have plenty of room around it to work. I found a flyer in my sketchbook for a course I had wanted to go to. It was called: BIND, KNOT, LASH, STITCH, GROOVE AND PIERCE. That sort of sums up what I want to do.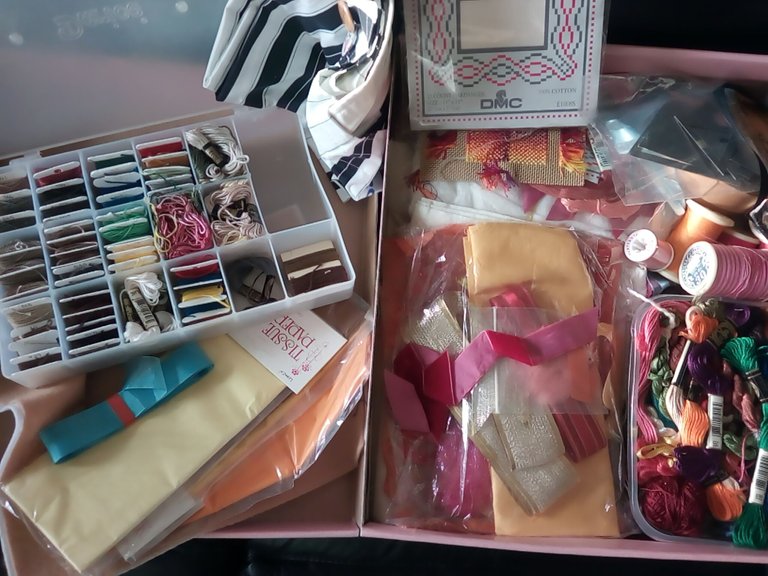 I've also made a decision about what I don't want to do: hand and machine embroidery.
I've tried again recently with the little projects that the Sewing Group was running, Birds on a Wire was one, and another was embroidered luggage tags. But I found them hard to get into, they didn't excite me and they were fiddly and I kept dropping the needle. Then I realised that, although I had really enjoyed hand embroidery in the past, I'd moved on and now I was interested in something else.
I collected together all my silks and cottons and scraps of pretty things and packed them in a large box to give away. I asked the Sewing Group if they would like first refusal: but I didn't want to see anyone rooting through the box and pulling out all the things I had decided to remove from my life. I told them that they could say no, if they were always being inundated with other people's cast offs. But they said yes, and suggested I put the box on a table out of the way where I wouldn't be able to see what was going on.
Soon there was a group of needleworkers milling around the box and dipping in. As I was leaving (I had to find a chip shop and get something to eat), one of the committee came over to let me know that nearly everything had gone. Ah, that was a nice end to the evening. All my little rejects had found a good home.


Three things newbies should do in their first week and, for most things, forever afterwards!

---
---