#needleworkmonday | Getting Better at Tension in Knitting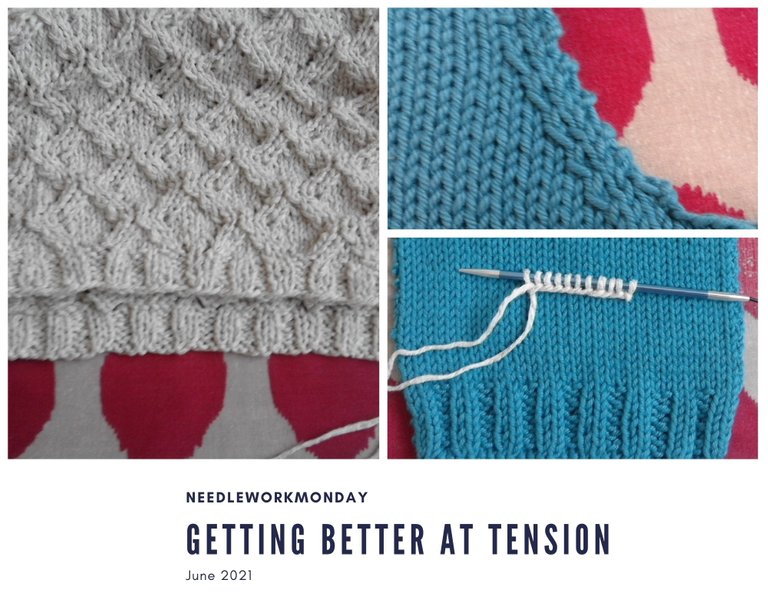 I love the rhythmic feel of knitting but, try as I might, I was having trouble with tension. The edges were raggedy and uneven and so were stitches, I was often getting several large stitches at the end of rows, and my cables were all over the place.
Knitting tension does get better over time the more you do it, and as you get used the different types of needle (aluminium, wooden, bamboo, plastic) and how they worked with different types of yarn. Knitting with a slippery silk yarn on smooth aluminium needles is an interesting experience 😵.
But even so, I was struggling to get the finished look I wanted. I do like hand knitted garments to look hand knitted. I find real beauty in their quirks and I enjoy it when I leave behind tiny errors - a brioche stitch done the wrong way round - the mark of the maker, a unique piece.
Some people are able to knit beautiful garments, perfect in every way, with perfectly even stitches, especially important for fully-fashioned sweaters and cardigans. But I'm not quite that chic, I'm more urban 😂 .
But still, I wanted more mastery and control over my materials, to create the more rugged urban effects I wanted rather than having homespun as my only option.
I spent a lot of time over the winter, when it was dark and grey and too cold to enjoy being outside much, practising my tension. I did some research on the Internet and after a few false starts trying techniques that distracted from the rhthym (like knitting close to the points of the needles), I found the formula for me.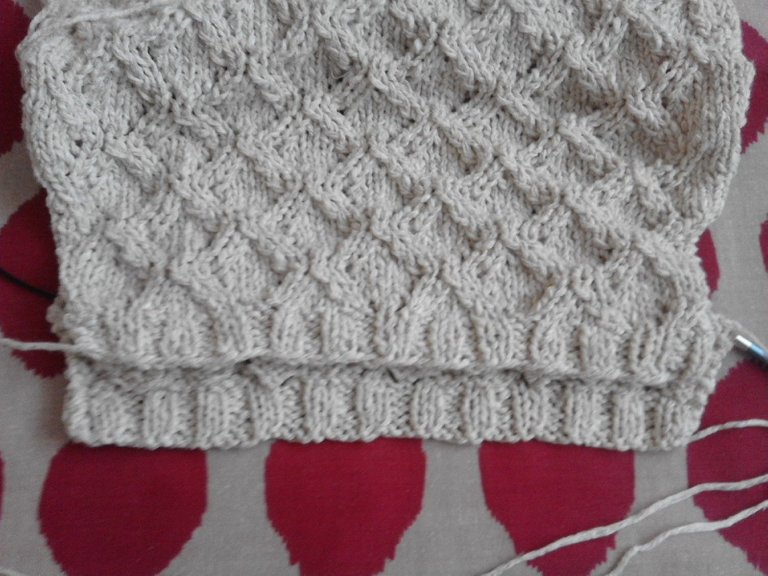 My current knitting, showing the front and back and the effect on the bottom edge of using the long-tail cast on method - long Vs on the front, and bobbly purls on the back (or you can reverse them if you choose).
It turns out it's dead simple to get a nice even tension throughout your knitting with lovely straight edges and no yawning, wandering stitches at the ends of the row:
Knit the first and last stitch of every row counter-clockwise.
Knit the second and third stitches on knit rows counter-clockwise.
Purl the second and third stitches on purl rows clockwise.
Knit on knit rows and purl on purl rows into the back of the last three stitches.
As well as looking much more beautiful (like you meant to do it), is that your stitch tension is more likely to be correct so your garment will actually fit you, and you will still enjoy your own rhythmic knitting style.
You can neaten ribbing, cables and knit and purl patterns by:
Knitting a knit stitch immediately before a purl stitch counter-clockwise.
On the following row, knit (or purl) into the back of the reversed stitch(es).
You have to knit in the back of the reversed stitch otherwise you will end up with twisted stitches - unless that's the effect that you want 😍.
What these techniques do is to use a shorter length of yarn to create each stitch that is knitted the opposite way to normal (whether clockwise or counter-clockwise). This pulls extra yarn outer of the row and prevents larger stitches appearing at the end of the row, especially. There are other methods of getting better and more even tension and nice straight edges, but this is the one that works for me, especially as a very loose knitter.
You can finish the edges using stocking stitch (starting and finishing with knit stitches on knit rows and purl stitches on purl rows), which will give an edge with a set of V stitches rather than the little pearl knots. These are good, too, and can be worked using the reverse stitch method for either knit or purl stitches to ensure even tension and straight edges.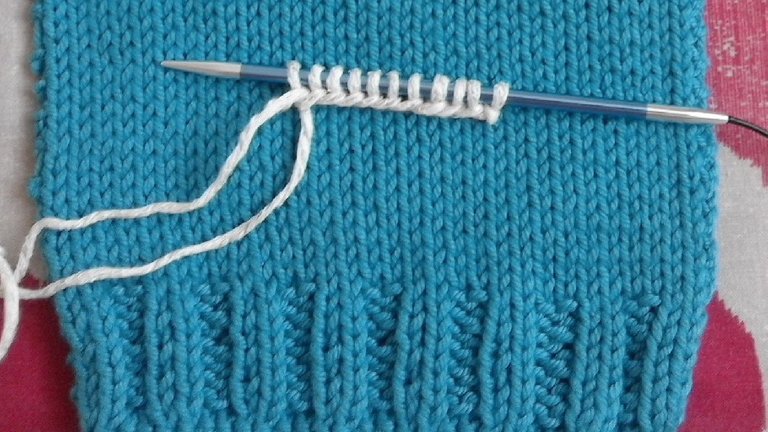 Here's a plain stocking stitch sample using the reverse stitch approach for the ribbing and at the beginning and ending of rows. I was so pleased with the even look of the knitting. I also learned a technique for getting better tension in cast on edges.
I tend to use the long-tail cast on method because you get a nice edge and it's stretchy. But I had a problem that my cast on edge was often shorter than the overall knitting width. I learned that I was pulling my stitches way too tight.
When you cast on, you need to stretch out the stitches, leaving a space about the same width as the cast on stitch (or even slightly bigger). That's because when the stitch is knitted, it turns sideways and takes up more room.
In the picture above, I've shown the cast in stitches stretched out to match the knitted stitches underneath. You can see where I've tried to line up each cast on stitch with a knitted stitch behind it. The cast on stitches are still a little tight, especially the nearer to the end you get.
Along the left and right edges of the knitting you can see the little knots created by finishing every row with a knit stitch. These look like little seed pearls down the sides of the knitting. I think they look so pretty, and it is very easy to count rows. I've also been learning how to join these stitches so you get a nice smooth seam.
It does seem to be in knitting that literally every stitch counts.
Saturday Savers Club
I run a savings club every Saturday over on the @eddie-earner account. We're aiming to save £670 ($800) by the end of the year using the 365 day savings challenge. You can join any time of the year and set your own goals and plans (some people are saving Hive, others Bitcoin, some their local currency). We share savings tips and there's a free giveaway every week.
Three things newbies should do in their first week and, for most things, forever afterwards!

---
---