#needleworkmonday | Learning new knitting techniques - fox paws and travelling cables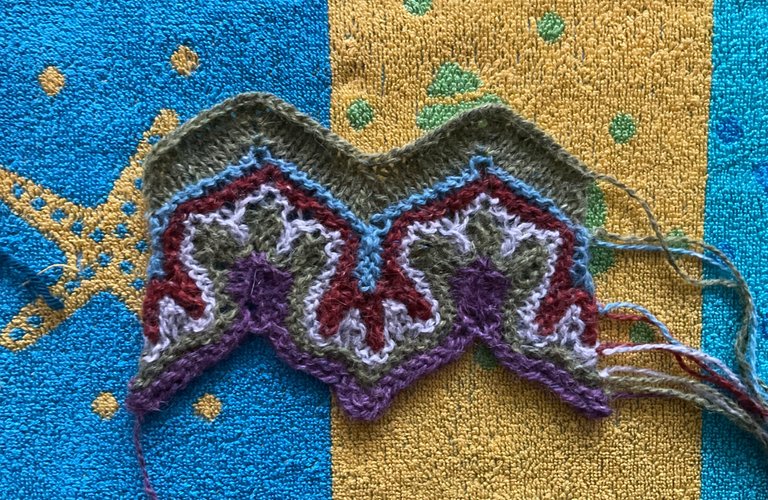 My first attempt at the Fox Paws pattern using stacked increases and decreases. I've blocked this sample.
Last week, I went to an online knitting event organised by Rowan and attended by knitters from all around the world. I wrote about the event in this post for the Market Friday community.
All the sessions from the event were recorded and were available for a week until 10pm last night. I've spent any free time this week going back over the workshops I went to and making or finishing samples from each of them. I only just made it, I finished the last sample about 9pm!
Stacked Stitches and the Fox Paw Pattern
The Fox Paws workshop was taught by Xandy Peters. It was four hours long, and you learned the basic stitches to increase and decrease, how to create stacked increases and decreases, how to read the symbols, working with colour, tips about materials and equipment, life lines to protect your work and how to block your piece.
Most importantly, you learned how to read your knitting so that you could keep track of what you were doing and check that you were in the right place, and what to do if you had one or two too many or too few stitches. The repeat increases from 41 stitches up to 101 stitches and back down to 41 stitches again, so you need to be able to find your way around, especially if you put it down for a day or two.
We went through all the techniques that you would need to complete the pattern, although there wasn't time in the workshop to complete every row. Having the recorded version was invaluable for going back over the techniques in each row and being reminded of what to look for. The wavy pattern happens in 10 row sets, followed by six rows of stocking stitch with minimal increases and decreases, so there is a "restful" bit of knitting between the sections that need more attention.
Xandy had prepared a comprehensive resource pack with the pattern, explanations about how to create the stitches, a fascinating stitch-map, information about colour-working, including details of the materials we were using in the workshop. The workshop was well-structured and beautifully paced so that you weren't overwhelmed with too much information, and there was plenty of short breaks, and time for questions.
I used Rowan #feltedtweed in five colours (peony, avocado, clay, ginger and fjord) with knitpro symfonie 4.5mm circular needles for my sample. There are fifty-six different colours in the felted tweed double knitting yarn. Each skein has little flecks of other colours making them very easy to use together. There is also #feltedtweedcolours which are variegated and, used with a solid colour, can create beautiful fair-isle effects.
Deconstructed and Travelling Cables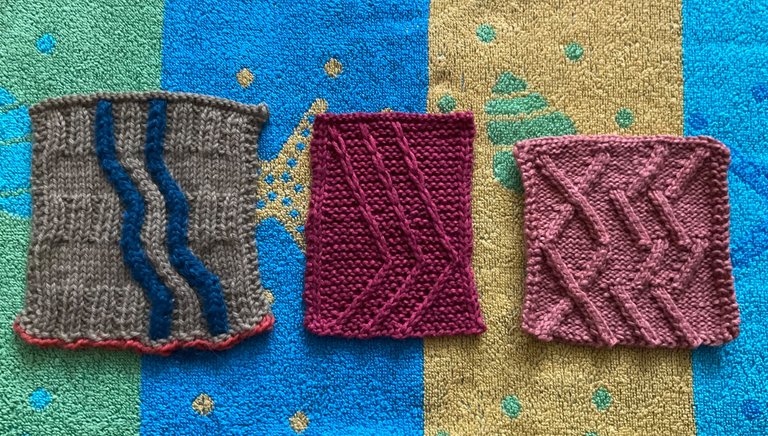 Three samples from the Travelling Cables workshop taught by Georgia Farrell, after blocking.
From the left:
Sample 1 - Travelling cables using two colour intarsia and combining two x two rib with stocking stitch - the cables only travel over stocking stitch. I used the recommended #alpacasoft in Autumn Gold and Green Teal. Both are interesting nuanced colours - is Autumn Gold yellow or green and Green Teal blue or green? This yarn is beautiful to work with, so soft with beautiful stitch definition. I used knitpro symfonie 4.0mm circular needles. Georgia developed this idea from seeing parallel pipes on the side of a building.
Sample 2 - Single stitch self-coloured travelling cable over garter stitch ground. The larger cable stitches are created by wrapping the yarn twice around the needle and slipping them over four rows. I knitted this in #softyak double knitting yarn in colour Lea, using knitpro symfonie 4mm circular needles. This pattern was inspired by tiles at Moorgate underground station.
Sample 3 - Deconstructed cables travelling over a reverse stocking stitch ground. I love the way the cables stand proud of the ground and have shadows. This sample was knitted in #softyak double knitting yarn in colour Pampas, using knitpro symfonie 4mm circular needles.
This workshop was also well-structured with lots of demonstrations and discussion and had an excellent resource pack. We learnt enough from these samples to create a fourth one - I'm looking forward to trying that in the alpaca soft colour ways.
Both workshops discussed colour selection and combining colours, and I also went to Georgia's seminar about colour (please see Wool Like Chocolate) for more information. I was inspired to buy two books: Interaction of Color by Josef Albers and A Dictionary of Color Combinations. While searching, I discovered this Interaction of Color app. More to explore!
Reference Notes
Tips for cast offs
Tips for casting off cables



---
---