#needleworkmonday | News from My Sewing Group: Travelling Books and my fashion theme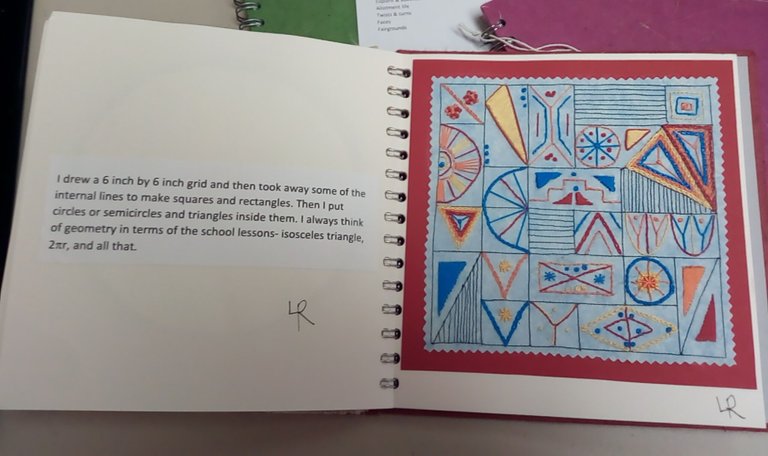 Sample page by Loraine, from Alyssa's completed Travelling Book with the theme of "Geometry". This sample really appealed to me: it reminded me of hieroglyphs and ancient writing. I wondered what it would say to me if I looked long enough. I loved the colours.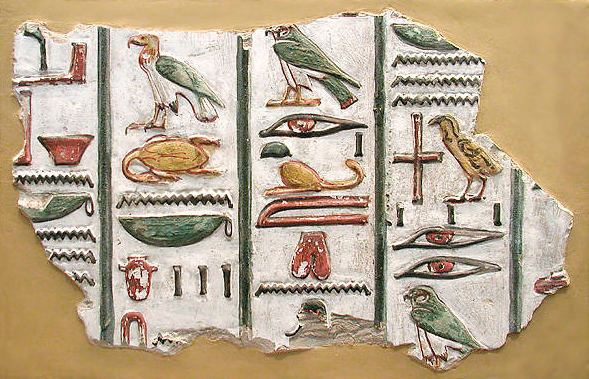 (Source) Hieroglyphs from the tomb of Seti I taken by Jon Bodsworth. More at the Egypt Archives.
There was big excitement at the sewing group this month: the long awaited Travelling Books project was starting its next round. Twenty members have signed up to take part this time, everyone had submitted their themes, the books had been bought, tags prepared with your name on one side and the rotation on the other, and the long list of topics put together.
There was lots of hubbub around the table with the books - well, there were different coloured covers to choose from plus you had to find and attach your tag and collect your list of topics and probably ask several questions. Alyssa, the committee member co-ordinating the project, patiently everyone.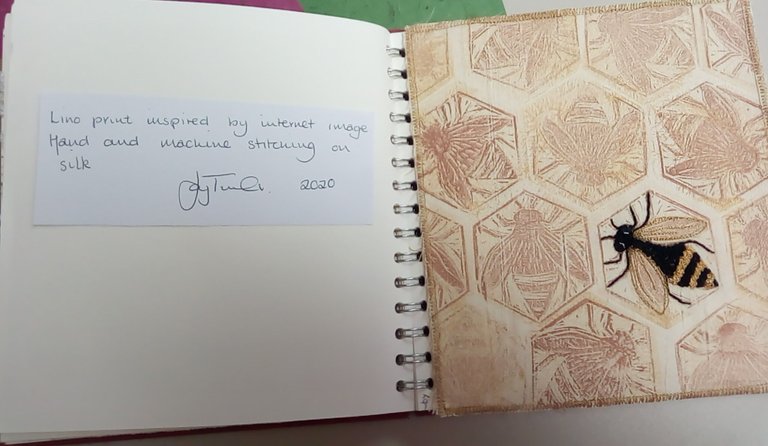 Here's a very apposite sample for Hive from Alyssa's Travelling Book! This was by Joy and demonstrates different techniques - lino printing, hand and machine stitching for working with fabric, still on the theme of "Geometry".
Travelling Books - How They Work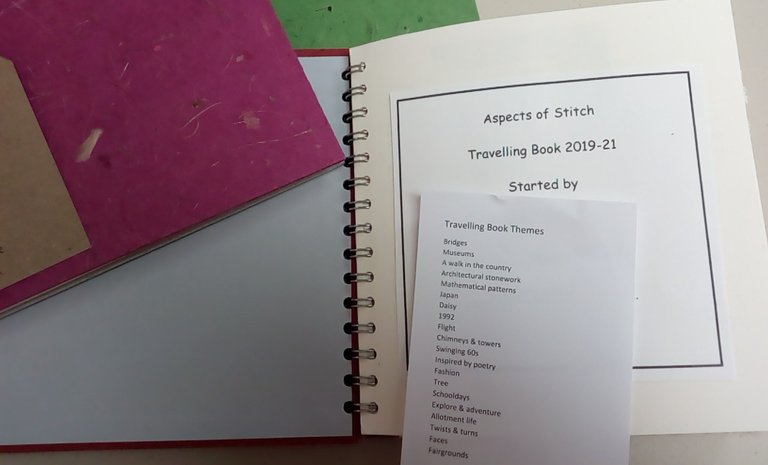 Every member of the group that wants to take part signs up and submits a theme. In the first month, each member receives a standard size spiral-bound sketch-book (8 inches by 8 inches/ 20cms by 20cms) with a hard board cover and a lovely frontispiece showing which round you are in.
The hard cover provides protection for the soon-to-be work inside and the spiral binding allows you to work with the book open flat and also for the pages to expand as more work and samples are added. You attach a tag to the spiral with the book-owners name and theme on one side and the rotation order on the back (these were all beautifully hand-written).
You proudly take your book home, possibly clutching it to your chest, with these instructions:
It is entirely up to you whether to make a fancy cover for it or decorate the front –
it's not essential! You then have a month to prepare the book for its first swap.
To start your book it would be a great idea to stick in some prompts for your fellow stitchers
so that they have some easily accessible starting material without having to
hunt out suitable images. It will also help everyone to understand what you
have in mind!
So you don't have to be an artist – just a magpie! Cutting and sticking is the
name of the game – we can all do that. Just fill a few pages with interesting
bits & bobs to get people started.
Then you should create a piece of stitched work, in any technique you like,
using any materials – based on your chosen theme. Then stick it in your book
with a message on the opposite page if you like – about the technique or the
inspiration. Make sure your name is on the page somewhere!
(Source: Aspects of Stitch | Market Harborough | 2022)
The instructions include lots of suggestions of what you might include in these first inspiration pages: images from internet search, magazine cuttings, photographs or photocopies of same, some information about the topic, black & white line drawings – by you or from a book, a simple collage, a relevant symbol or a list of words – names – types – species, close up or microscope images, greetings card or wrapping paper, a note of any useful books or websites.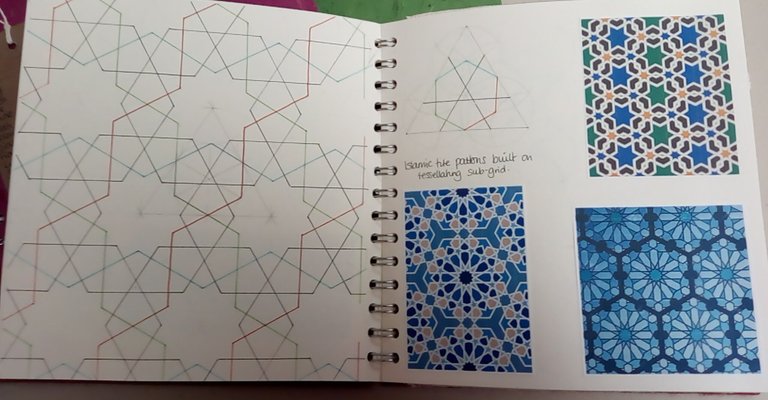 Inspiration pages from Alyssa's Travelling Book with the "Geometry" theme.
We all bring our Travelling Books back to the next meeting in November and pass them to the next person in our rotation. That is the last we will see of them until October 2024, by which time they will have passed through twenty members, each adding a sample with their interpretation or inspiration of your theme. You get back a fat sketch-book of ideas and treasures!
Meanwhile, you will have taken part in twenty different prompts over the two years inspiring your creativity and providing opportunities for testing new ideas and techniques. This will be the longest round that has taken place and will take two years as we don't meet in November and in August we have an outing.
Travelling books are one of the most popular projects that the sewing groups does, I think this is the third or fourth round. It is a lovely way to get to know other members and generate conversations between the participants as you get to know their work. You can also have a non-travelling book: this is where you take the list of topics and work through them each month (or in your own time) in your own book without sharing or circulating them. You can still bring your book to the meeting each month and share your progress.
We have lots of new members this year, which is wonderful. Thirty-five members joined last year when the group became independent from the Embroiderers Guild, but it seems like we have eight to ten new members and this is the perfect time to join as the Travelling Books start their rounds.
Here's the table of themes (I've added when I will be doing them):
| Member | Theme | When | Member | Theme | When |
| --- | --- | --- | --- | --- | --- |
| Loraine | Inspired by Poetry | November 2022 | Lynne | Museums | November 2023 |
| Pauline | The Swinging 60s | January 2023 | Clare | Bridges | January 2024 |
| Mary | Chimneys & Towers | February 2023 | Karen | Fairgrounds | February 2024 |
| Nigel | Flight | March 2023 | Hilary | Faces | March 2024 |
| Joy | 1992 | April 2023 | Anita | Twists & Turns | April 2024 |
| Lynn | Daisy | May 2023 | Ruth | Allotment Life | May 2024 |
| Fiona | Japan | June 2023 | Nicola | Explore & Adventure | June 2024 |
| Diana | Mathematical patterns | July 2023 | Miriam | Schooldays | July 2024 |
| Helen | Architectural stonework | September 2023 | Alyssa | Tree | September 2024 |
| Sarah | A walk in the country | October 2023 | Shani (me) | Fashion | October 2022 |
The instructions also say:
It cannot be stressed strongly enough that this is NOT a competition,
any technique is suitable, all abilities are encouraged to take part, we
would love it to be open to ANY of our members.
and end with these beautiful words:
Many stitchers who have taken part in the past have found it exciting,
inspiring and liberating to produce a small piece of work with a quickish
deadline. It can be a chance to try out a new technique or to explore a
theme that you might never have chosen yourself. Not to mention
getting a gorgeous book full of loveliness to keep at the end! Many of
us feel quite bereft when we have completed a book journey – and
eagerly await the start of the next one!
My Theme: Fashion
Way back in September, I attended the online version of the Fleece to Fashion Conference held at the University of Glasgow. The Conference was part of a wider project at the University looking at the place of knitting in Scotland - its heritage and its economic, social and creative place today.
[The project] focuses on three themes – creativity, sustainability, authenticity – to chart the relationships between skills, design, knowledge, and techniques. These factors underpin the survival and revival of knitting as a craft and industrial practice, and are the reasons why knitted textiles have become synonymous with Scottish heritage." (Source: Fleece to Fashion | University of Glasgow)
Over two days, the Conference covered many different themes, historical and contemporary, from many different parts of the world. Common themes included heritage skills, sustainability and the relationship between land use, economies and creative skills. It also looked at our personal histories of knitting, the contribution of knitting to well-being, and the ever fluctuating relationship with fashion.
I loved the presentation by Buddy Penfold, Associate Professor of Knitwear at De Montfort University in Leicester (Leicester has a long history with knitwear, hosiery and framework knitting and is still a major producer of fashion textiles, sometimes controversially, with modern slavery and an organised tax evasion industry complete with accountants and legal advisers).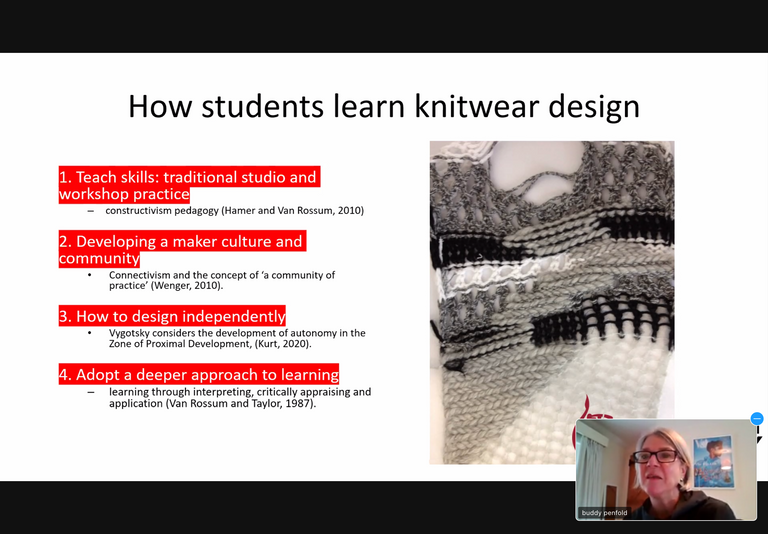 Buddy Penfold presenting the principles and stages of teaching undergraduate contemporary fashion design at the Fleece to Fashion Conference, University of Glasgow, September 2022. I was intrigued by the knitting sample on the right, incorporating different yarns and stitches.
Buddy says:
The fashion industry is adapting to a rapidly changing world. Contemporary knitwear designers need practical and creative understanding of responsible and sustainable design embracing traditional practice and the digital and communication technologies that are shaping the future of the industries.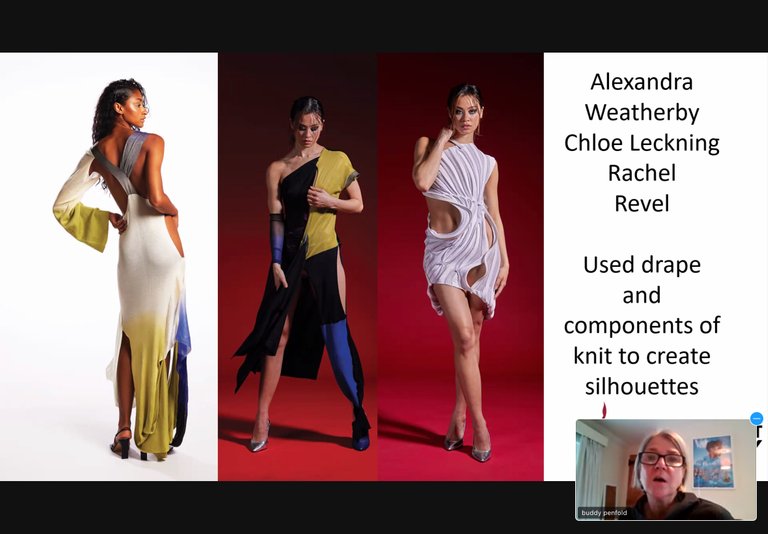 I was struck by the imaginative use of design and materials by the students in their final show. I loved the drape of these dresses and was intrigued by the dress on the right, designed and produced by Rachel Revel. This image has stayed with me long after the Conference finished.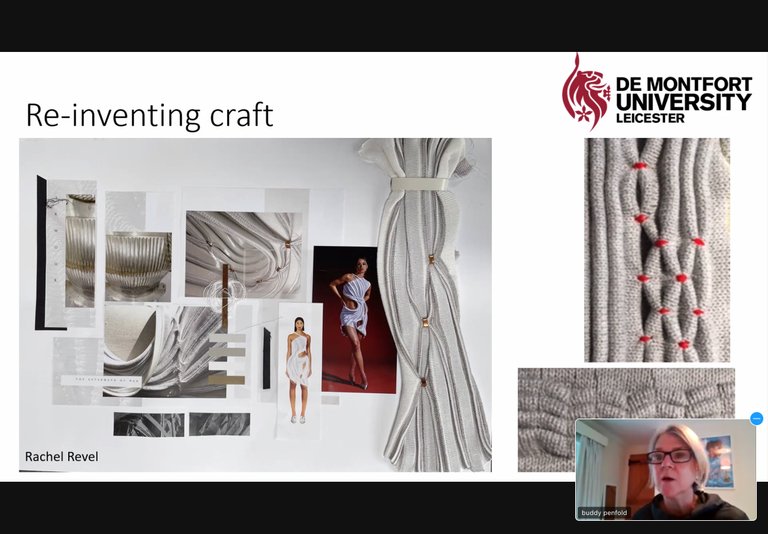 From Rachel Revel's sketch book showing how the design of the dress evolved from different influences including armour. On the right are samples from teaching the craft of smocking - a newly introduced technique to the course at the time to accommodate online teaching during the pandemic. The different ways of manipulating fabric and catching it in place have fed into Rachel's design.
I found the creative use of traditional and modern techniques, yarns and materials by these young designers hugely inspiring. I loved that they weren't constrained by the customs and traditions of knitting but were free to experiment, and to take inspiration from many sources.
It inspired me to take fashion as the theme for my Travelling Book.



>
---
---