#springclean2022 | those books have got to go ... no, don't start reading them!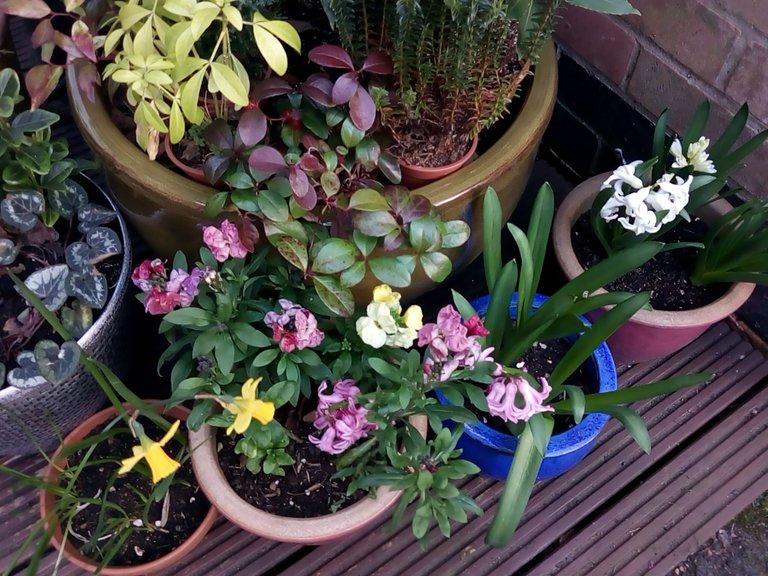 Spring flowers on my back porch - the world is waking up!
We've had the most beautiful weather in the Middle Lands of England for the past week or so. It has been mild and sunny with just a hint of chill in the mornings when you open the door to bring in the milk. Together with the lengthening days and warmer temperatures, you start feeling motivated to do more than curl up under a duvet with your knitting.
I'm getting ready to have some work done on my house. The main thing is, after twenty-odd years of living here and cooking meals for up to eight people, I am finally getting a larger kitchen. It wouldn't be hard: my current kitchen is like one of those cupboards you find under the stairs - that little space where you keep your vacuum cleaner? Well, that size.
At first, I thought only the downstairs would be disturbed and we moved lots of things upstairs. But now, as the house will disrupted and we won't be able to live in it anyway for a couple of months, we decided to get re-new the wiring and radiators upstairs as well which means the whole house will have to be more or less empty.
I have been steadily de-cluttering for some months: the garage is almost clear; clothing and household linens have been streamlined; lots of things we needed when a family was living here have gone from the kitchen and living room and last month I tackled my craft stuff, donating threads and fabrics and equipment to my sewing group.
Now we're getting to one of the really challenging tasks: tackling my books.
I've loved books all my life, I've been able to read for as long as I can remember. I always got books for Christmas and birthday and I set up my own library. As a child I wanted to work in a library: I wanted to have those nimble fingers that raced through the little boxes of library tickets with the cards from issued books tucked inside them. They were always so deft, those librarians, their fingers hovering over the tickets like exotic butterflies before they delved into the box again, surfacing triumphantly with the correct cards. I wanted to do that.
Later, I was an independent bookseller, with a tiny shop in the city centre, and an adjoining venue where we ran live literature events, wonderful evenings of poetry and readings and open mics and always with lots of food and hospitality. I had a lot of books when we closed the shop in 2008. I donated lots, but I still had enough to fill two enormous bookshelves.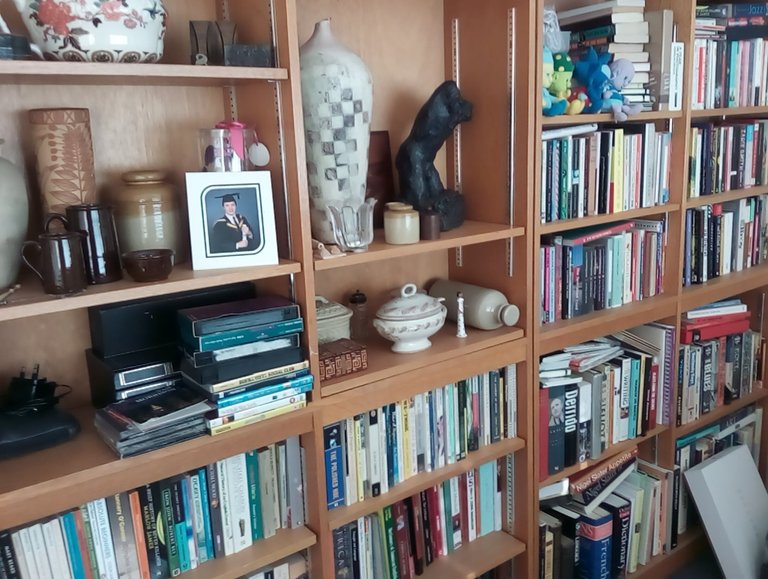 I've been offloading books for several years now, but I still have all these plus others around the house.
My plan is that these bookshelves will hold all my books plus any paperwork and documents I need to keep and my art magazines. They are also the only place where I will display ornaments. I'm decluttering now so that when I have to pack them for the house renovations, I will only have the books I want to keep.
I'd already learned from my previous de-cluttering experiences that I can only do a little at a time: I find the number of decisions I have to make becomes overwhelming if I let it go on too long. I usually plan to spend an hour or so in any decluttering task, spending the first half sorting out and making decisions and the second half clearing away whatever I've done: loading the car for the re-cycling centre, cleaning any new space that has appeared, those kinds of things. I have a rubbish bag and a donation box with me, and a box for "not sure, decide later" things, rather than getting bogged down in that moment with trying to decide what I want to do with an item.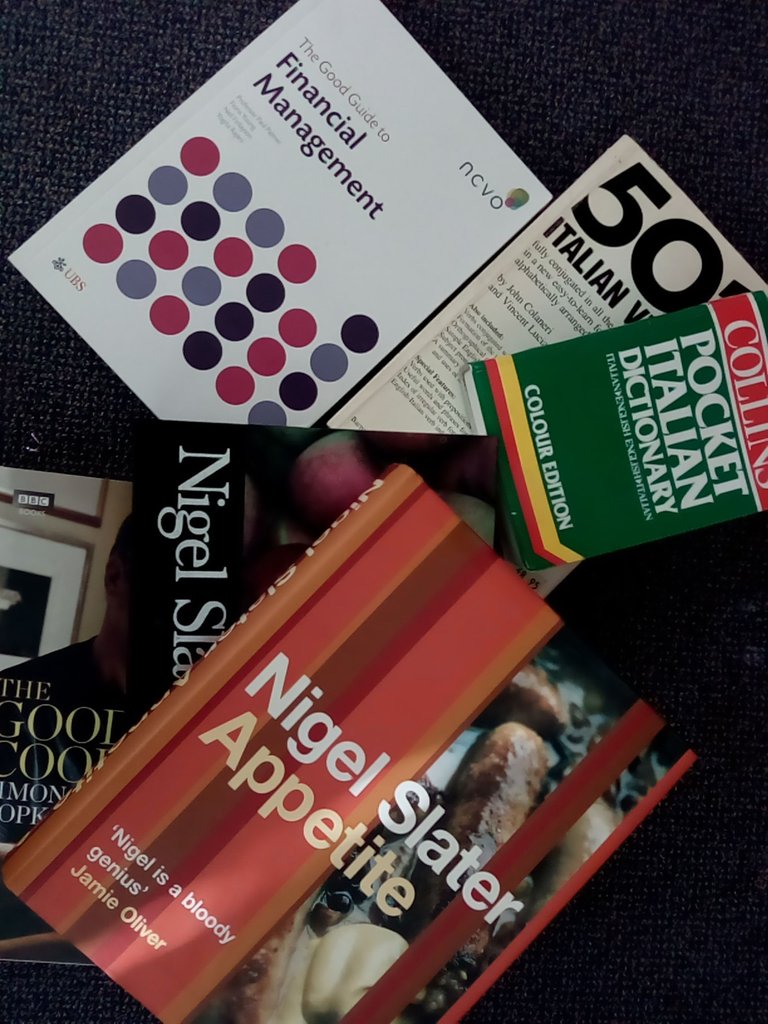 There were some things it was very easy to discard: Nigel Slater is lovely but those books are heavy and I'd read them cover to cover. If I want to brush up my Italian, I'll buy new. And financial management for charities: I'm not sure anyone needs that book in their life.
I did very quickly get bogged down, though. After an hour, I had piles on the floor and furniture and was feeling increasingly stressed. Some of that was about deciding which books to keep, some was about trying to sort where unwanted books would go - sewing group, charity shop, recycling centre. And some books were very heavy and after not very long at all, my arthritic hands started to hurt.
There was also the problem of finding enough suitable size containers to put discarded books in. I had some small fruit and other boxes: they had to be small enough so that I could lift them when they were full of books. I was quickly running out of options.
I decided to leave things for then, before I had a conniption.
Back to the duvet and some knitting.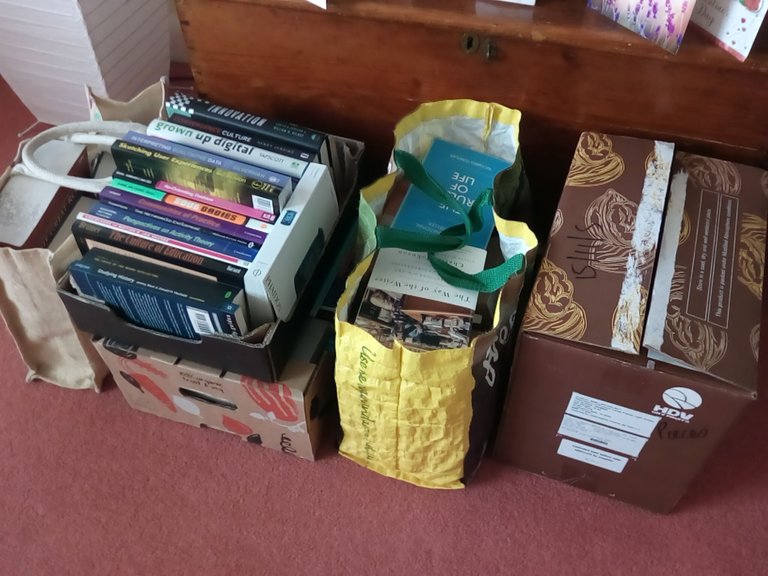 Re-vitalised the next day, I ended up with the first lot to off-load. The bag on the left will be going into the British Heart Foundation container around the corner and the other bag and boxes to the charity bookshops in the local shopping centre on Monday morning.
I realised this morning that I was trying to do too much, make too many decisions, in one go. I decided to pick out only the books that I knew I didn't want and to put everything else back on the shelves. I didn't worry about sorting them out, just about getting everything off the floor and onto a shelf. I was able to fill my boxes and I have already loaded them into the car. Once they have gone, I will have some headspace for the next pass of decluttering.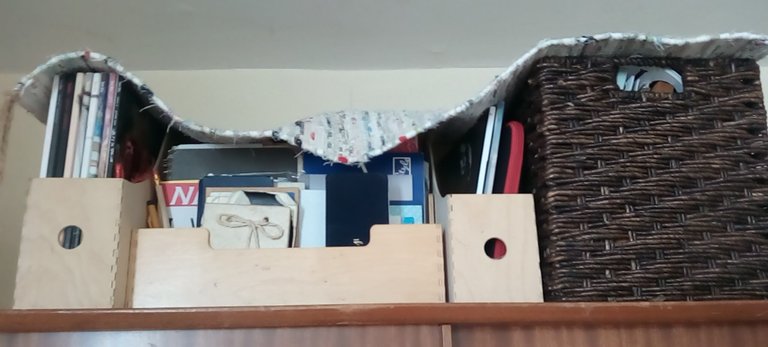 These haven't made it yet to the bookshelves - my collection of art magazines and knitting books and patterns. Next time, maybe!
I hadn't realised the emotion that would be tied up with going through the books or what a mammoth task it would be. With some of them it is comparatively easy to decide, with others, I need more time to consider, and with still others, I find I start reading them! Most of my university books have gone and anything to do with digital media and society or networked society. Some are out of date, like the Rock Discography, and for others you can find so much information online now. For some reason I had four dictionaries and a huge one in French. I just have one in English now.
One of the pieces of advice I have had about decluttering is to just do fifteen minutes each day. I think my next stage is to take a shelf a day and work through the books on it. There are sixteen shelves, plus the magazines and pattern books on top of the wardrobe, so that is probably my decluttering challenge for April, right there.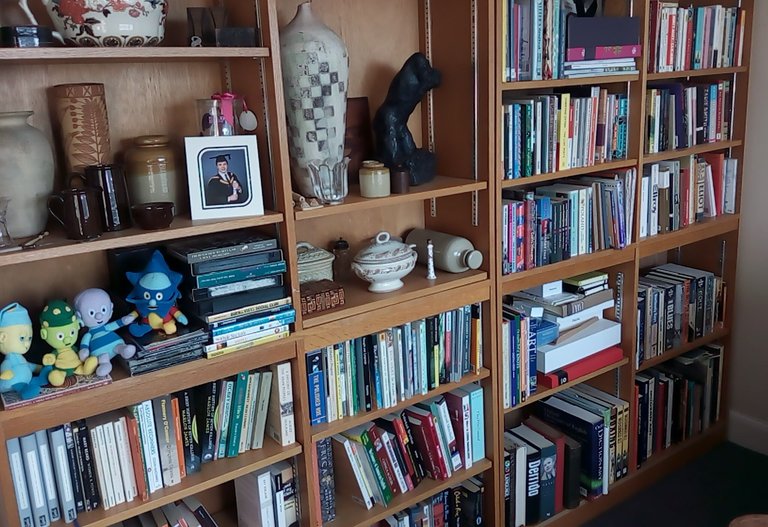 First pass shelves with definite "no"s removed and books from everywhere else collected together. Can you see the difference? 😂
You can find out more about spring cleaning and decluttering in The Minimalist Contest: Spring Clean and Declutter - lots of great ideas in the comments and contest entries.


Three things newbies should do in their first week and, for most things, forever afterwards!

---
---