Opening 2 Packs! What Will Come?

⭐Hi Everyone!⭐
I had a setback yesterday and that's why I wasn't able to post 😅
The big day to open packs has arrived! It was 2 weeks of a lot of running and some worries in personal life, but for now everything is fine, thanks to God.
My goal was to join Starbits 30k to buy 3 packs, but it ended that I could not, in fact I saw yesterday that I would not give to join these value, so I decided to help a friend, transferring some starbits to him, to he buy his first package.
Helping others are as important as running after your goals 💪!
My status before opening packs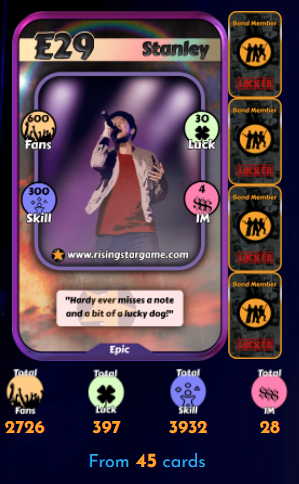 I arrived at the value of 22081 Starbits, so I'm going to buy 2 packs and tomorrow already together the amount needed to buy the i6 Mid Range Acoustic Card to move to the next missions zone! 🎸!


So come on, open the packs!


R96 MC Bruv: 125 Fans, 150 Skill, 3 Luck (New)
E30 Low Rider: 1k Fans, 0 Skill, 5 Luck (New)
34 Drew: 10 Fans, 5 Skill, 0 Luck


R93 Will: 100 Fans, 75 Skill, 1 Luck
35 Kelly: 25 Fans, 10 Skill, 0 Luck
42 Brodie: 0 Fans, 10 Skill, 0 Luck (New)
Oh my God my second epic! 1k fans, NICE! Now my stats look like this, with 18% EGO, so now it's time for skill missions!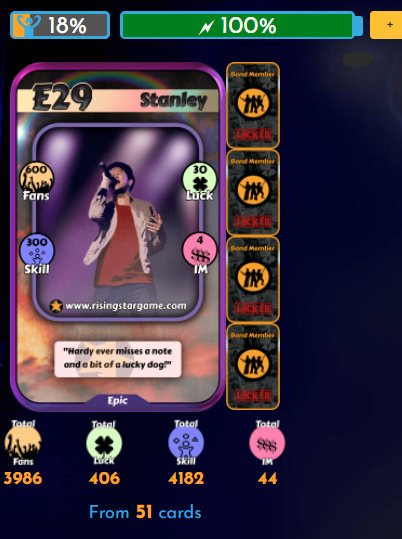 That's it for today! I was very pleased with the 2 packs I opened.
See you next time!
Thanks to everyone for your attention to my post and for your support.
---
If you want to learn more about HIVE games, you can start playing:
👨‍🌾DCROPS👨‍🌾
⭐RISING STAR⭐
🐲SPLINTERLANDS🐲
🎲HIVE SLOT GAMES🎲
🍻CRYPTOBREWMASTER🍻
---
Footer Designed With Canva


---
---