Rising Star, Journey Progress #13

⭐Hi Everyone!⭐
How are you guys? I hope everyone is well. My progress so far has had no great novelty since the last post Opening 2 packs! What Will Come? Because I focused only on skill missions.
My ego had stayed at 18%, at the moment I was able to reach 6%. To give a force I bought the letter R92 Desktop Mic to improve my points earned in the mission of skill Basic Singing Lesson.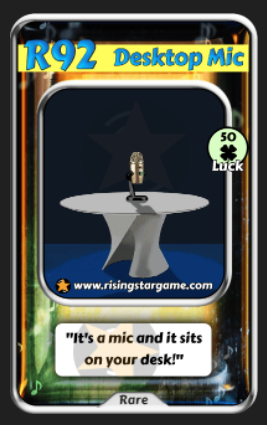 I found the card by 2 swap.Hive, in all the microphones with 50 of luck, this was the cheapest. I believe it was a good business, because the 60's Luck microphone I found, I was costing 8 swap.hive for more and I did not have this value 😁.
Now I have as a return of 16 to 32 points of skill
I thought of a strategy that would be to try to sell the other instruments that I do not use in this mission and focus only on micros to better better the results of the mission.
A very good thing that happened, was that I arrived at the mark of 1000 missions, with that I won a card of cards that for now I will save.
As soon as I surround my ego, I will think if I open the package now or not (maybe leave for Friday that it would be to buy the pack) because I need to focus on starbits missions as well.


For now that's it, I hope to zero my ego tomorrow and already start doing the missions again, I'm anxious and motivated!
---
If you want to learn more about HIVE games, you can start playing:
👨‍🌾DCROPS👨‍🌾
⭐RISING STAR⭐
🐲SPLINTERLANDS🐲
🎲HIVE SLOT GAMES🎲
🍻CRYPTOBREWMASTER🍻
---
Footer Designed With Canva


---
---