CONTESTS IN POB FROM JULY 18 TO 24 - ENGLISH VERSION
Welcome Guys!
We start another week and although a little late, I bring you the information of the most relevant activities that are taking place in PROOF OF BRAIN, in which you can participate, interact and win.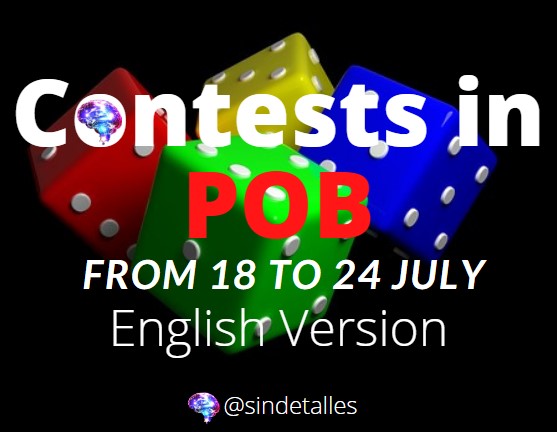 (Sharad Jadvani en Pixabay) Edited in Canva
Don't forget that the idea is that we make virtual friends (or real, why not?), while you have fun, learn and grow inside the blockchain.
It's time to find out what we have for this week from July 18 to 24. Just remember to follow the rules, use the corresponding tags and WIN!
HAVE FUN PARTICIPATING!

POB WORD OF THE WEEK: ( tag pob-wotw)
You can prove you have a brain by joining in this weekly challenge from @calumam.
It is already in week 14 of the second season and the turn is for the word CAUSALITY.
This contest tests your skills and with each edition increases the level of demand, and that is why it is one of the most active participation has ... is all a challenge that catches you ... yes sir!
Don't get left behind, show your initiative and creativity, and become worthy of one of the prizes of the week.
Check out how you can participate.

POBTALK: (Tag pobtalk)
The meeting post for everyone at POB.
Here you can talk, interact, laugh or cry. Share a video, a meme, some statistics...whatever you want.
The topic can be whatever you want: POB, life, people, ideas...feel free...there are no limits, only one rule: Express yourself!
What are you waiting for? Follow and visit @vempromundo.pob daily and make friends, exchange ideas and winaaa...

FREE RAFFLE
Vacation...vacation...vacation...vacation...I know where I want to go on vacation!
Tell us this week number 11: WHICH IS YOUR FAVORITE HOLIDAY PLACE, and sign up for the weekly raffle sponsored by @rentmoney.
Simple, simple and easy as clicking here to participate (remember to follow this user so you don't miss a week).

SPREADING POB: Building a perfect POB
Now, we are in the SEVENTH EDITION of this contest and we are still building POB.
What do you have to do? Just answer:
IF THERE WAS A #POB PROJECT HEADQUARTERS SOMEWHERE IN THE WORLD...WHERE WOULD IT BE BUILT?
Write the name of a country in the comments of this @wiseagent post and you're in.
It's that quick! What are you waiting for? Go ahead and enter!

RANDOM THOUGHT OF THE DAY - Daily Contest: ( Tag rtotd)
Don't know what to talk about today? Your muse is asleep? It doesn't matter!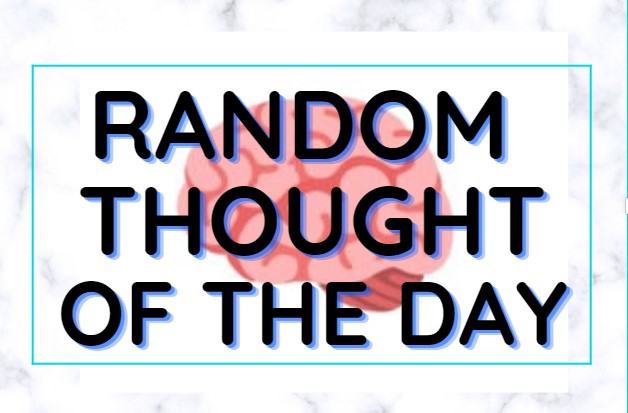 Take the opportunity given to us by @elricmoonslayer and comment on his post about the proposed theme of the day and you're done.
All ideas and opinions count since what really matters is your interaction with POB, HIVE, and any other community.
Follow this user and check his post to participate.

POBDAILYCHALLENGE: ( Tag pobdaily)
Did you have a bad day or a good day? Do you want to share something with us: a photo, your special activity today, your family?
Go ahead, take advantage of the daily POB challenge created by @marvinix and @dwayne16 and let us get to know you.
Check how you can participate, and the use of the tag of the contest.

COLLABORATIVE CURATION WITH DCooperation: (Tags tow, dcc)
Let's heal together...Let's team up!
No matter if you are from POB or any other community, you have the opportunity to cooperate with authors and curators by recommending quality content.
@clixmoney offers us to participate in 3 different ways:
Tag of the Week (ToW): BLOCKCHAIN.
Collaborative curation.
Expositional collaboration.

FAVOURITE ARTICLE OF THE DAY (Tags faotd, dcc)
@jaxsonmurph and DCooperation, invite us to share our favorite POB article of the day: the one that inspired you when you read it, or the one that made you think or remember, or the one that you simply thought was valuable content and should reach many more readers.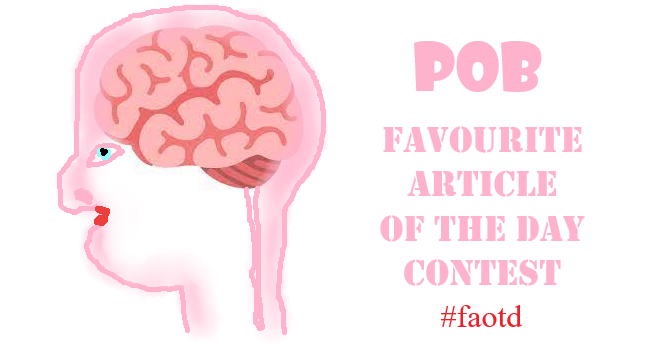 source
Comment on this user's post indicating the author's name and article, the reason why it is your favorite of the day, and leave the clickable link to get to it. Just like that you will be promoting other users and participating for great prizes.
Follow @jaxsonmurph so you don't miss the opportunity to support other proofofbrainers!

AND BACK THIS WEEK...
PUNDAY-MONDAY
Yessssssss...this great and witty initiative is back!
Make a pun on the theme of the week, and this way you'll already be eligible for prizes and most importantly: Enjoying yourself at POB.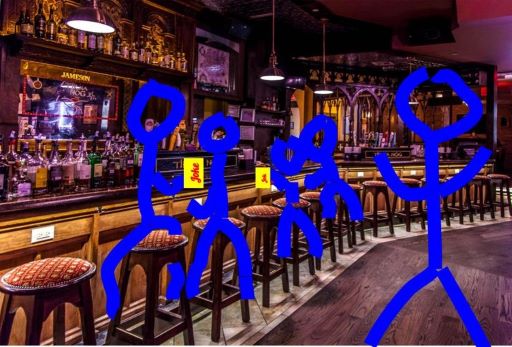 This time the theme is FARM!
If you have no idea how to make a pun, don't worry: @improv, the creator of this initiative provides a guide on how to learn how to make puns so you have more chances to win.
Check this link for more information.

NEW..........NEW..........NEW............NEW..........NEW.........NEW.......NEW

It is wonderful that in PROOF OF BRAIN every day there are more opportunities to grow by sharing and interacting with other users of the network.
This week there is a NEW contest and it's about...
CHALLENGE POB: FIND, WIN AND EAR POBs
This initiative created by @hranhuk, adds to the other activities we can do in this community to interact, share and show our skills.
How does it work? Nothing complicated!
Be the first to find on Google Maps the image published by @hranhuk, take a screenshot or photo, insert it in the publication with a comment and that's it!
If the image is not found within the first 24 hours, the creator of the challenge will add suggestions to make it easier and easier to reach the desired location until the winner is chosen.
What are you waiting for? Follow this user, tune your search capabilities on Google Maps and participate.
Check here the start of this challenge and leave your search result at once.

And so friends we come to the end of this publication.
I invite you to be multipliers of this content by reblogging any of its versions (Spanish or English) so that more users know and are encouraged to be part of PROOF OF BRAIN and continue growing as a community.
Any suggestion or correction on the information provided here is welcome...
USE YOUR BRAIN...ENJOY...SHARE!
GOOD LUCK!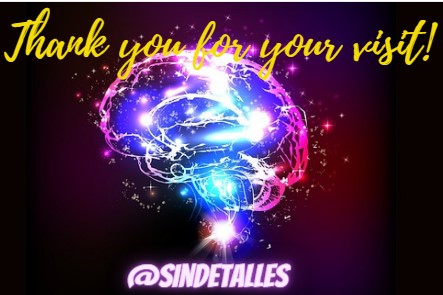 The images for the contests come from their creators' publications, except POB Daily and Random Thought of The Day, which does not have an identifying one. The creators of both contests may use if they wish, the images presented here and created by me in Canva.

English is not my native language. The translation is done using DeepL Translate free version and correction in Grammarly.
---
Posted via proofofbrain.io
---
---