(Eng / Esp] Mini Cachapas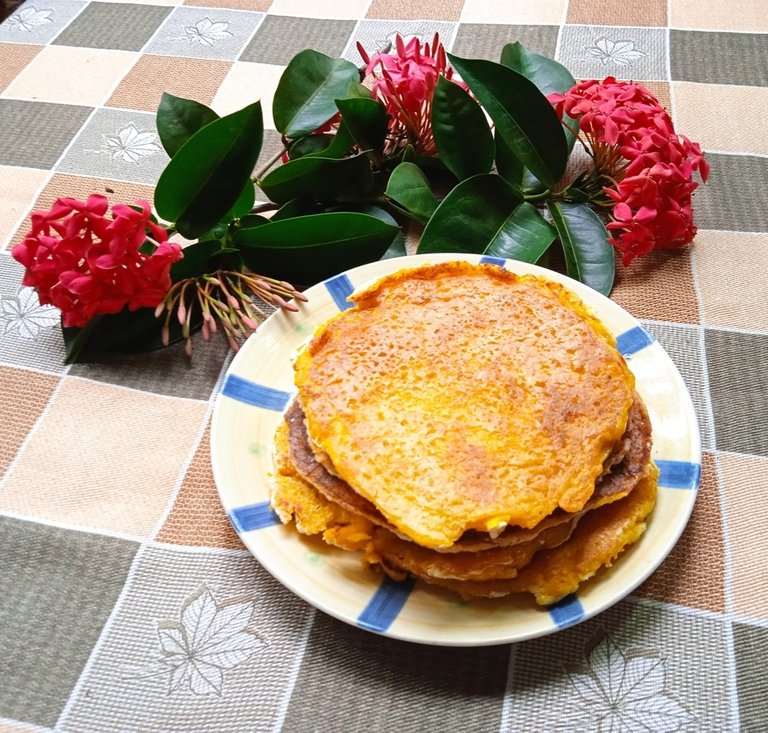 I greet again all the friends of the Plant Power (Vegan) community, already today ending this week, and soon to start a new one that I hope will be of progress and prosperity for all. Today I bring you a very simple recipe, but that lends itself to being combined with many companions, such as the cachapa; a disk of sweet corn dough that is eaten a lot in my country, Venezuela; so today I decided to make some MINI CACHAPAS, that is, I made them small, and once and for all I took the opportunity to use a gift that I received months ago: An electric iron that I think will be very useful, since that it is very difficult to obtain domestic gas here, so a large part of the population must cook their food in electric equipment and/or with firewood, (I have had to do it on several occasions).
---
Saludo nuevamente a todos los amigos de la comunidad Plant Power (Vegan), ya hoy finalizando esta semana, y próximos a iniciar una nueva que espero sea de progreso y prosperidad para todos. Hoy les he traído una receta muy simple, sencilla, pero que se presta a ser combinada con muchos acompañantes, como es la cachapa; un disco de masa de maíz joven que se come mucho en mi país, Venezuela; así que hoy decidí hacer unas MINI CACHAPAS, o sea, las hice pequeñas, y de una vez aproveché la oportunidad para utilizar un regalo que me recibí meses atrás: Una plancha eléctrica que creo me será muy útil, ya que aquí es muy complicado el adquirir gas doméstico, por lo cual, gran parte de la población debe cocinar sus alimentos en equipos eléctricos y/o en leña, (a mí me ha tocado en varias oportunidades hacerlo).

My mother always talked to me about how food identifies peoples, and gave me examples of various traditional preparations of the country. She told me cachapa is a food fundamentally of indigenous origin, from the tribes that lived before the Spanish colonization in these lands; and like any cultural element, gastronomy also changes over the centuries, and the cachapa has mutated, since currently some recipes include eggs, milk, oil, even wheat flour! I will make an almost original and obviously vegan recipe, although in the past I presented a different version.
---
Mi madre, siempre me hablaba de cómo la comida identifica a los pueblos, y me ponía de ejemplo varias preparaciones tradicionales del país. Ella me decía cachapa es una comida fundamentalmente de origen indígena, de las tribus que vivían antes de la colonización española en estas tierras; y como todo elemento cultural, la gastronomía también va cambiando con el paso de los siglos, y la cachapa fue mutando, ya que actualmente en algunas recetas se incluye huevo, leche, aceite, incluso ¡harina de trigo! Yo haré una receta casi original y obviamente vegana, aunque en tiempos pasados presenté una versión distinta.

THE RECIPE / LA RECETA
---
Time, ingredients and equipment
Preparation time: This recipe is really simple and quick if you already have the ground corn dough. If you do not have the possibility of acquiring freshly ground sweet corn dough (jojoto) in your area, you can buy a dozen ears of young corn, shell it and grind it, either with a food processor, a blender (you must grind it in portions very small so as not to damage the equipment), or in a hand mill. The mixing and preparation time for small cachapas will not exceed 30 minutes.

Servings: From this amount of ingredients I obtained 7 units (cachapas), 13 cm in diameter on average.

500 grams of young corn dough (jojoto), fresh. It is very important that it is yellow corn, with white corn the flavor does not go well.

20 grams of or a heaping tablespoon of sugar, (this is the part that is different from the original recipe). The ideal would be to add cane sugar (piloncillo), but my family refuses this combination.

3 grams or half a teaspoon of salt.

250 ml of water.

Large bowl for kneading, wooden or metal spoon (it doesn't matter), measuring cups (I used my traditional totuma "dishes"), plates, spatula, and in this case I used an electric griddle, but they can be made in griddles or pans of any kind, even in a wide cauldron.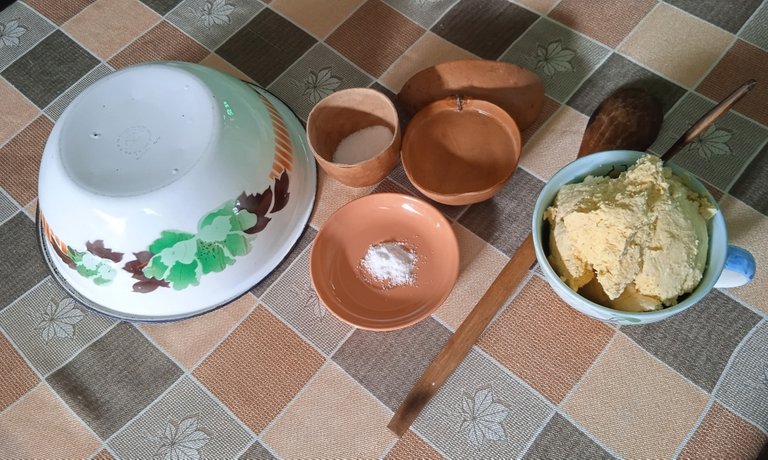 Tiempo, ingredientes y equipo
Tiempo de preparación: Esta receta es realmente simple y rápida si se tiene ya la masa de maíz molidas. Si en tu localidad no tienes posibilidad de adquirir la masa de maíz tierno (jojoto) recién molida, puedes comprar una docena de mazorcas de maíz joven, desgranarla y molerla, bien sea con un procesador de alimentos, una licuadora (lo debes moler en porciones muy pequeñas para no dañar el equipo), o en un molino de mano. El tiempo de mezcla y preparación para unas cachapas pequeñas no excederá los 30 minutos.

Raciones: De esta cantidad de ingredientes obtuve 7 unidades (cachapas), de 13 cm de diámetro en promedio.

500 gramos de masa de maíz joven (jojoto), fresca. Es muy importante que sea maíz amarillo, con maíz blanco no queda bien el sabor.

20 gramos de o una cucharada rebosante de azúcar, (esta es la parte distinta a la receta original). Lo ideal sería añadir azúcar de caña (papelón), pero mi familia se niega a esta combinación.

3 gramos o media cucharadita de sal.

250 ml de agua.

Bol grande para amasar, cuchara de madera o metal (es indiferente), tazas medidoras (yo utilicé mi "vajilla" tradicional de totuma), platos, espátula, y en este caso empleé una plancha eléctrica, pero se pueden hacer en planchas o sartenes de cualquier tipo, incluso en un caldero amplio.

THE PROCEDURE / EL PROCESO
---
To speed up the preparation of any recipe, we must have our ingredients measured and the utensils available to work. Where I live, it is an agricultural and livestock area, so it is feasible to get sweet corn, so it is common to sell this dough already ground in street stalls, or in some grocery store. The first thing we will do is pour the sweet corn dough into a large container to be able to mix it comfortably. As you can see, this dough has a very compact consistency, not fluid, which tells me that it was processed from corn that was no longer tender; which is why it will require more liquid to get it to a manageable consistency, so I add about 250 ml of room temperature water.
---
Para agilizar la elaboración de cualquier receta, debemos tener nuestros ingredientes medidos y los utensilios disponibles para trabajar. En donde vivo, es una zona agrícola y ganadera, por lo que es factible conseguir maíz tierno, así que es común la venta de esta masa ya molida en puestos de venta callejeros, o en algún establecimiento de víveres. Lo primero que haremos será verter la masa de maíz tierno en un recipiente amplio para poder mezclarla cómodamente. Como pueden ver, esta masa es de una consistencia muy compacta, no fluida, lo que me indica que la procesaron a partir de maíz que estaba dejando de ser tierno; razón por la cual requerirá más líquido para que adquiera una consistencia manejable, así que le agrego aproximadamente 250 ml de agua a temperatura ambiente.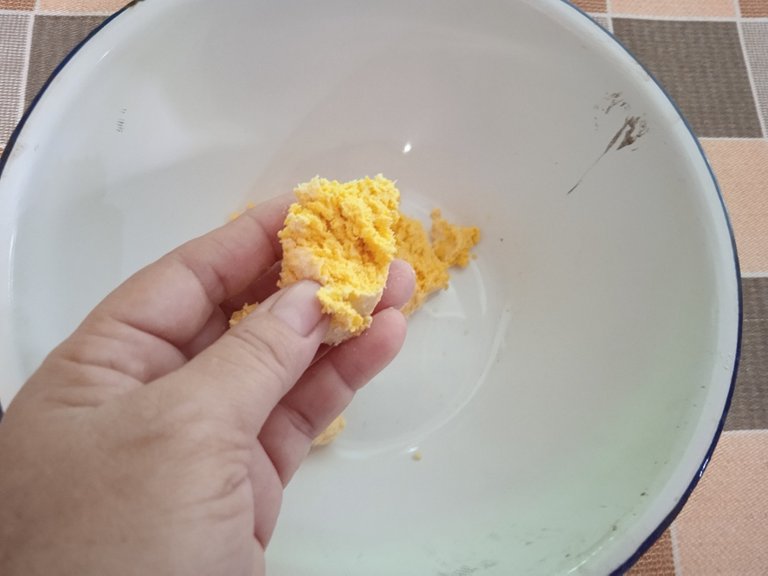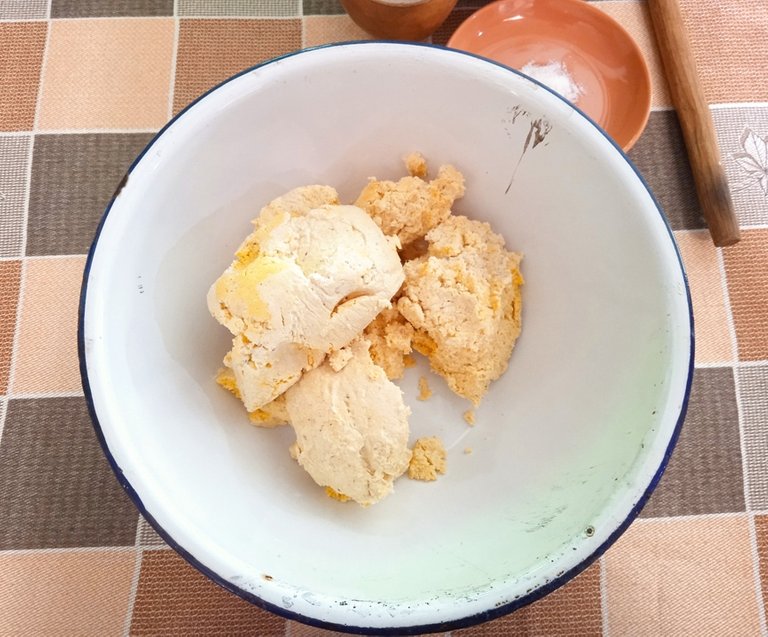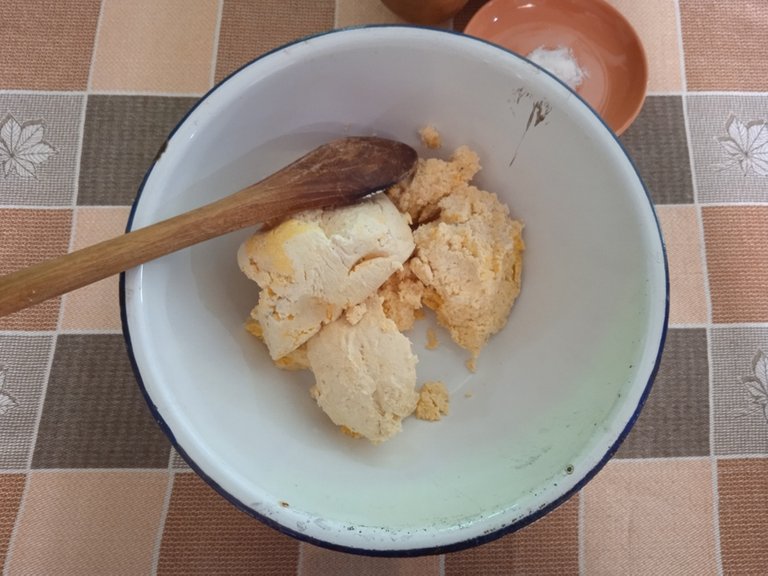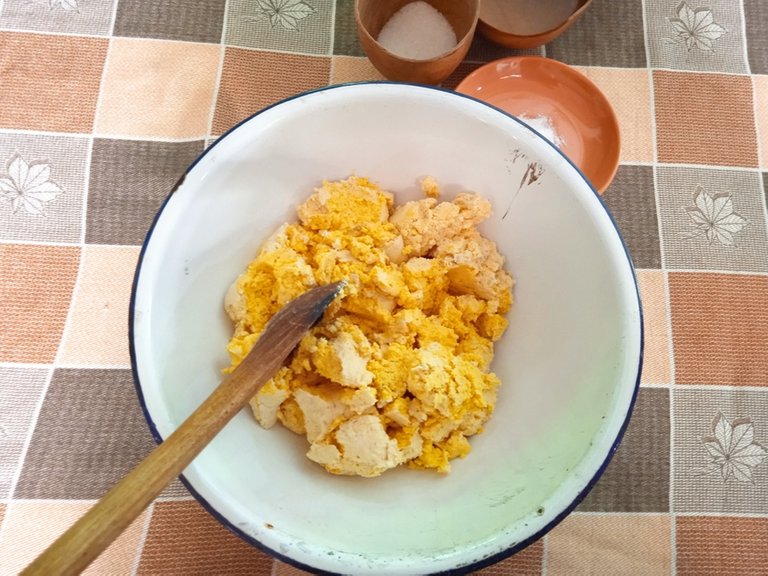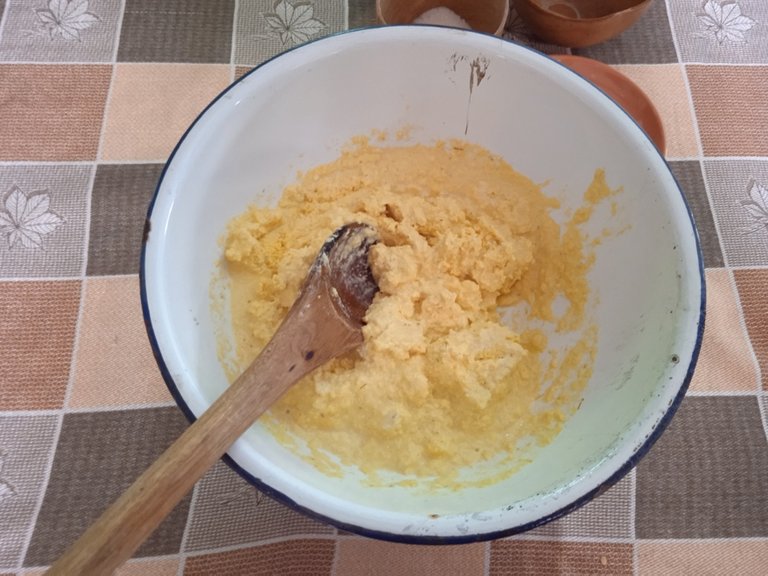 Then I add the salt and sugar, trying to ensure that they are very well distributed in the dough. I check the consistency, which should be not too runny, but not too dry either (everyone has their own criteria in this regard).
---
Seguidamente incorporo la sal y el azúcar, procurando que queden muy bien distribuidas en la masa. Verifico la consistencia, que debe ser no muy líquida, pero tampoco muy seca, (cada quien tiene su propio criterio al respecto).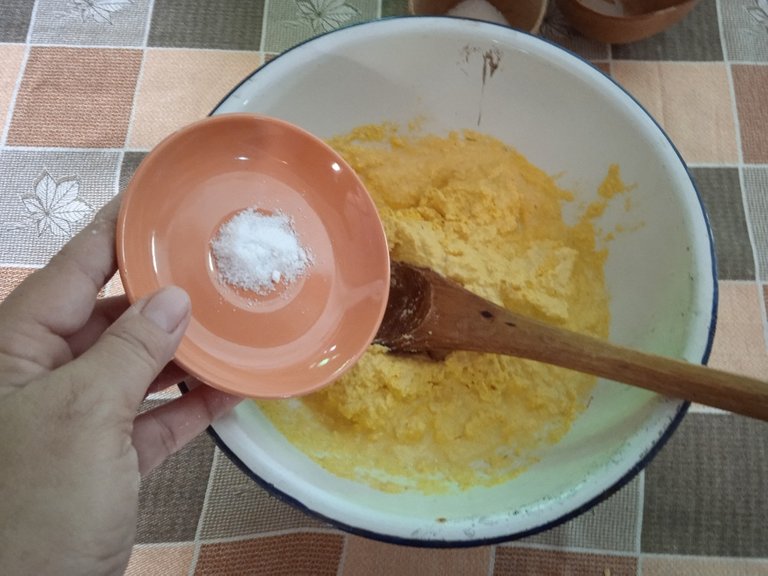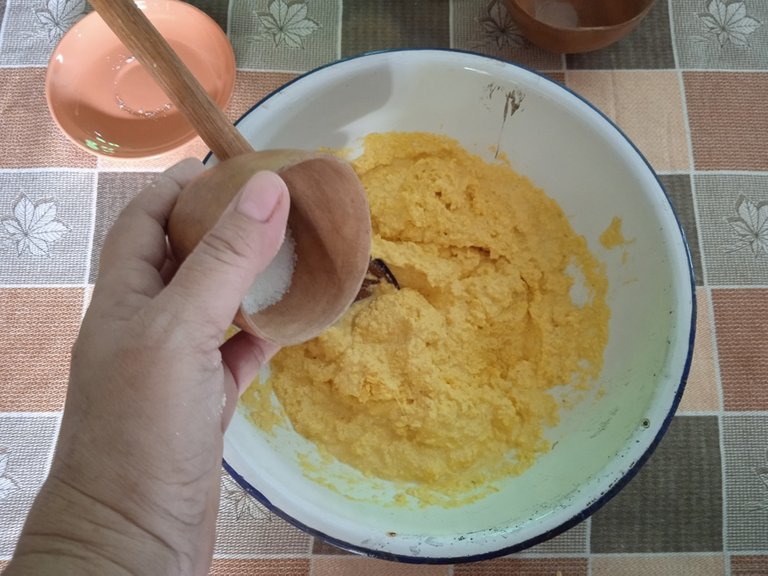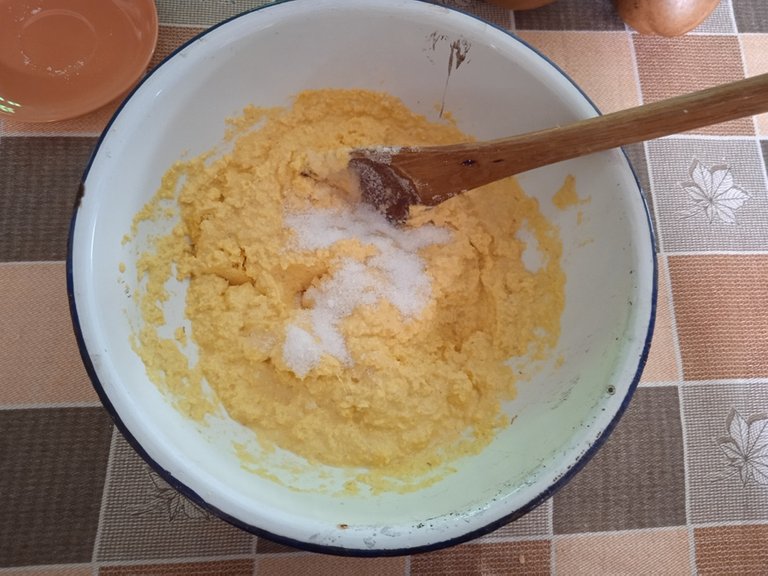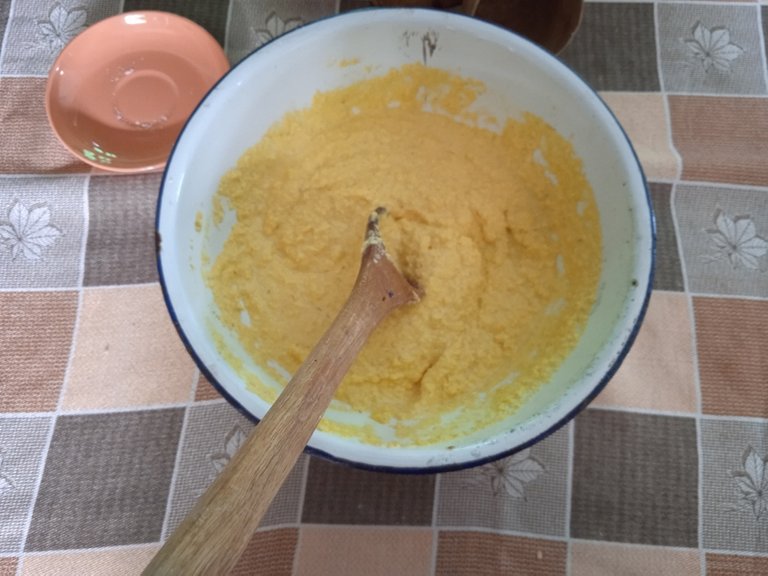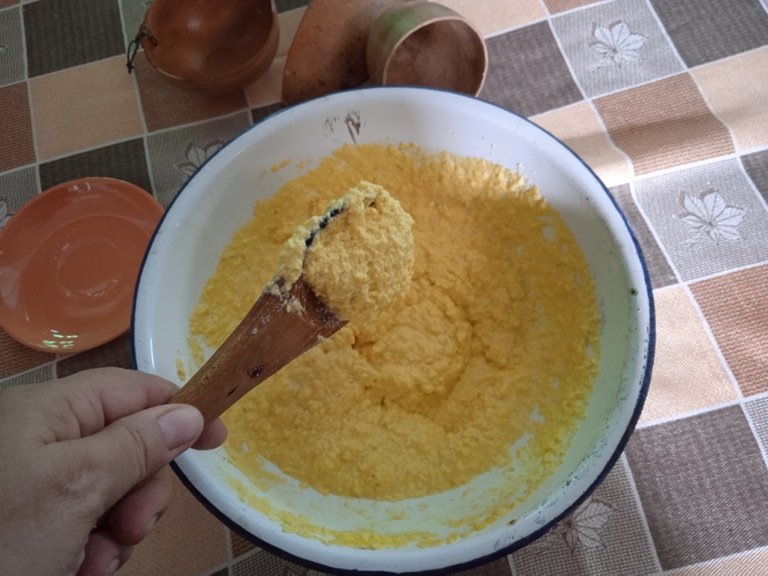 The next step is to preheat the griddle to 300ºF, for about five minutes, and then, once it is hot, form the discs of dough on the cooking surface. As this griddle is non-stick, it was not necessary to oil it, in case it is not, it is necessary to cover the area with a layer of cooking oil.
---
El próximo paso es precalentar la plancha a 300 ºF, por unos cinco minutos, para luego, estando ya caliente, formar los discos de masa en la superficie de cocción. Como esta plancha es antiadherente, no fue necesario aceitarla, en caso de que no lo sea, es preciso cubrir el área con una capa de aceite de comer.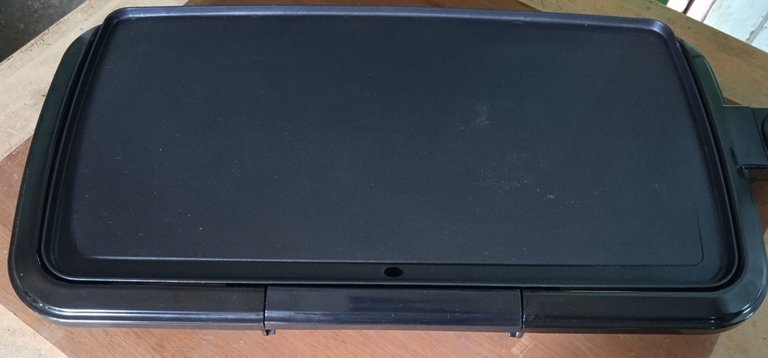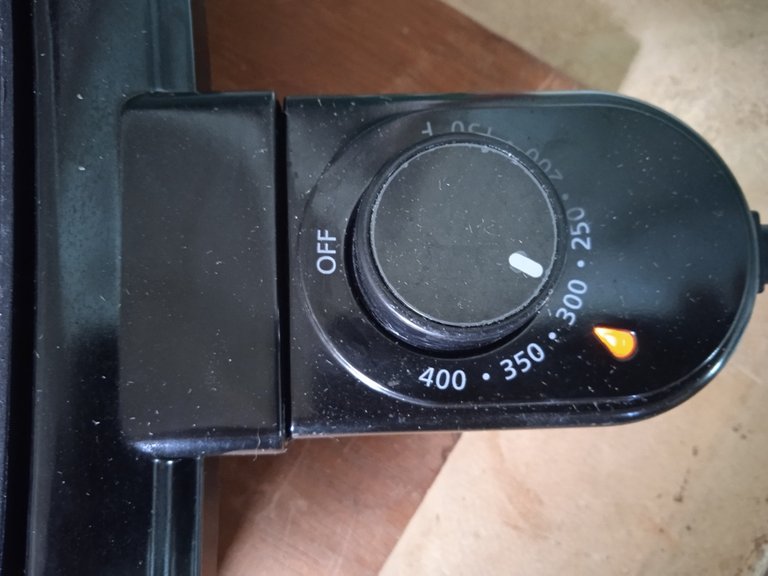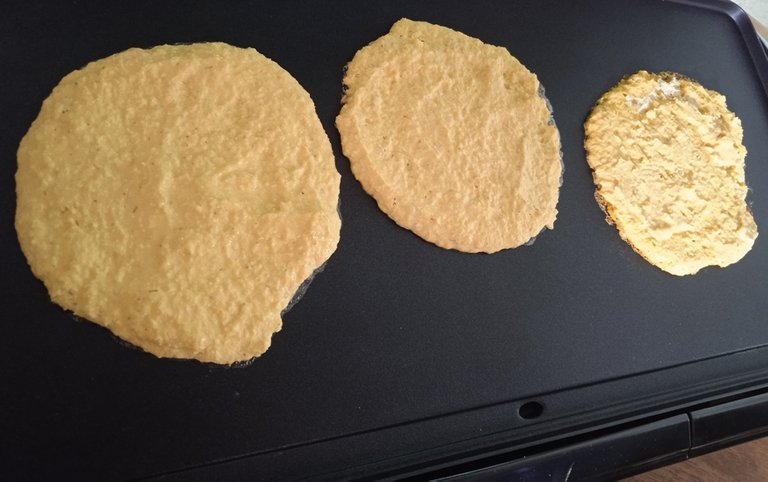 I will be very frank, I felt uncomfortable using this griddle, (perhaps lack of practice), so the discs were not round as I do them in a pan or in another special griddle that I have (budare). The minicachapas in this opportunity were left with irregular shapes; however, the flavor was quite good. I cooked each of these little pieces for about 3-4 minutes per side; however, if the cachapa is larger and thicker, it will require more time. You will know that you can turn the piece, when it begins to change the color on the surface, when it dries.
---
Seré bien franca, me sentí incómoda utilizando esta plancha, (quizás la falta de práctica), por lo que los discos no me quedaron redondos como los hago en una sartén o en otra plancha especial que tengo (budare). Las minicachapas en esta oportunidad quedaron con formas irregulares; sin embargo, el sabor estaba bastante bueno. Yo cociné cada una de estas pequeñas piezas por aproximadamente 3-4 minutos por lado; sin embargo, si la cachapa es de mayor tamaño y grosor, requerirás más tiempo. Sabrás que puedes voltear la pieza, cuando comience a cambiar el color en la superficie, cuando vaya secándose.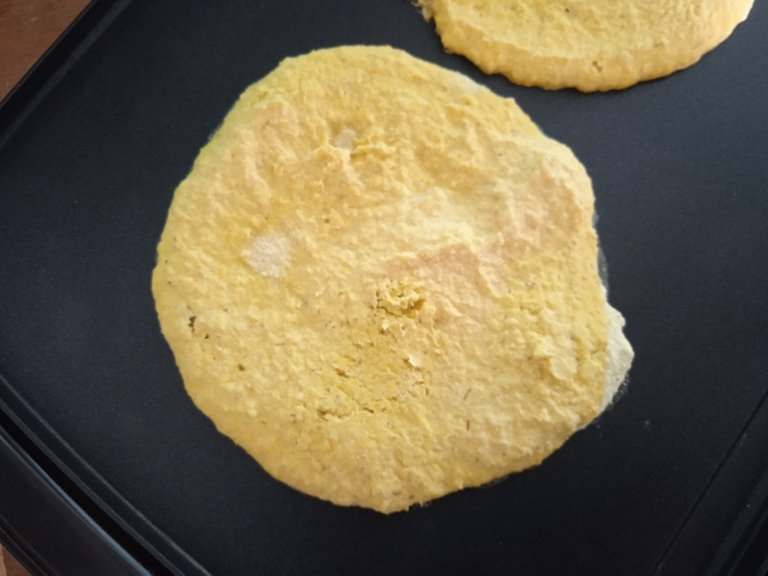 I can say that the experience using the electric iron was so-so, so I will have to use it more often to get familiar with it. The mini cachapas that I prepared had excellent flavor, in fact, I ate these together with my husband later, accompanied by a cup of coffee; but they are very versatile, they can be combined with beans, avocado, salads, with whatever you like or eaten alone, as I did.
---
Puedo decir que la experiencia utilizando la plancha eléctrica fue regular, por lo que tendré que usarla con más frecuencia para familiarizarme con ella. Las mini cachapas que preparé tenían excelente sabor, de hecho, estas me las comí junto con mi esposo más tarde, acompañadas de una taza de café; pero son muy versátiles, pueden combinarse con caraotas, frijoles, aguacate, ensaladas, con lo que gustes o comerlas solas, como lo hice yo.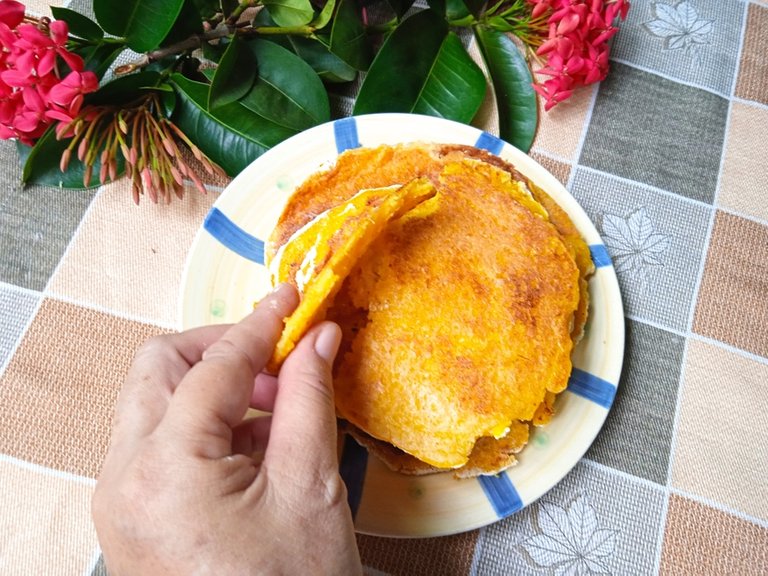 Here I finish my post today, where I brought you a very simple recipe, but delicious and practical. I hope you will be encouraged to continue making vegan recipes, which are delicious, nutritious and compassionate with Mother Earth.
Aquí termino mi post de hoy, en donde les traje una receta muy sencilla, pero deliciosa y práctica. Espero que se animen a seguir haciendo recetas veganas, que son deliciosas, nutritivas y compasivas con la Madre Tierra.

Image sources
These photos are my own, and were taken with a Xiomi REDMI 8 A phone

The dividers used are courtesy of @eve66 who shares beautiful designs that embellish the layout of our post.

In case it is required to use the content or images of this post and of my other publications, I would appreciate if you could refer to my authorship (Fabiola Martínez) and cite the corresponding link. Thanks.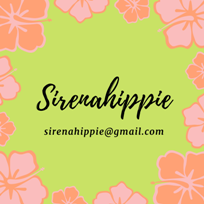 Delegations welcome!
Find our community here IICuration Trail


---
---