Roberto Carlos - Amigo - Cover song by @siul1987 [English - Spanish]
---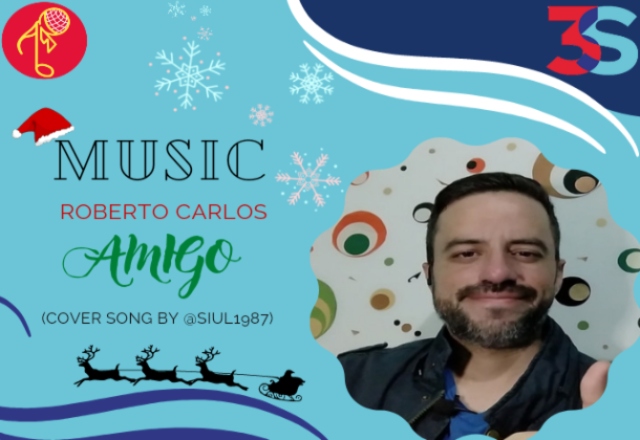 Hello dear friends of @music, I hope you are very well and that you are enjoying a good weekend with your family, today I want to share with you a cover I made of a very nice song of the Brazilian composer "Roberto Carlos", titled "Amigo". I confess that I like this song for quite some time, its rhythm is quite nice and the lyrics not to mention, in my house we are lovers of good music and we listened to this song at full volume, I also have very nice memories with my brother, today I can say that I have more than a brother a great friend. To talk about "Roberto Carlos " is to talk about great songs that at the time were in the top of the most listened to songs such as "Concavo y convexo , El gato que está triste y azul, Amigo, Cama y mesa, etc".
I love music in general, but when it comes to romantic ballads is another thing, the song "Amigo" is something old, it was released in 1977, I was not even born, but it is still a great song and I'm sure that today and like me, you still listen to it quite a lot. That's why today I want to share it with you, I hope you like it. A hug!
Hola queridos amigos de @music, espero estén muy bien y que se encuentren disfrutando de un buen fin de semana en familia, el día de hoy quiero compartir con ustedes un cover que hice de una canción muy bonita del compositor brasileño "Roberto Carlos", titulada "Amigo". Confieso que esta canción me gusta desde hace bastante tiempo, su ritmo es bastante agradable y pues la letra ni hablar, en mi casa somos amantes de la buena música y pues escuchábamos este tema a todo volumen, también tengo muy bonitos recuerdos junto a mi hermano, hoy en día puedo decir que yo tengo mas que un hermano un gran amigo. Hablar de "Roberto Carlos" es hablar de grandes temas que en su momento estuvieron en el top de los mas escuchados temas tales como "Concavo y convexo , El gato que está triste y azul, Amigo, Cama y mesa, etc".
Soy amante de la música en general, pero cuando se trata de baladas románticas es otra cosa, el tema "Amigo" es algo viejo, se estrenó en el año 1977, ni siquiera había nacido, pero no deja de ser una gran canción y estoy seguro que al día de hoy y al igual que yo, todavía la escuchan bastante.. Es por esto que el día de hoy se las quiero compartir, espero les guste. !Un abrazo!

Lyrics
Roberto Carlos
Friend
You are my soul brother, really my friend
Who in every path and journey is always with me
Although you are a man you still have the soul of a child
The one who gives me his friendship, his respect and affection
I remember that together we went through very hard times
And you didn't change no matter how strong the winds were
Your heart is a house with open doors
You are really the most certain in uncertain times
In certain difficult moments in life
We look for the one who helps us to find the way out
And that word of strength and faith that you have given me
Gives me the certainty that you were always by my side
You are the friend of the soul who in every journey
Smile and festive embrace at every arrival
You tell me such great truths with open sentences
You are really the most certain in uncertain hours
I don't even need to say
All that I tell you
But it's good to feel this way
That you are my great friend
I don't even need to say
All that I say to you
But it's good to feel this way
That I have a great friend
I don't even need to say
All that I tell you
But it's good to feel this way
That you are my great friend
I don't even need to say
All that I say to you
But it's good to feel this way
That I have a great friend
I don't even need to say
All that I tell you
But it's good to feel this way
That you are my great friend
I don't even need to say
All that I say to you
But it's good to feel this way
That I have a great friend

Letra
Roberto Carlos
Amigo
Tú eres mi hermano del alma, realmente el amigo
Que en todo camino y jornada está siempre conmigo
Aunque eres un hombre aún tienes alma de niño
Aquel que me da su amistad su respeto y cariño
Recuerdo que juntos pasamos muy duros momentos
Y tú no cambiaste por fuertes que fueran los vientos
Es tu corazón una casa de puertas abiertas
Tú eres realmente el más cierto en horas inciertas
En ciertos momentos difíciles que hay en la vida
Buscamos a quien nos ayude a encontrar la salida
Y aquella palabra de fuerza y de fe que me has dado
Me da la certeza que siempre estuviste a mi lado
Tú eres el amigo del alma que en toda jornada
Sonrisa y abrazo festivo a cada llegada
Me dices verdades tan grandes con frases abiertas
Tú eres realmente el más cierto en horas inciertas
No preciso ni decir
Todo eso que te digo
Pero es bueno así sentir
Que eres tú mi gran amigo
No preciso ni decir
Todo eso que te digo
Pero es bueno así sentir
Que yo tengo un gran amigo
No preciso ni decir
Todo eso que te digo
Pero es bueno así sentir
Que eres tú mi gran amigo
No preciso ni decir
Todo eso que te digo
Pero es bueno así sentir
Que yo tengo un gran amigo
No preciso ni decir
Todo eso que te digo
Pero es bueno así sentir
Que eres tú mi gran amigo
No preciso ni decir
Todo eso que te digo
Pero es bueno así sentir
Que yo tengo un gran amigo
---
Original Song / Canción Original
---
---