WOO : THE WRESTLING NFTs
Greetings to my favourite gaming community, WOO. It's always a pleasure to share something exciting about WOO in this dedicated community.
In yesterday's blog post, I shared some few thoughts on why we love the game, WOO and reasons why WOO will end up building a community of loyal gamers.
In today's blog post I'll be sharing on one feature of WOO which I believe is one of the major attraction for many wrestling fans out there. I'll be talking about WOO wrestler NFTs.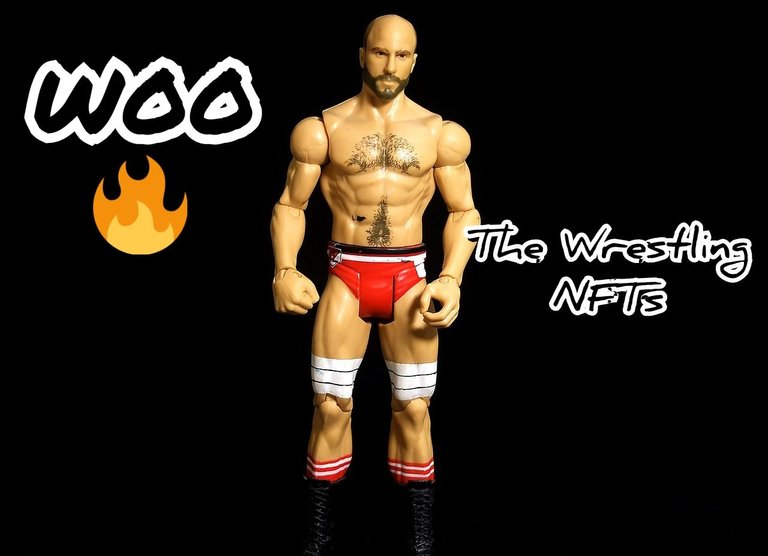 Original Image Source by vinsky2002 on Pixabay
In this ever growing and thriving world of Play-to-earn P2E games online, I believe staying fresh and making futuristic updates is very important if any game would want to succeed. I think Wrestling Organization Online, WOO has really stepped it up with something very cool.
Instead of a traditional wrestling game with wrestling characters that fight to win championships, WOO has established the Wrestling characters as NFTs. This Idea I believe is benefiting the game greatly.
As wrestling fans, the bonds we have for the wrestling world is quite unique from other sports. We don't just bond with wrestling because we love to watch people slam people in the ground and count to three. The bond is mainly established from the love that is created between our favourite wrestling characters and us.

Years ago, I personally use to watch Wrestling almost every single day but one thing I realized is that if the event did not include my favourite wrestlers like John Cena, Brock Lesnar, Triple H and Batista, I was unsatisfied with the whole show.
Now my favourite wrestlers currently including Roman Reigns, Seth Rollins, American Nightmare Cody Rhodes and Drew McIntyre. The special bond I share with those wrestlers is what keeps me hooked to watching Monday Night Raw and Friday Night Smackdown.
This is why I think WOO is pulling off a special move to ensure the success of the game after its release and years to come. As WOO introduce more new wrestlers in NFTs, there's a chance the players will probably like and bond with some as their favourite wrestler NFTs and that will basically create loyalty to the WOO game brand.

Besides the love and bond players will have for the NFTs, we all know that NFTs have value in money right. This is basically a way for us to enjoy playing this awesome WOO game and still be making great financial investments. NFTs are getting more and more popular everyday. More people are getting to understand the concept and value of NFTs and as more people start to own NFTs, the wrestling fans will desire the WOO NFT even more.
I really can't wait to the official release of Wrestling Organization Online because I believe in it's potential to own the P2E world as long as wrestling is concerned.
I think the value of WOO wrestling NFT will rise exponentially after its release because probably as time goes on, NFT values get bigger and of course the fans of wrestling will see the true value of turning their passion into a financial investment.
Now each Wrestler NFT has its own unique set of skills and abilities and that will make the NFTs very desirable by the gamers and even other investors.
The players can basically put together teams of NFT wrestlers and create the ultimate showdown.
As players desire to get to the top of the game and win championships, it will be a reason to invest more into NFTs which I think will be very profitable in the long run for them and the WOO game.

These wrestlers NFTs are basically like other NFTs, a digital treasure. You get to own them and not everyone can have them. The rarity of the NFTs will shoot its value up. So as the value rise and as you use the NFTs to win big battles, you earn very good rewards and still have fun.
This concept of earning while playing, P2E is the best concept because I have never seen any other person combine the concept of wrestling with P2E cryptocurrency, $WOO and NFT as well. This is what makes WOO COOOOL!!!! The game is both exciting to play and worth your time. GTA is cool but hasn't beaten that concept yet. 😁 No offense to all GTA fans.
As players try a combination of NFTs in the attempt to win the entire show, it creates this sweet and exiting feeling to the game. Everyone gets to create his own unique strategy to winning the game as a manager.
To end my blog post today, I'll simply say that WOO is indeed a game changer when it comes to the World of Play-to-earn, P2E with thier unique wrestler NFTs. They keep adding new cities, new NFTs and new Unknown places. I strongly believe that the game will be a complete success after its release.

I would like to commend and acknowledge the developers behind the platform. A special thanks to @wrestorgonline and all the other developers for the effort they put behind making this game and its community stronger and better.
Thanks for taking the time to read my blog post today. As always I would be more than happy to hear your comments and opinions regarding my blog post. Have a lovely day and see you next time guys. Bye ❤️.
---
If you are excited and want to join the WOO game online, I'll share the link below guys. 👇
Link to the WOO page below 👇
I also took the liberty of sharing the community discord page so you can get to interact with your new WOO family on discord. It's a pleasurable experience joining the WOO Discord community. That's were you'll get your wrestling belt as a member. Bye guys ❤️
Link to the WOO Discord Community 👇

WOO IS COOOOOOOOOOLLLL!!!! 🏆

---
---