WOO IDEA FOR A TIKTOK PAGE TO GO VIRAL - WOO VIRAL TREND
Greetings to my WOO family. It's another day and I'm back to share some cool content with everyone in the Wrestling Organization Online community.
Well today's blog post is inspired by an answer that "Bookerman" gave me during Q and A Livestream on WOO Discord page last Sunday.
I asked Bookerman if WOO had a TikTok page because I believed that could be the best way by which WOO could go viral and attract more players and investors. The unfortunate answer was that yes WOO has a TikTok page for over a year but it hasn't exactly received any traction on TikTok.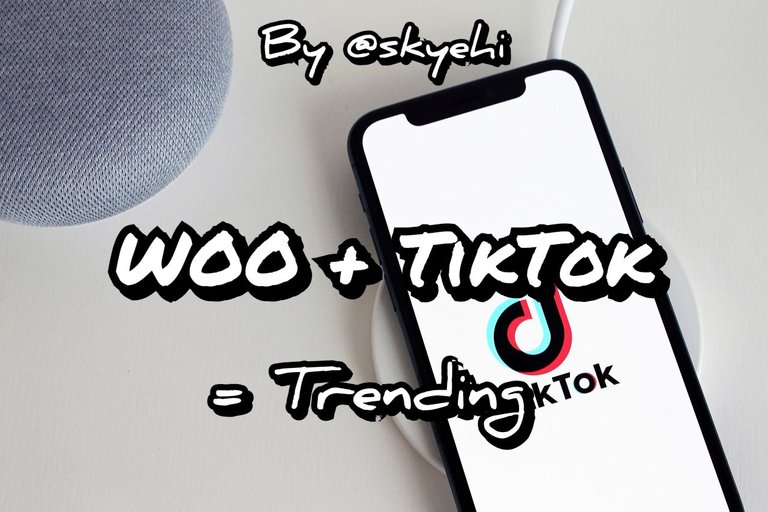 Original Image Source by antonbe from Pixabay
Well I've been on TikTok for over a year as well and I did a lot of research on some ways by which your TikTok videos could go Viral. I created this blog to make suggestions as a beloved WOO enthusiast and member. I really hope "Bookerman" finds this blog post interesting and a little helpful.

This blog is about getting WOO on the map guys. I'll share some really fun TikTok Ideas that would have a good chance of going Viral.
I'm talking about creating some crazy TikTok videos that will blow up or trend and hopefully introduce WOO to lots of people and possibly investors as well.
TikTok is now the easiest platform to go viral with your videos or even your product promotions. It ain't just for dancing to music or lip-syncing anymore. Now gamers play their games sometimes live on TikTok and get a huge following. People literally create their entire fan base of millions on TikTok.
The trick is to post the content that people will definitely like. One trick I realized on TikTok after posting lots and lots of videos was that if you create a video that seems to look like it's advertising a product, The TikTok algorithm will reduce the traction or reach the video will get.
So instead of creating a raw advertisment video of WOO, you can create a short and super captivating game section and include the part where you say link in bio like anybody else 😅.
I believe with the game mechanics of WOO, all it needs is the right kinds of videos and all the wrestling fans will get super interested in it.

One thing most people like about wrestling on TikTok is the meme videos we make about wrestling characters and the funny things they once did. So WOO could definitely make funny memes about its wrestler NFTs and even infact the section of memes on the WOO Discord page could be utilized at this point. The best memes could be made into a beautiful and well animated video compilation and with WOO logo written on it.
We could have a wrestler jump off a rope in a funny way shouting "WOO!!!!!!" and add the theme or logo of the game. This will start to make people curious of what this WOO trend is.
Infact it may not even have to be a wrestler video. It could be a funny staged video where the trending word will be WOO. Funny videos go viral on TikTok a lot. It's one of the best niche to be in on TikTok. So we could definitely create a #WOO trend.

One other thing we can do on TikTok is to showoff epic fights in an edited and nice way. The WOO supershow can be involved in this one. When two of the best WOO players clash and compete for the price, we can make a super cool animated video of the experience and then share the text - "Link to join the fun in bio"
---
We could also do a "meet the Wrestlers" video where the WOO officials wearing cool WOO customized shirts meet with some of the wrestlers like Perry Saturn. We can make short videos or interviews about these Wrestlers and their experience or history story of wrestling.
---
One thing that "Bookerman" did which got everybody super interested in the Livestream was the giveaway. We could actually do a give away short videos where people put in the comments online their names and the first 100 is selected and I know would be painstaking but put all the 100 names in the wheel of probability and pick a winner. This can be done on TikTok maybe once a week on a particular set day.

Another interesting video we can do is the behind the scenes of the development of the WOO game. People are always interested in any video with the title behind the scenes because Humans are curious beings. We can share how the WOO game is made and the challenges they went through like how "Bookerman" talked about the number of images they had to resize. It basically involves the people in the game so that makes them love it even more.

Now one thing I believe is very necessary is to create a guide to playing the game. Yes of course you may already have a guide but it would be cooler to make it simpler to understand through a cool animated video gameplay like how they advertised GTA 6 and got everybody at the edge of their seat waiting for next year's release of it.

Another thing I see some P2E games do is that they create incentives to reward players for sharing their gameplay experience on TikTok and send the link back to WOO to review the video and reward the users. By doing this, many more people start to post about WOO from different places and that gives more traction and reach of WOO in different places.

There are also hashtags on TikTok that usually increases the chances of your videos going viral. I'll suggest some WOO hashtags that I think can be very awesome and helpful.
Hashtags for WOO on TikTok
#WOO #PlayToEarn #WrestlingGame #WrestlerNFTs #tiktokGaming #CryptoTokens #InTheRingWeTrust
Hashtags that increases your chances of going viral on TikTok
#tiktok #fyp #foryou #foryoupage

Alright guys I'll end my blog post right here. I hope this blog was helpful to everyone one. I'll definitely like to hear some more ideas from my fellow WOO enthusiasts on some possible videos to trend. Thanks for taking the time to read my blog post guys. Catch you next time. Bye❤️

If you are excited and want to join the WOO game online, I'll share the link below guys. 👇
Link to the WOO page below 👇
I also took the liberty of sharing the community discord page so you can get to interact with your new WOO family on discord. It's a pleasurable experience joining the WOO Discord community. That's were you'll get your wrestling belt as a member. Bye guys ❤️
Link to the WOO Discord Community 👇

WOO IS COOOOOOOOOOLLLL!!!! 🏆

---
---