Splinterlands Strategies: Brawls, the Last Bastion of Humanity?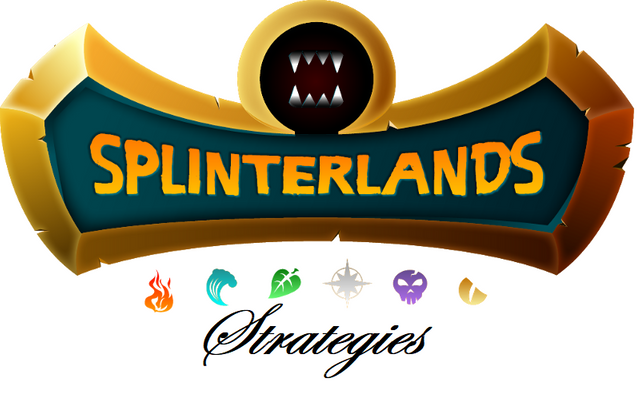 "Lost again, fuck…"
I used to not care; try as I would I seem to have lost my touch on how to win at Splinterlands. With the advent of the second generation of BOTs (ArchMage, XBOT), I felt no desire to play anymore.
Why fight the robotic army when you can rent a robot yourself and be on an even keel?
Battling the second generation manually is taxing, stressful, and demoralising. These algorithms are good and can hold their own against us humans, so why bother?

I don't bother and have a sole account using an XBOT token that sits at the top of the Gold league, occasionally creaming off 4000 DEC as a prize at the end of the season, as well as 10-11 chests a day and 75 or so every 2 weeks.
This is not my 'big' account and is customised toward the gold league. Level 6 summoners, Level 8 commons, etc.., on most splinters.
My 'big' accounts are still renting their assets, it's still more profitable that way, especially concerning the Llamas, Yodins, and Kitties of this world.


...'XBOT is a decent player, better than me.., but that's because I am quite a shit player now and all my opponents are also XBOT and ArchMage players'...

So why the profanity?
Brawls; the last bastion of Splinterlands humanity. There are no BOTs (yet) that support brawls and I would prefer it to stay that way.
If the BOT's vanished overnight, I would be fine with that. I still wouldn't play all my cards, but would then have a chance of winning.
I purposely joined a guild that has no demands with my third-rate account. They don't require DEC every season, and none of the guild members have paid any DEC... ever.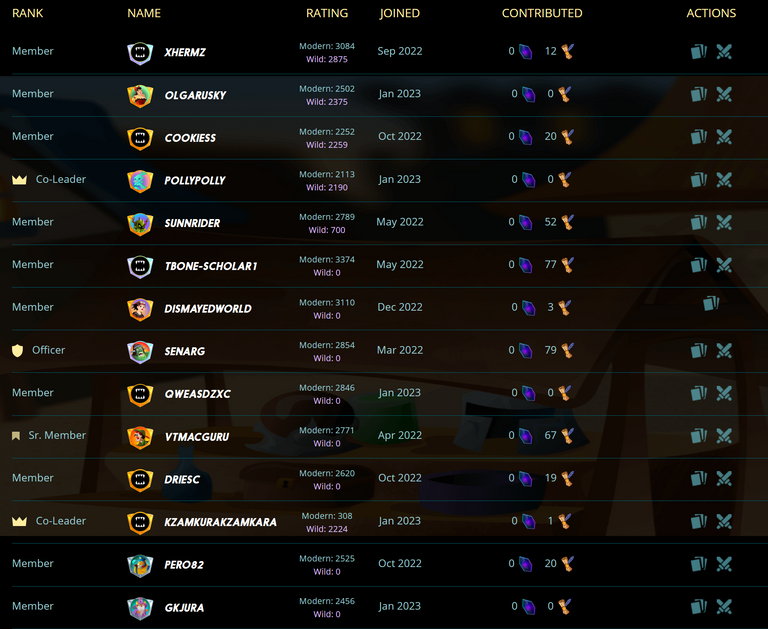 ...'No DEC contributions in a guild, from anyone (beside the leader) is a rare sight'...

I know what you are thinking…, 'tight-arse'.
Once I was in a 'proper' guild, for over a year. Then one day they kicked me without any contact. This was after contributing 40,000 DEC or so over some time.
I was salty, and this was before the days of Brawls, Gladiator cards, and SPS rewards. There were no rewards, and I felt I needed to play my part.


...Feeder 5 won't be leaderless soon and will be renamed to Peakmonsters something or other shortly'...

So now, I use the PeakMonsters Feeder guilds, hosted and funded graciously by @jarvie. It was a quiet life until recently when my feeder guild decided it wasn't going to be one anymore.
Oh shit, now I will have to play again, but you know what…, because I am playing humans it's quite the challenge.
Well... I hope I am playing humans and there isn't some secret Brawls BOT about that I don't know about.
If there is, please spill the beans.
Brawls are forcing me to play again, and besides the odd swearing outburst, I am sitting up and learning how to play… again.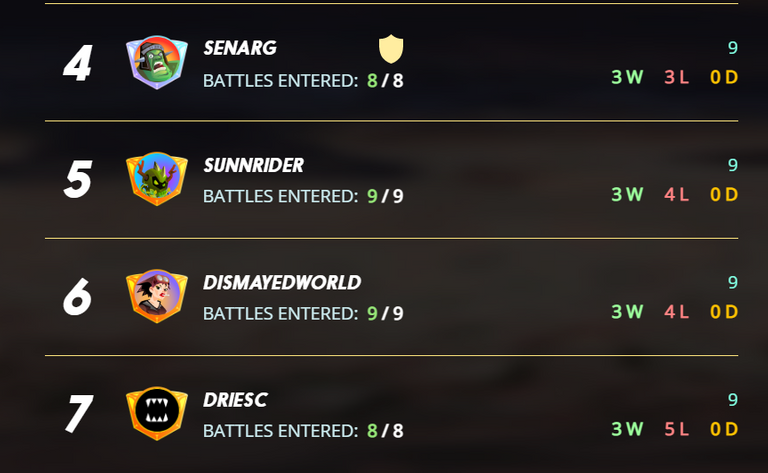 ...'I was 3-0 up at one point, and then it went to shit. I need to raise my game, this is embarrassing'...

I can't see myself being booted from a PeakMonsters Feeder guild due to bad performances but it's kind of embarrassing when you play 8 matches, win 1 and win another due to your opponent fleeing.
This is how lousy I have become at playing in today's Meta. It needs to change and I refuse to recruit my big boys in order to 'cheat' – Llama / Yodin / Kitty.
Take note of the rulesets, and learn what splinter performs better when it's a limited ManaCap. I can't use Life but can use all the others.
Maybe there is some human life left in Splinterlands after all?


...'I am still building my Water splinter cards on this account, it's not quite optimised yet'...

What I have noticed is that amount of other guild players who rent most of their cards, rather than own them. I feel I am an oddity being someone who NEVER rents anything, and owns EVERY asset I use.
Now I really need to upgrade my L7 Deeplurker to L8. Hitting for 5 instead of 4 makes a difference.

Earn currency while you play and become a global Rock Star with Rising Star
Own assets, and earn currency while playing one of the oldest, most established Crypto Games, Splinterlands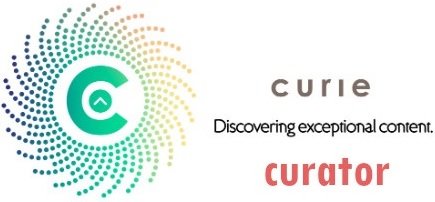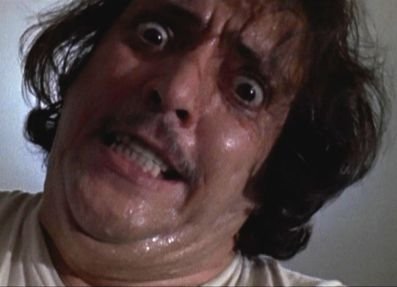 If you found this article so invigorating that you are now a positively googly-eyed, drooling lunatic with dripping saliva or even if you liked it just a bit, then please upvote, comment, rehive, engage me or all of these things.
---
---