Tales of the Urban Explorer: Ardwyn House
I was hoping to spot an old photograph of 'Ardwyn House', but couldn't find one. There is a little history on the internet, but zero images.
This derelict detached property was a former centre and school for handicapped children but closed during the late 1990s due to funding cuts.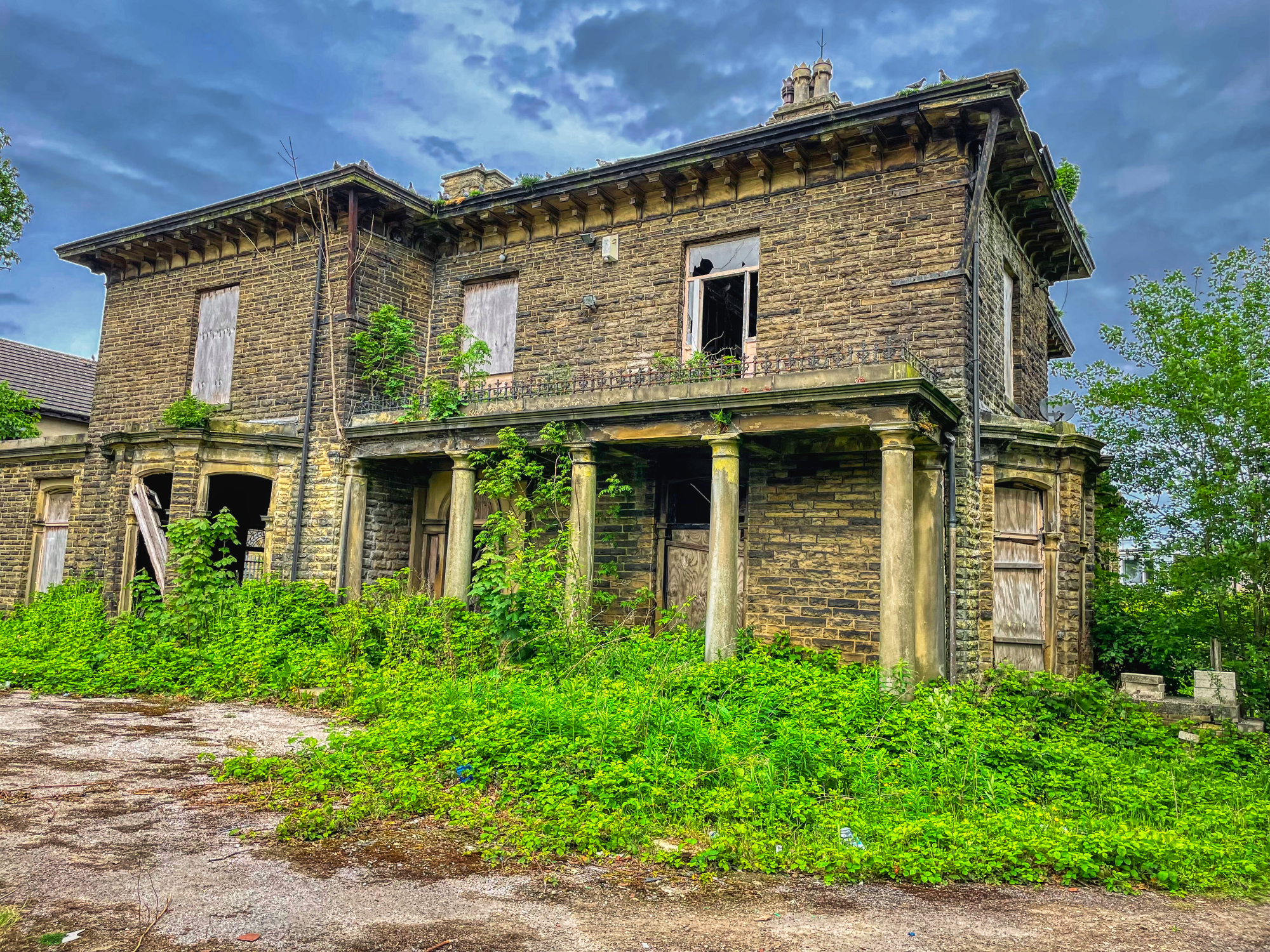 The house dates back to the early 1900s when it was originally a stately home for a wealthy wool merchant and his family.
With @lpff and @anidiotexplores in tow, I drew up close to 'Ardwyn House' noting the parked vehicle parked close by.
"Why is there a bloody car next to it, it's either an abandoned vehicle or some stupid arse newbie explorers inside", I suggested to my co-companions who were also gazing at 'the car'.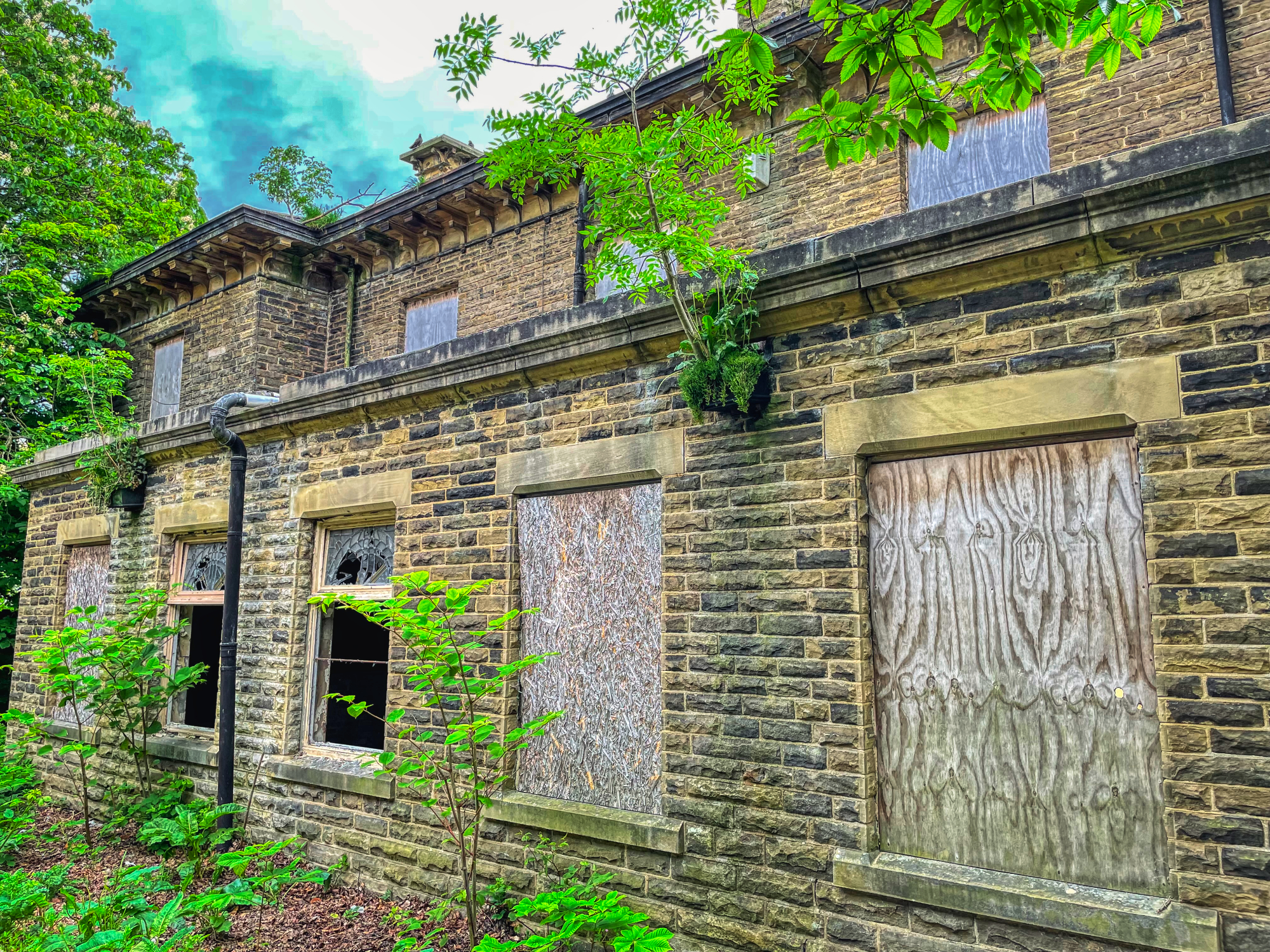 Knowing that abandoned buildings have this magical talent of drawing anything else rusting and abandoned close to them, I surmised the former.
What was more annoying was that it was fucking up my photography. I would prefer not to have some old rusting banger on my cover image of 'Ardwyn House'.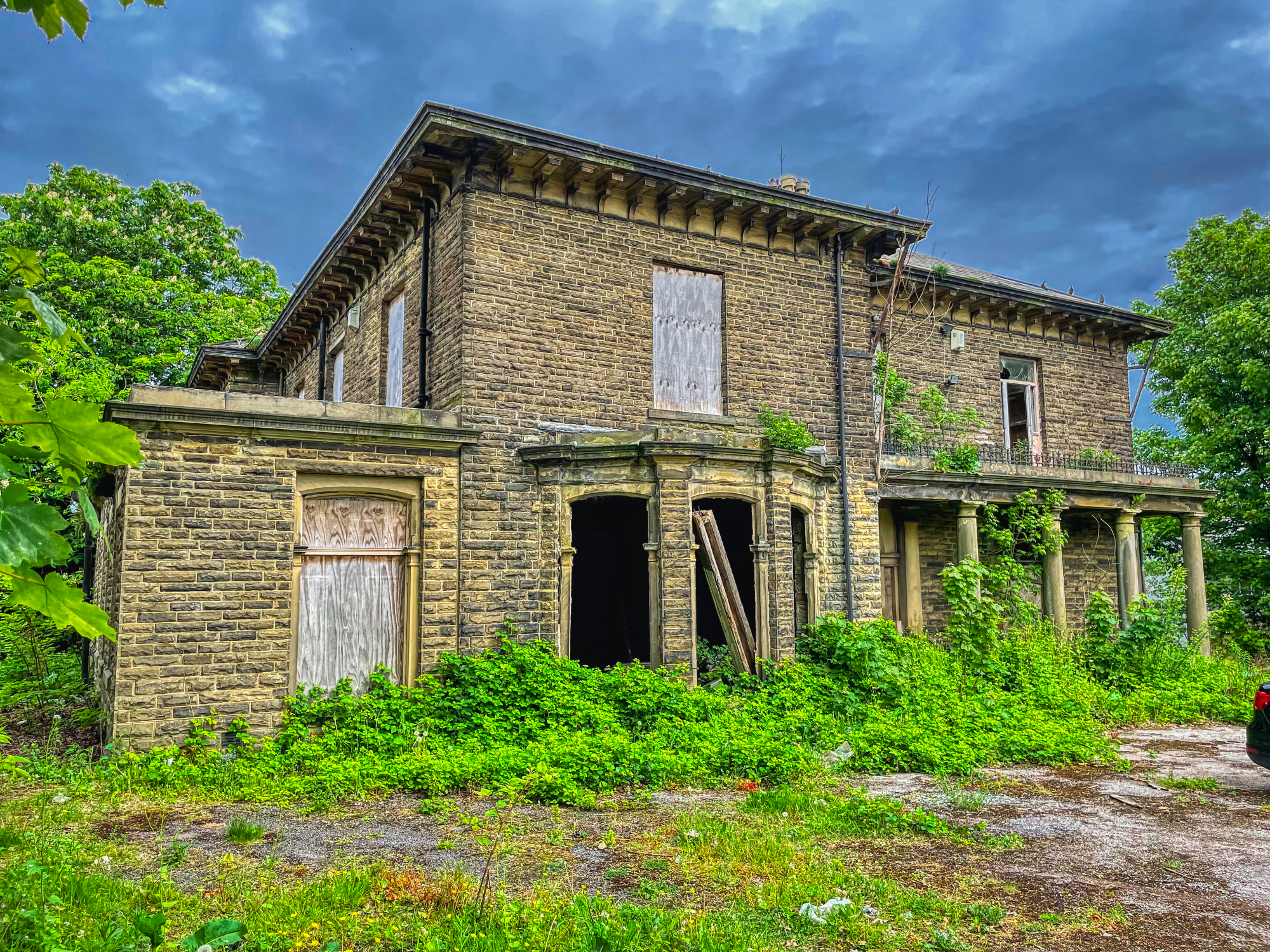 …'almost got the car out of frame, just a touch of it on the right-most edge'…
We strode toward 'Ardwyn House' half-expecting to be challenged but the… 'what the fuck do you think you lot are doing going in there'… yell never happened.
Was this to be our lucky day? It was hardly a ravishing, sensational Time Capsule, but at least getting inside was hardly going to pose any issues.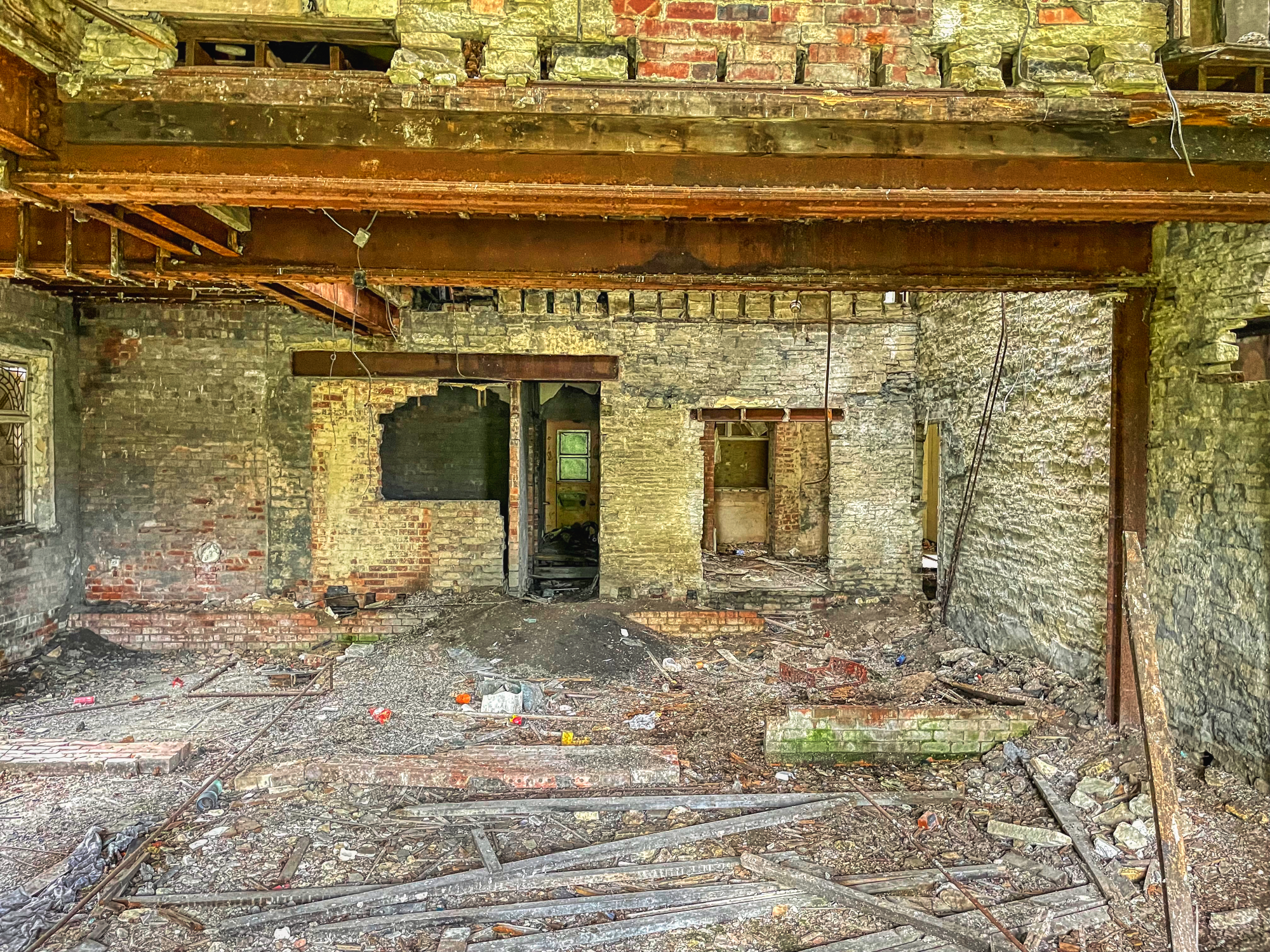 Stepping through what used to be gigantic-sized windows we found ourselves within 'Ardwyn House' and all of its astonishing derpiness.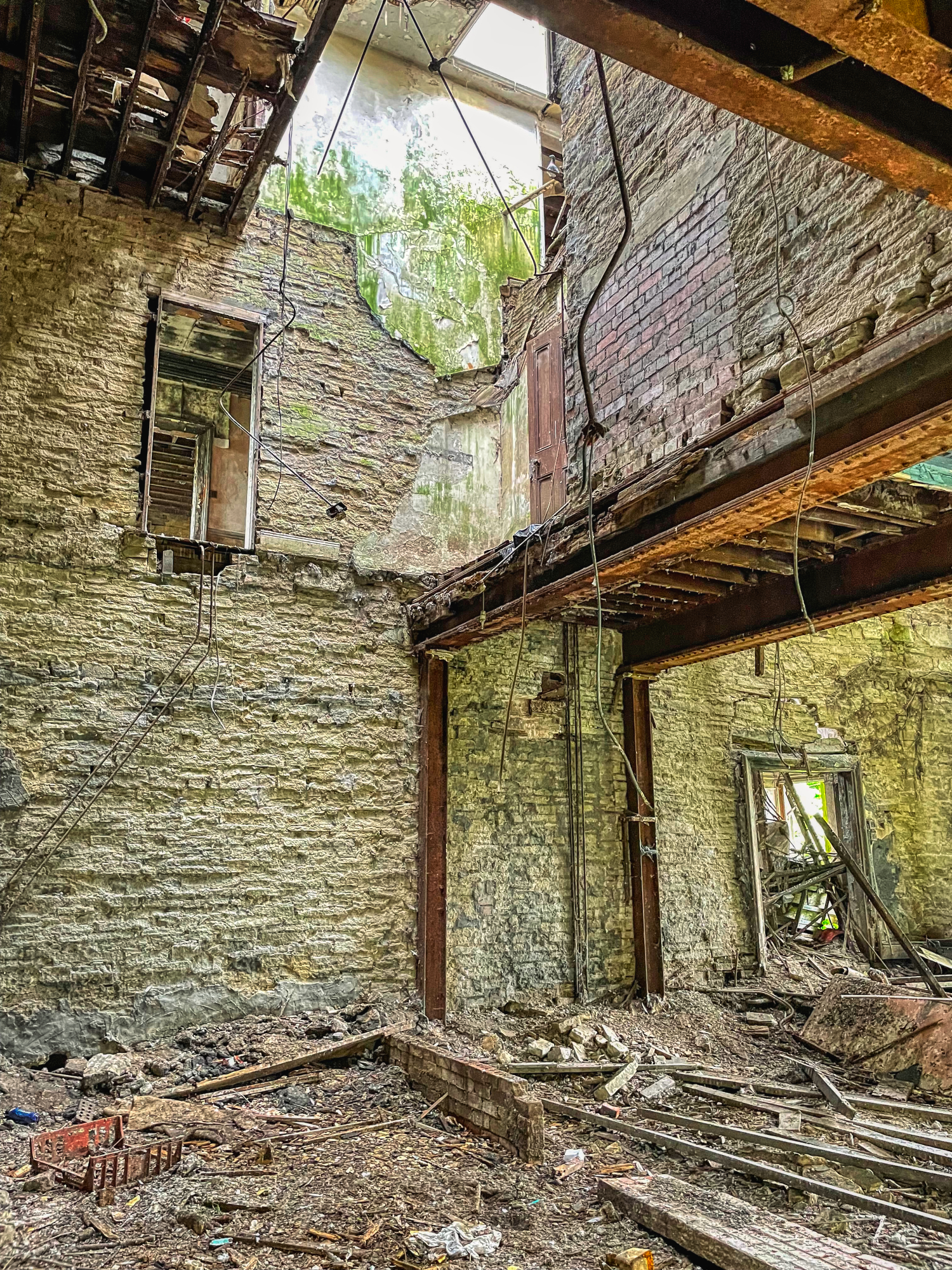 …yes well we can forget about going upstairs I think…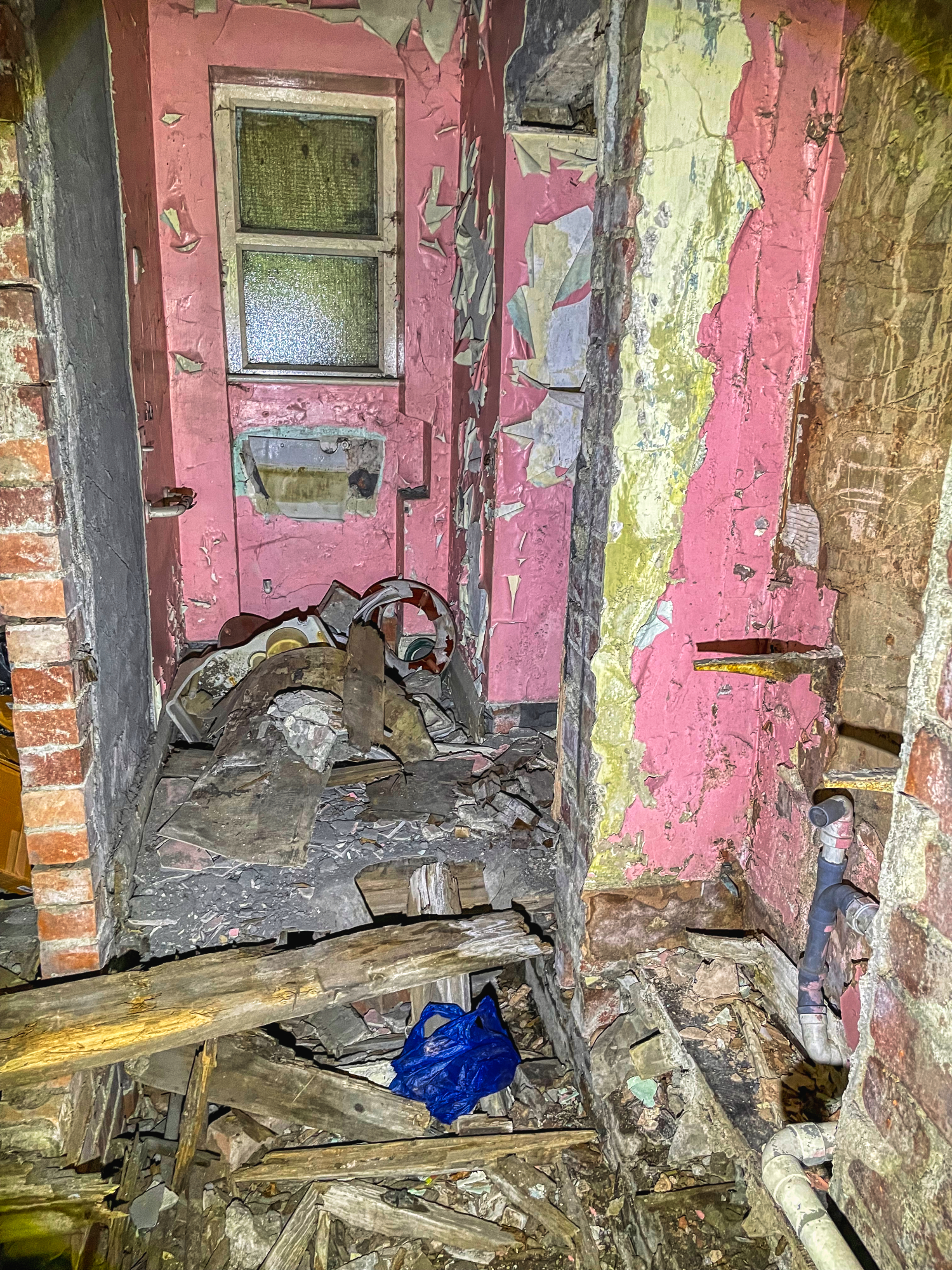 It's all very pink, but being on the ground floor I discounted it as being one of those overbearing bathroom suites.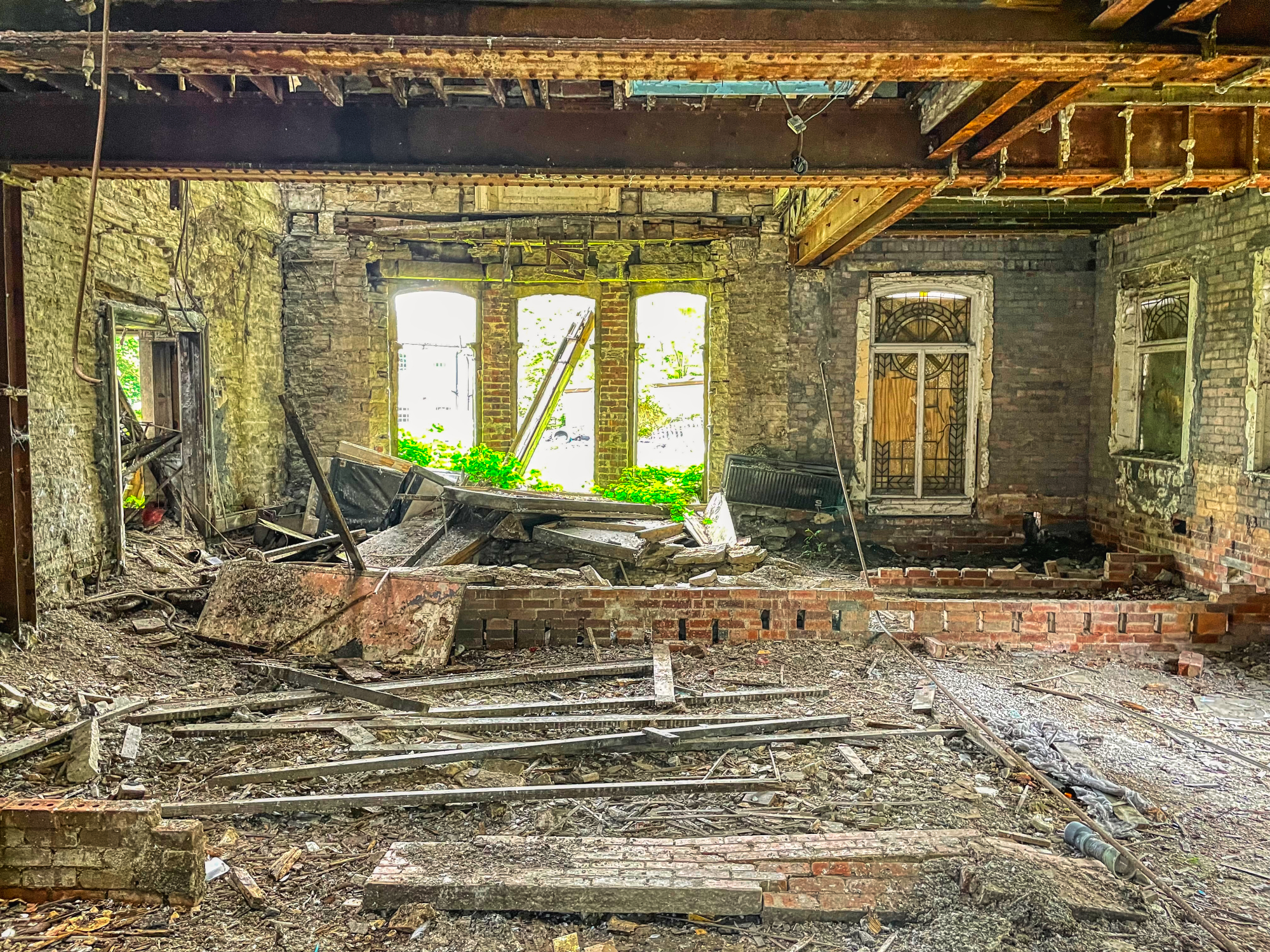 'Ardwyn House' had some nice windows once, as you can see from the boarded ones looking from the inside.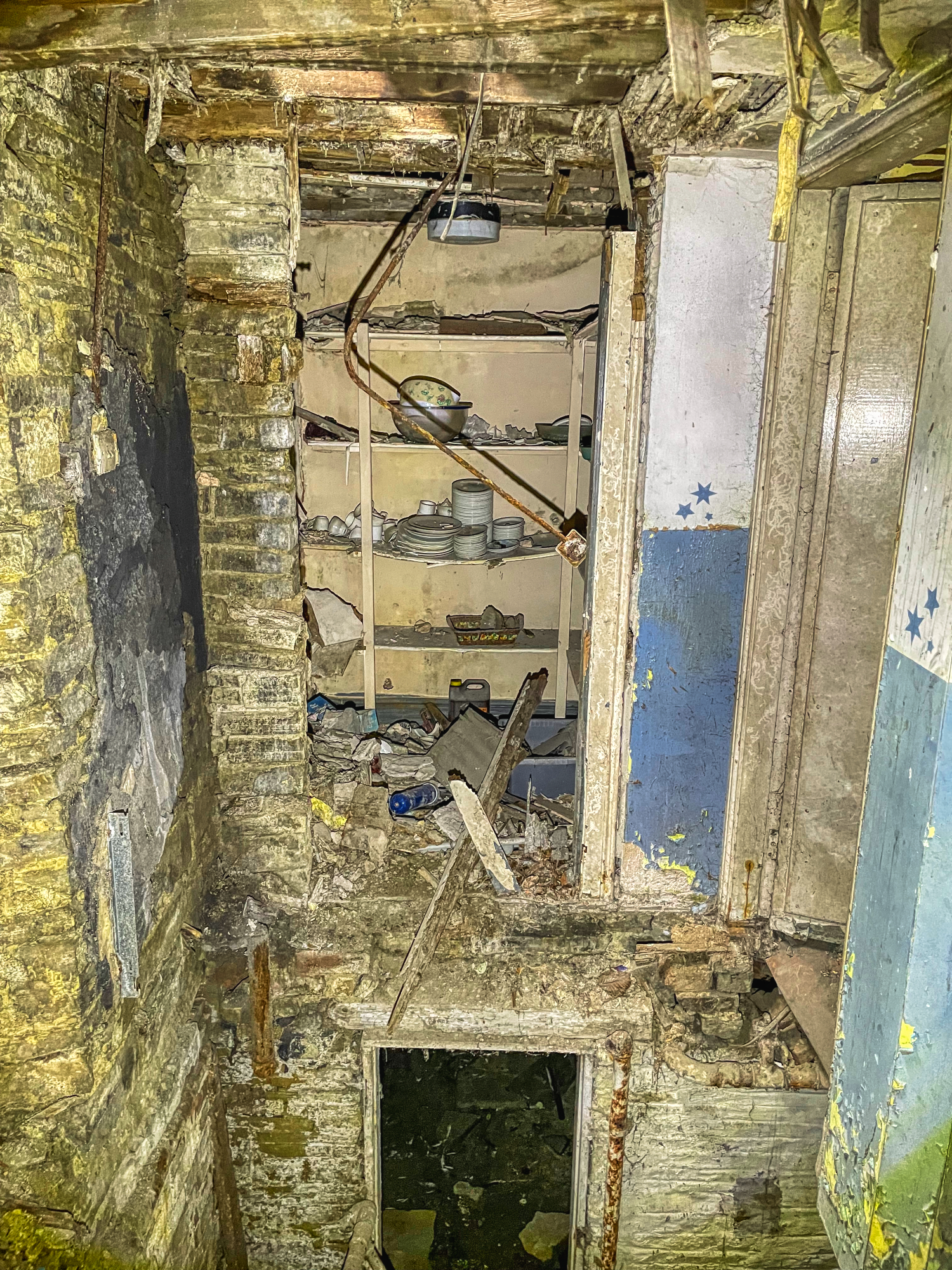 Well, would you look at that; priceless pottery so close and yet so far? A well-timed jump would get you within inches of the prize, but as there's fuck all to hang to, would also result in a 12-foot drop seconds later breaking both legs.
Knowing there was zero chance of getting to those treasured pots due to the floor collapsing years ago, the three of us made a determined effort to move on with our lives… potless and poorer.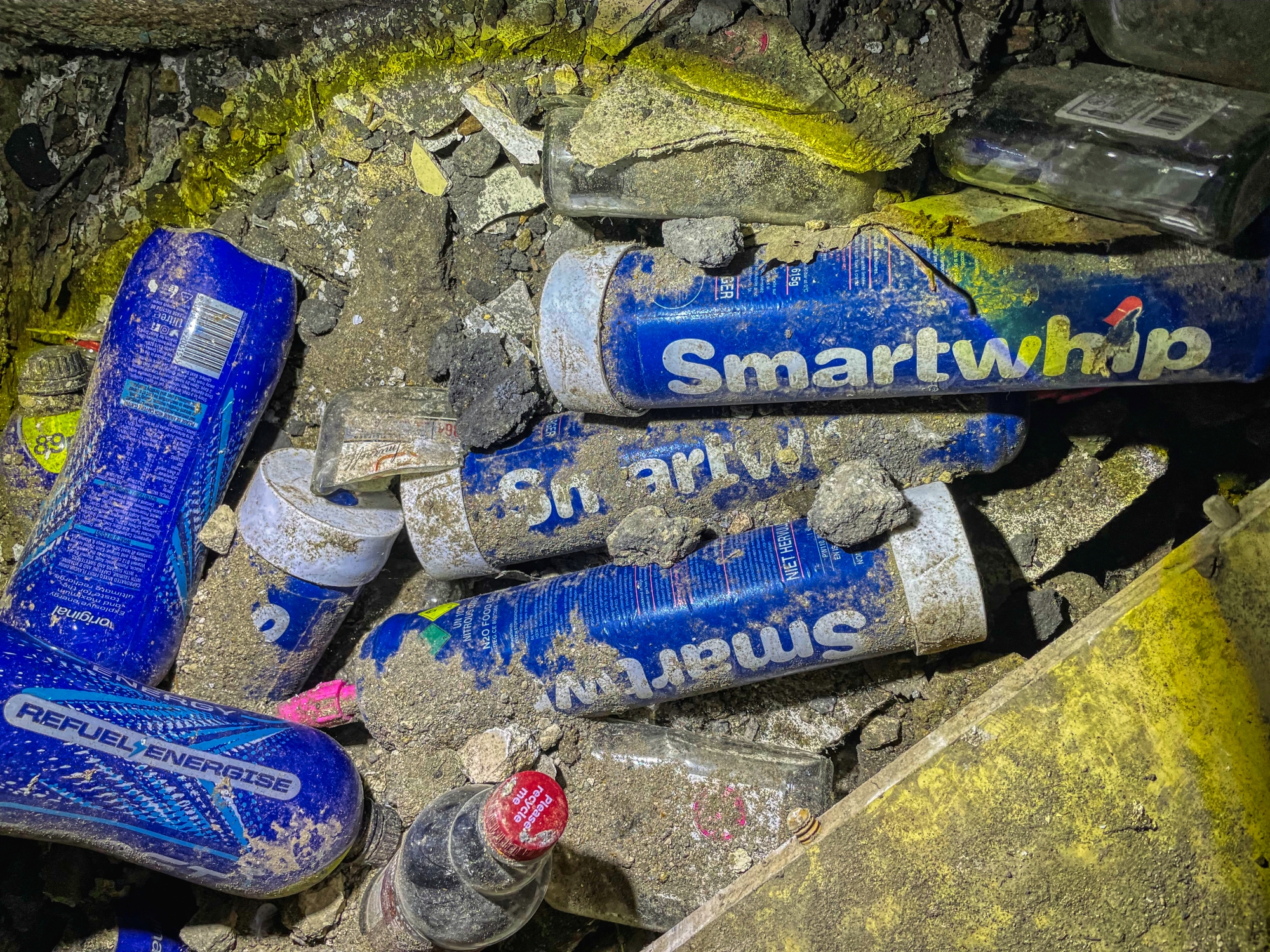 I had to see what Smartwhip was used for. It's expensive at £25 a tin, and yet someone seems to be using it for recreational purposes.
Filled with 8 grams of food-grade nitrous oxide, create the perfect whipped cream, a quick rapid infusion, or a swanky cocktail in no time.
Source
I mean… Vodka, Boost, and Smartwhip? Am I missing something here?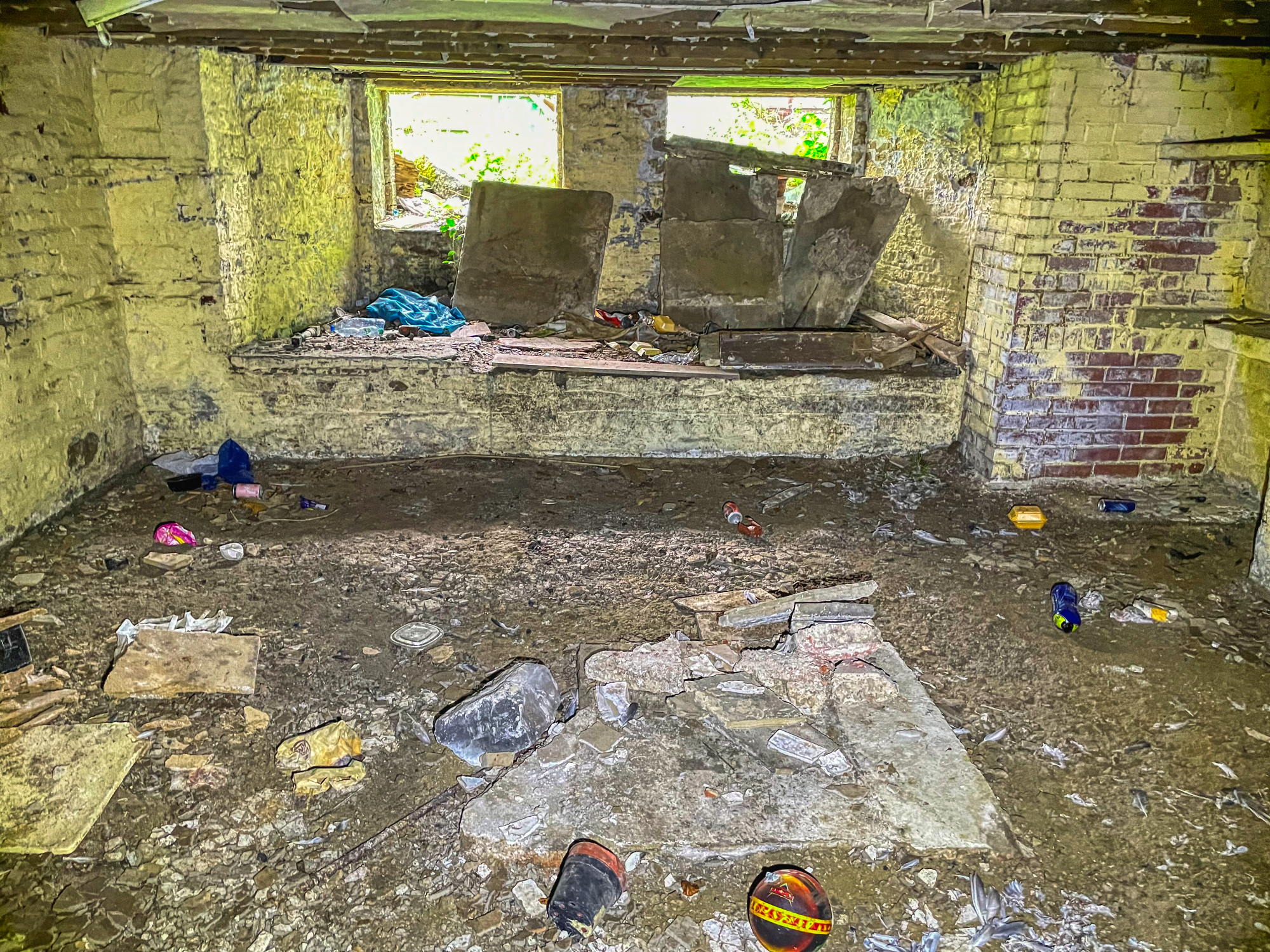 It's the perfect location to lie down and take laughing gas; lovely and comfortable on your arse.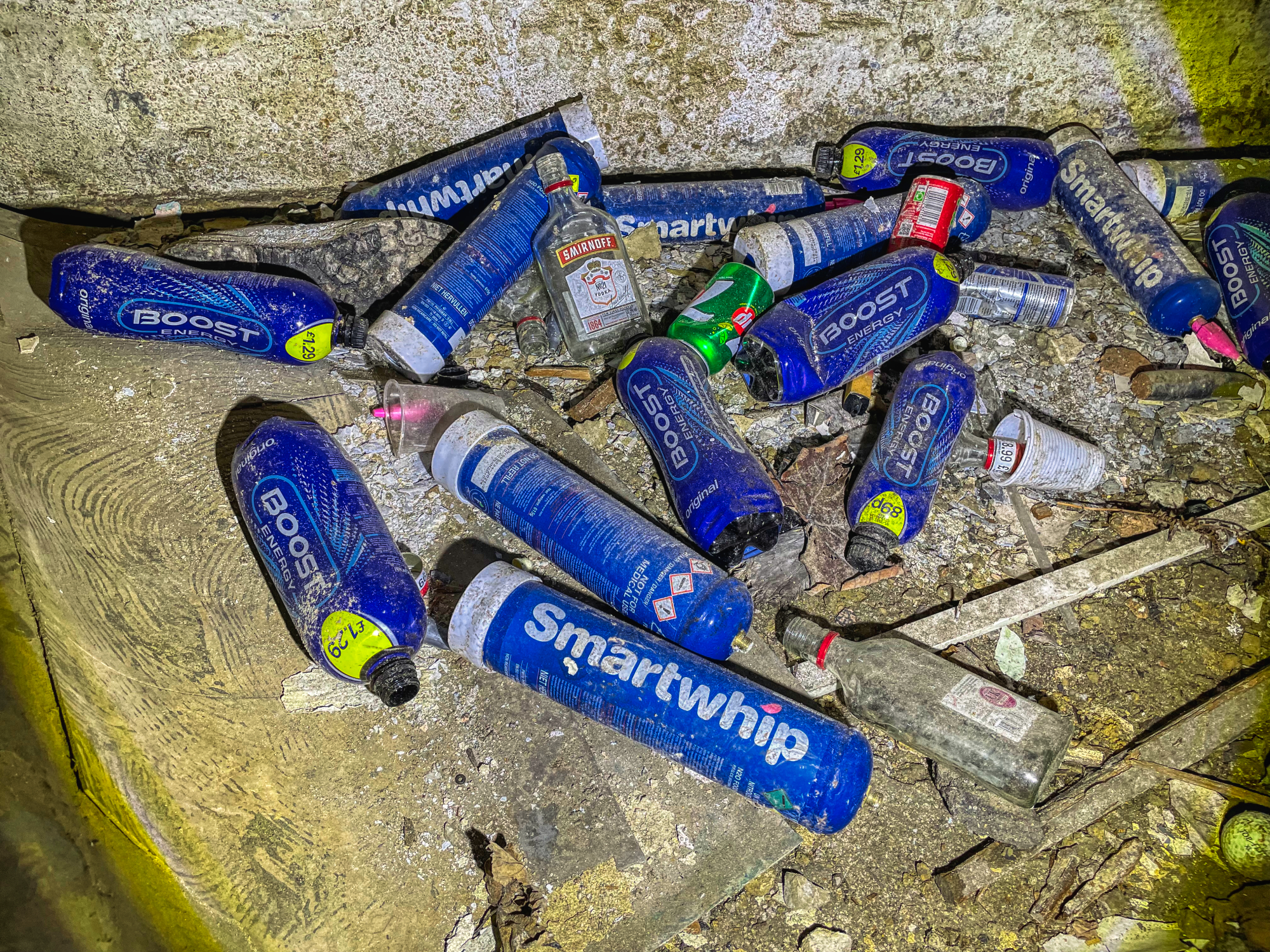 There was no shortage of the stuff. Someone has a lot of money.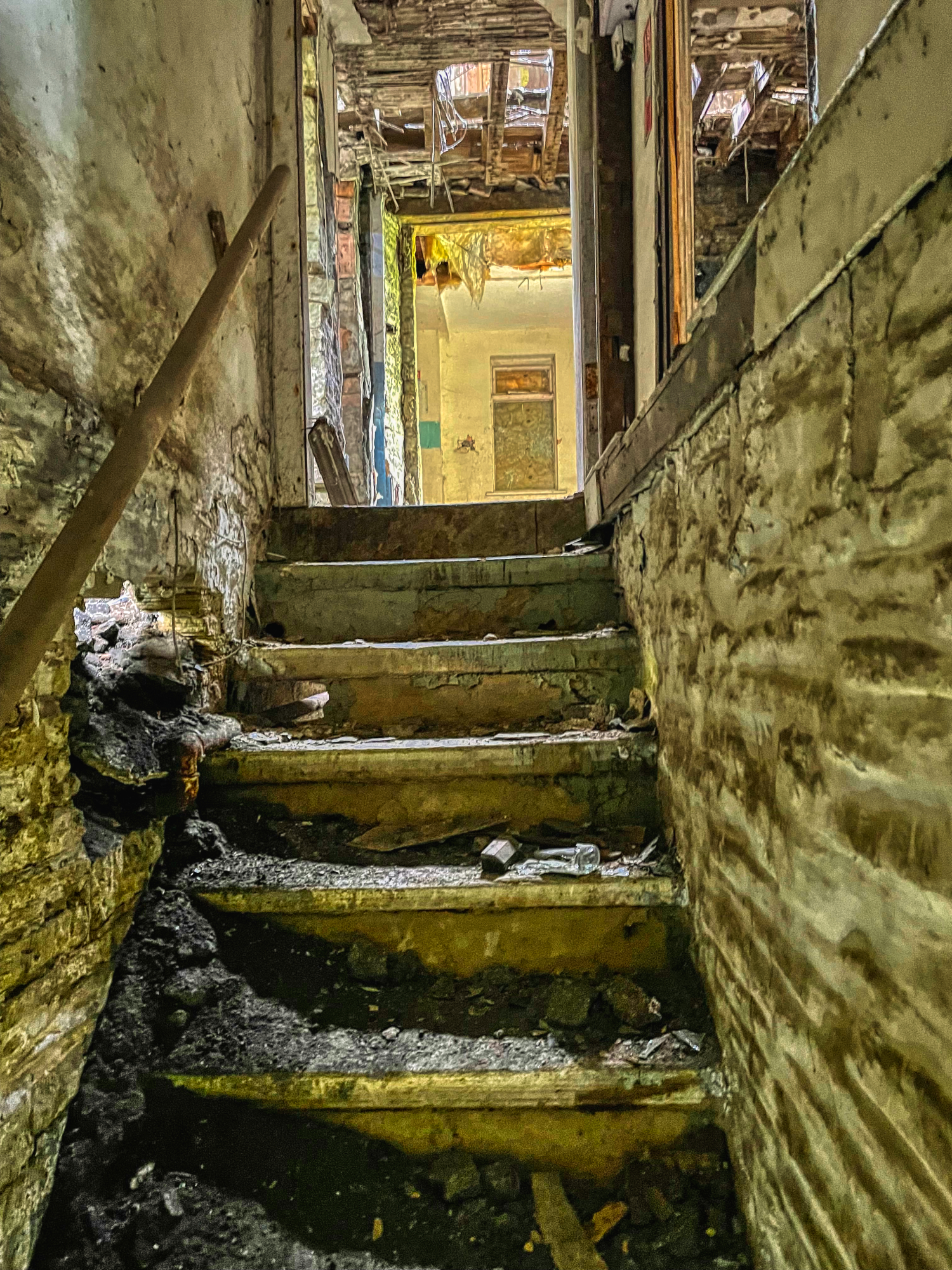 I spoke too soon about the lack of upstairs. Parts of 'Ardwyn House' were not quite as dilapidated as the access point area.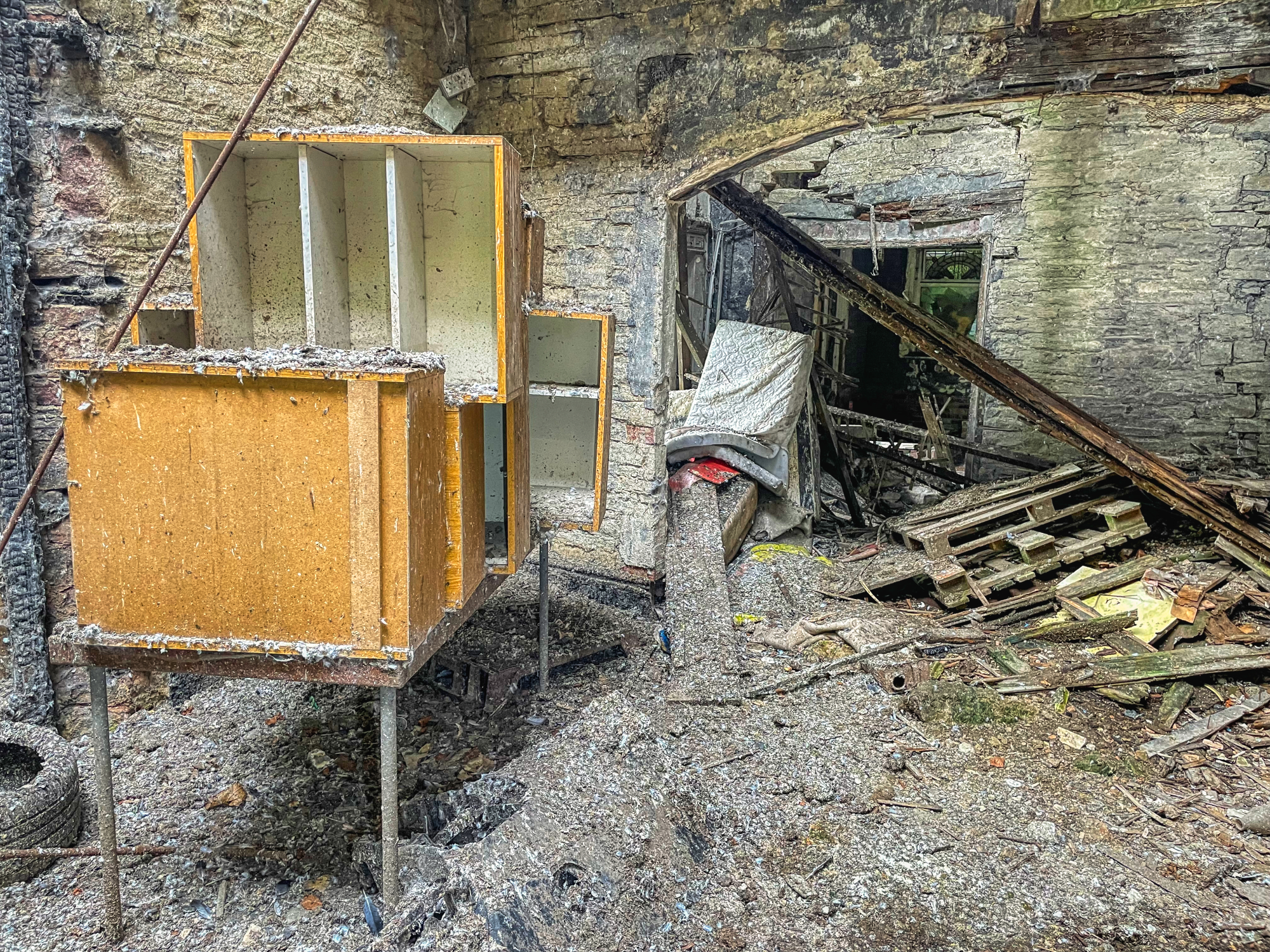 While still lamenting about the pottery, this pigeon-shit-covered selection of MFI teak furniture was hardly proving a substitute.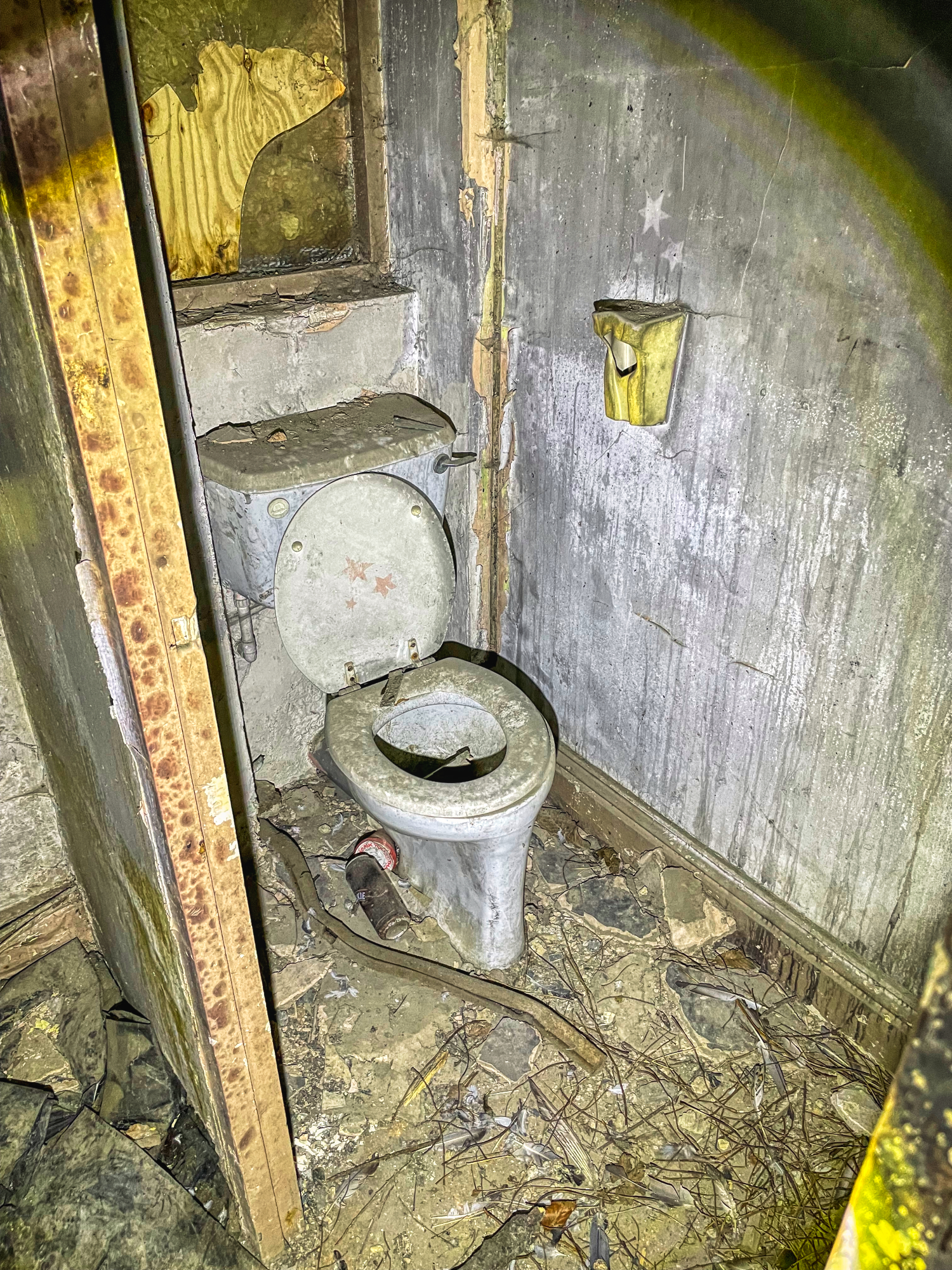 It did look serviceable, and even had a hand cleaner that would make your hands dirtier after use, but I couldn't bring myself to use it. That floor looked a little thin.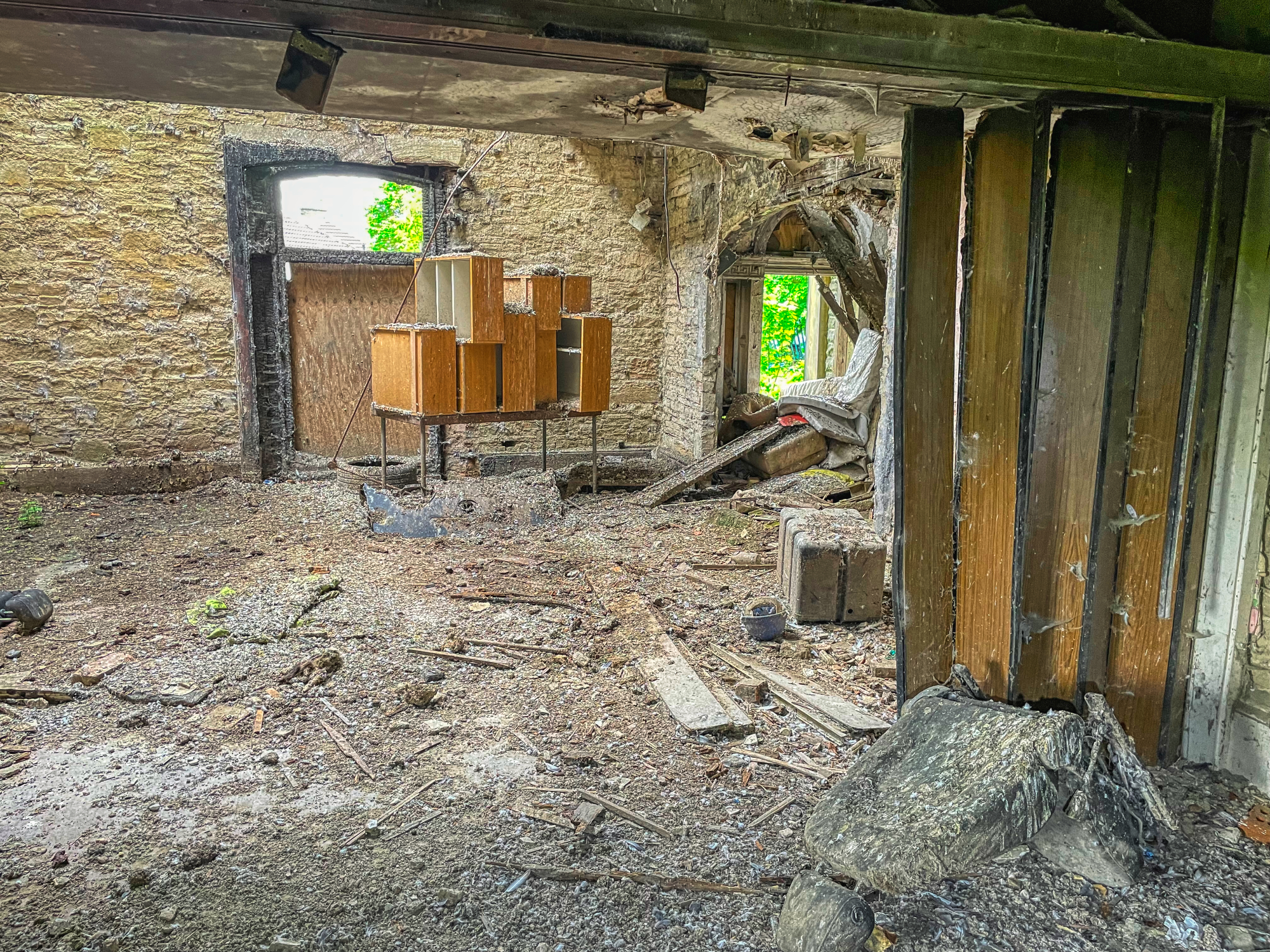 Knowing that other sections of the upper floors of 'Ardwyn House' were nonexistent made me tread carefully while up here.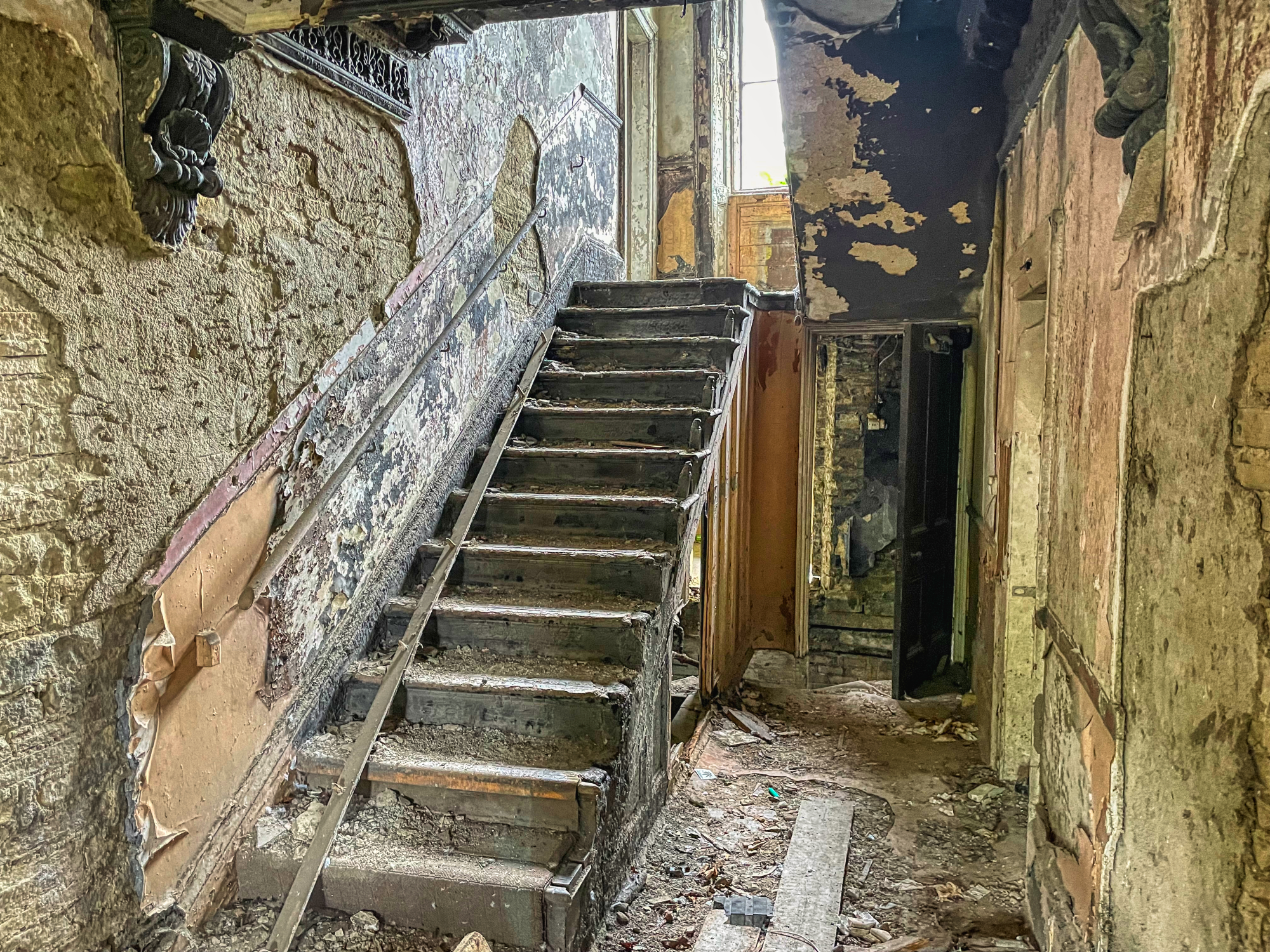 The stairs looked in decent condition, at first glance.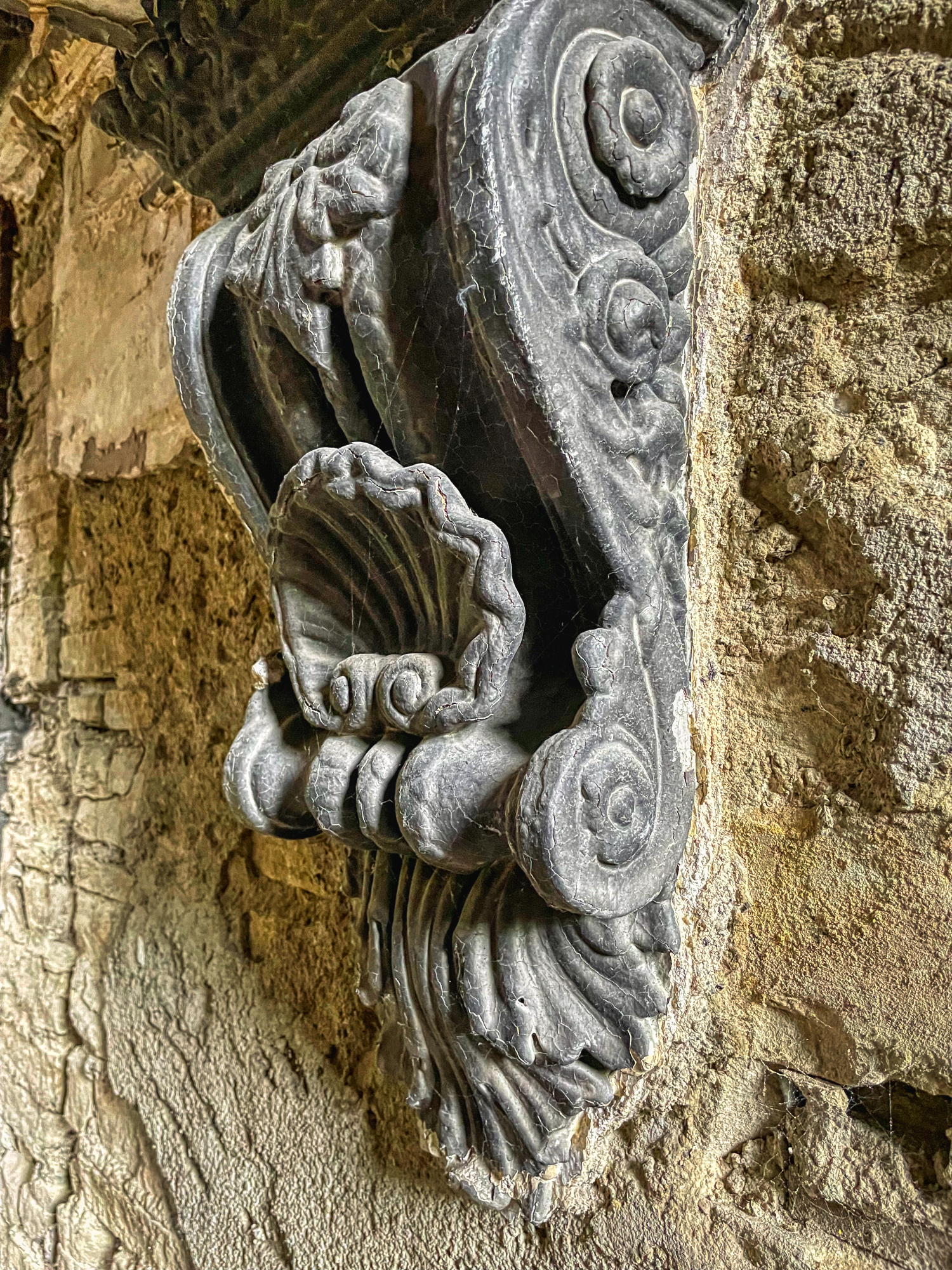 … and look at that craftsmanship. Over a hundred years old, and made of pure iron.
The stairs were one of the most photogenic areas of 'Ardwyn House', hence my focus on them.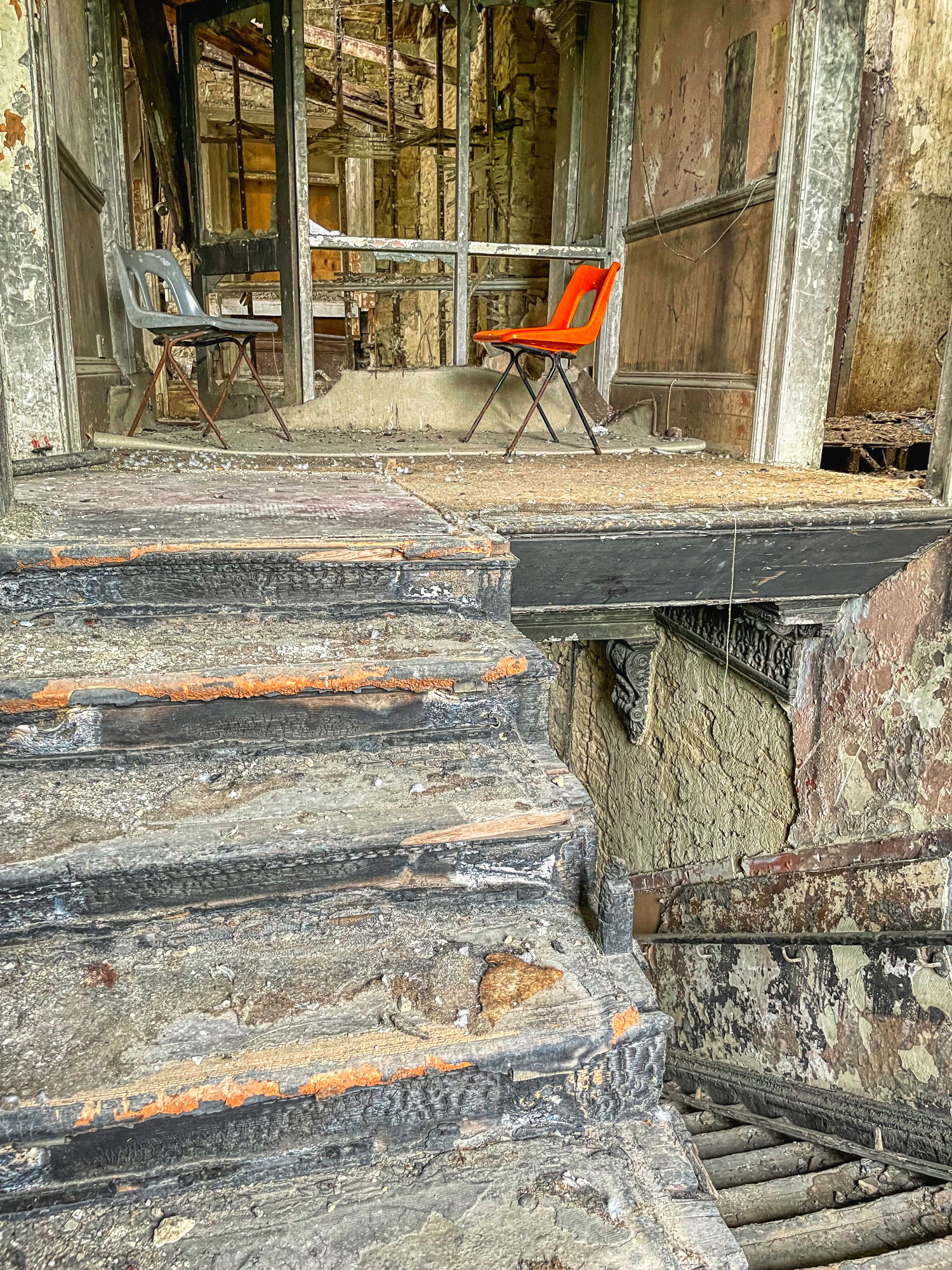 You couldn't go much farther than the two chairs.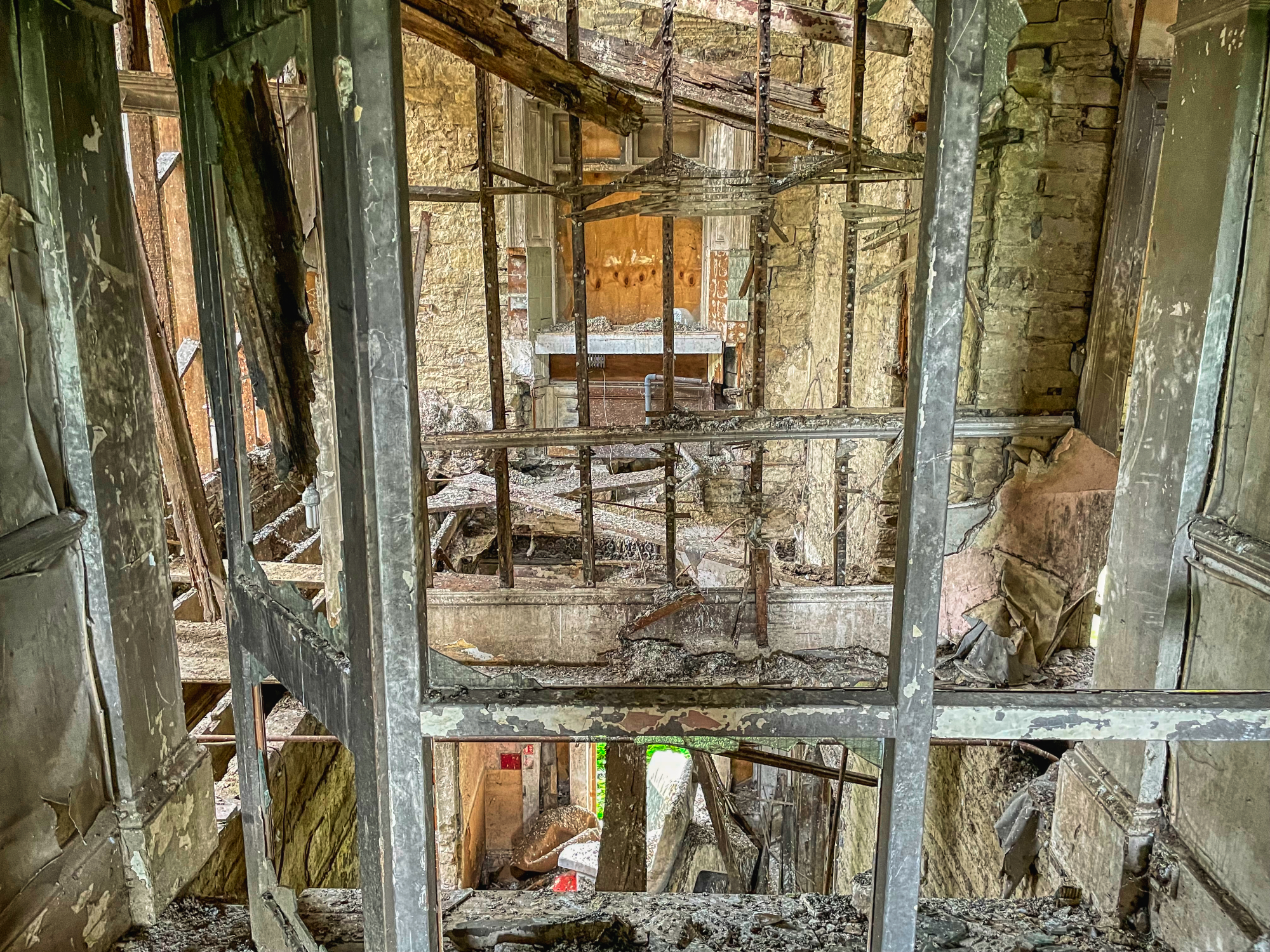 … unless you wanted to keep your legs intact.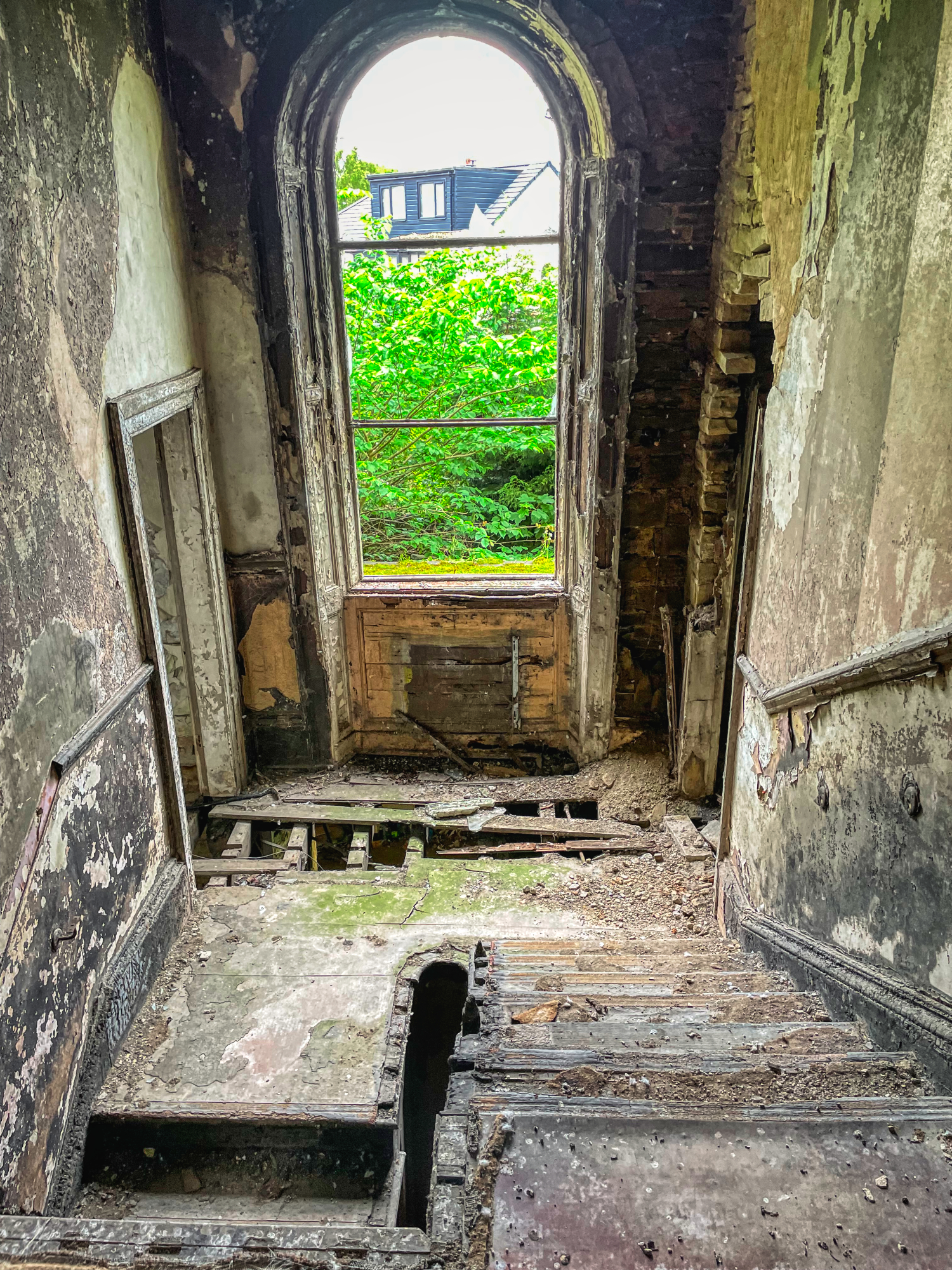 It's the arched window. I always thought it had more style than the round or square window. You need to be of a certain age to know what the fuck I am talking about.
I had no desire whatsoever to walk over there, balancing on the beams.
@lpff and @anidiotexplores aimlessly wander back and forth wondering what to do next. The sights were that astonishing.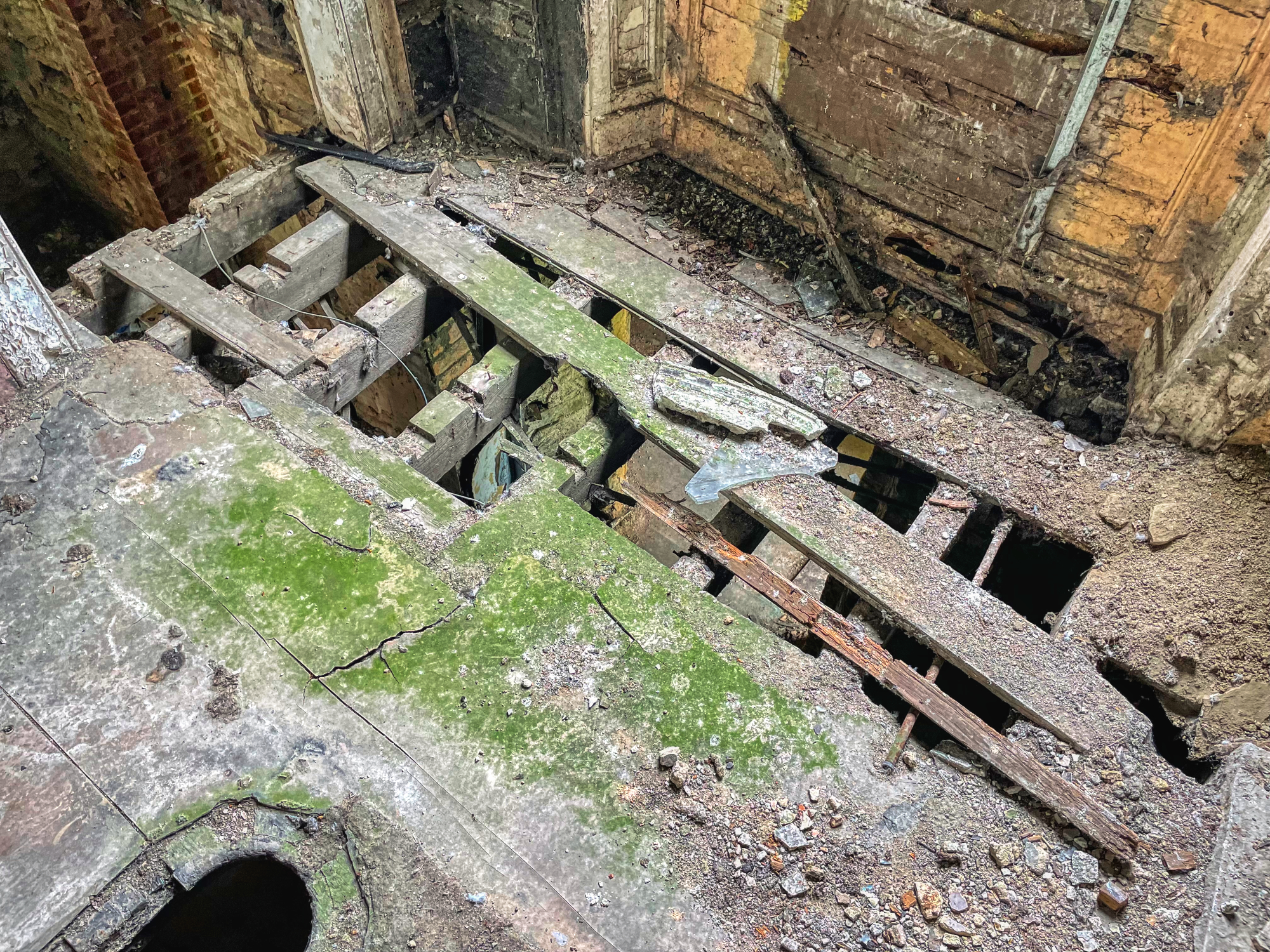 Where to stand, you need to make your choices and bad ones create very bad situations.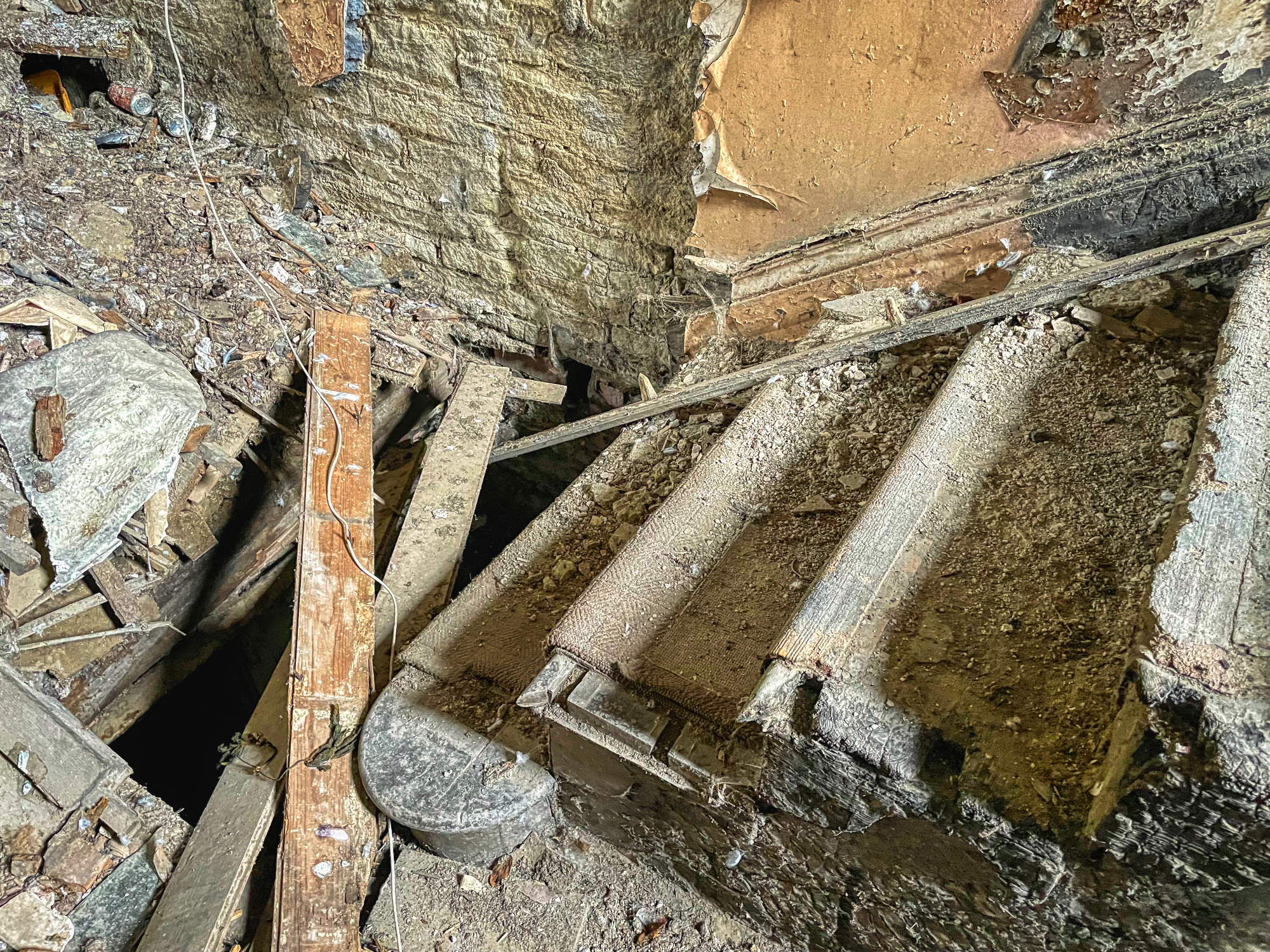 One bout of clumsiness when wandering down these carpeted stairs will result in you falling down that hole. That's the Underdark, where the evil drow lives.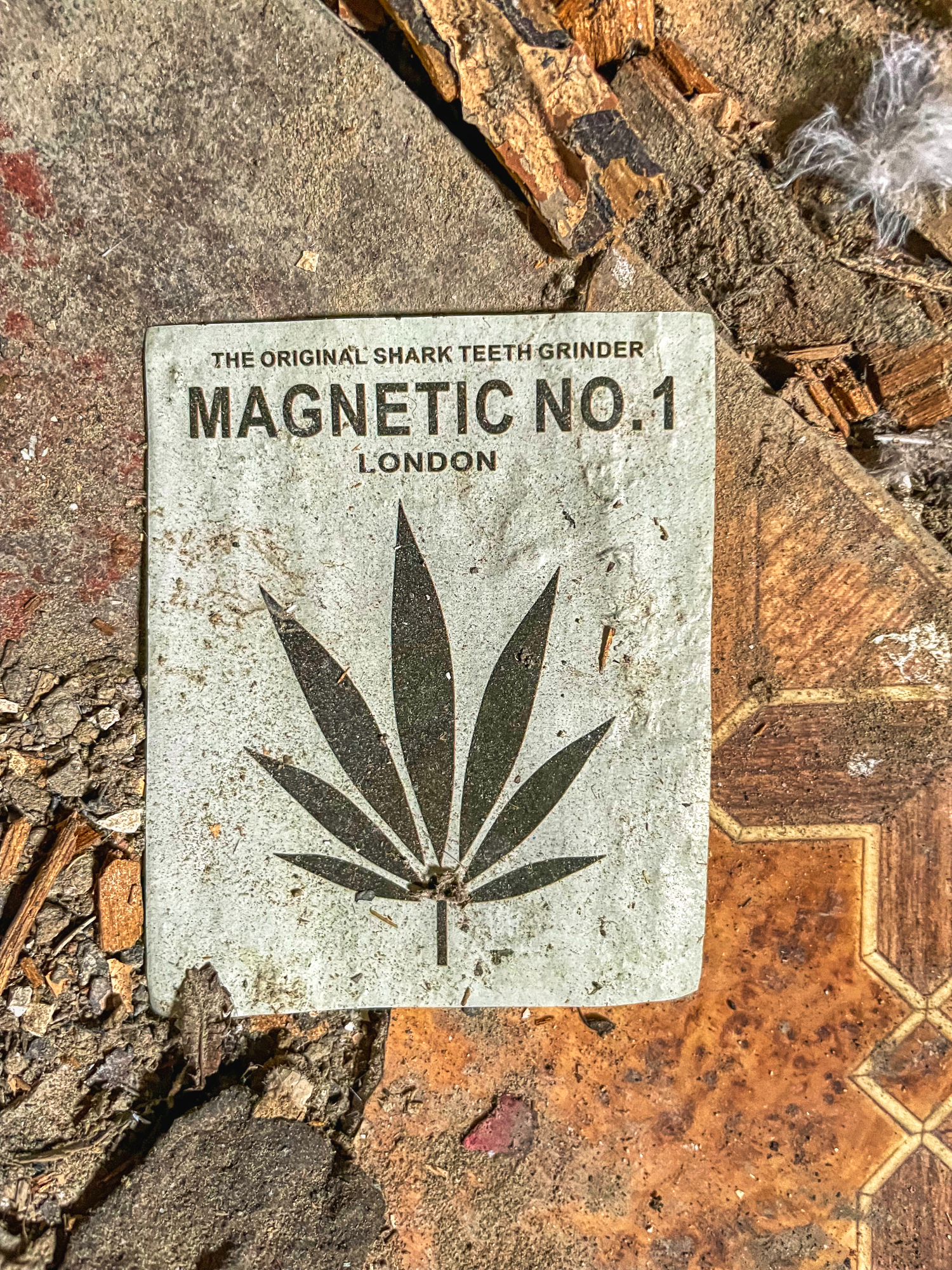 I figured it was related to weed but it seems I am wrong. I still can't figure out why you would want to grind your teeth to resemble a shark.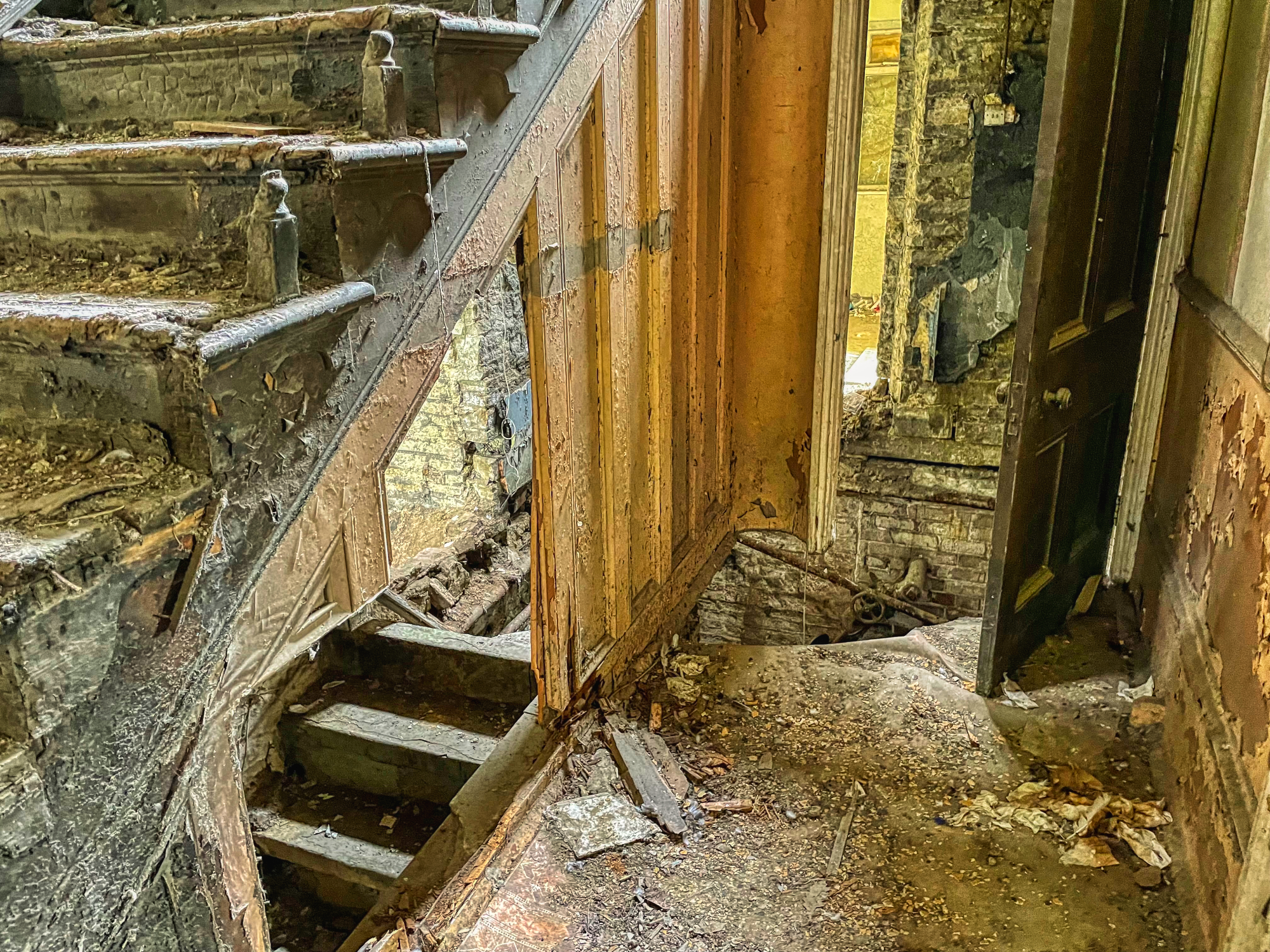 To escape, you need to clamber through the staircase woodwork onto the other stairs, and then shimmy across the hole while hoping the woodwork doesn't fall off the wall. They don't make it easy for us explorers.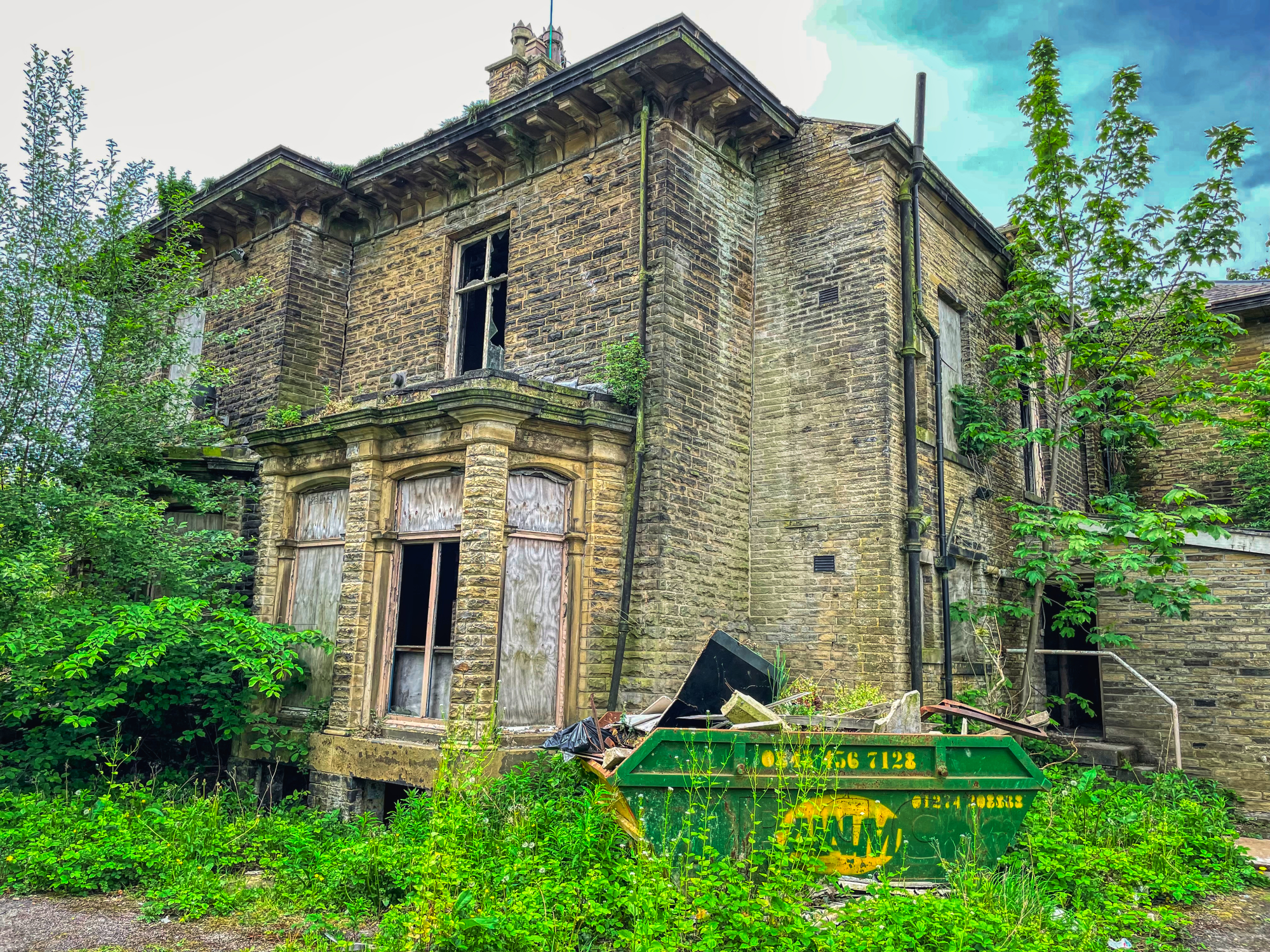 'Ardwyn House' was a fun exploration, but extremely dangerous. The upper stairs are available on one side of the house only. The roof must be better on that side.
We left without the riches and not knowing who that car belonged to.

Do you like posting your Urbex content and photography for FREE on Facebook and YouTube? I like to get some form of reward for my work and every time I create I do just that. Take a look at The Urbex Community on HIVE.
If you want to keep creating for FREE then ignore what you are reading. If you want to be like me and gain something other than BUGGER ALL for your work then click here and learn about posting on the HIVE blockchain.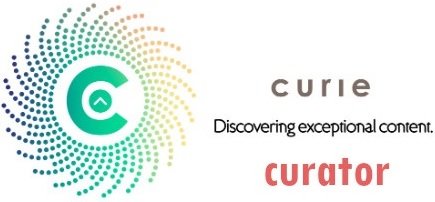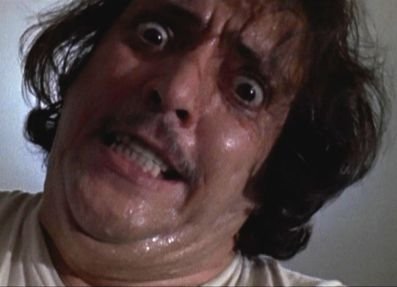 If you found this article so invigorating that you are now a positively googly-eyed, drooling lunatic with dripping saliva or even if you liked it just a bit, then please upvote, comment, rehive, engage me or all of these things.
---
---