Tales of the Urban Explorer: City Sauna

By the time we arrived at 'City Sauna', we were both feeling a little pissed. 'La Chambre Swingers Club & Sex Dungeon' was sealed, and I mean a fucking huge gate is now in the way, 12 feet high and beyond both of us.
One of the day's highlights had been cruelly whipped away from us and the whips inside that deviant club would have to be discovered another day.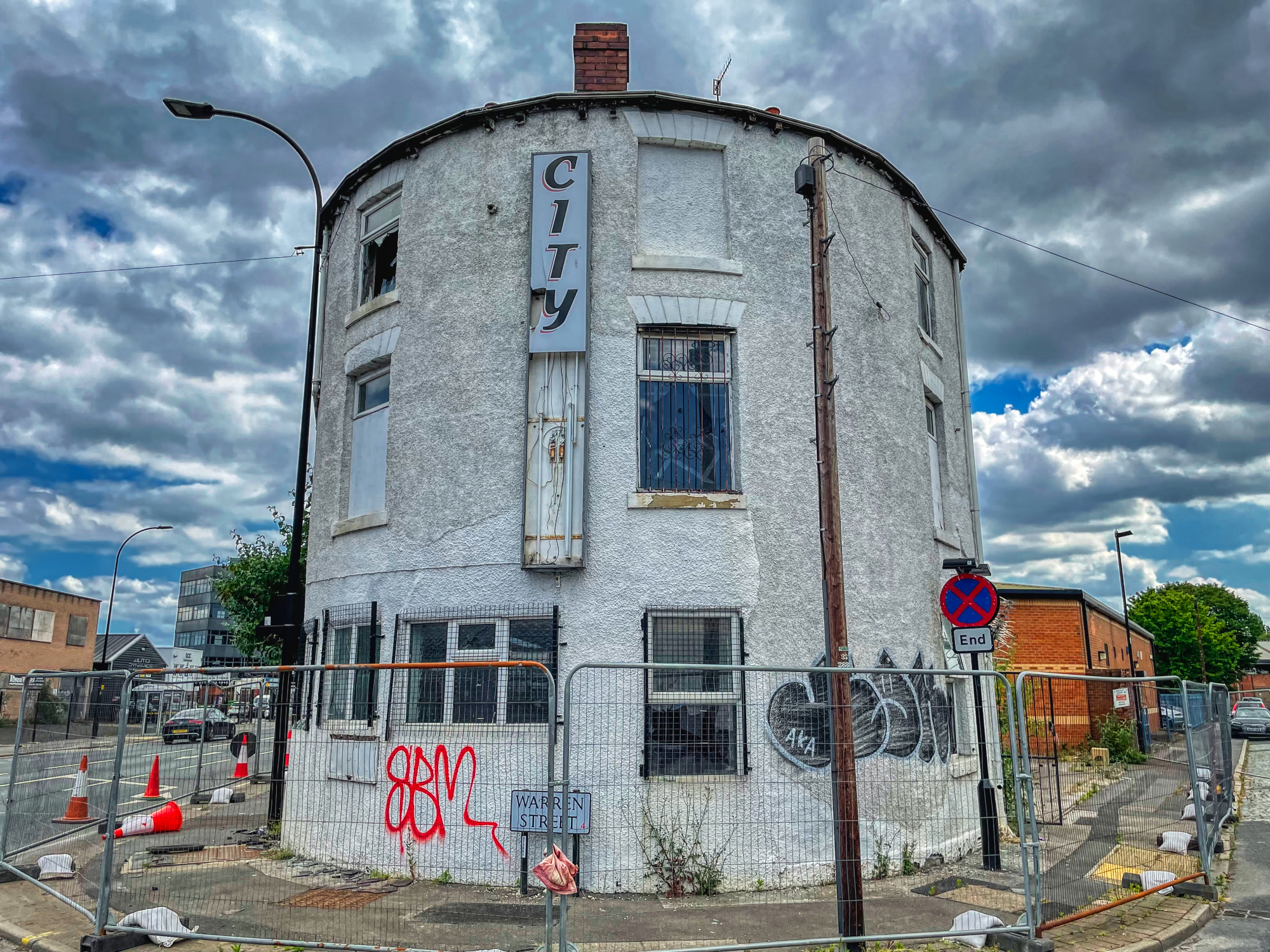 A Brothel of some renown was a decent substitute, one that has seen a documentary written about it (even though brothels are technically illegal in England), even better, though it's dressed up as a 'Sauna & Massage Parlour'.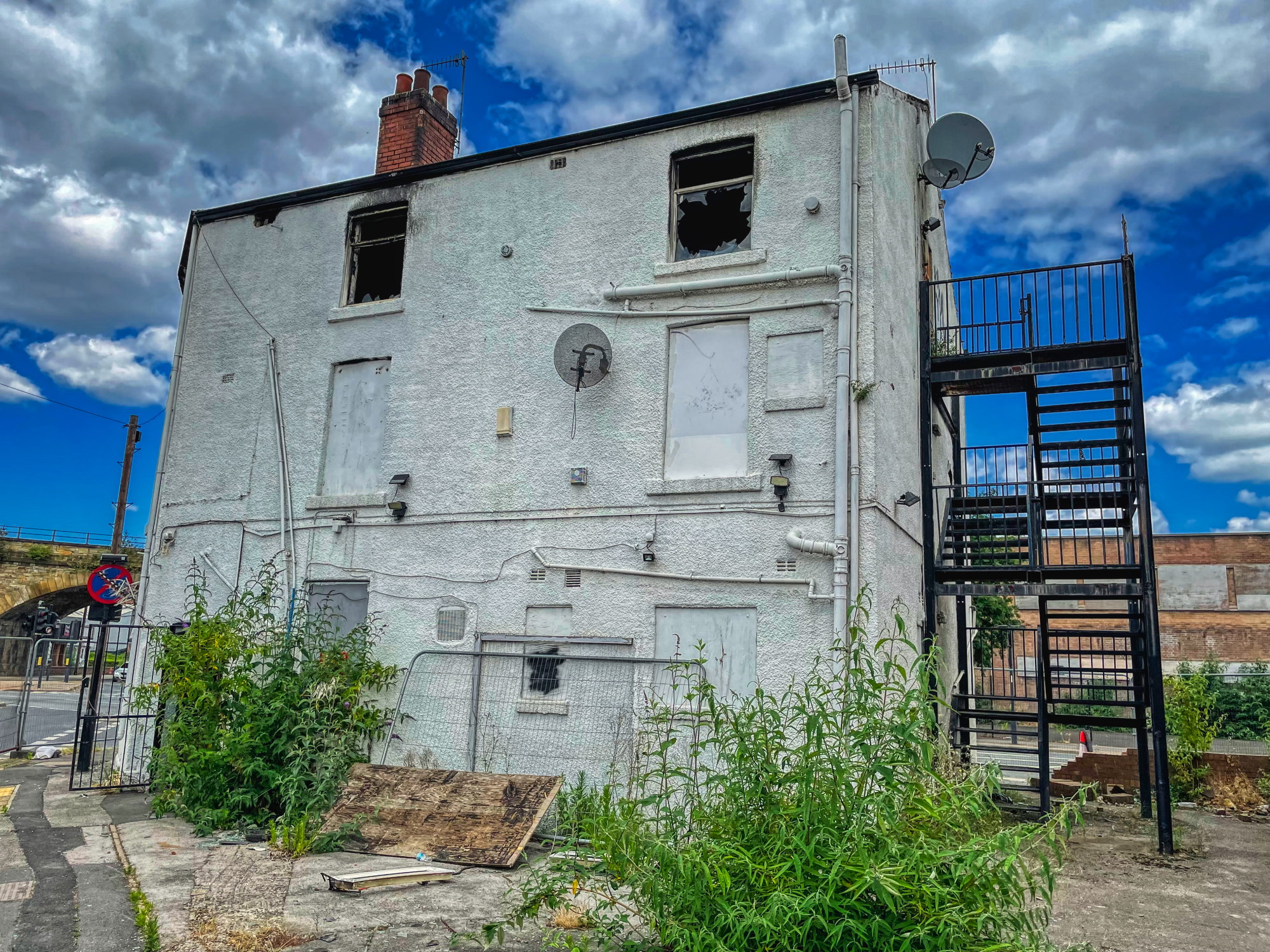 Being advertised as 'the older woman for the older man' is a little different but seeing what is on offer today made me think otherwise. I suppose some older blokes might enjoy the 'fat crinkly arse' type, but they don't all appear to be cougars at least when viewed from the rear.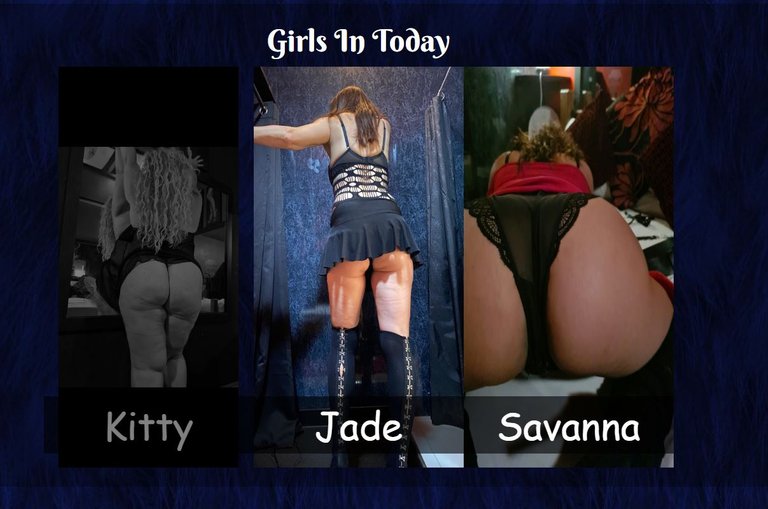 Source
Yes, 'City Sauna' is still in business. How they are evading the authorities, fuck knows as the services they offer are barely disguising their true intent. So why am I outside their very battered premises?
…they just moved further down the road and left the old place to rot away…
Normal business practice for the UK I would say, and as a side benefit it gives us explorers some fodder to feast on.
'Busty Lilly' is trying to get a degree by selling her arse and occasionally cheap custard. All you need to do is pour tins of the stuff over your client sitting in the Jacuzzi and listen to his moans of… 'Oh yeah, baby! All over!'. It's a hard life.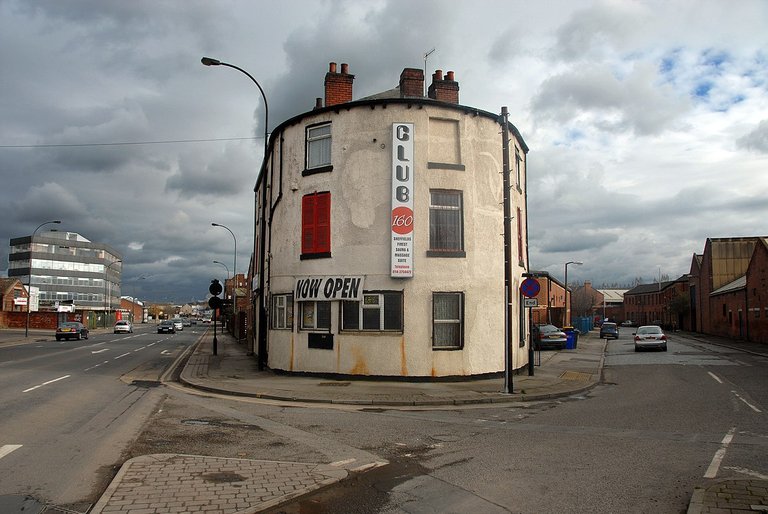 Source
...'City Sauna in the days when you could walk up, knock on the door and get a discount shag'...

Entering 'City Sauna' was hardly a feat of nature. It had been 'Tour Bussed' so hard that the front door was open and short of walking around the extremely ineffective anti-climbing fencing we were inside.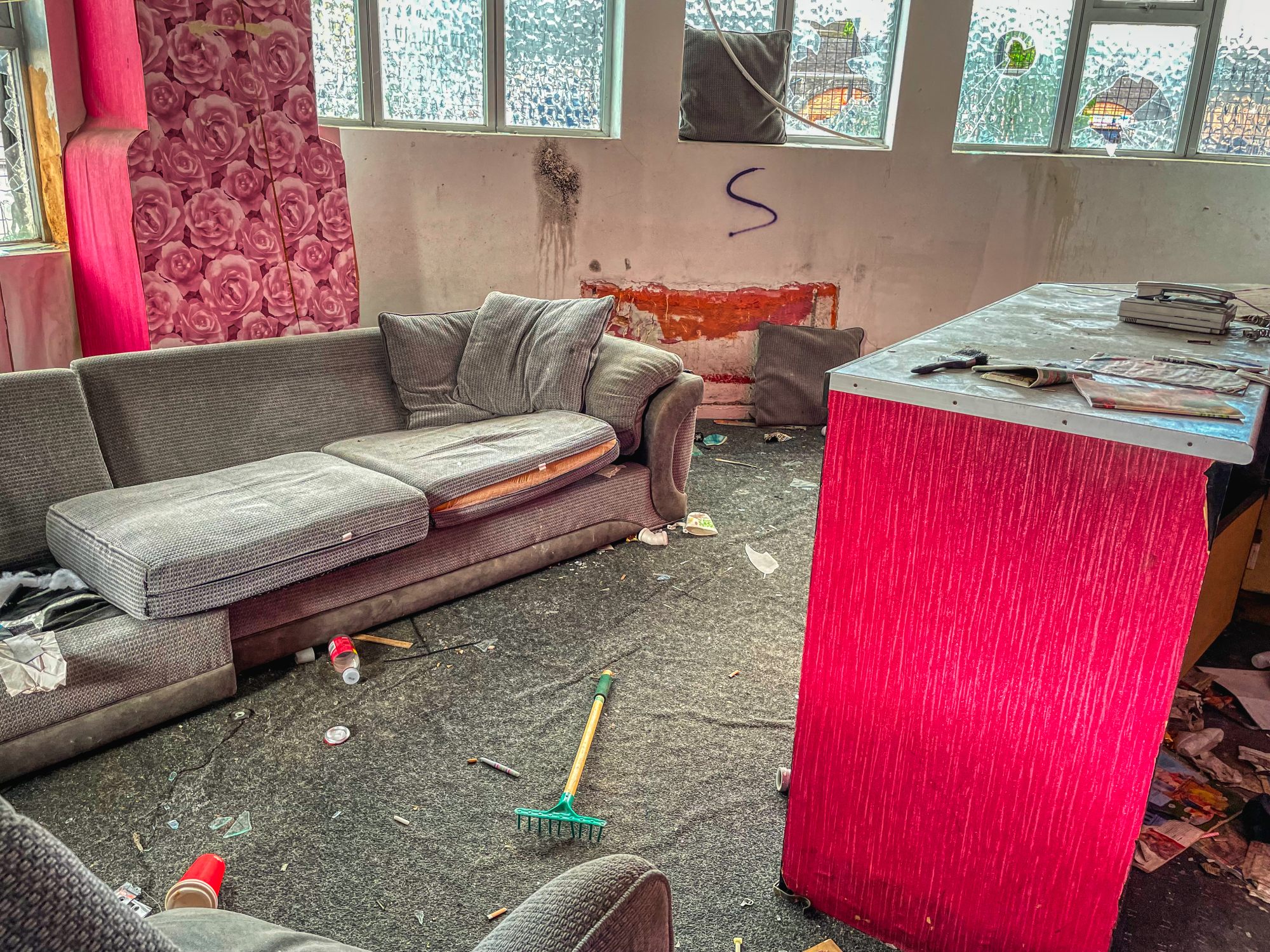 Having watched part of the documentary, 'A Very British Brothel', I could identify the front desk and décor, though it was a little more wretched on our arrival.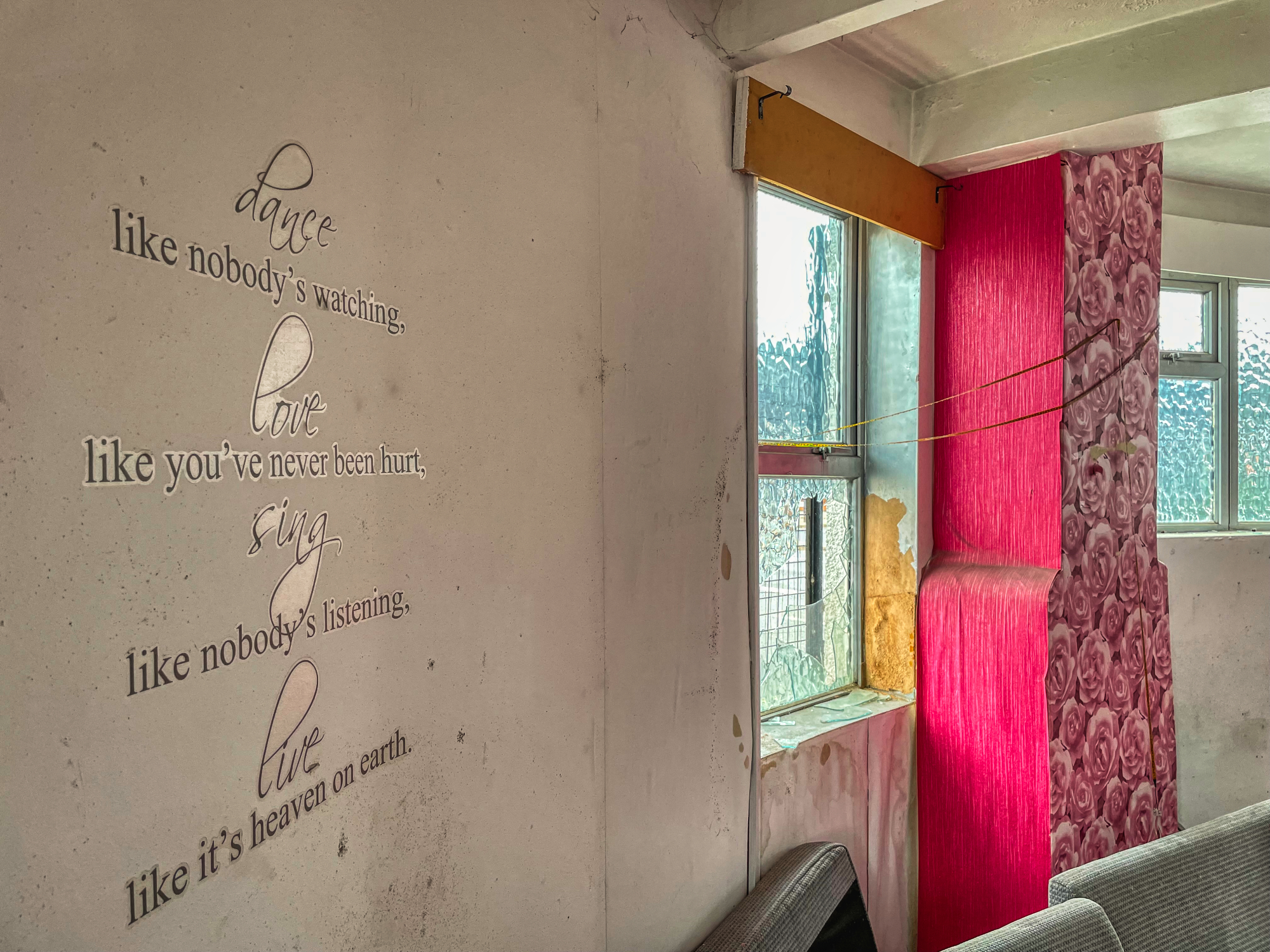 Poetry for the punters, or for the 'workers' that would be sitting provocatively on the sofa waiting patiently for the next goon to walk in?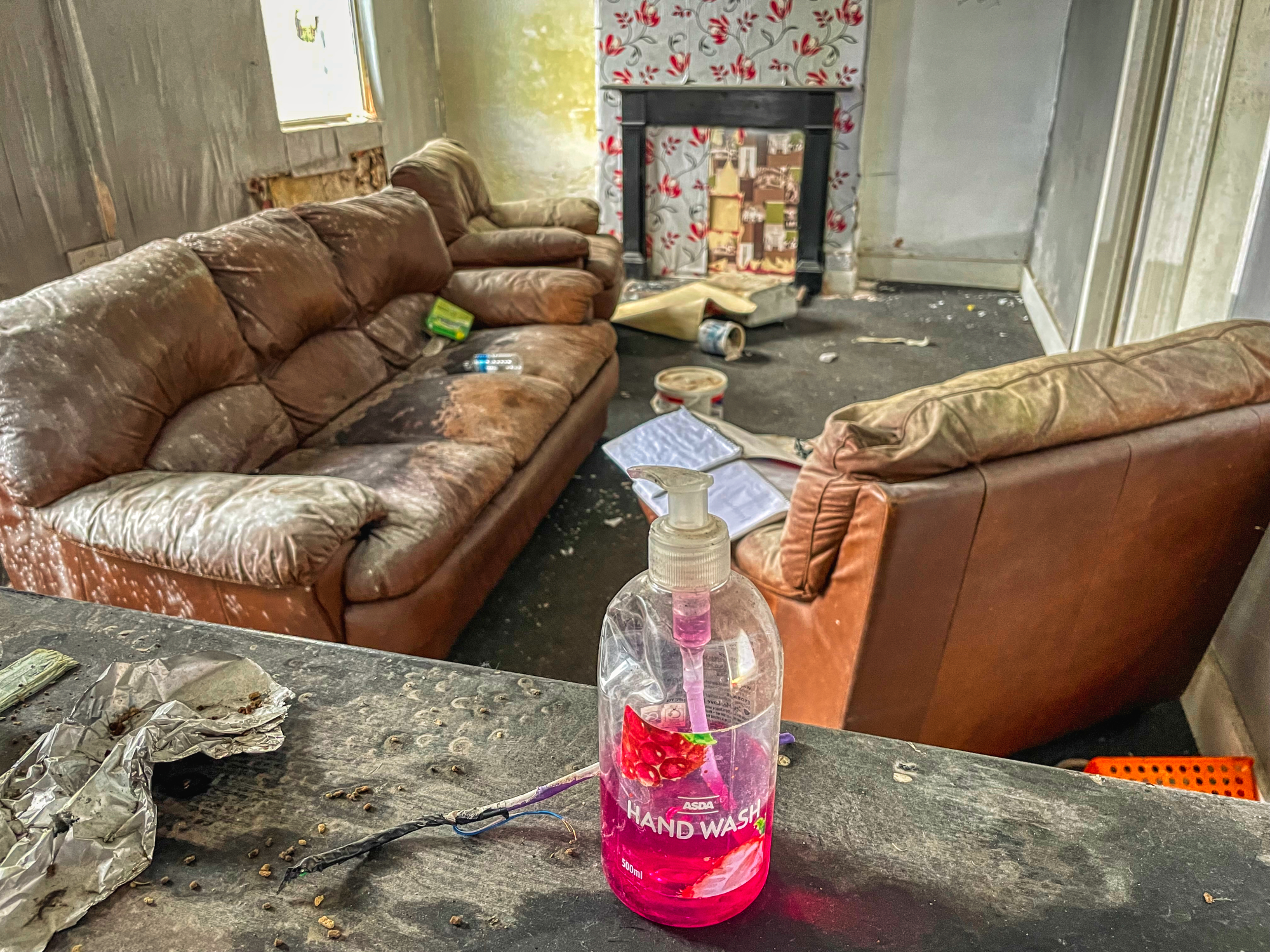 I see extravagant outgoings for the finest quality hand wash. From what I see in the blurred distance, I would likely take anything.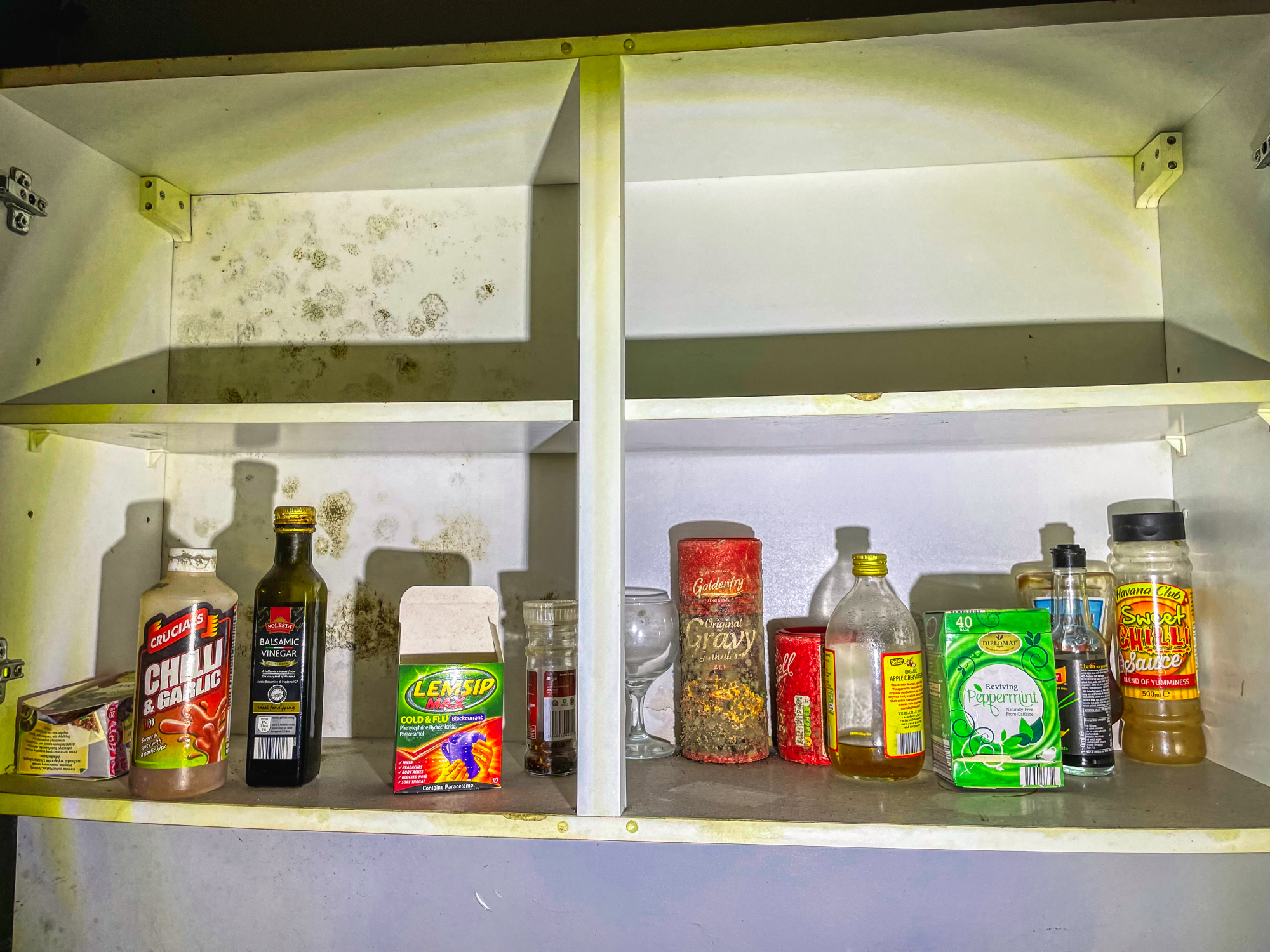 'City Sauna' is still accommodating for would-be visitors, though none of this food is particularly edible.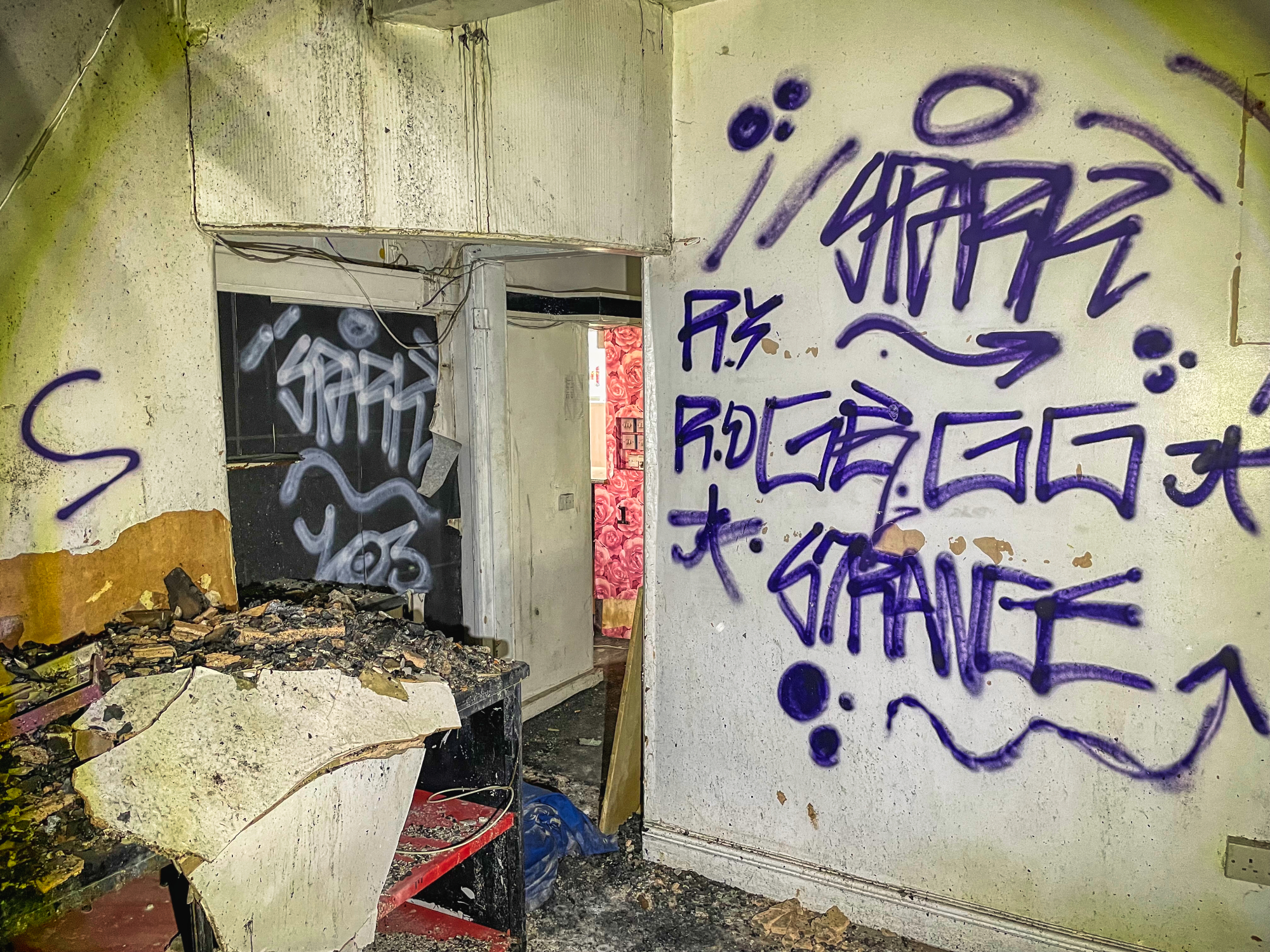 Sections of the ground floor were looking a little 'burnt'. This would be nothing compared to what we would see shortly.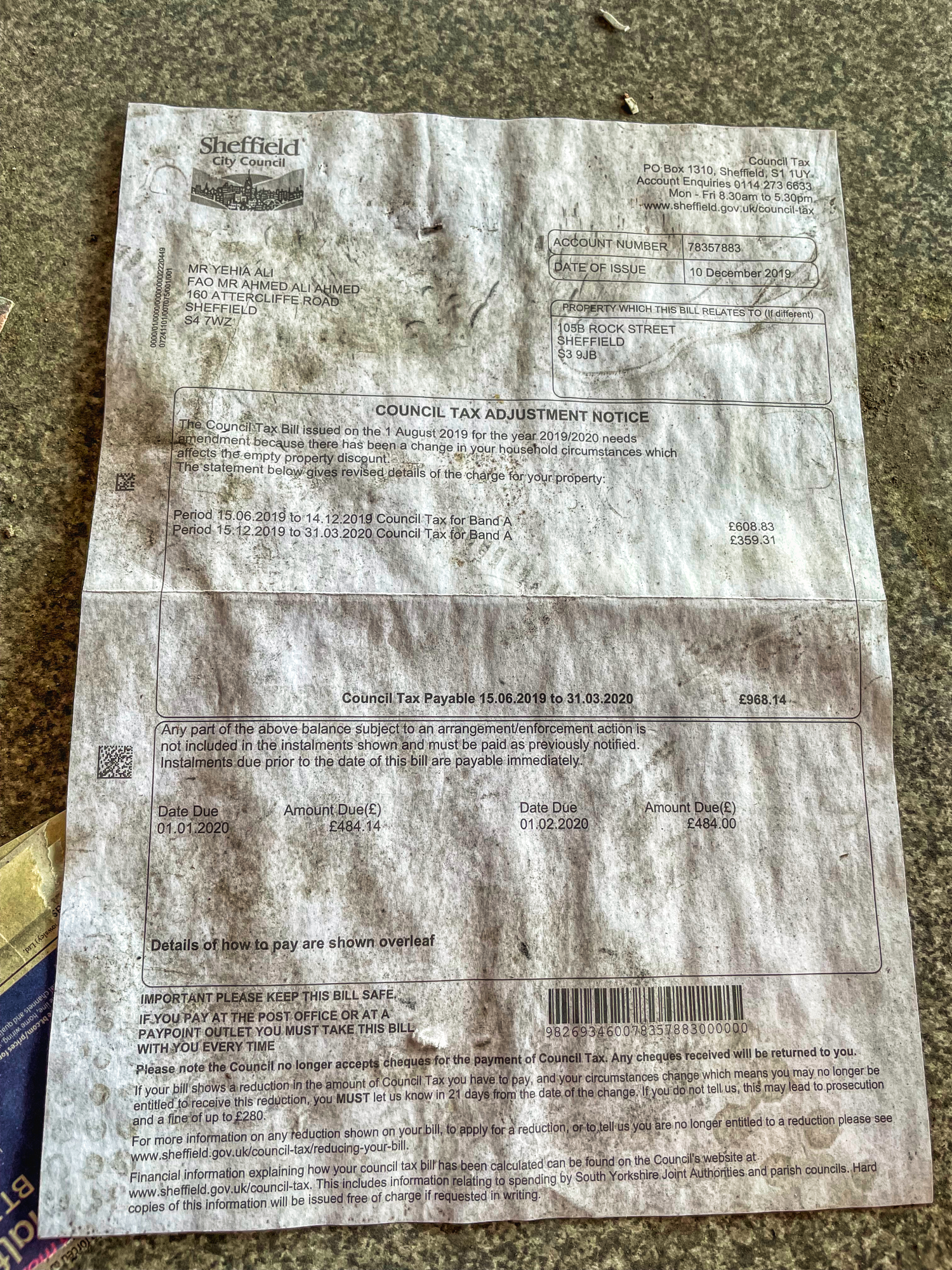 Why Mr. Ali's council tax bill ended up here, I can't tell you. Maybe he was a desperate punter trying to get a cheaper blowjob by selling his sob story of debt to one of the 'workers'.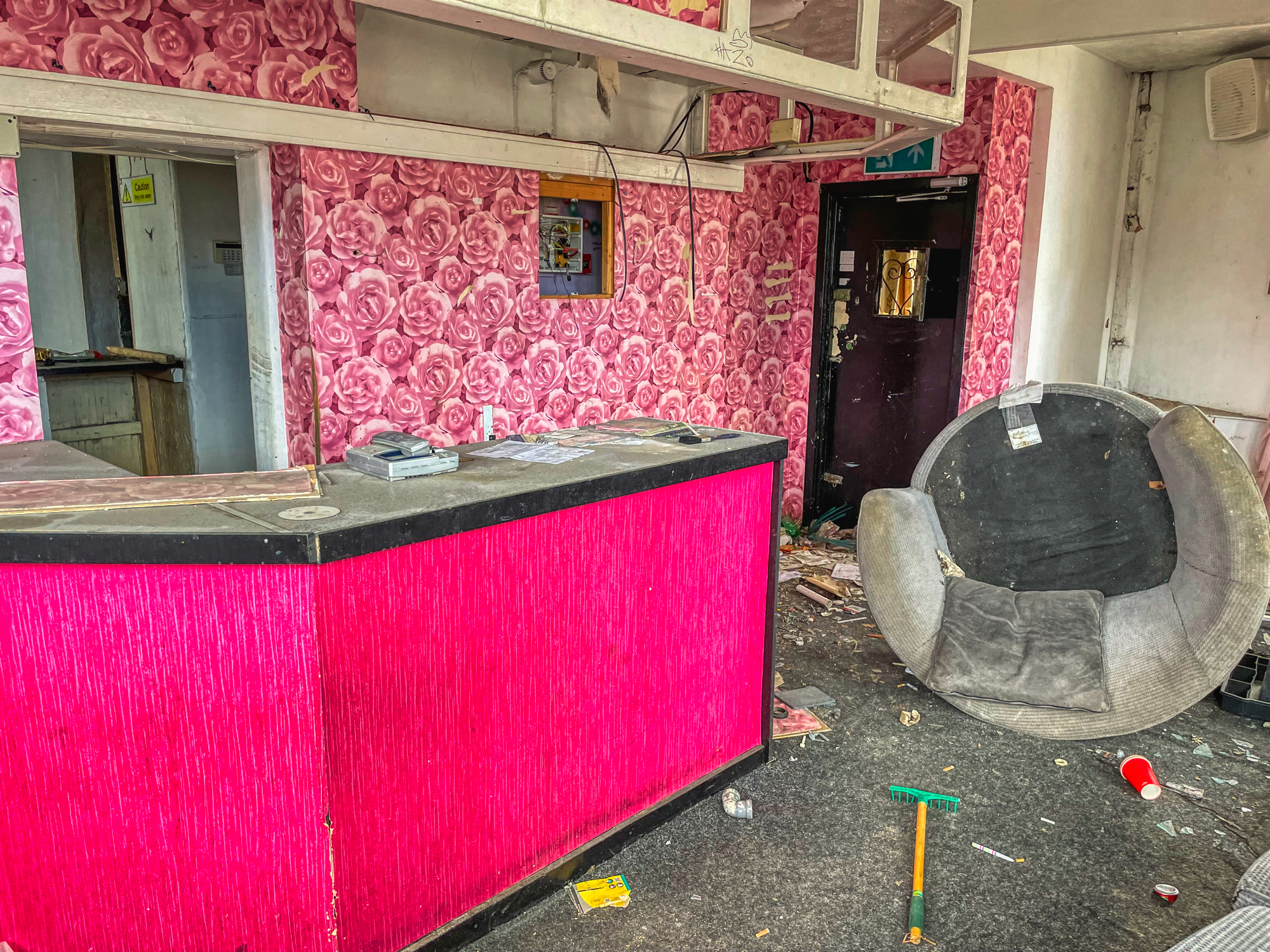 The desk telephone for taking 'orders' was still intact. Most other things had been scattered around.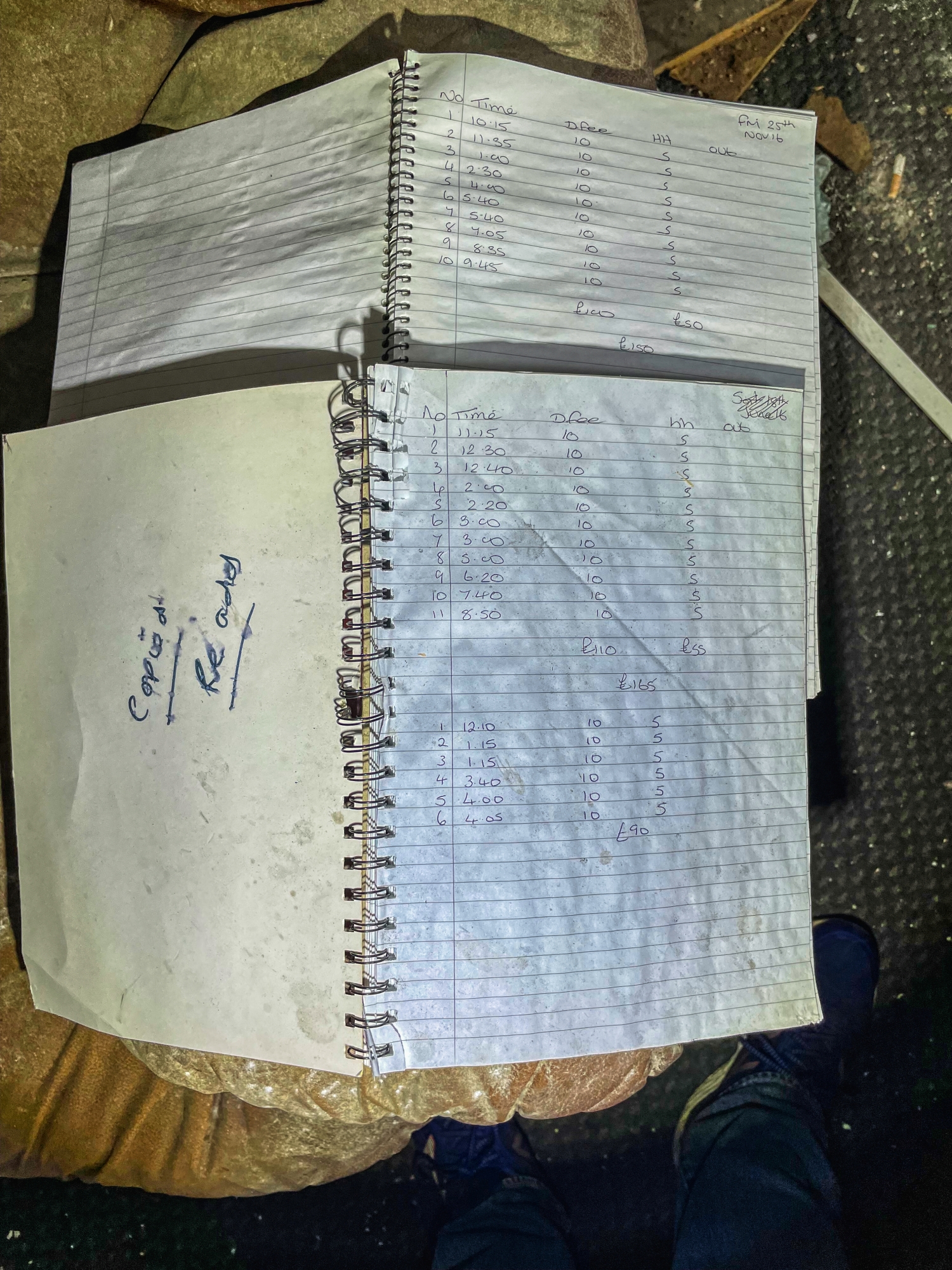 I can't figure out all this; times and fees but for what services? A hand job is going to be cheaper than a bondage session, but the prices appear to be similar.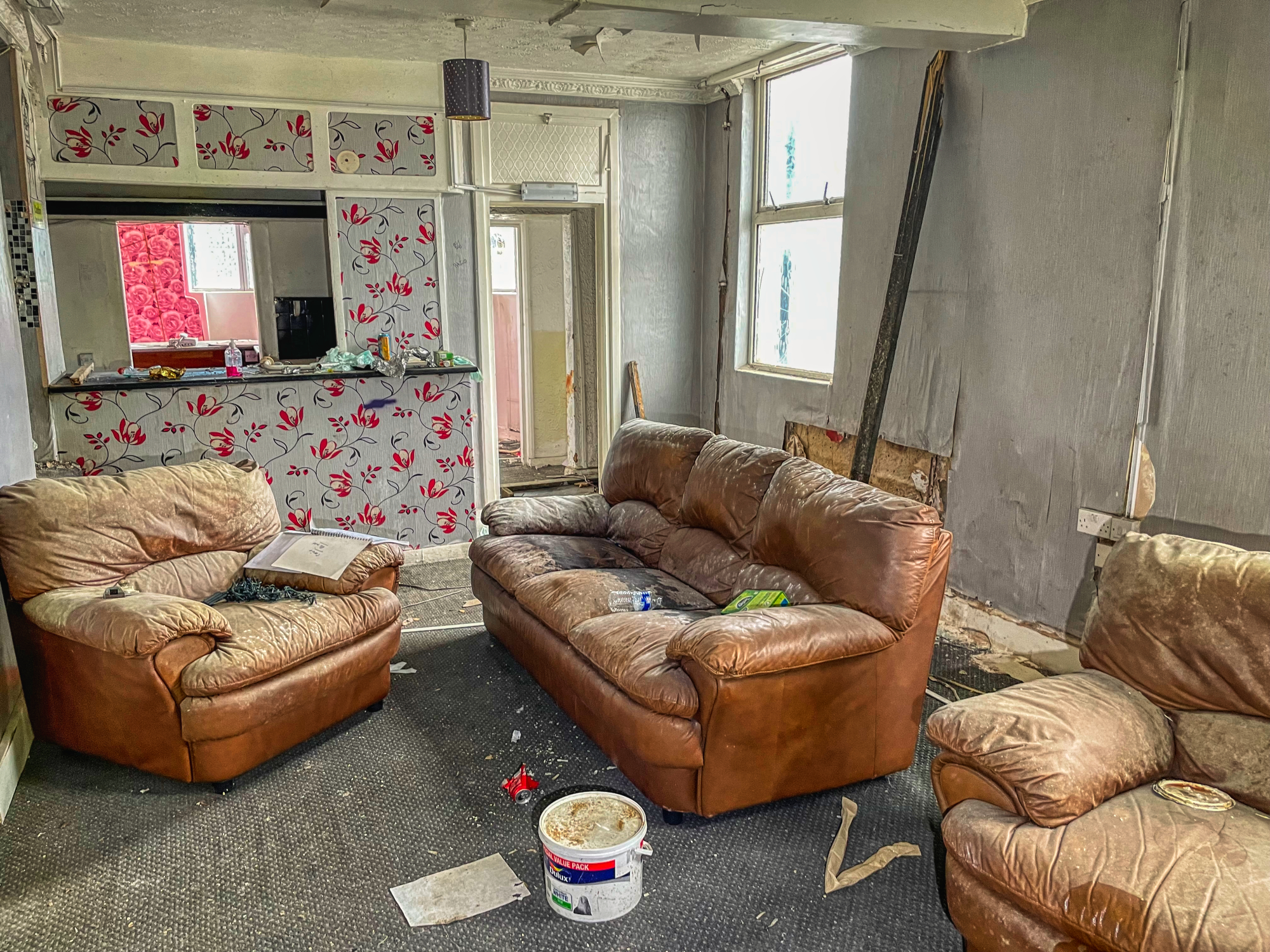 'Only the best seats for my girls' – I can see that was the case once.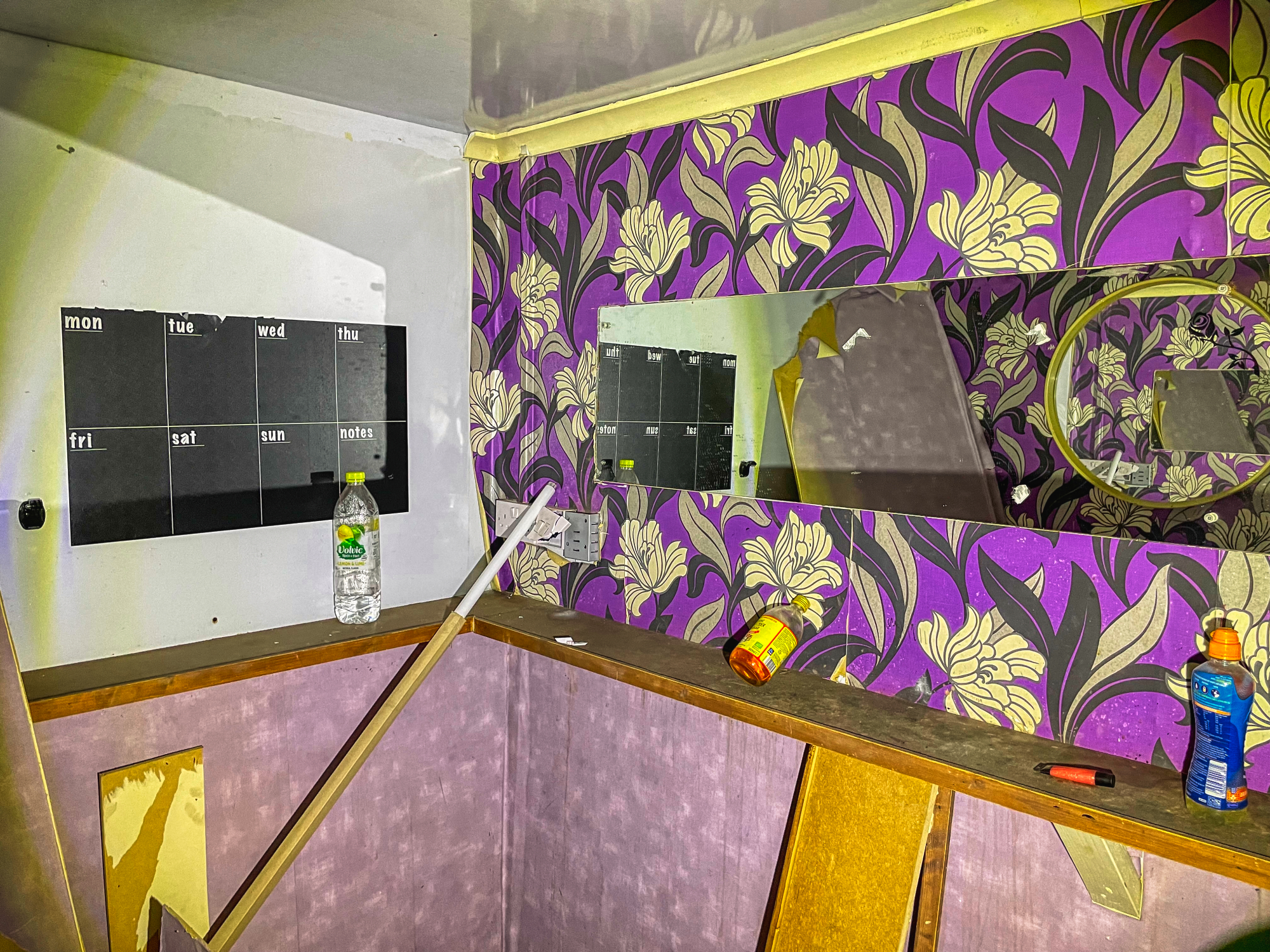 The décor is fucking awful if I am allowed to say so. Who thought of this?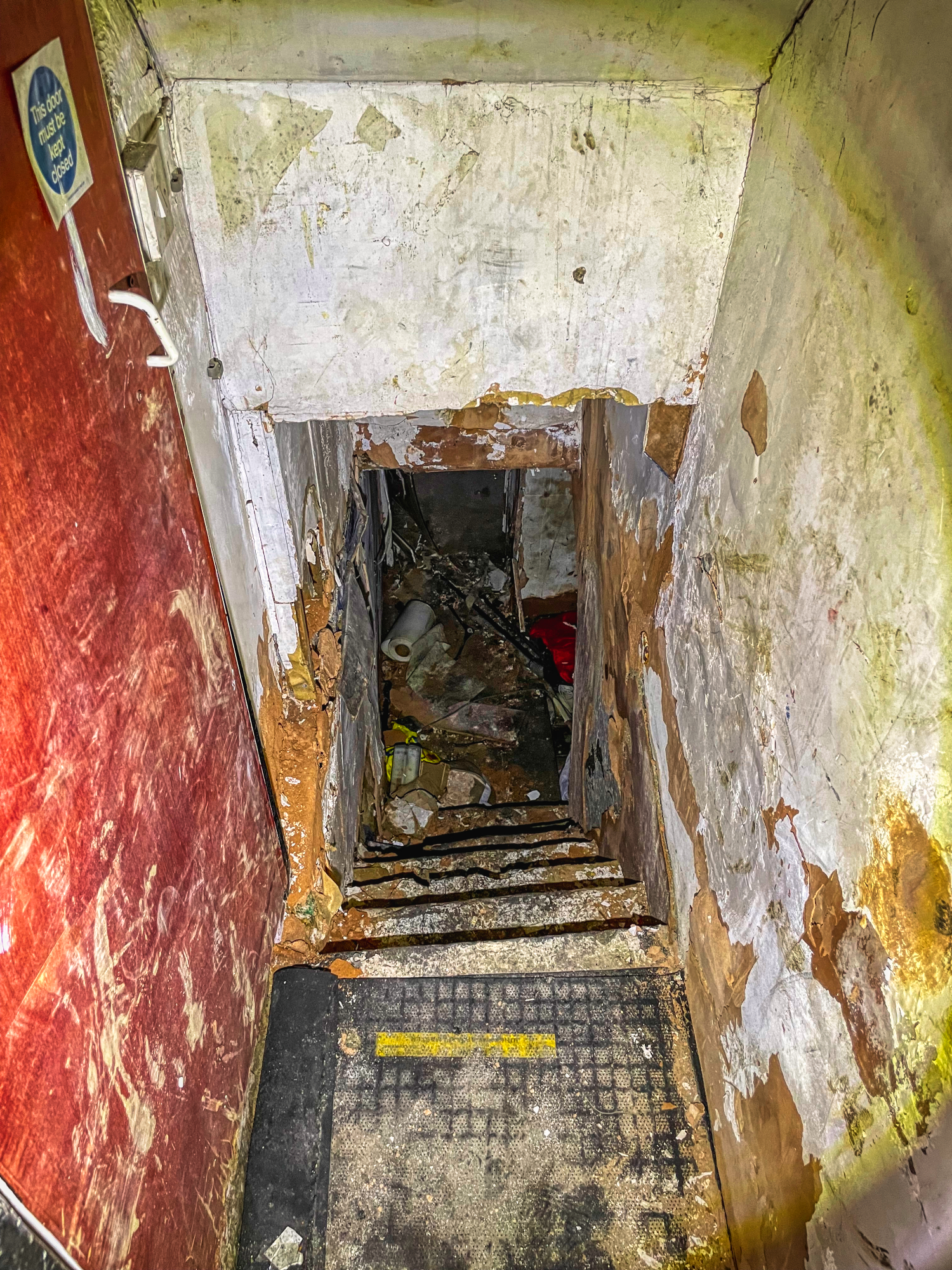 The cellar was the usual dingy hole with little down there besides what looked like a broken vacuum cleaner.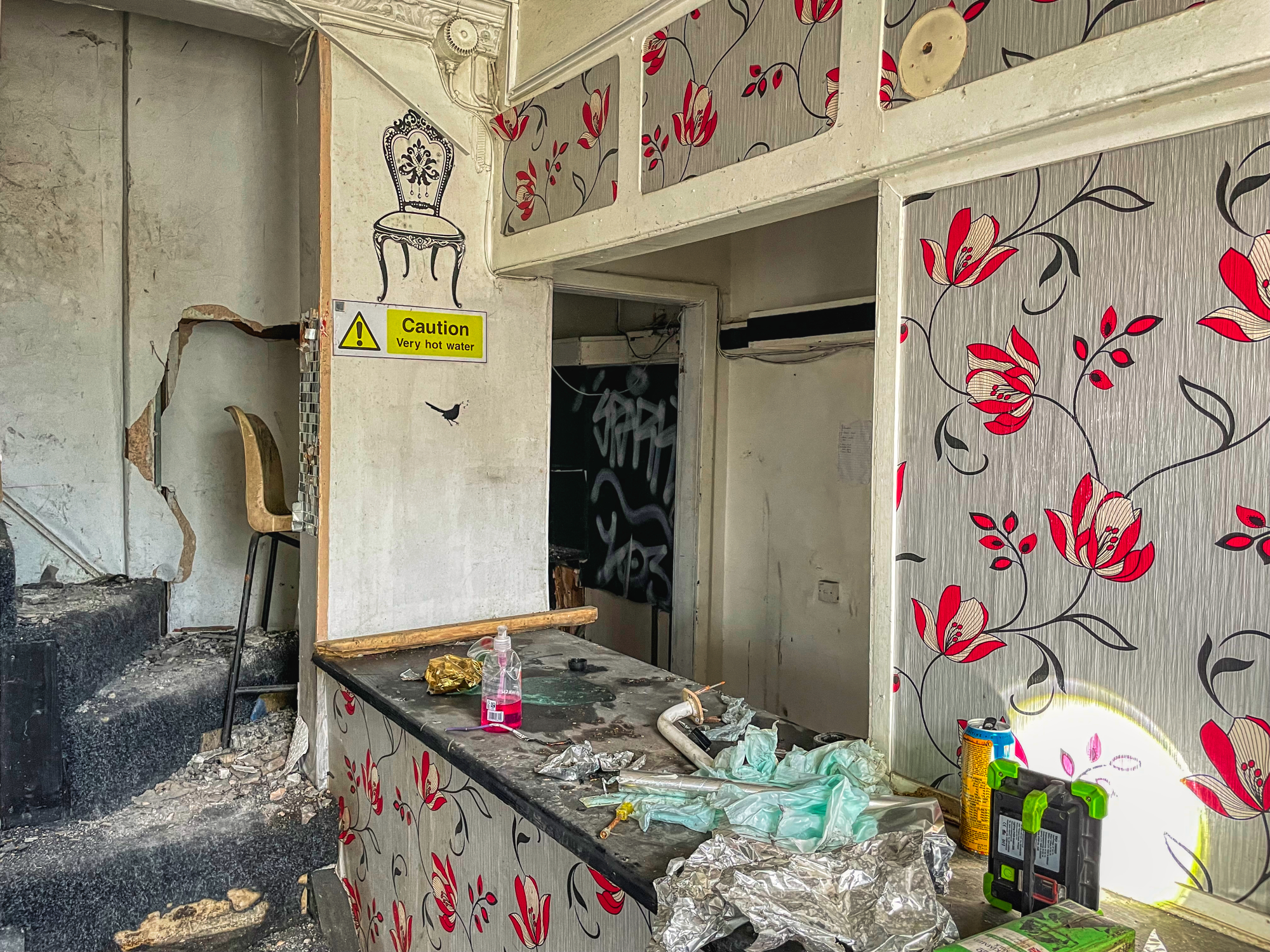 It was time to ascend to where the action used to lay (as did the many middle-aged..., not so-succulent ladies).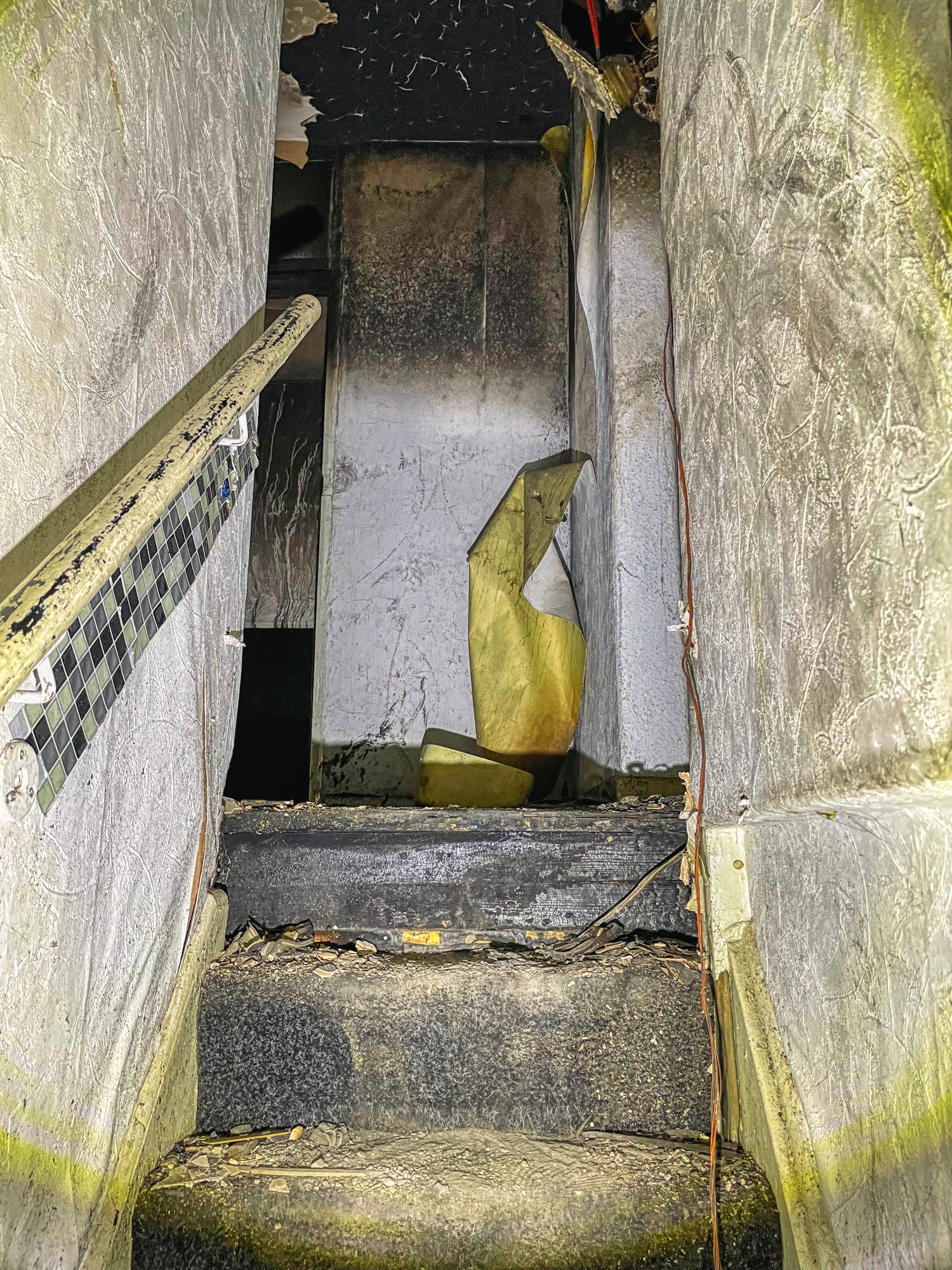 If I was to attend 'City Sauna' and be sent up these stairs, I would be performing a quick U-Turn. Gone was the beautiful furniture of the lower sections, only to be replaced by the entrance to a burnt hellish dystopia.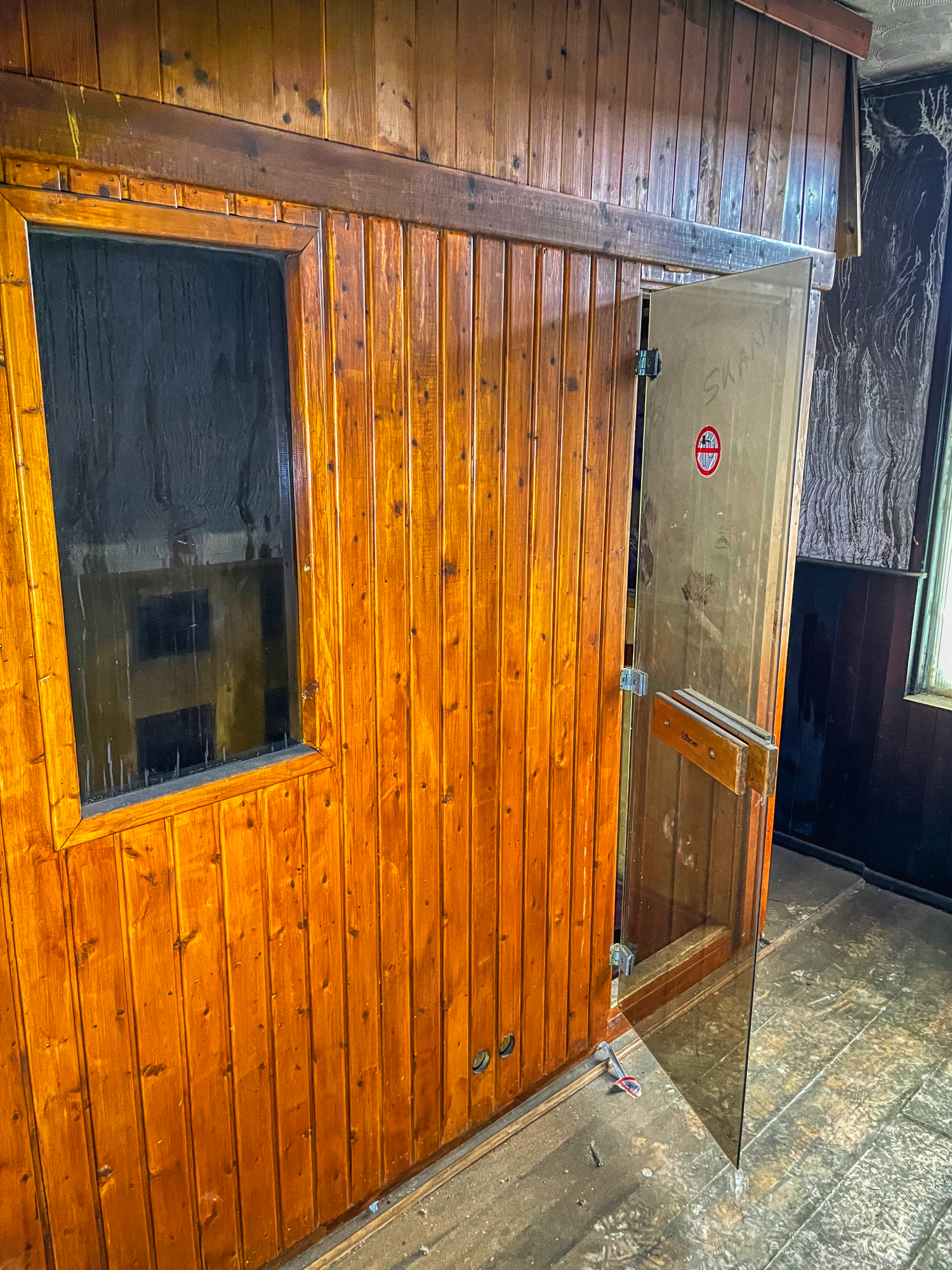 The Sauna room had survived even though all that panelled wood would go up nicely in flames given the opportunity.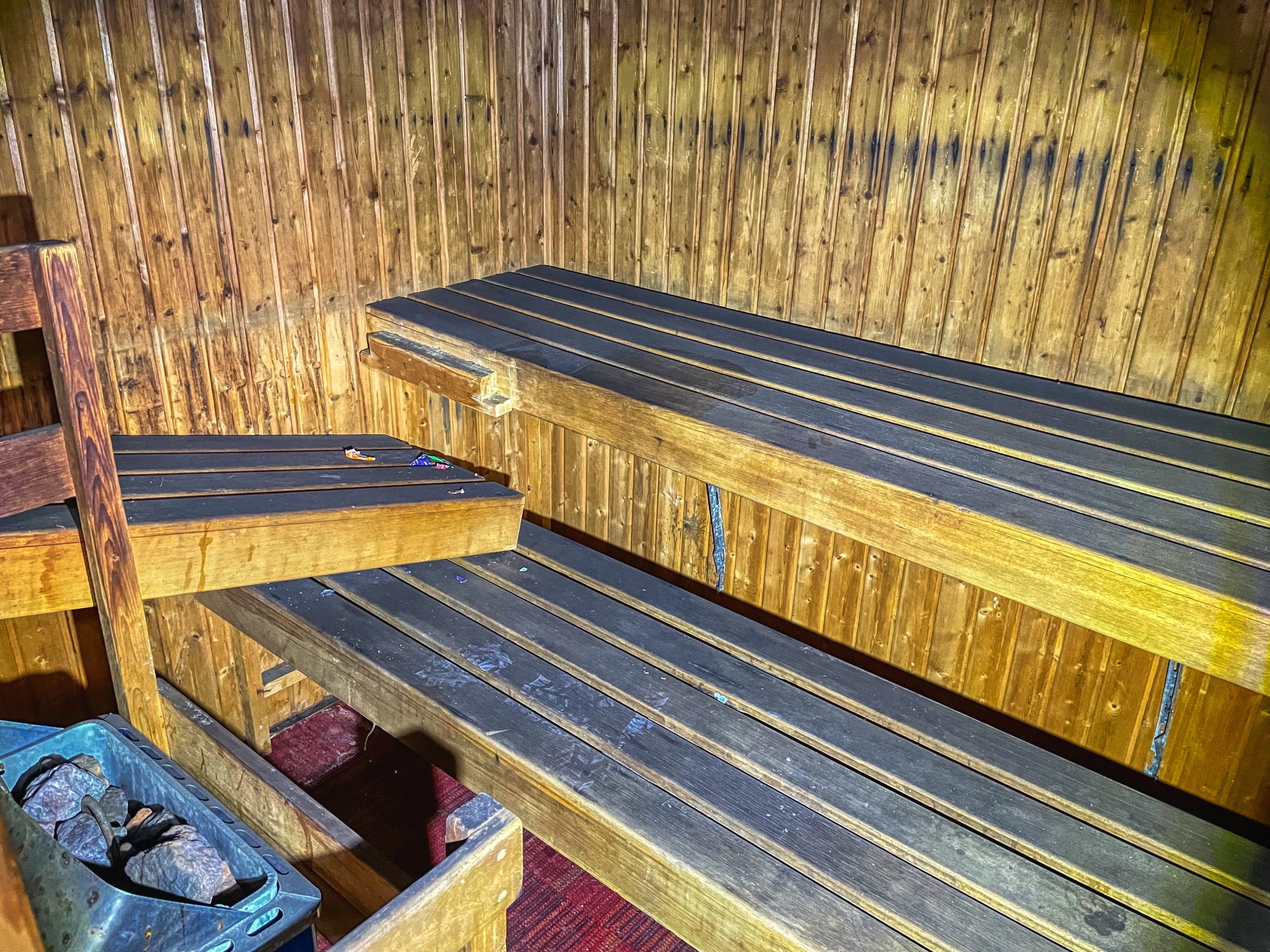 Very serviceable, simply move the wood around, light the coals and you could start sweating profusely before taking a dildo up the arse.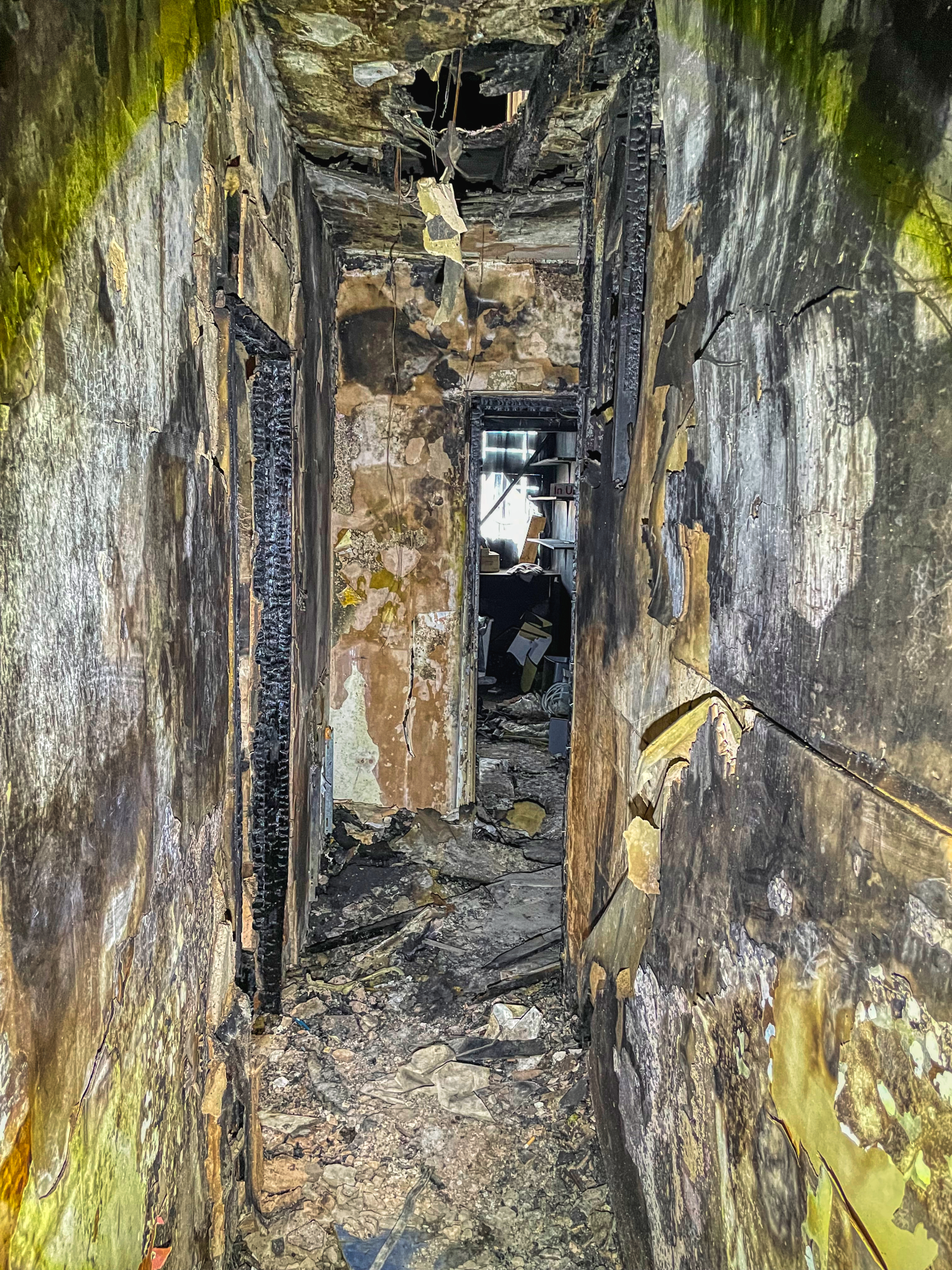 If one room had survived the 'fire' it was that one. Moving out and into the corridor looked like moving into the abyss (or for someone like me, derp normality).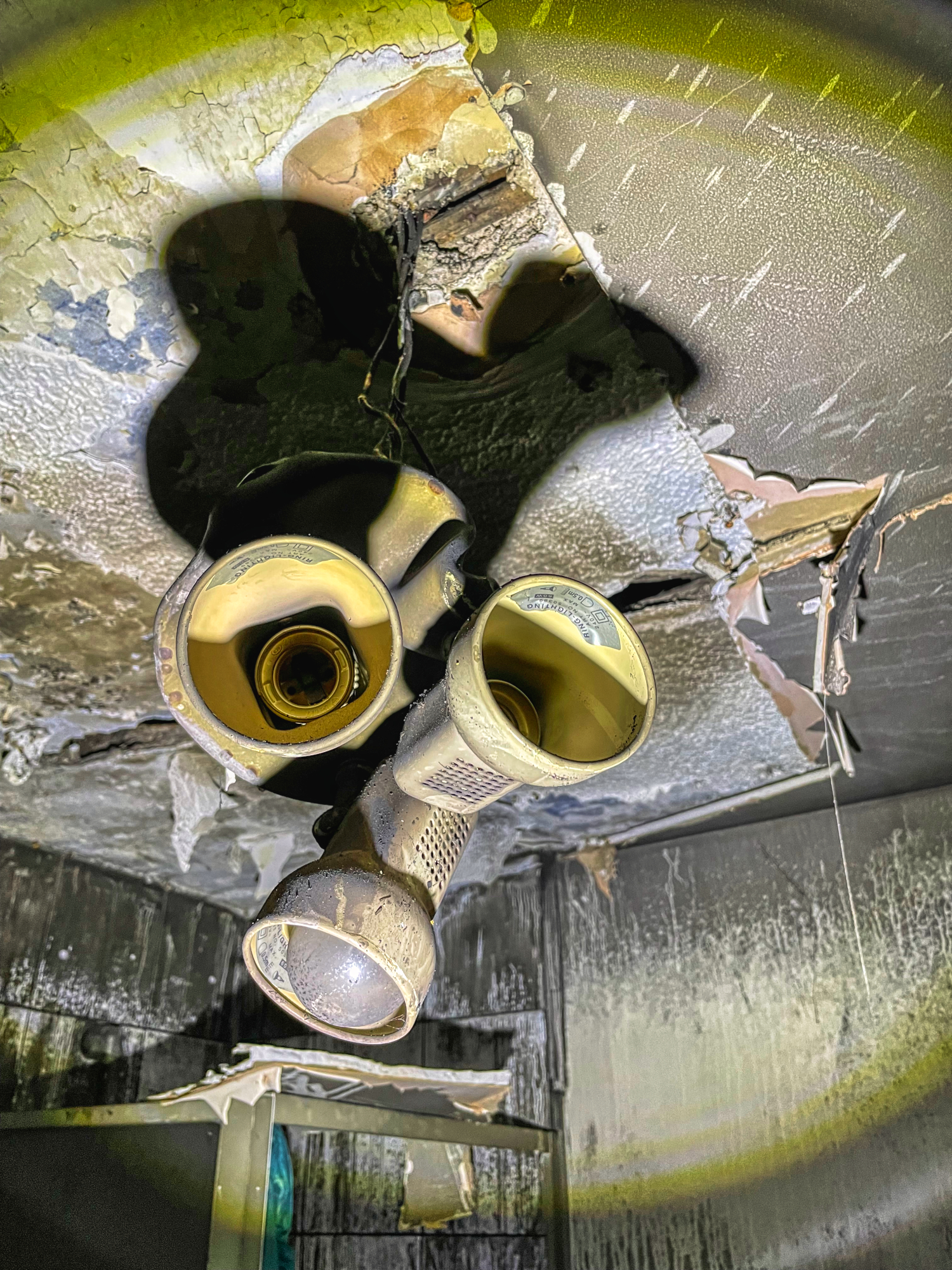 At least one of the lights had not exploded.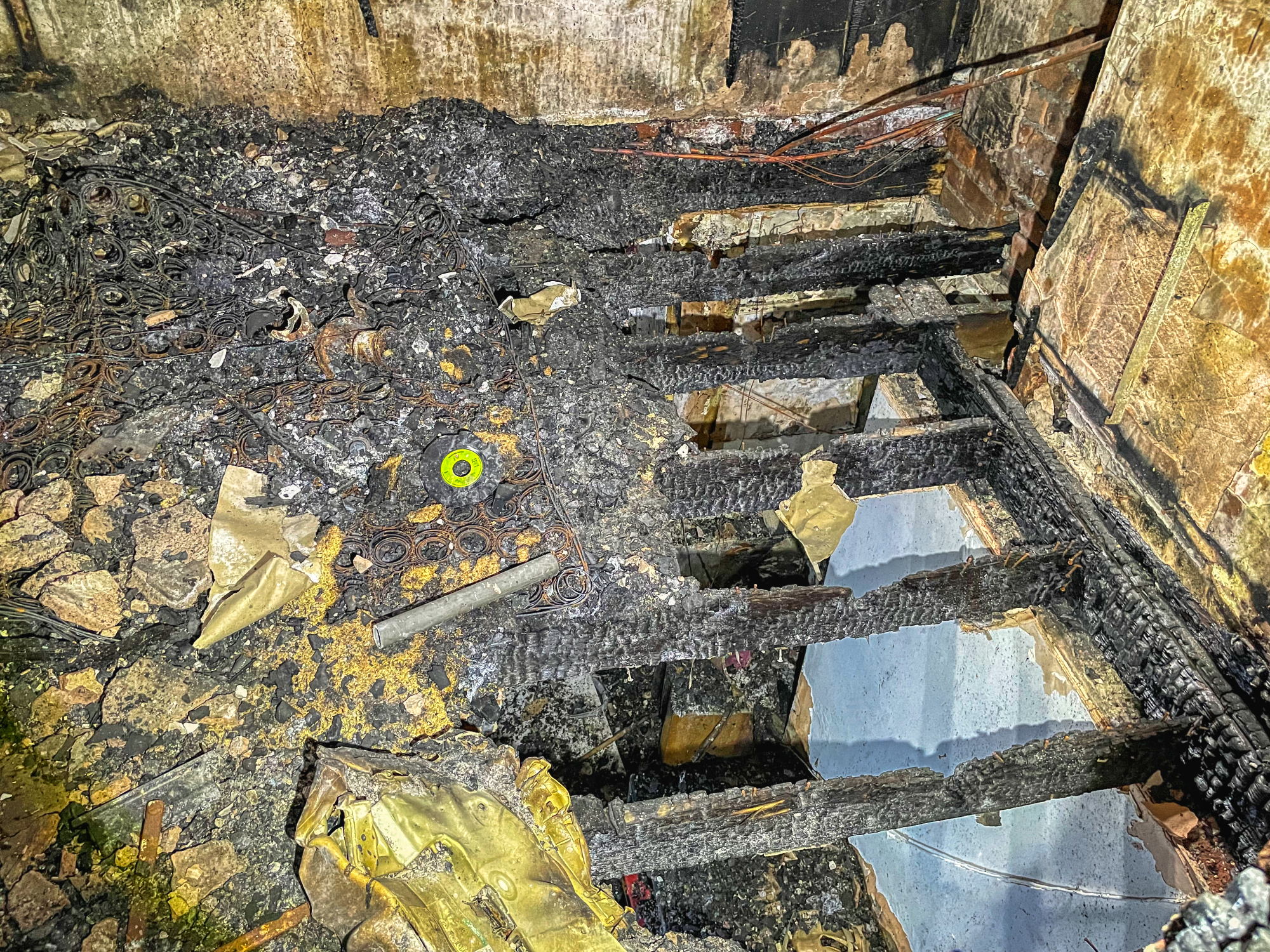 When you can visibly see the floor fifteen feet below and wave to your comrade, you do need to take a little more care.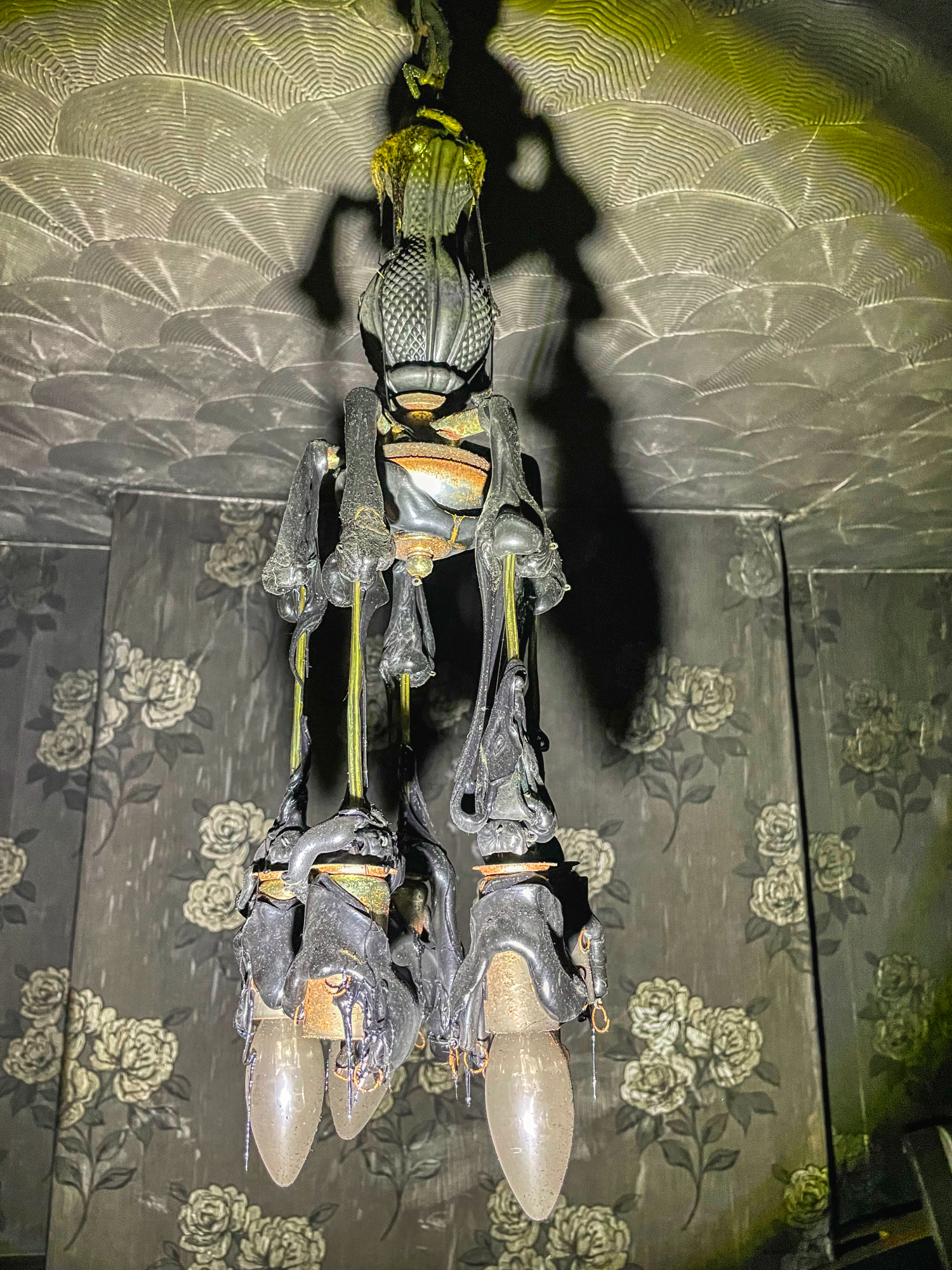 These lights had fared even better, with just a touch of melting.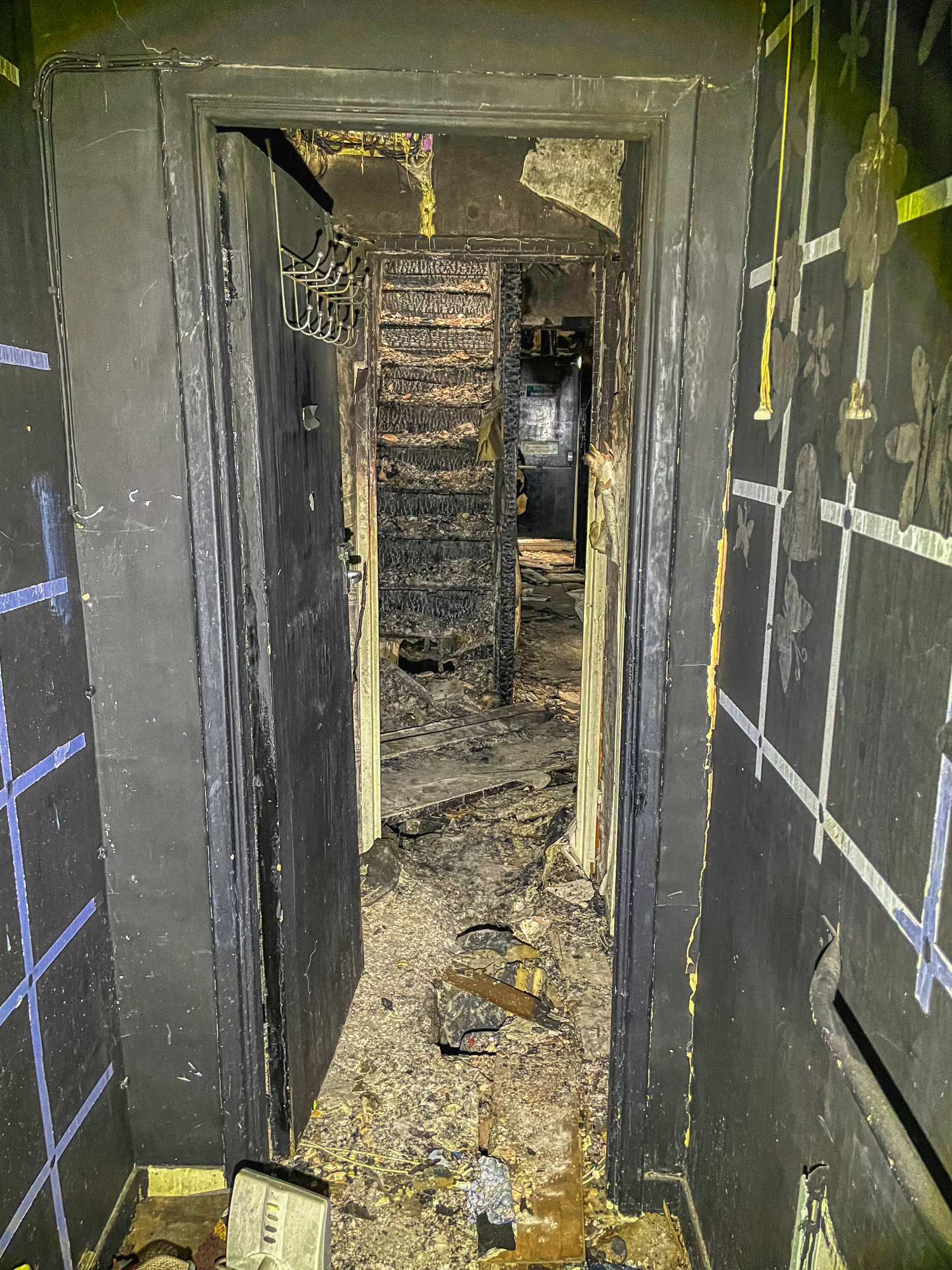 Disappointed that we were late again, and were not going to encounter sex toys, KY-Jelly, lubricant, smelly knickers, dildos, or vibrators we spotted the pinnacle of our visit… those stairs!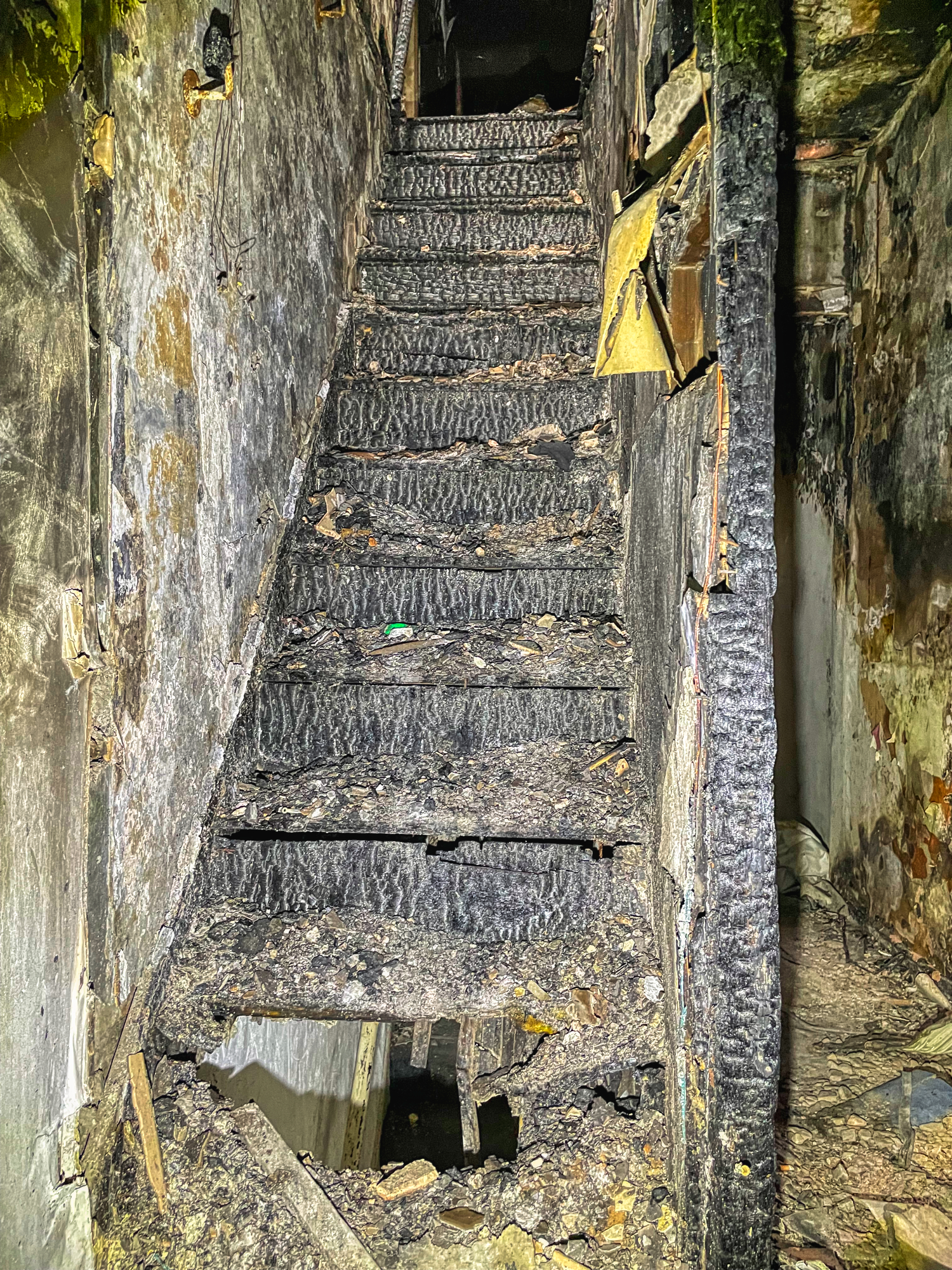 If I thought the stairs at Burnley Building Supplies, were a challenge, these were at a different level.
Try and avoid the bottom step... is always great advice.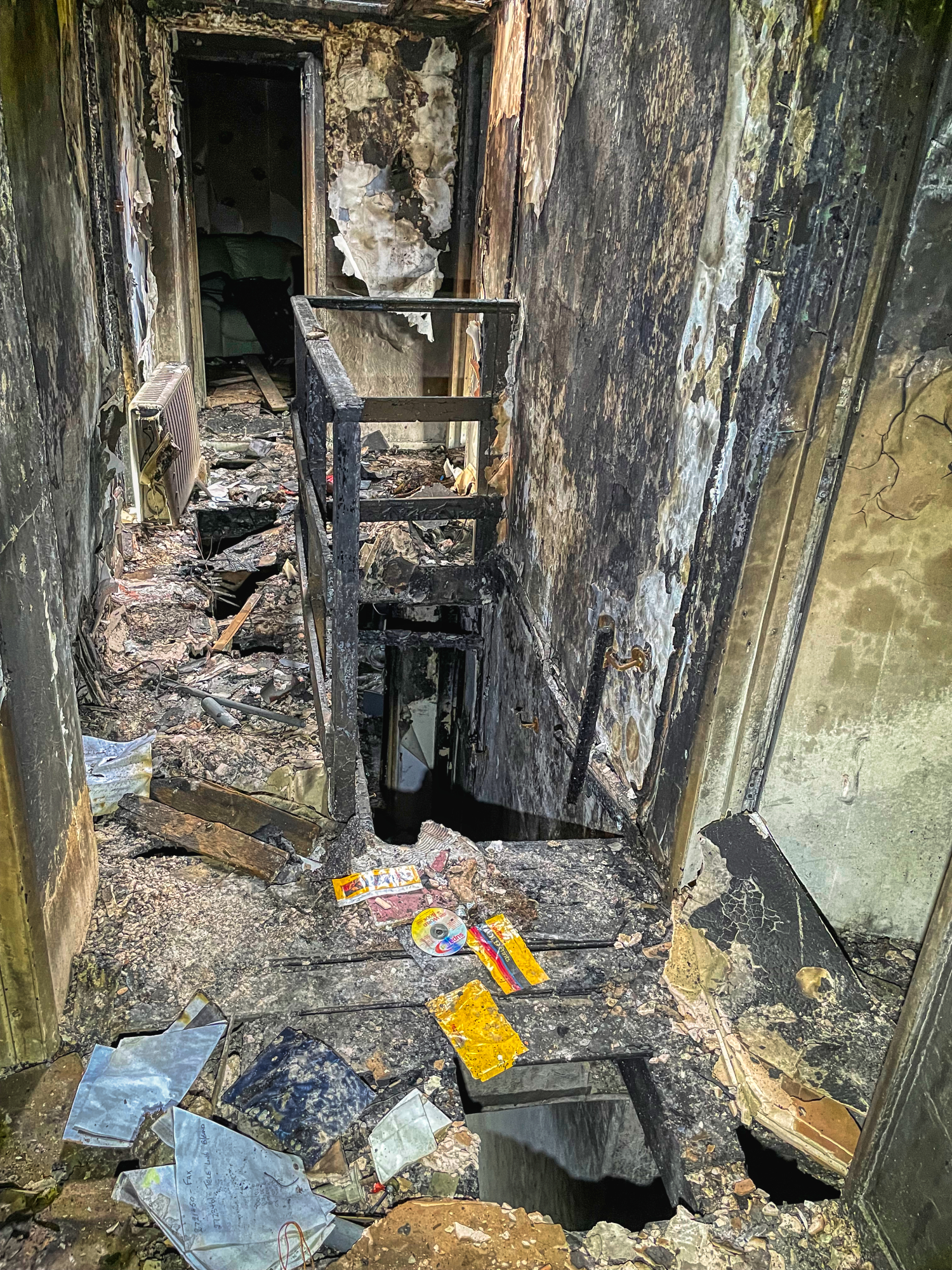 With stinking black encrusted fingers I reached the top floor of 'City Sauna' and gazed at my surroundings.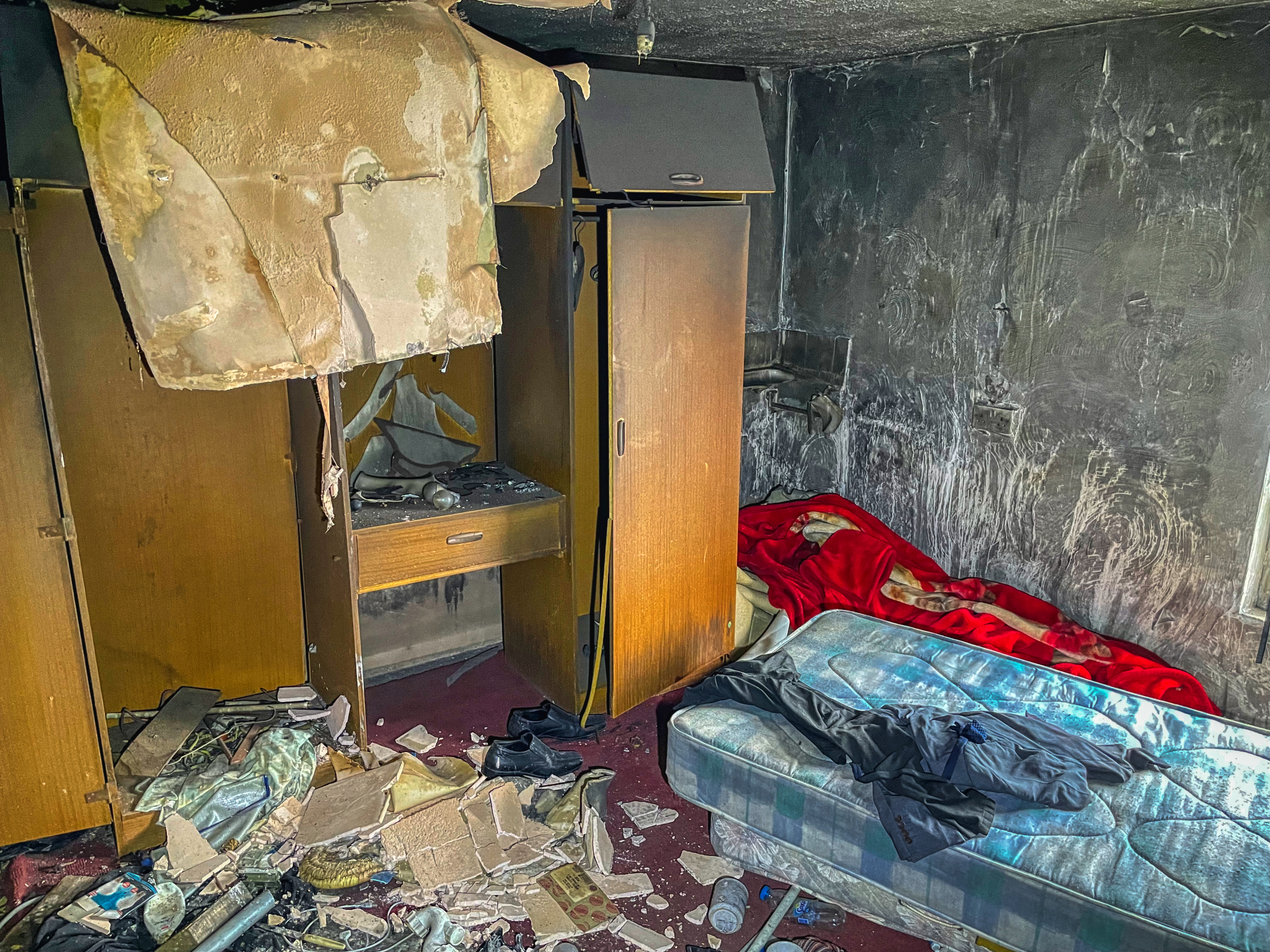 Just off the landing section was a room that miraculously had escaped the wrath of the inferno and someone was living here?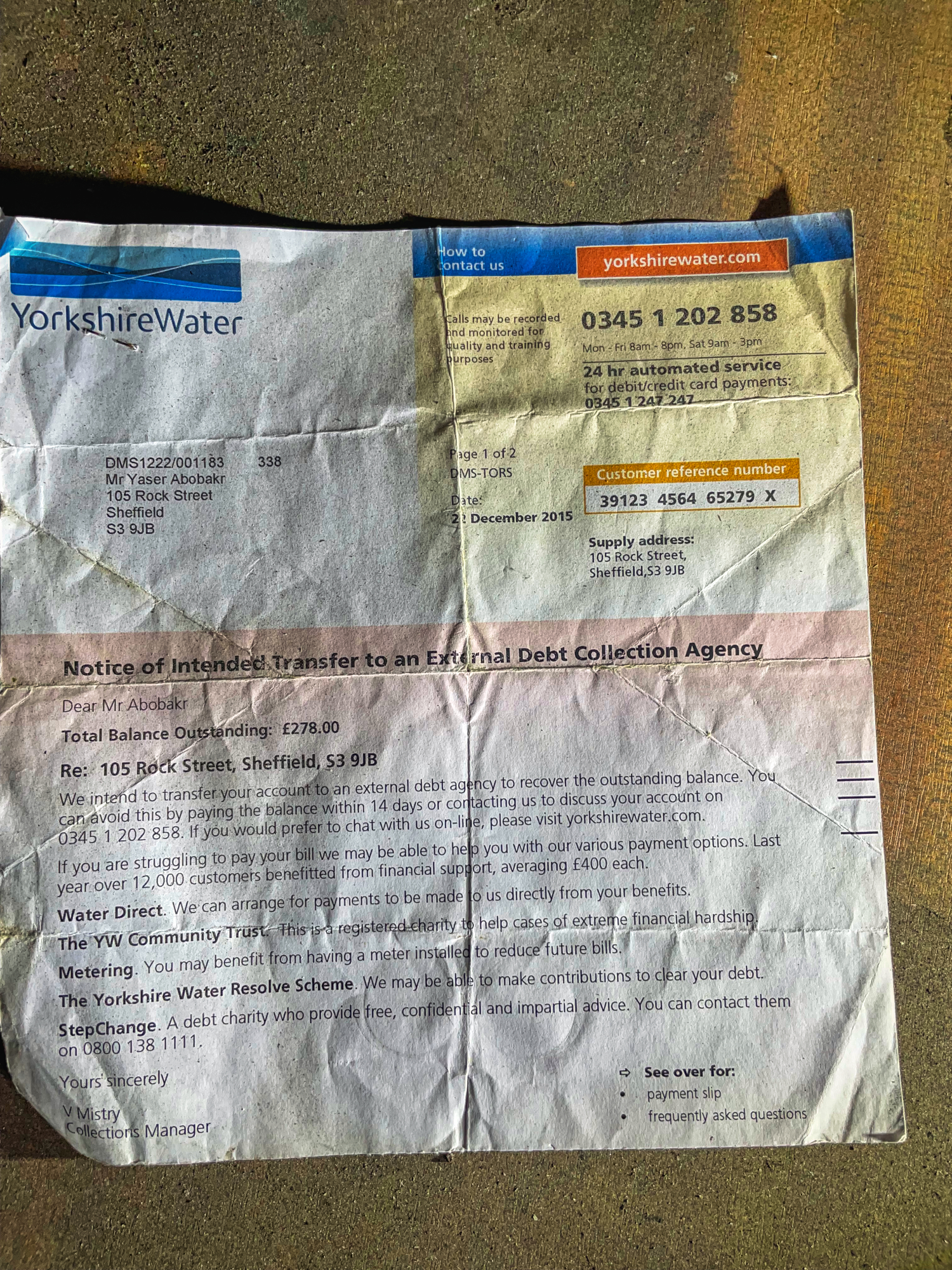 Why is it that nobody ever pays their bills? Yaser is also not the ex-owner of 'City Sauna'.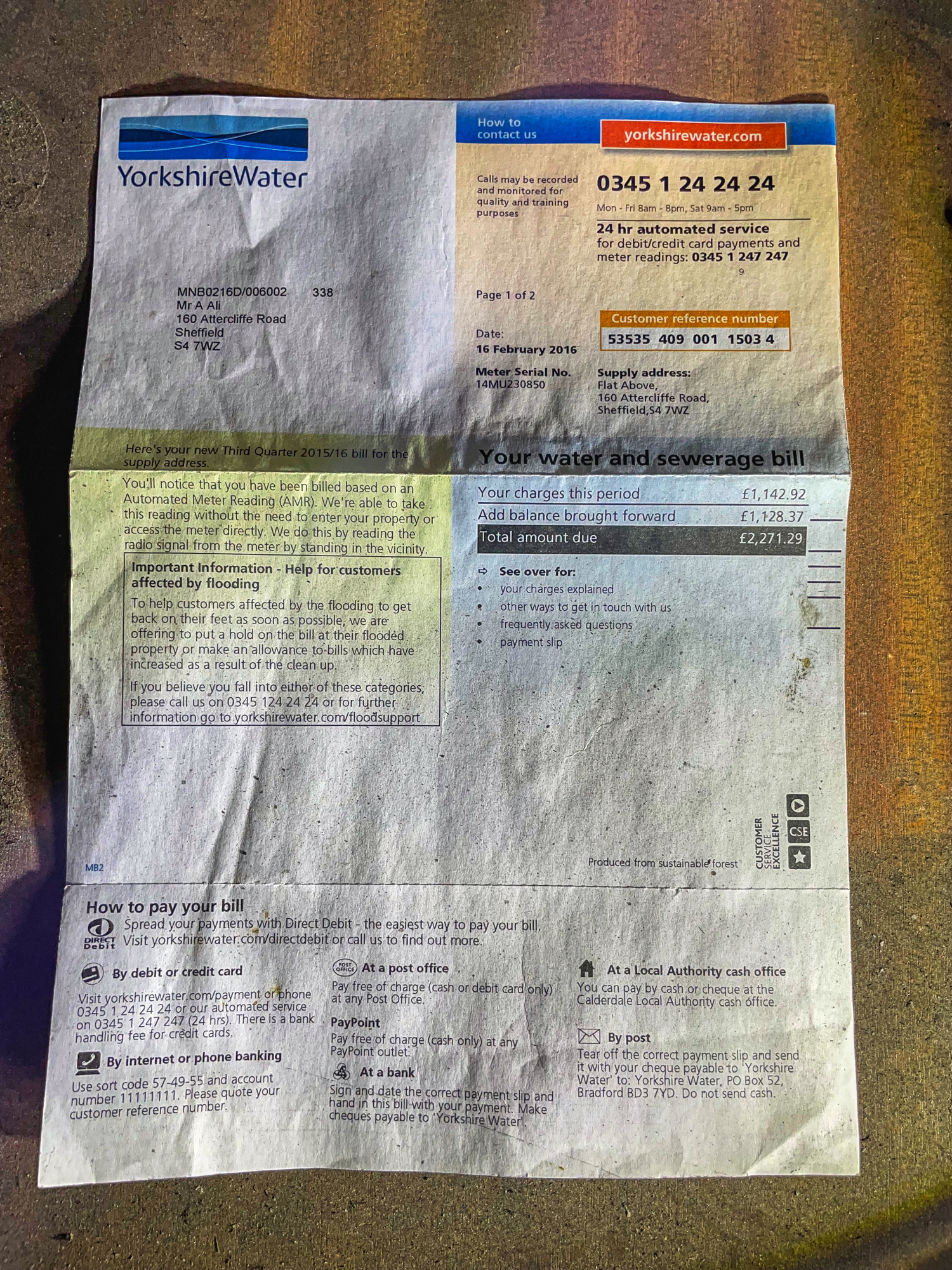 It's that Ali bloke again, the one who wants the sexual freebies. That is a decent-sized Water bill amassed over a long period.
It was a short distance to the 'squatter room' that had escaped the fire, and it was just as well.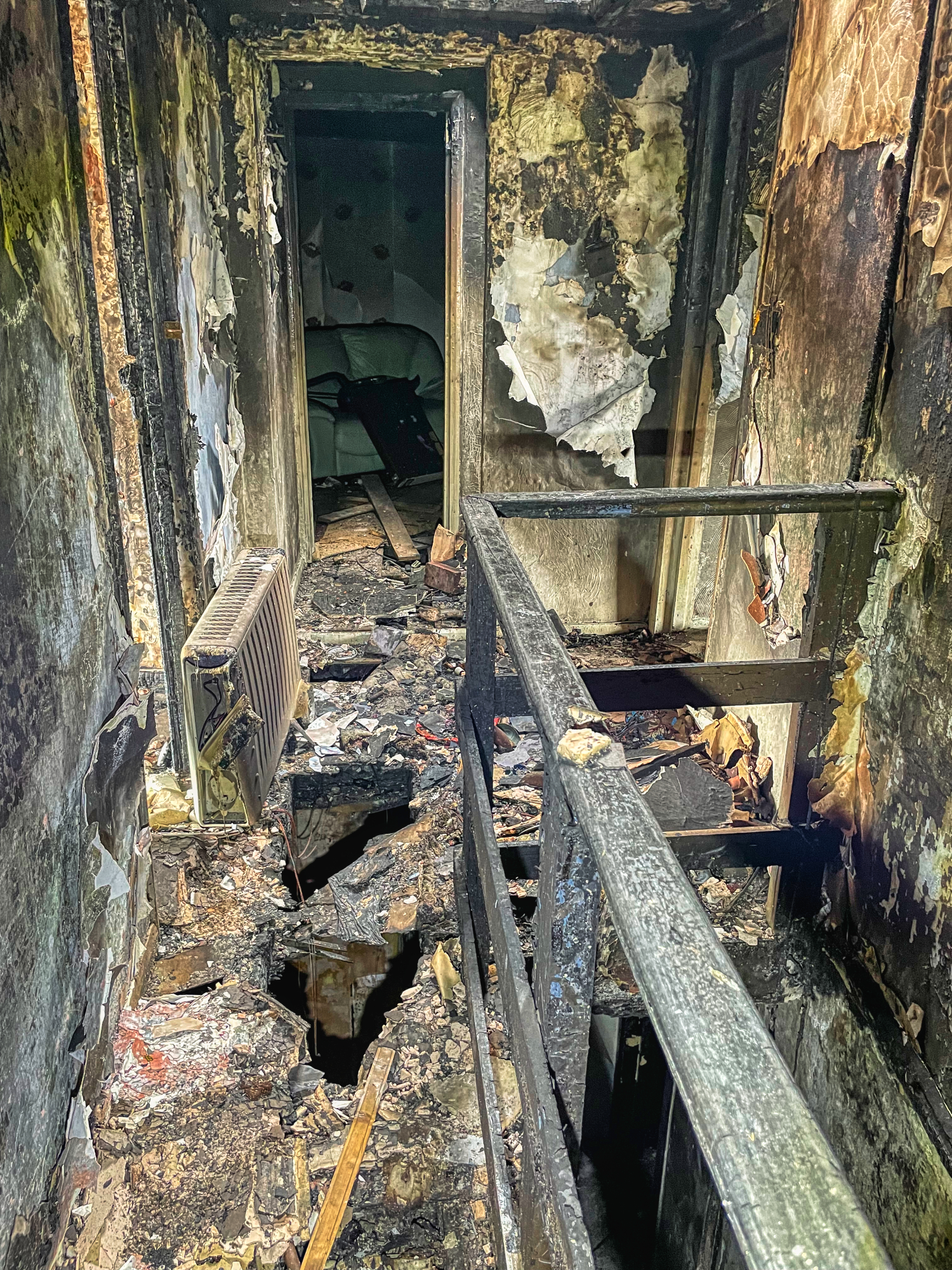 Going down the 'Corridor of Ultimate Doom' would have spelled death; I could smell it in the air. There was no stepping over that floor and I know my limits!
Descending that burnt-blackened rotten stairway was no less easy than getting up. I generally jump the bottom stair but as that floor is also full of holes, thought better of it.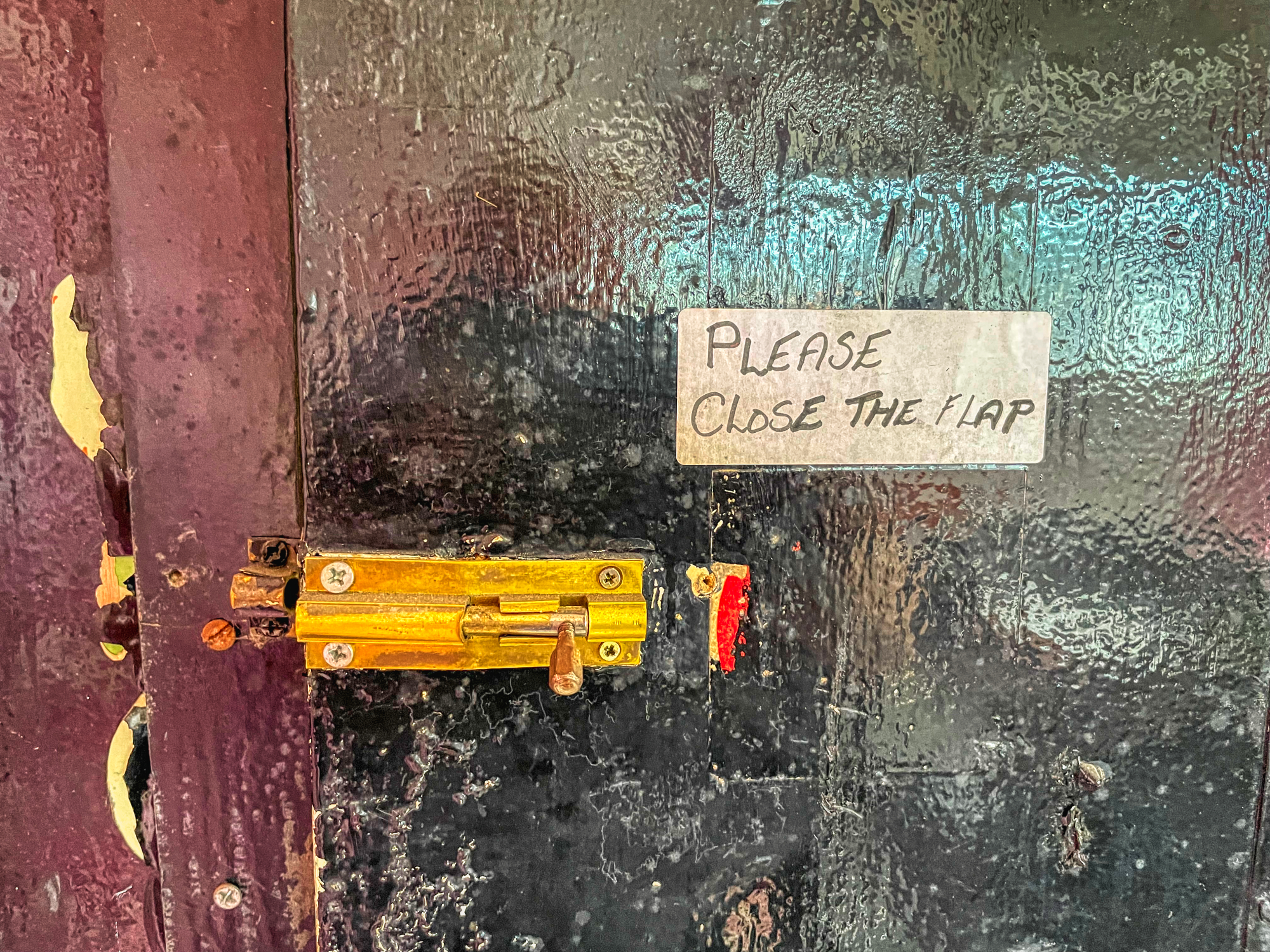 Very Apt I say. You could lock yourself into 'City Sauna' if you really can't get enough of it.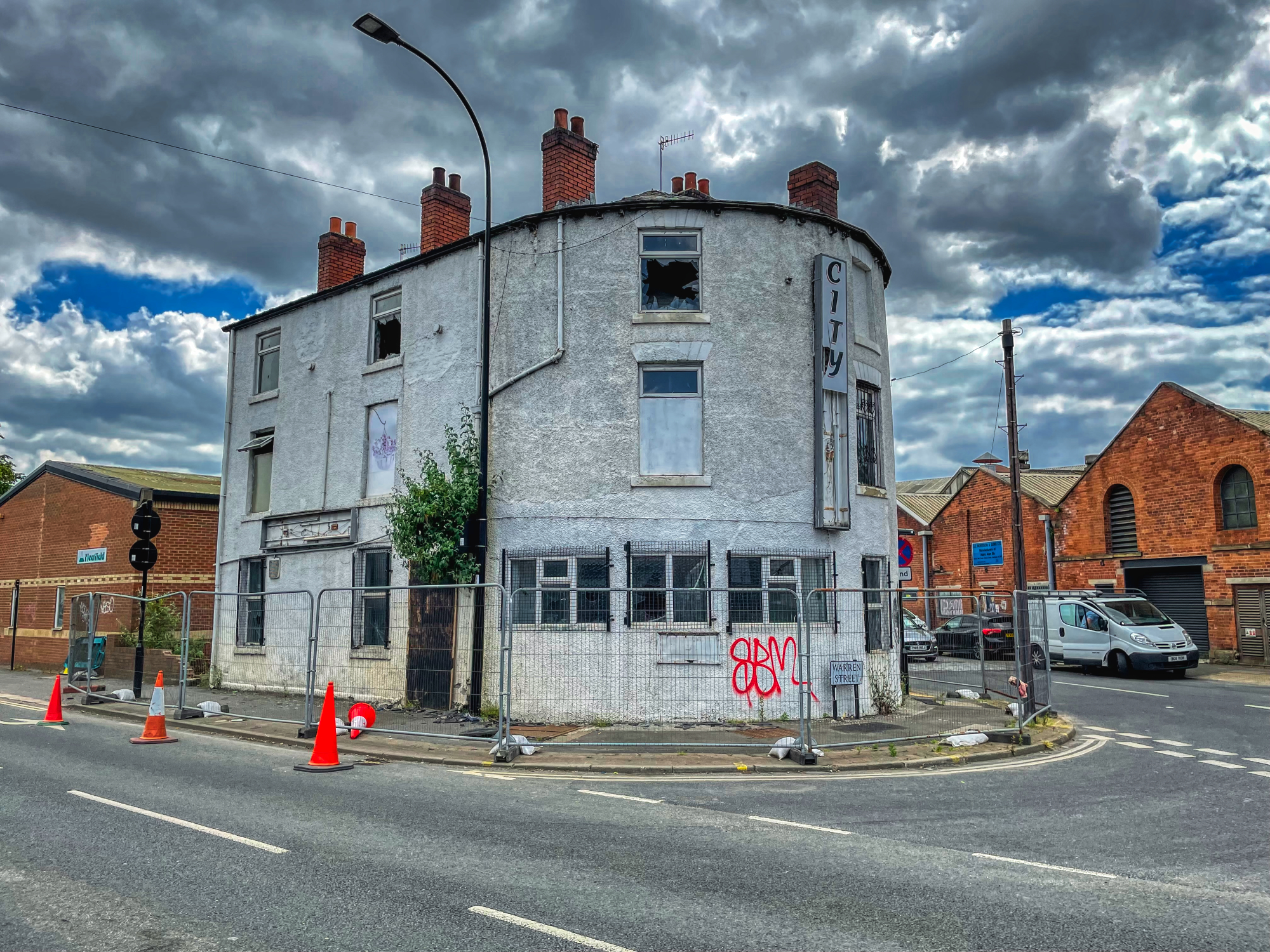 In essence, 'City Sauna' is a fucking death-trap. This has to be one of the worst staircases I have encountered, and all for Mr. Ali, and his mate who just want cheaper shags.

Do you like posting your Urbex content and photography for FREE on Facebook and YouTube? I like to get some form of reward for my work and every time I create I do just that. Take a look at The Urbex Community on HIVE.
If you want to keep creating for FREE then ignore what you are reading. If you want to be like me and gain something other than BUGGER ALL for your work then click here and learn about posting on the HIVE blockchain.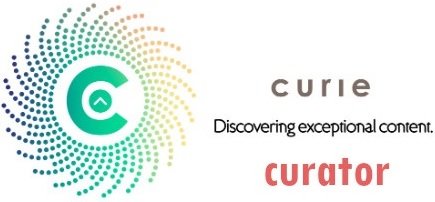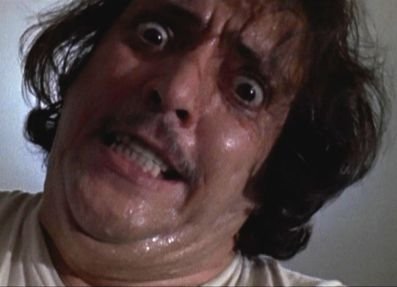 If you found this article so invigorating that you are now a positively googly-eyed, drooling lunatic with dripping saliva or even if you liked it just a bit, then please upvote, comment, rehive, engage me or all of these things.
---
---