Tales of the Urban Explorer: Rosslyn House

Does this look like a beautiful rural scene? It is apart from the fact that Rosslyn House nestles in the middle of it all.
Look closer and you can see a smidge of brickwork. I have seen some jungles but never to the extent of this one.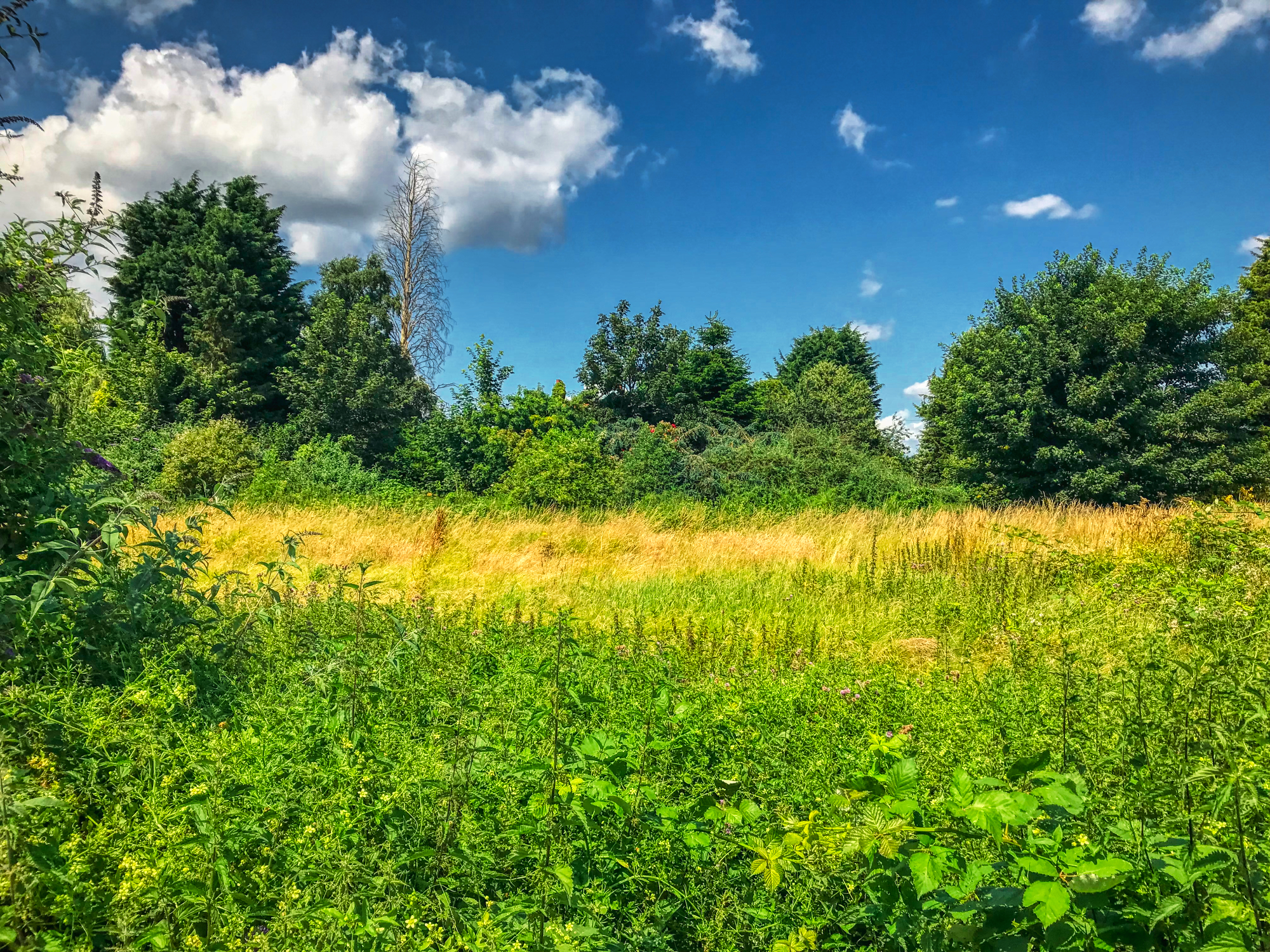 Should we have visited in winter when all the greenery dies off? We might have been able to see it a little better.
As it stands external images were rather impossible to compose and if I didn't plan well and have the exact coordinates for Rosslyn House then we would have sailed past it.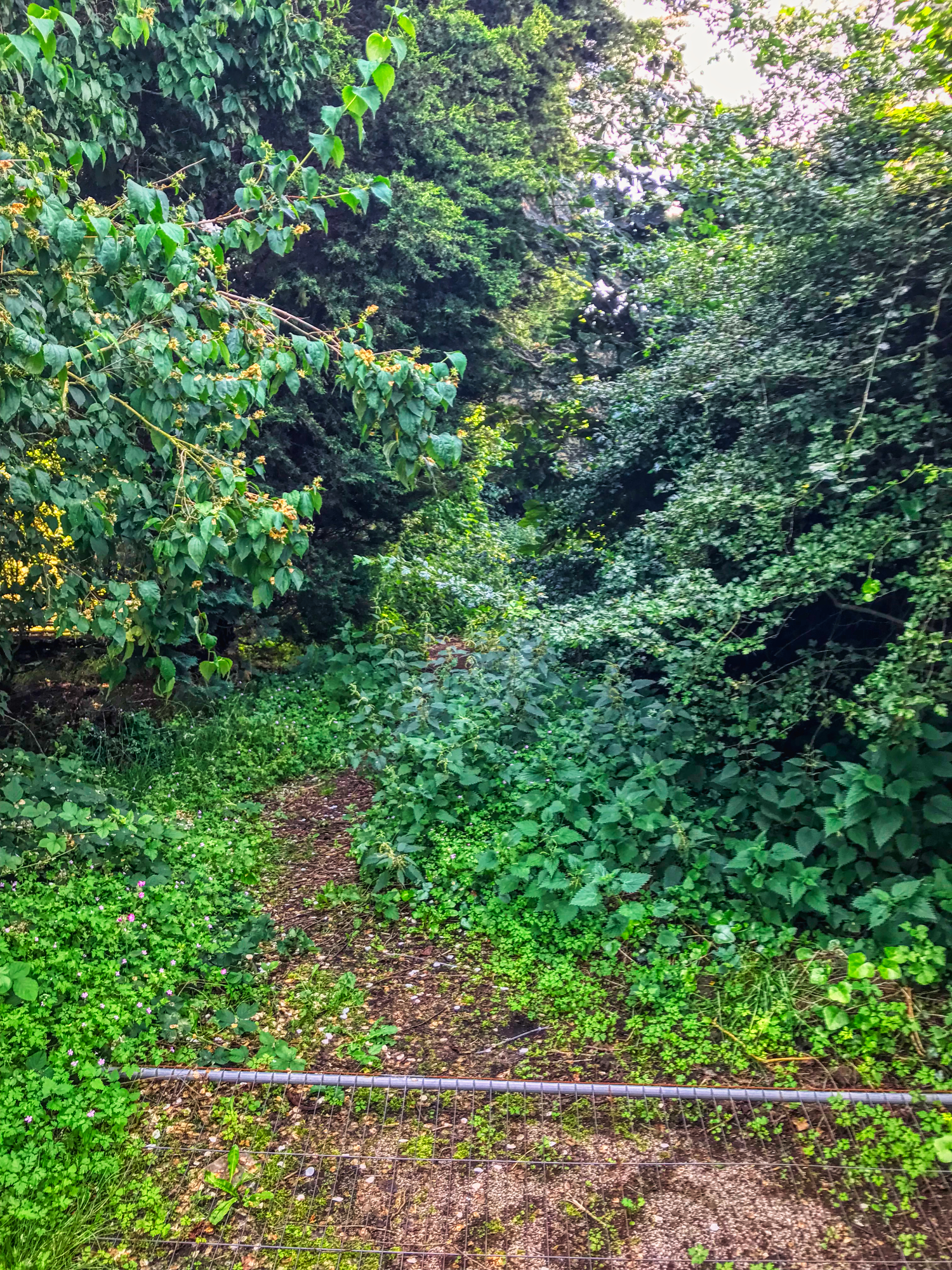 The house is in a semi-rural location so I was expecting little resistance when we walked up the old driveway thinking ourselves lucky it existed. Climbing over all that 'beautiful rural' shit may have been a step too far.
The front of Rosslyn House was inaccessible and gave us a larger glimpse of what was to come... if you can call it that.
Fortune was favouring us as the back yielded some brickwork and hello..., what's that resting against a single-storey building?
If it only had a few more rungs on it… and would that dodgy roof take my weight?
..."you're going up there?.., you must be off your fucking rocker"...
@goblinknackers had counted himself out but I was not so easily dissuaded.
Hoping that ladder would not give out I hauled myself up, slid onto roof belly first, and tentatively crawled to the open window thinking myself a master climber.
I was in, out of breath, and sweating like a bastard but was it worth the effort? Getting back down was not going to be fun.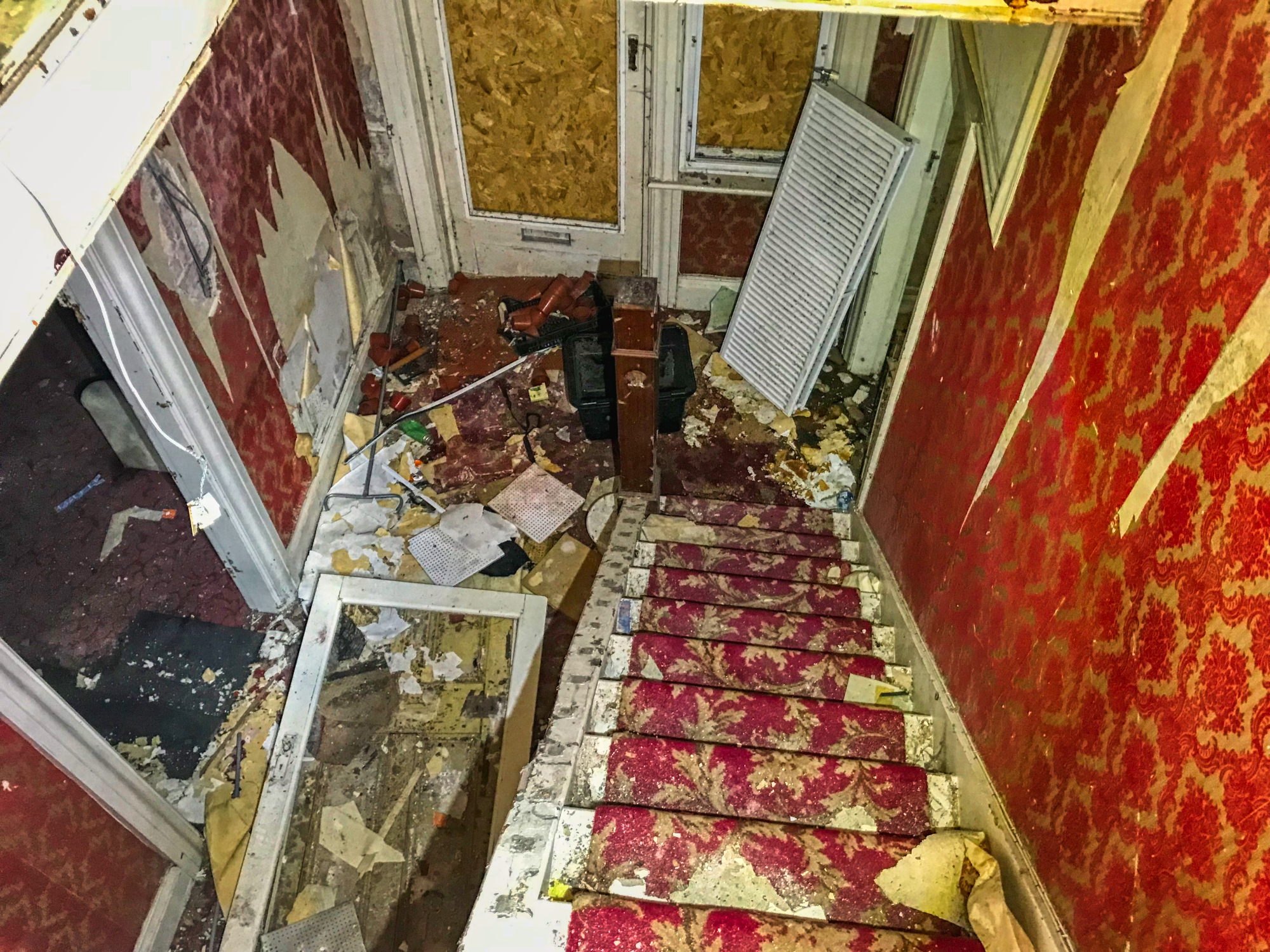 I looked around to see descending stairs and a very bad-looking landing area.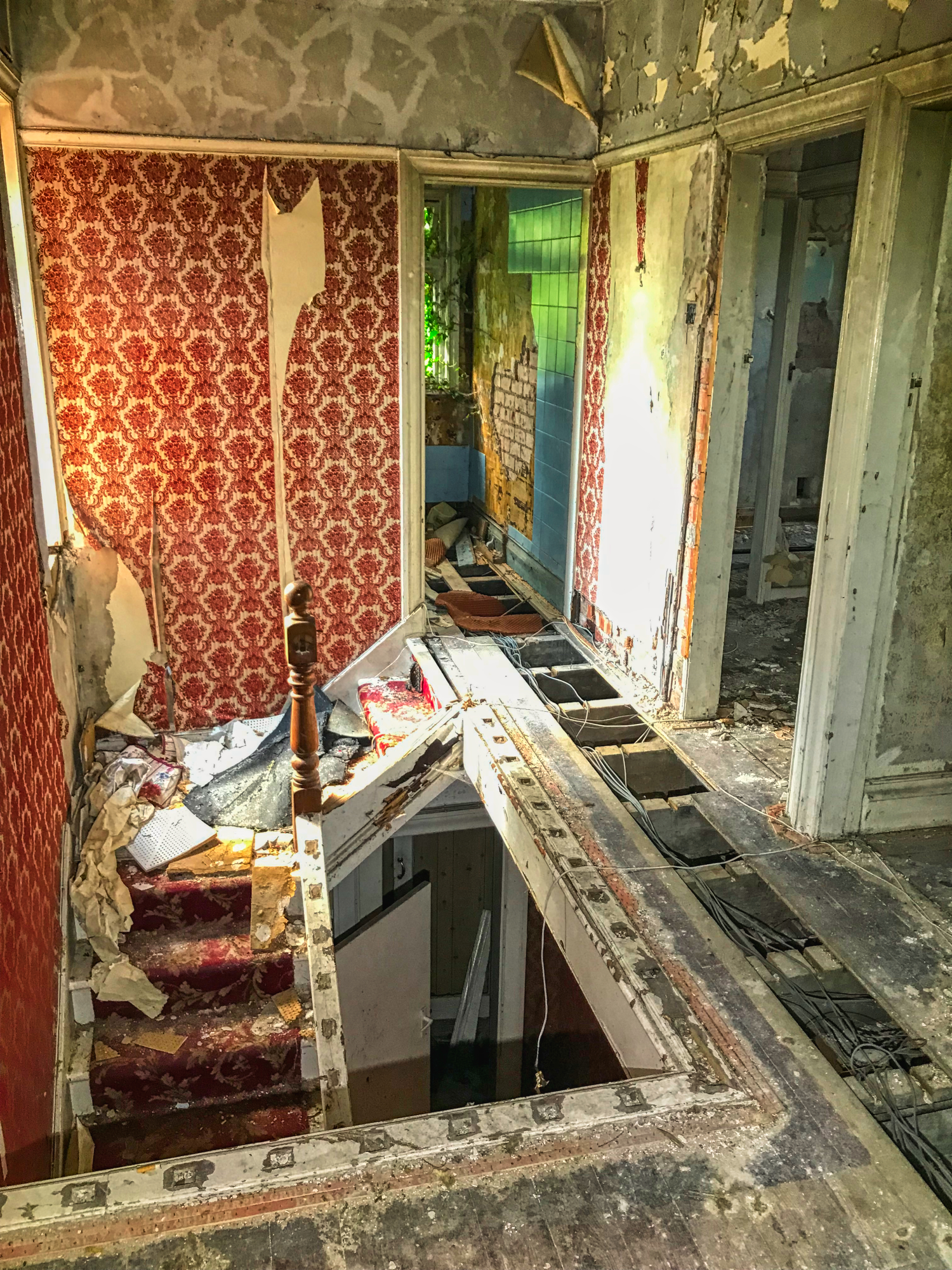 Ignoring any scraps of common sense I tiptoed across a dodgy-looking upper floor to peek in the rooms.
Now, is that a corrugated iron floor? I thought they were used for roofing in third-world countries and what the fuck happened to the rest of the floor?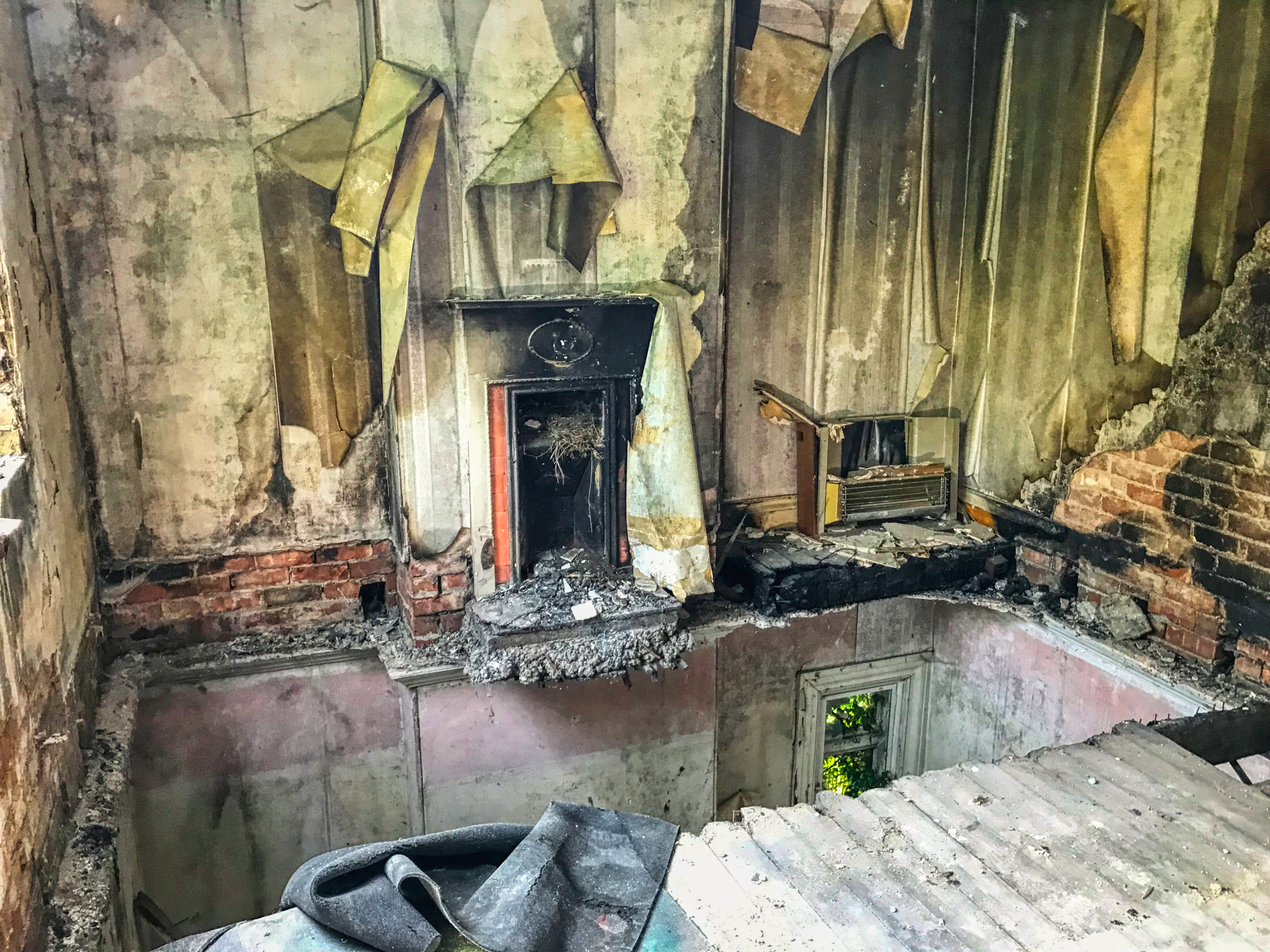 Stepping on that 'roof' to get closer to the hanging fireplace was not going to happen, and is that another fire to the right?
Rosslyn House must have been a cold house, that's all I have to say. Fireplaces are supposed to be on the 'ground floor'.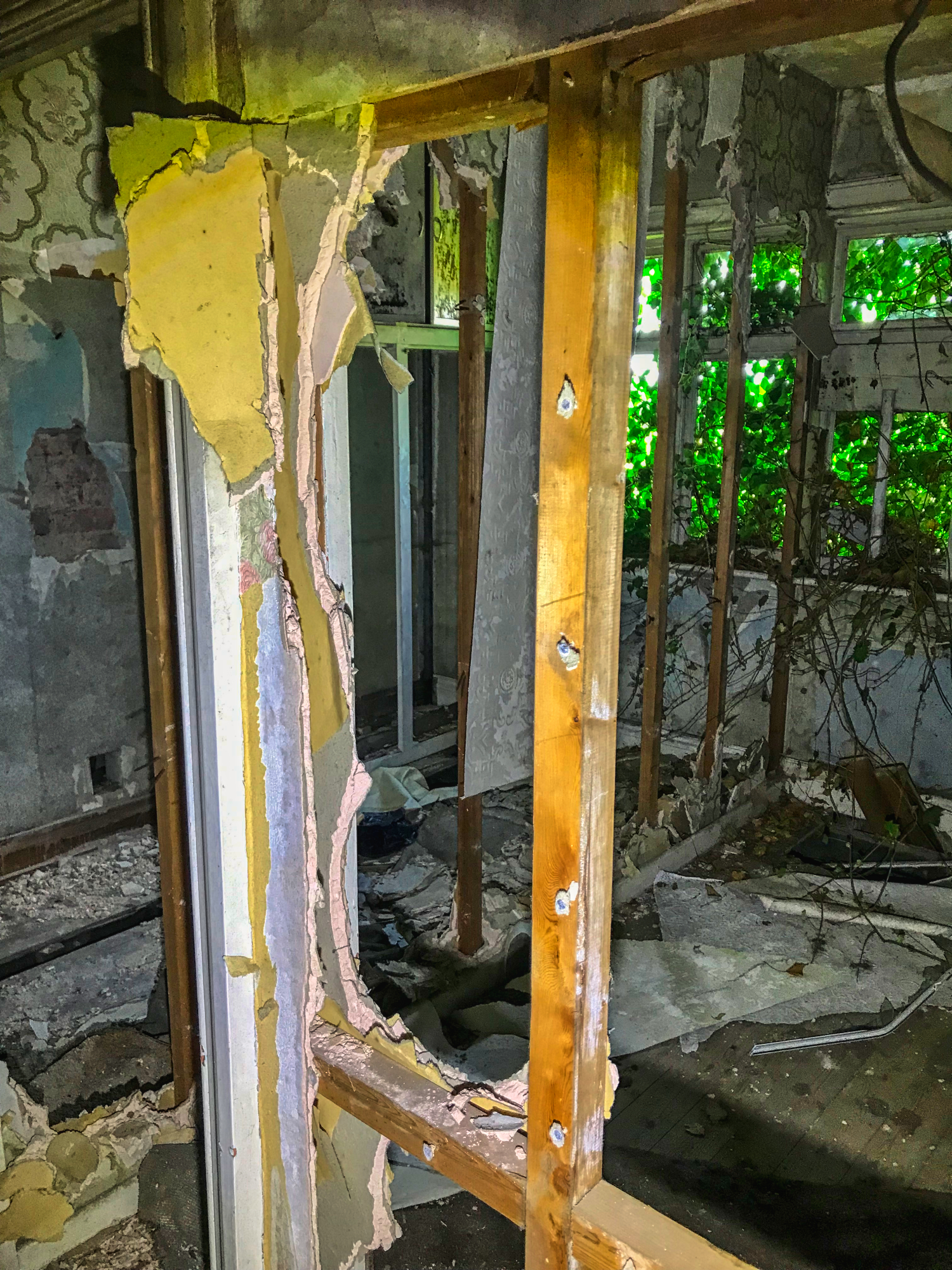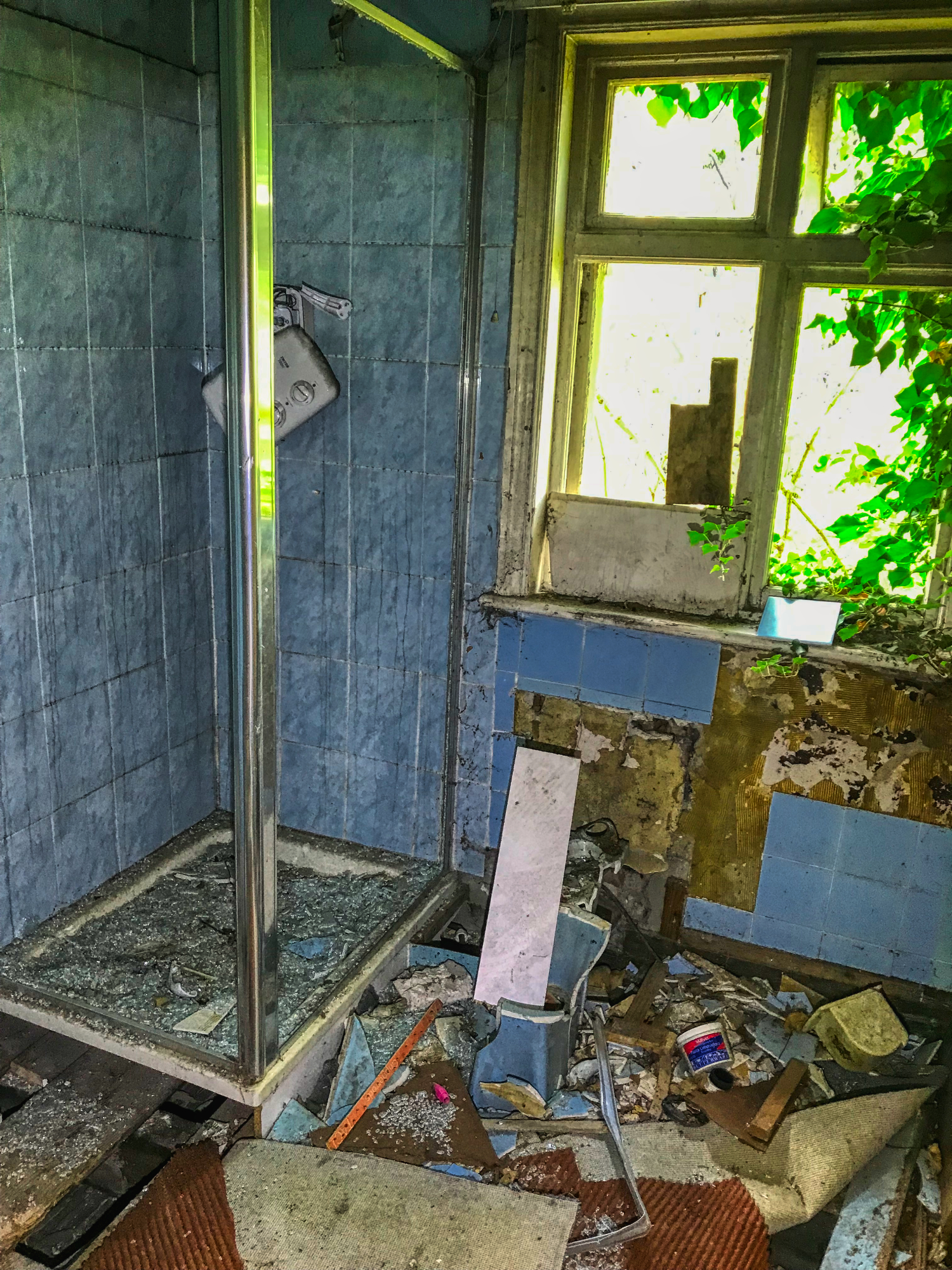 The edge of the bathroom was close enough for me. The floor was creaking and I was not going to push my luck.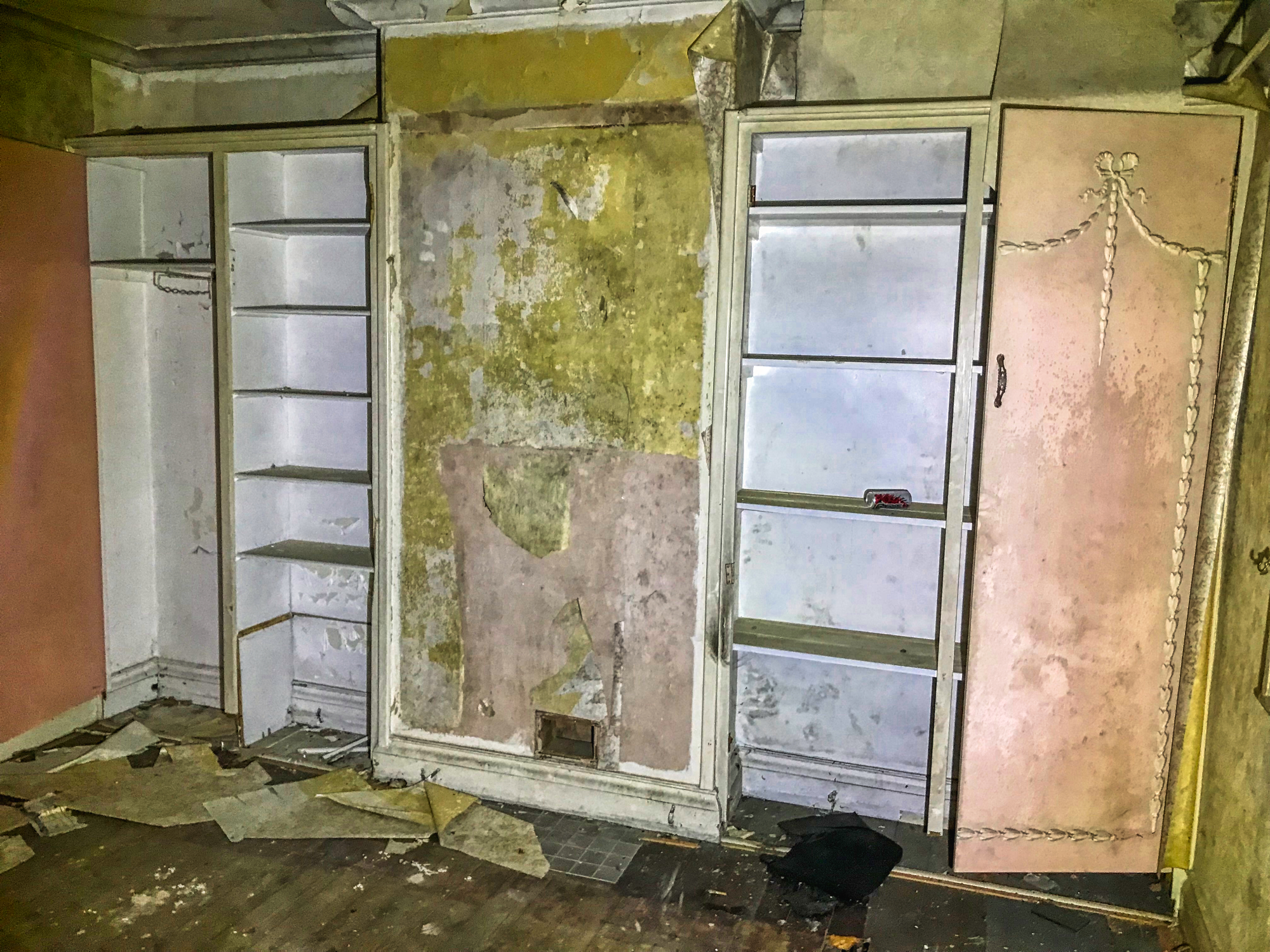 The other upper room contained a wardrobe and little else. I noticed the tasteful décor on the doors, but sadly no old clothes hanging around inside.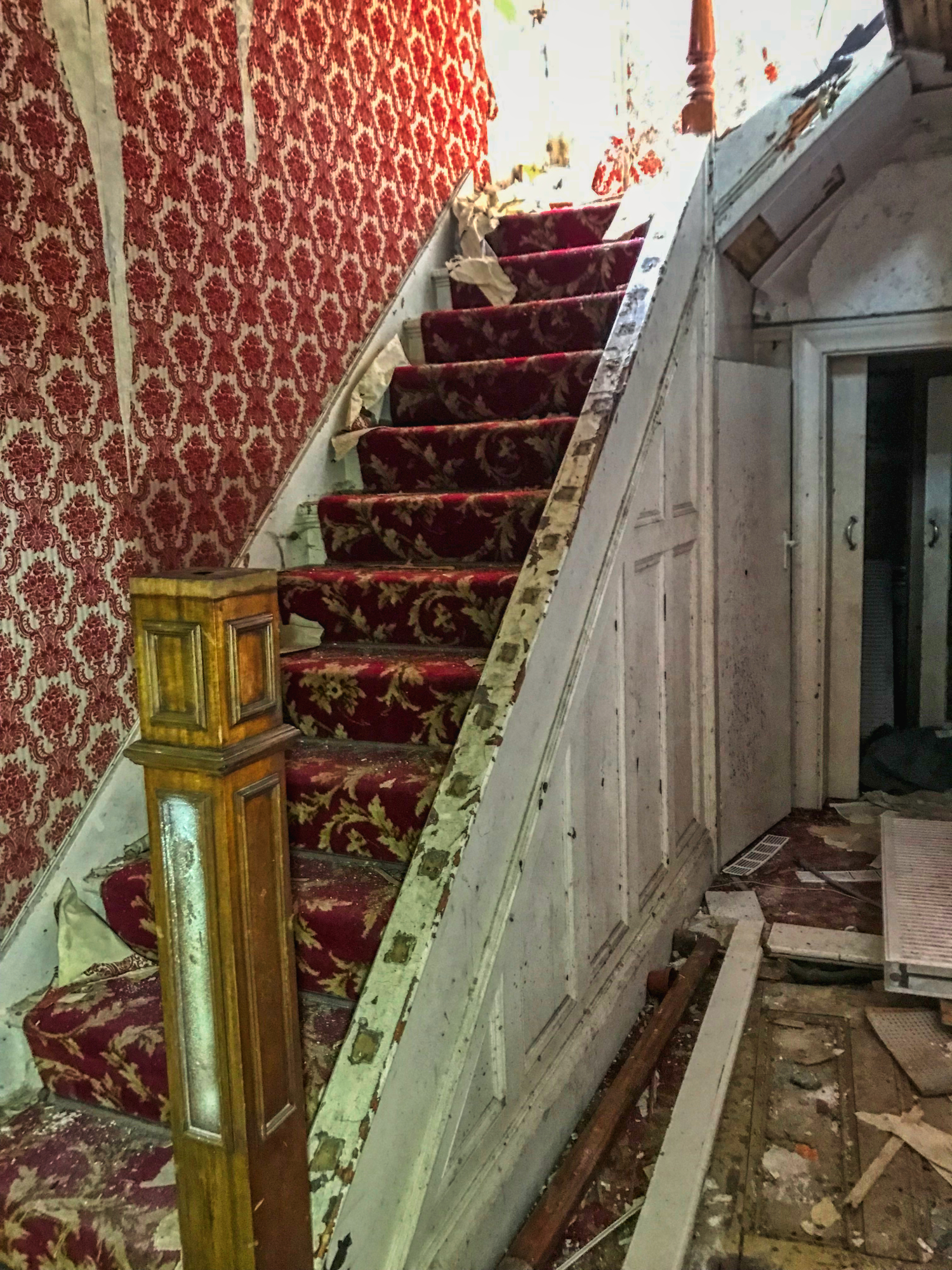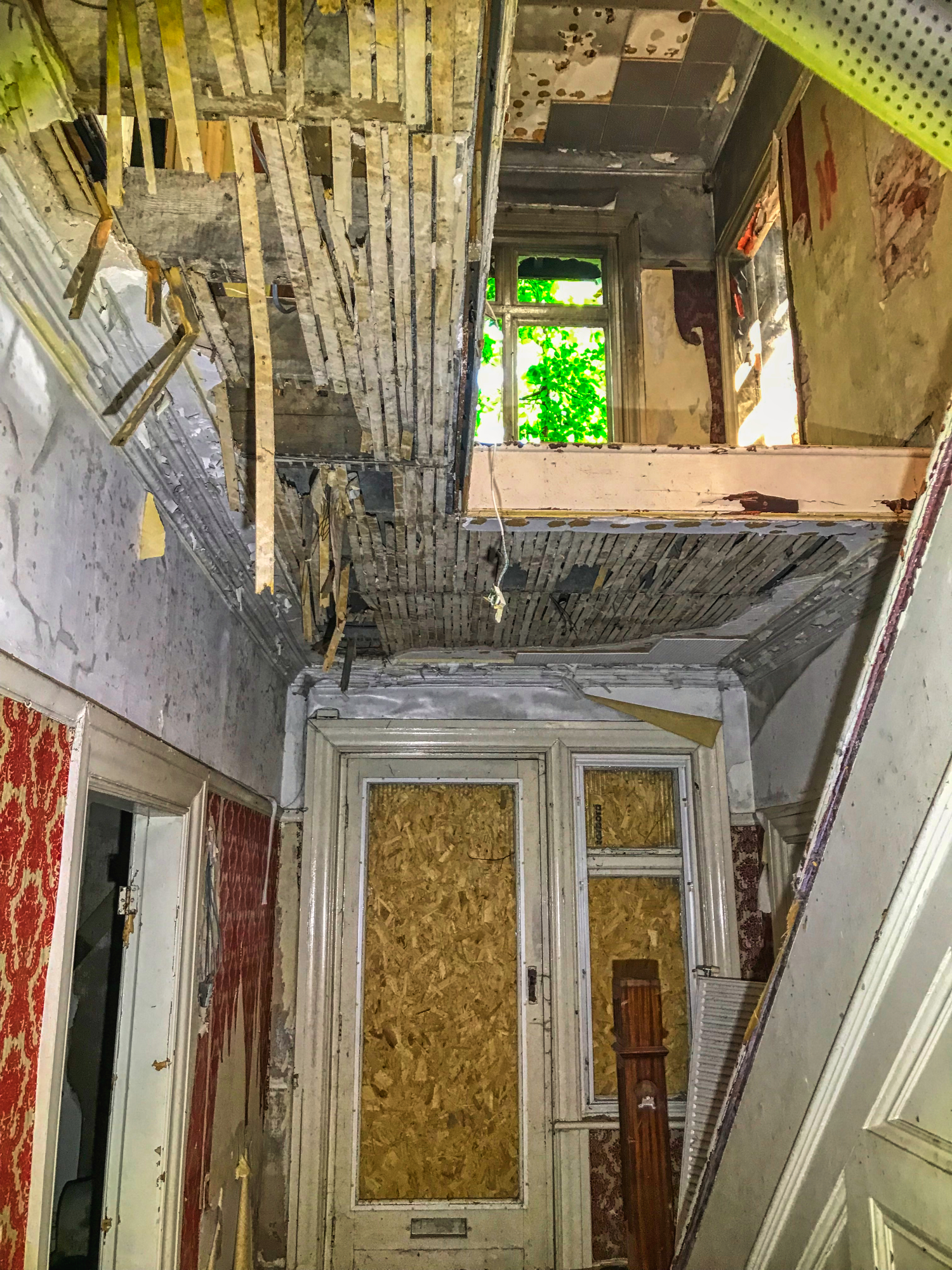 Descending I looked up noticing what I had been standing on. It looked like a balsawood floor. Was lady luck with me today?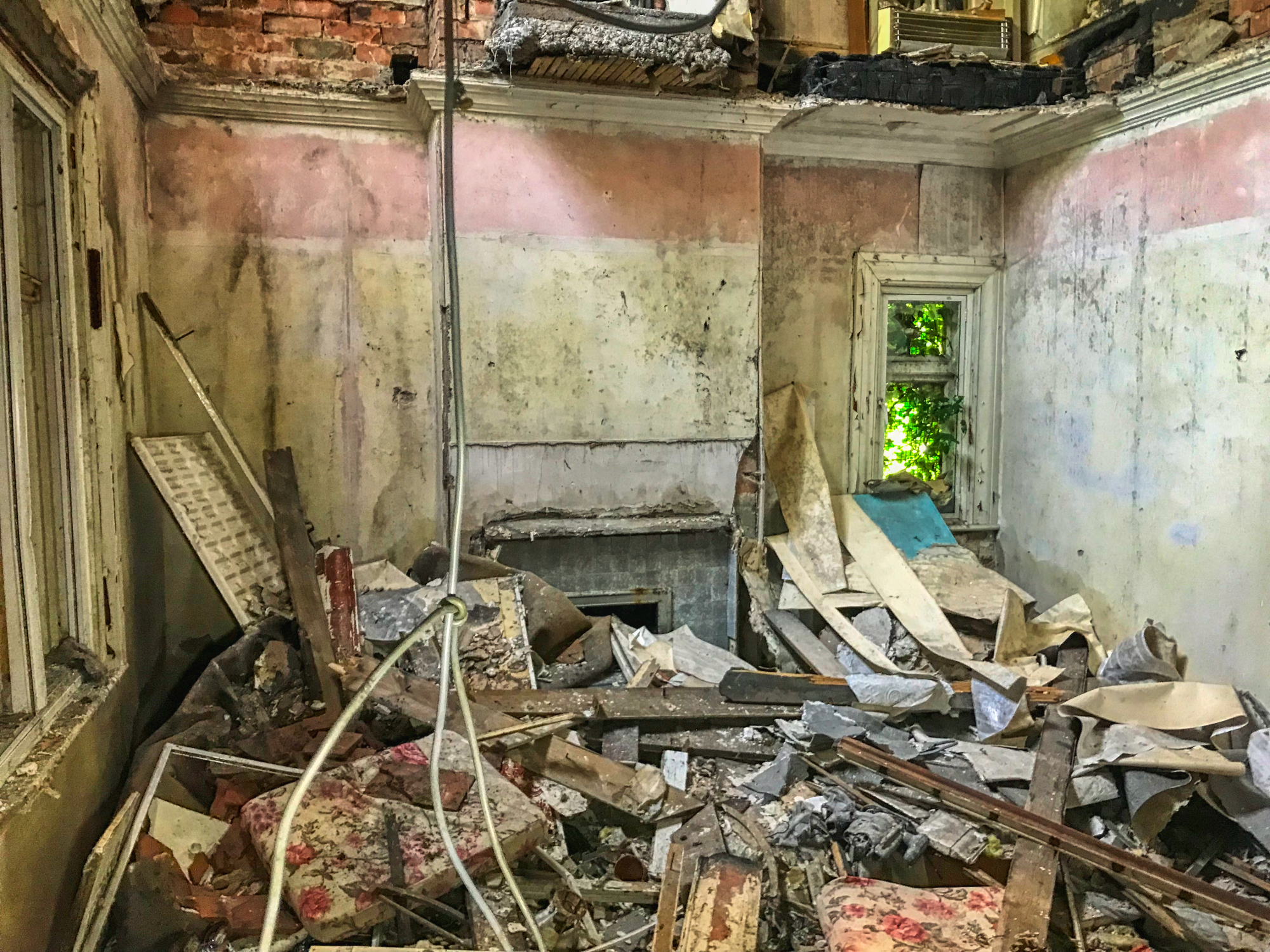 What goodies are buried under all that shit? I'm an explorer, not a human digger. It can stay there.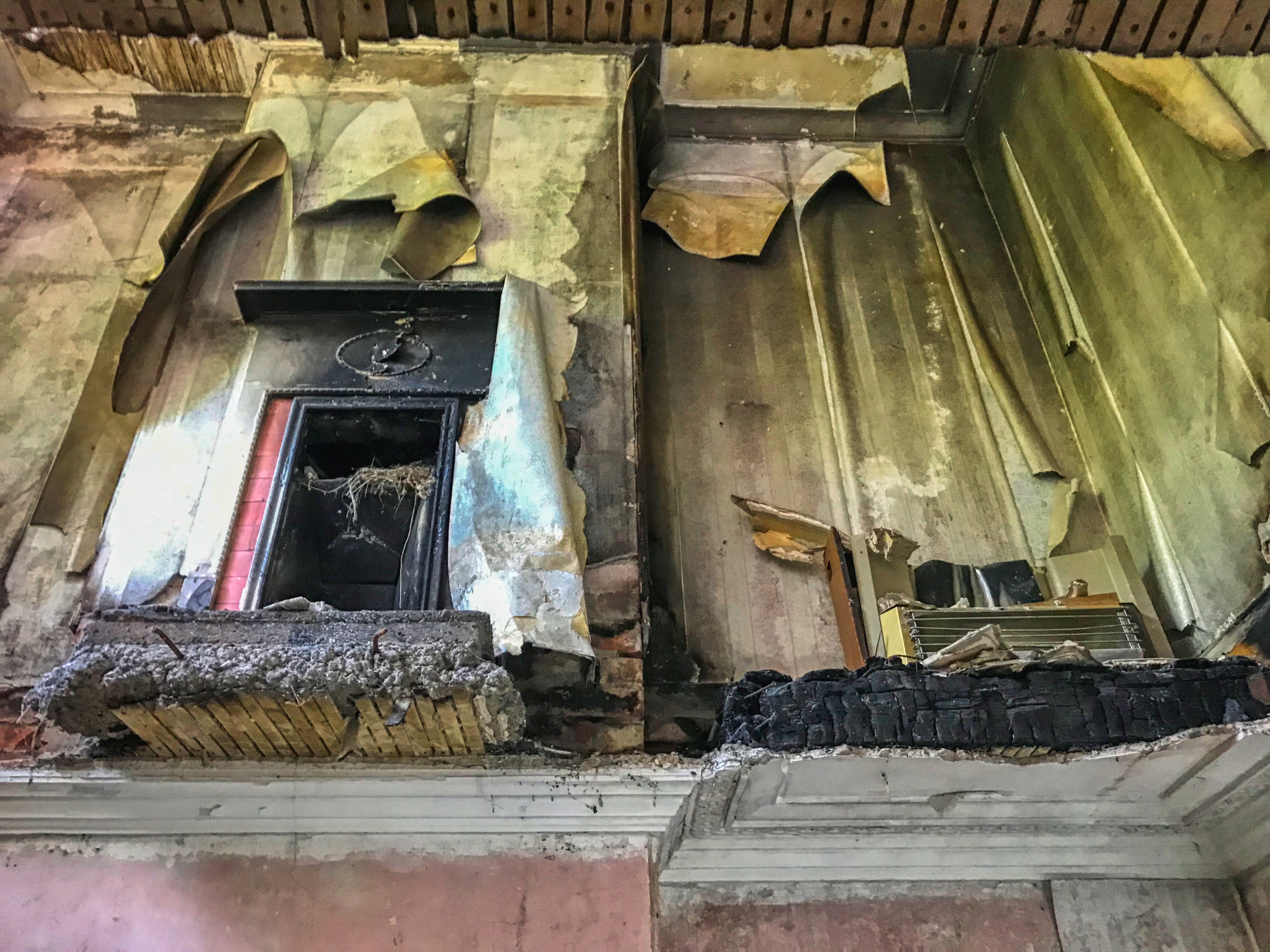 You do see some strange sights. There's nothing quite like this.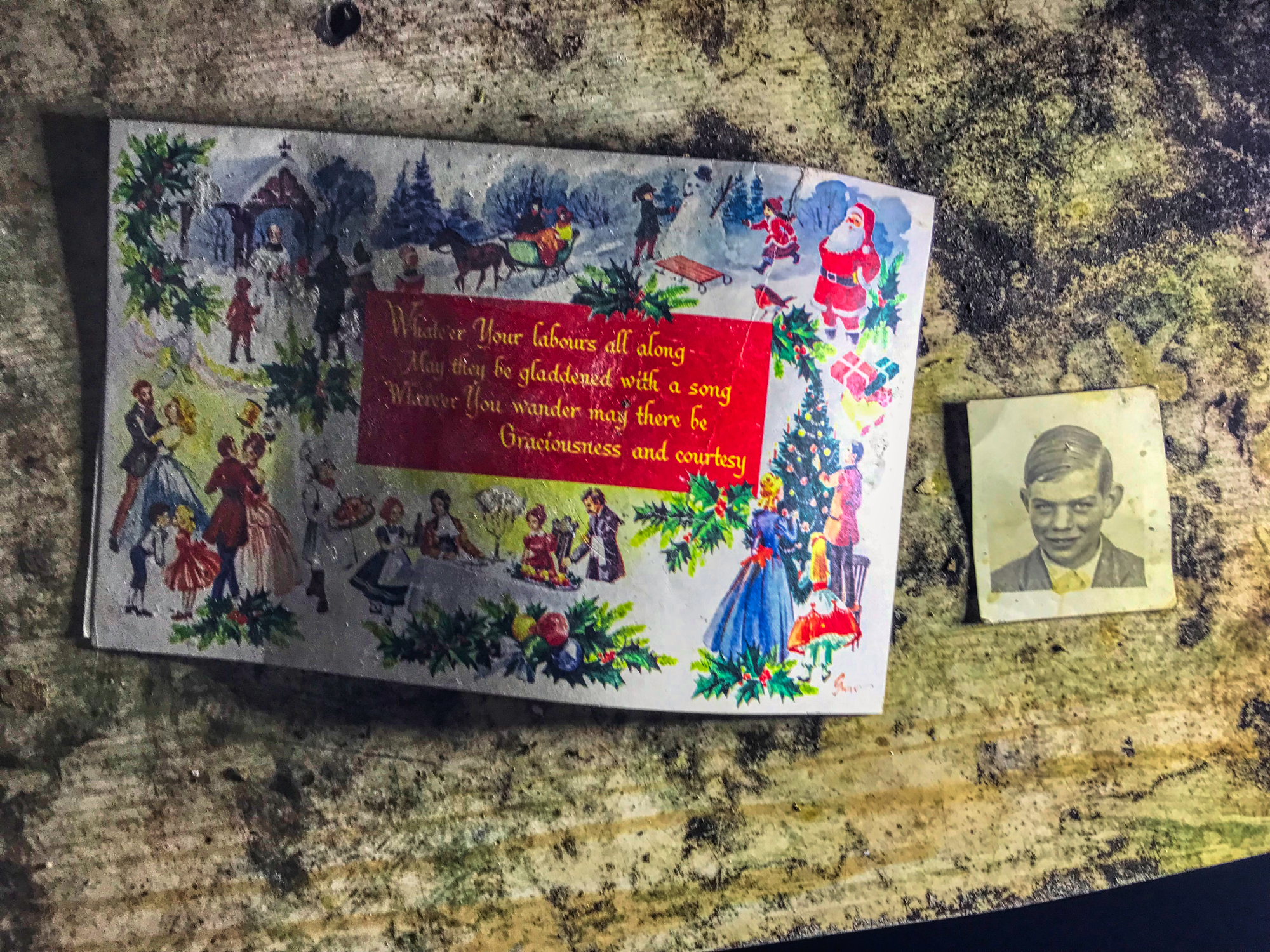 On a dresser, I found signs of human habitation. That kid looks like a right Artful Dodger.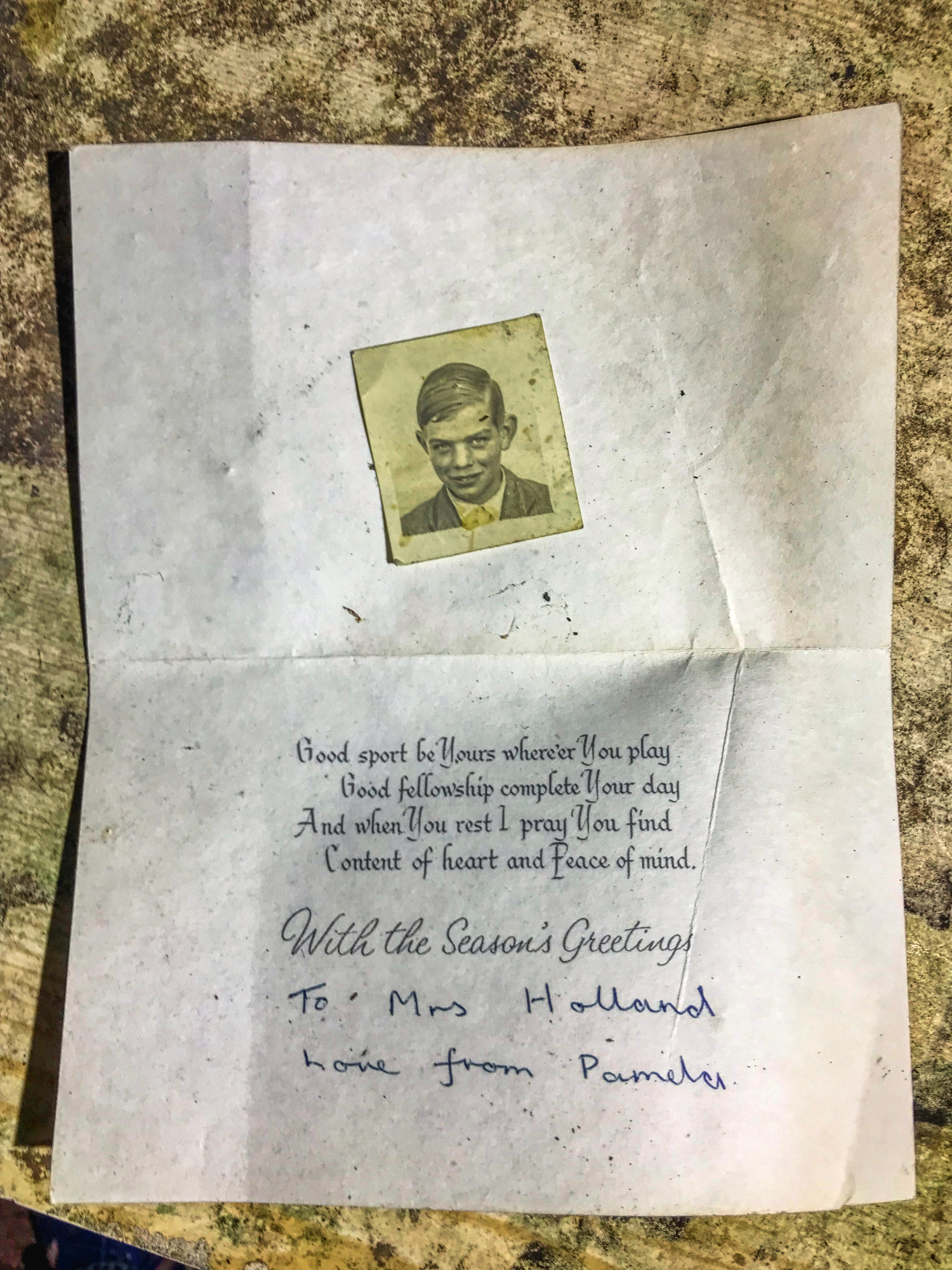 Mrs. Holland used to live here, but how long ago?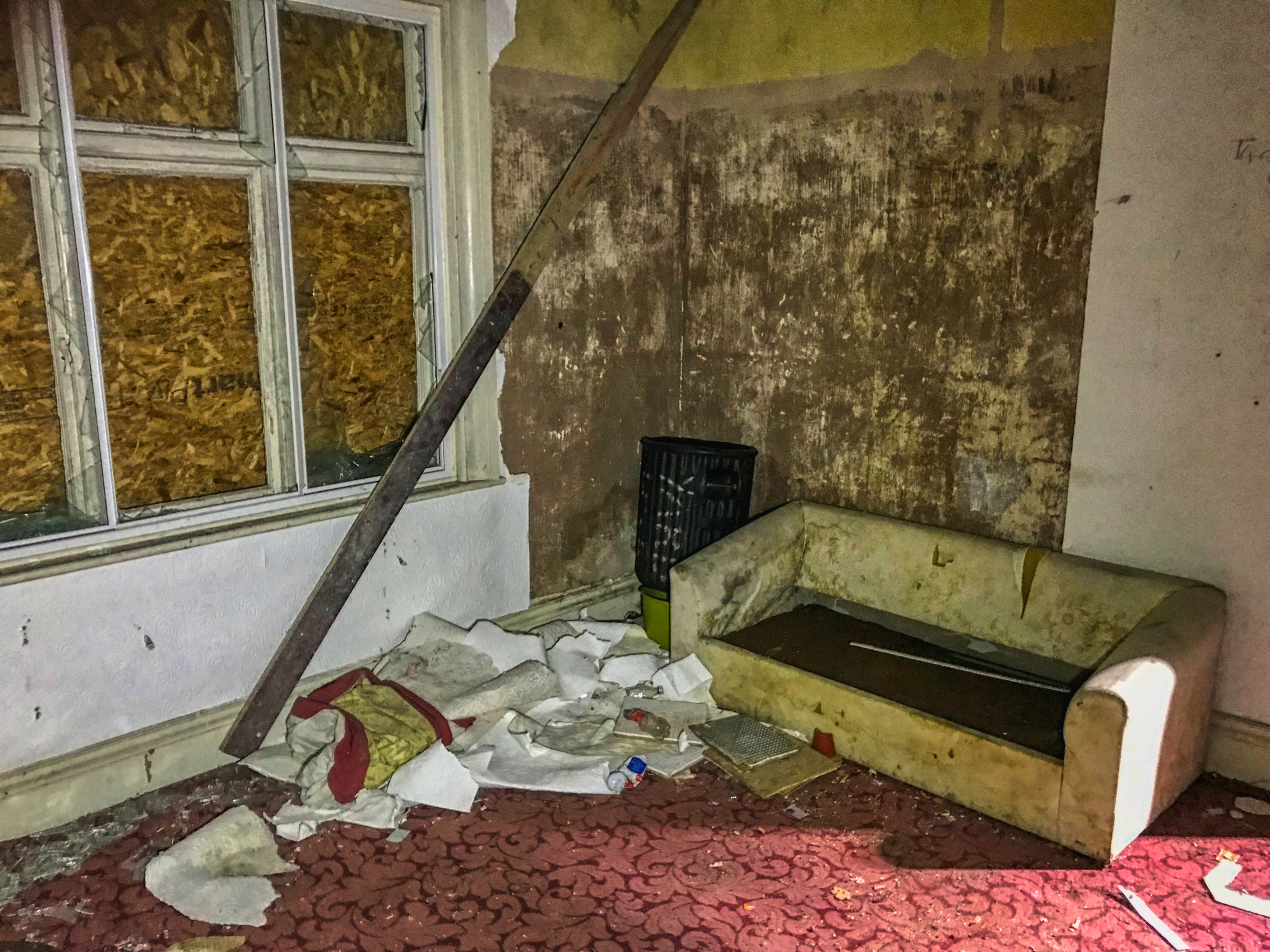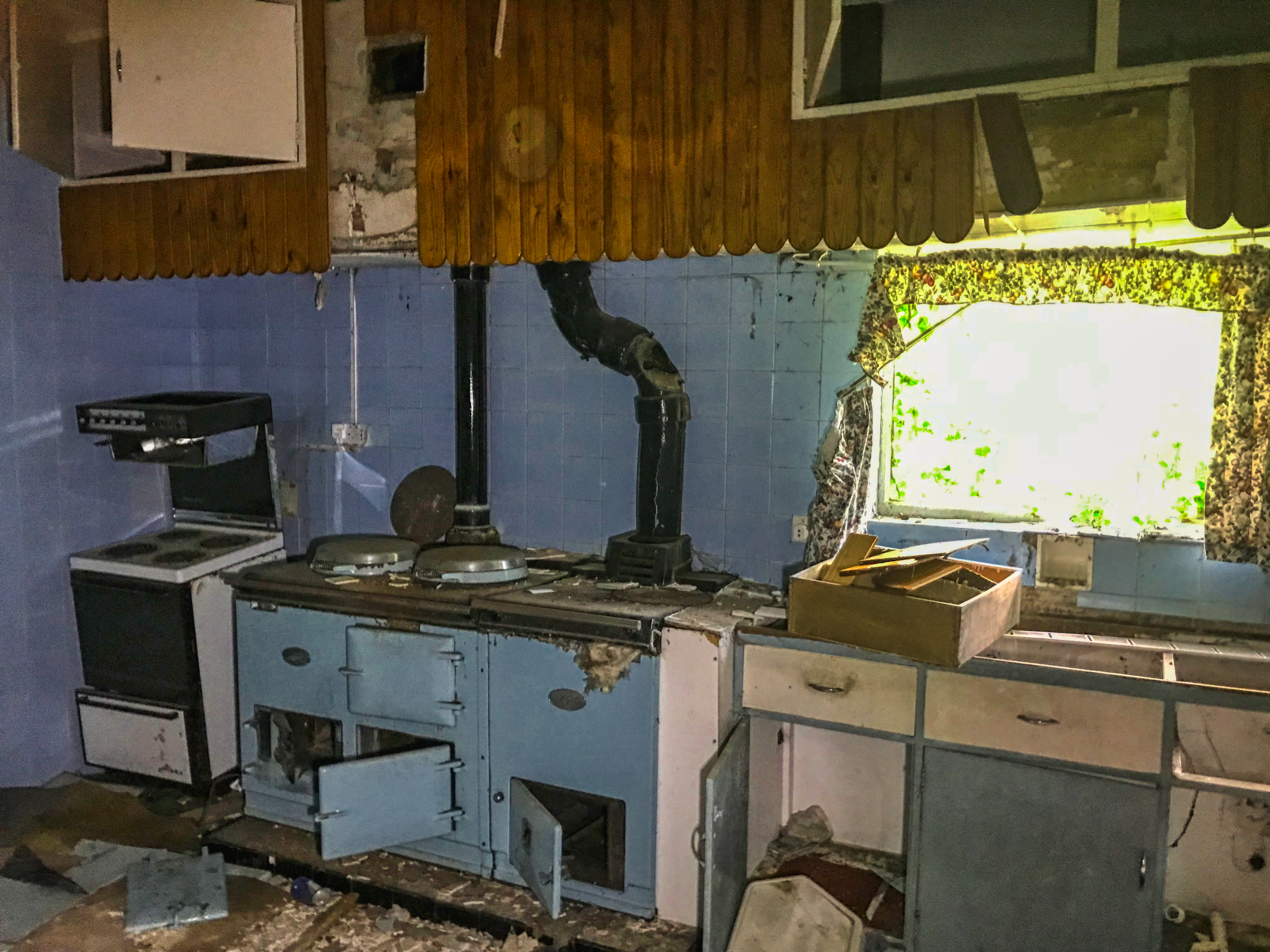 The kitchen was quite bare but contained those heavy industrial kitchen stoves similar to what we spotted in Ousefleet Hall Lodge.
They are both in West Yorkshire so it's not surprising.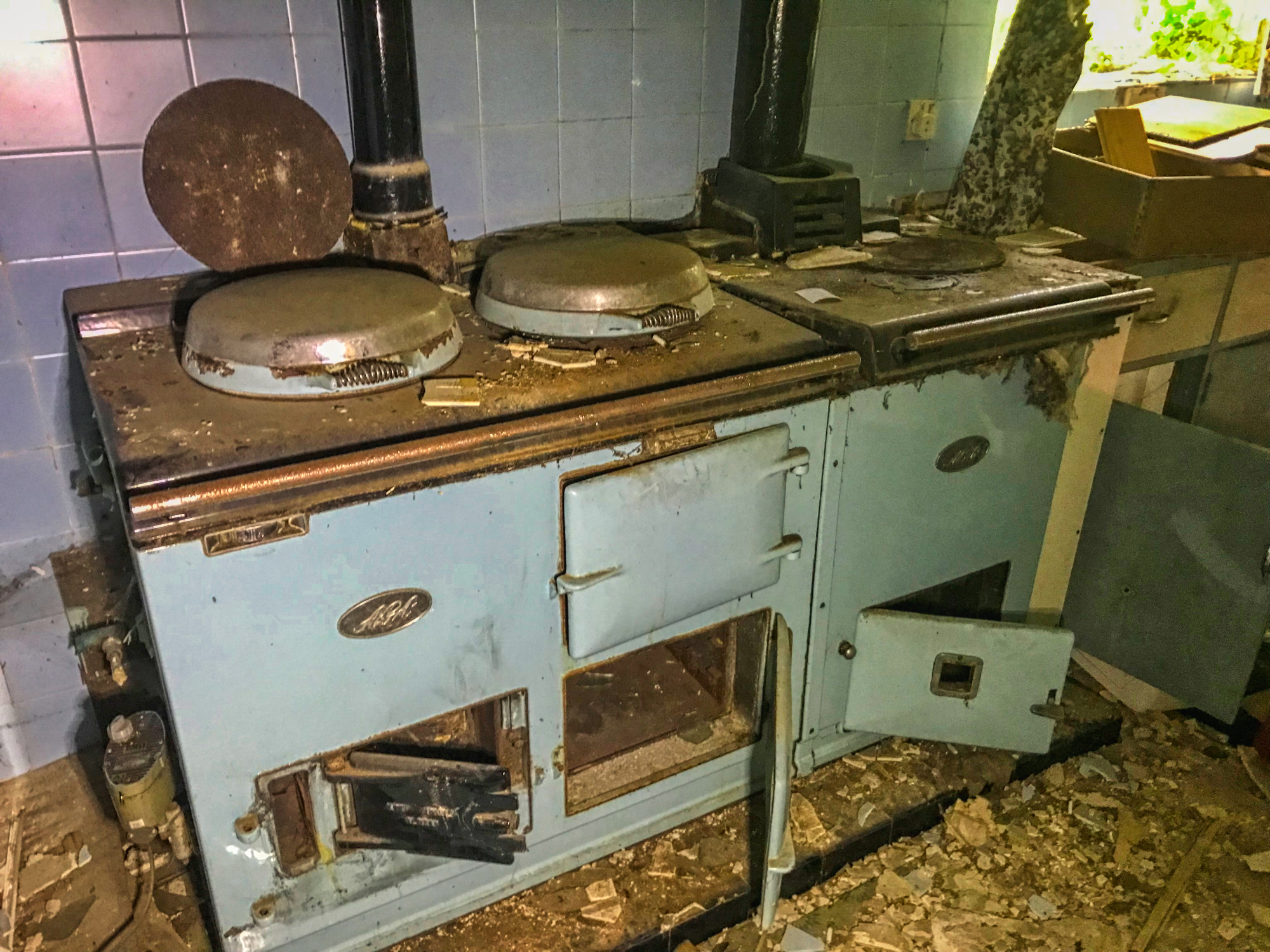 It must be made of solid Iron, moving these would have caused many hernias.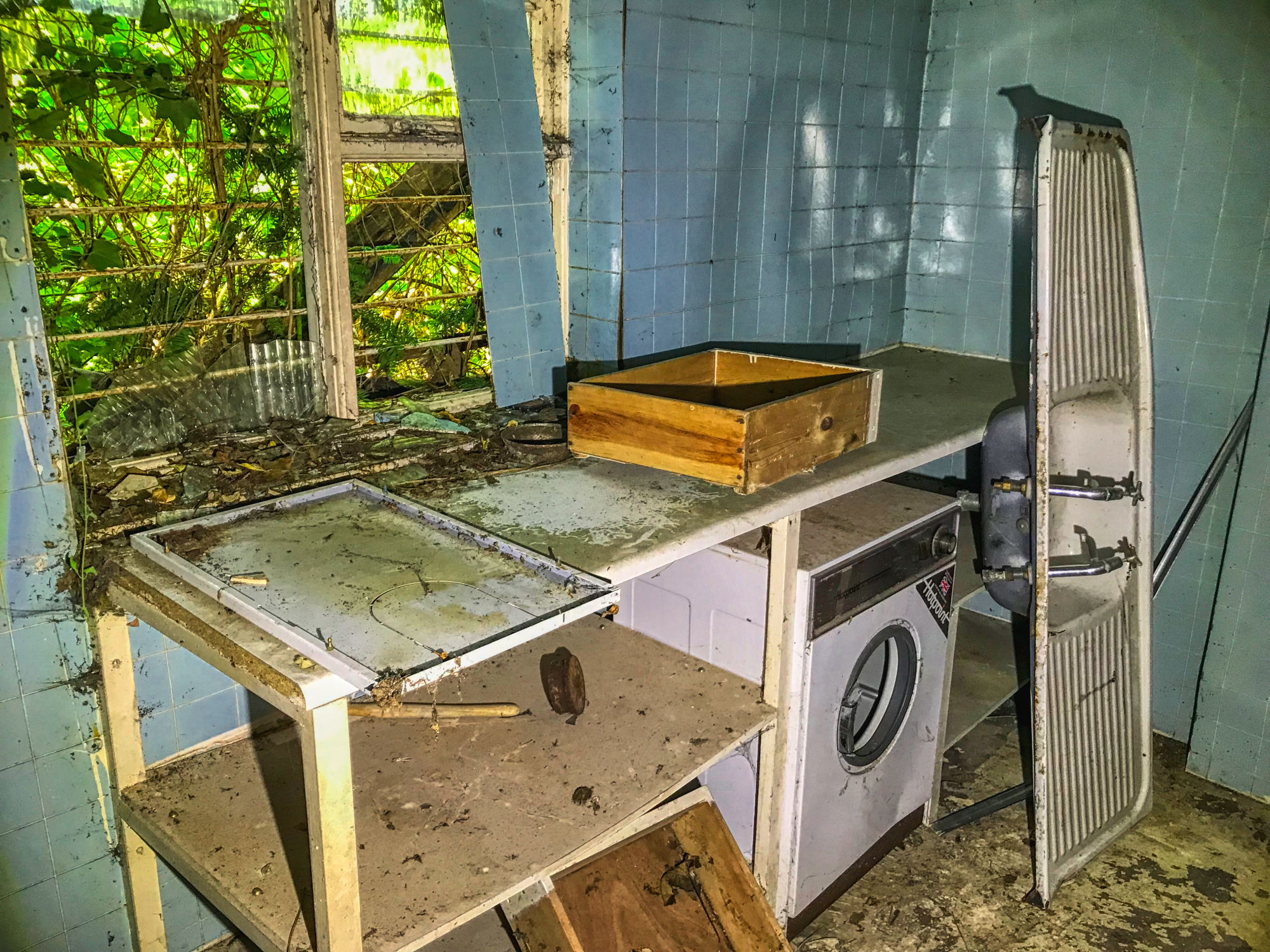 The washing machine does look relatively modern.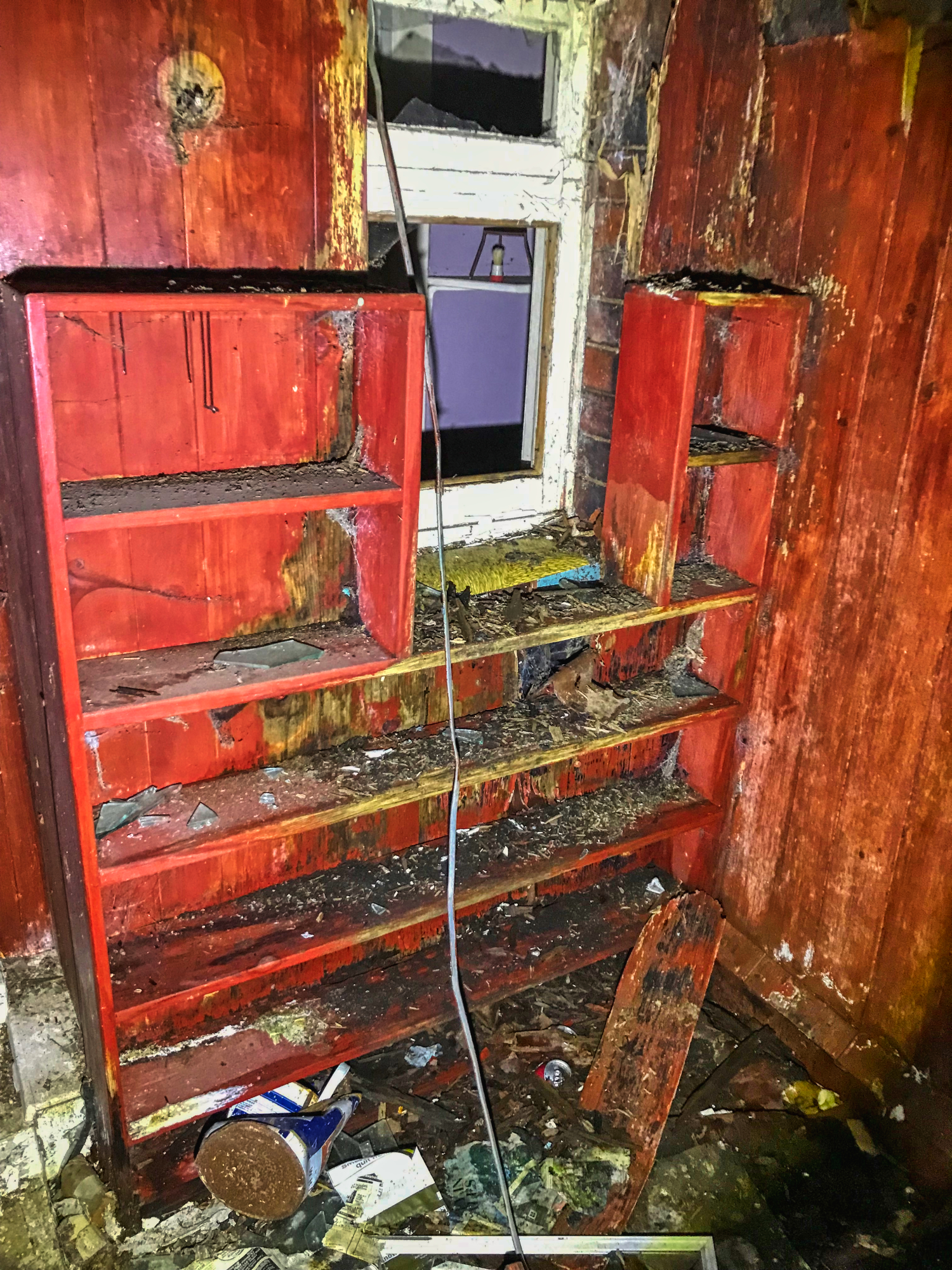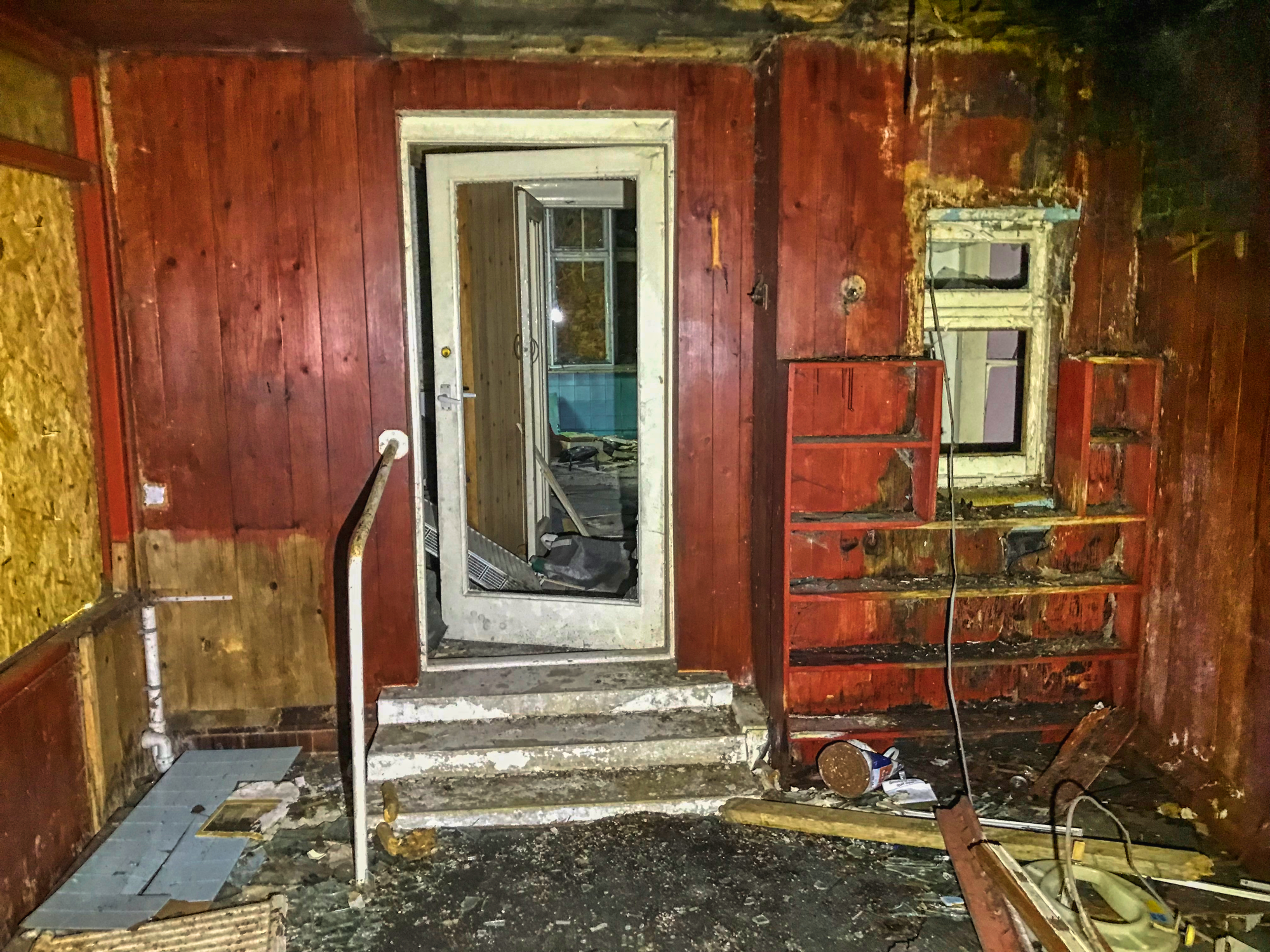 Reaching the end of the kitchen I noticed the back door was open. It was so fucking overgrown that we had walked right past it.
I struggled to get out, navigated through the trees which kept poking me, found the path, and called out to @goblinknackers who had gone for a wander around the external outhouses.
Had he suddenly turned deaf or something? If Rosslyn House was close to other houses I couldn't have done all that yelling without attracting unwanted attention.
It took me a while to find him and he reported there was nothing of interest whatsoever unless one likes spiders, dirt, and grime.
Retreating into the house and very relieved I would no longer need to descend that rung less ladder, we both re-entered Rosslyn House.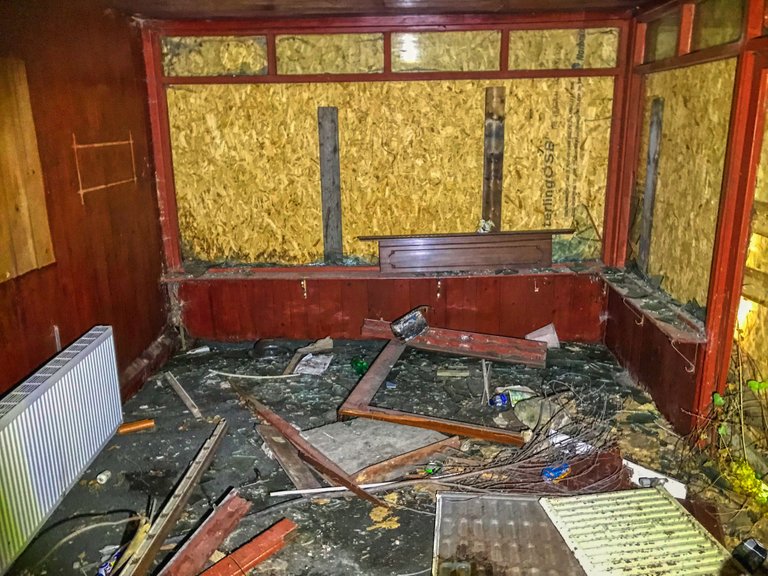 The dark wood effect would have been nice once.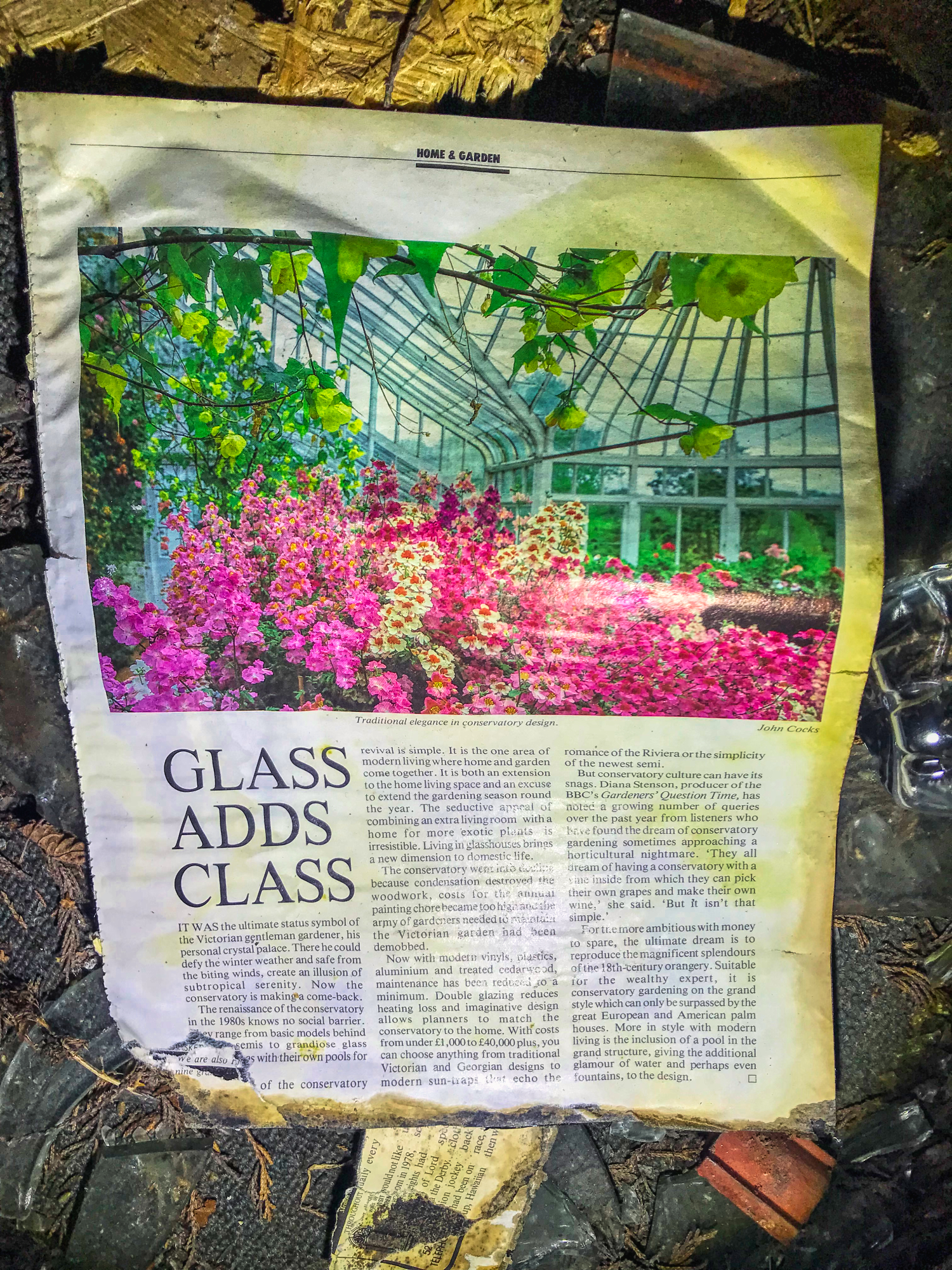 This magazine article correctly reflected what we could see. Foliage everywhere but sadly there was no date on the page.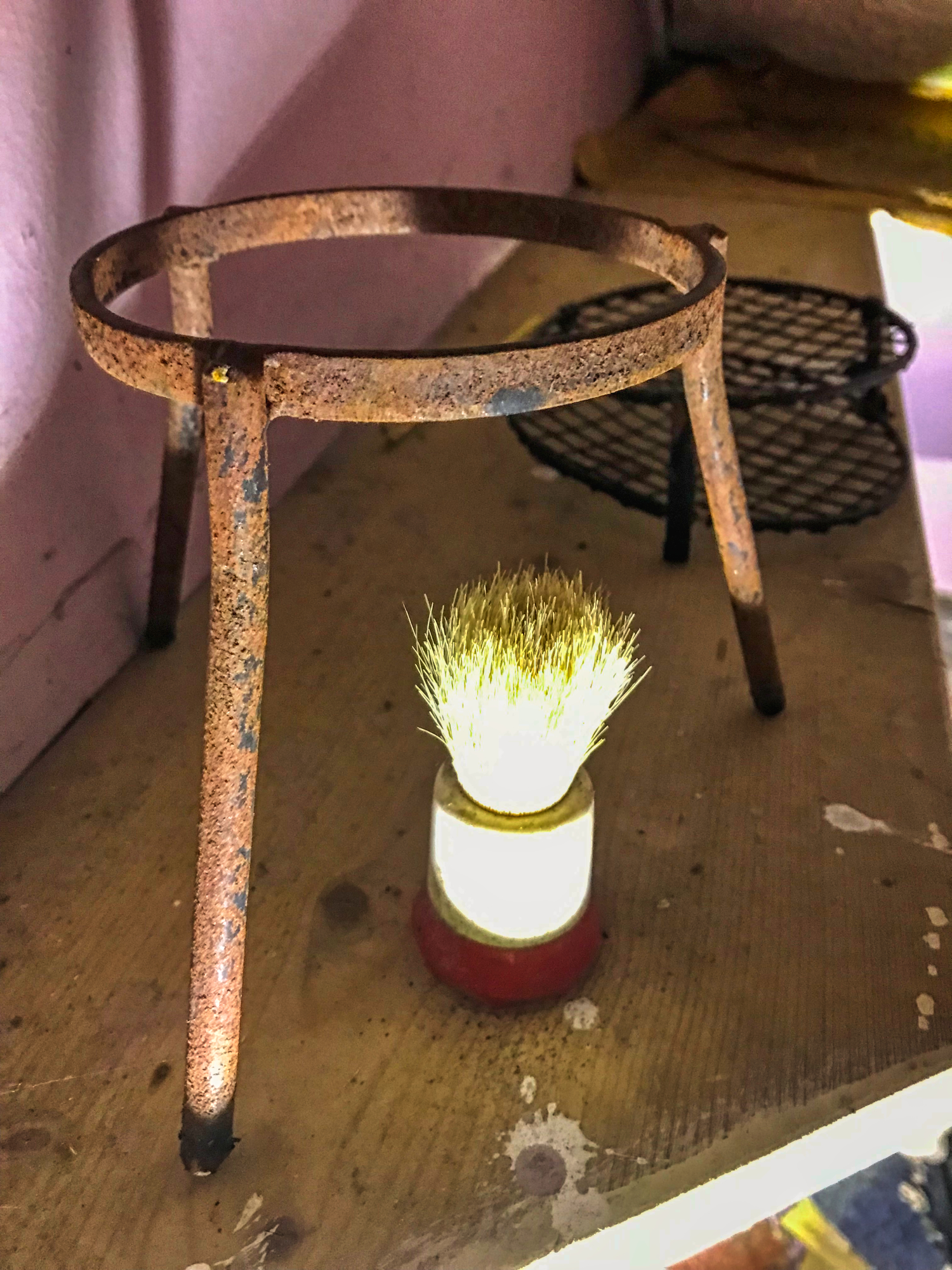 Some booty would have been nice but Rosslyn House was not very giving. Is that an old shaving brush? They are a little before my time.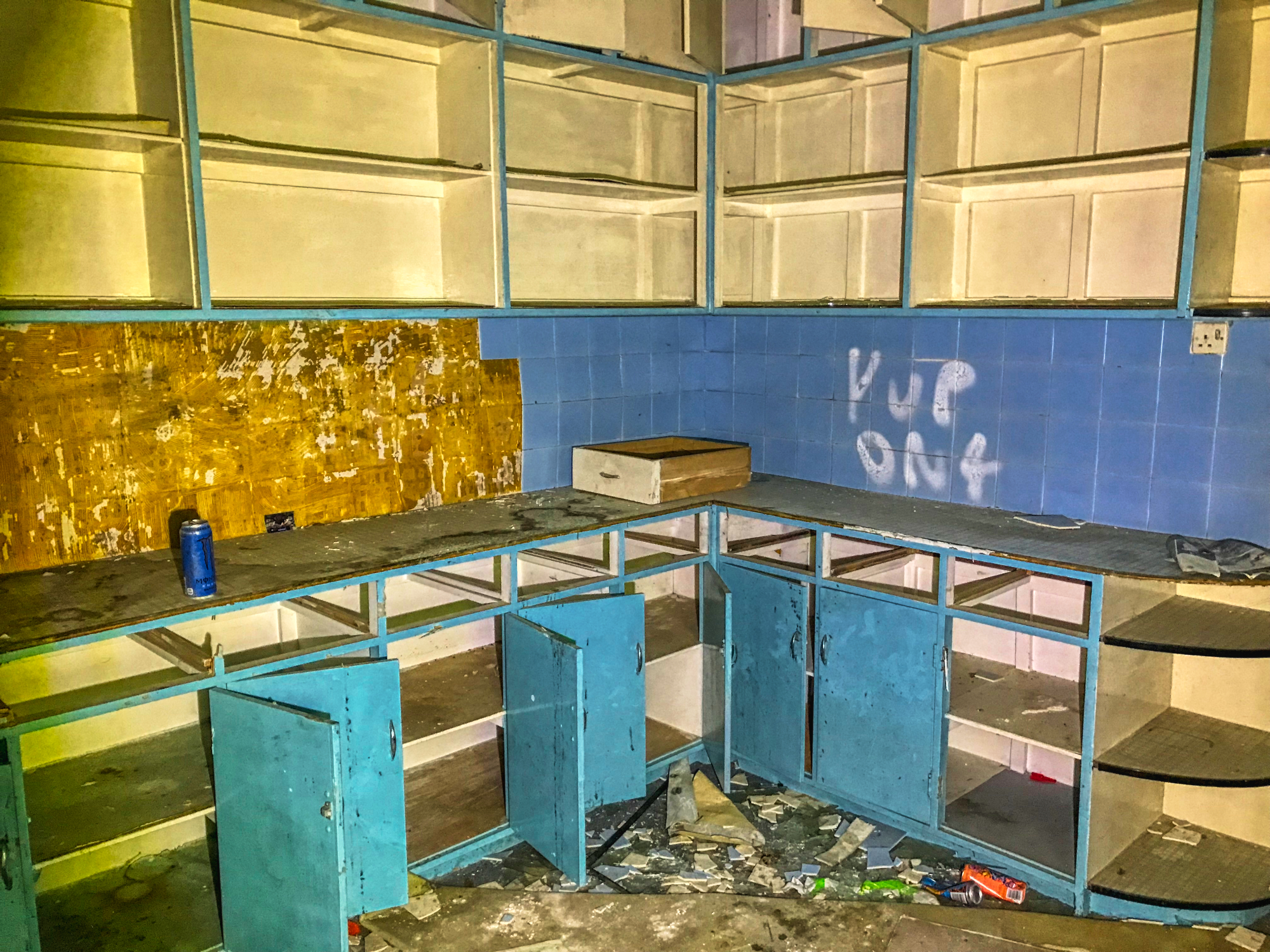 The beer can is not an original priceless antique and left by the local dickheads.
Leaving your calling card is a little different, and better than scrawling on the walls or worse spraying them.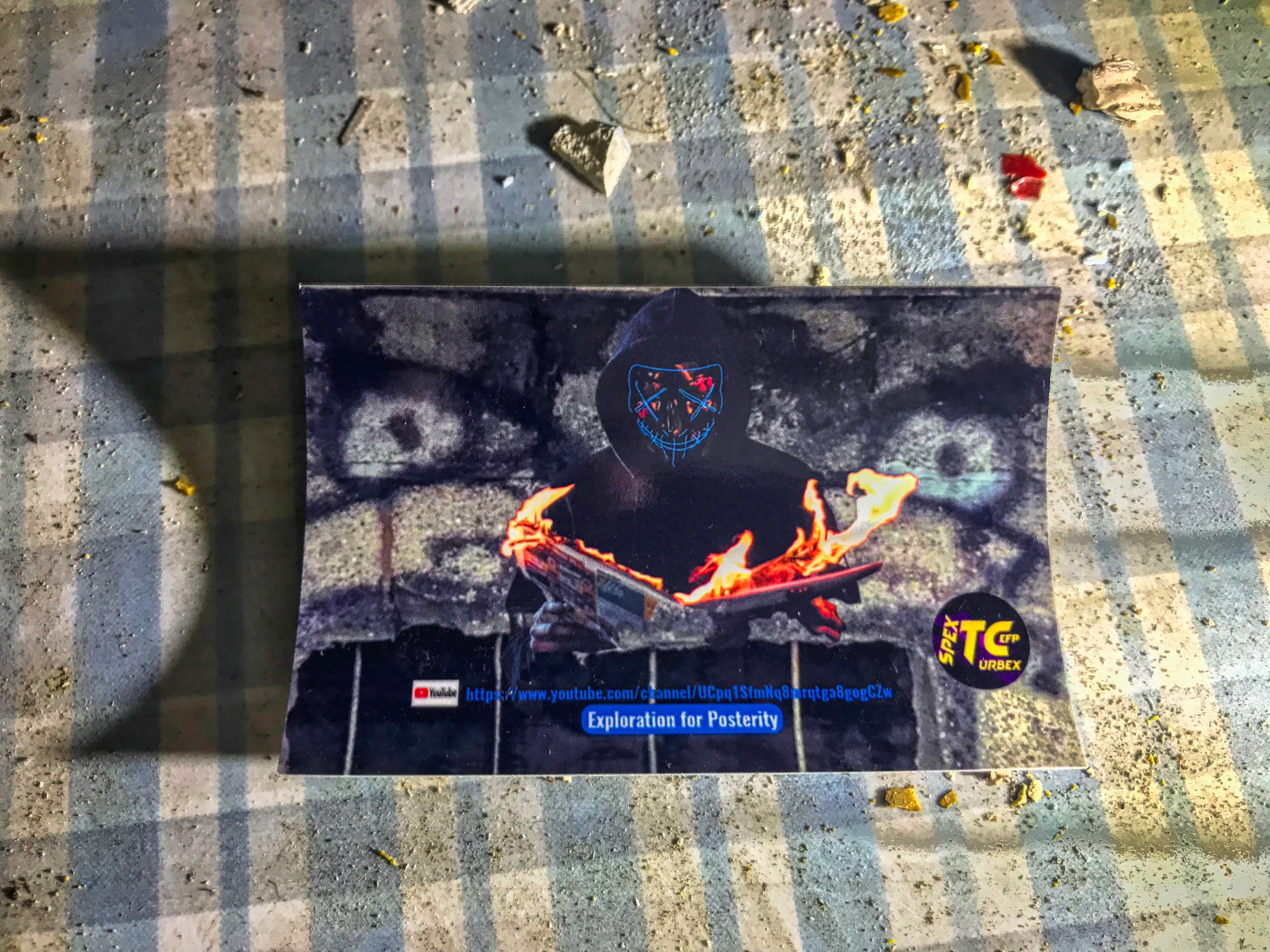 This one initially got my pulse racing as I am generally quite a shit climber. There's still a little gas left in the tank.

Do you like posting your Urbex content and photography for FREE on Facebook and YouTube? I like to get some form of reward for my work and every time I create I do just that. Take a look at The Urbex Community on HIVE.
If you want to keep creating for FREE then ignore what you are reading. If you want to be like me and gain something other than BUGGER ALL for your work then click here and learn about posting on the HIVE blockchain.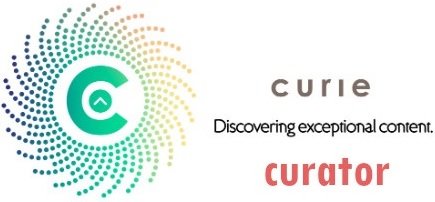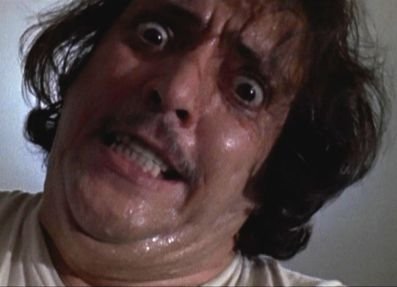 If you found this article so invigorating that you are now a positively googly-eyed, drooling lunatic with dripping saliva or even if you liked it just a bit, then please upvote, comment, rehive, engage me or all of these things.
---
---