Tales of the Urban Explorer: The Policeman's House

We had been pre-warned about "The Policeman's House". It's empty, it's been stripped, there's nothing left they had told us.
The warning was from a reliable source, and we had no reason to doubt it. Regardless... we were in the area and needed to look for ourselves.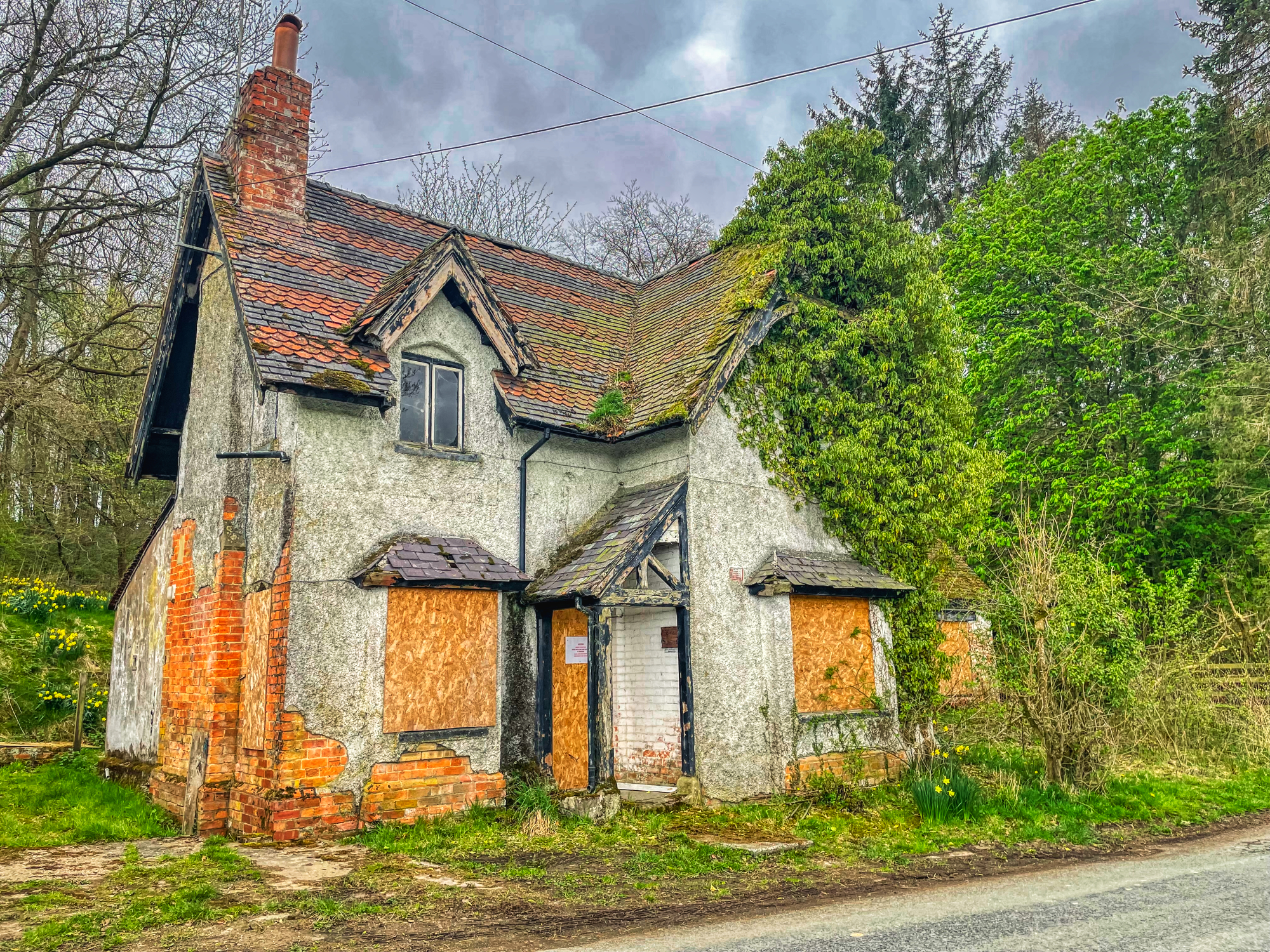 We were also warned (from a different source) that "The Station Masters" house was being renovated. That turned out to be lies and fed to us simply so that we didn't visit.
This is the shit that @anidiotexplores has to endure from 'toxic' Facebook. The same bullshit lying intelligence was sent about "The Scout Masters House" from the same source.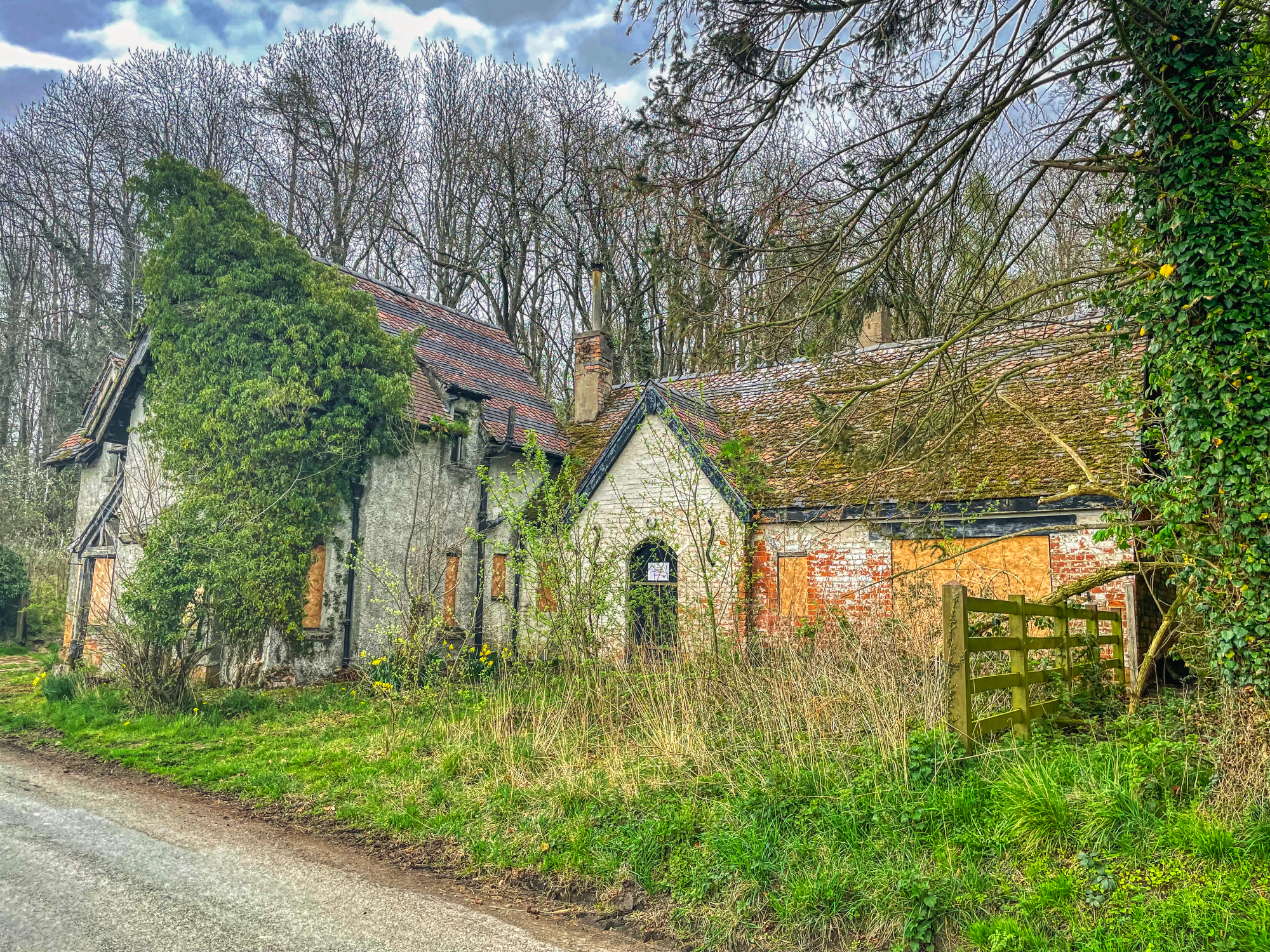 We almost veto'd that one, but decided to give it a shot anyway. It was open, full of treasure, and fantastic. That story will come soon enough.

...'you see why I avoid the UX Facebook scene, it's mostly full of tossers with a few gems of people. I keep in touch with those directly'...

"The Policeman's House" is another one of those 'middle-of-nowhere' locations. The junction next to it was the only feasible dumping area for my car. It would have to suffice.
Besides all the boards, it looked great and resembled 'Grandma's House' from the Little Red Riding story. If there was going to be fuck all inside then perhaps a band of wolves had taken up residence. If we could get out with a few bite marks as souvenirs it would make for a great tale.
We made for the back, ignoring the 'keep out' stickers, and walked through the back door which was invitingly open.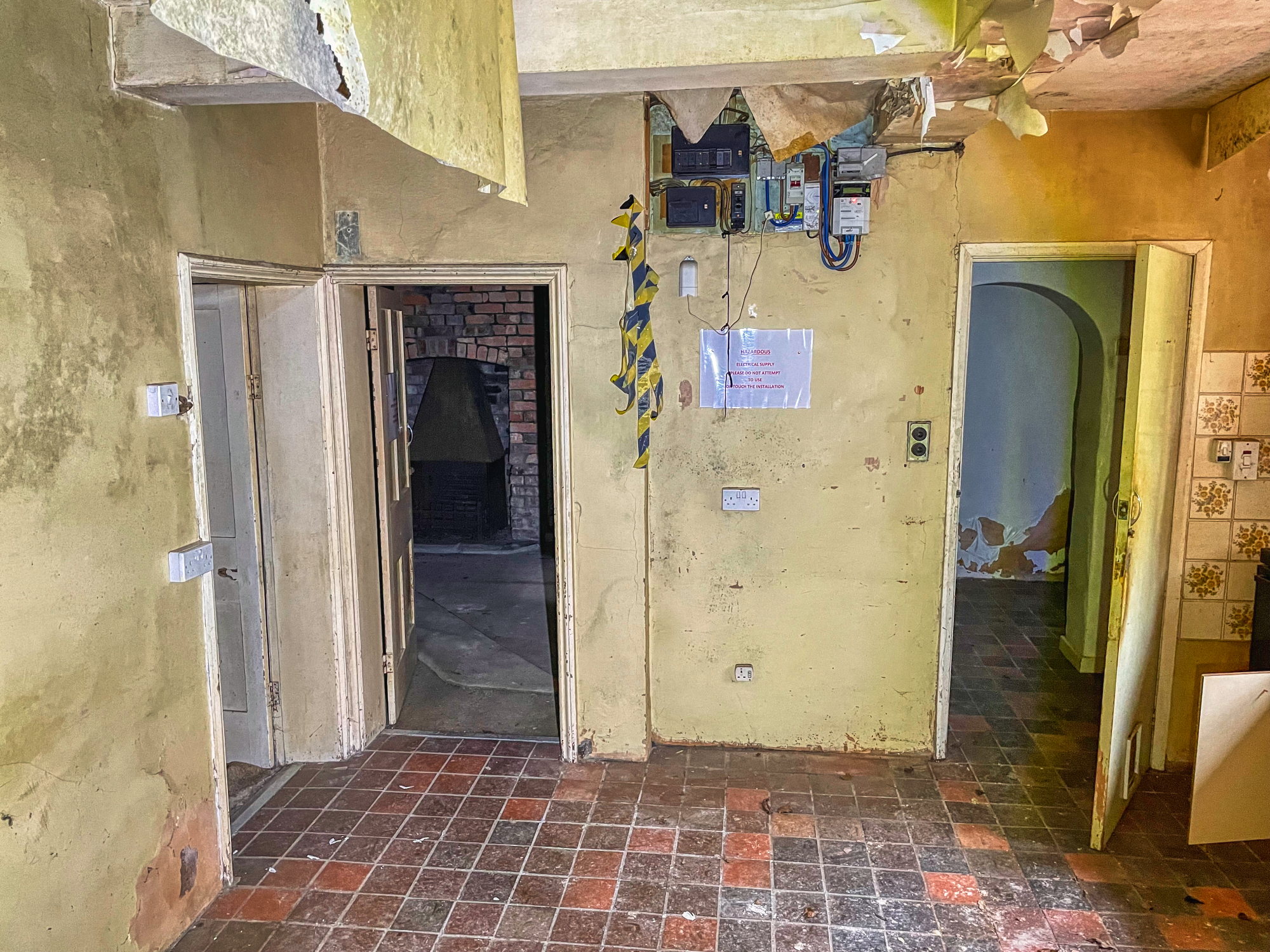 The electricity was on, hardly a good sign and it was stripped as we had been warned. Not even a single Tithead could be seen.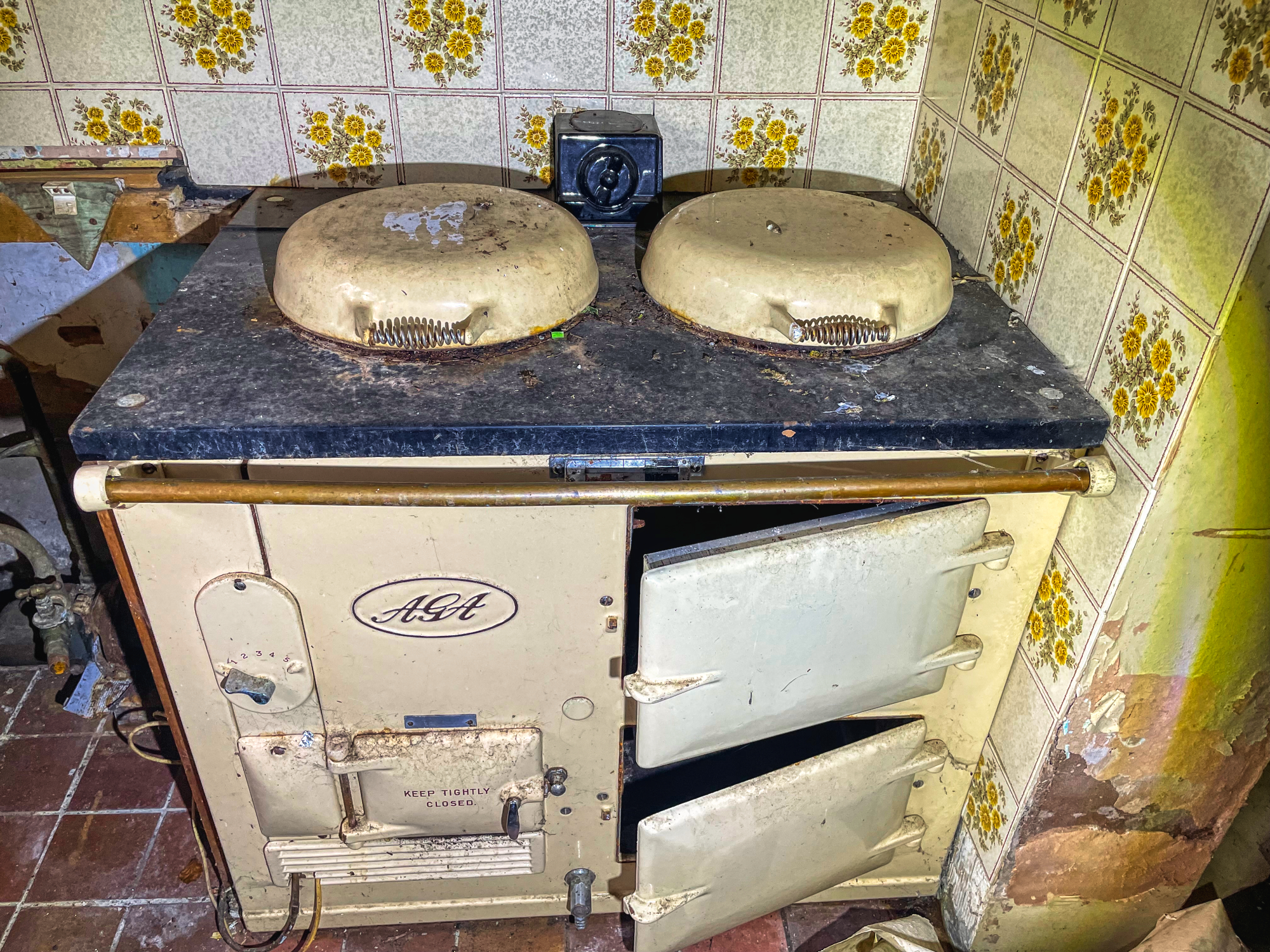 These old ovens don't half look solid but how well do they perform? I would miss my modern kitchen. What's with those springs at the front of the hobs?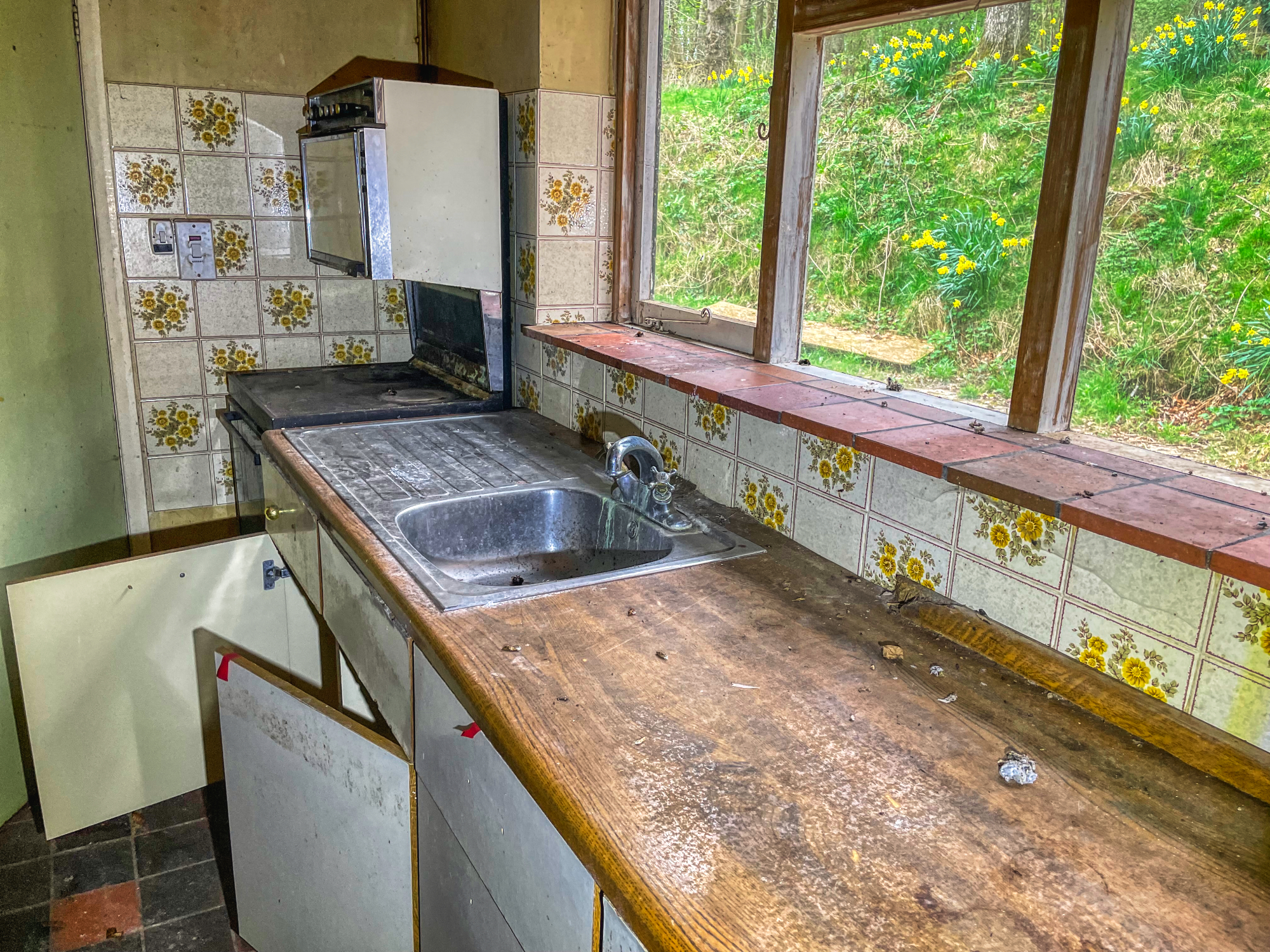 Not one plate, fork, knife, or spoon was to be seen.
The letter got my attention; it was sitting on the floor and looked very out of place. Had it been written during the COVID times?
Even the local coppers are not shielded from these lunatics who knock on your doors with their religious bullshit.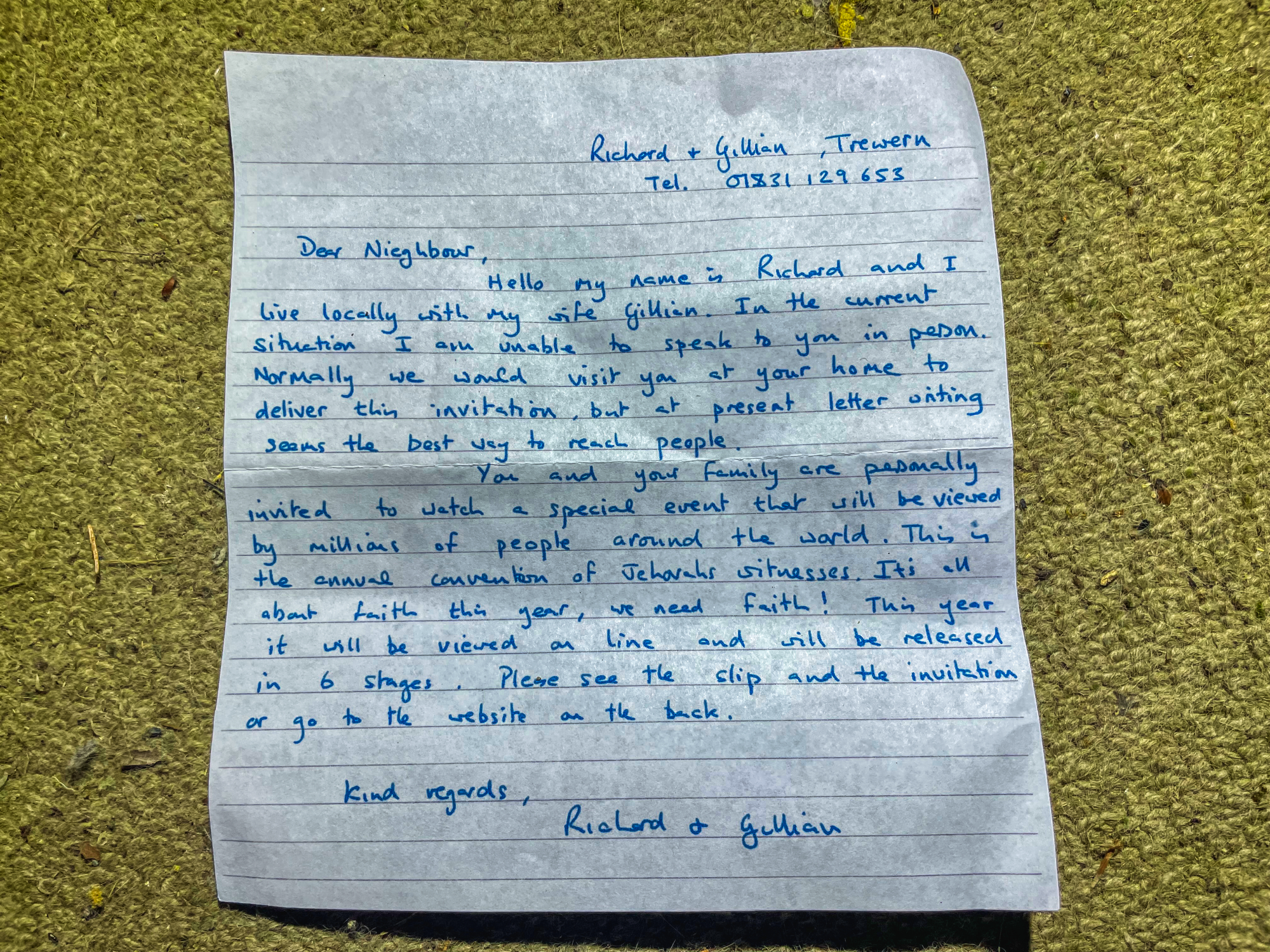 "Dear Neighbour" it says. There are no neighbours, at least for a mile or so either way. I can guess the letter didn't merit or yield a response.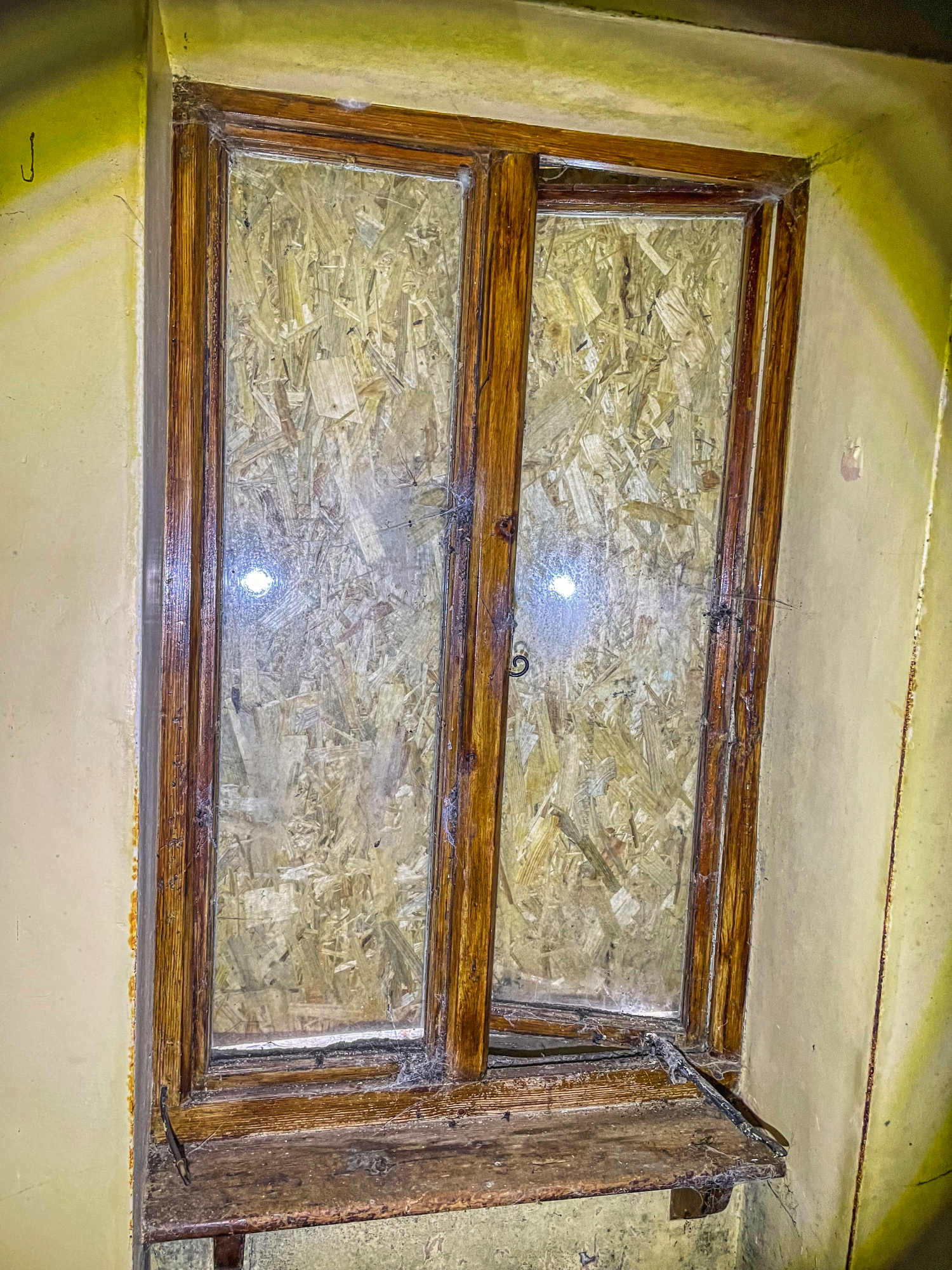 Had "The Policeman's House" been subject to some sort of cleaning? It looked semi-cobweb-infested and yet a little tidy in other areas.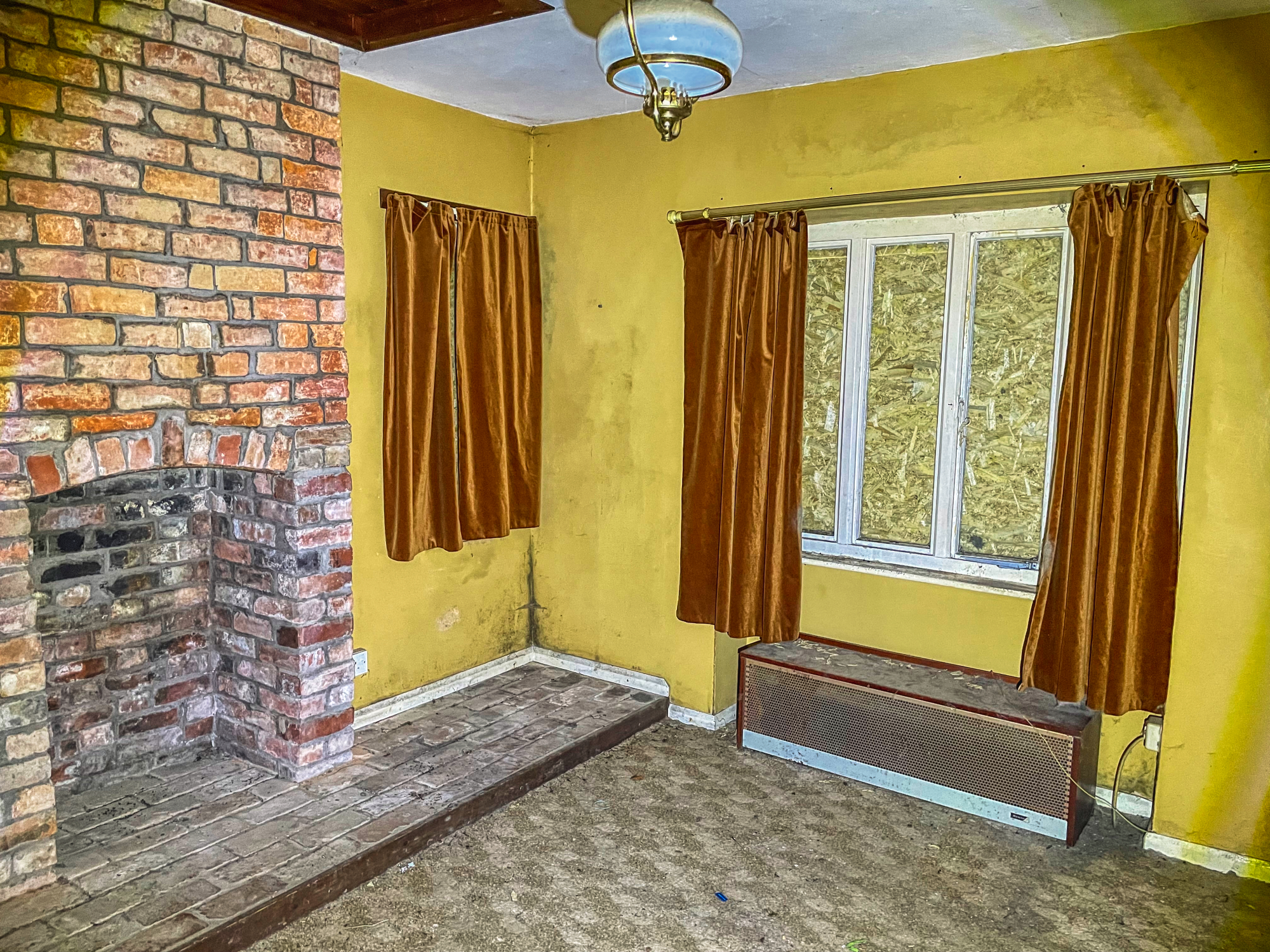 No central heating, but those expensive ineffective storage heaters were next to several windows. along with luxurious velvet curtains.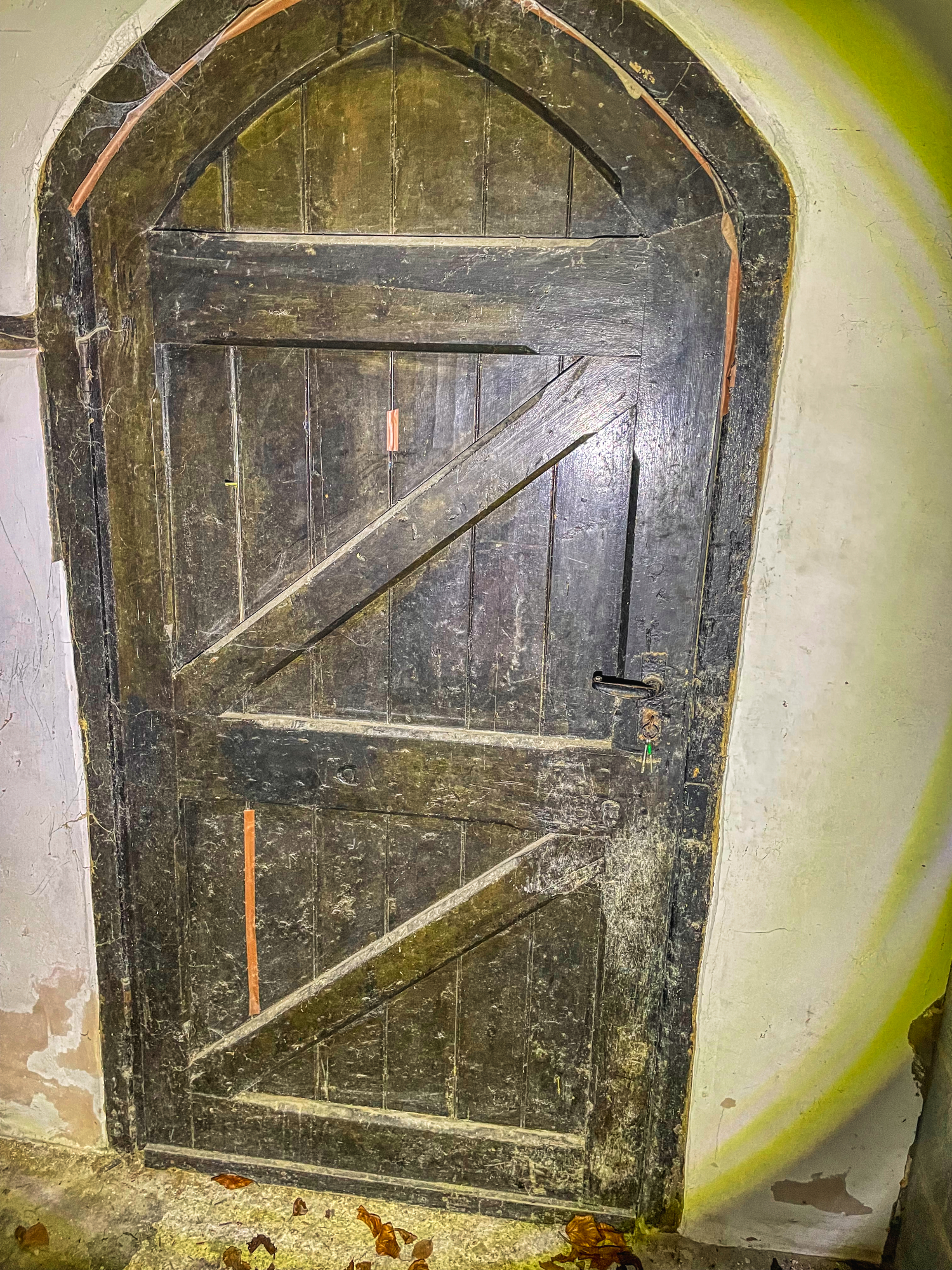 The front door looked like it was made in medieval times; I zoned in on the keys in the lock.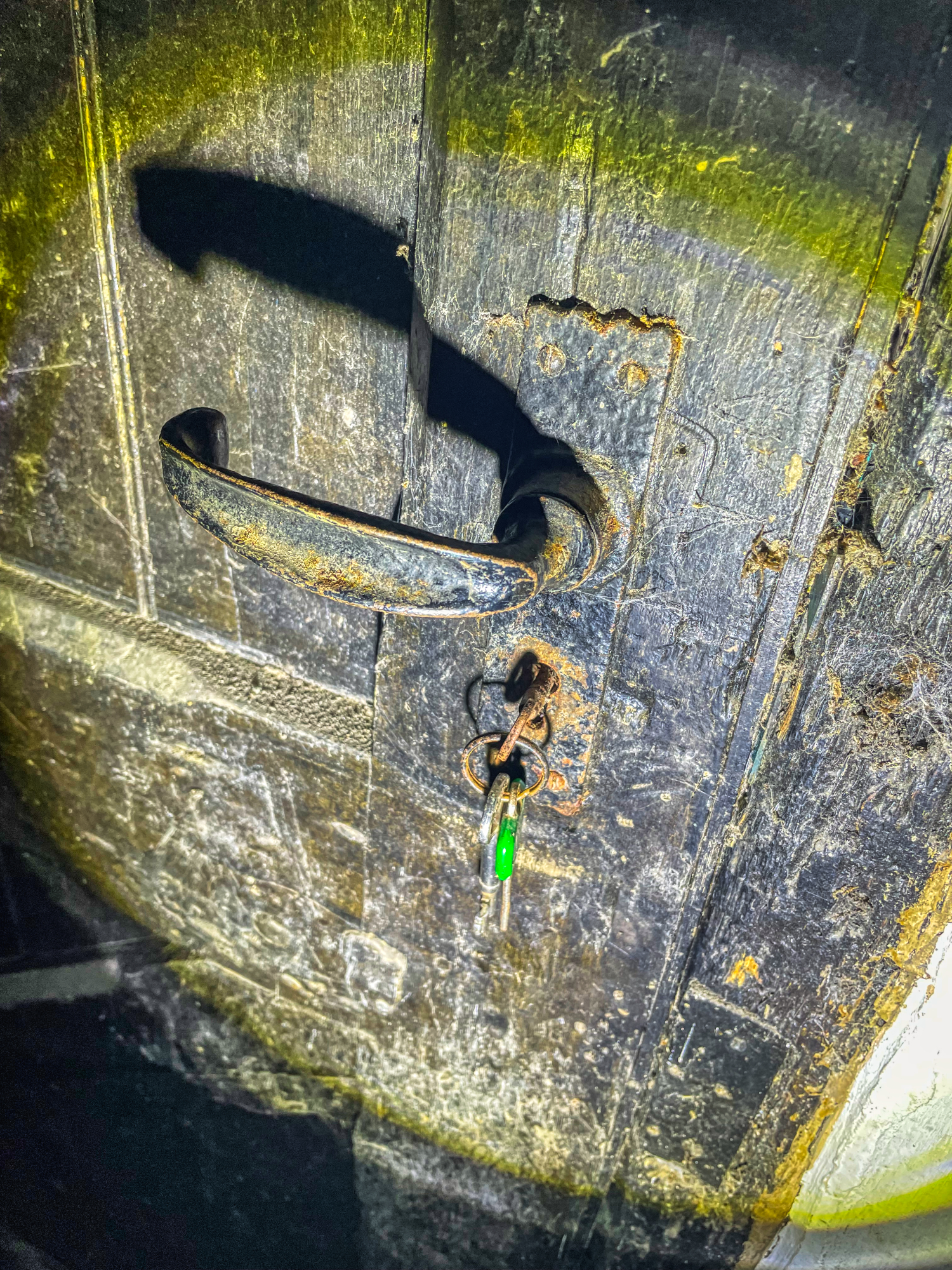 As much as I turned the key, it didn't turn the lock. Not wanting to force it I gave up. We could always leave by the back entrance unless that hidden pack of wolves started howling followed by an impromptu attack. There's always the bites as bragging rights.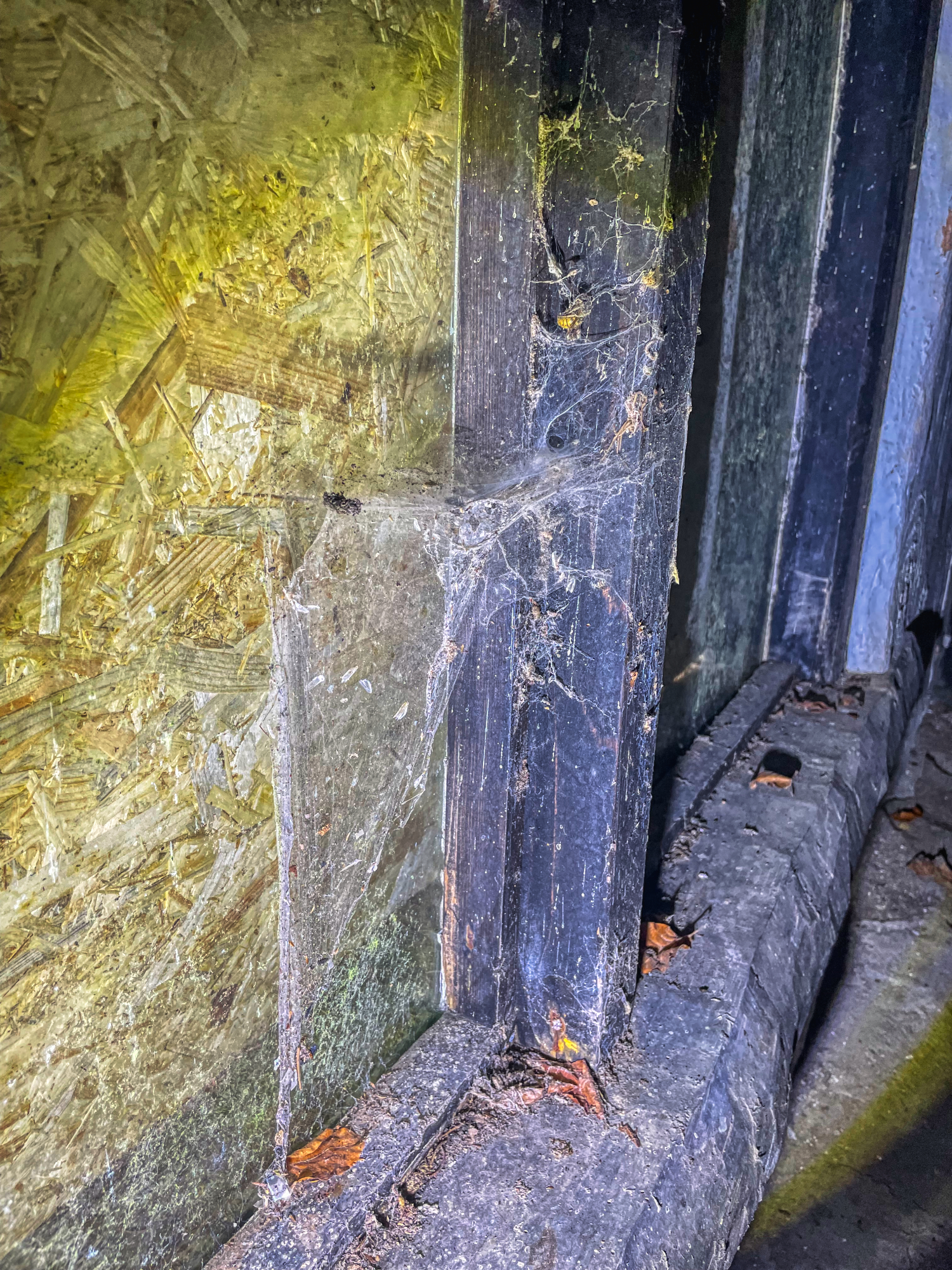 The boards fitted to "The Policeman's House" looked relatively fresh, but not so much from the inside.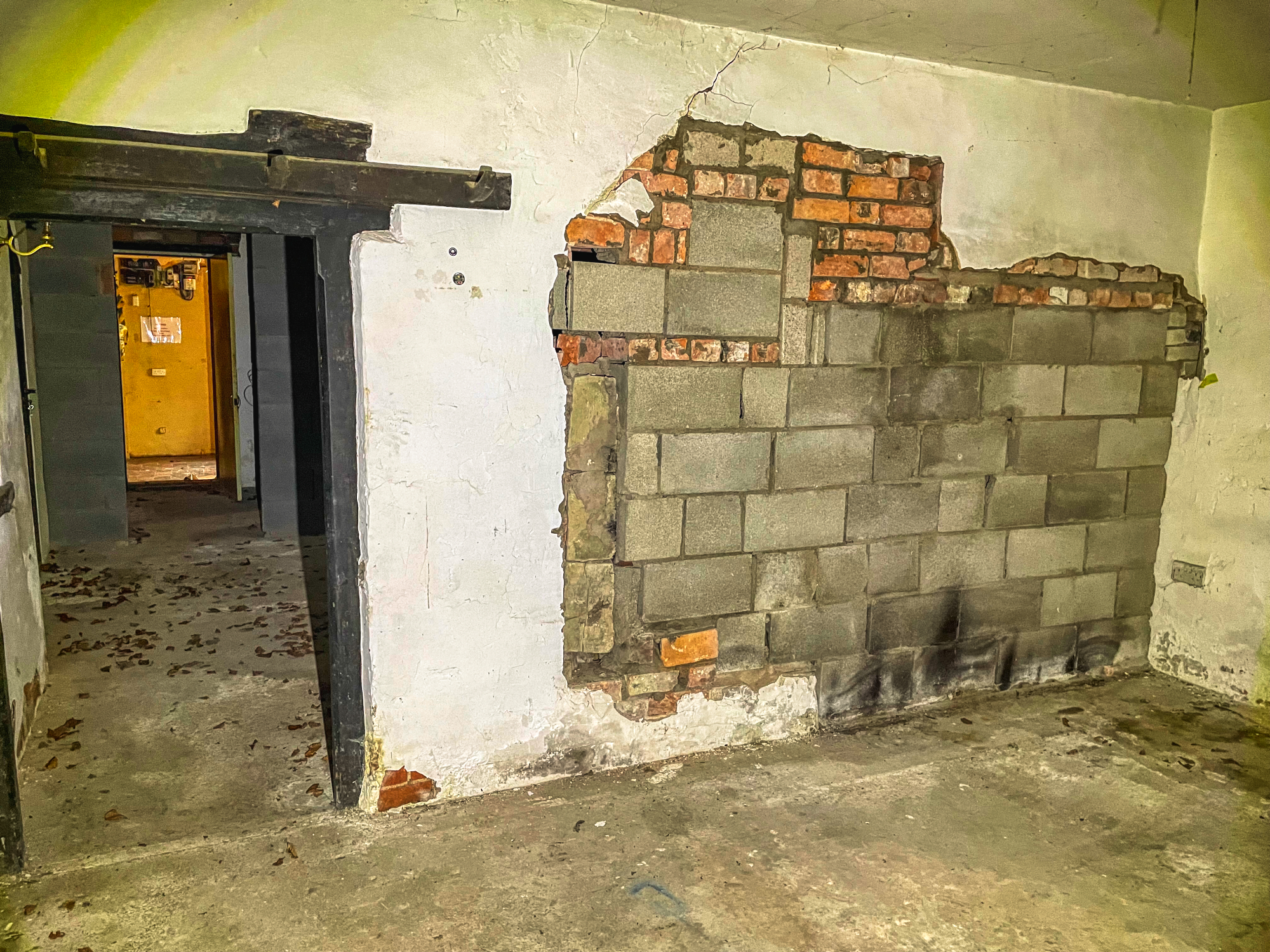 This sight as well as the live electricity told us the house was starting to be renovated. This is another 'going off' Time Capsule that needs to be added to the growing list.
The fireplace did look like a 'reno job', but the old wallpaper remained.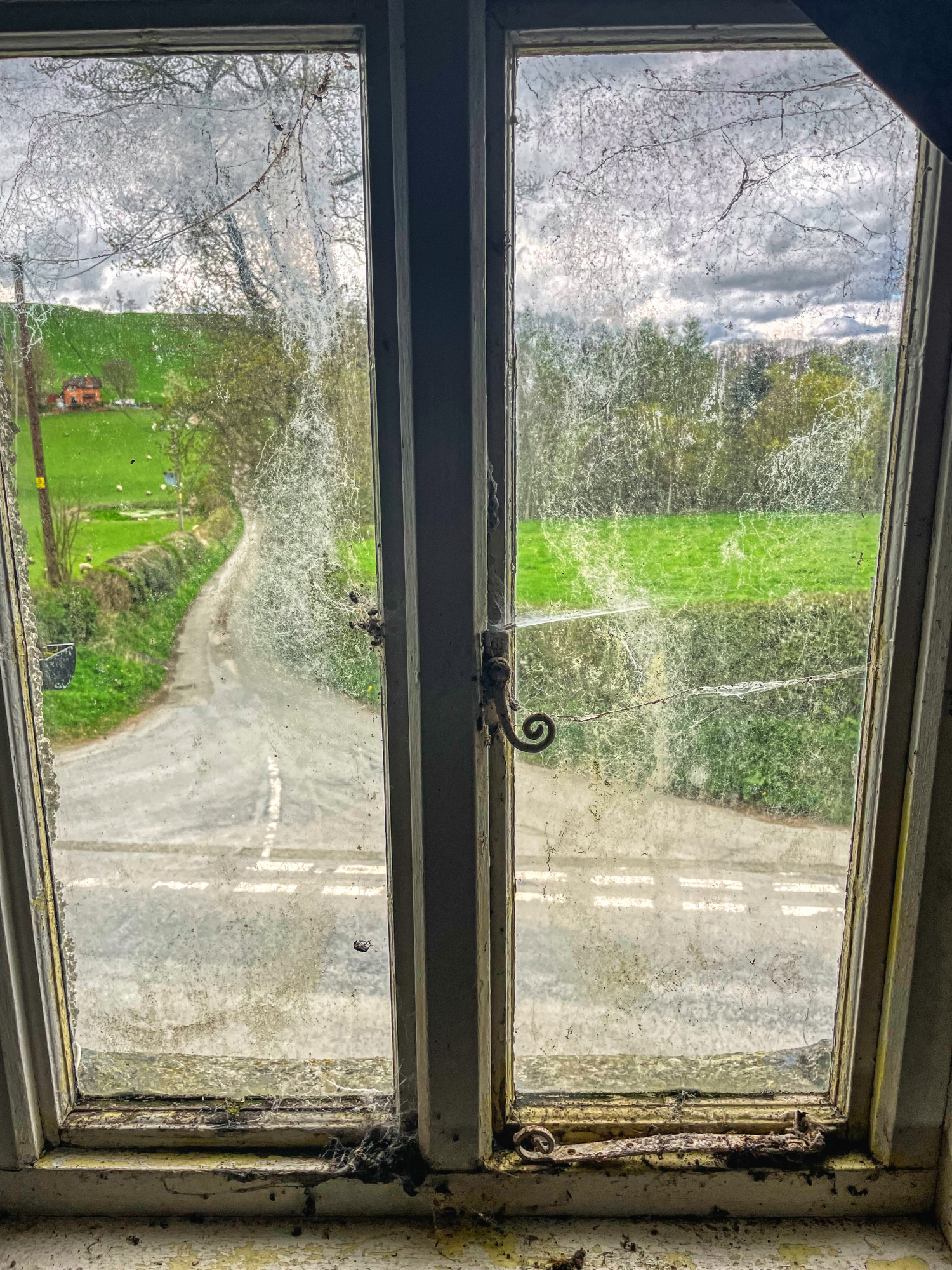 That junction was the only place to park. My car must be just off the picture.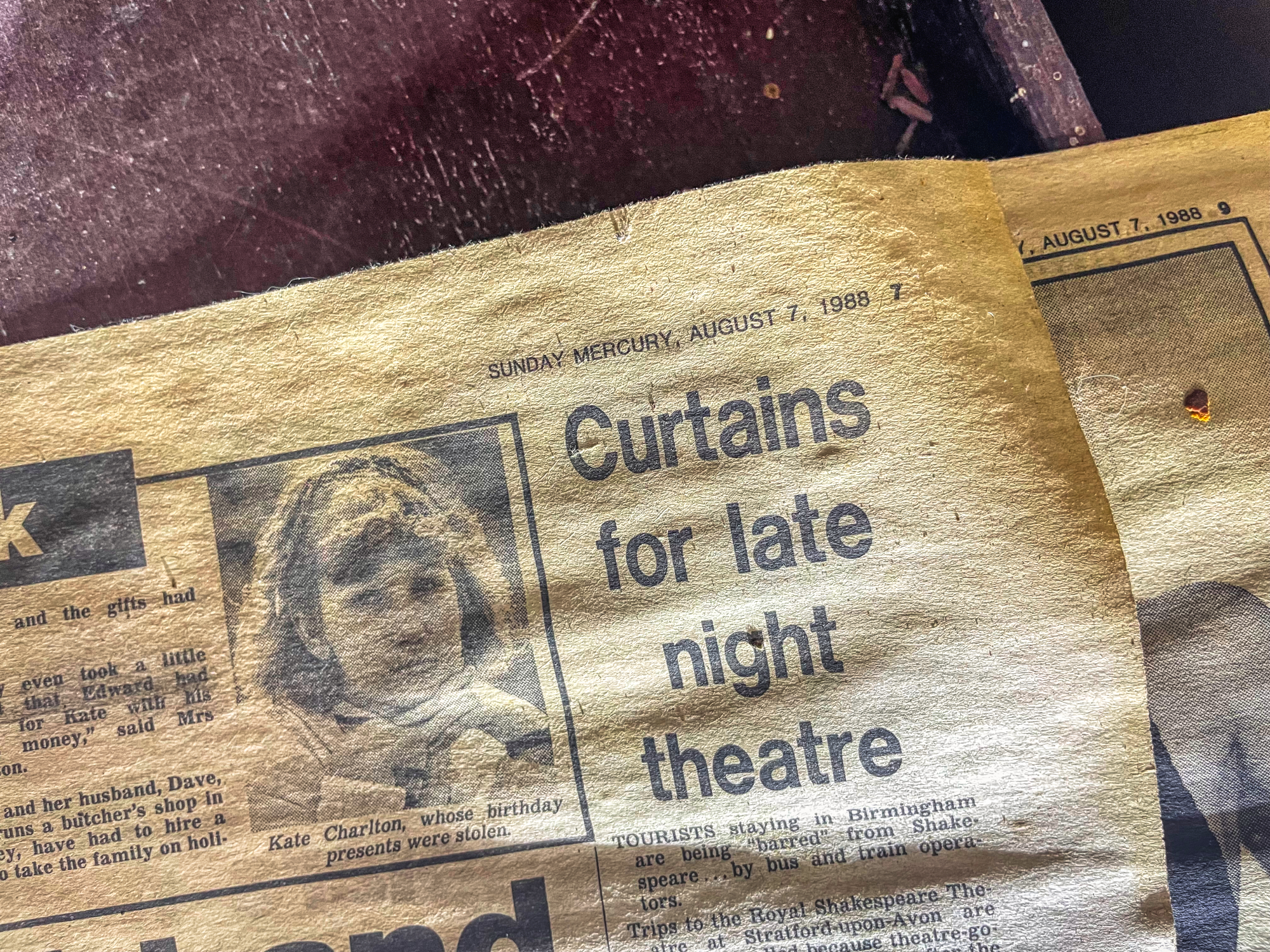 It's not exactly old, but not yesterday's edition.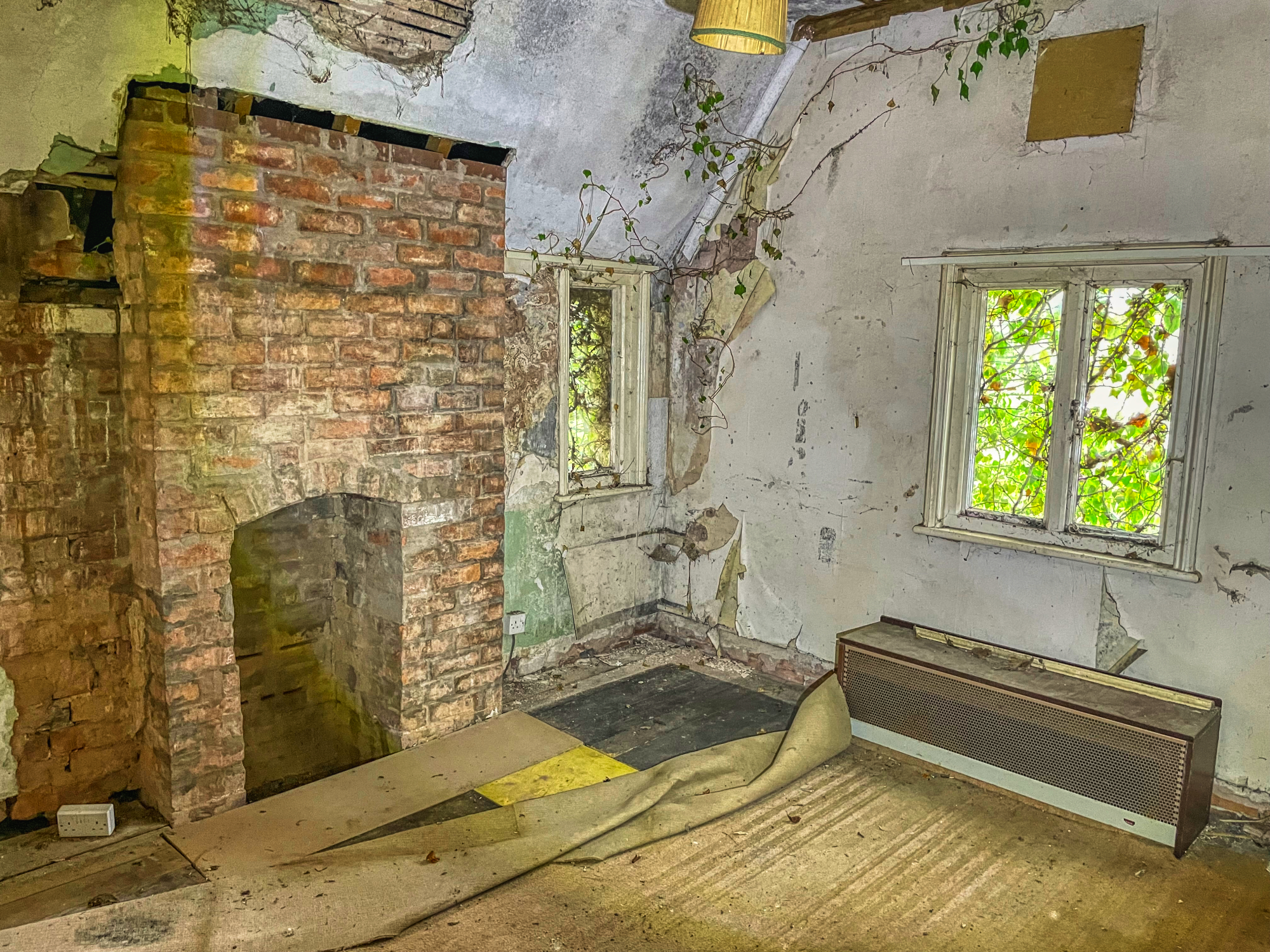 The foliage was starting to encroach on the house in places. I have seen a lot worse (or better).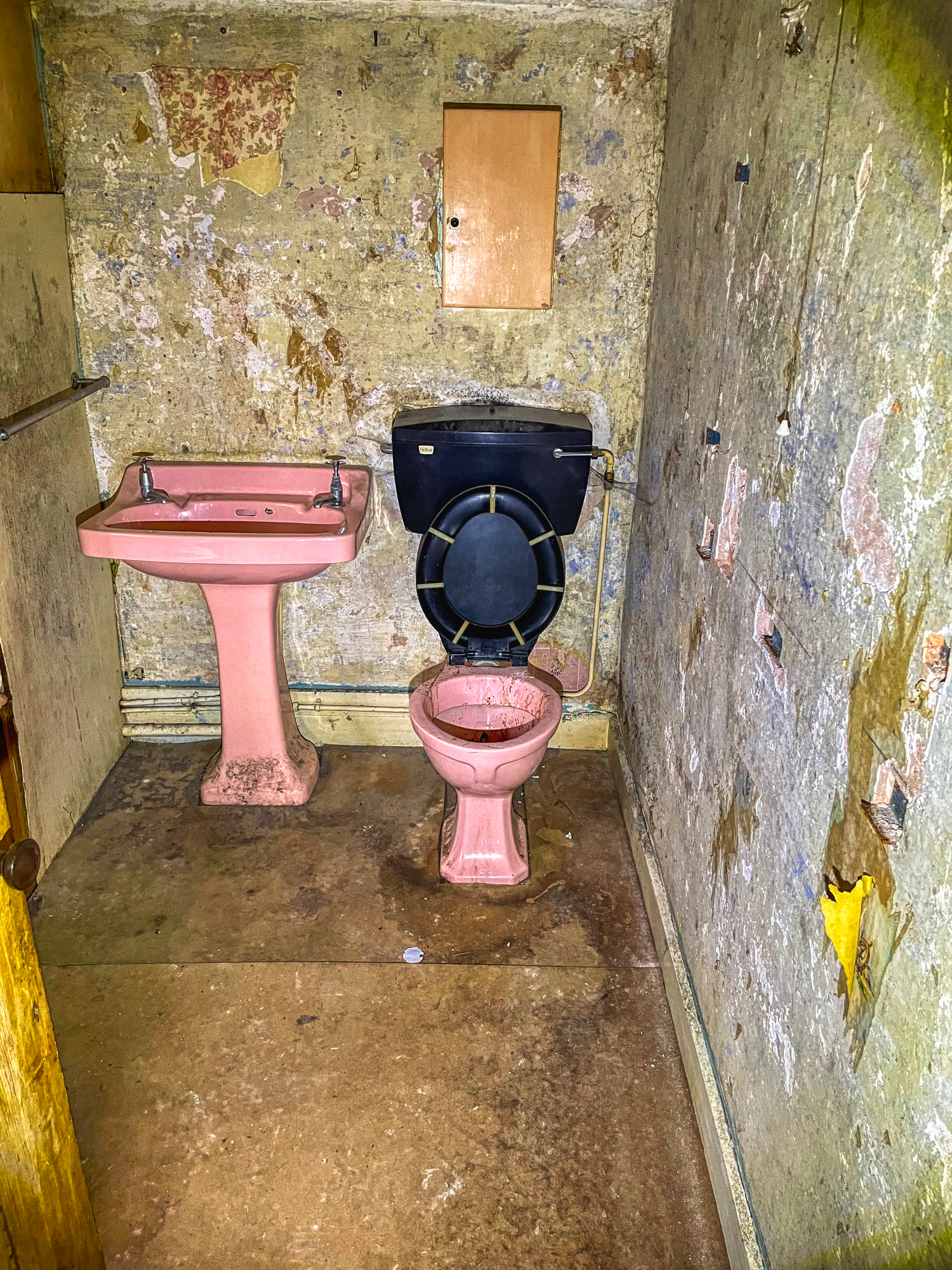 Upstairs was extremely bare and not worthy of photographs. That is beside the bathroom in its gaudy pink.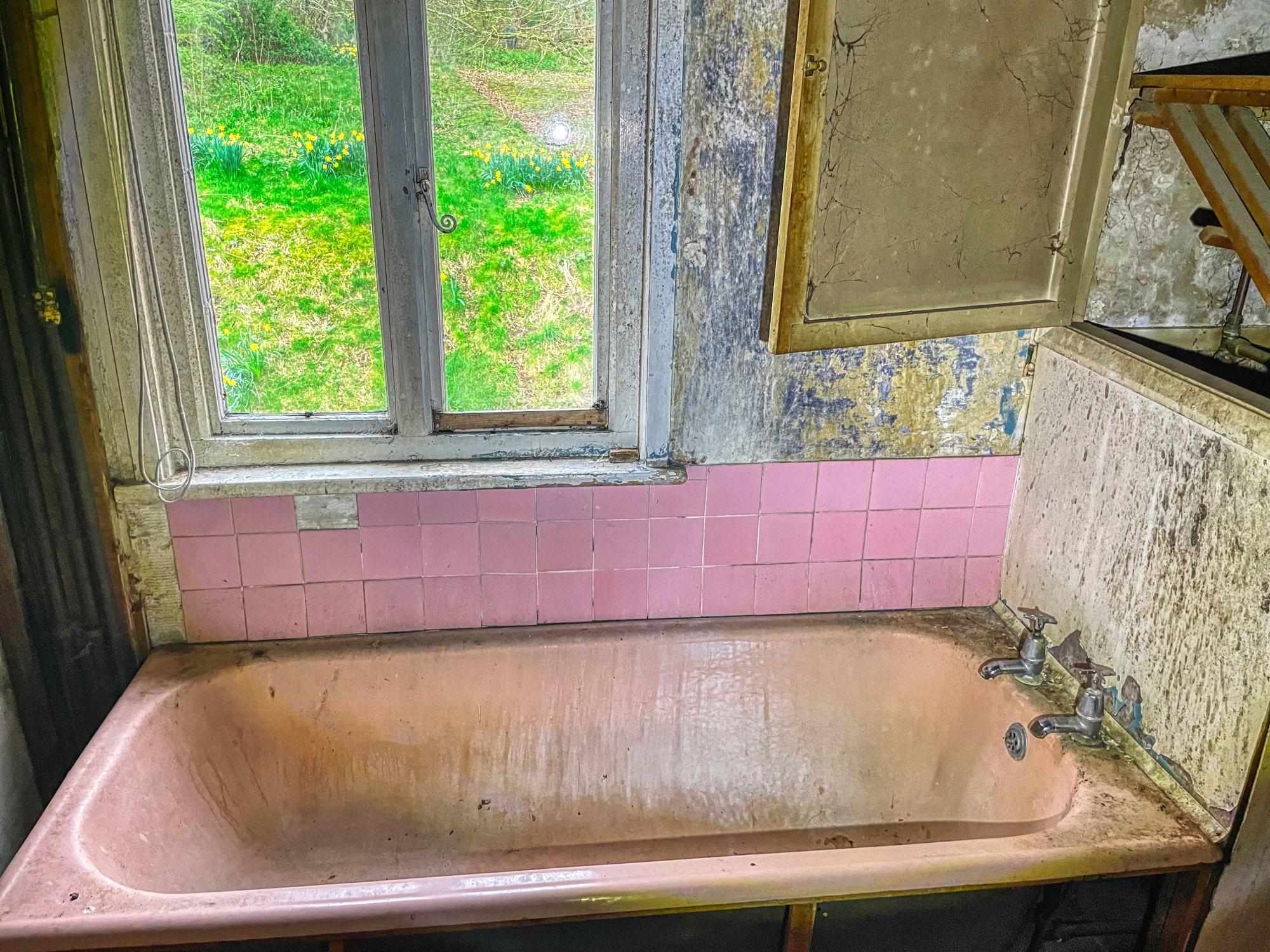 Doesn't that look inviting? Freezing water, no wallpaper with added muck that would serve to make you dirtier than when you stepped in. When you're done you can stand up and flash your willy to the passing motorists.
We left the house, closing the door (again), and noticed a rotting caravan situated close by.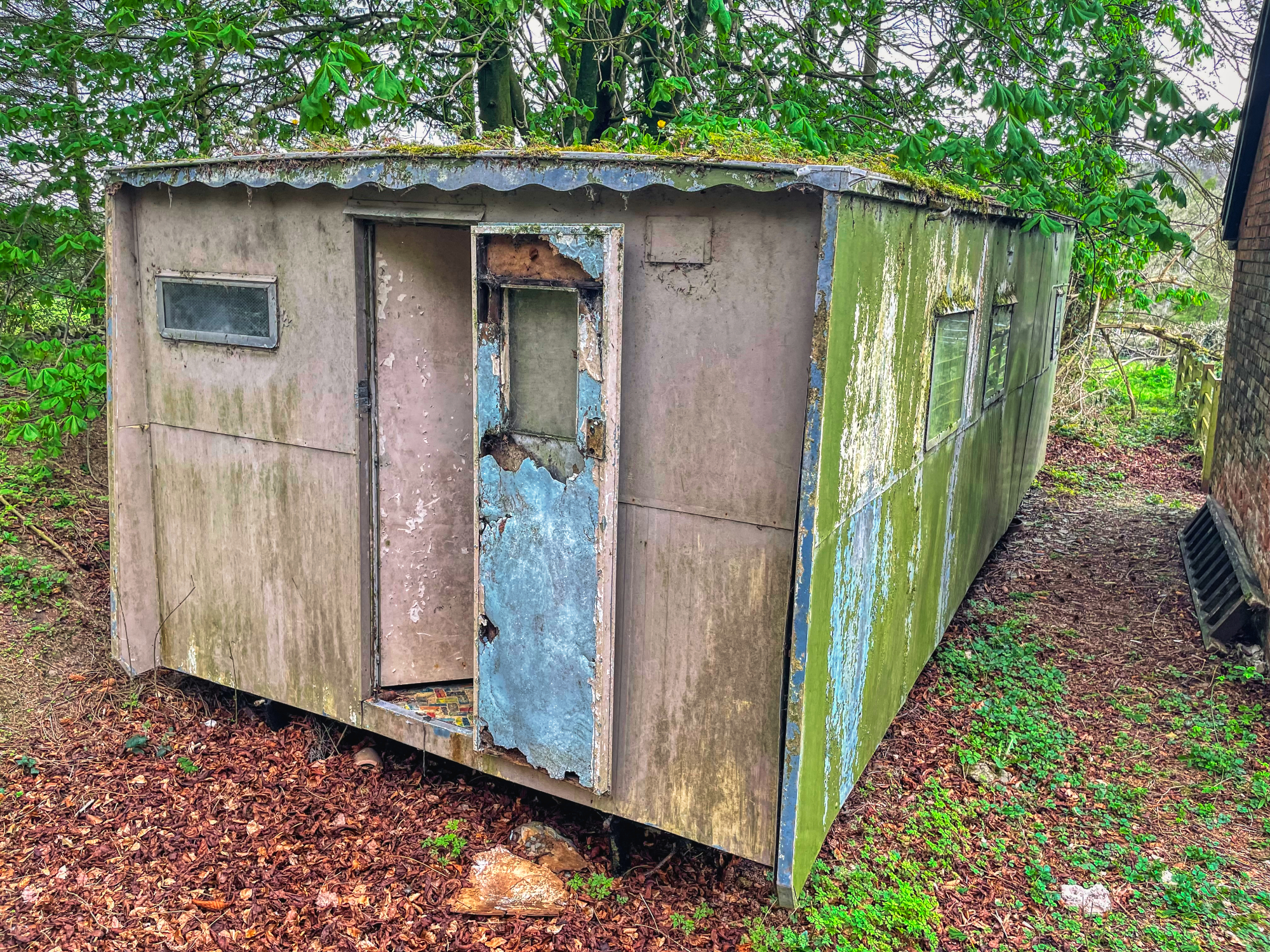 As caravans go, this one was hardly a 'looker' and we cautiously opened the back door listening for any signs of snoring, sexual ecstasy, belching, or farting sounds.
…'UX TIP: Using your ears helps you avoid danger; use all your senses well before stepping into decrepit looking caravans'…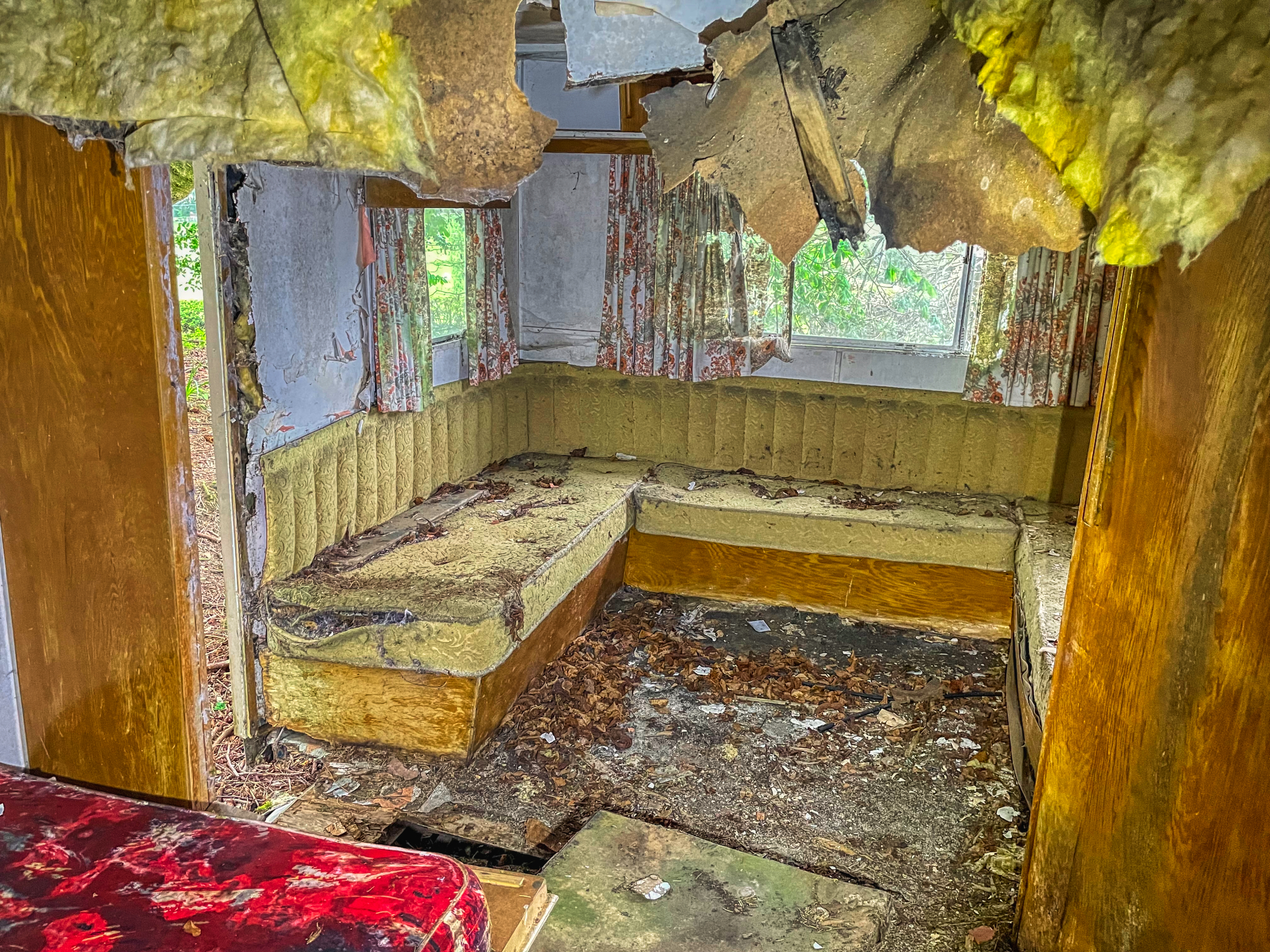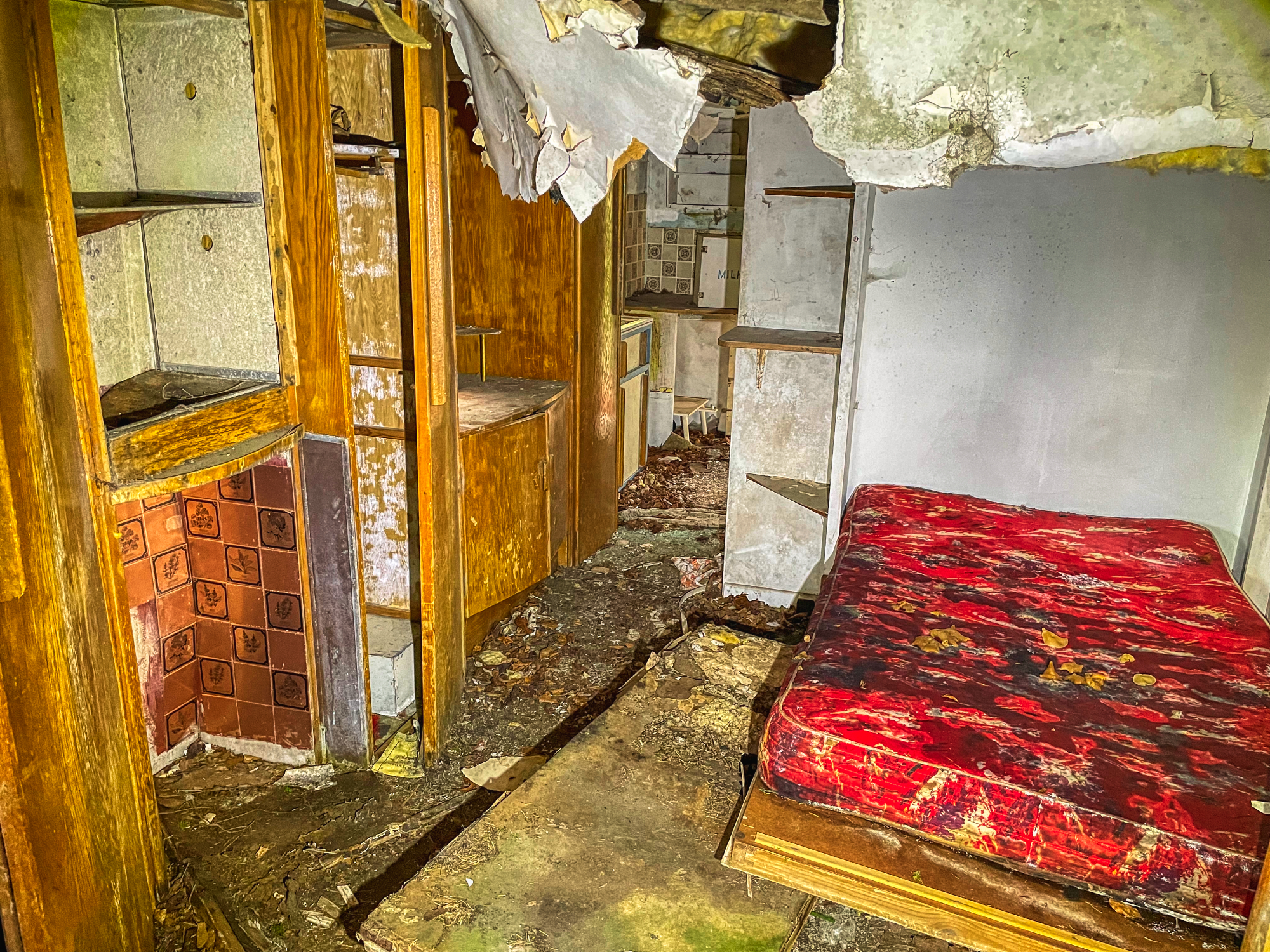 Whoever had stripped the house had also been here. Nothing; not even a set of used false teeth with added spinach.
The floor was rotting away badly and I almost went through it in one area. It will need to be crushed, there's no renovating that one.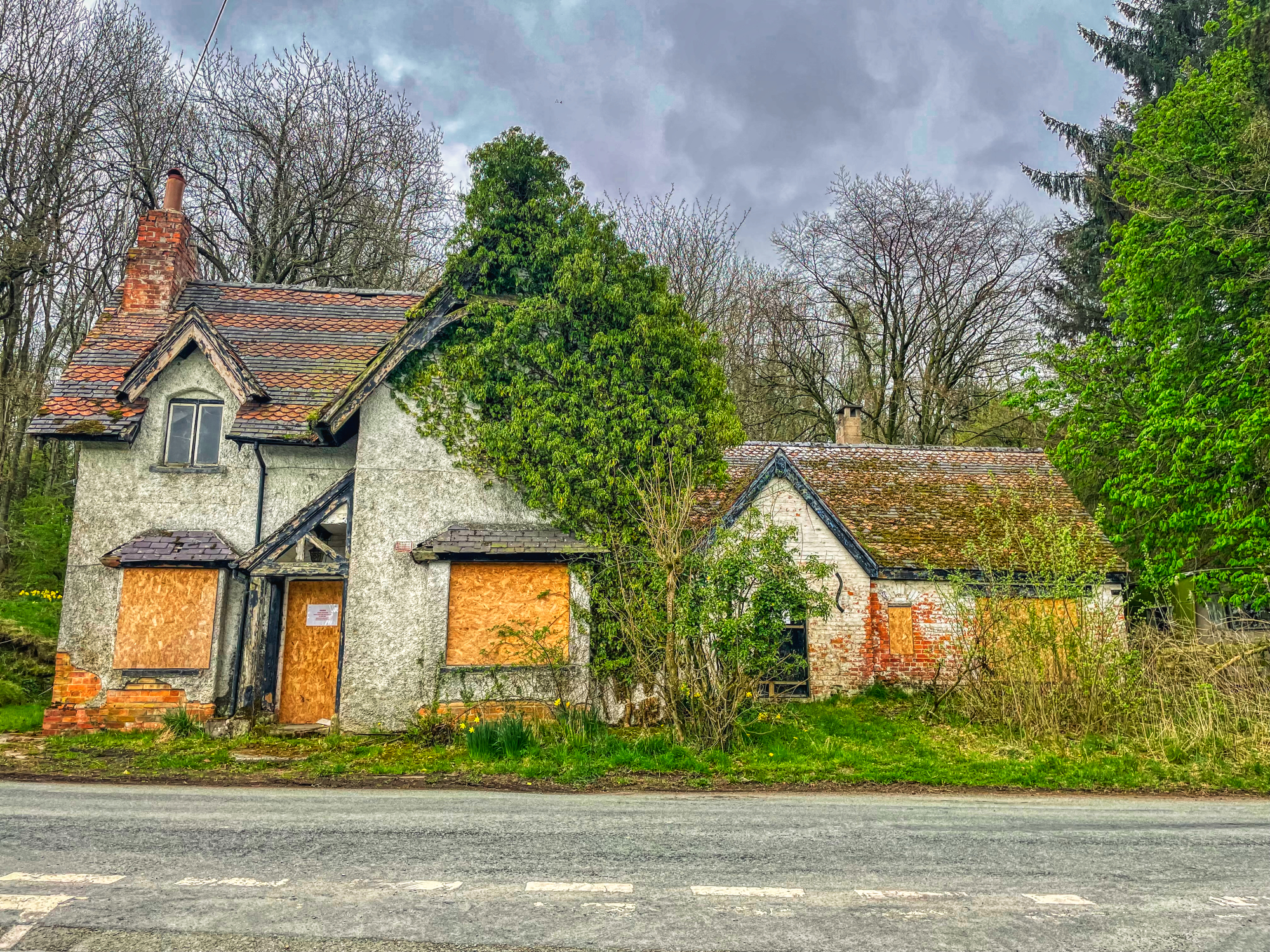 "The Policeman's House" was another disappointing exploration. Our schedule was filled with Time Capsules up the arse, but so far they were proving to be rather... er shit.

Do you like posting your Urbex content and photography for FREE on Facebook and YouTube? I like to get some form of reward for my work and every time I create I do just that. Take a look at The Urbex Community on HIVE.
If you want to keep creating for FREE then ignore what you are reading. If you want to be like me and gain something other than BUGGER ALL for your work then click here and learn about posting on the HIVE blockchain.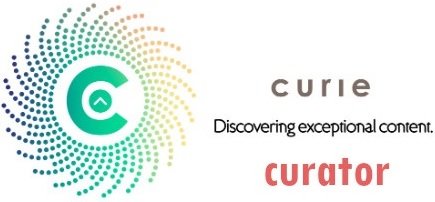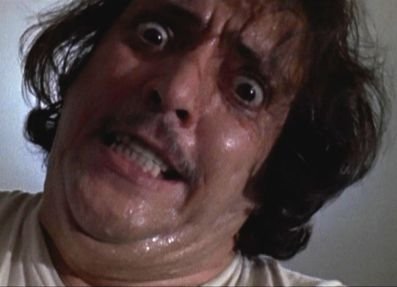 If you found this article so invigorating that you are now a positively googly-eyed, drooling lunatic with dripping saliva or even if you liked it just a bit, then please upvote, comment, rehive, engage me or all of these things.
---
---