Tales of the Urban Explorer: The Tin Tabernacle

"There's a Tin Church down in Wales somewhere"
@anidiotexplores would not rest until the location had been discovered. Tin Churches are quite rare and derelict ones more so.
I previously visited St Hilda's during 2019 in my early exploring days after I found some would-be explorer had sold out the story to the newspapers.
'Lost in time, everything frozen' it said with the usual over-dramatics they embellish on everything. That church had been tough to pin down in the same way as "The Tin Tabernacle" was now.
The area was easy to find, the spot not so. I contacted @grindle as it is close to his hometown and got a little more direction on it.
After pouring over maps for a while, I spotted it nestled in some trees, and a street view confirmed that the rusty roofed building was our target.
We would need to walk up the side road up to the farm and hope Farmer Giles was not ambling along in his tractor at the same time.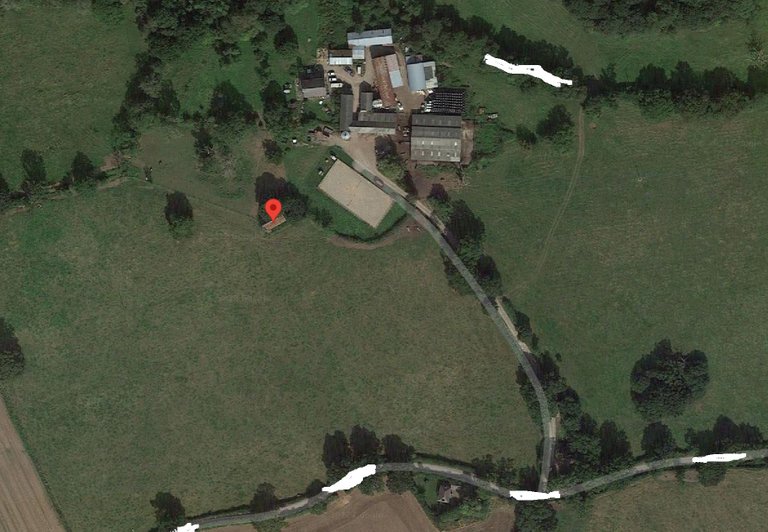 I had discovered "The Tin Tabernacle" was on private land and that meant one thing. The ninja suits needed to be cleaned, dried and ready.
Giles would not see us coming, and there would be no angry farmer running down the road with his 12-bore shotgun with pellets hitting our arses.
Half the problem with these rural explores is where to dump the car. As I recall I mounted two wheels on a kerb, with just enough room for other vehicles to pass, cars that is.
One of these days, the car will sink into a ditch and I will need to call out the emergency services. I can see it coming.
Creeping up the roadside, we figured to jump the left fence and sneak up adjacent to the road which would give us a little tree cover if the local bumkins emerged.
Hurriedly half-running to the large building right of the "The Tin Tabernacle", we saw the trees would mask our approach.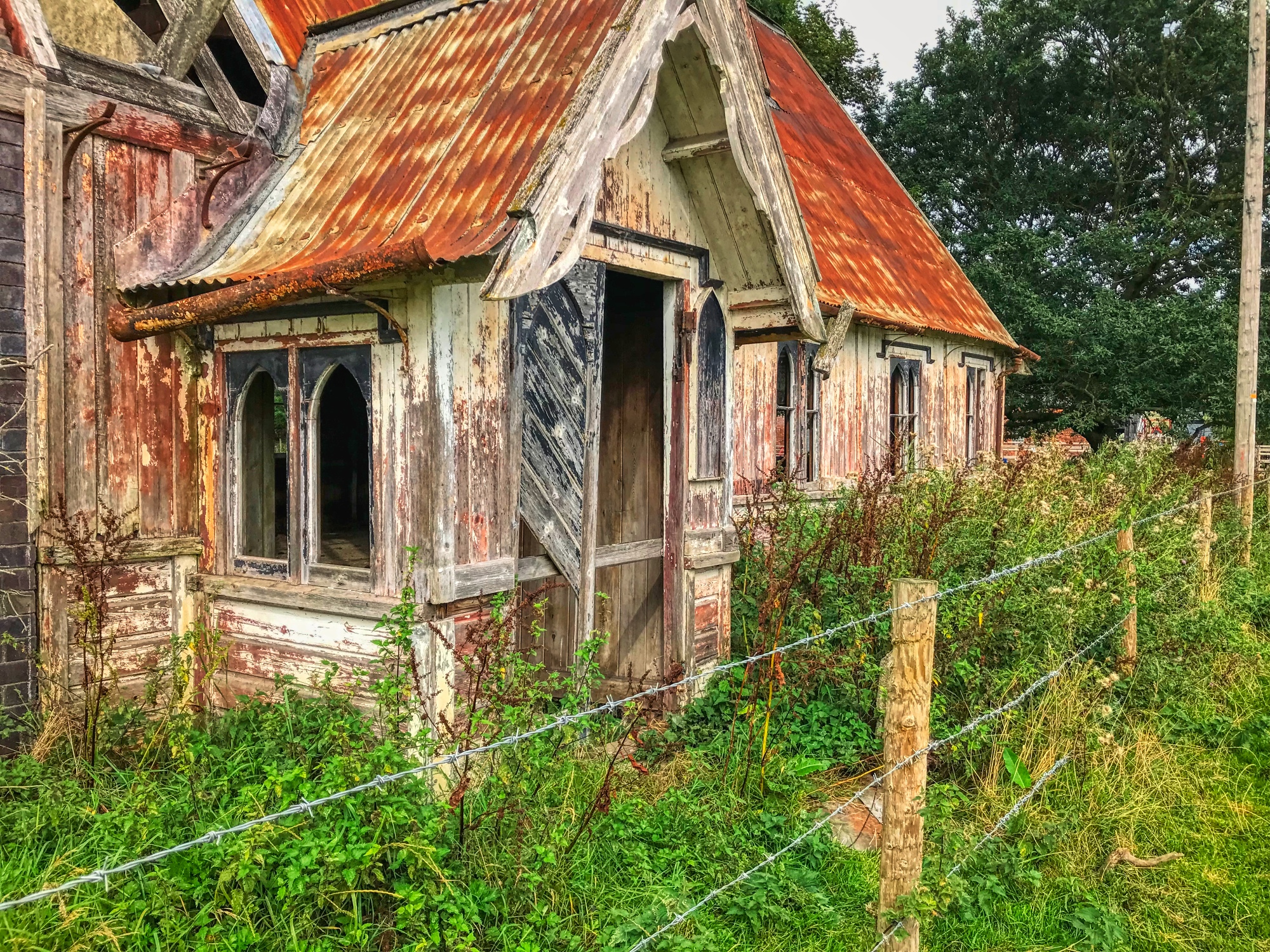 All was going well as both of us gingerly climbed over the very fresh barbed wire and entered the old church.
…'looking at that wire, the local landowner does not appreciate or welcome visitors'…
No attempt had been made to secure the door of "The Tin Tabernacle", and it would be in vain. Most of the lower windows were gone and climbing through any one of them would have been second nature.
I struggled to find any individual history regarding this particular church, and can only mention most were built during the early 20th century.
This particular example was part-brick and exuded a real charm when approached.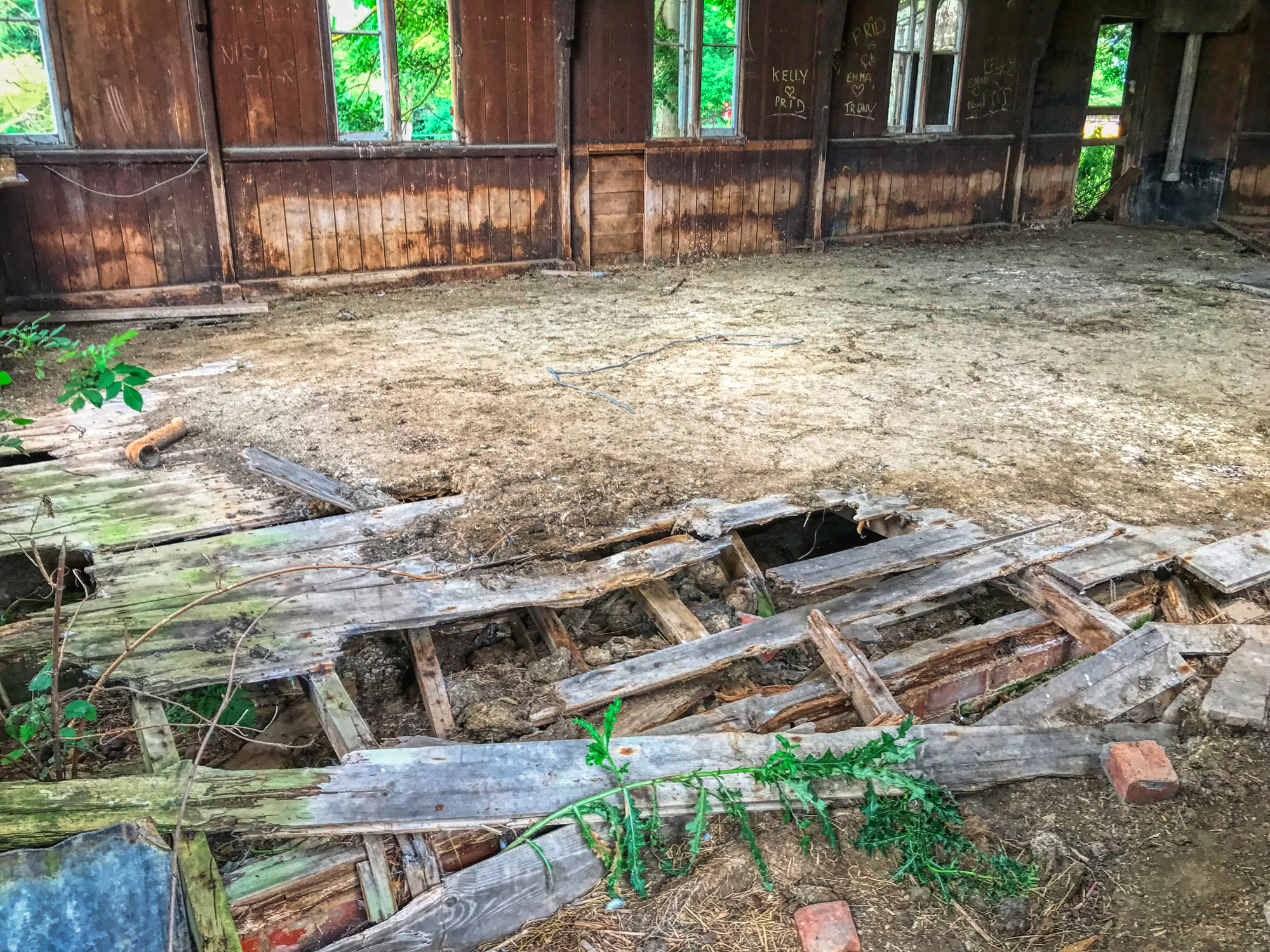 Avoiding the giant holes in the floor, we skipped over them onto what appeared quite a solid floor with just a hint of instability every now and then,
The remains of the old original organ was a huge bonus. A bad roof over that section and yet it remains intact.
Getting a tune was going a little far, and I didn't want to pull any of those buttons in case they disintegrated. Maybe it will last another decade, being where it is out of the way of most of the dickheads.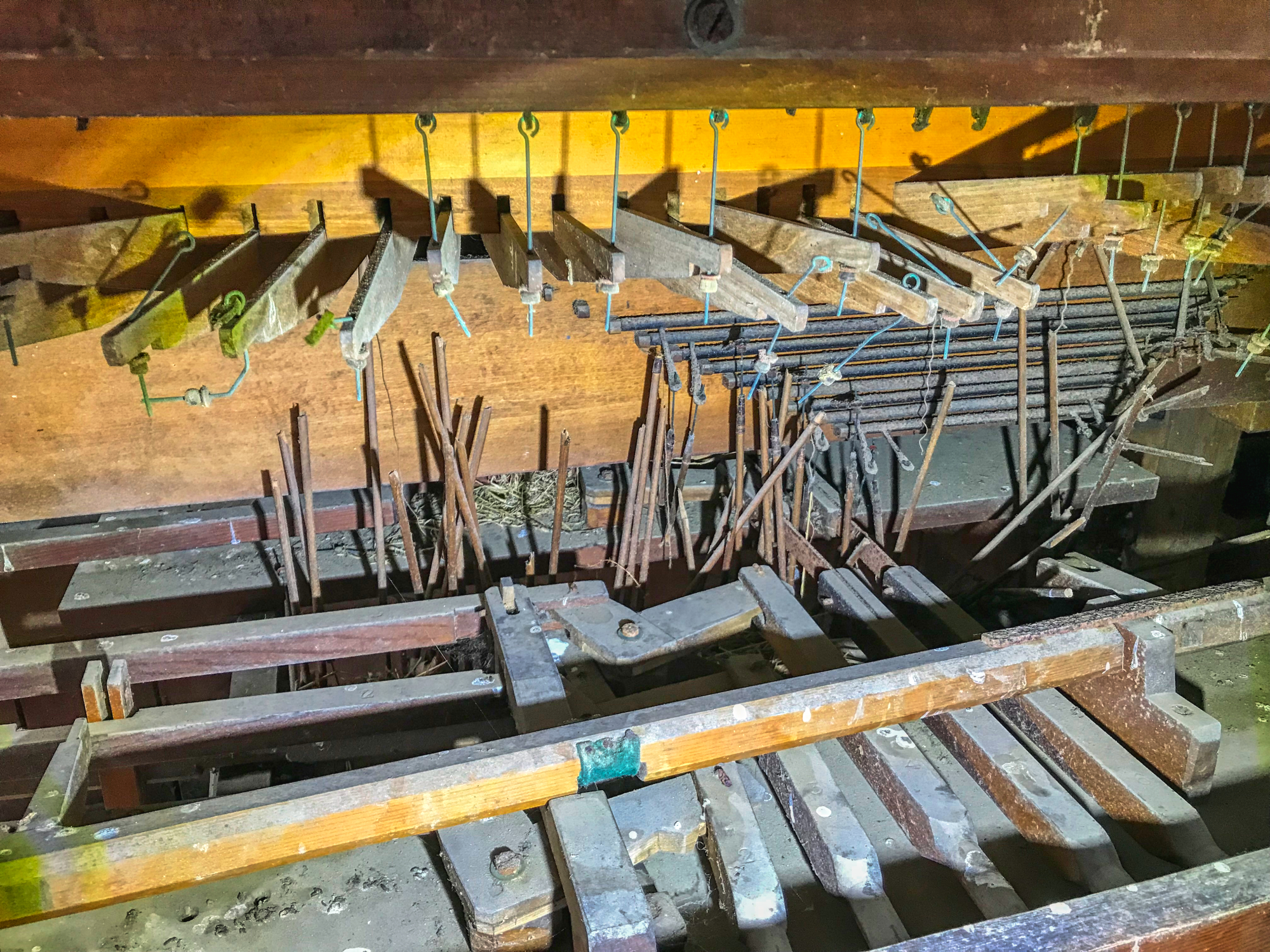 All handmade, I am sure of it, and crafted with skill.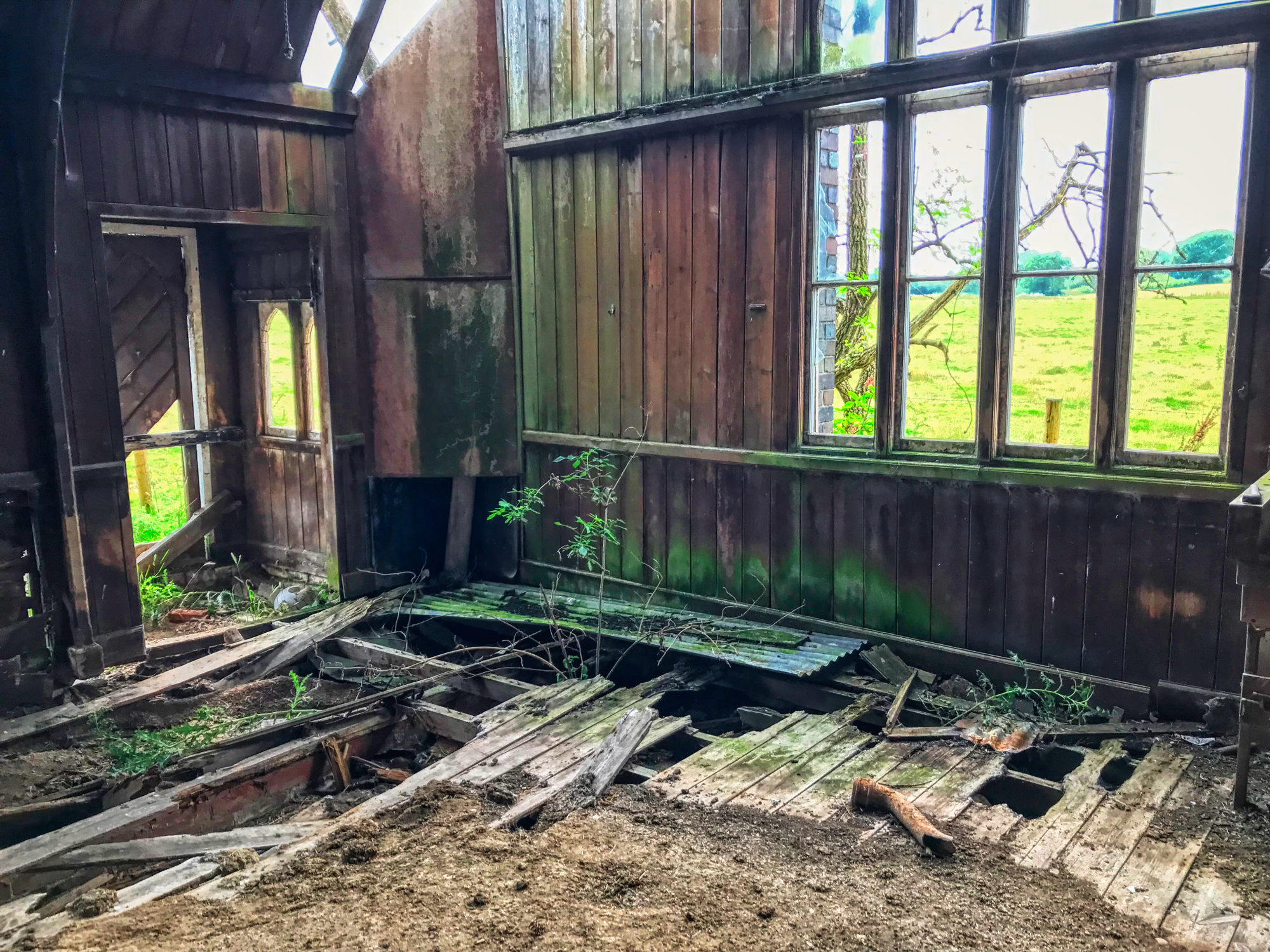 The entrance of "The Tin Tabernacle" could be great training for potential explorers. Twisting your ankle is always on the cards, breaking a leg, unlikely unless you are a clumsy bastard.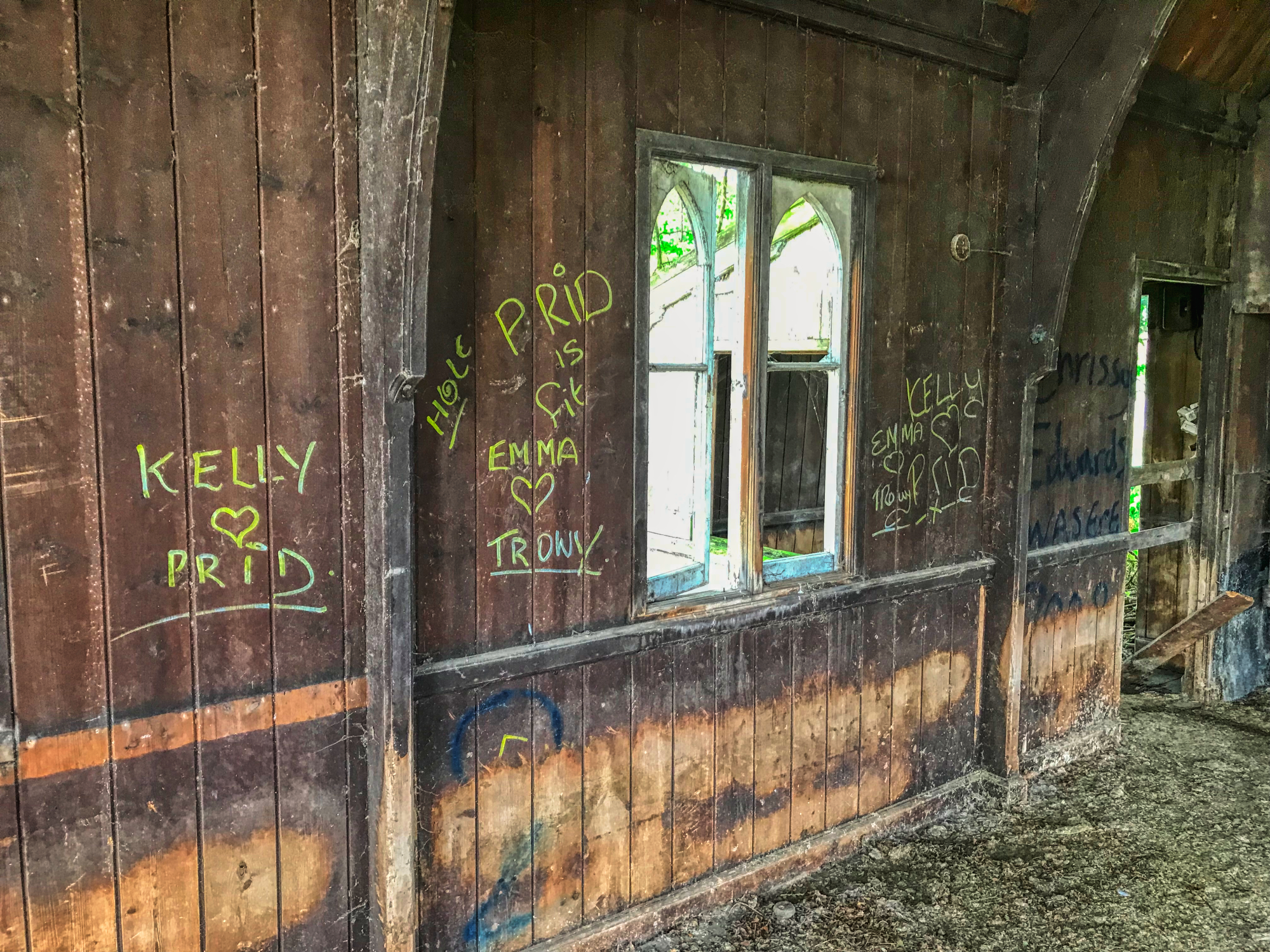 Yet "The Tin Tabernacle" has not escaped all forms of vandalism. I wonder if they contributed to the demise of the organ while at it?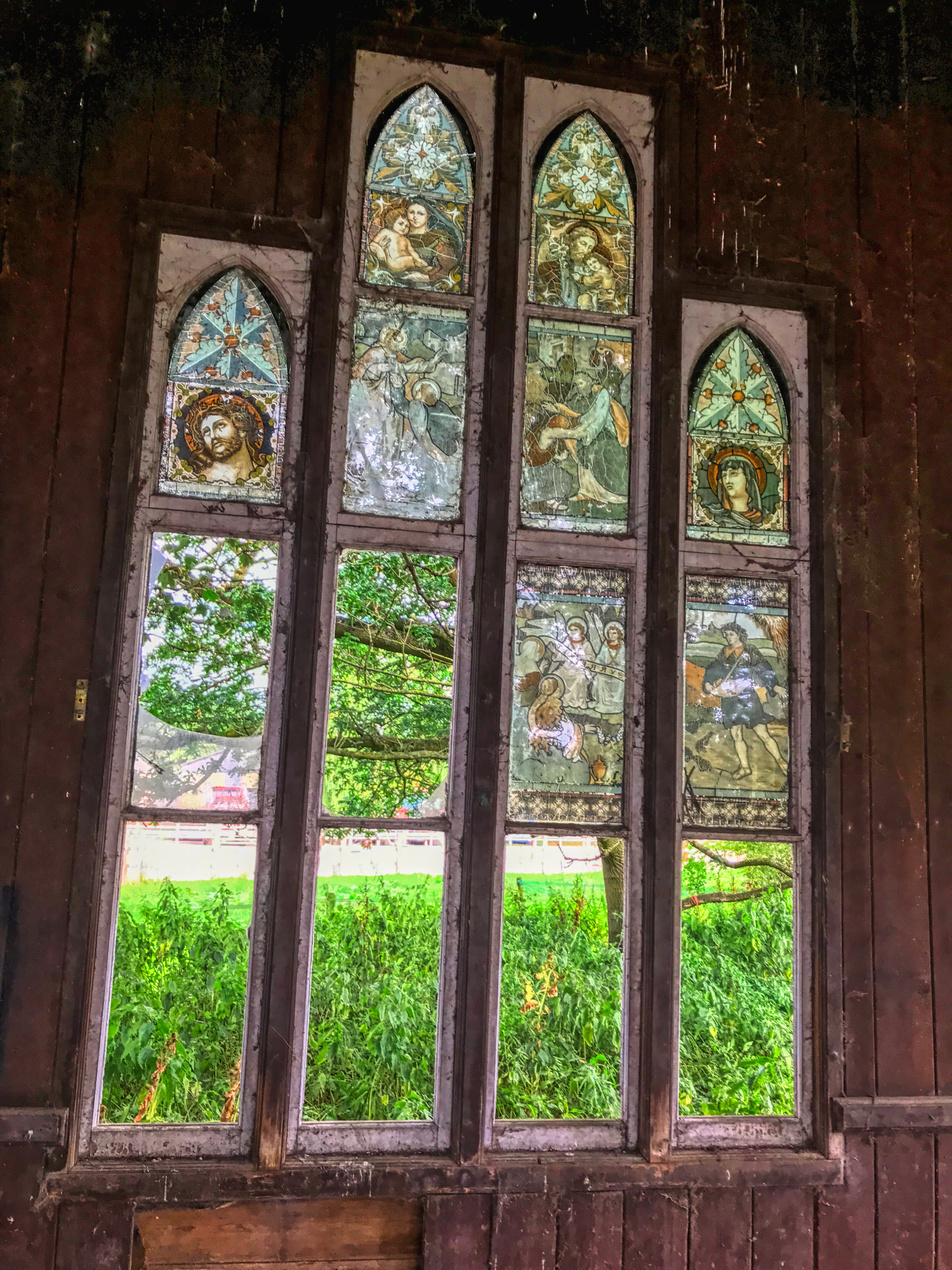 While the lower windows are alternate access points, the upper ones had mostly survived. This was very different from St Hilda's in terms of architecture.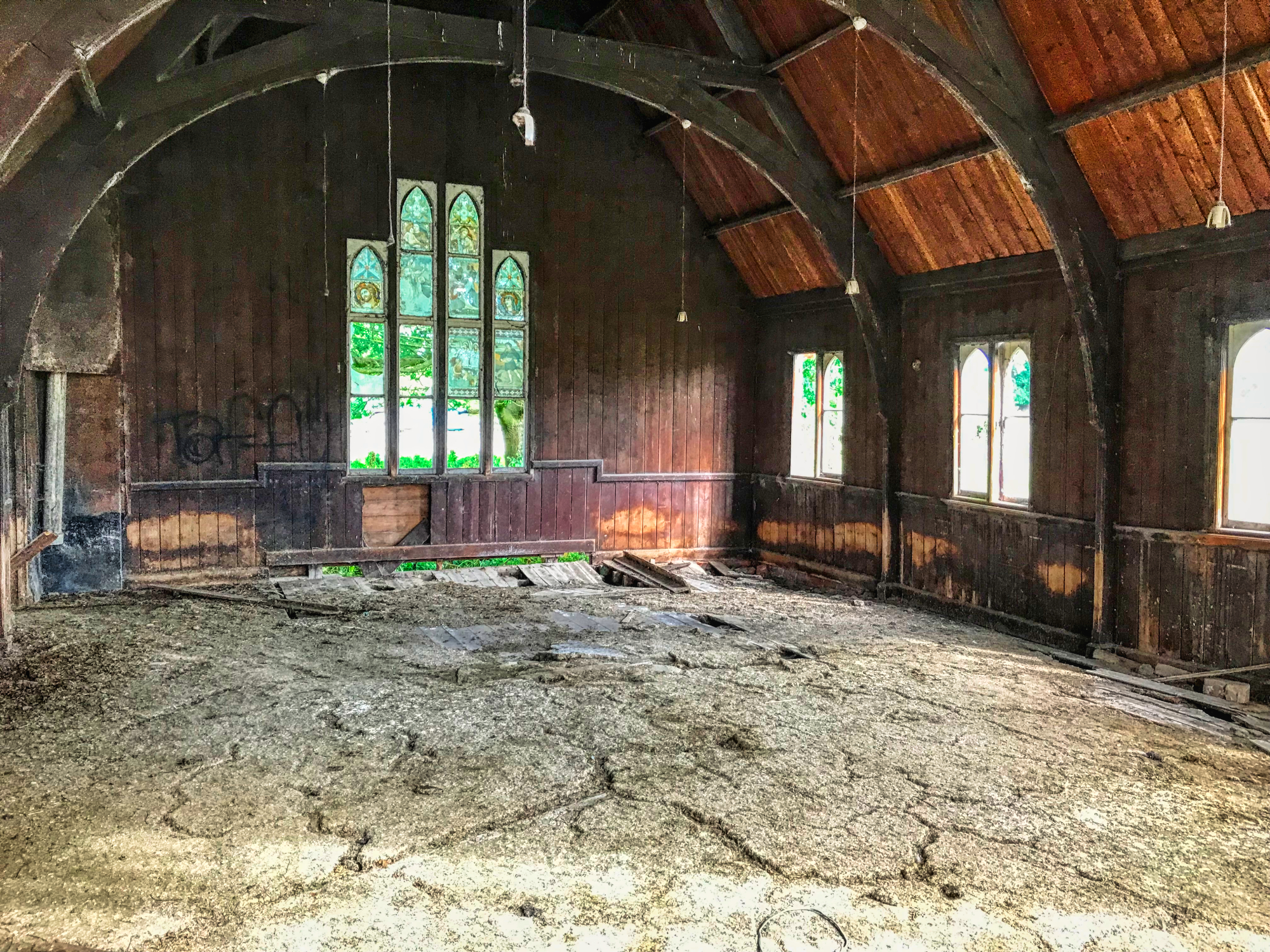 Little else remained within "The Tin Tabernacle", yet both of us were curiously satisfied with what was left.
I have seen several images of "The Tin Tabernacle" from a decade ago and externally it appears unchanged.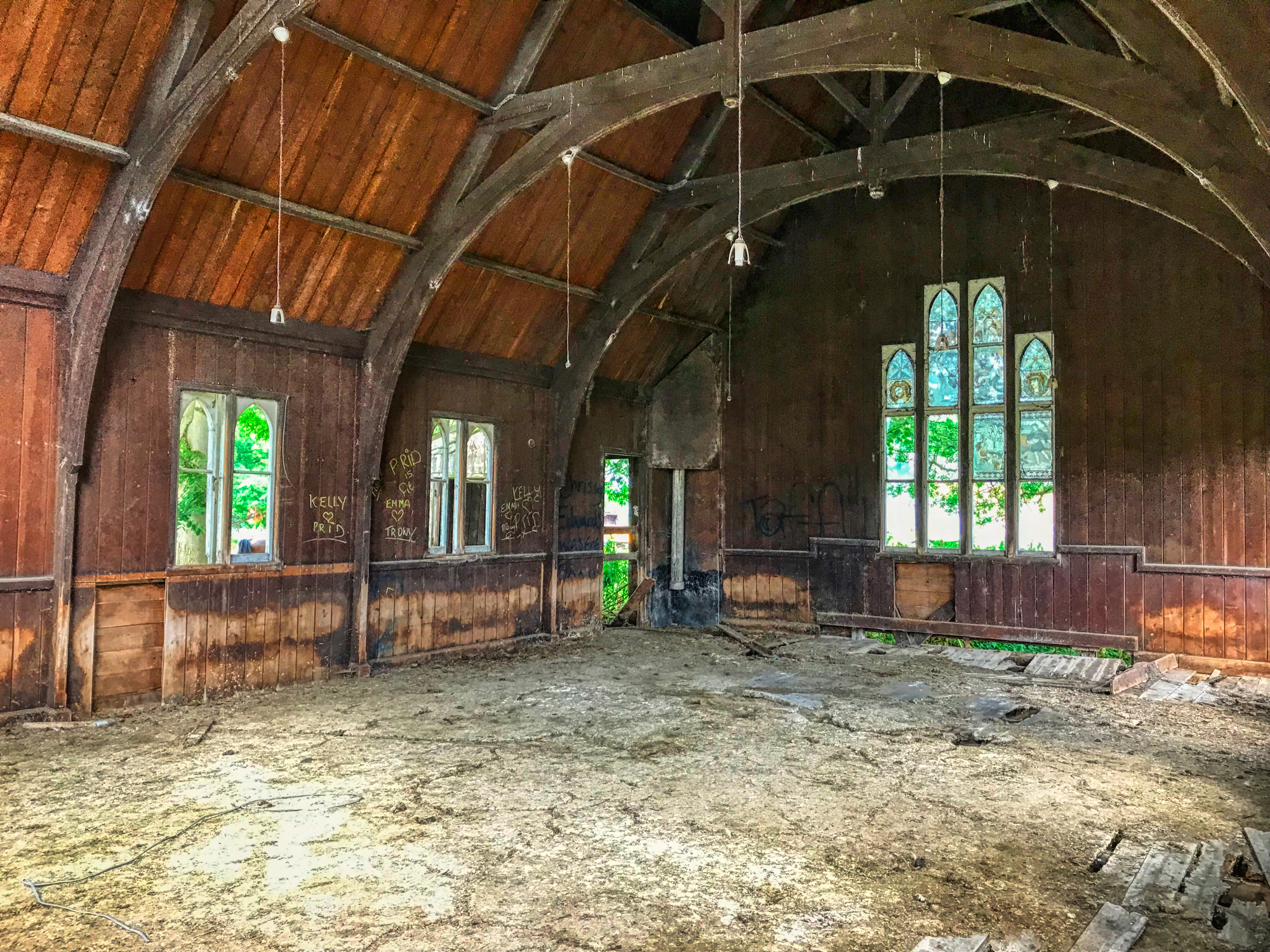 It makes me wonder what happens when Farmer Giles catches you in here. I get the feeling it is not a well-visited location.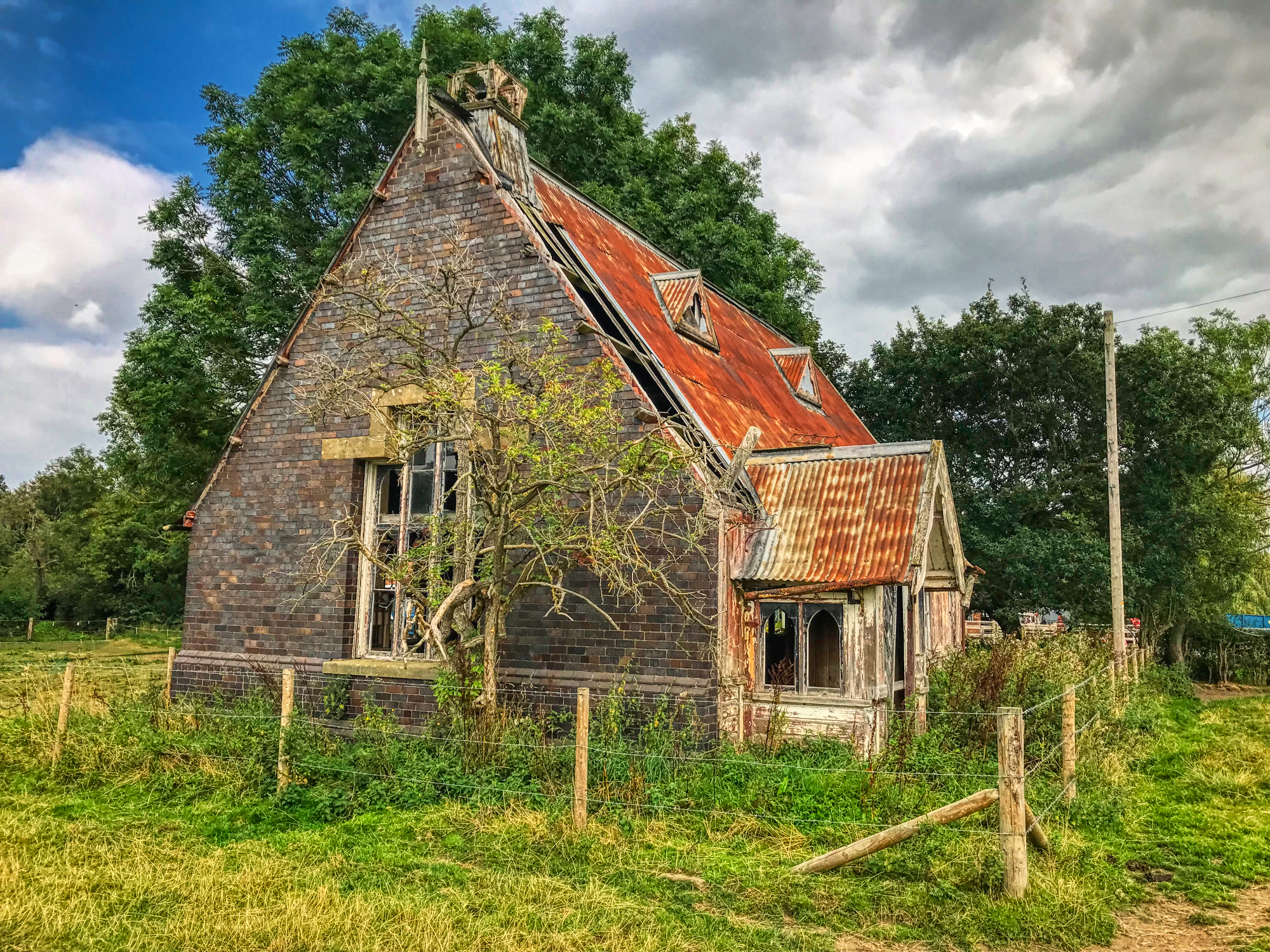 Without checking what was under the floorboards and thinking we may find murdered explorers who had been captured we exited for a few externals.
This was about as far around as I dare venture. For once this particular farmer did not appear to own any barking dogs, or they were deaf as posts.
Quickly re-tracing our steps, we headed back down the field and back over the fence. Not a human in sight.

Do you like posting your Urbex content and photography for FREE on Facebook and YouTube? I like to get some form of reward for my work and every time I create I do just that. Take a look at The Urbex Community on HIVE.
If you want to keep creating for FREE then ignore what you are reading. If you want to be like me and gain something other than BUGGER ALL for your work then click here and learn about posting on the HIVE blockchain.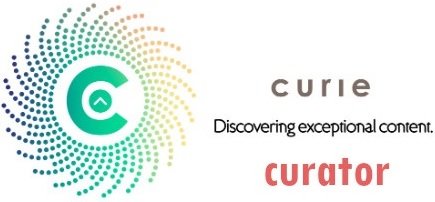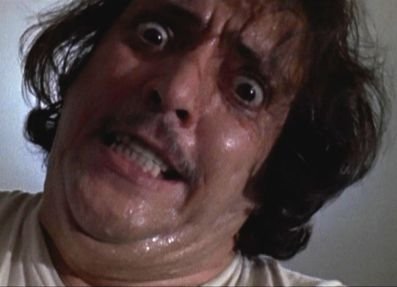 If you found this article so invigorating that you are now a positively googly-eyed, drooling lunatic with dripping saliva or even if you liked it just a bit, then please upvote, comment, rehive, engage me or all of these things.
---
---