Tales of the Urban Explorer: The Welly House
"We will need to be careful as there is a 5ft aggressive dwarf who wears size 13 wellies knocking about", I explained to @anidiotexplores with the most serious face I could muster.
Said dwarf had captured @grindle while inside "The Welly House" doing his nefarious deeds, and I can imagine the uncompromising position my comrade would have had to endure while squeezing out of 'the hole'.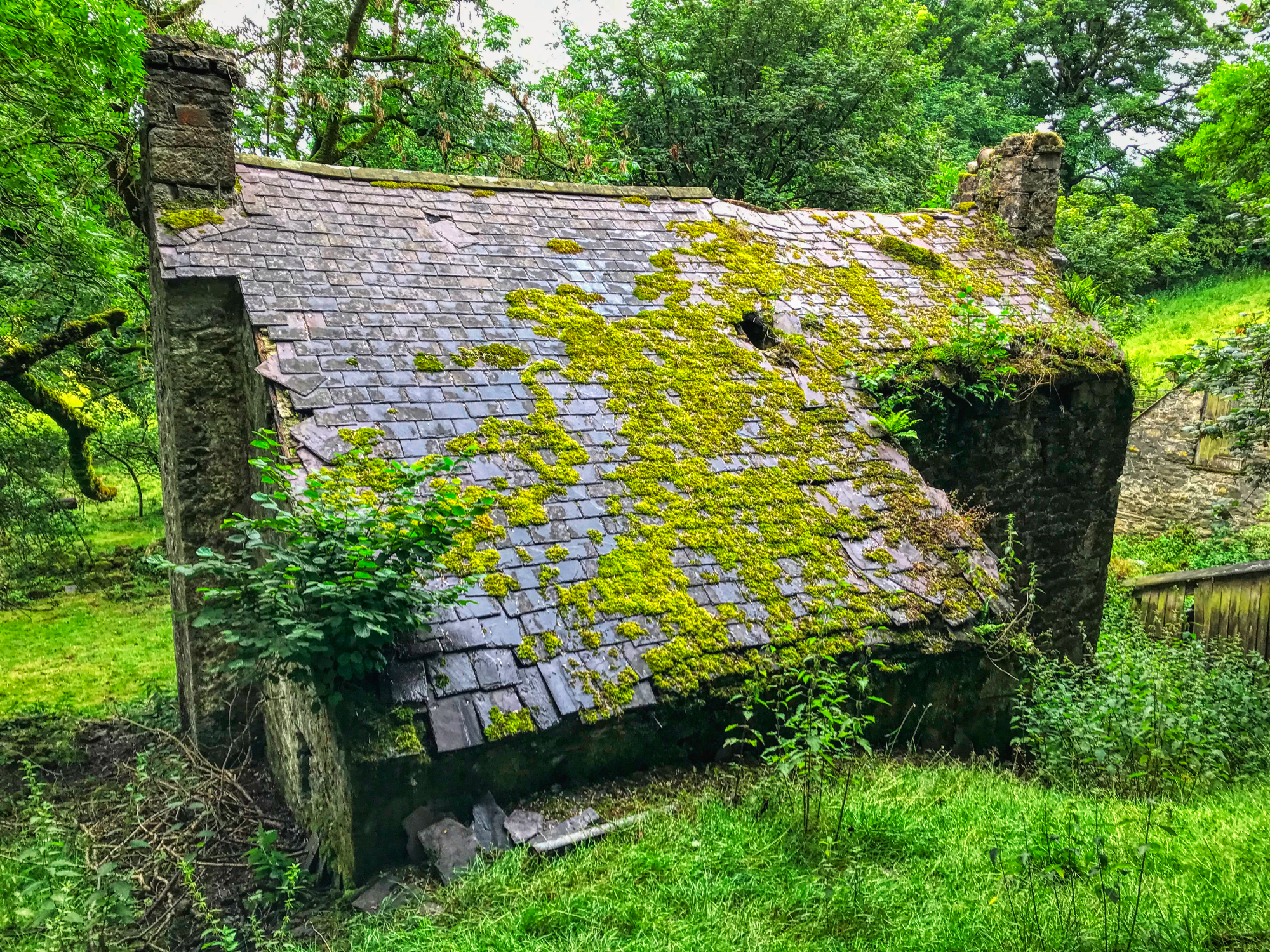 Both of us would have been terrified of hearing those words.., "what the bloody hell are you doing in there" while in the depths of this lost and forgotten Time Capsule known to so few.
We found the handy but very overgrown public footpath running adjacent to the property and spied our target in the distance.
Not a soul around and so rural that the footpath could well be a forgotten walkway.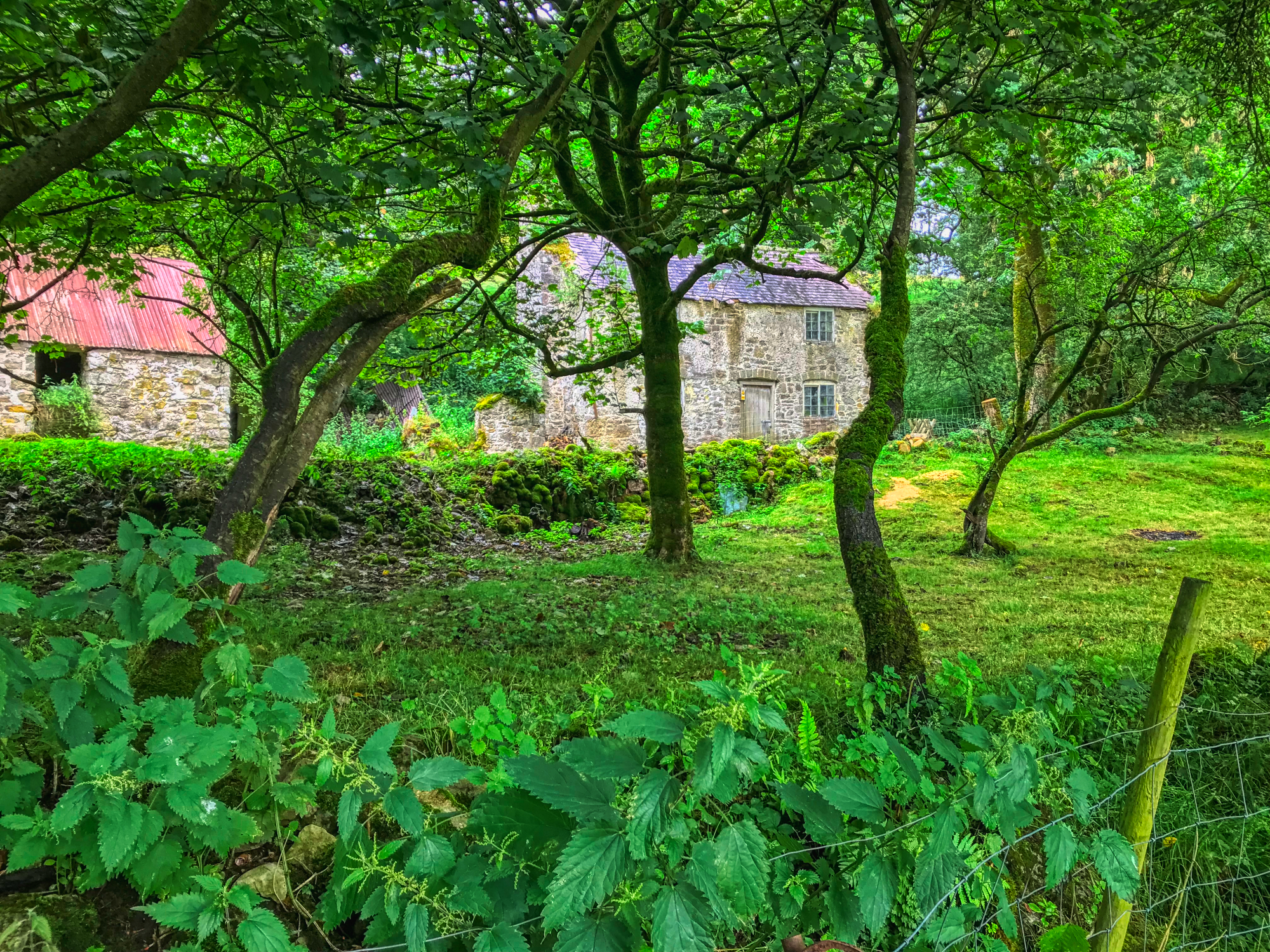 Navigating one lot of barbed wire we stealthily approached looking for signs of this small, but stout sour-natured one who appeared to tend the gardens around "The Welly House".
If you can call mowing the grass, tending that is.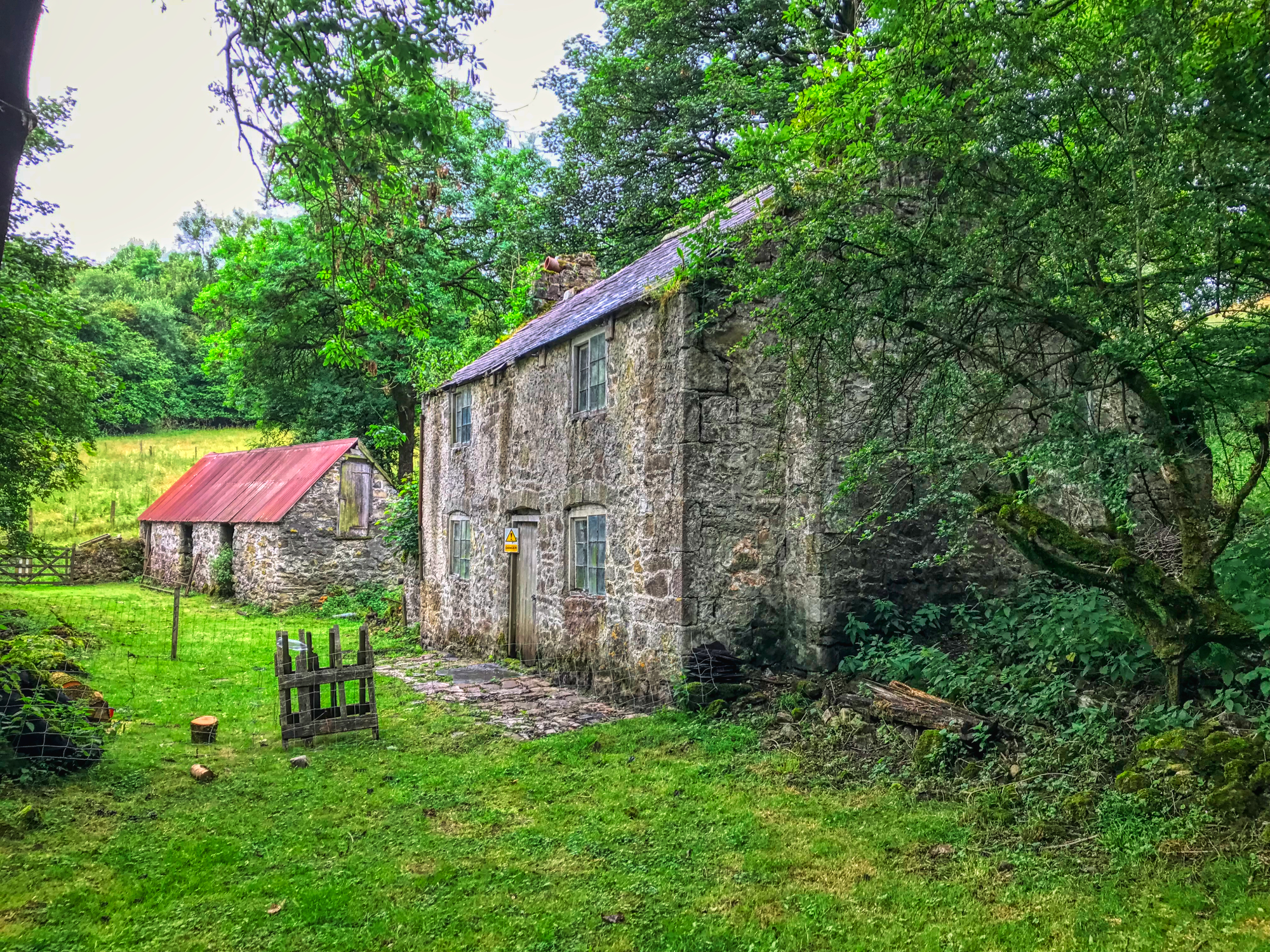 I wondered what WellyMan's association was with this ancient rotting house, given he would not tell @grindle when asked.
The nearby sheep were making noise, a lot of noise, so much it was disconcerting. One rushed me in an attempt to fill my veins with terror, but like a true explorer I stood my ground.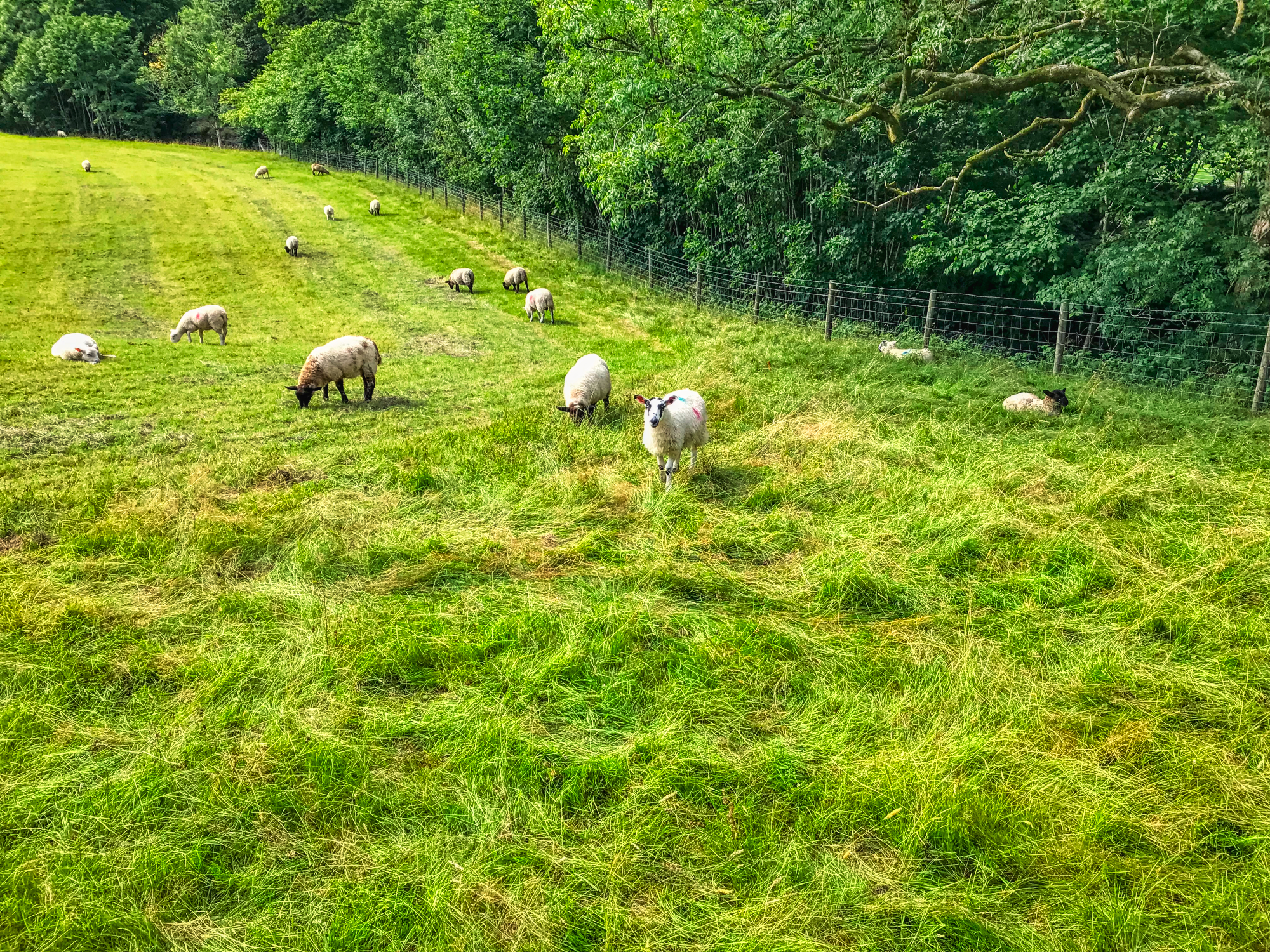 ...'can you please shut the fuck up, WellyMan's going to hear you'...
Yes, I am not making this up.., Welsh sheep are more ferocious than my English counterparts.
It pulled up short and I feigned a Dracula impersonation which made it think twice; the sheep backed off slowly.. unconvinced.
…fuck off sheep, you stupid twat…
There is but one entrance into "The Welly House" and that is feet first, and to feel your way through that gap which is smaller than it looks.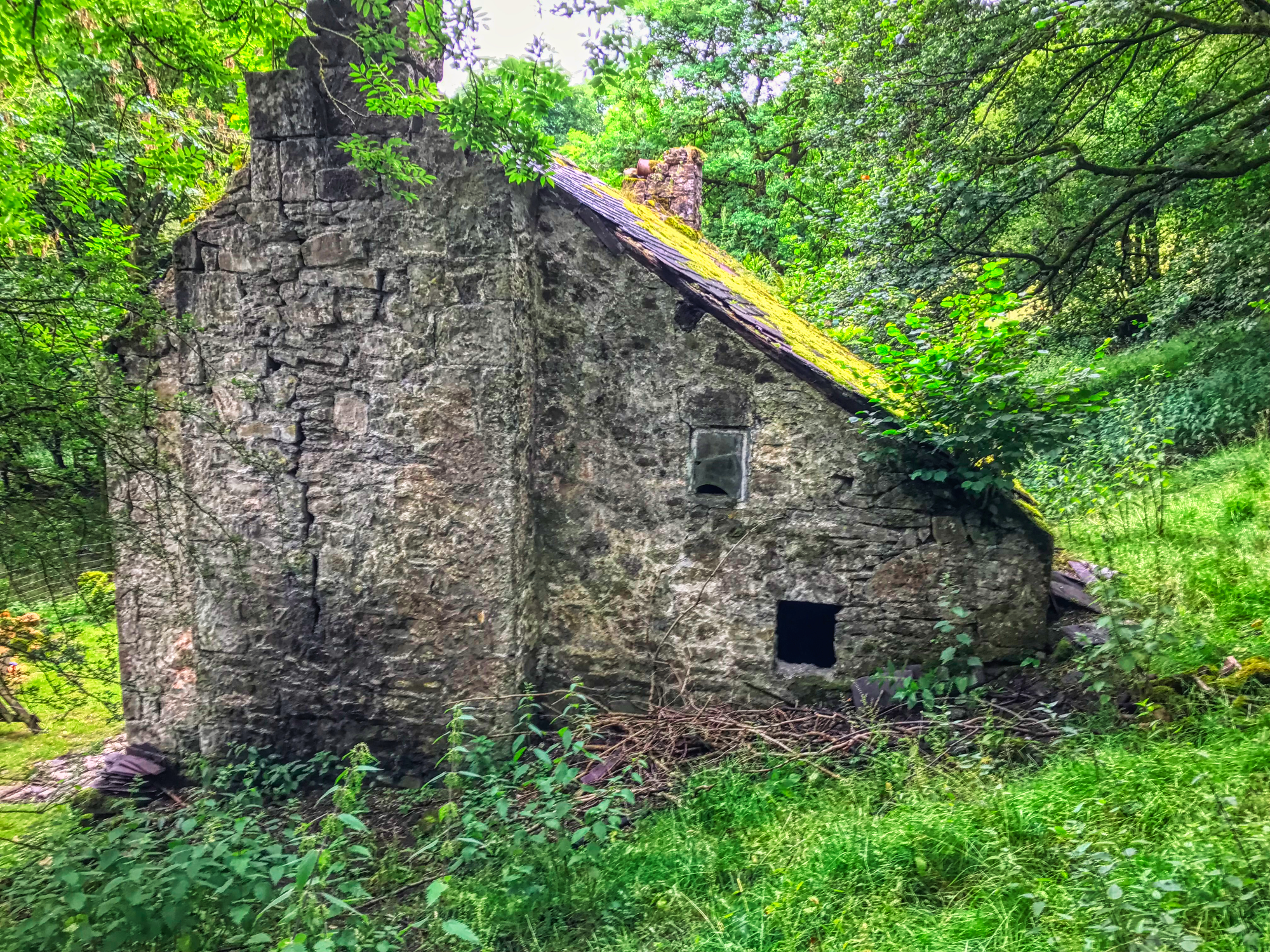 Otherwise, you are doing a handstand on a glass-ridden wobbly table, 4 feet lower.
Struggling flat on my belly, I wriggled backward trying to find some kind of surface to plant my foot on.
If you want to become an explorer, expect to do this a lot. It's not all walk in the front door and into another dimension.
Inside was sparse and yet full of atmosphere. I feel few have been down inside this cavern that holds relics from seventy years gone by.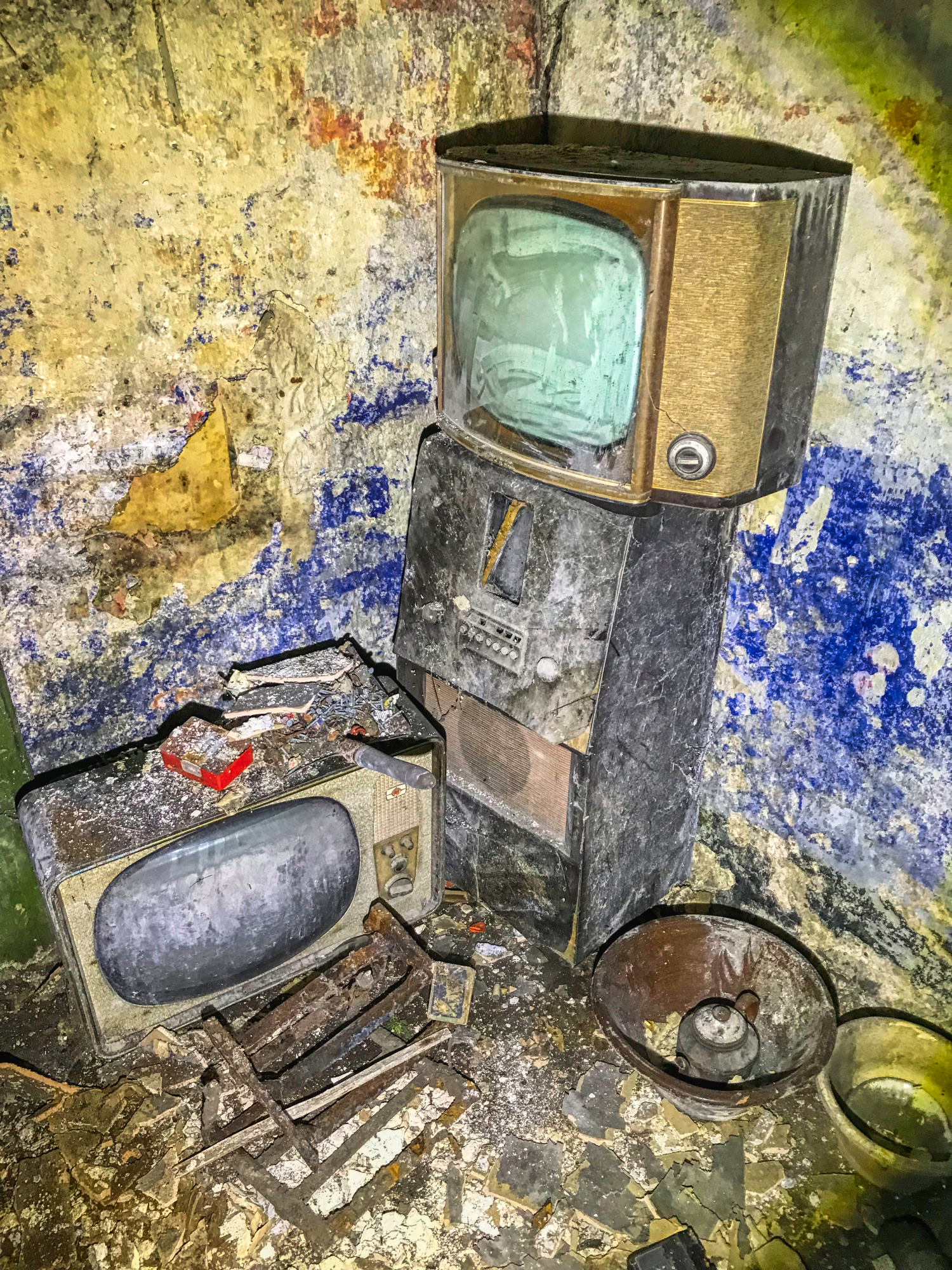 We would find out later that the probable late Mrs. Cottrell, was a TV freak. Not content with one TV, a backup was handily placed on the floor for emergency use.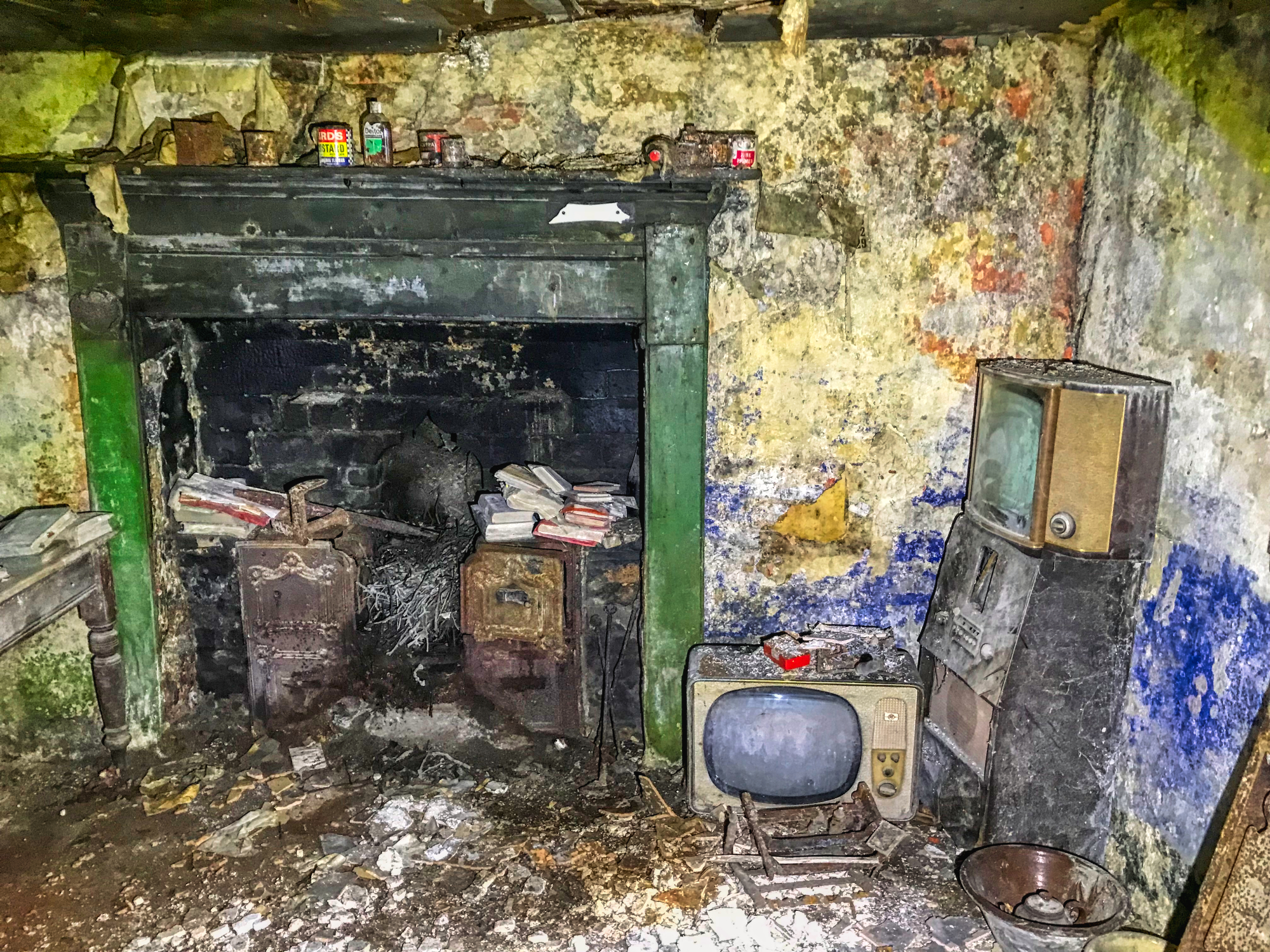 If the fire runs low, you can always feed it books. Paper burns quite well.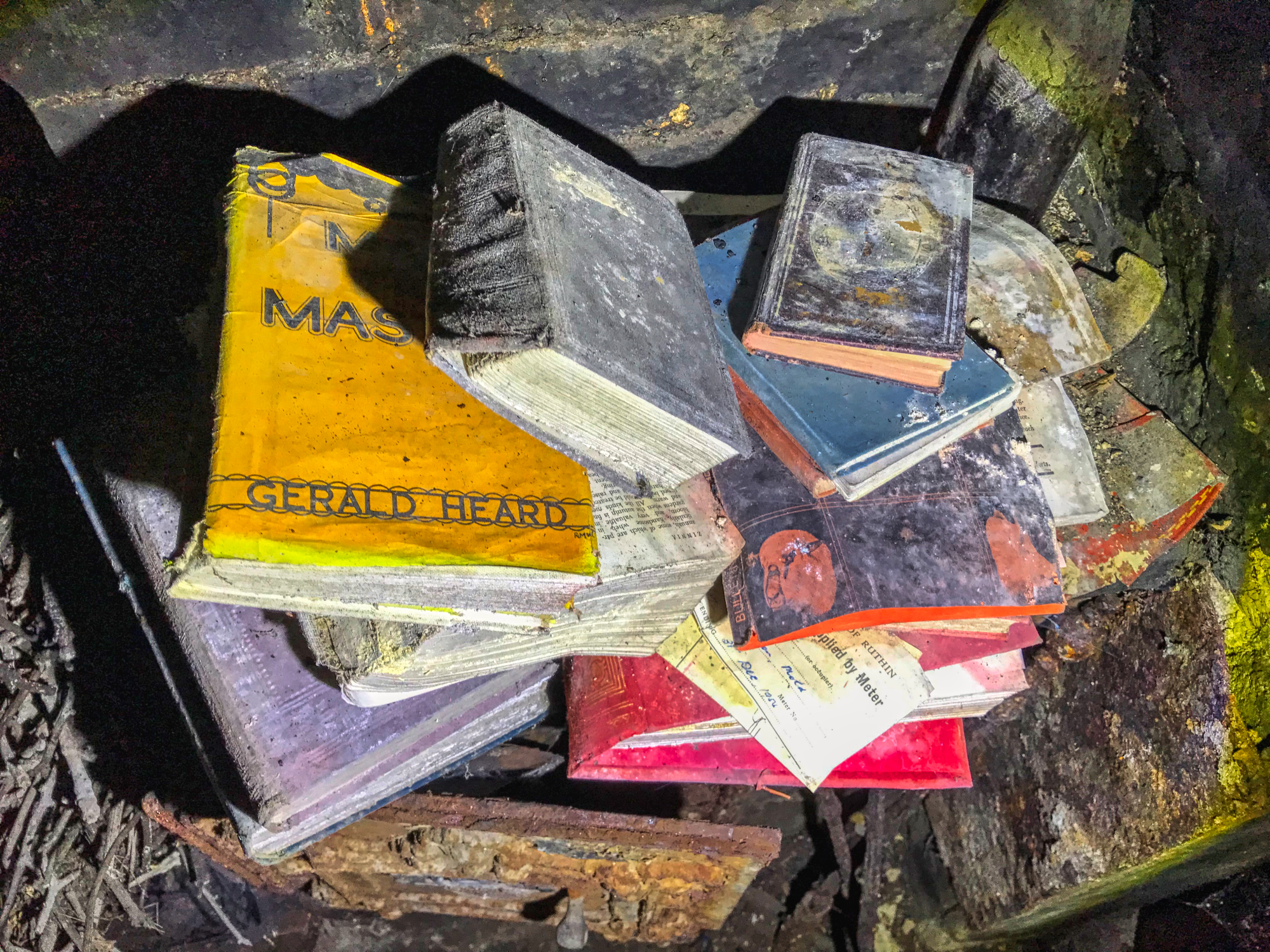 You wouldn't want to read them, or even turn the pages in this condition?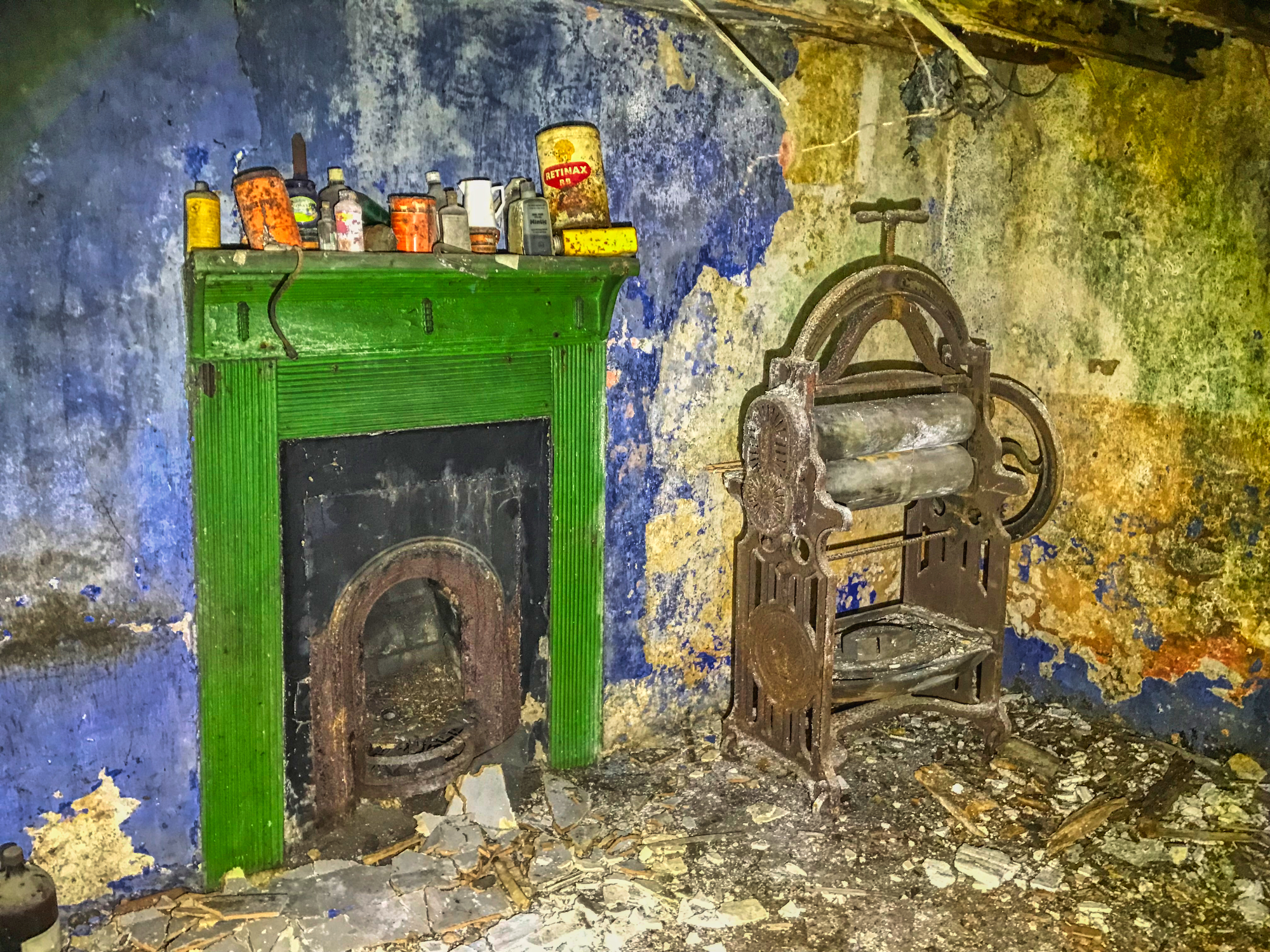 It's before my time, and correct me if I am wrong but the device in the corner precedes the Electric Iron?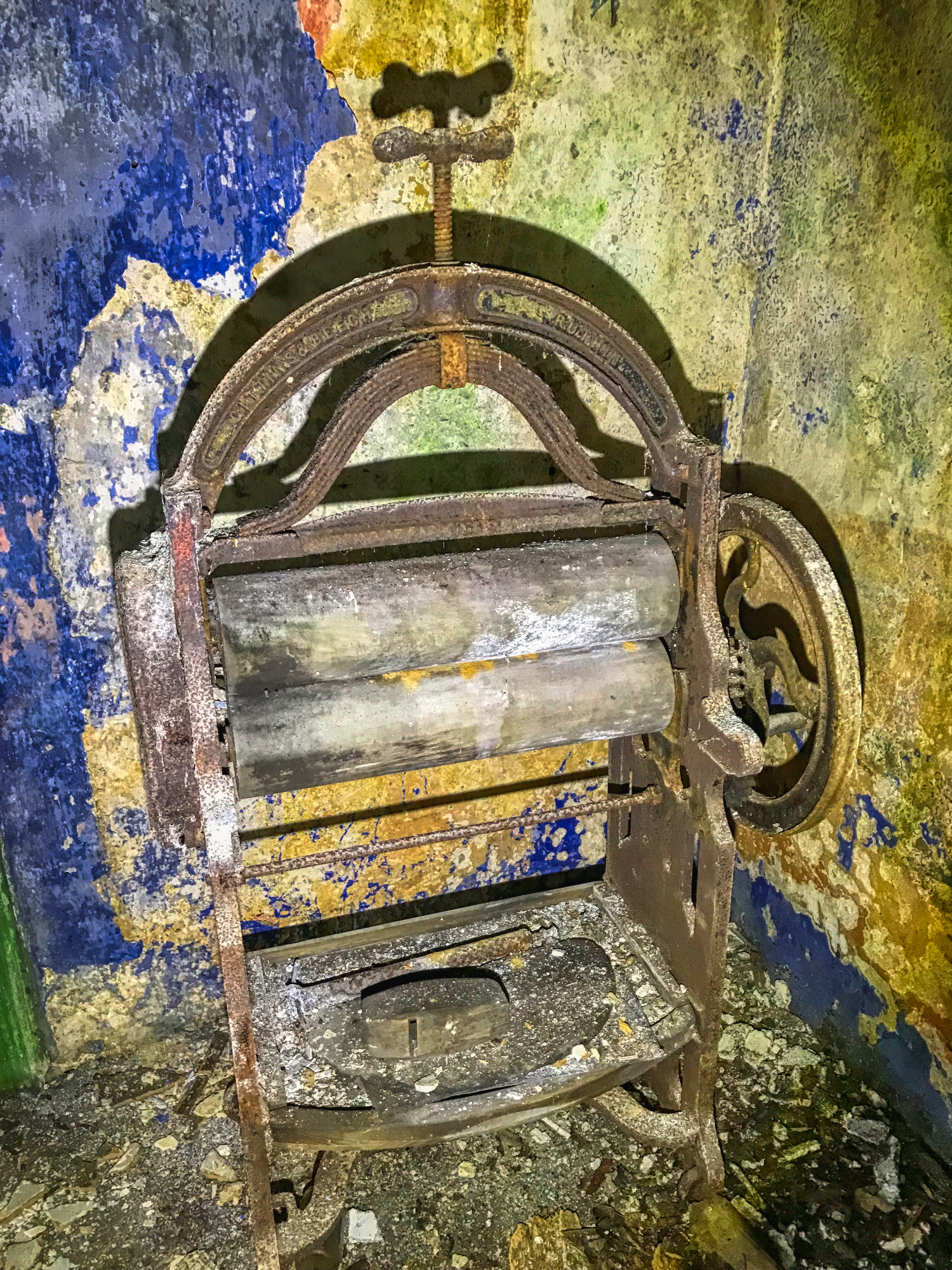 Jeez, it was grotty down there but no less interesting.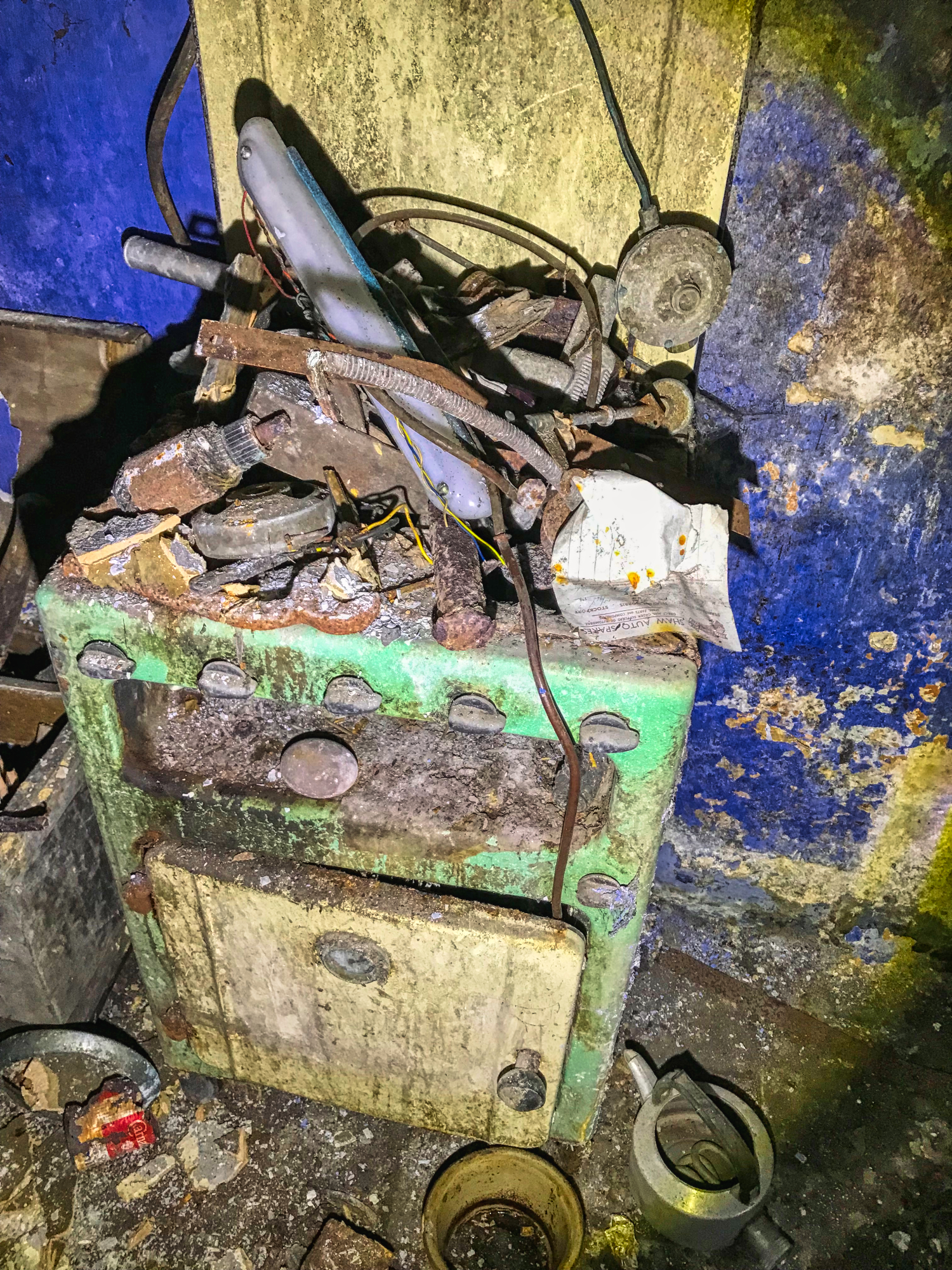 The old cooker I feel will never cook anything again. There's a bill for auto-spares on the top, and maybe the auto-spares too.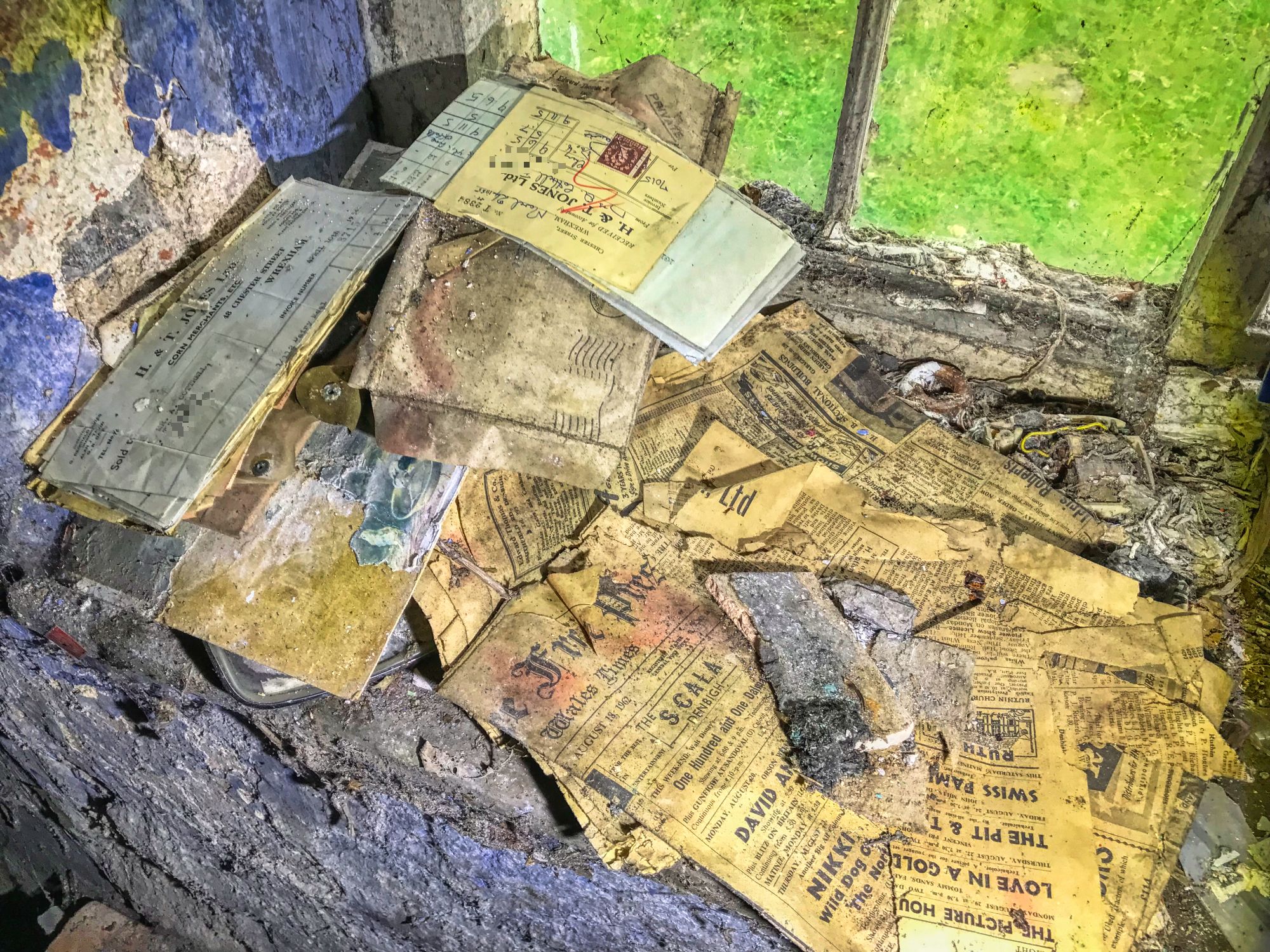 I looked on the window-sill and more so at all the old bills still there, untouched in years.
The 1950's, bloody hell!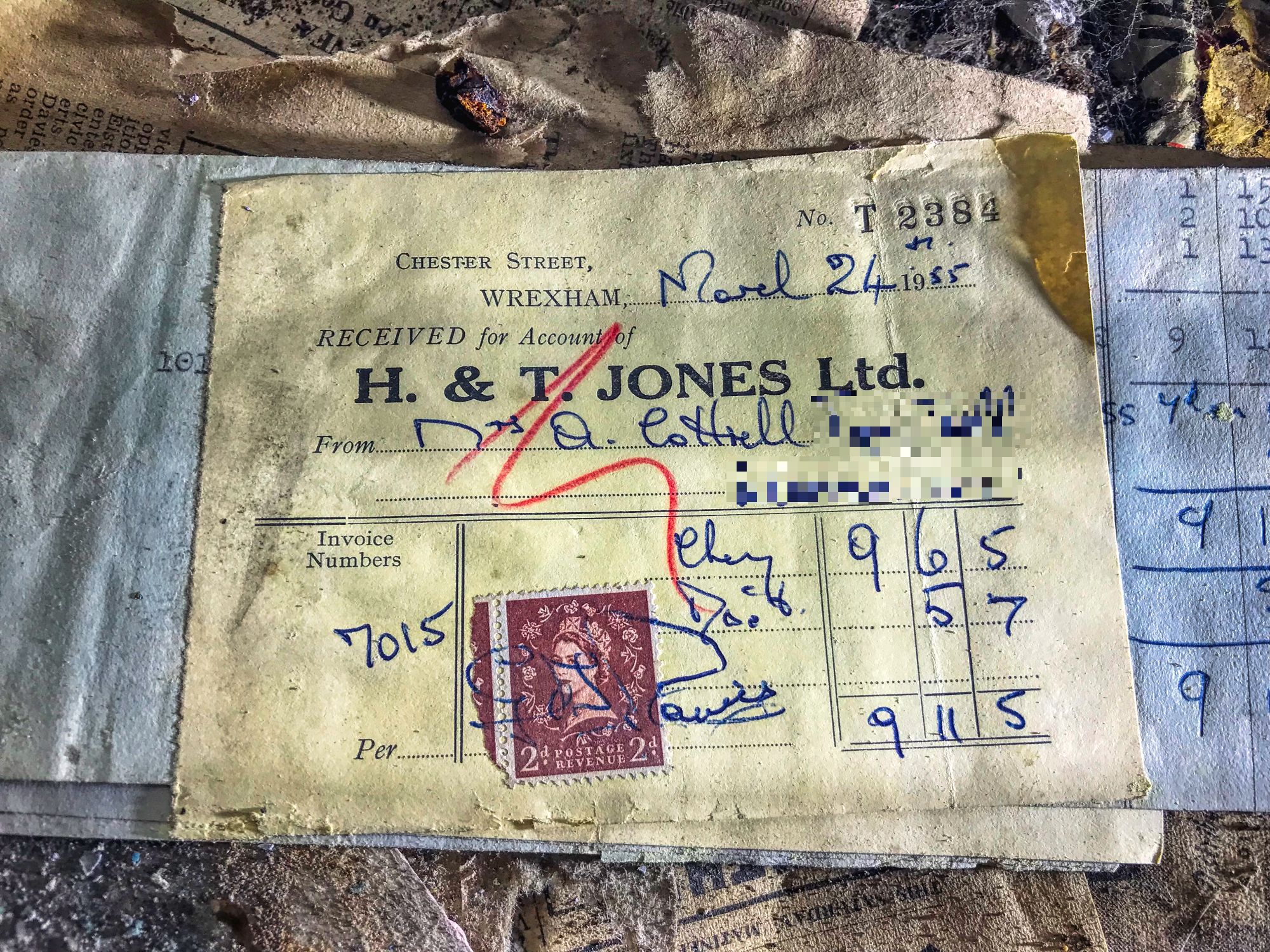 If that's an invoice for £9.. that was a fortune in 1955.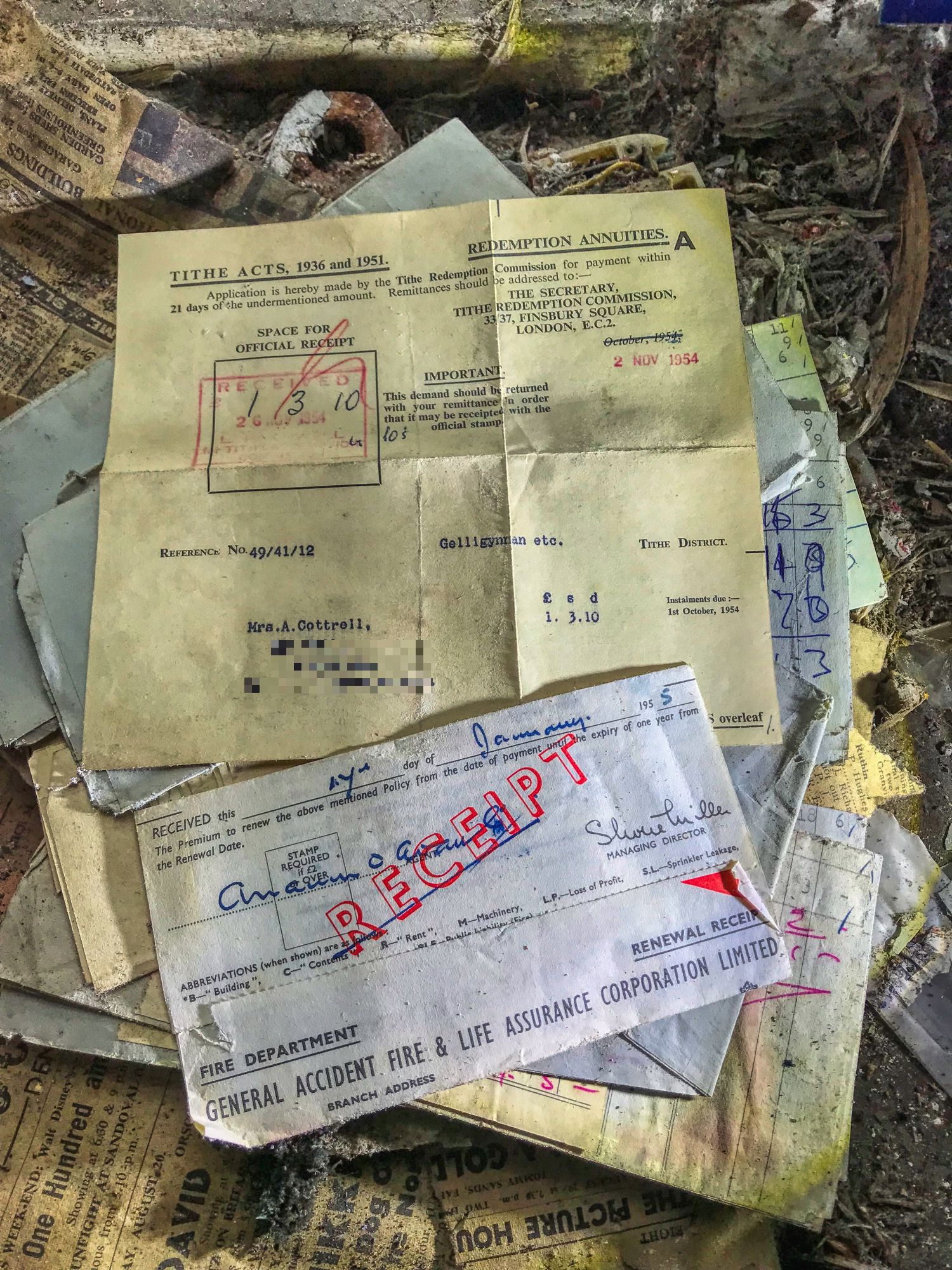 £1, 3s, 10d was also not a paltry sum. Pay up or there will be trouble.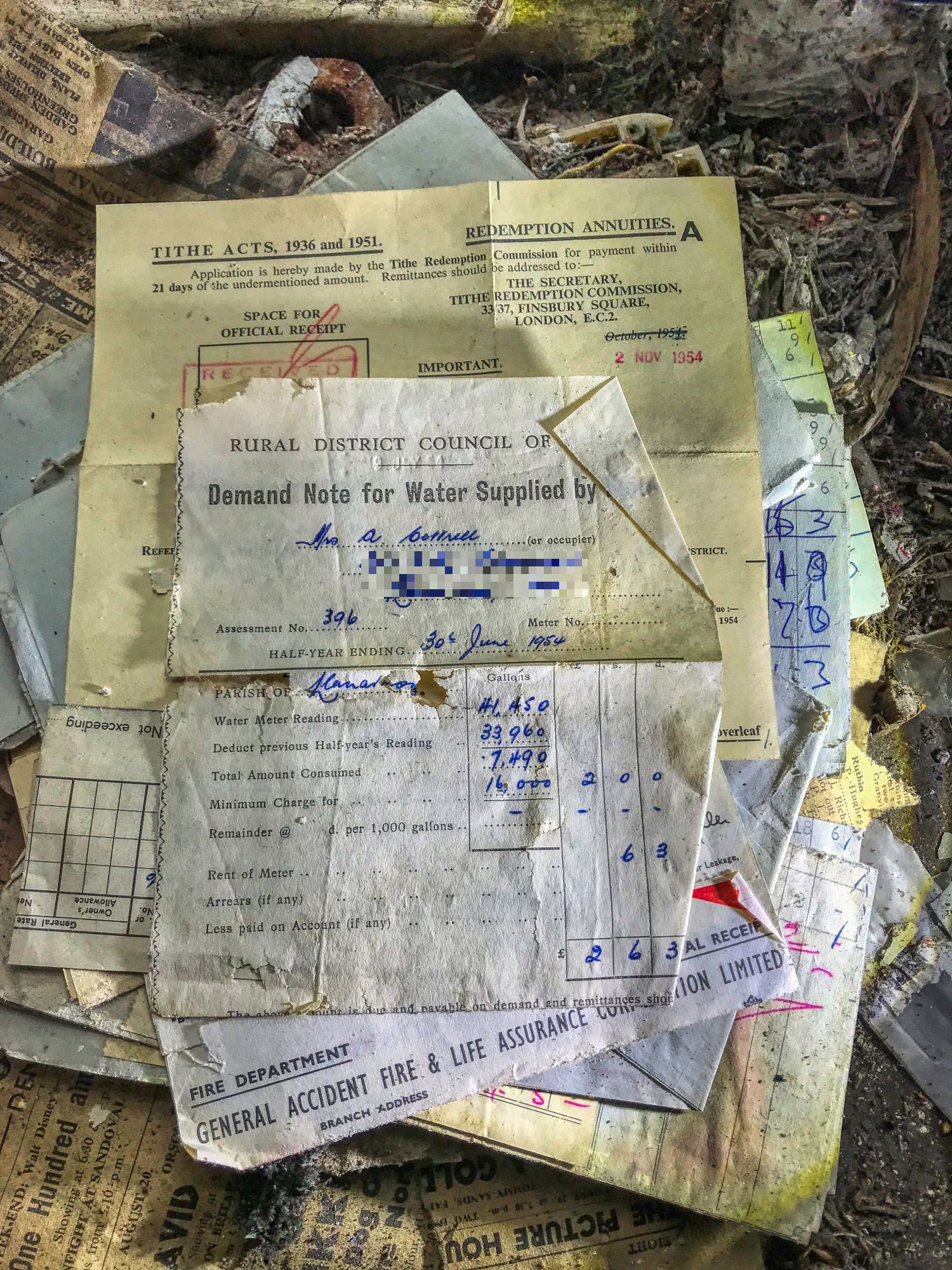 There's proof that the UK used to use 'Gallons', and gallons of water consumed by Mrs. Cottrell. She must have been a thirsty woman to have a water bill for over £2.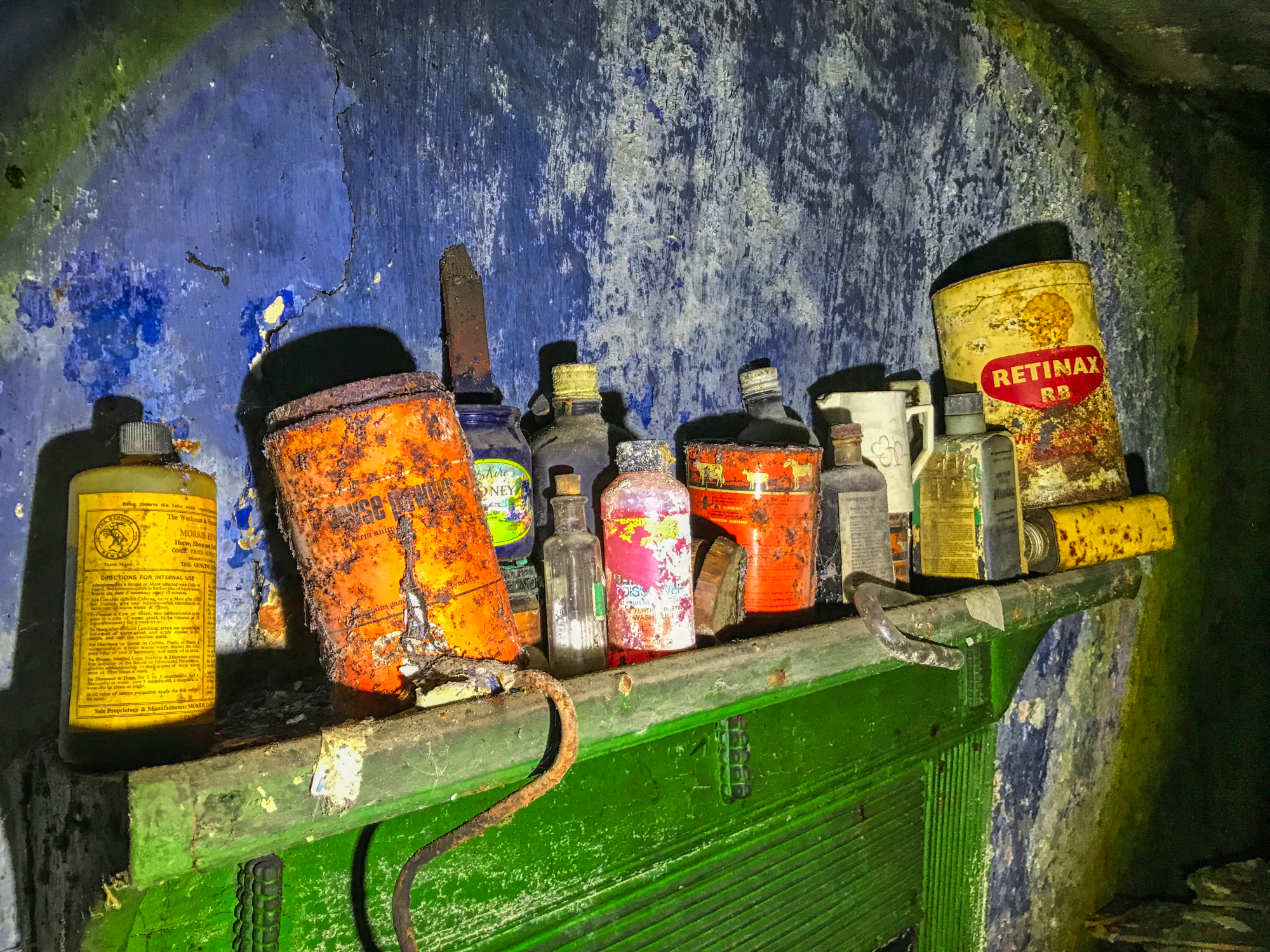 All these appear very bovine related; treatment for cows, and other animals.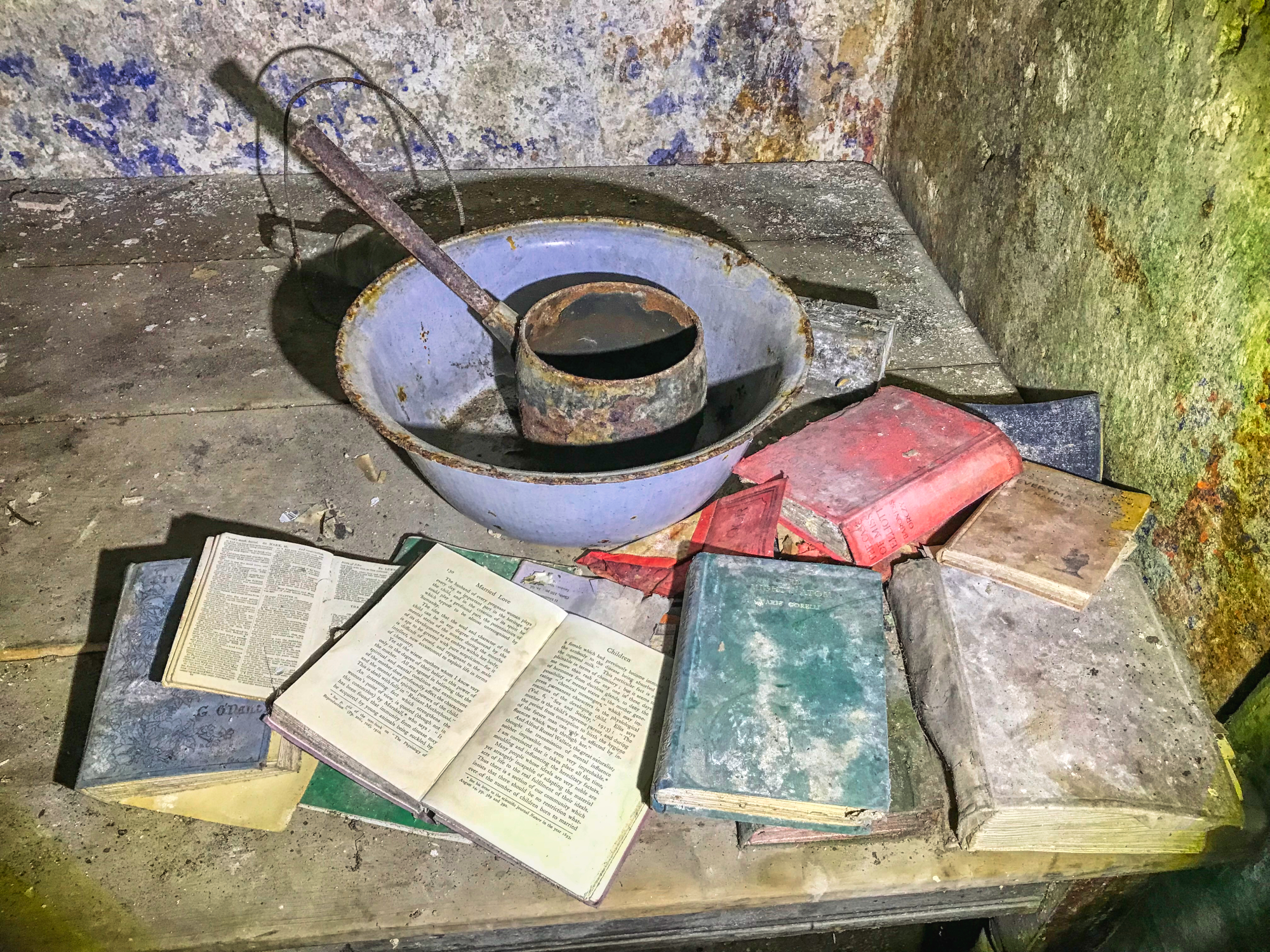 No glasses, this is what you drink from and more books when that fire gets low.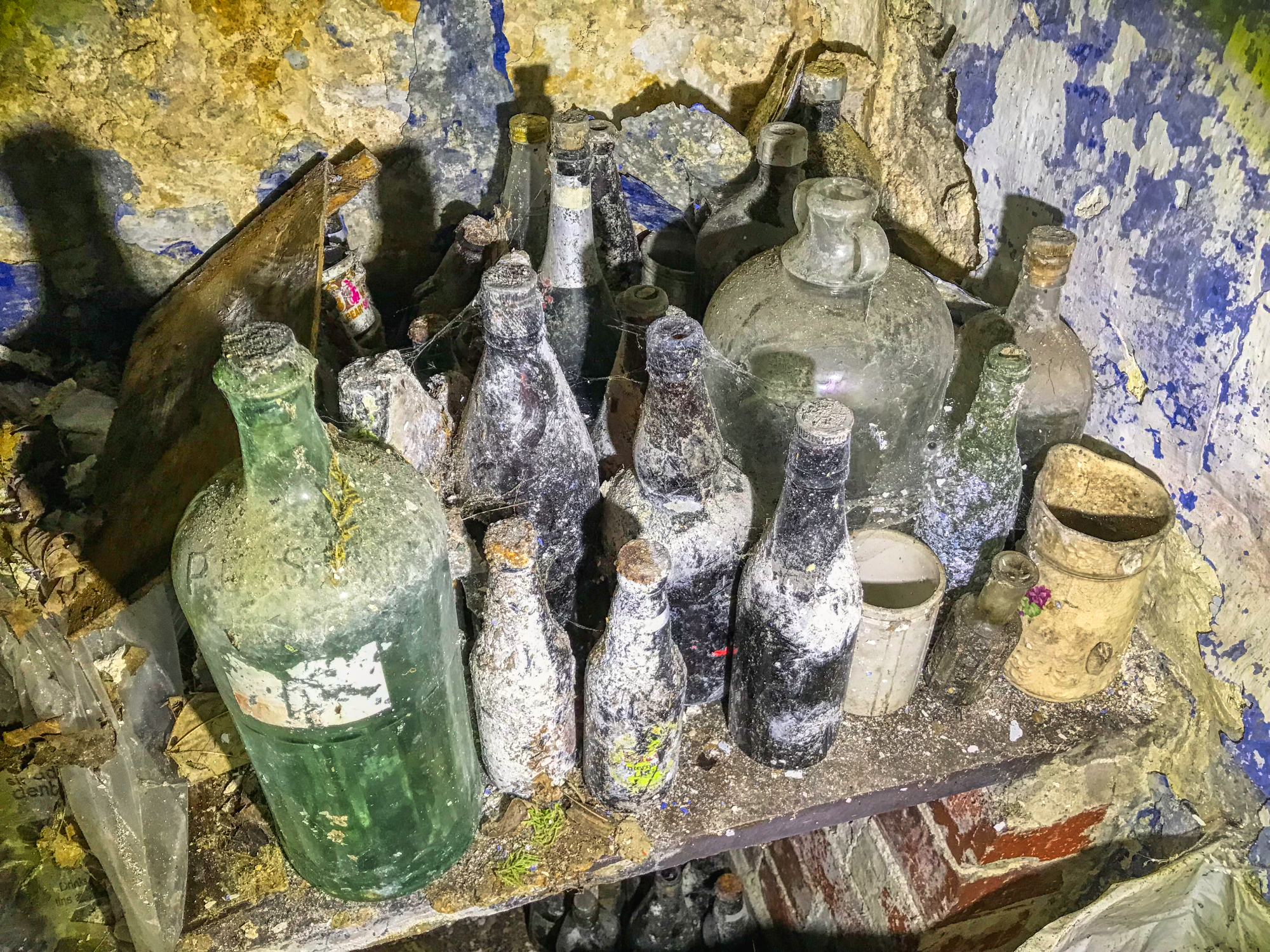 Some had the bottle tops still affixed. I mean there's a limit to what even I will even open and swig from.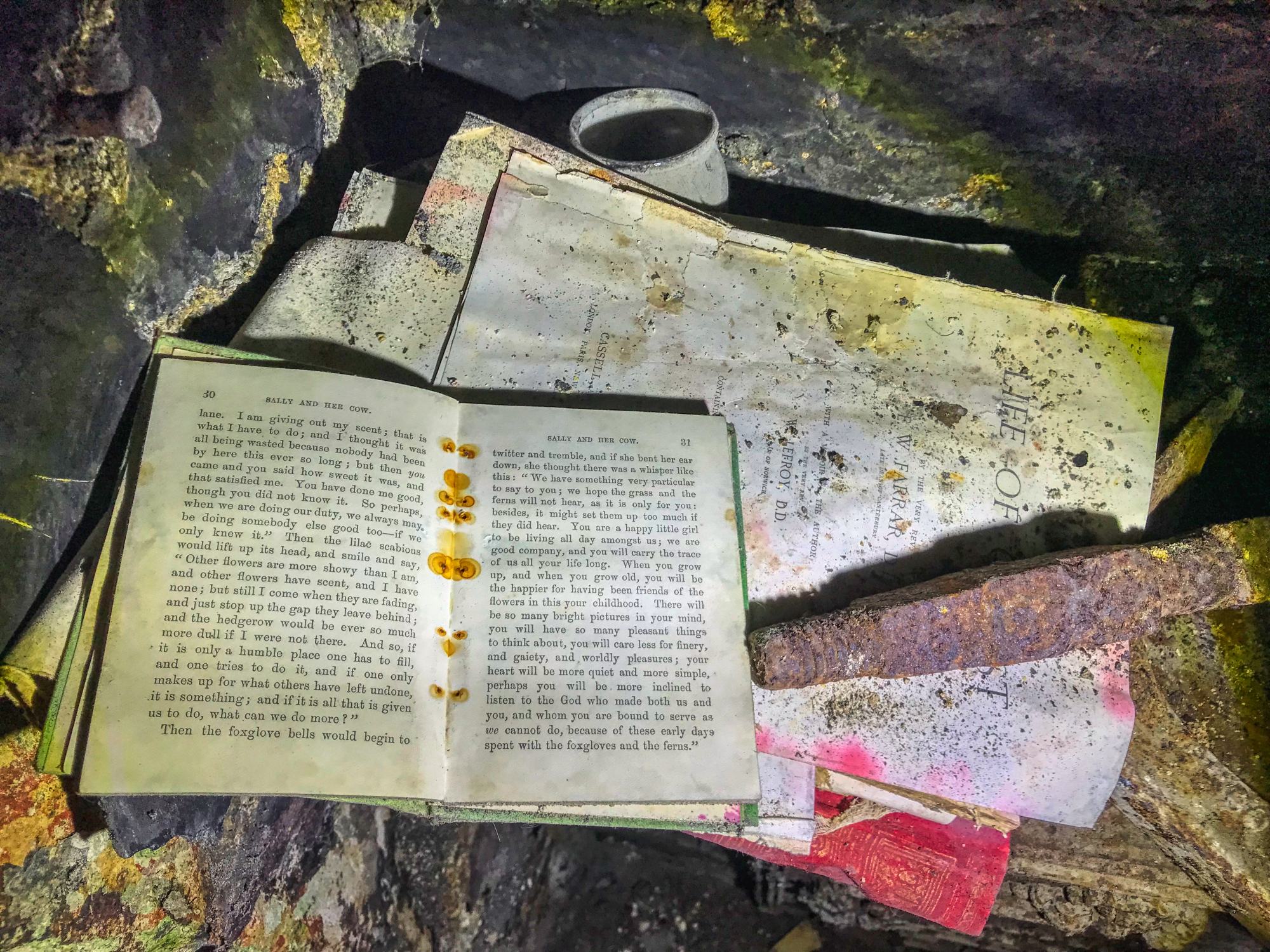 The woman is quite obsessed with... Cows.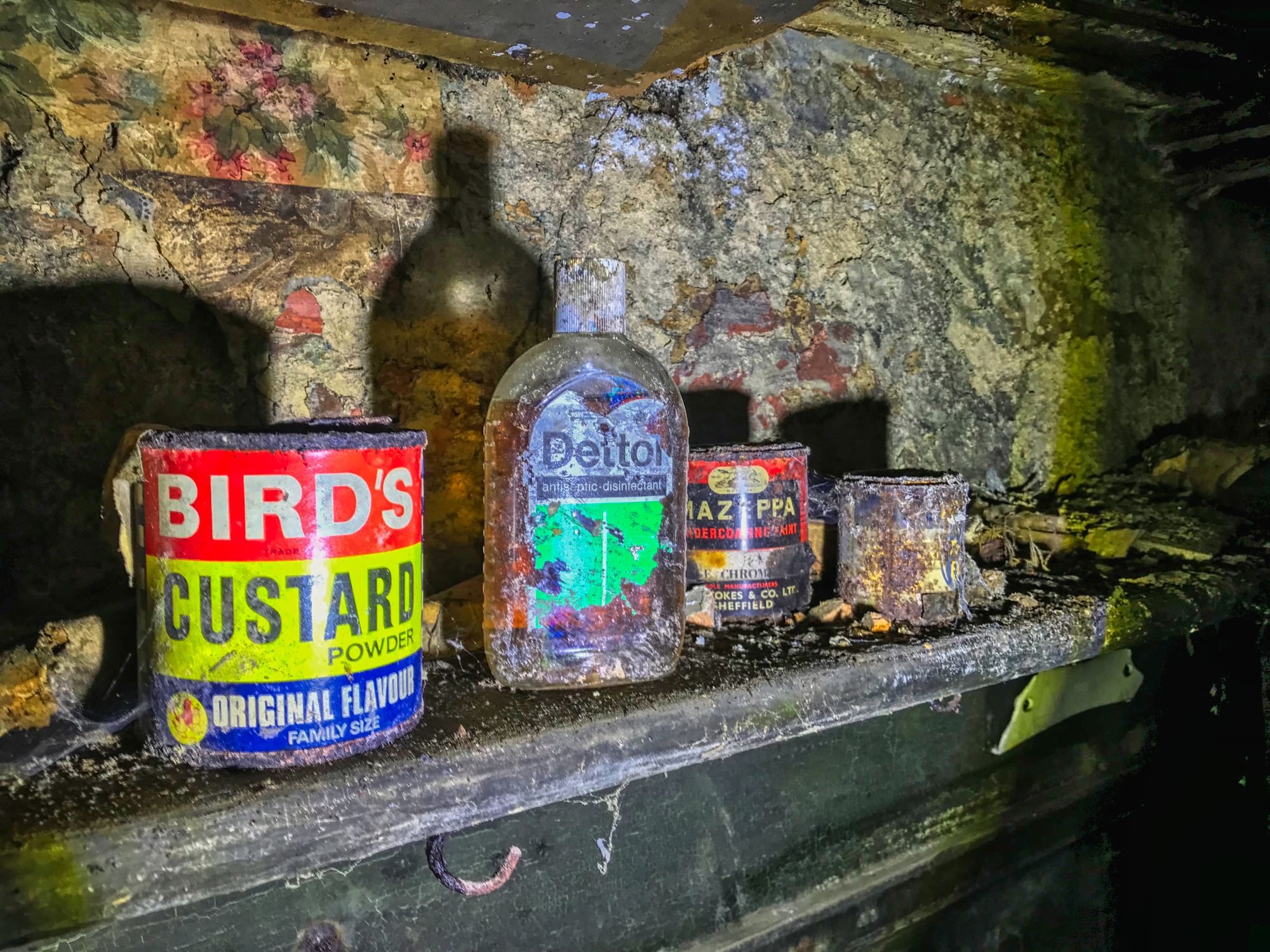 The Dettol would come in quite handy down in this old grot-cellar of a house.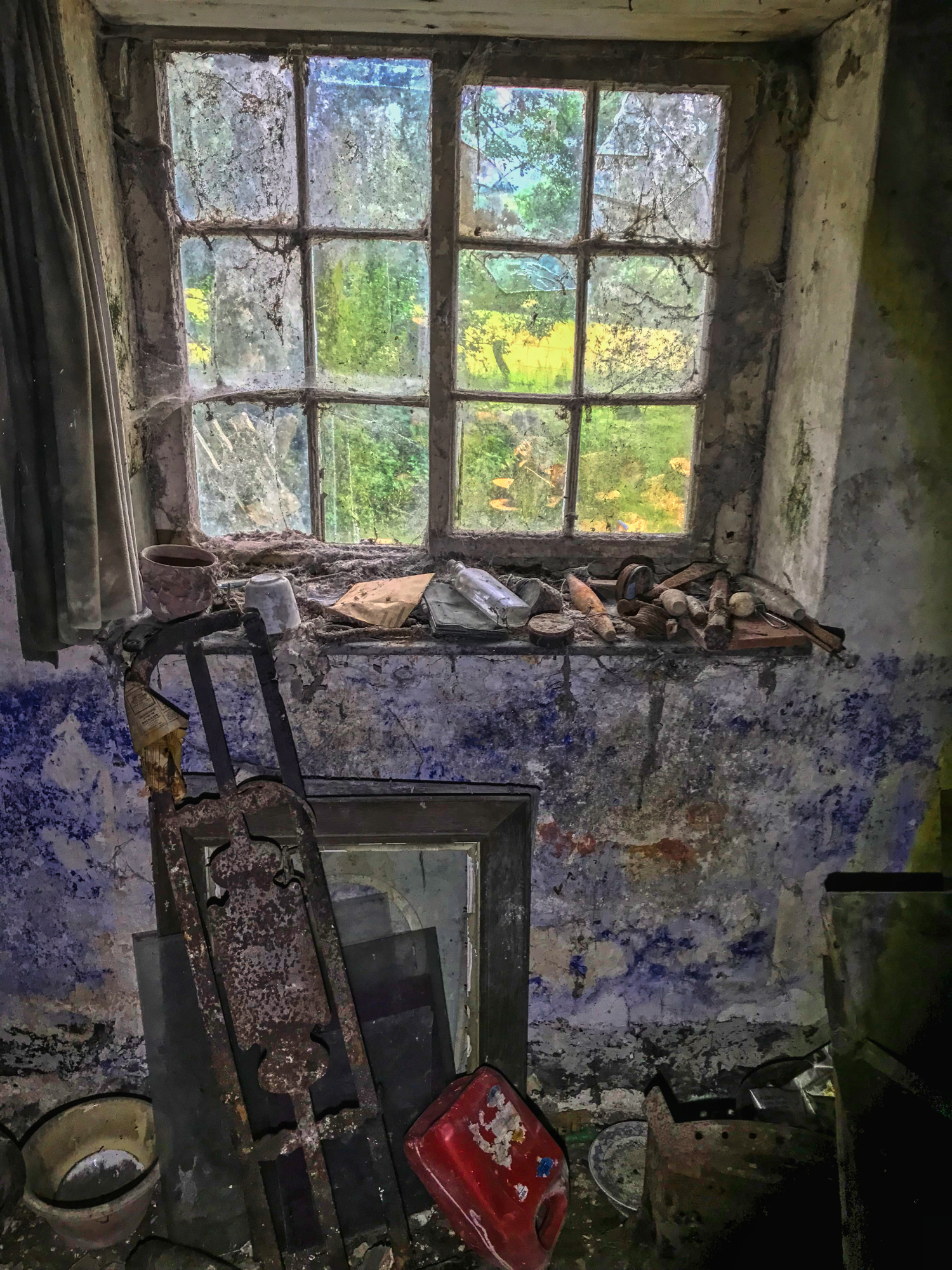 The front door would have been a much more preferential entry point, but a lot less fun.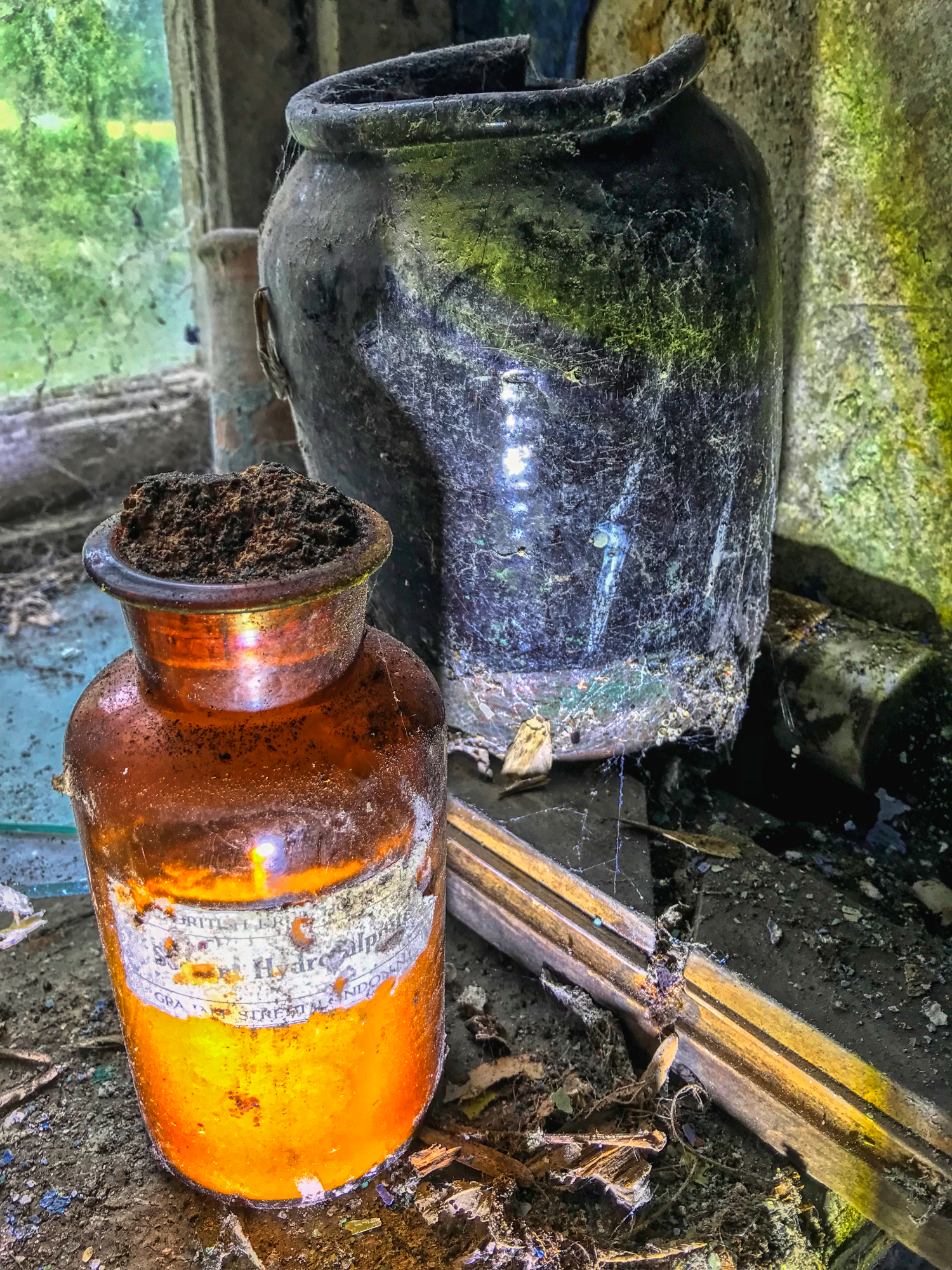 Hydrowhat? Hydroshit maybe!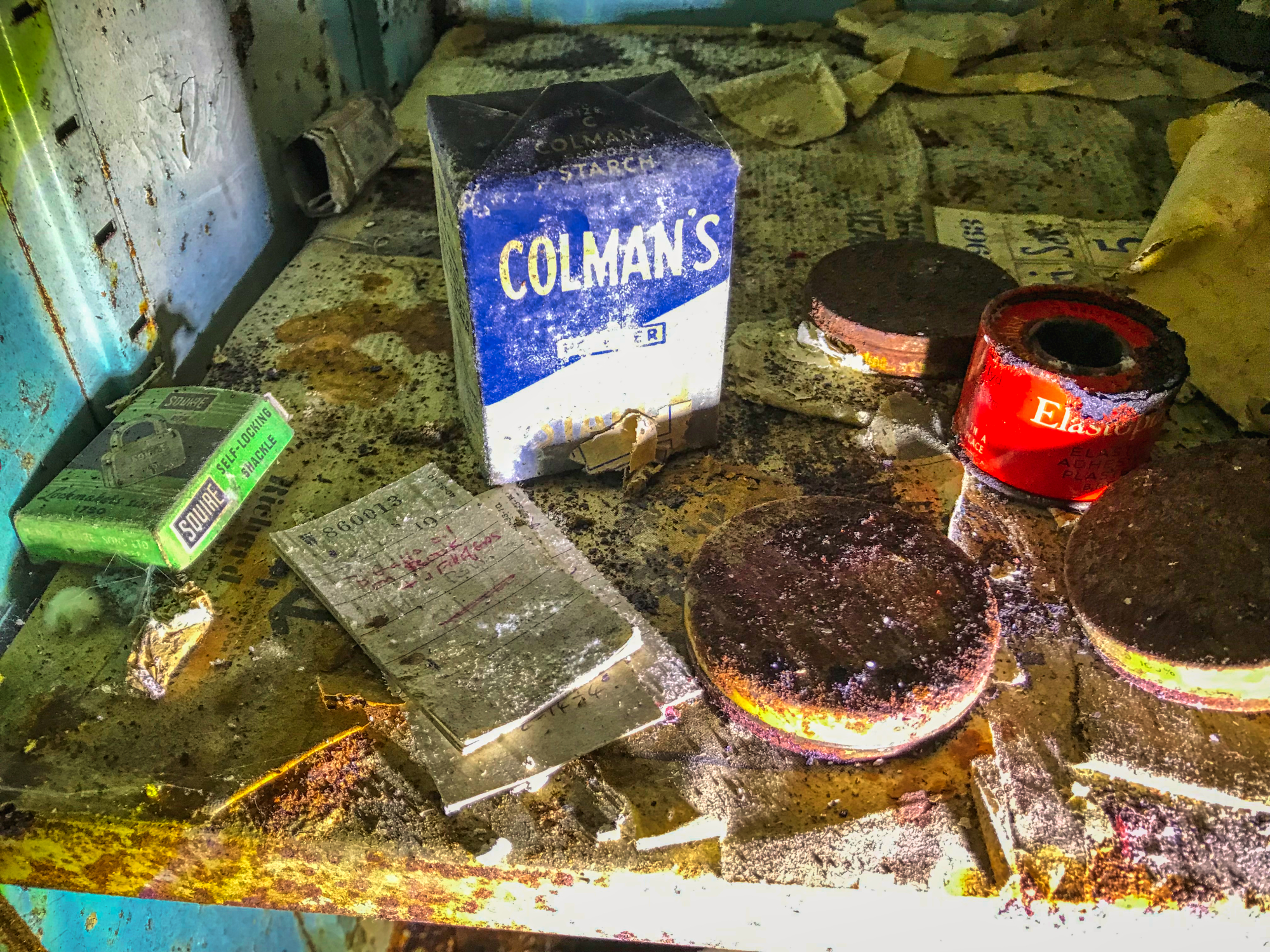 I can see where the Fallout games get their food box design from.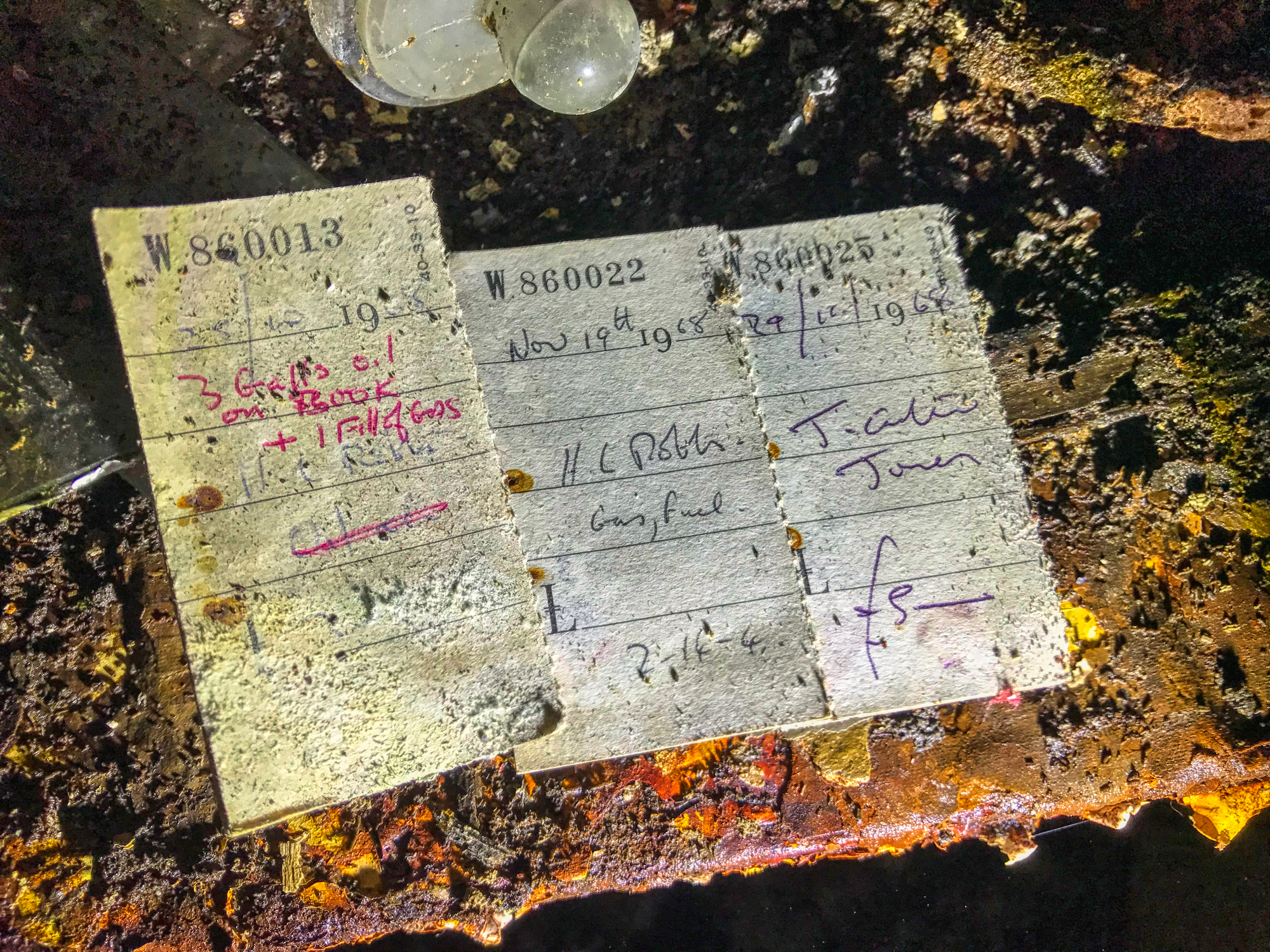 These small receipt tabs are a little later at 1968; still expensive at over £2. I do wonder if Mrs. Cottrell tended all these cows single-handedly?
We should have made more of an effort to look 'upstairs'. With two of us, there's always the leg-up option.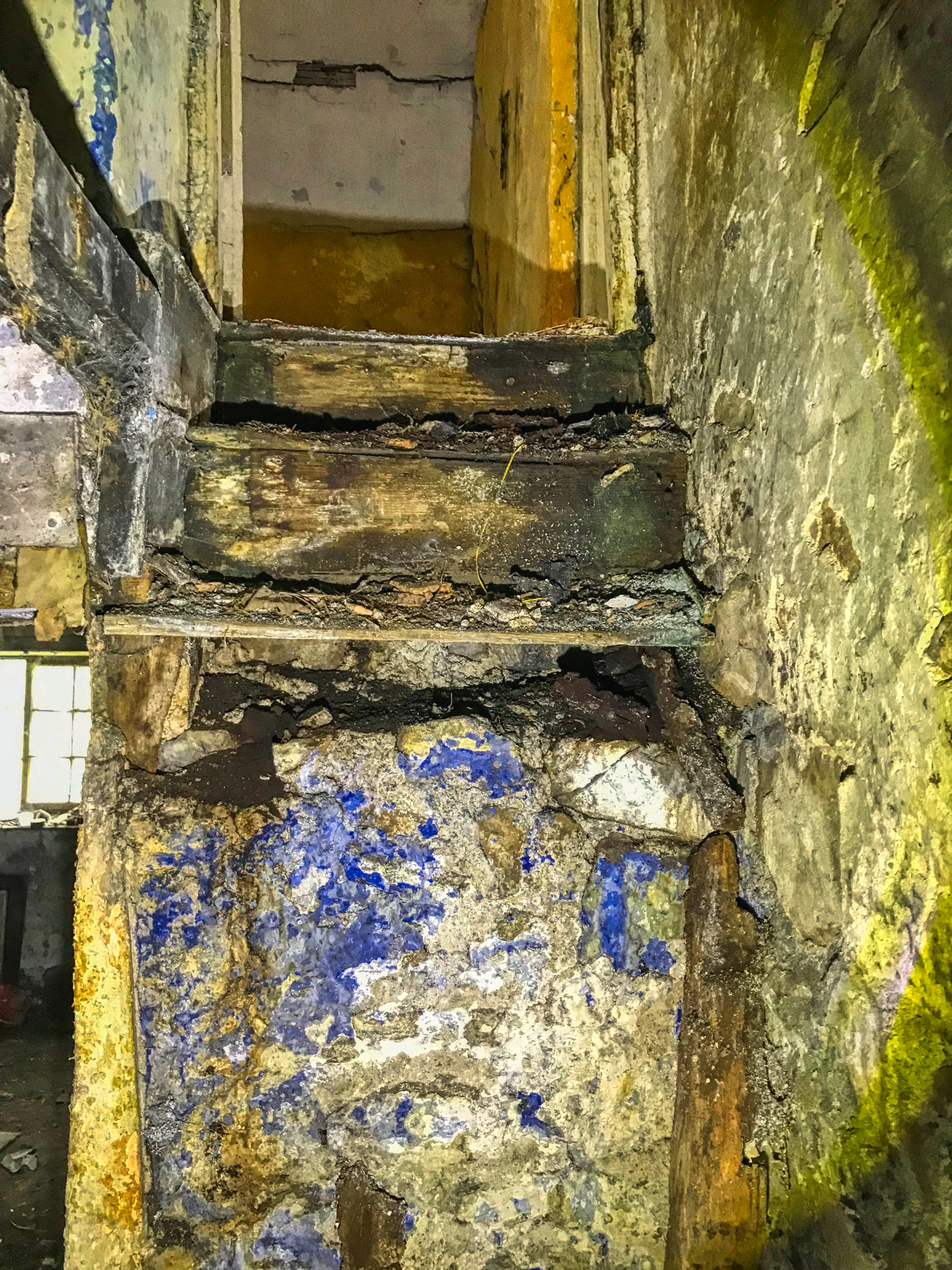 The bottom stair looked ready to snap off if touched.
Getting out was a complete pain in the arse. With little leverage, you simply have to wiggle out and it takes a while.
WellyMan sporting his Wellington Boots fortunately did not make an appearance and subject us to a savage kick in the face of which we would not be able to defend against.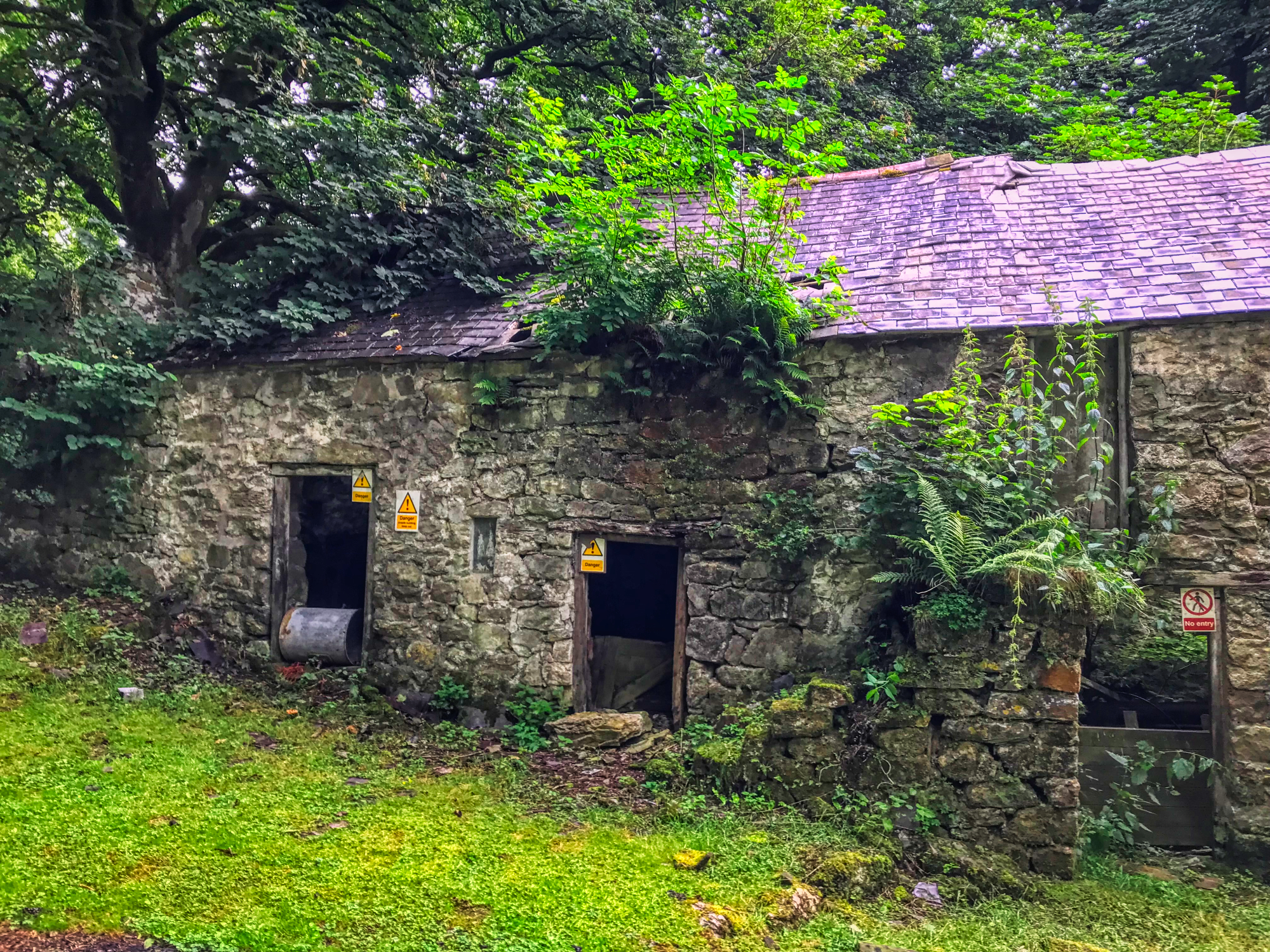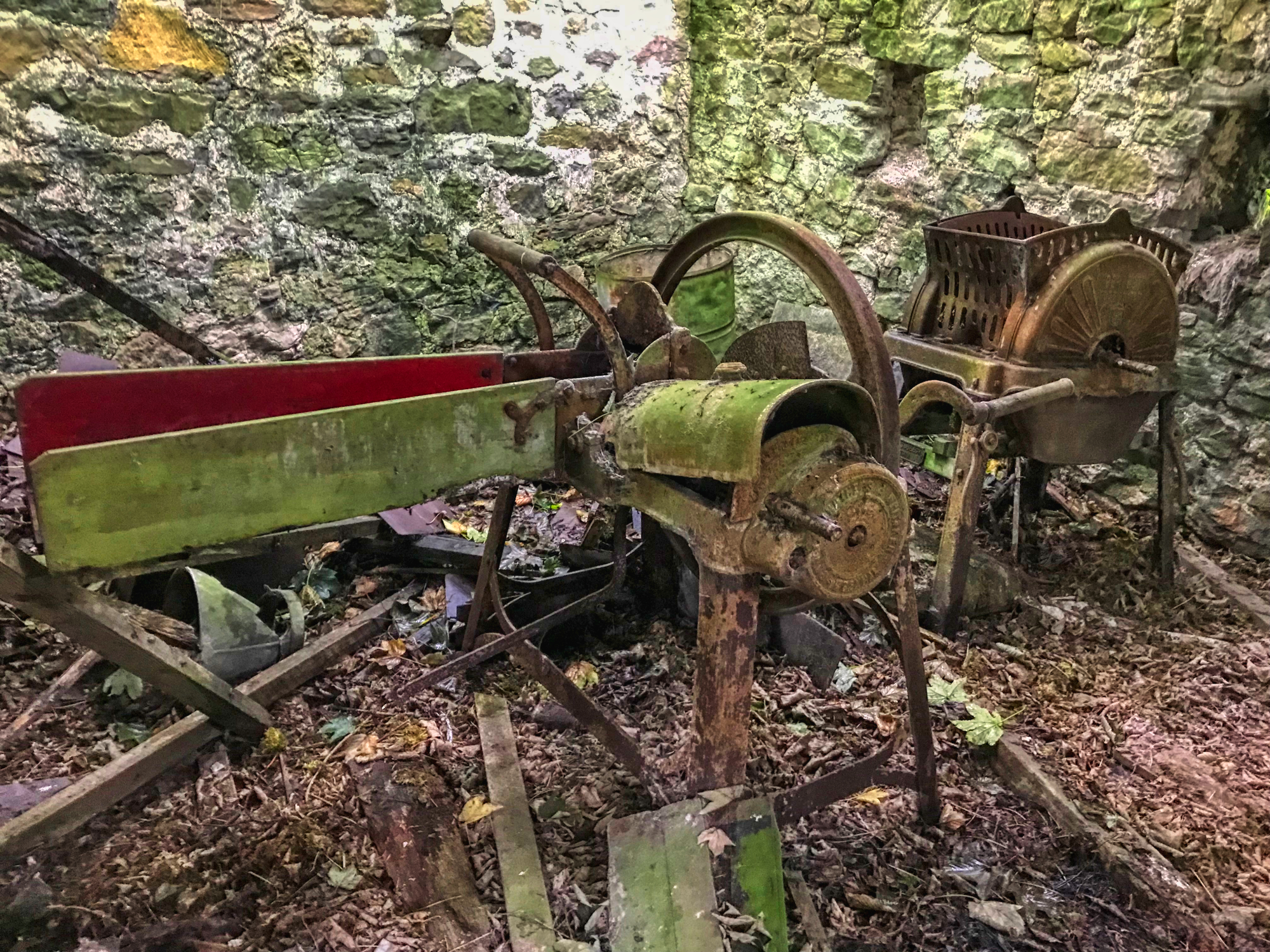 We checked the local barn, which contained a few pieces of bygone rusting equipment.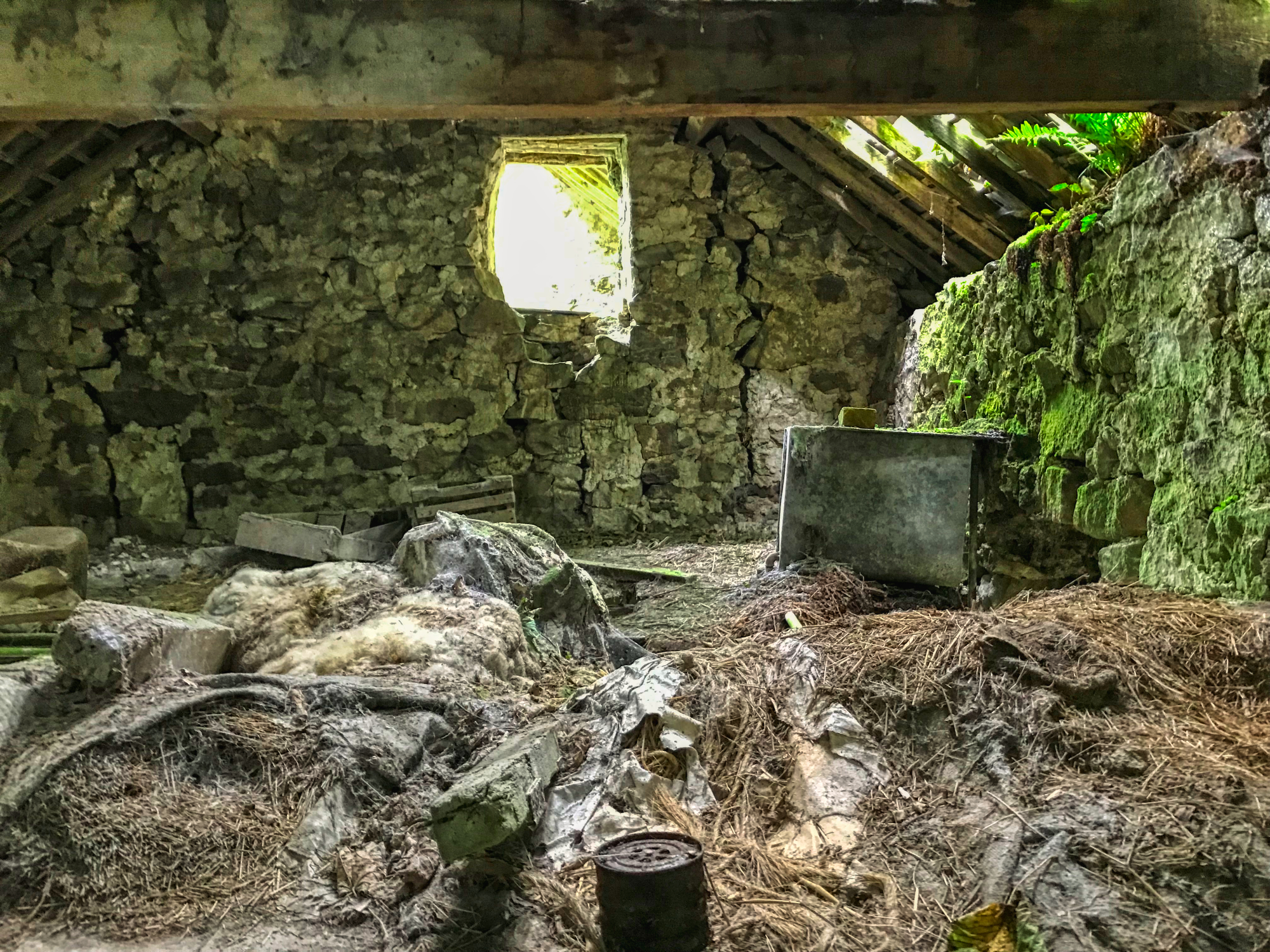 ..as well as an upper level which sported evidence of sheep. How they got up there is anyone's guess.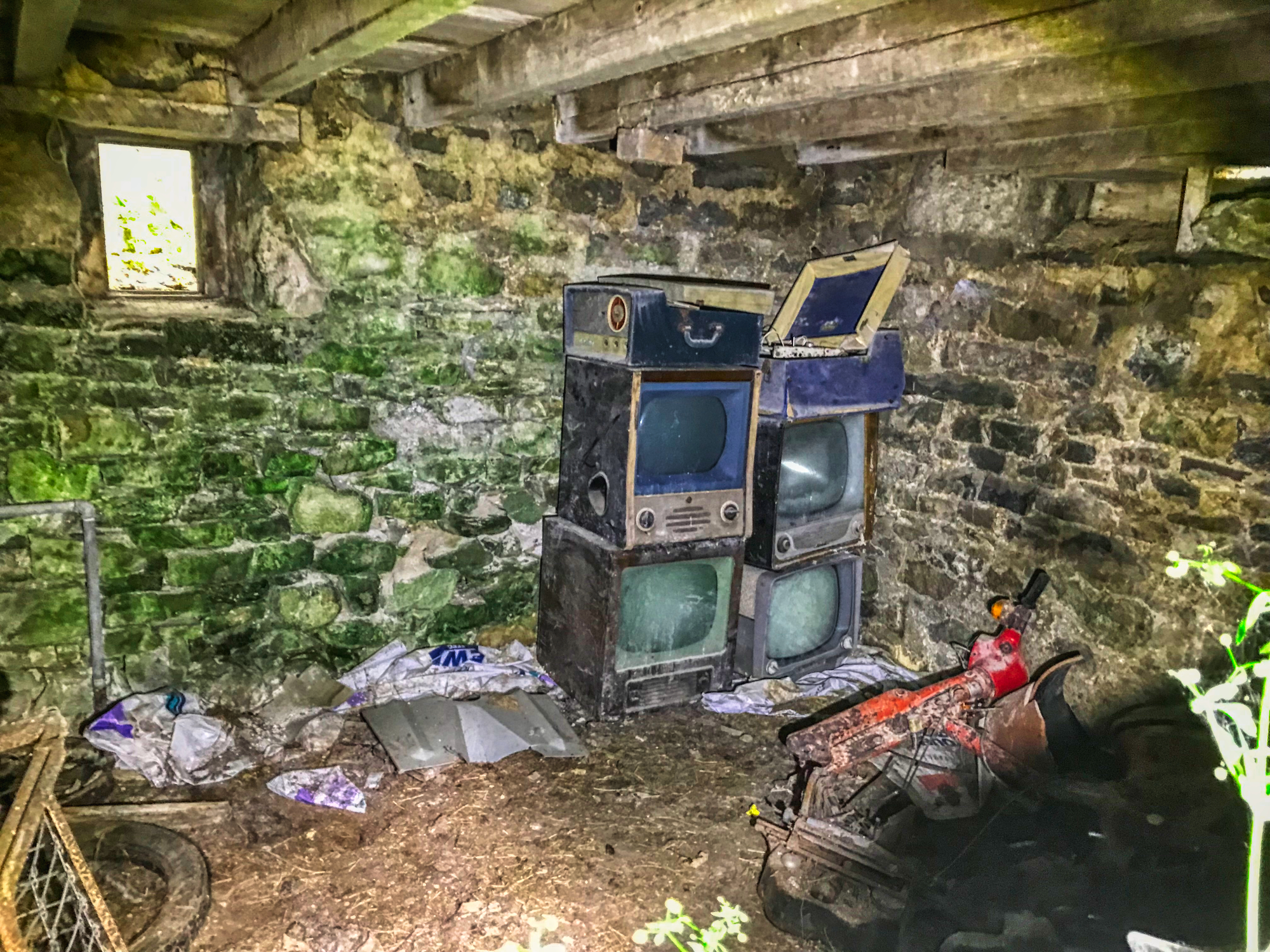 Another sealed-up small barn contained yet more of Mrs. Cottrell's backup TVs. There is obsession but this is extreme. A distant photo is all we could muster through a small gap.
I conclude Mrs. Cottrell was a bovine-loving, TV-obsessed singleton, who drank gallons of water, read lots of books, and then used them to keep warm by the fire.
A fair assessment?

Do you like posting your Urbex content and photography for FREE on Facebook and YouTube? I like to get some form of reward for my work and every time I create I do just that. Take a look at The Urbex Community on HIVE.
If you want to keep creating for FREE then ignore what you are reading. If you want to be like me and gain something other than BUGGER ALL for your work then click here and learn about posting on the HIVE blockchain.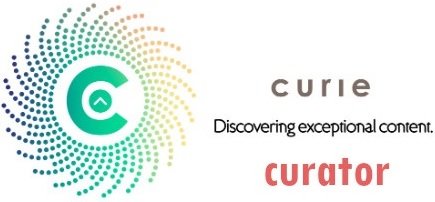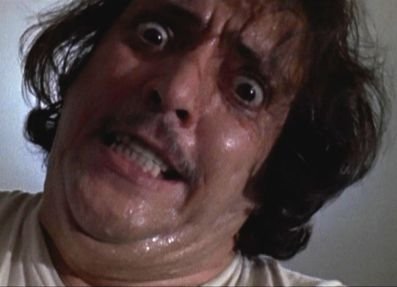 If you found this article so invigorating that you are now a positively googly-eyed, drooling lunatic with dripping saliva or even if you liked it just a bit, then please upvote, comment, rehive, engage me or all of these things.
---
---