Tales of the Urban Explorer: Ye-Old Harrow

It wasn't my first visit to 'Ye-Old Harrow'.
In a similar vein to the 'Durham Ox, it had been two years since @dizzydiscovery and myself had been thwarted by locked doors, solid fences, high walls and a vandalised car situated on the side street running adjacent.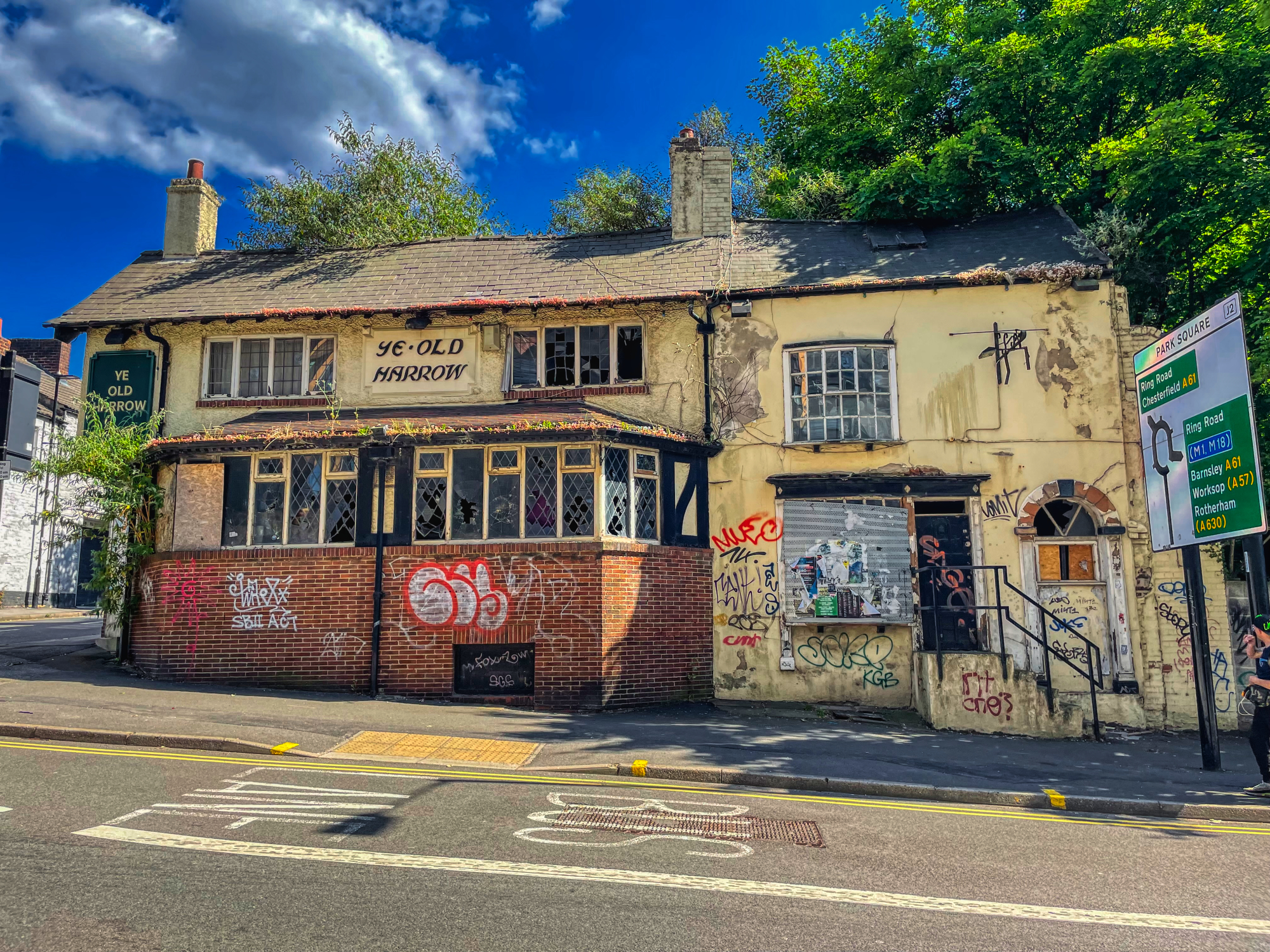 Someone had been using the car roof as a trampoline looking at the many dents we witnessed, but neither of us could bring ourselves to climb on the roof in full visibility of passing Karen's and use it as leverage to gain access to the back yard.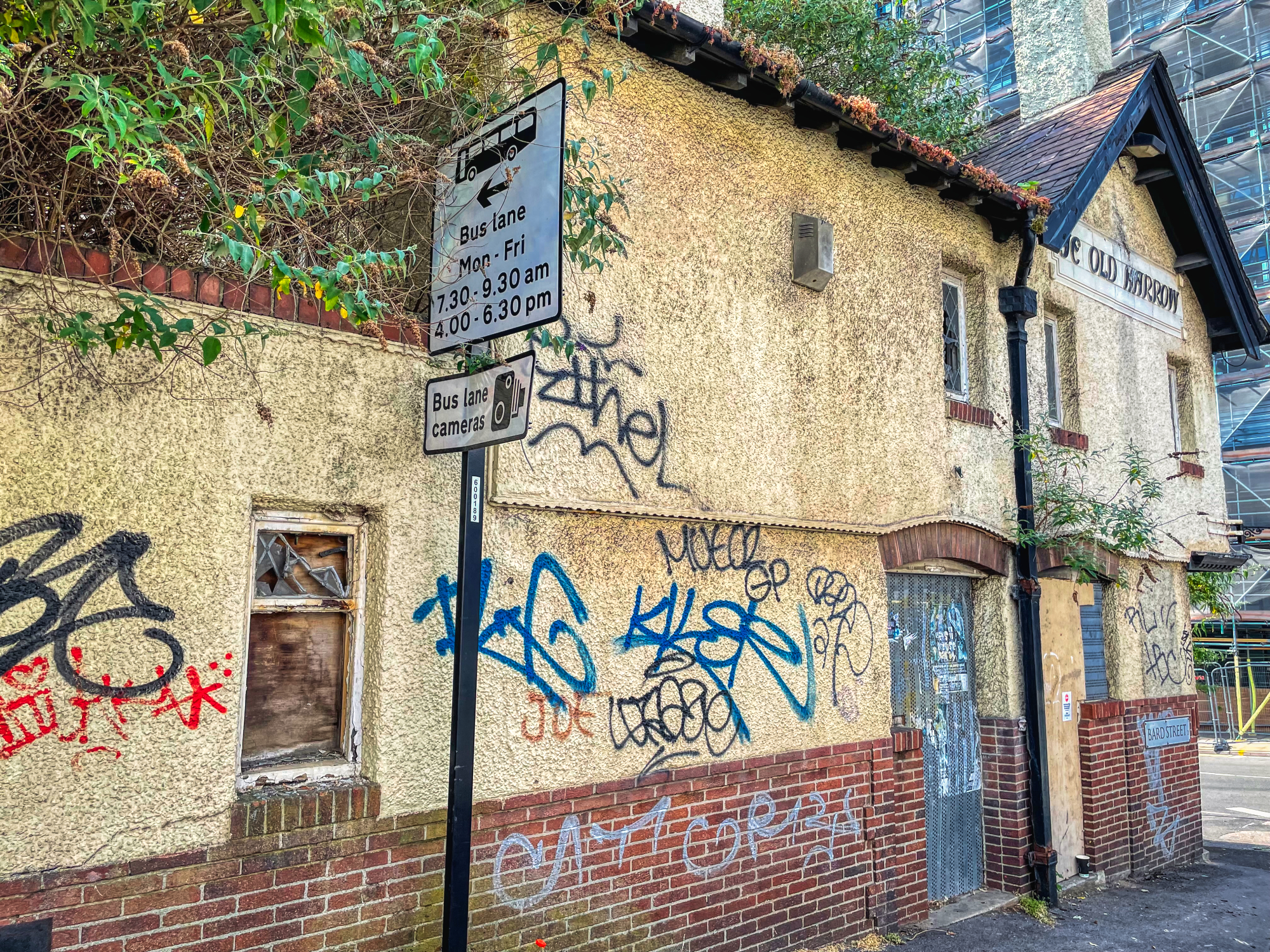 'Ye-Old Harrow' is an old establishment and hails from 1822. The pub closed its doors in 2008 and has been decaying ever since. It is renowned as 'the most haunted pub in Sheffield', with alleged reports of a 'sinister dark figure' and items disappearing only to resurface months later.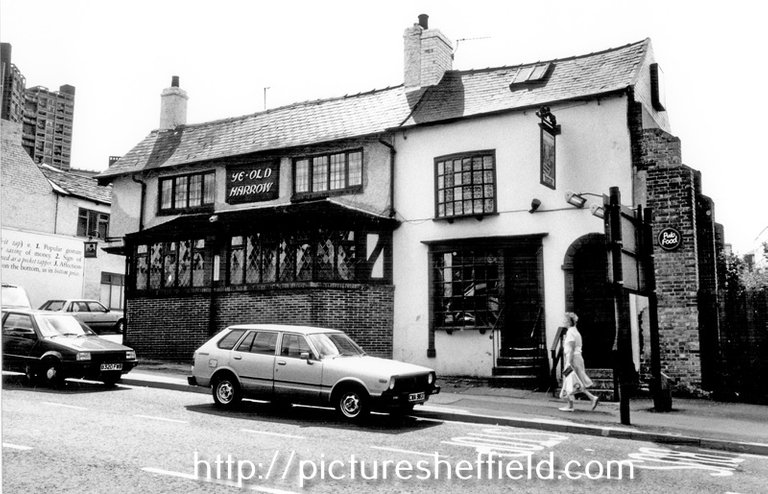 Source
...'Ye-Old Harrow sometime in the mid to late 1980's at a guess'...

I was hoping to meet this 'dark figure', maybe share a pint of derelict beer and ask him what he's been up to over the last two centuries. It would have added some spice to my story, but like most other 'haunted places', fuck all happened and I felt absolutely no undue coldness or ghostly apparitions.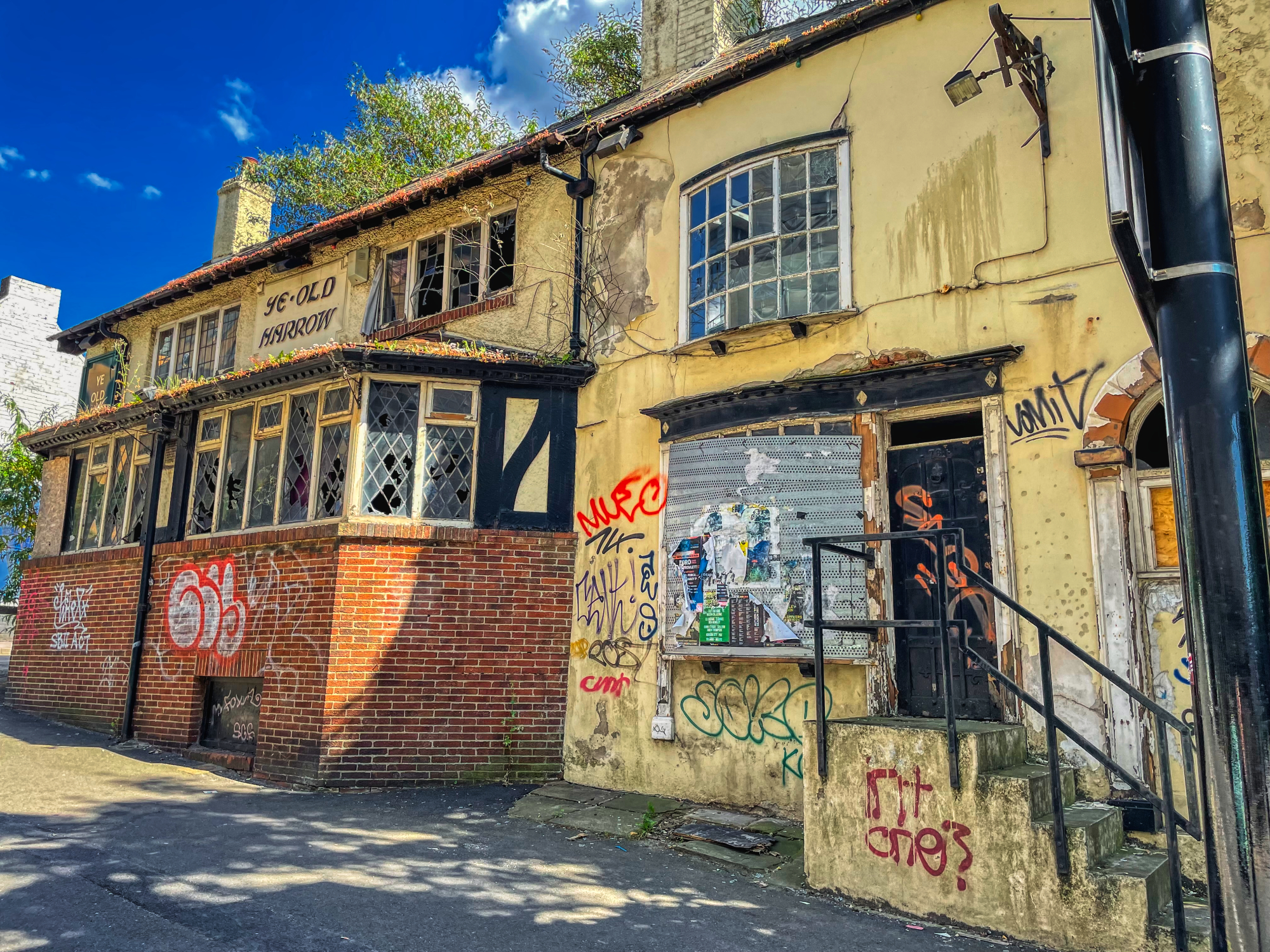 'Ye-Old Harrow' was hit by the local arsonists in 2019, who went to on torch the nearby 'Durham Ox' in the same 24-hour window. It's called killing two birds with one stone.
Two years had changed much, not in terms of the old pub but in opportunity. 'Ye-Old Harrow' had been doing the rounds so we figured someone had smashed or torn a once obstacle that blocked our way.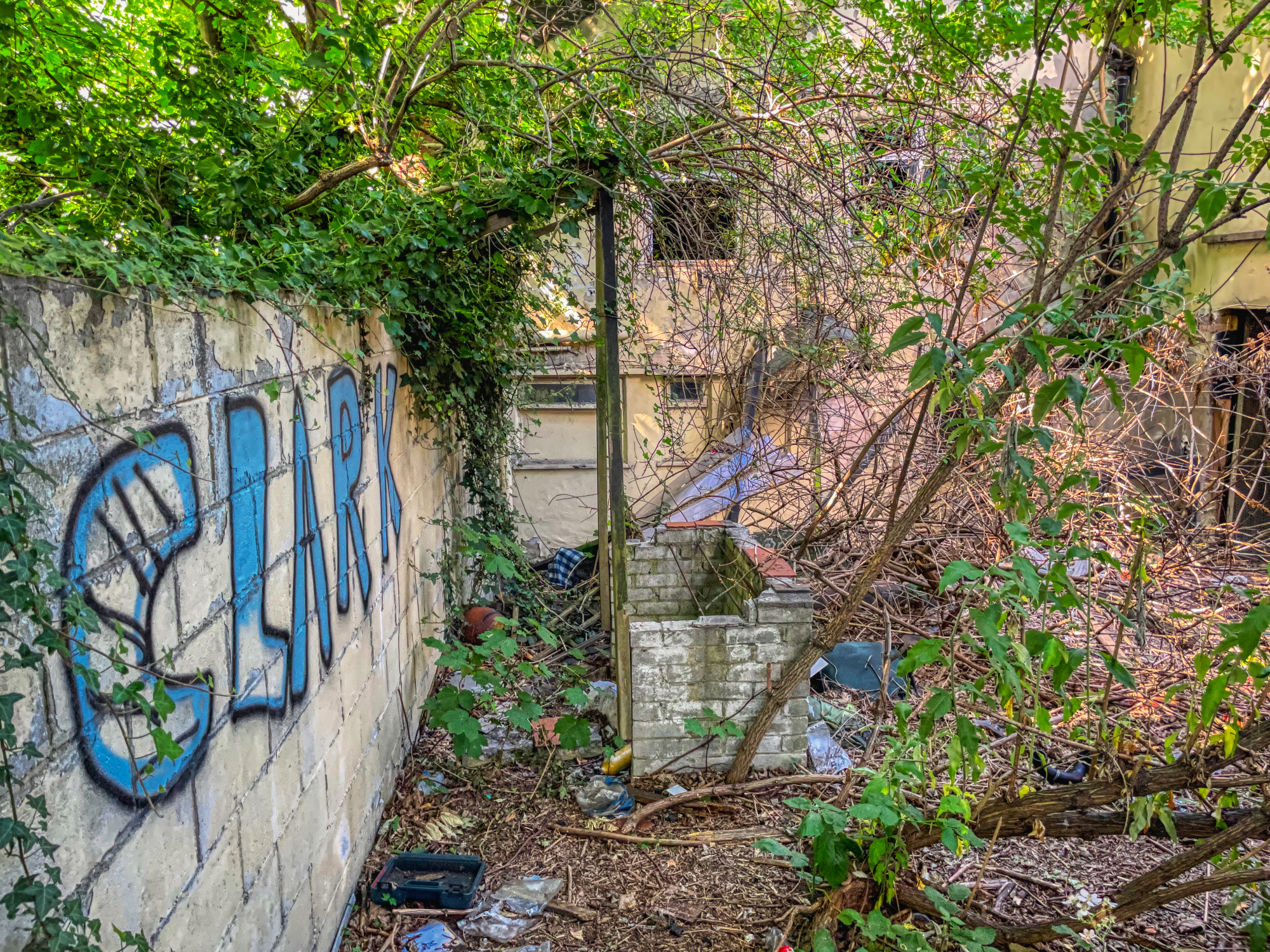 Sure enough, we were in the back yard within minutes, looking down from a wall perch and spotting an open door. Once out of eyeshot this looked to be an easy target.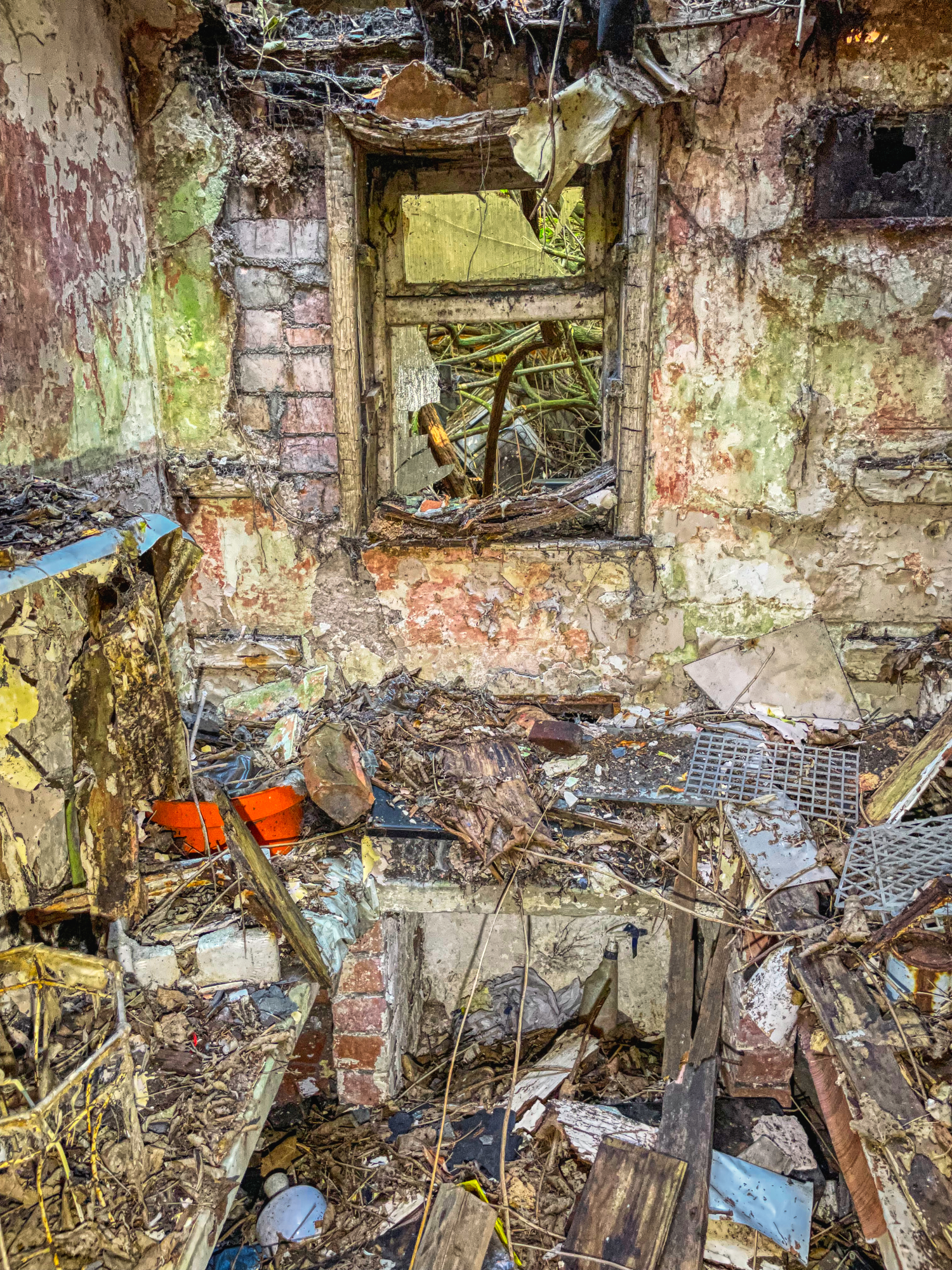 Climbing down into the yard we spotted some outhouses, all of which contained a big fat nothing.
It was hardly a good start but surely 'Ye-Old Harrow' given its spooky reputation could be better than the 'Durham Ox' which is literally 200 yards away.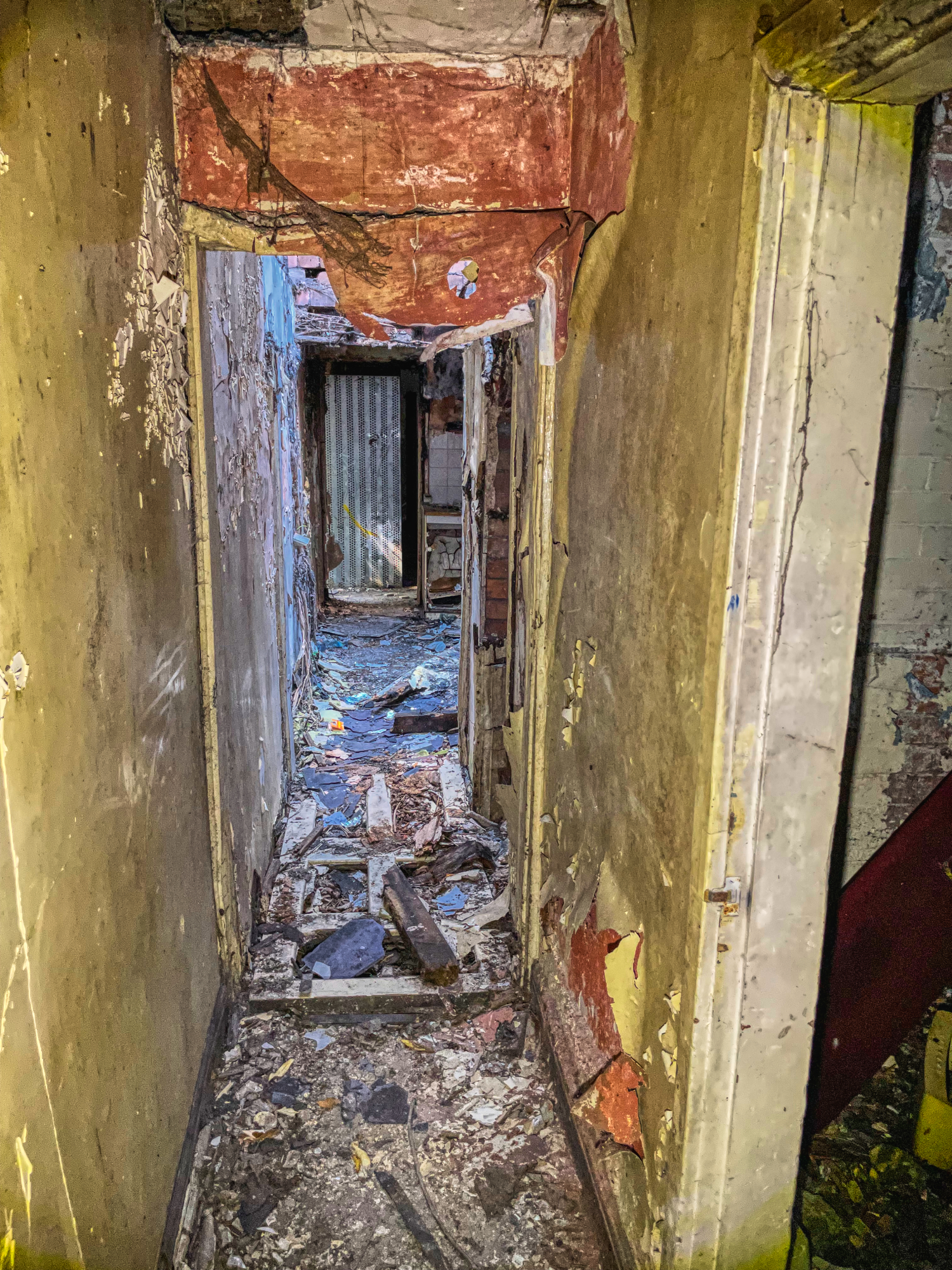 Walking through the back door we walked down a broken corridor toward a metal sheeted door which I guessed was the front door; we were heading for the bar.
It was another one of those 'bars from hell', though on a scale of one to ten it's only about a 'seven'. The blacks need to be blacker, the burning more intense and thorough. Could a spot of black matt paint help restore this sight to a 'nine' maybe?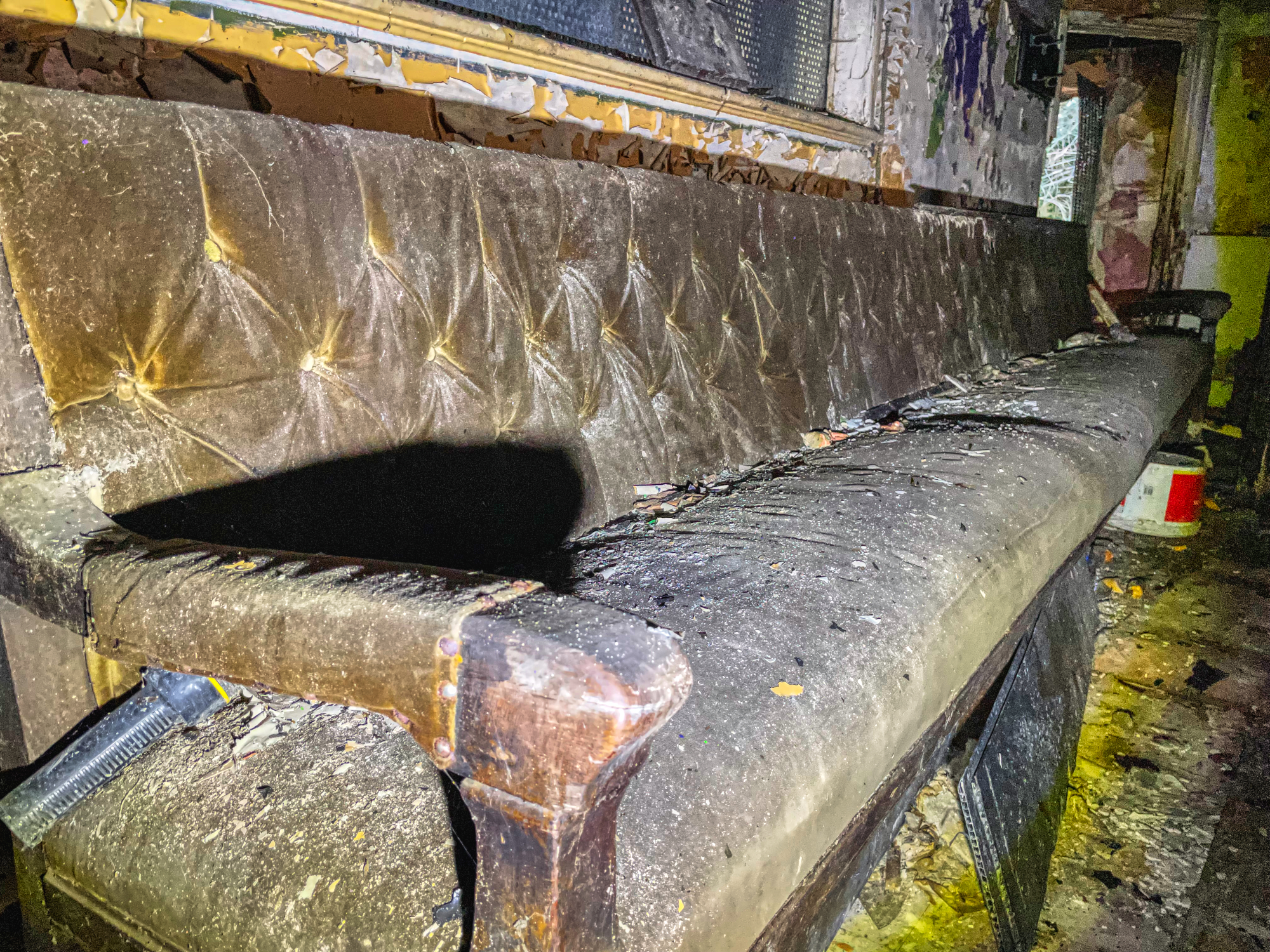 Seating and accommodation is of the finest quality, with even arm rests to take away those aches and pains.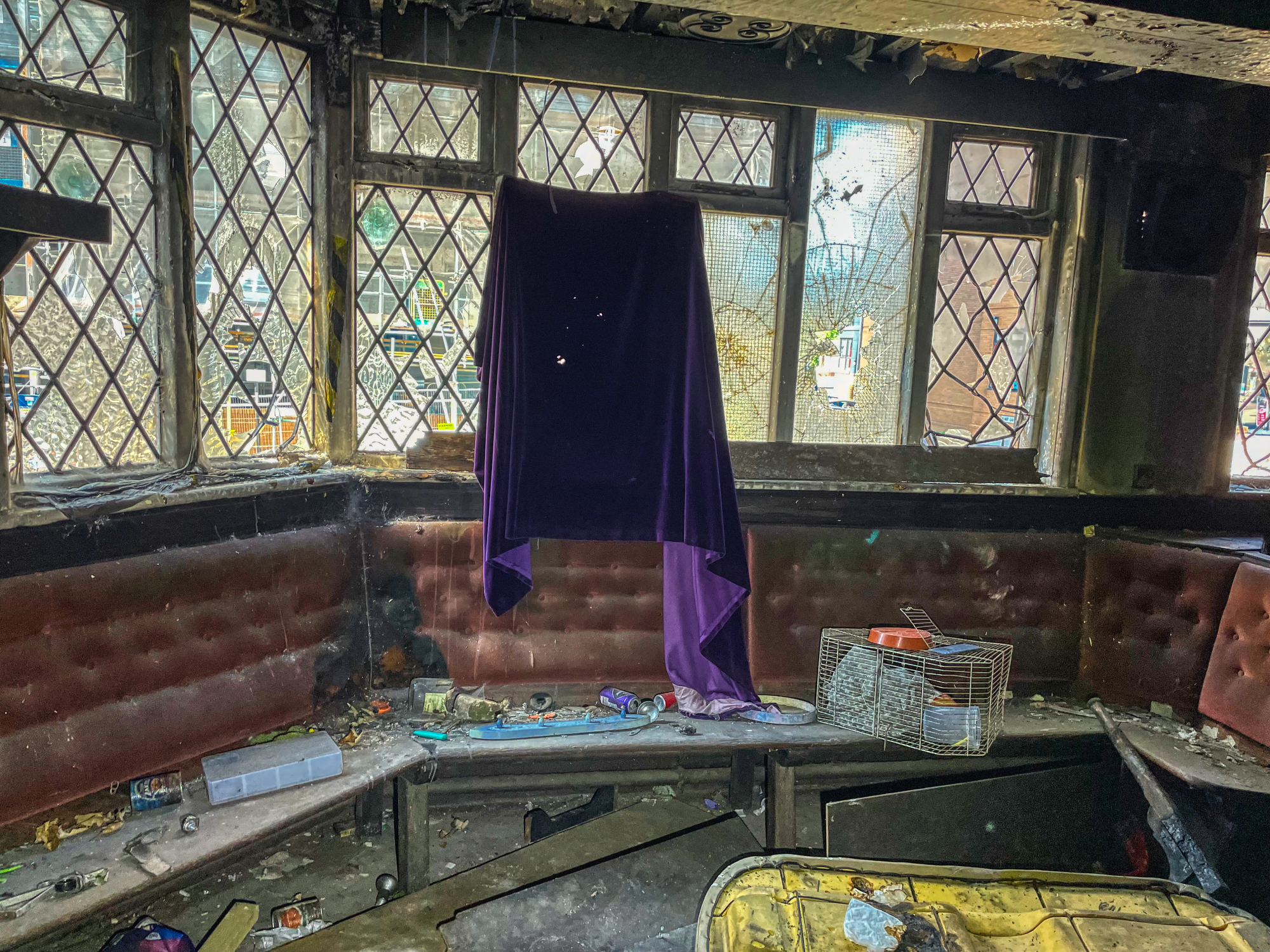 You can gaze from the window and watch the world go by, just be careful not to disturb the local's washing.
With a little cleaning 'Ye-Old Harrow' could charm even the toughest crusty critics with its dark natural burnt styling, bare brickwork and even a map of medieval England donning the far wall.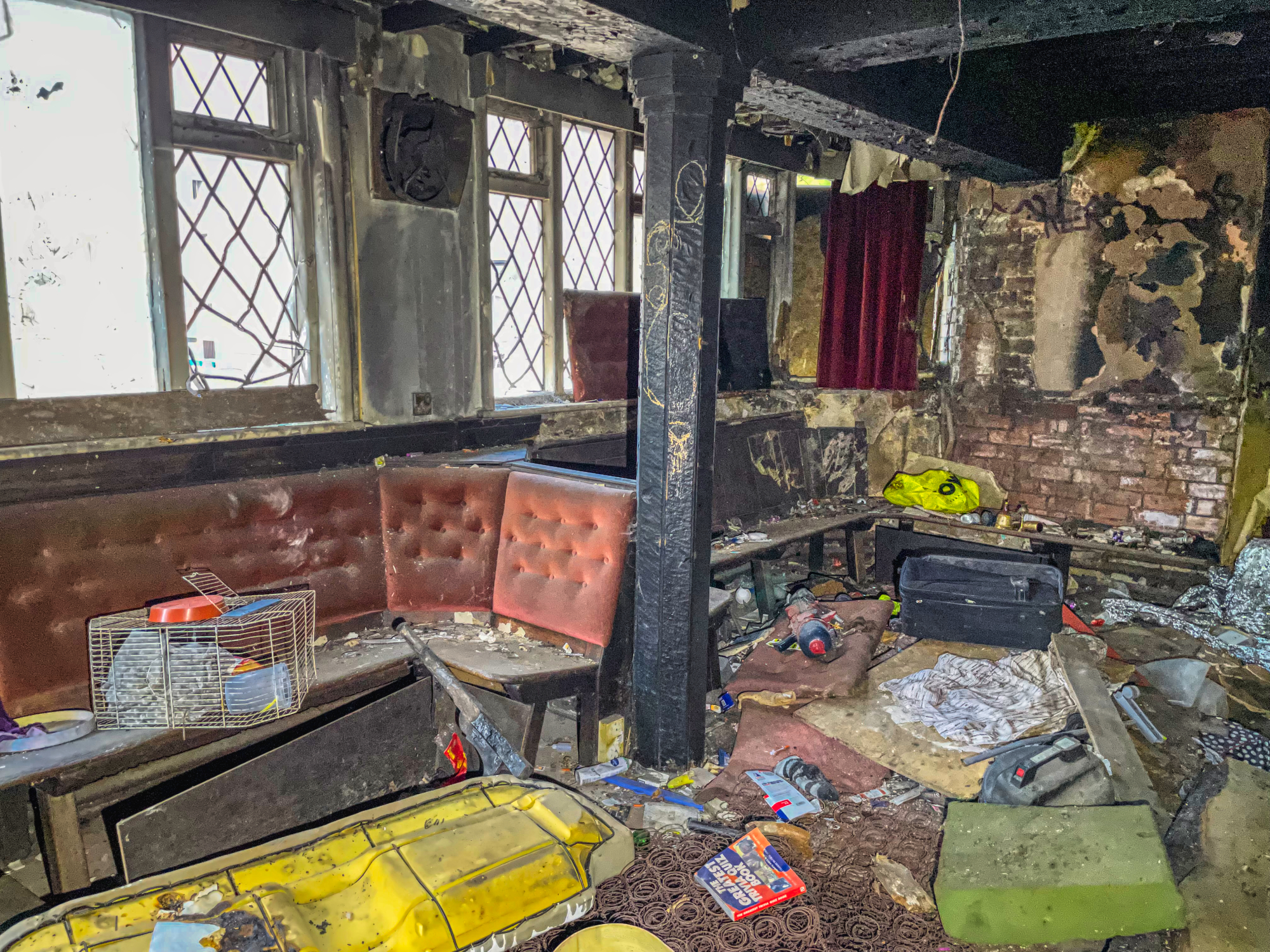 You do get an idea of how the island's shape has changed over the last two centuries (it used to look like a two legged chubby poodle walking upright complete with a Santa hat).
The locals when home are willing to share their hard drugs, and you can then lay full stretch on any of the extensive seating and fall into an opiate stupor. Its little wonder this one is such a hit over the 'Durham Ox'.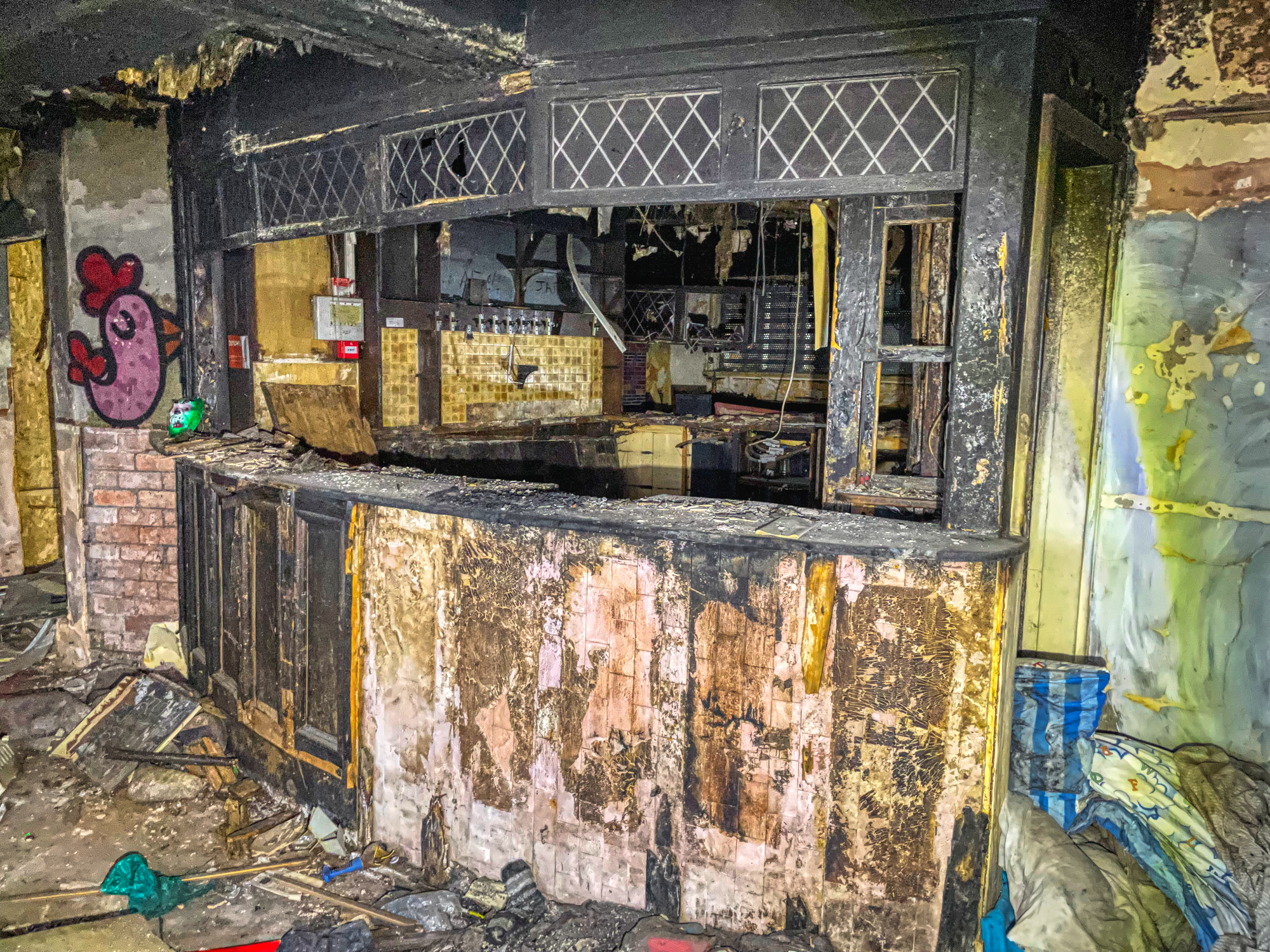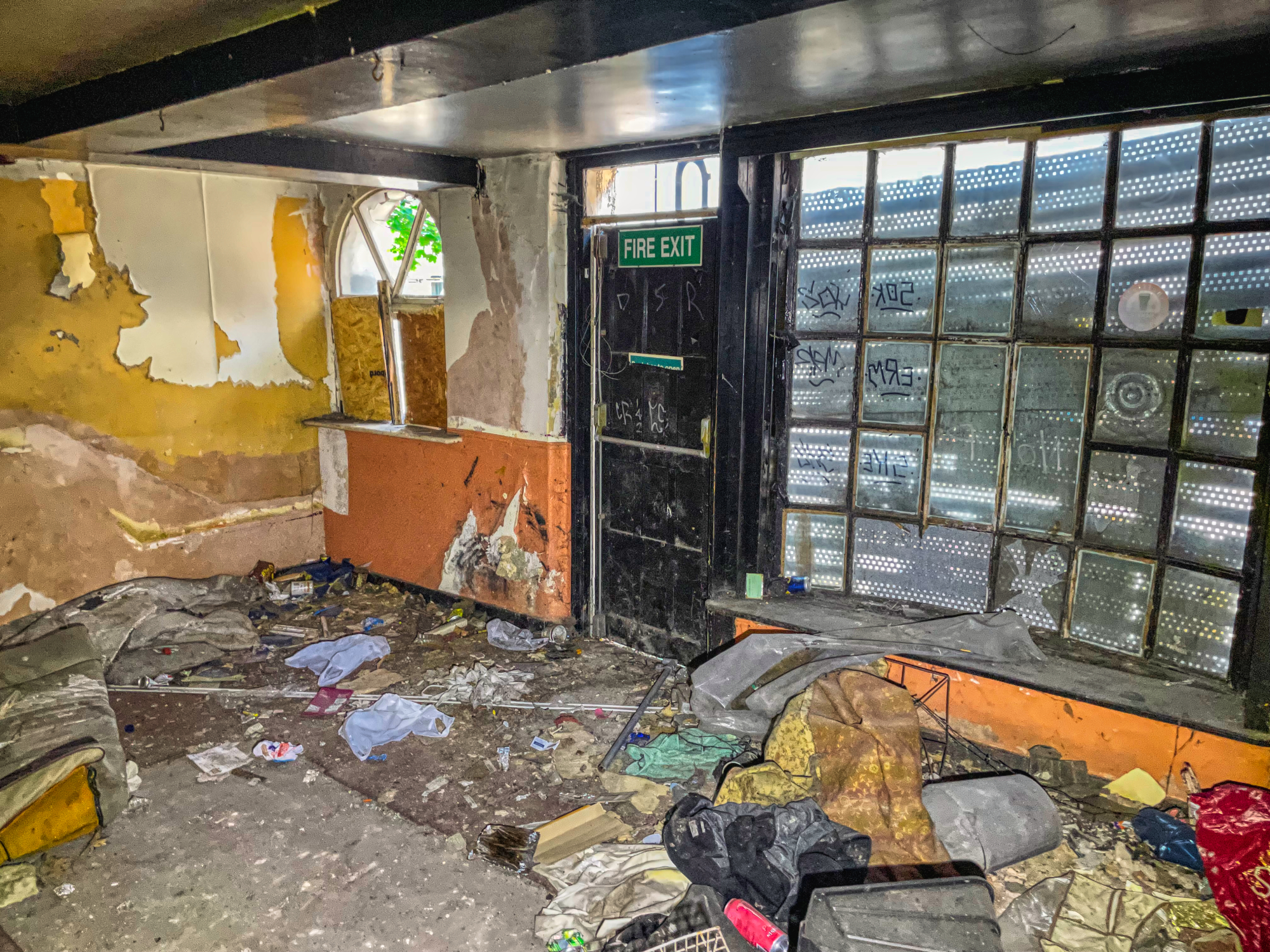 I would have exited by way of that 'Fire Exit', but it wouldn't budge. As much as a tried, finding anything in 'Ye-Old Harrow' was challenging.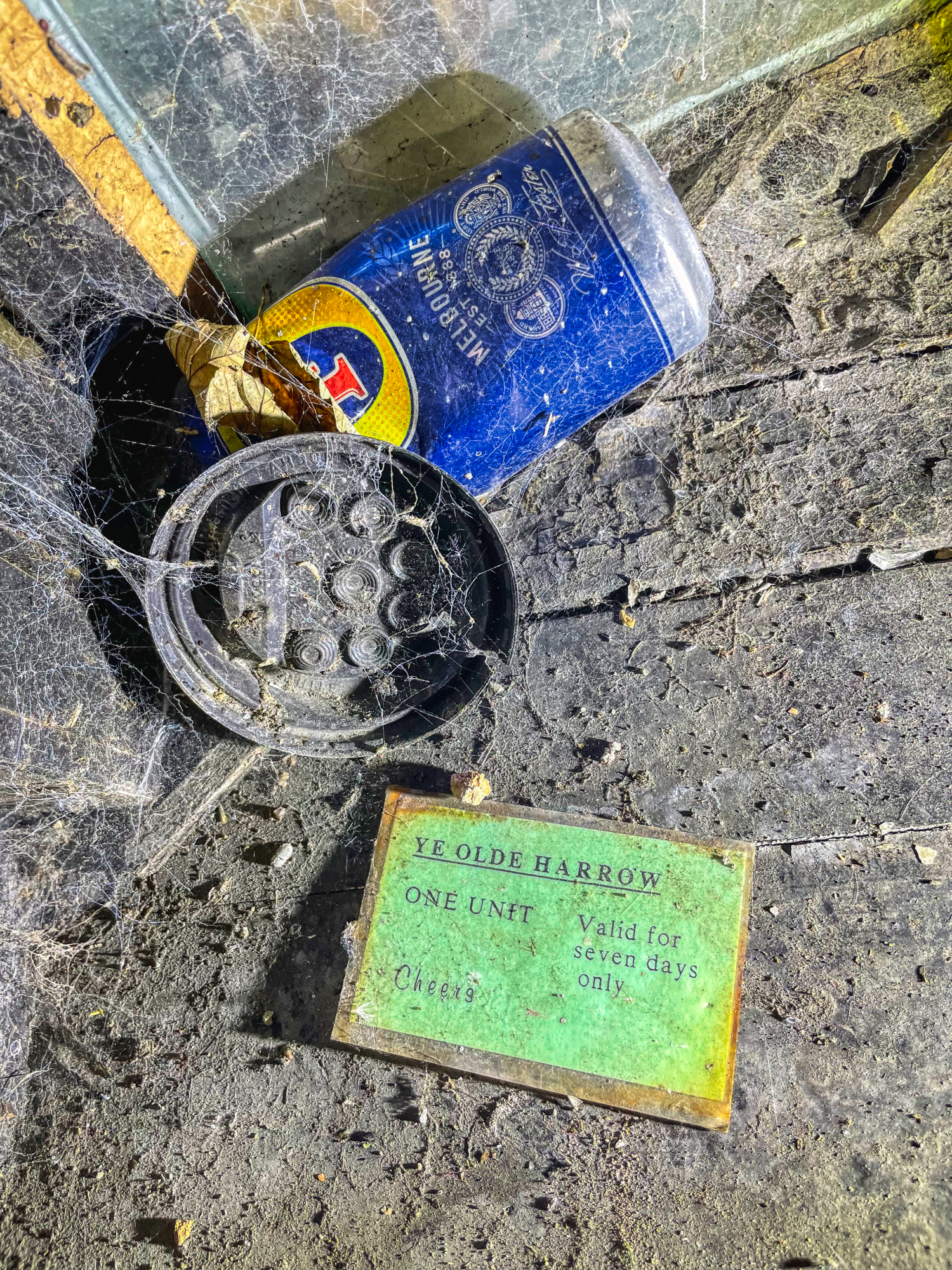 I did spot this which could have been a 'beer' voucher. Did the yielder use it on that rotting tin of 'Fosters'?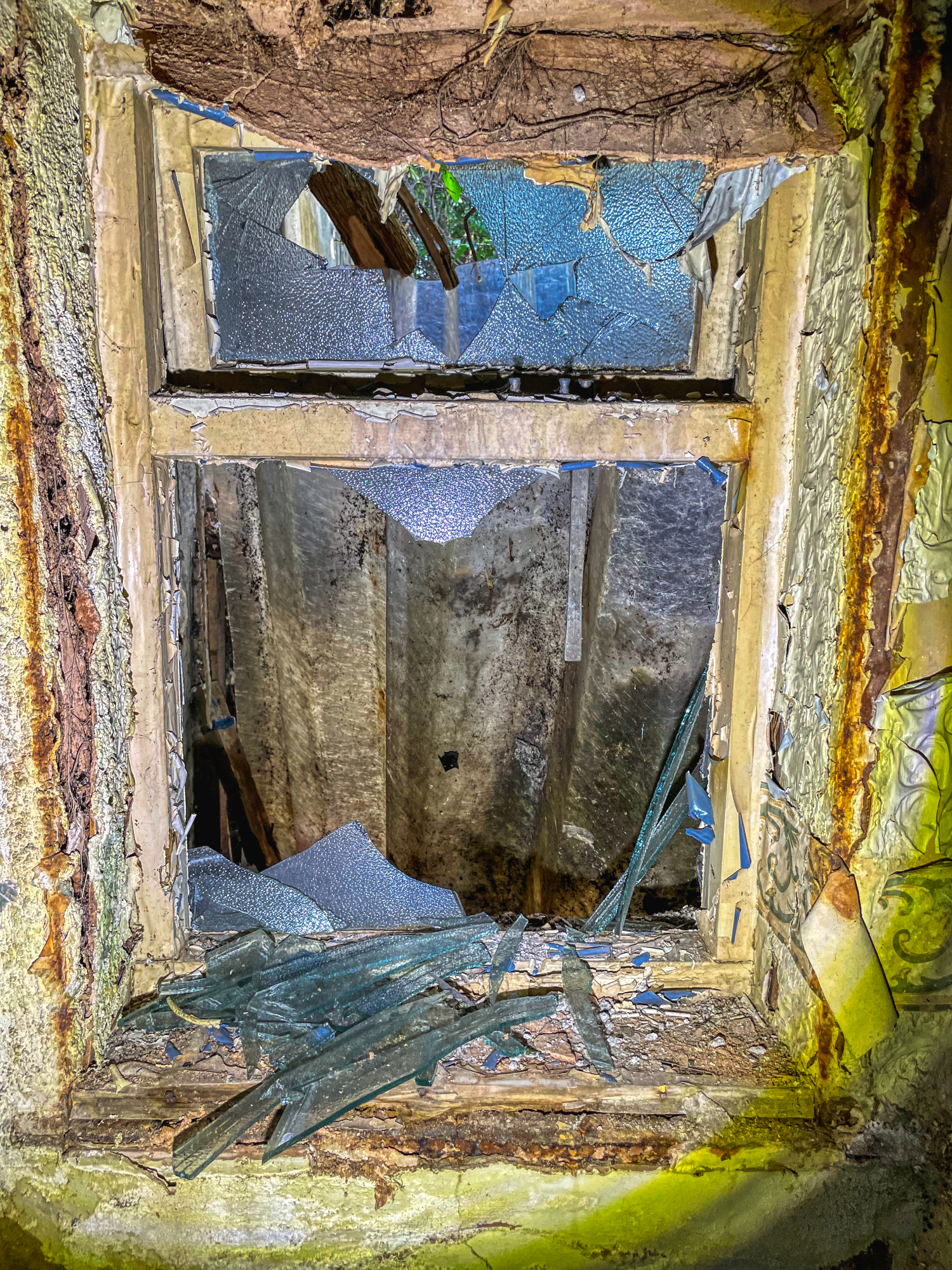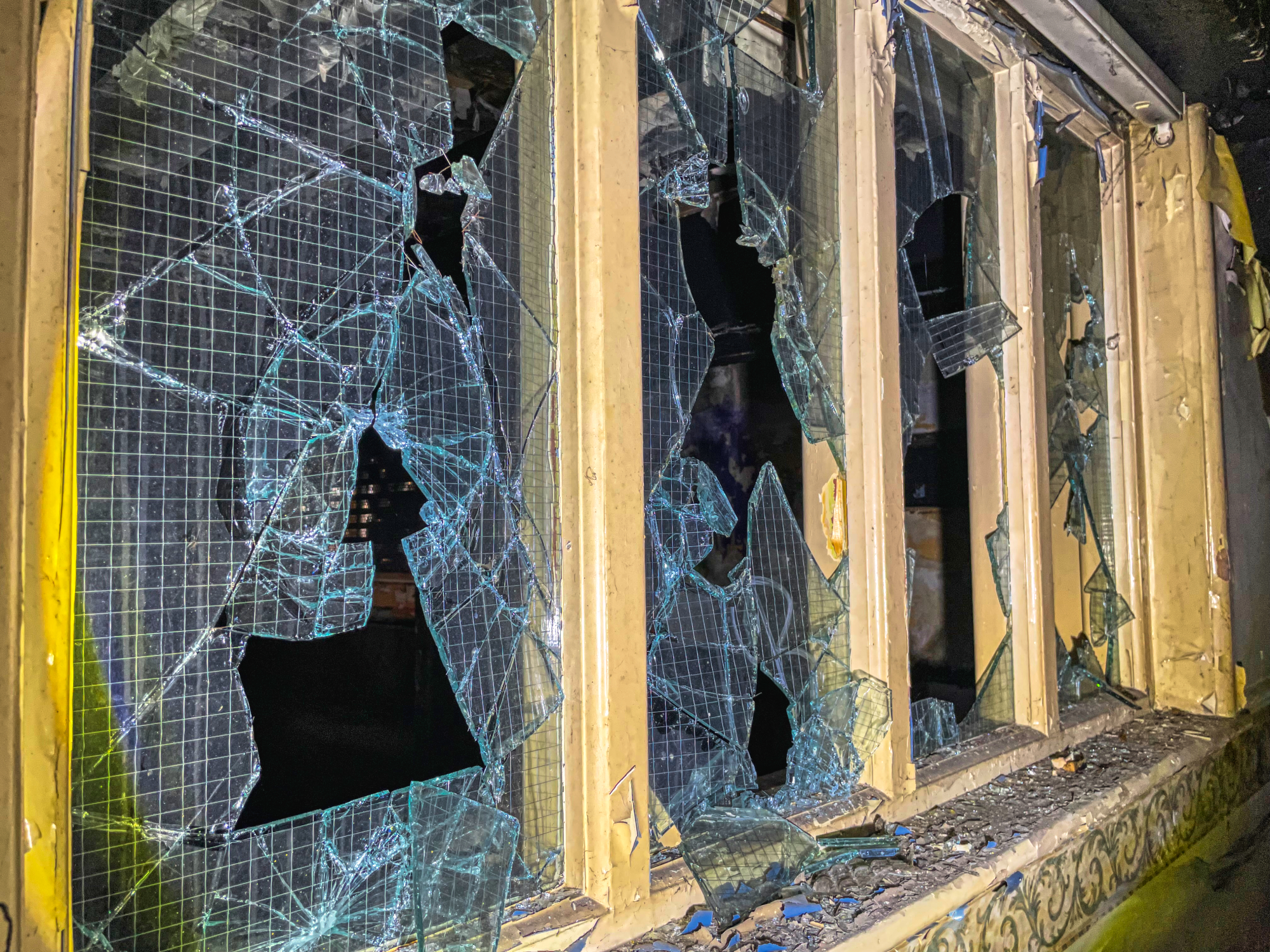 If 'Ye-Old Harrow' was not so well 'tinned' from the front, anyone could jump through a multitude on windows. Over the years, its' visitors have not been kind to the interior décor.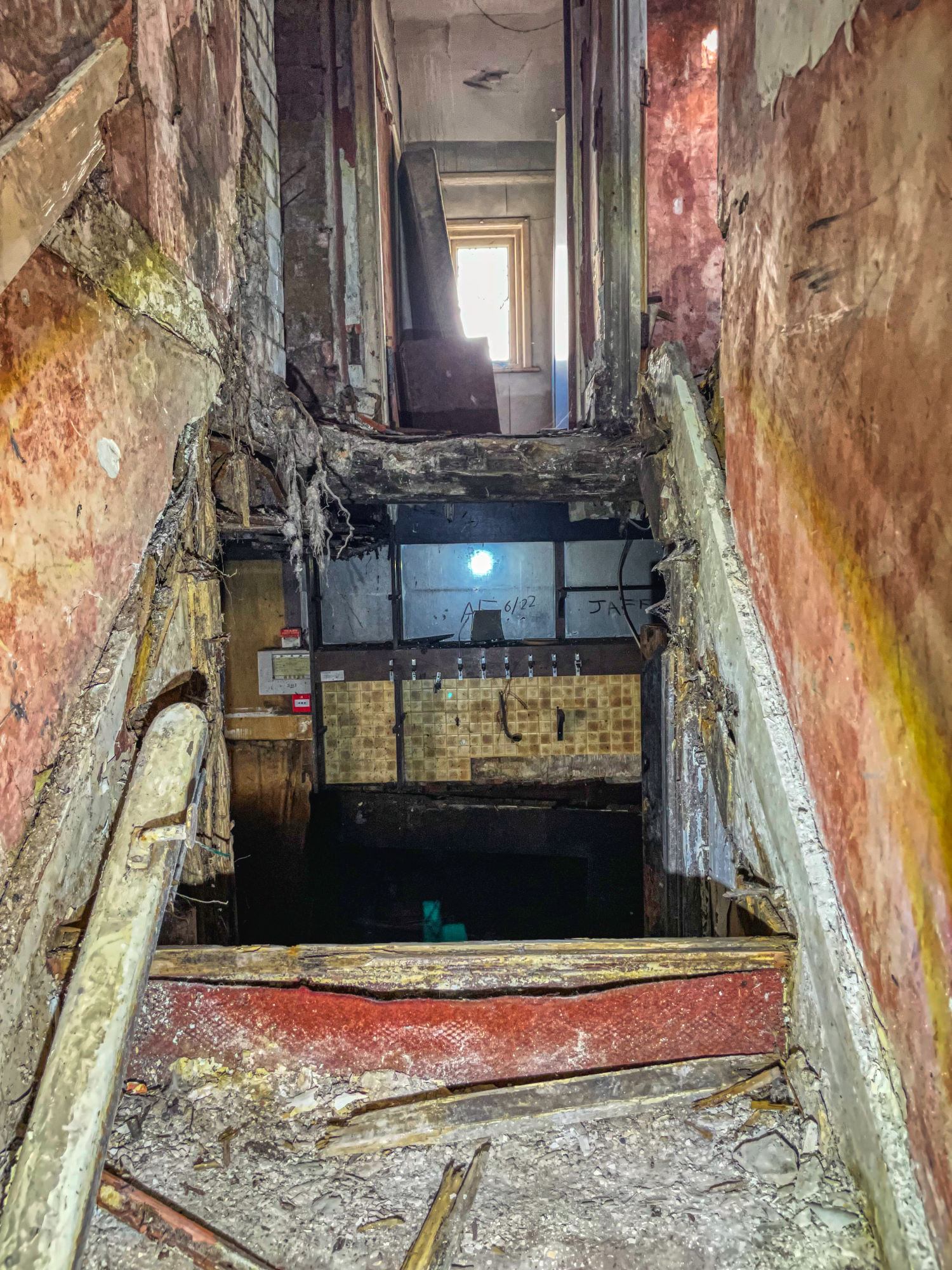 Our attempts to get 'upstairs' failed due to part of them missing. An athletic explorer could jump, swing, stabilise, before hauling themselves up if they were confident the far side would actually hold.
Failure would result in seven foot drop into what was the bar area and definite injury.
All I could see in the gloom was an upright mattress resting against a piece of furniture. Maybe the 'dark figure' lives up there. Sinister shadows need sleep too.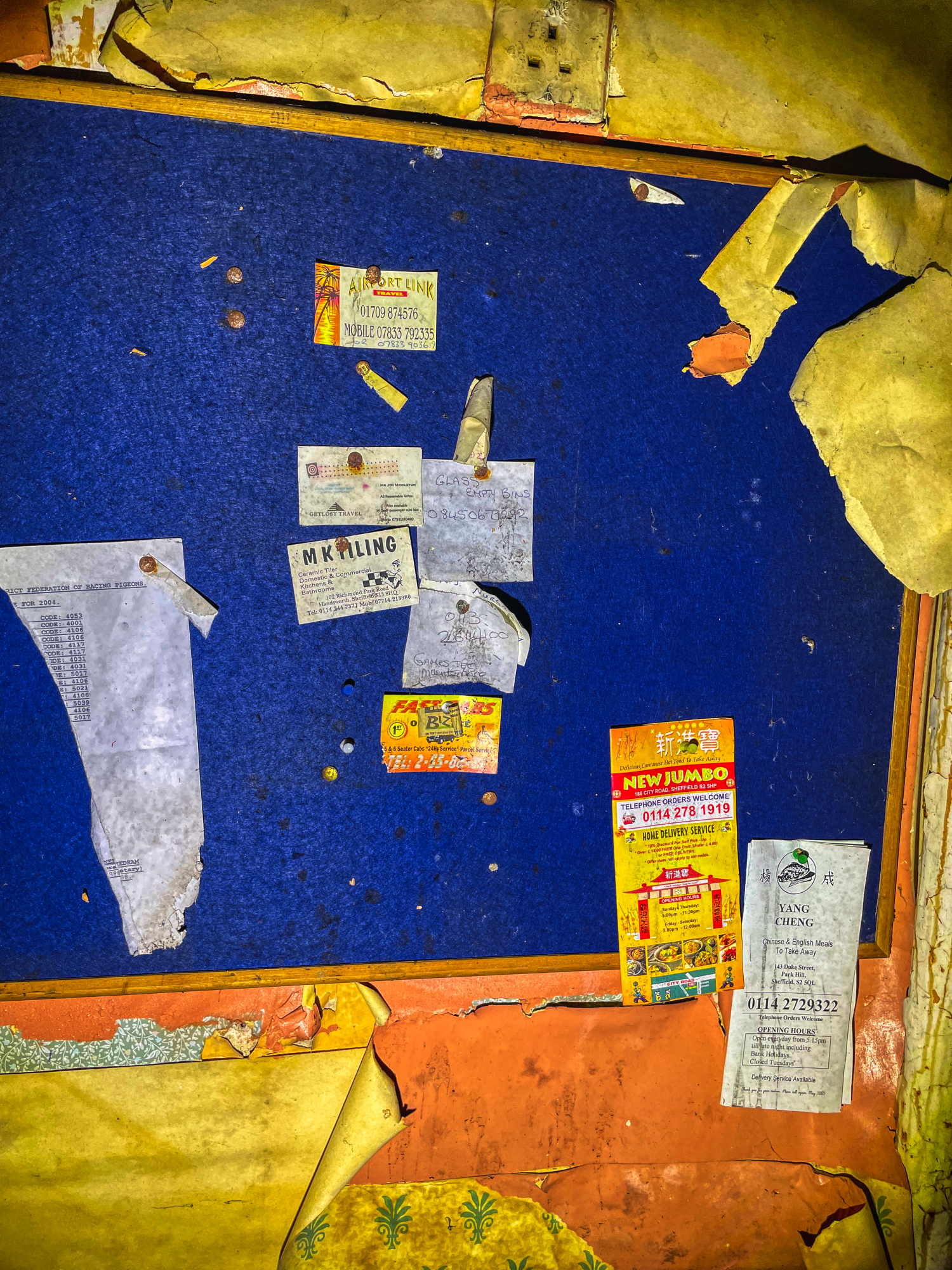 The old notice board, not so crammed with dodgy fast food takeaways and tradesmen attempting to shill their skills to a non-existent audience.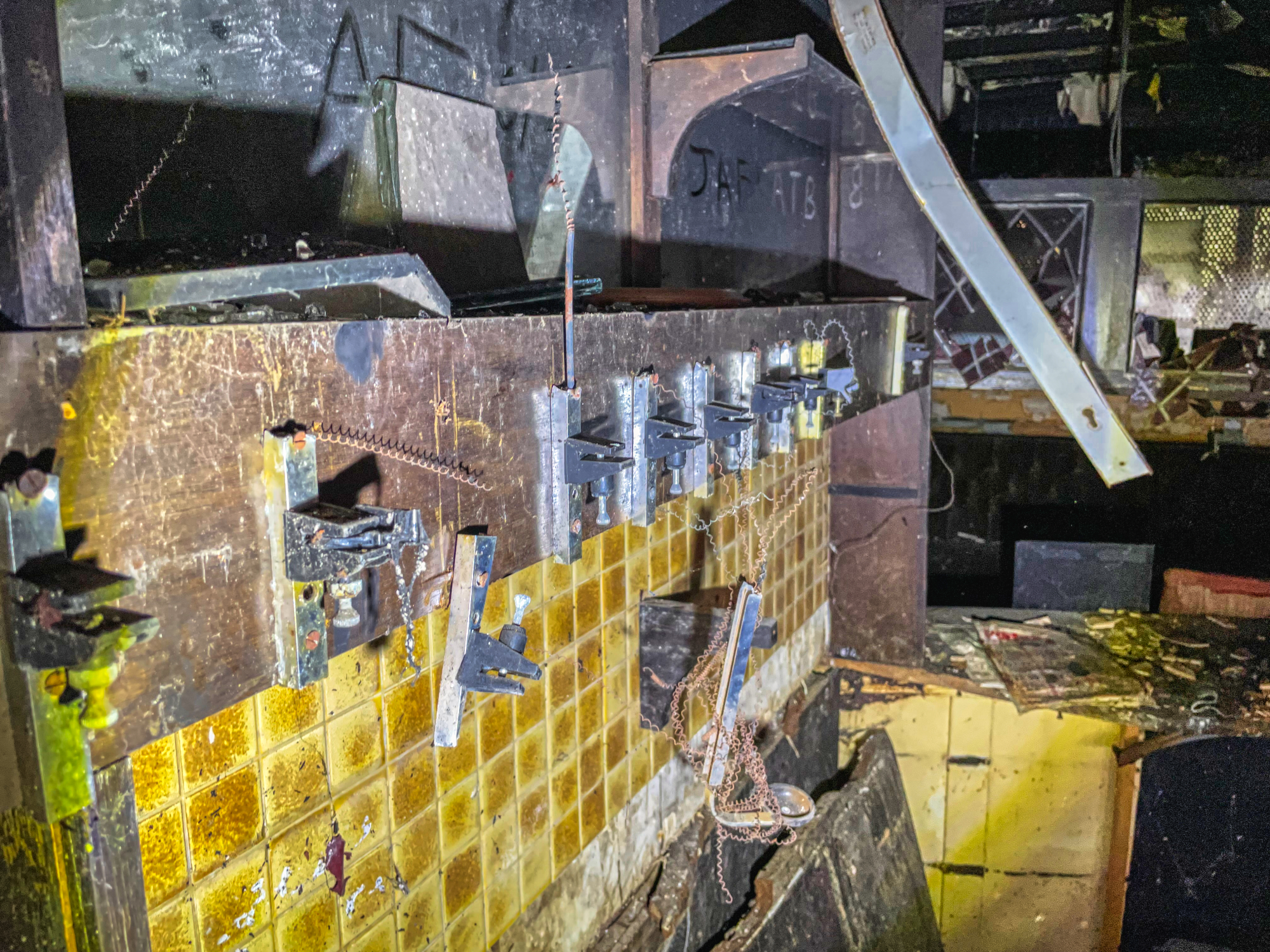 How many have tried to make that jump and partially impaled themselves on what you see here. There is a limit to my abilities and daring.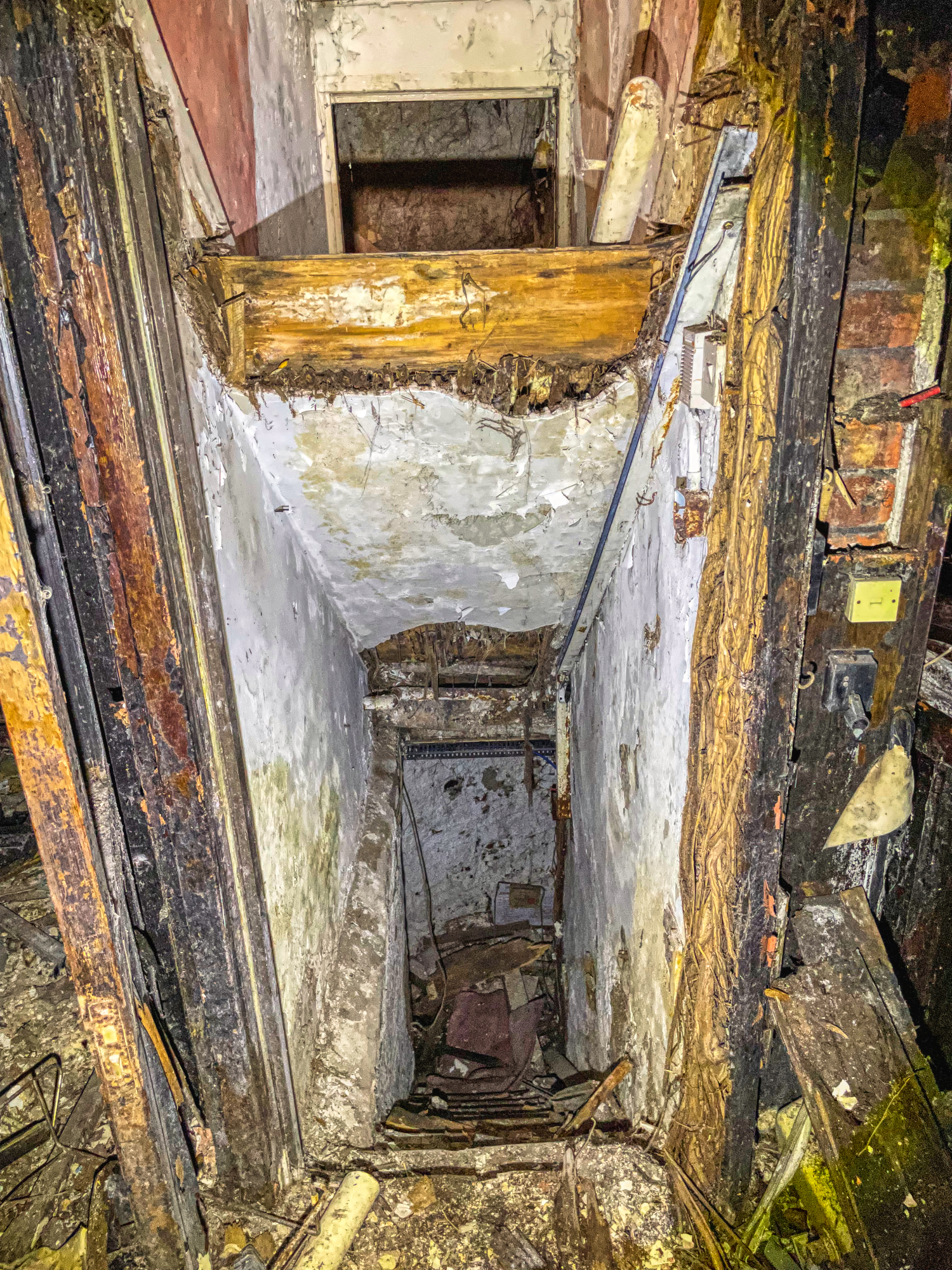 Going down was likely going to be a poor substitute. Cellars rarely hold anything photo-worthy, but I was going to look anyway.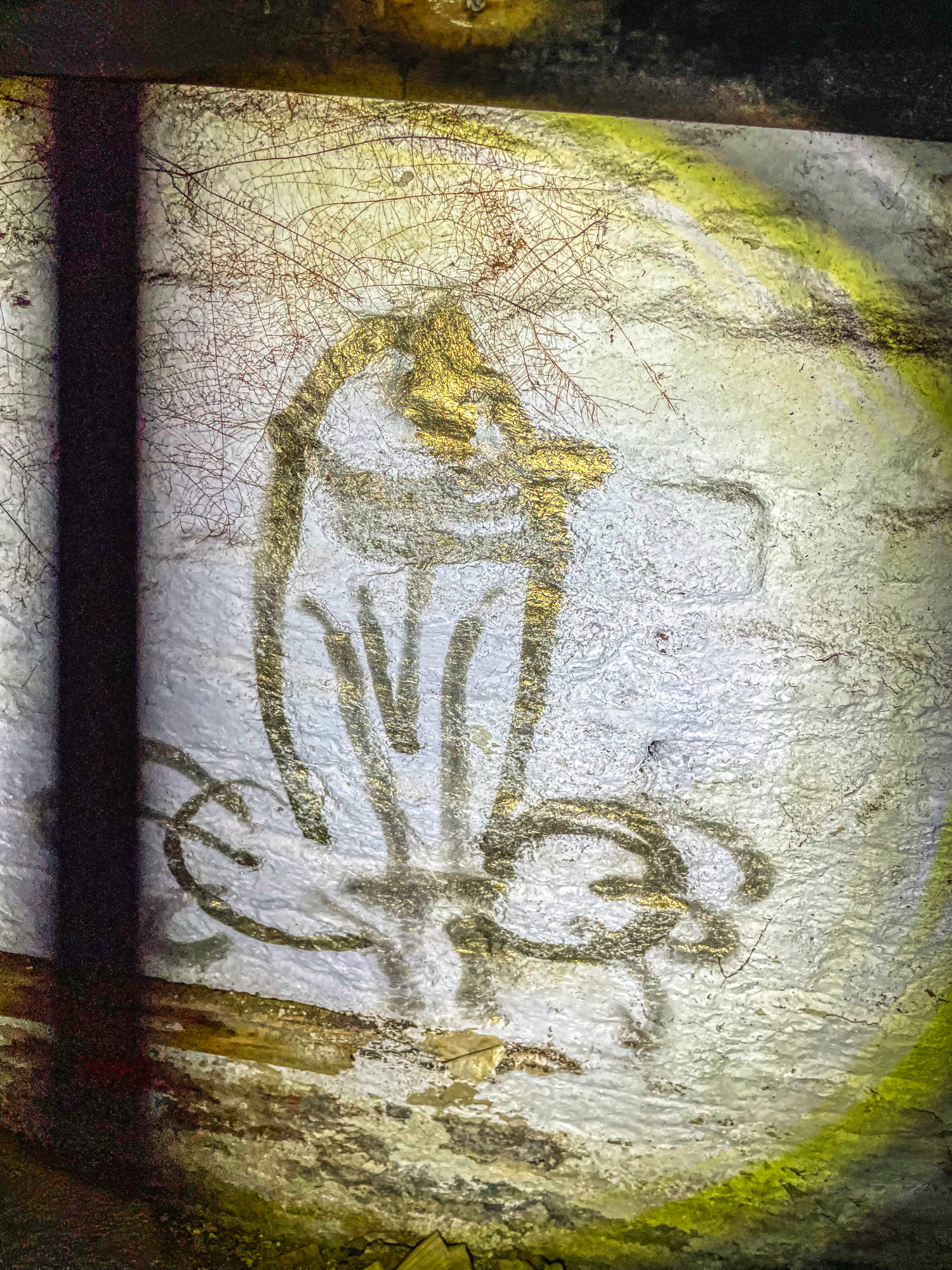 A golden penis caught my vision while descending the stairs followed by a bunch of old tyres. I thought this was a pub not a tyre bay?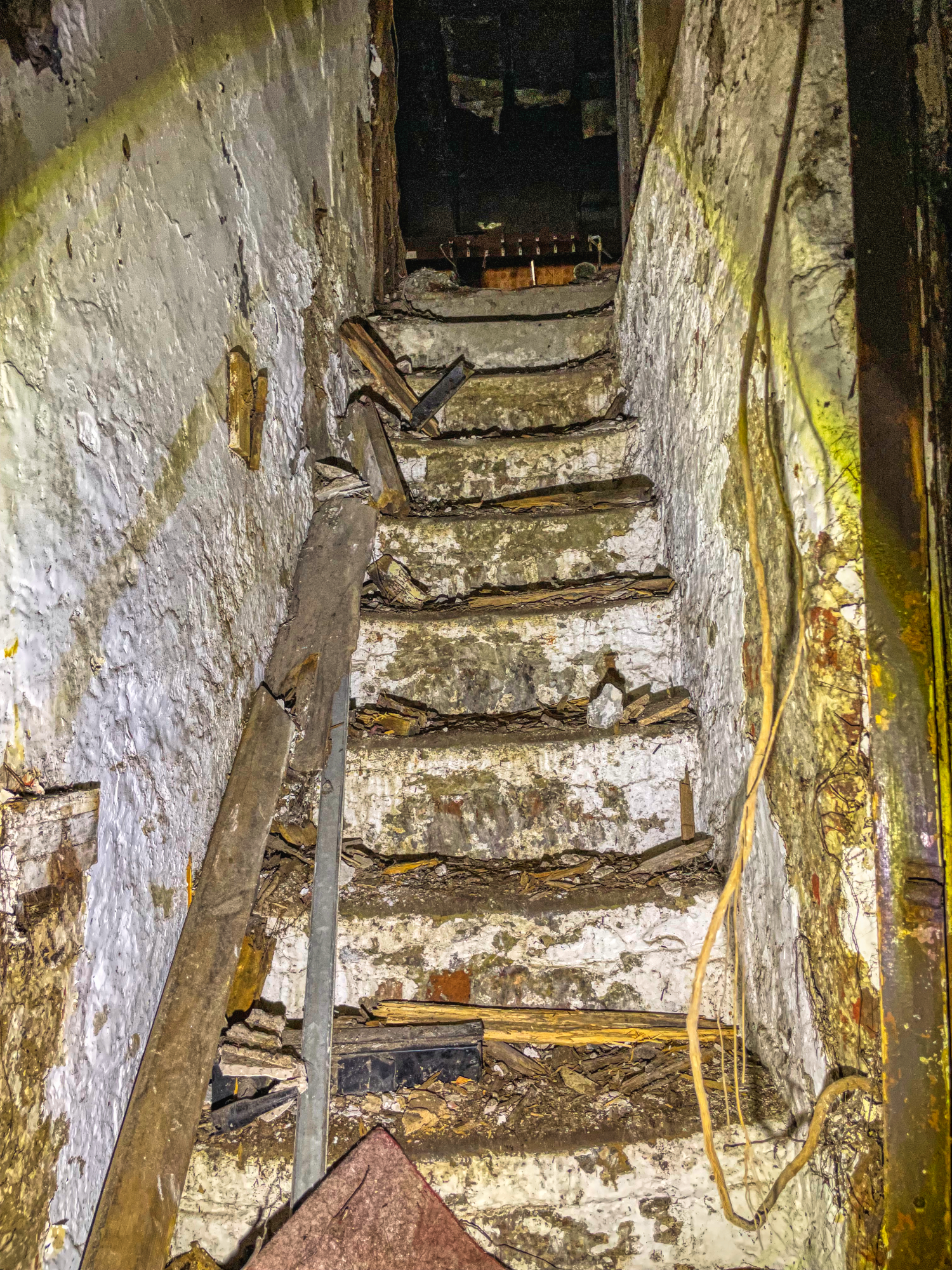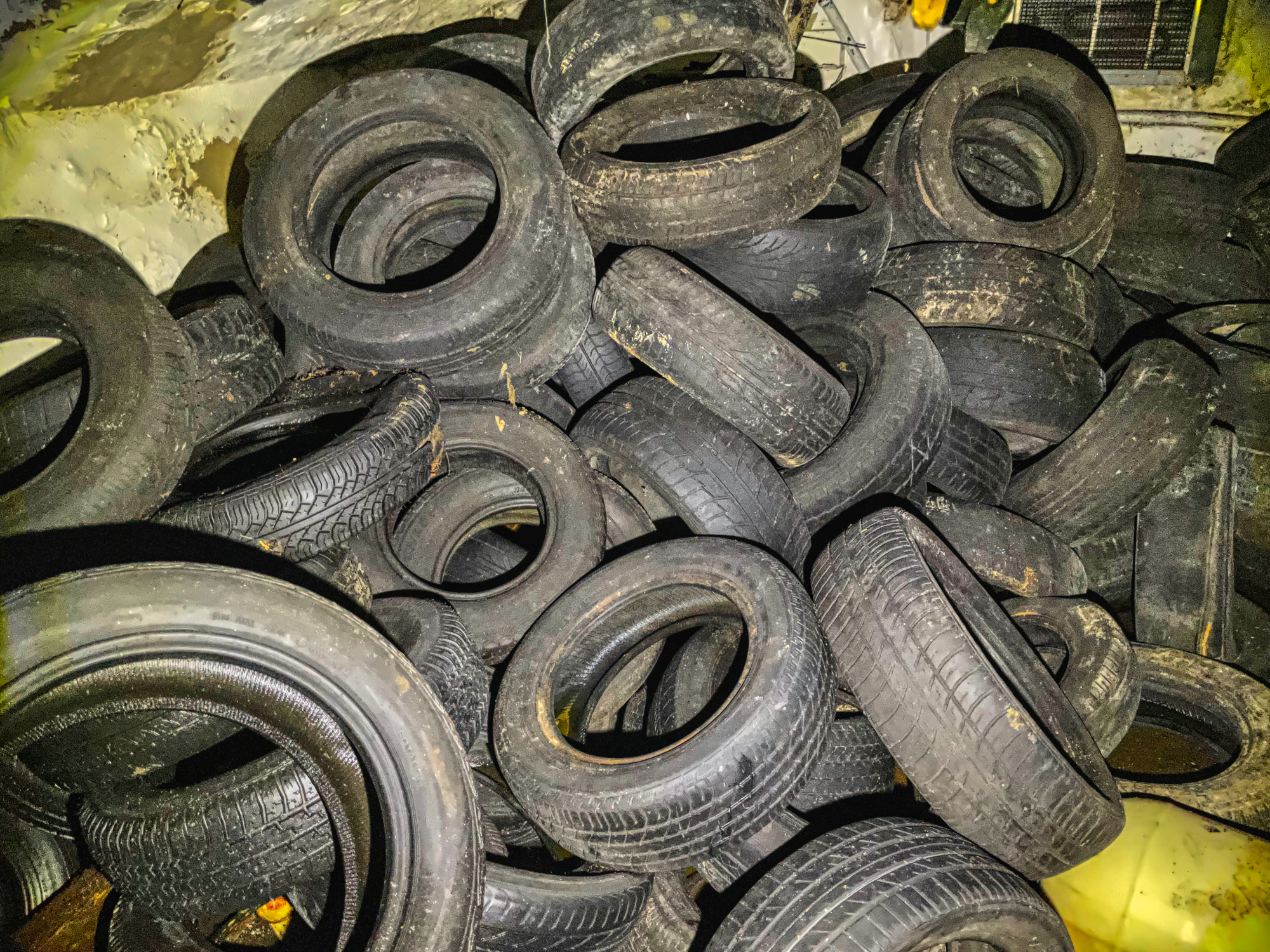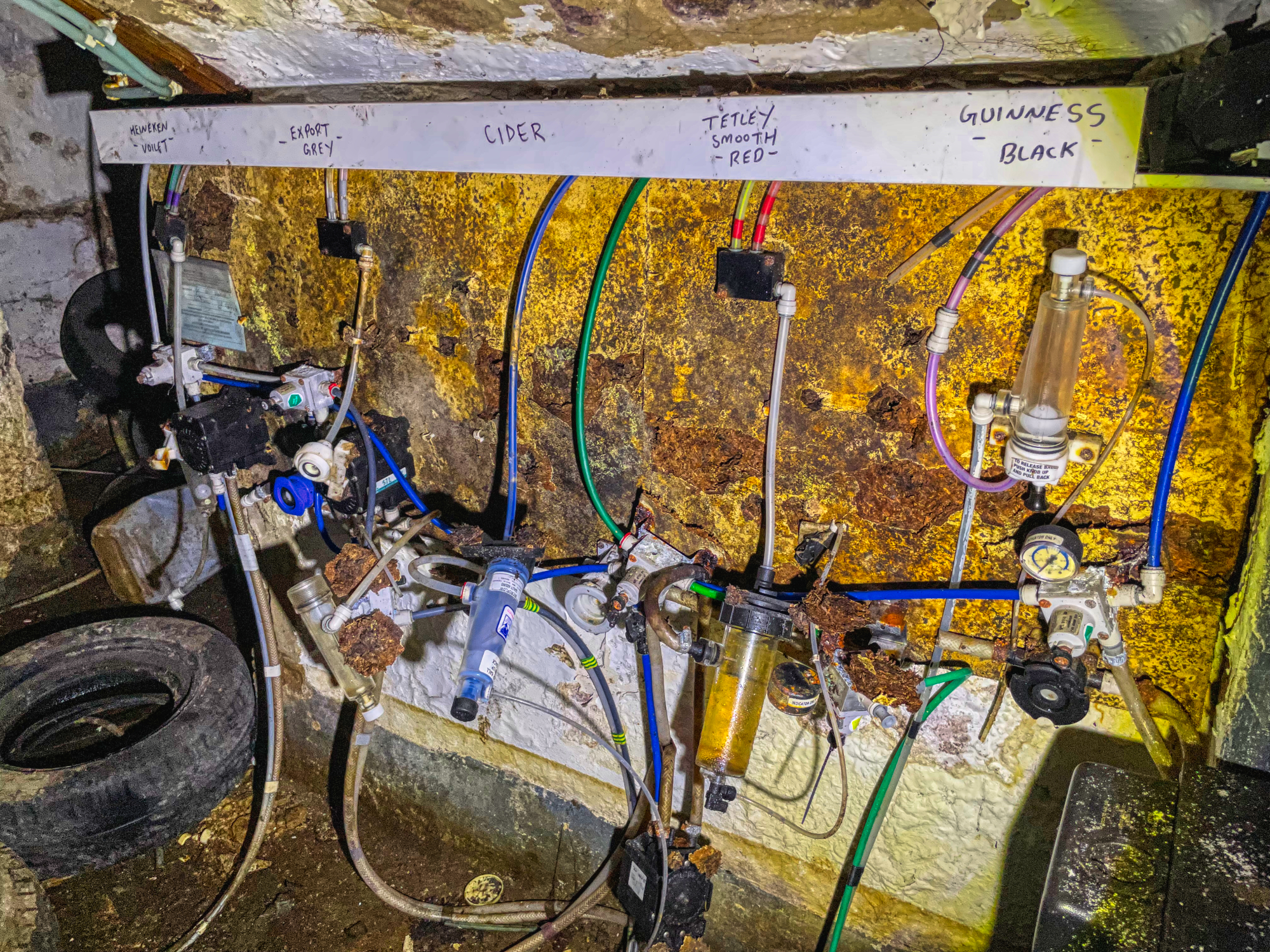 Has there even been a Guinness that's not been 'black'?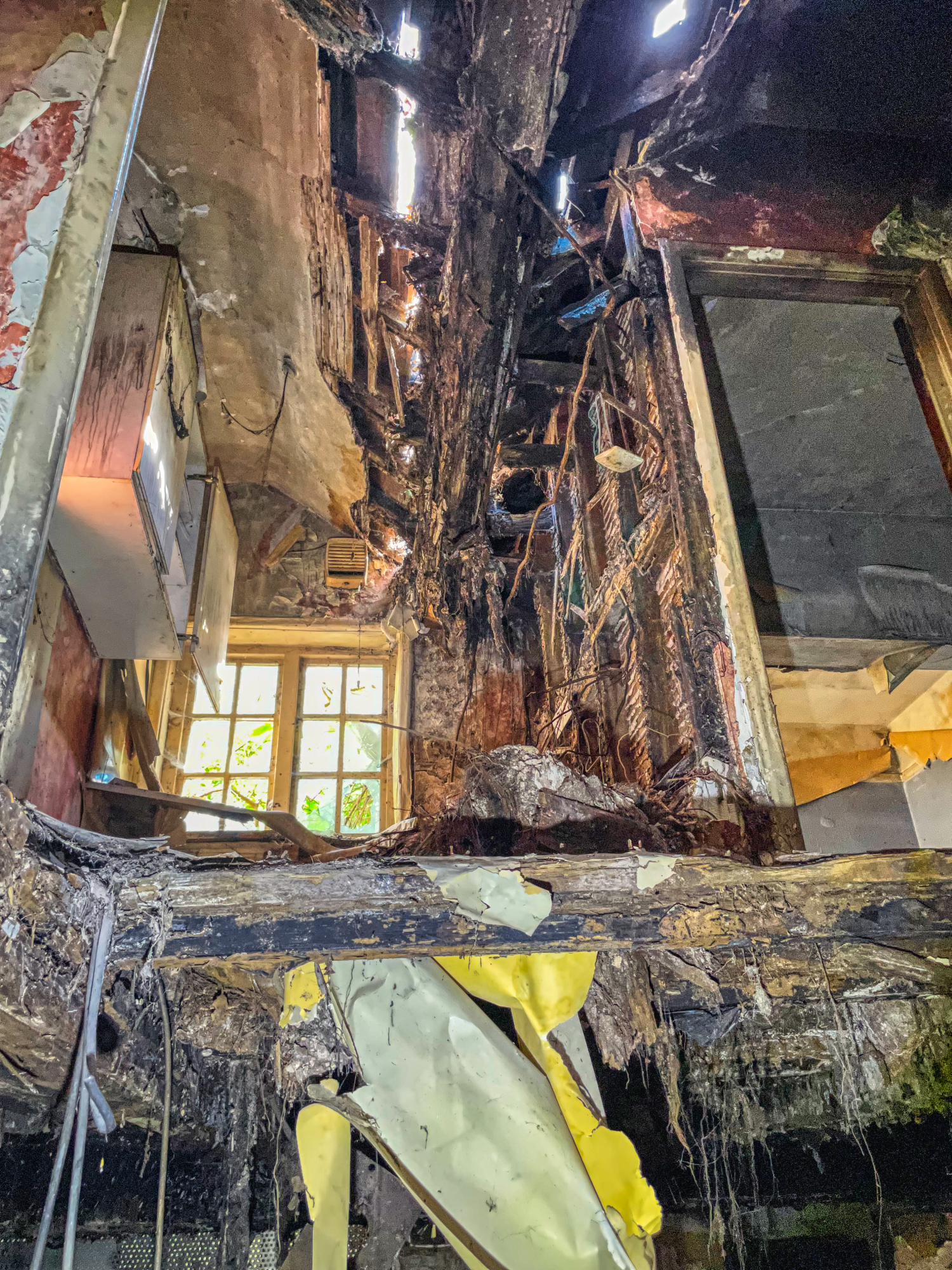 Some areas of 'Ye-Old Harrow' were looking structurally weak, with pockets of sunlight poking through.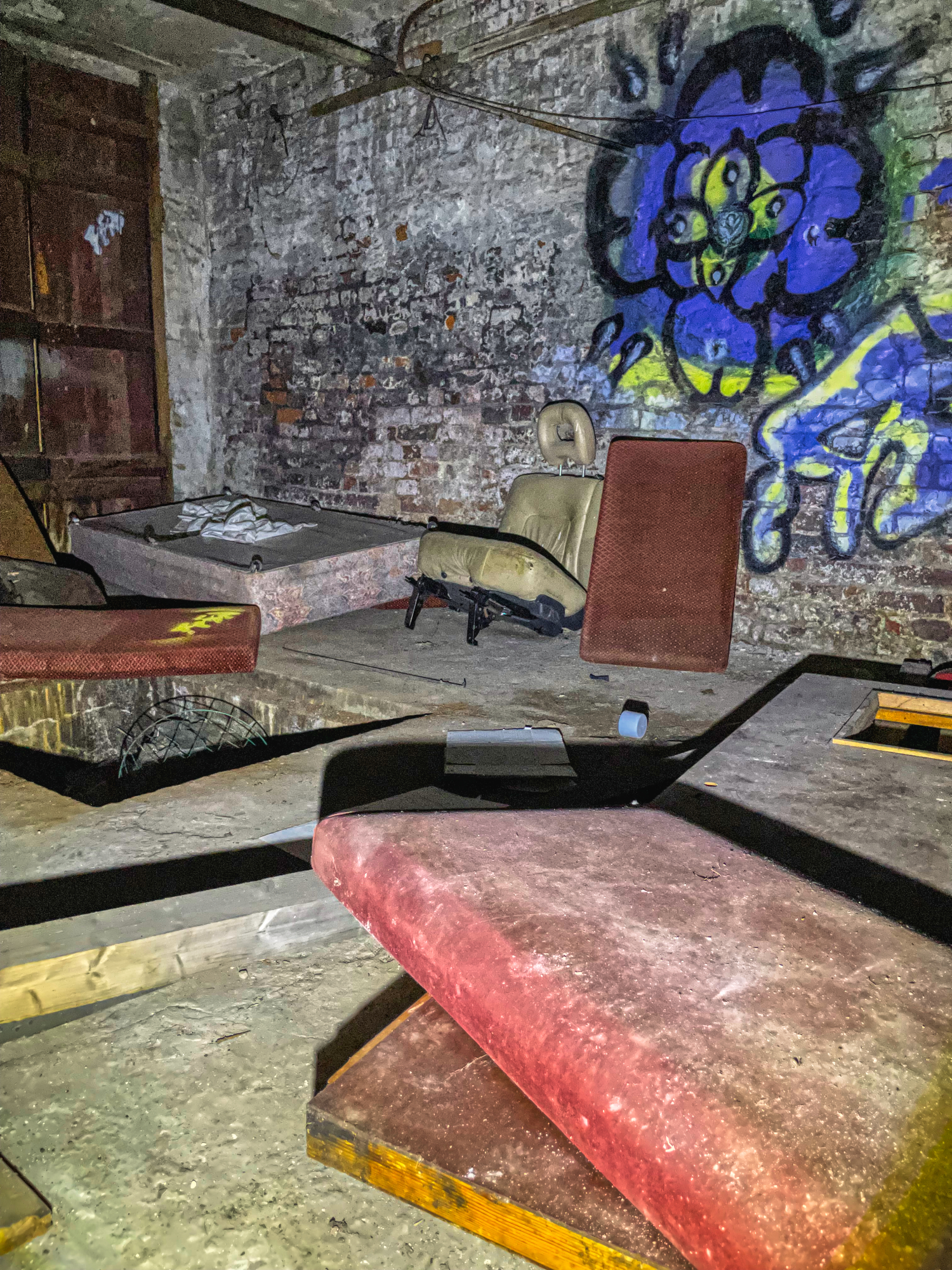 The cellar was larger than I first through with another room containing several mattresses, one of them overturned. They are much more comfortable the correct way up, especially after shooting up.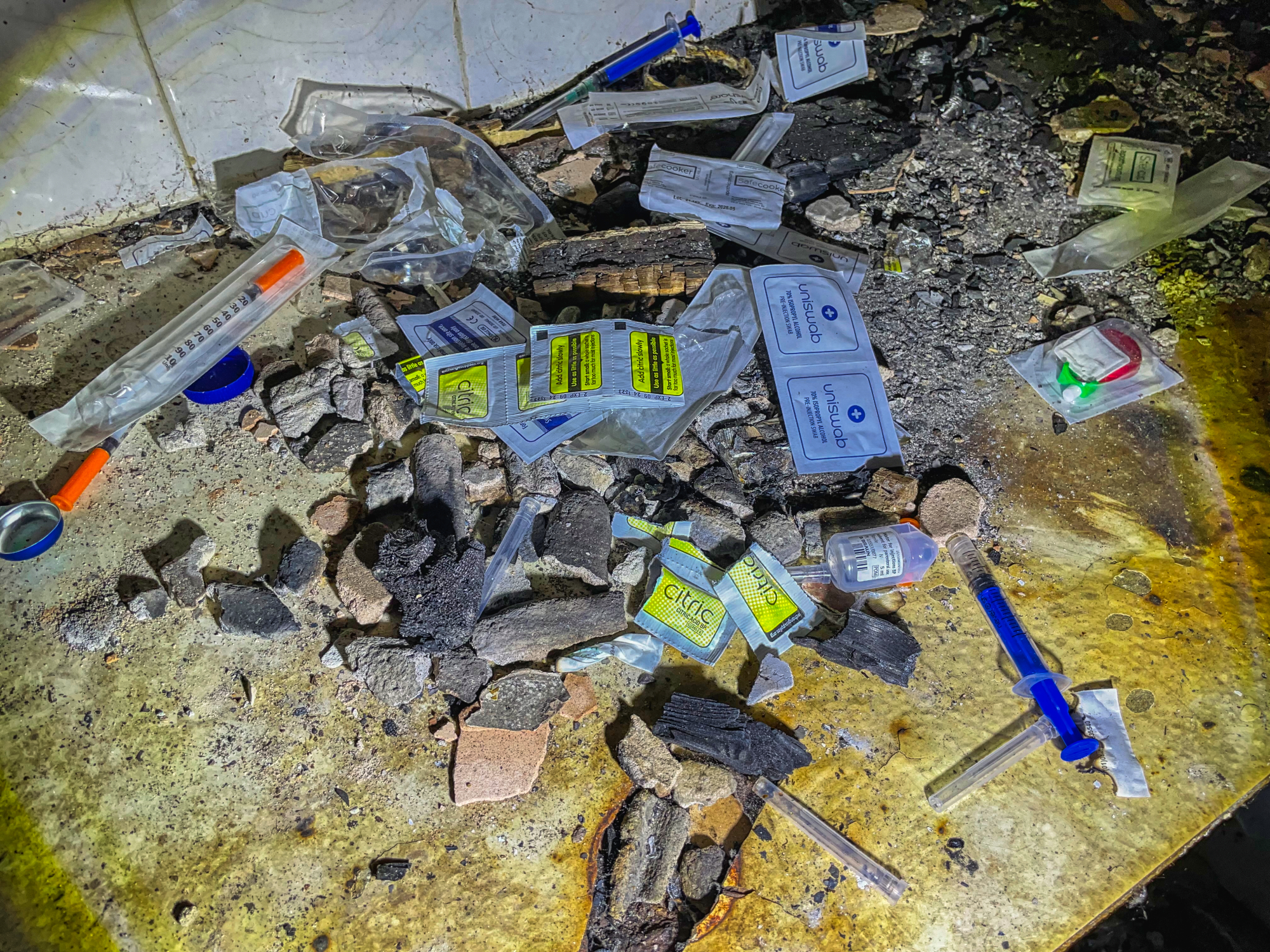 These junkies never seem to learn. They find the most uncomfortable rooms possible that are dark, damp, freezing and are oblivious to the 'dark figure' that could be just around the corner biding his time before jumping out with a terrifying 'BOO'.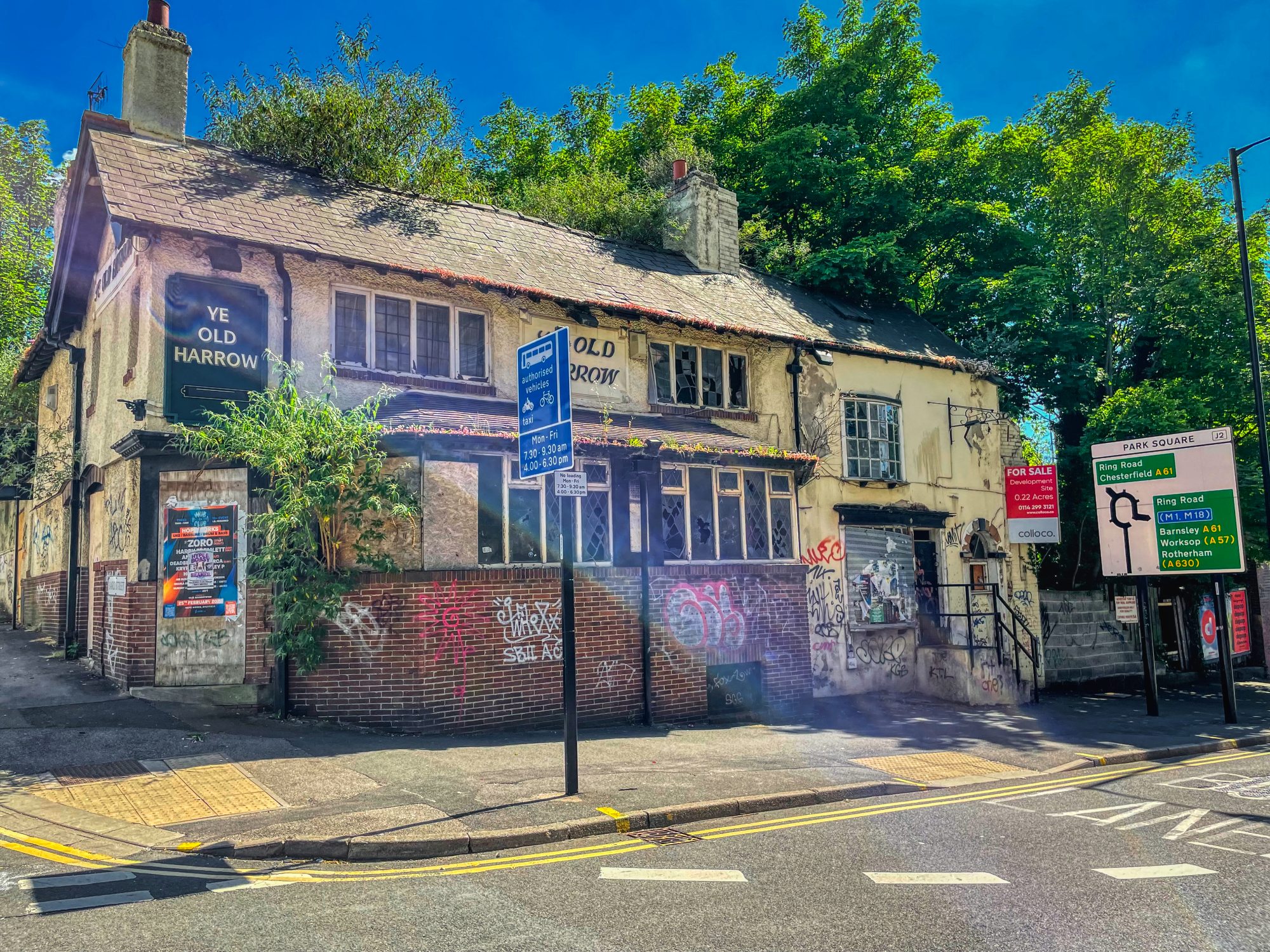 Could it be the 'sinister dark figure' is also a junkie?

Do you like posting your Urbex content and photography for FREE on Facebook and YouTube? I like to get some form of reward for my work and every time I create I do just that. Take a look at The Urbex Community on HIVE.
If you want to keep creating for FREE then ignore what you are reading. If you want to be like me and gain something other than BUGGER ALL for your work then click here and learn about posting on the HIVE blockchain.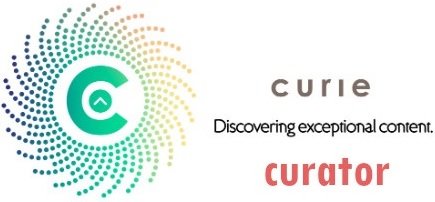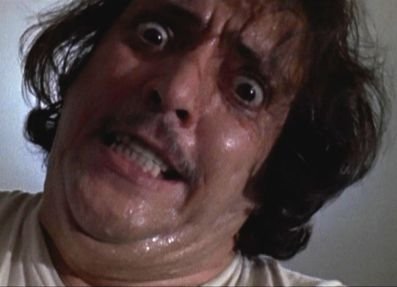 If you found this article so invigorating that you are now a positively googly-eyed, drooling lunatic with dripping saliva or even if you liked it just a bit, then please upvote, comment, rehive, engage me or all of these things.
---
---