Even when a mirror is broken into little pieces🪞 it's little piece can still identify and tells the truth.
Hello my fellow needle workers,
it's a beautiful monday morning and a wonderful new week, you all are having a great time cause am really enjoying myself, I returned from church not too long ago this morning for our new week morning prayers and I just finished my breakfast, preparing to start the day and also patiently waiting for my lunch in few hours 😂 (me that don't joke with food, especially fried rice and chicken) don't joke with it ooo. So friends hope you all are doing very well right now, actually it's been a very busy week for me as usual, I had some sleepless night too well........it's all for the best though, am alright. I just hope this week comes with best for me 😊.
So friends hope you've all prayed and thank God for life,for always coming through mighty for you because aside him maybe you wouldn't have been where you are today not to talk of archiving what you have today no matter how little it is, it's just for the best and just keep trusting God for more.
Today I want to share with you an outfit I made just last week at my working place. Trust you'll all like it.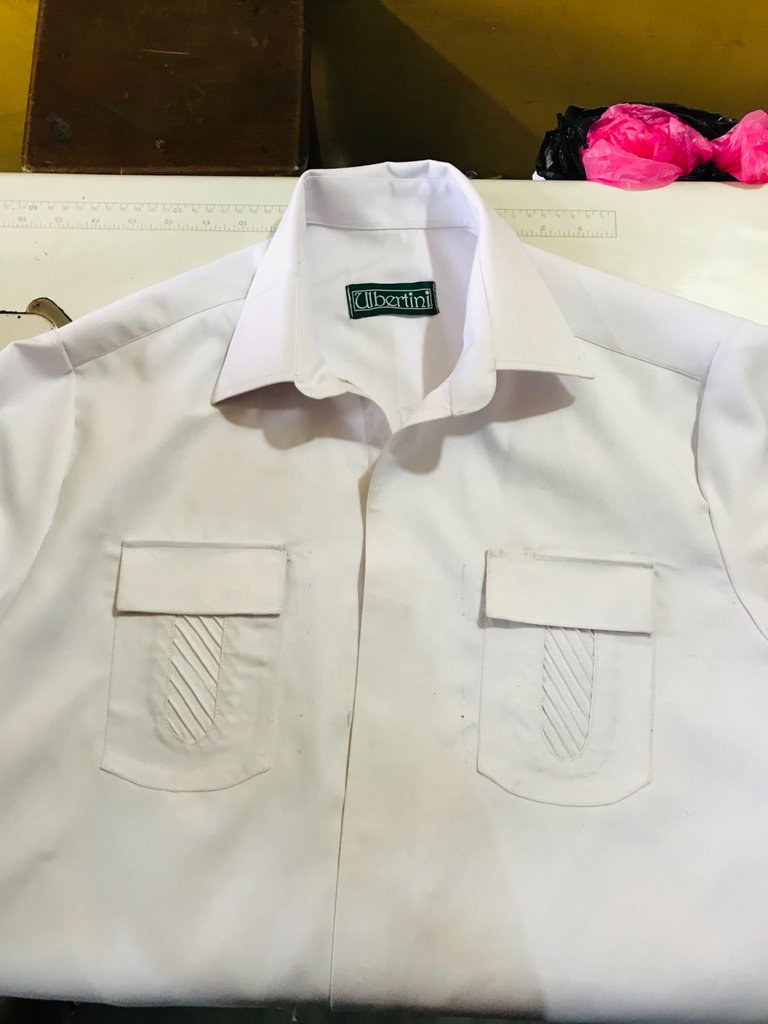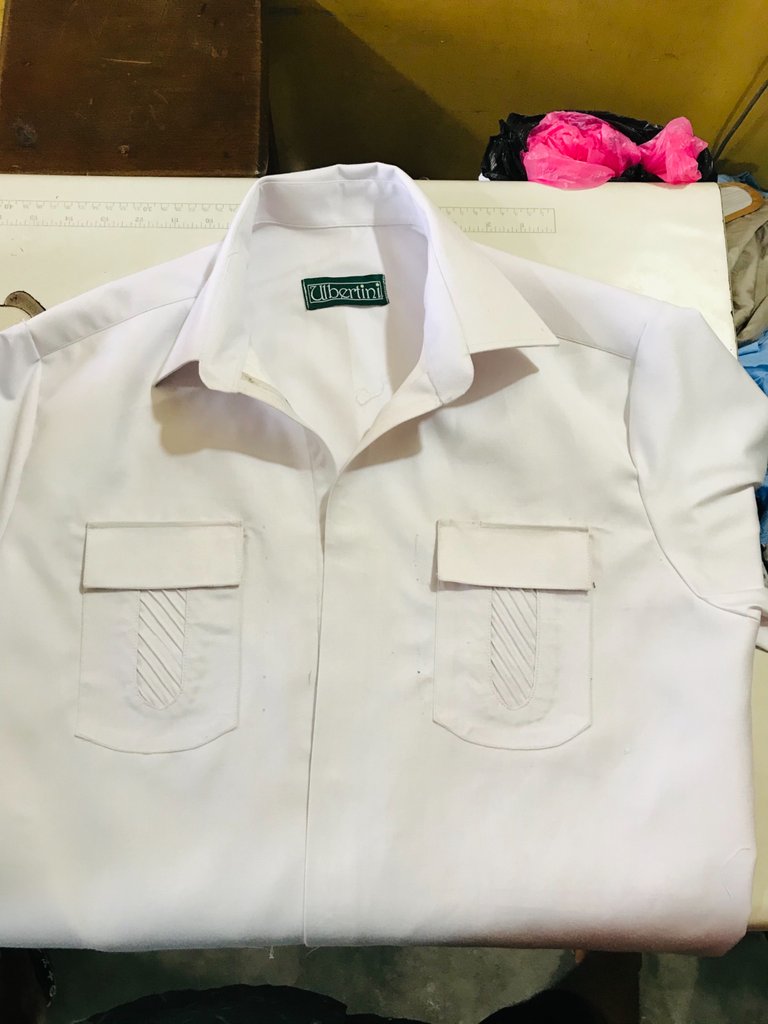 Equipment used:
A plain white fabric
A white tissue gum
White thread
Collar gum.
In my office my boss does the cutting of the cloth and after that he brings it for me to sew so that just the normal thing I don't get to cut I only sew after he had cut it and brought the design to me on how to sew it. But I just guess it's same way I have been doing mine that goes he does his cutting too.
My sewing processes:
Firstly:
I gave my phone to a friend to help me do the snapping while I focus on the sewing. I took the pieces of the white that was remaking, I cut the length 30inches while the size was 7inches and I just started sewing it 0.1inches in a slanting form and I continue with that till I finished it.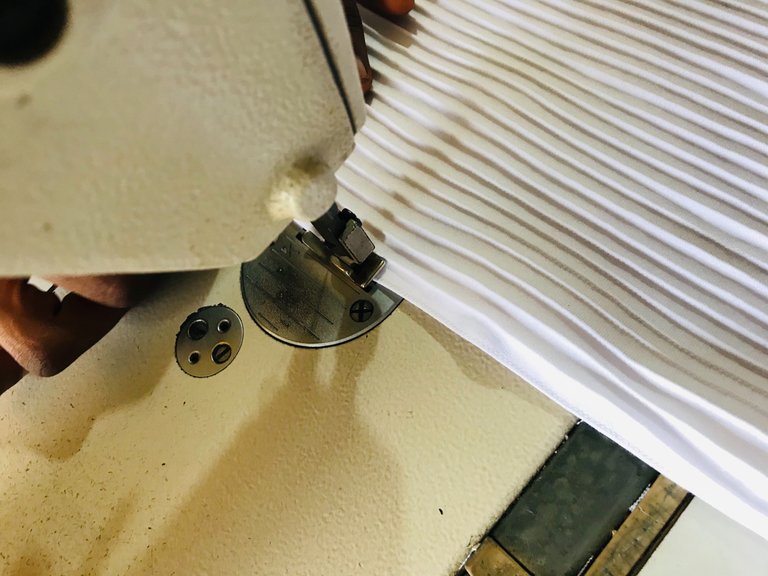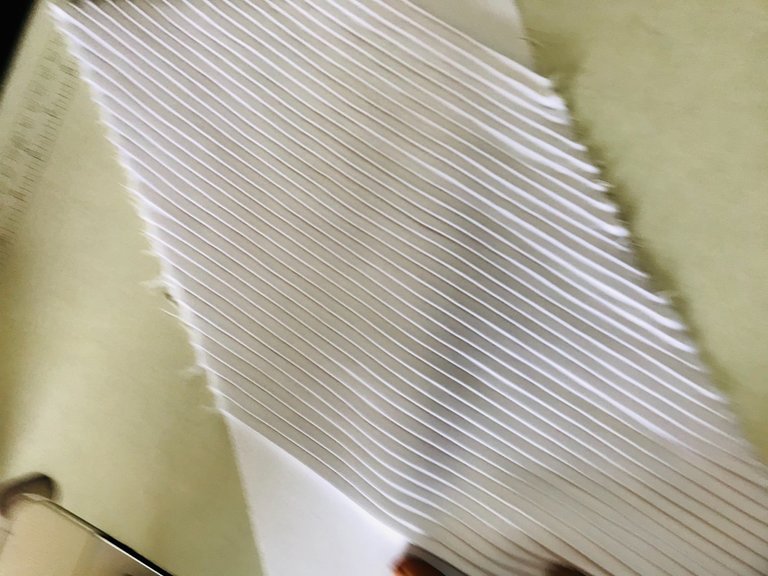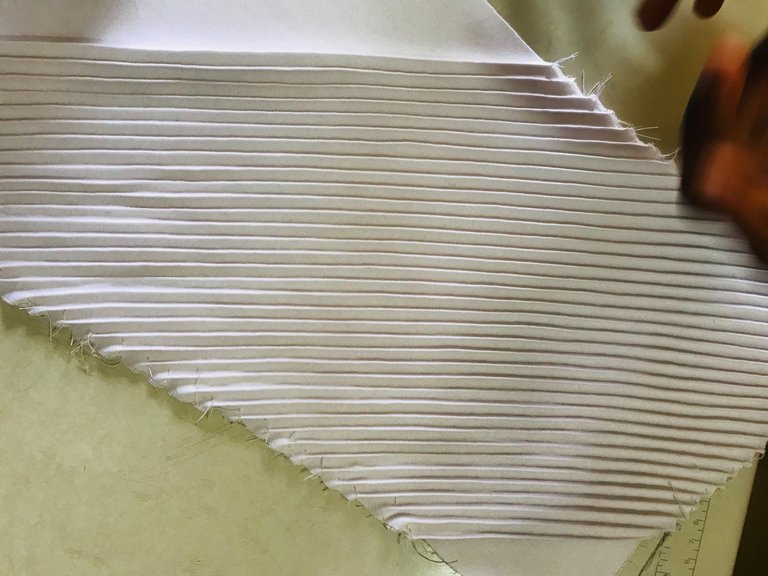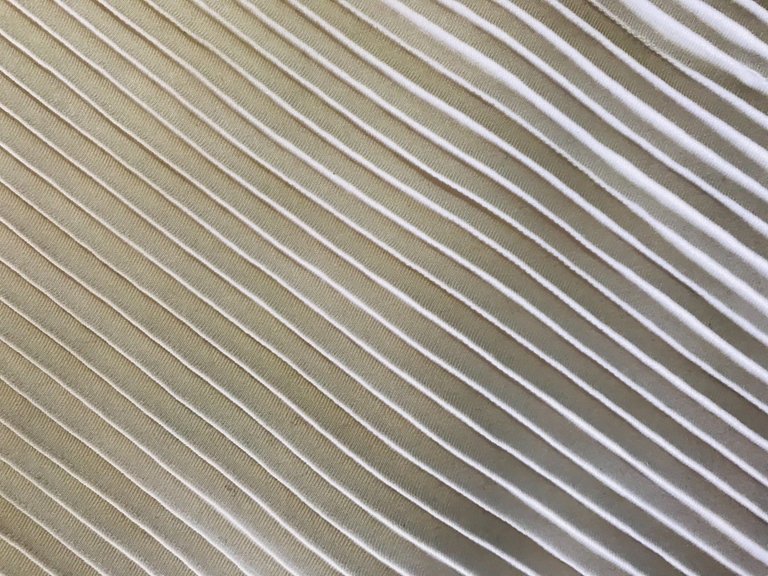 Secondly:
I cut the white fabric again and this time the size was 6inches and the length was 6inches too and I applied the tissue gum to the back side and I mapped out with a pencil size of 3inches at the middle of the fabric I cut it two so I did same on the other one too. After I had mapped it, I then cut it out and included the slanting 0.1inches I just finished sewing I placed it on top of it and I sewed it,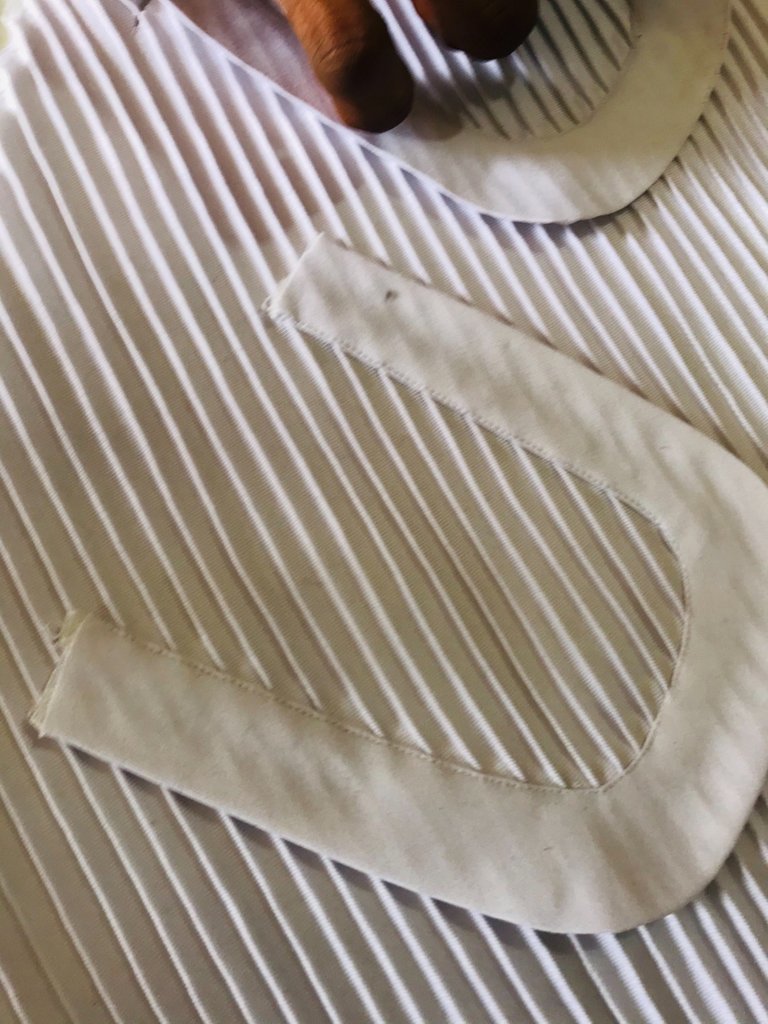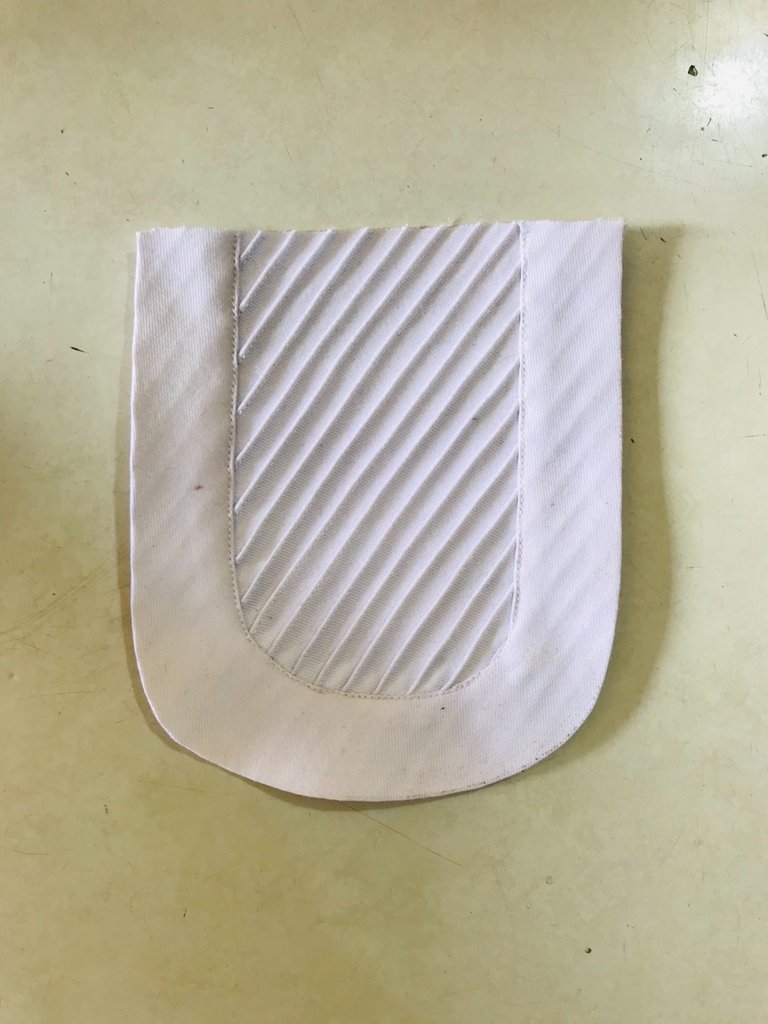 I did same to that other side and after the sewing I then too it to the iron and I bend it size of 4inches and length of 5inches I also added a 1inches at the top too. All this stress was to form a front pocket for this outfit.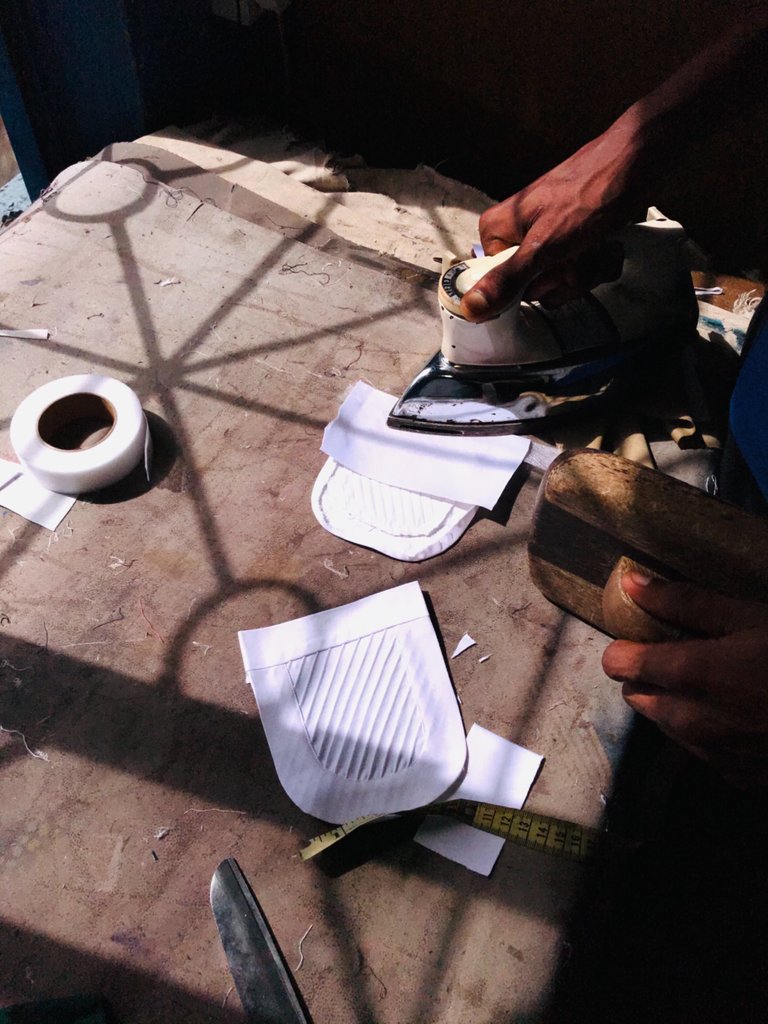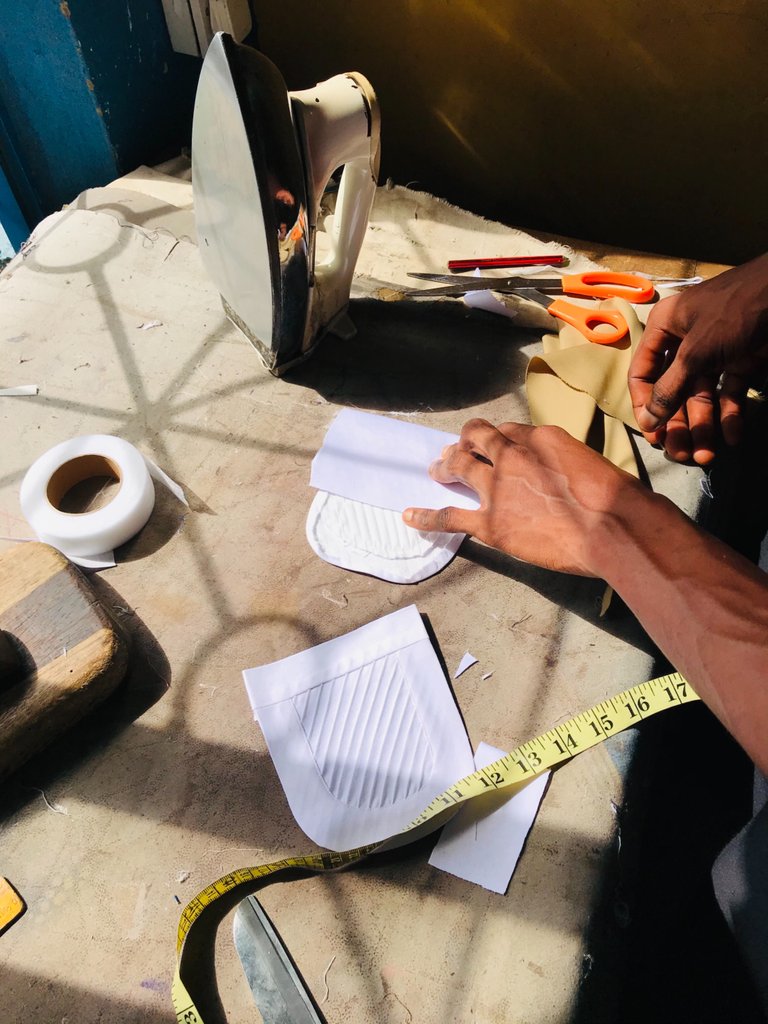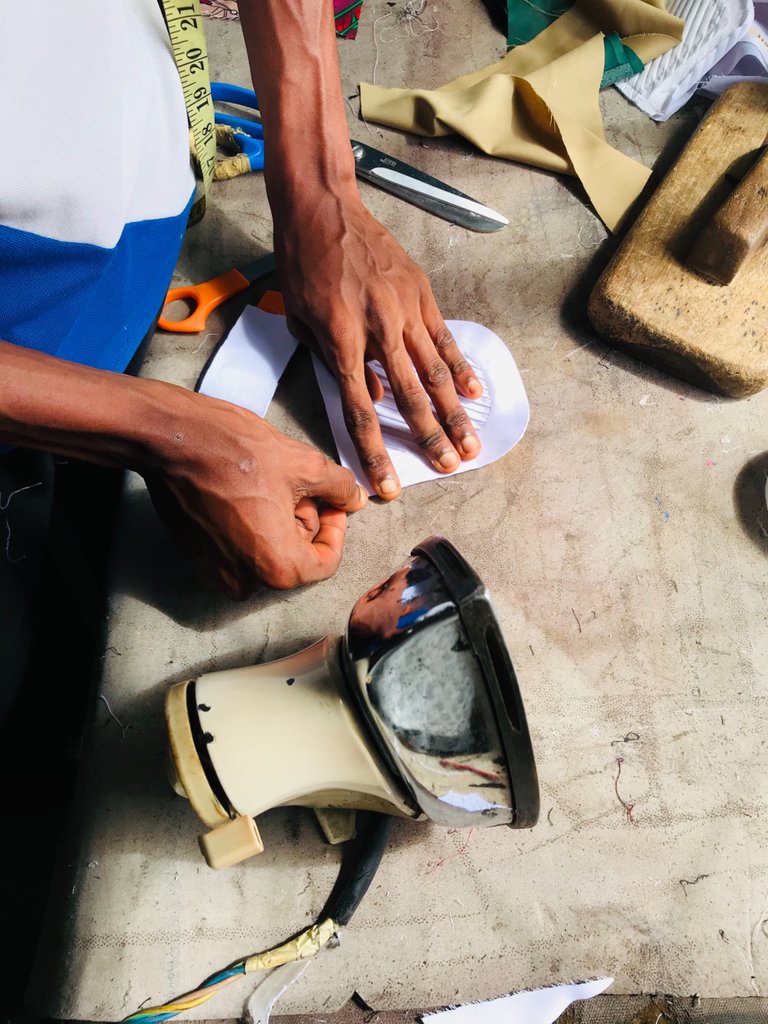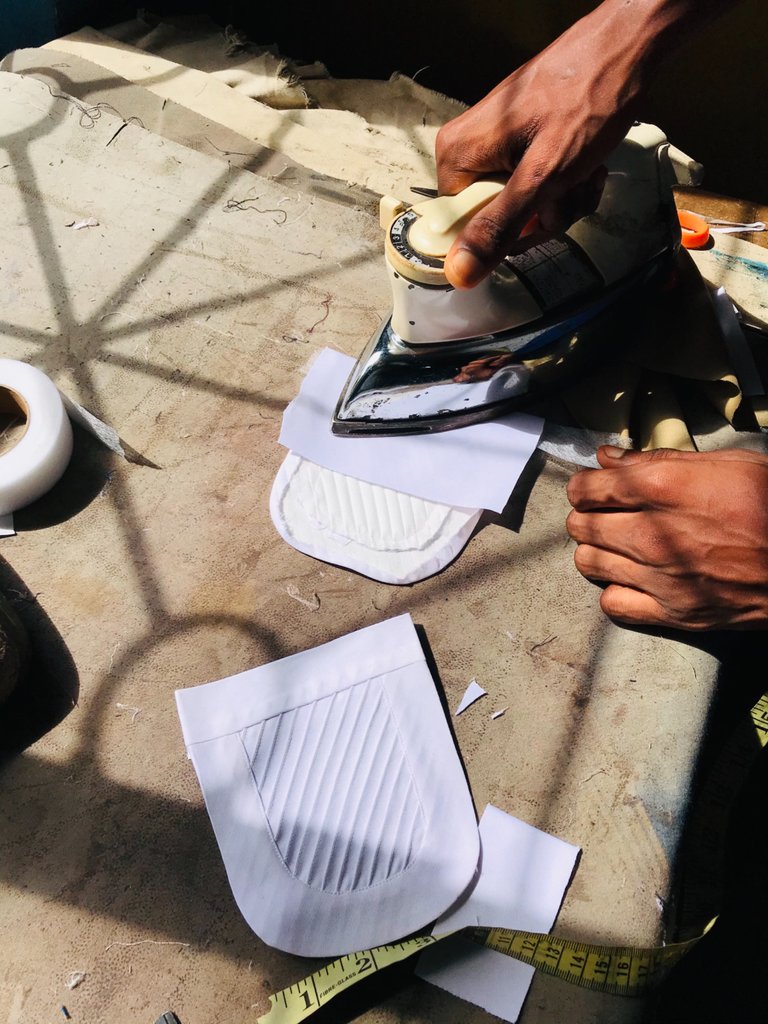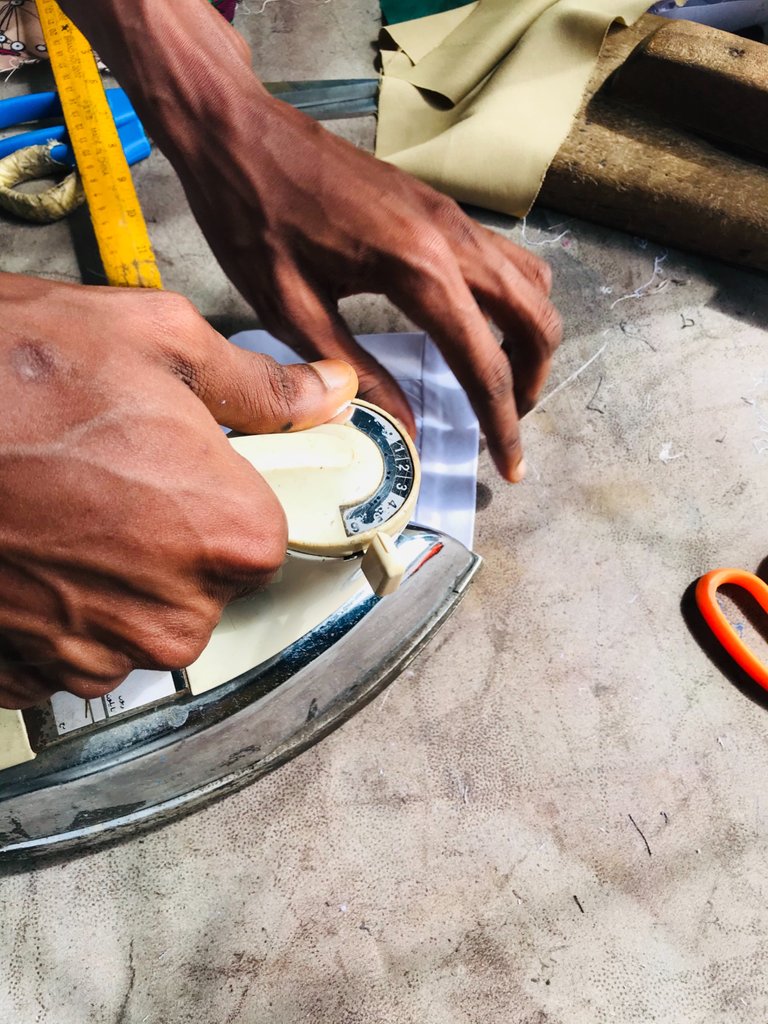 Thirdly:
After the front pocket was done I placed it on the body of the cloth now from the shoulder neck part I measured done 8inches and I place the pocket there and sewed it to the cloth.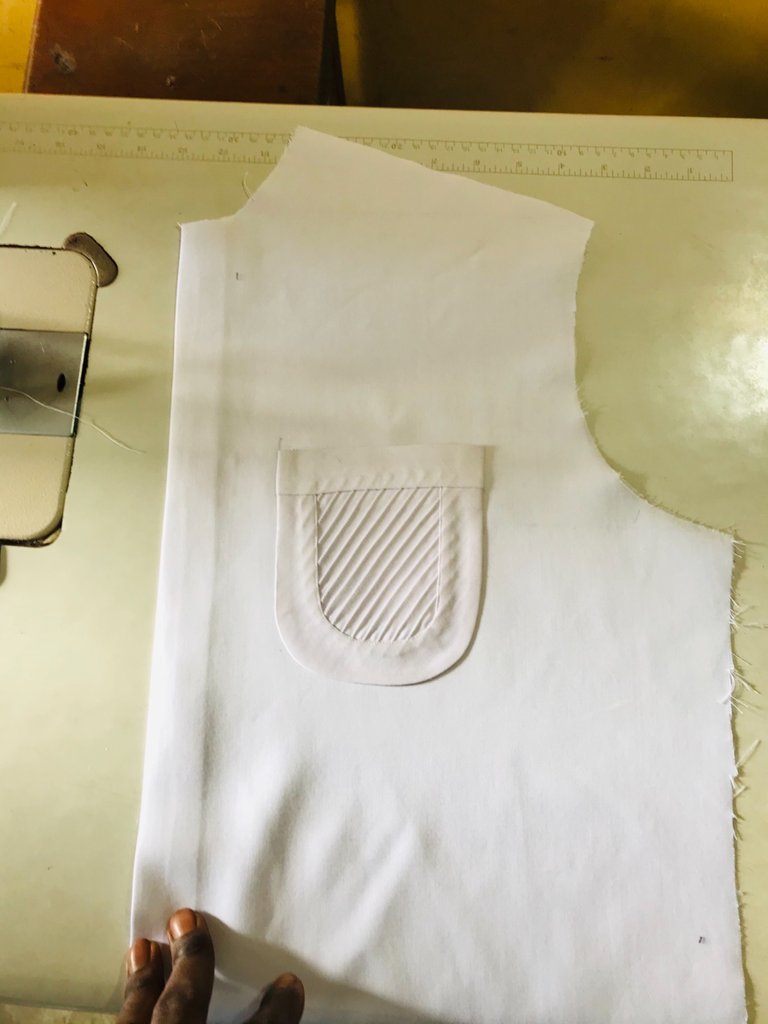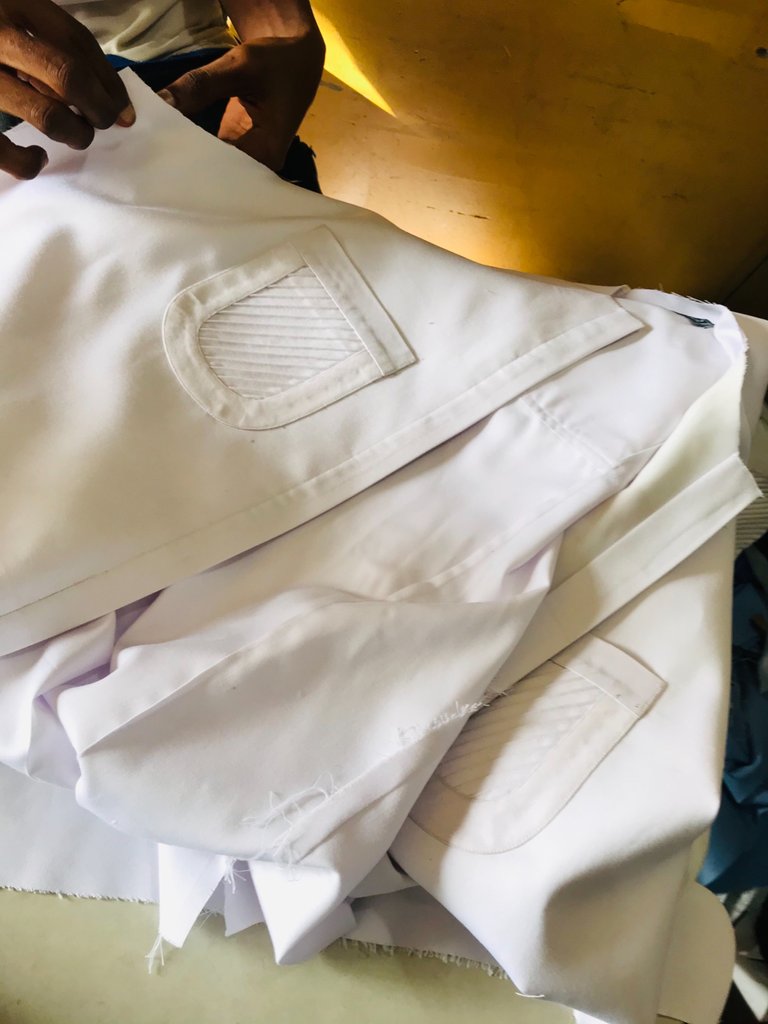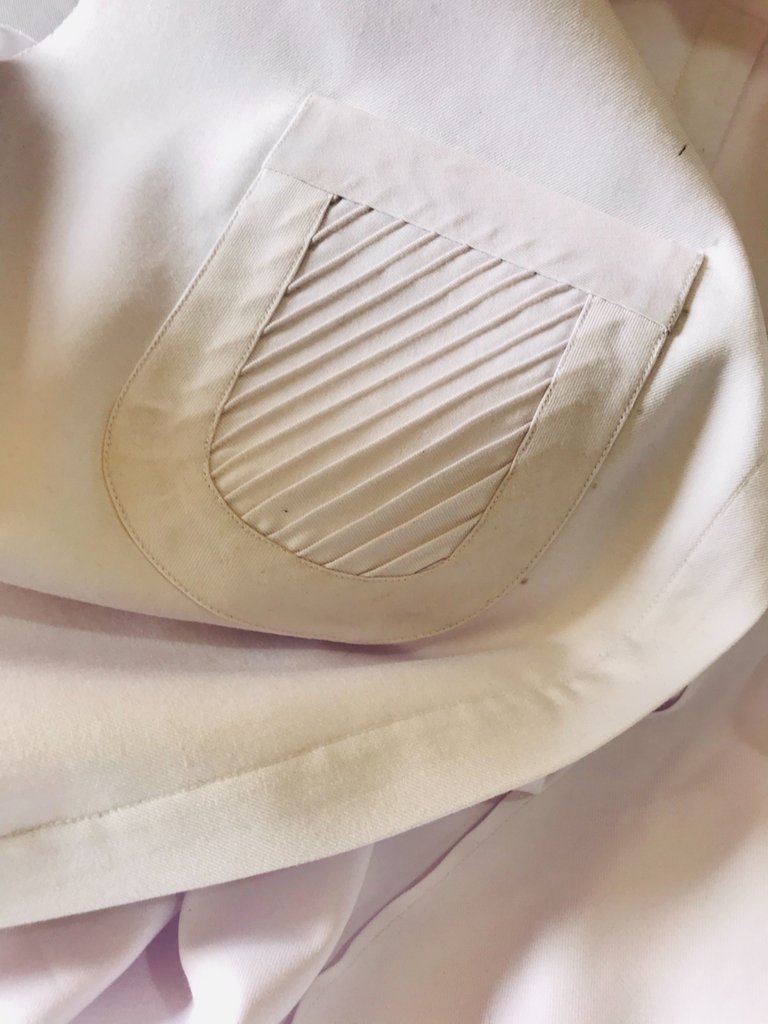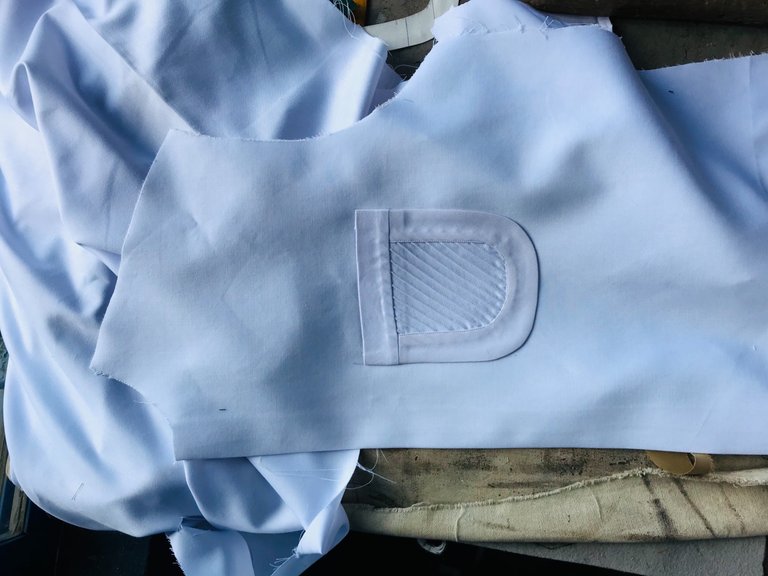 That was done and I joined the shoulder with the back view and I trimmed the shoulder and I added the sleeves and I joined the both sides, I did the collar and fixed it to the neck then the outfit was ready.
Thank you so much guys for always watching out for my post and for your comments and votes God bless you all. I wish you all a prosperous week and a fruitful day too. Good vibes 😎
---
---