I got the inspiration to make this design while in the kitchen yesterday filling water in a bow 😊 can't believe I pulled this off😃.
Hello needlemovers:
Good morning How are we all doing? Hope we all slept well. Am not doing bad either, all's well. It's been a great weekend for me, I trust we all had an awesome weekend too. Well...... during my weekend I took out time to go visit most of my friends I haven't see for a while now, in the cause of our meeting we talk about so many things and had lots of fun together, i love one thing about him, his ability of coming up with brilliant business ideas, he opened my eyes to so many ideas yesterday he has been such a supportive friend since from day one and to be honest, I really appreciate him so much. So friends I do hope your weekend went well and was as interesting and impactful as mine was last week.
So friends this is a new week and today marks third day with so much love in my heart ❤️ I pray this week be a blessing to you all, and I specially welcome you all to yet another amazing new week of content creation, yes I know the week is just three days old now but it hasn't finish right? So am still correct. Now friends stay connected to your number one favorite brand @smilestitches while I blow your minds😊 with my amazing designs and styles.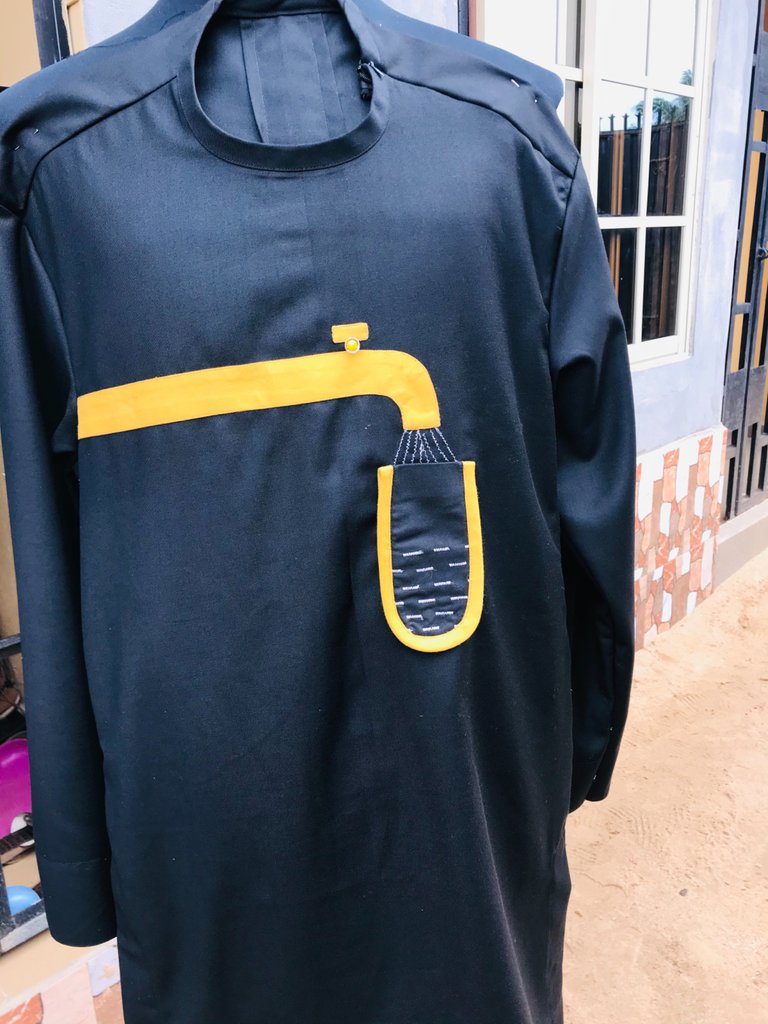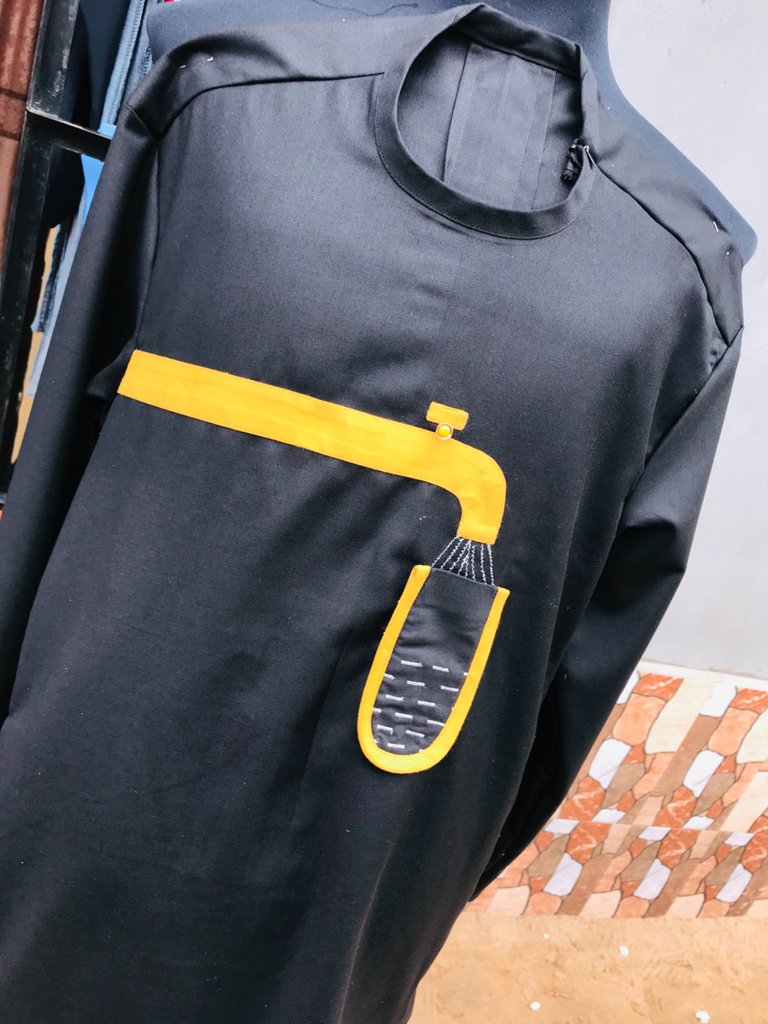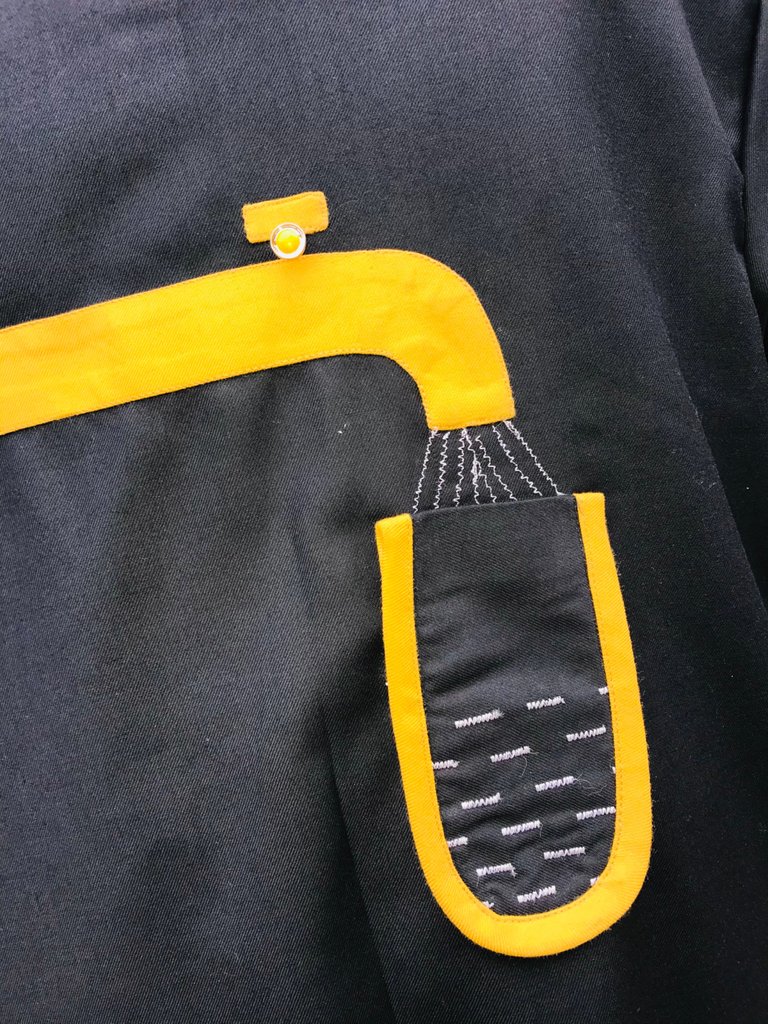 Someone might be wondering where I got this design from 😂 I actually got an inspiration to make this design when I was in the kitchen filling in water in a bow and I stop to think that I could actually use this for something so I imagine sewing it and then I arrived at this design I made 😂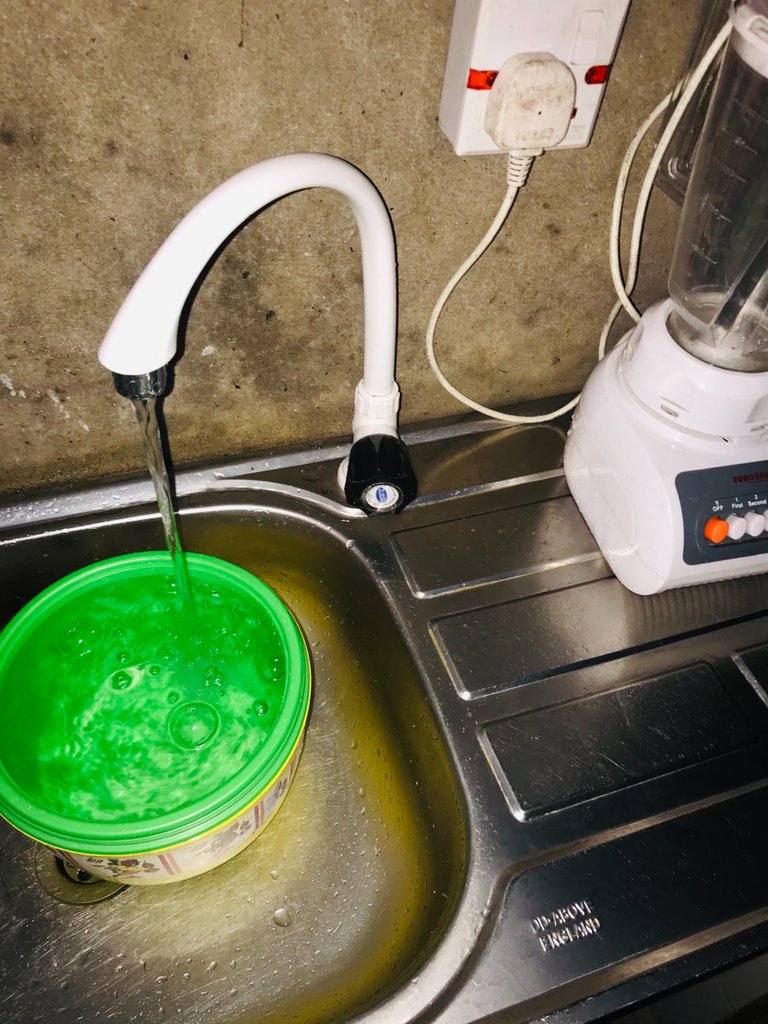 I don't know what happen I actually made a post on Monday and it's so frustrating that my post didn't get to @needlework blog for my friends to see and that was one of my best post am just not happy at all after posting it I search for it on @needlework blog I couldn't find it, don't know where that post is 😒😒
Items used:
Black fabric
A gold fabric
Soft gum
Black readymade zip
Matching threads
Sewing processes:
firstly:
This outfit was very simple to achieve didn't spend much time on it cus it was just too simple. I just first lay the black which am using as the body of the cloth, now after I lay the black fabric, I bend it once and with a chalk I map out my client's measurement on it and processed to cutting. After cutting the front out I used it to trace and cut out the back view then move to the sleeve which was a long sleeve and I did all the cutting out.
Secondly:
Now my cutting was done, I took out the front iron out a straight line to indicate the middle so to help me in the making of this top, cus with that straight line I'll be guided on how to go about with my design. So after the ironing was done, I took a pattern paper and I sketch out the drawing of a water tap.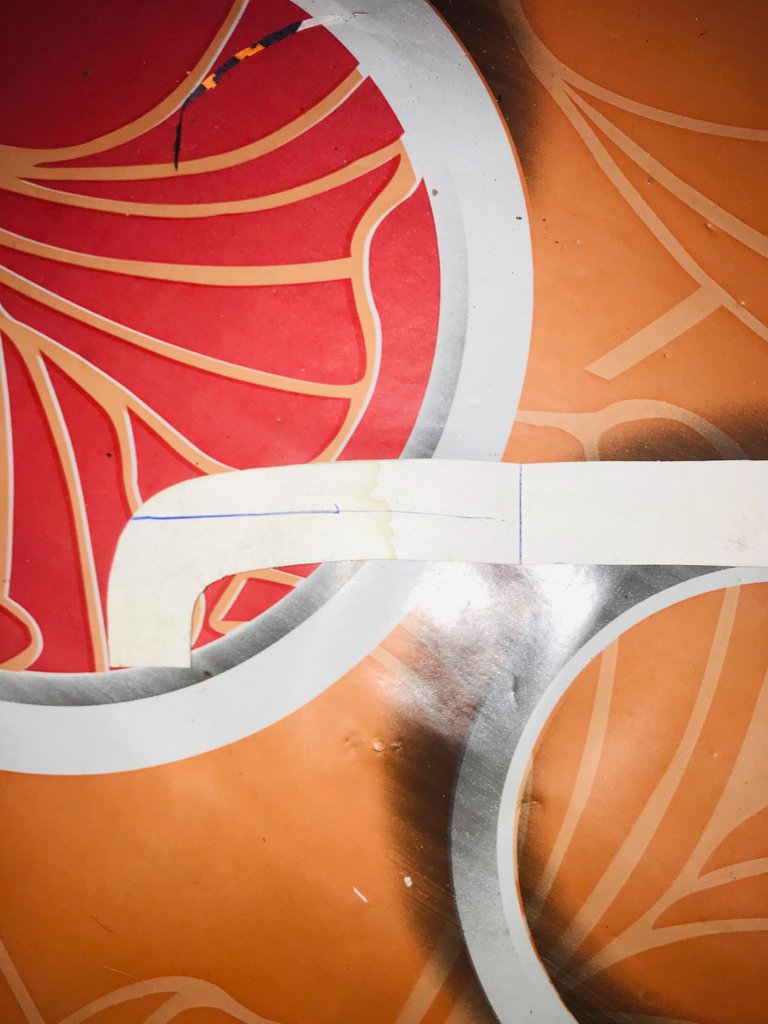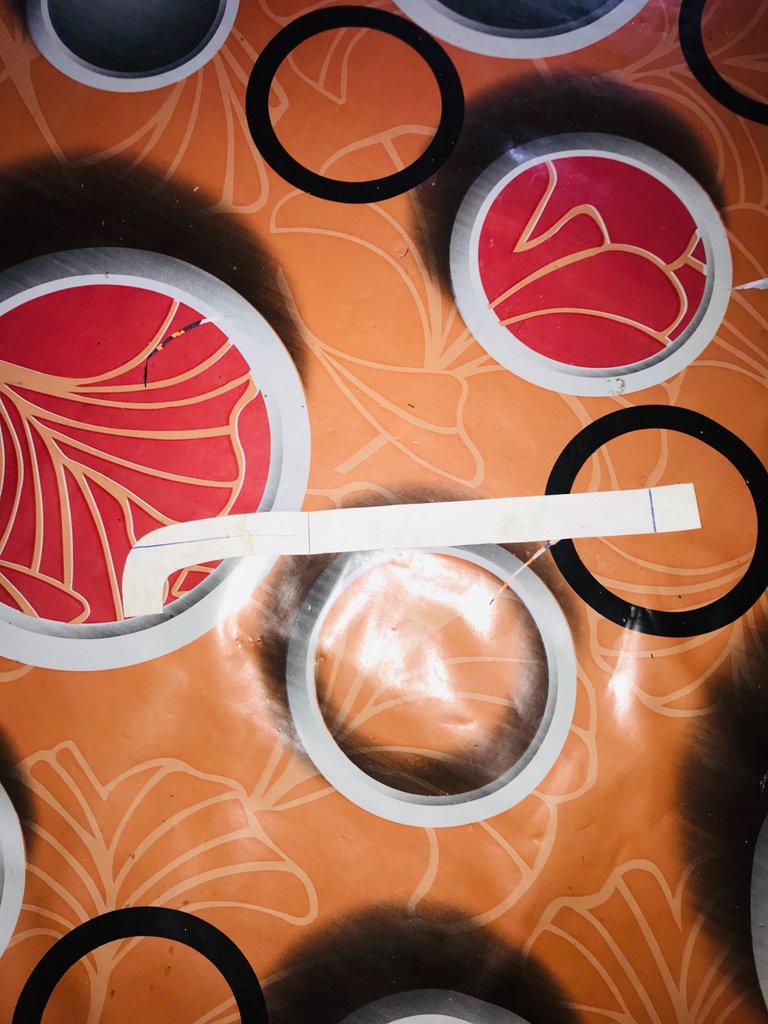 I cut it out, I place it on my the gold fabric I sketch it out too and with an iron I included my soft gum at the back view to make it tick for bending.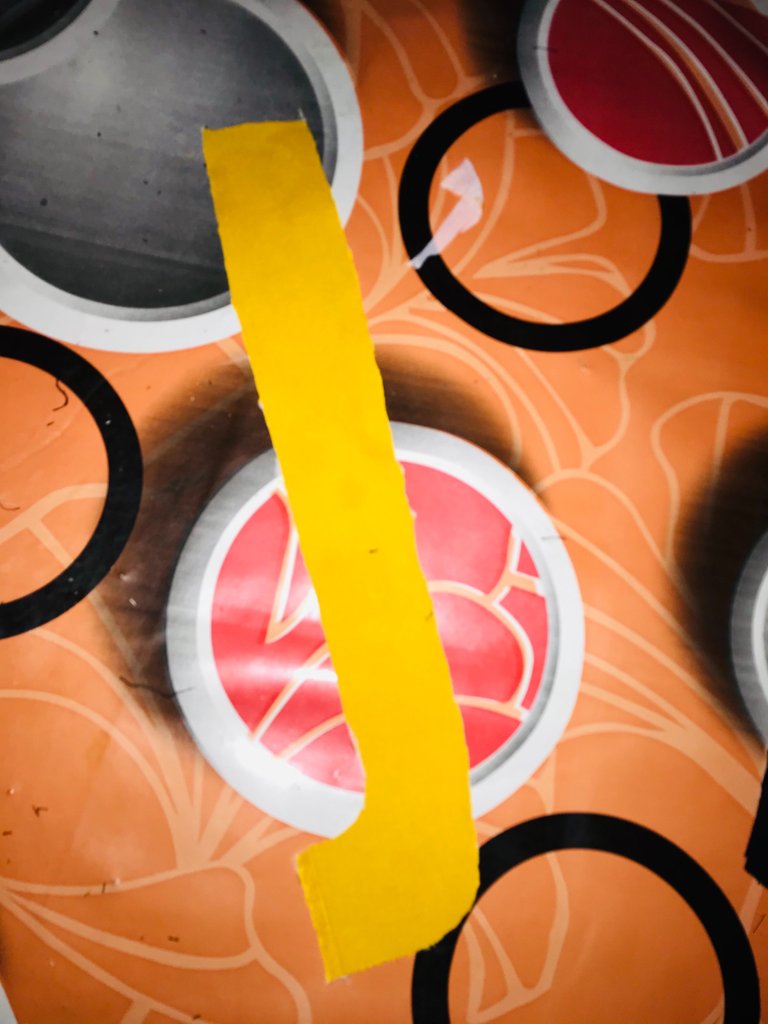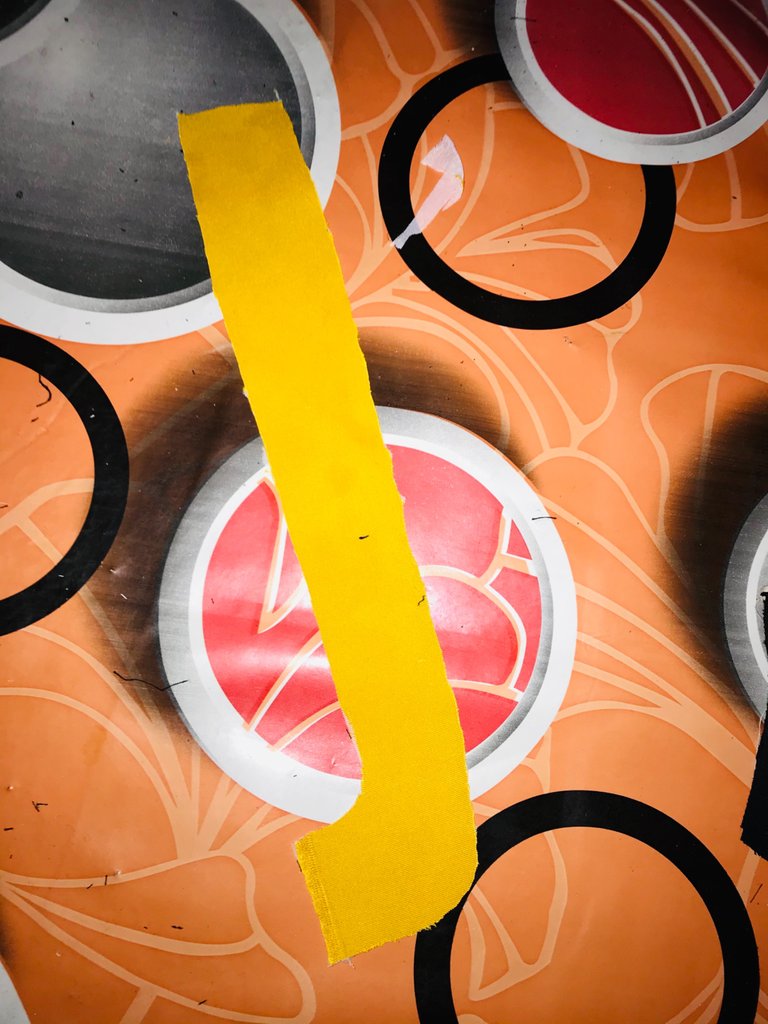 Why I choose to first sketch it out on a pattern paper was to make all my mistakes there(that could be wasted too) than to draw it direct on the fabric and keep making mistake and wasting the fabric so that was why I device that plan and it worked I even used the pattern paper to do the bending with an iron of the water tap,
it the pattern paper that helped me in bringing out the correct shape that i want to create.
Thirdly:
After the bending, I took out the pattern paper that was inside and I place the water tap on the front I then sewed it and I cut the black fabric and too it along with the front to an embroidery design person to do the white thread-line design on the pocket and the down part of the water tap that was achieved in 1hours time and u took it home for the completion of the cloth. Getting home I rounded the down part of the pocket and i used the gold fabric to pipe the pocket round.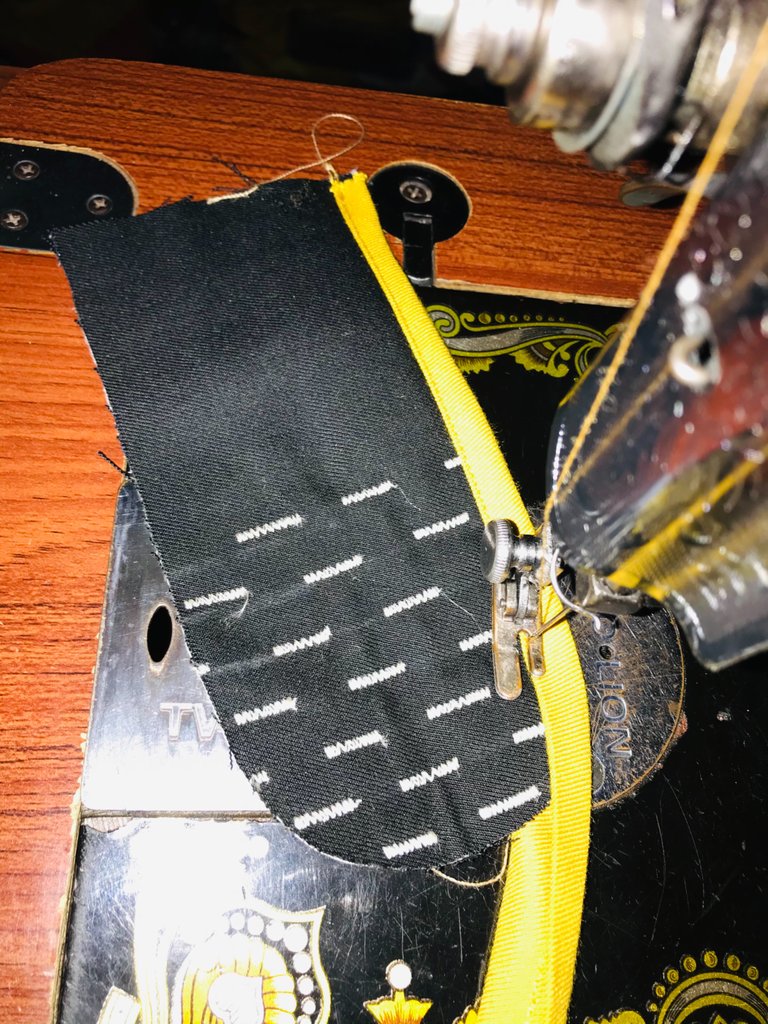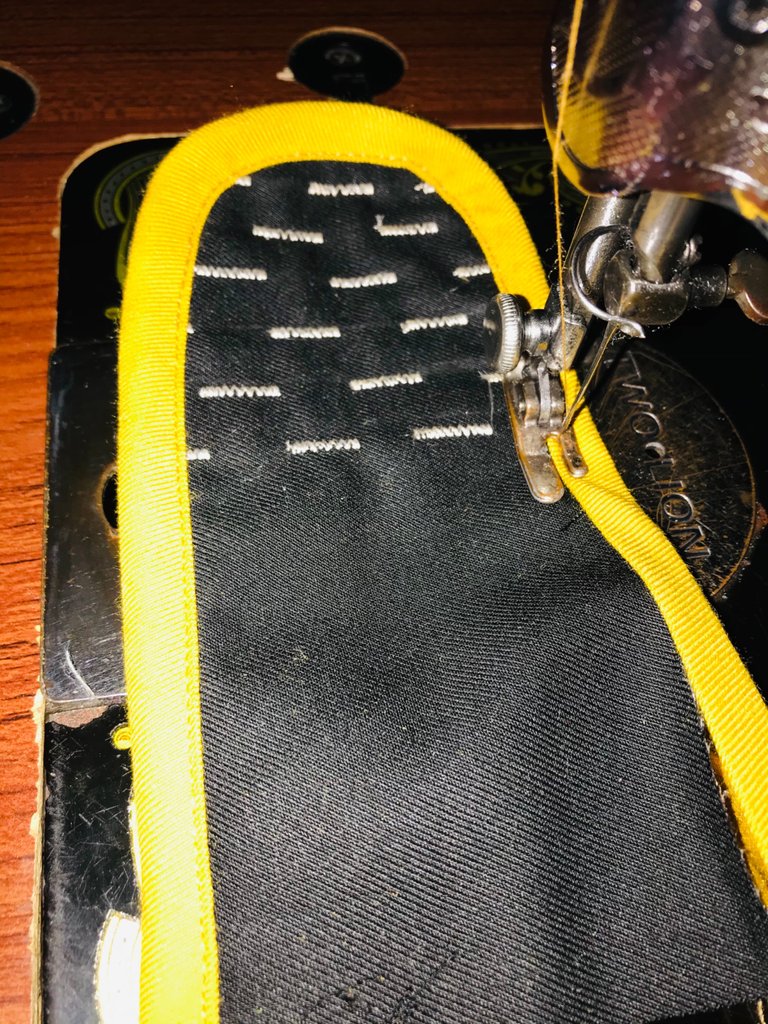 And I place it down where the water was rushing out to avoid wastage 😂.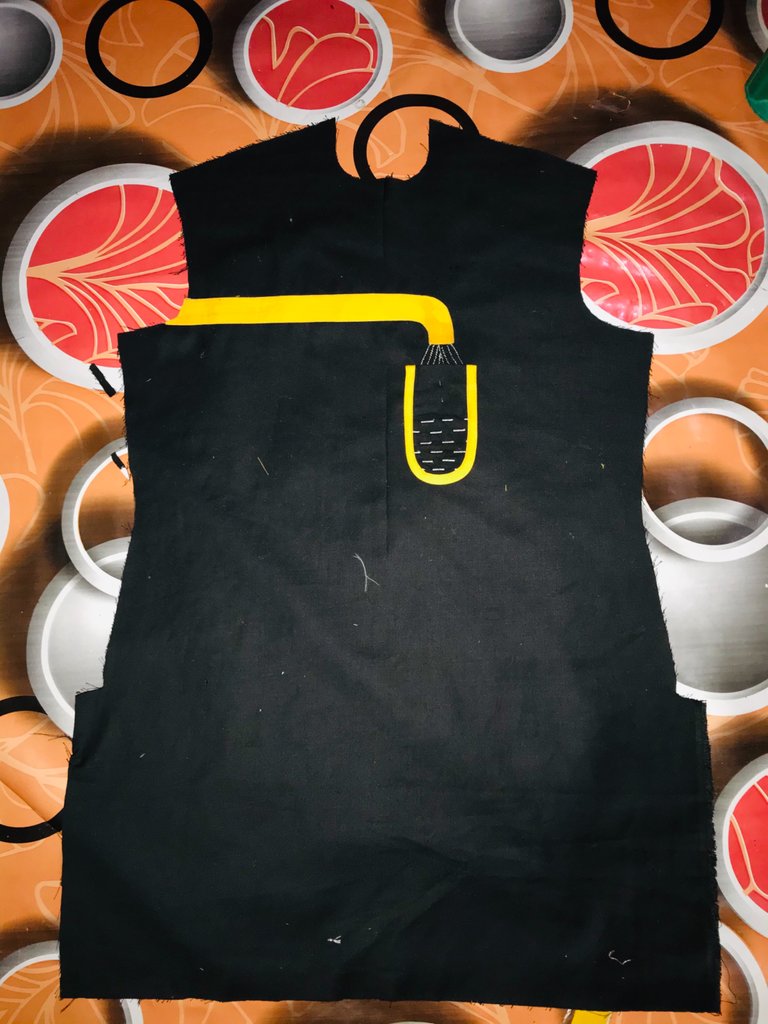 Lastly:
I made a little thing on top and I added a matching button to be the water tap controller.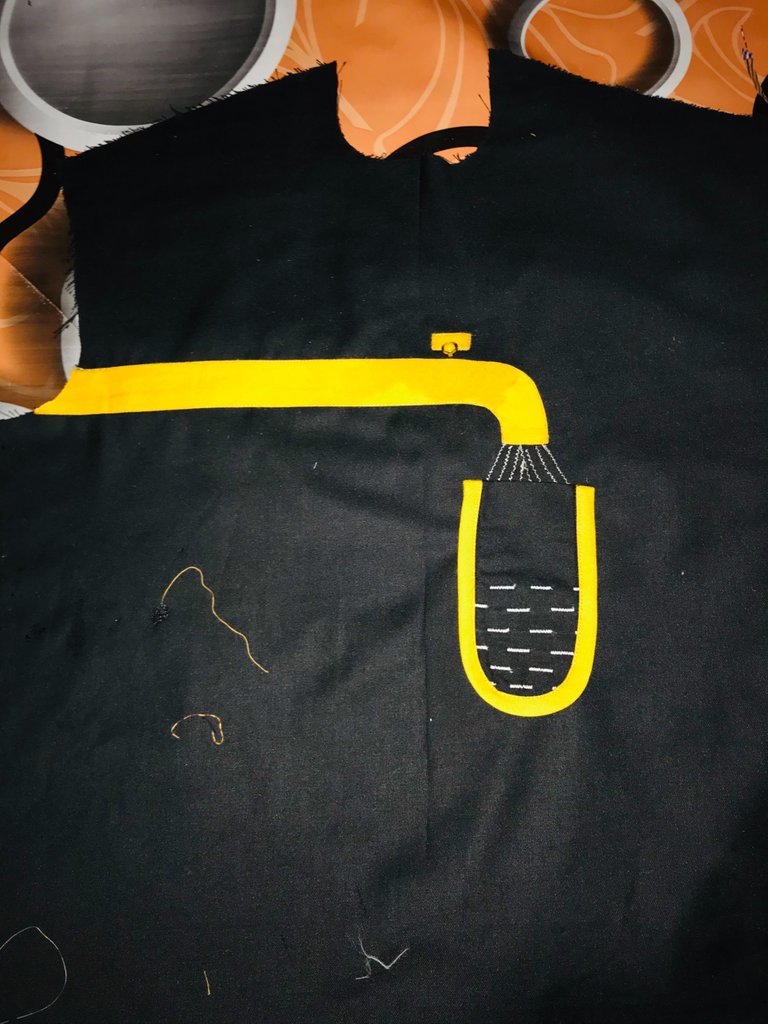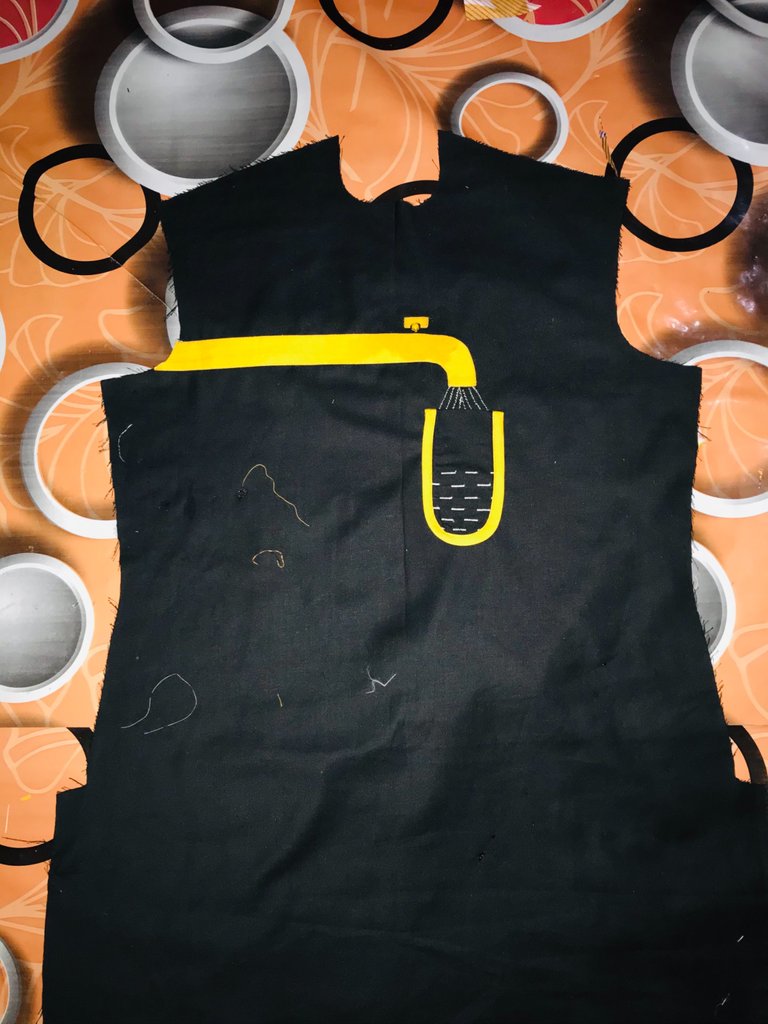 After that I joined the back to the front and I cut and I piped the neck with black and I included my readymade zip at left shoulder. I trimmed the shoulder after I had added the readymade zip to the left side of the cloth and I added the both sleeves and did the joining according to my client's measurements. And the outfit was ready!!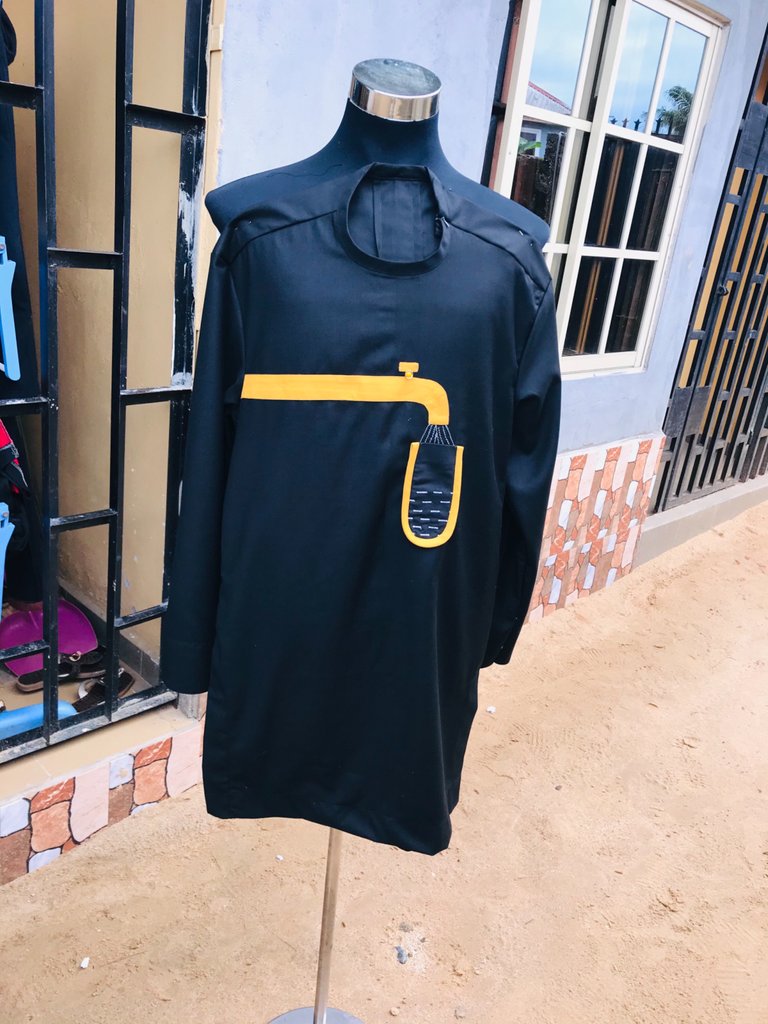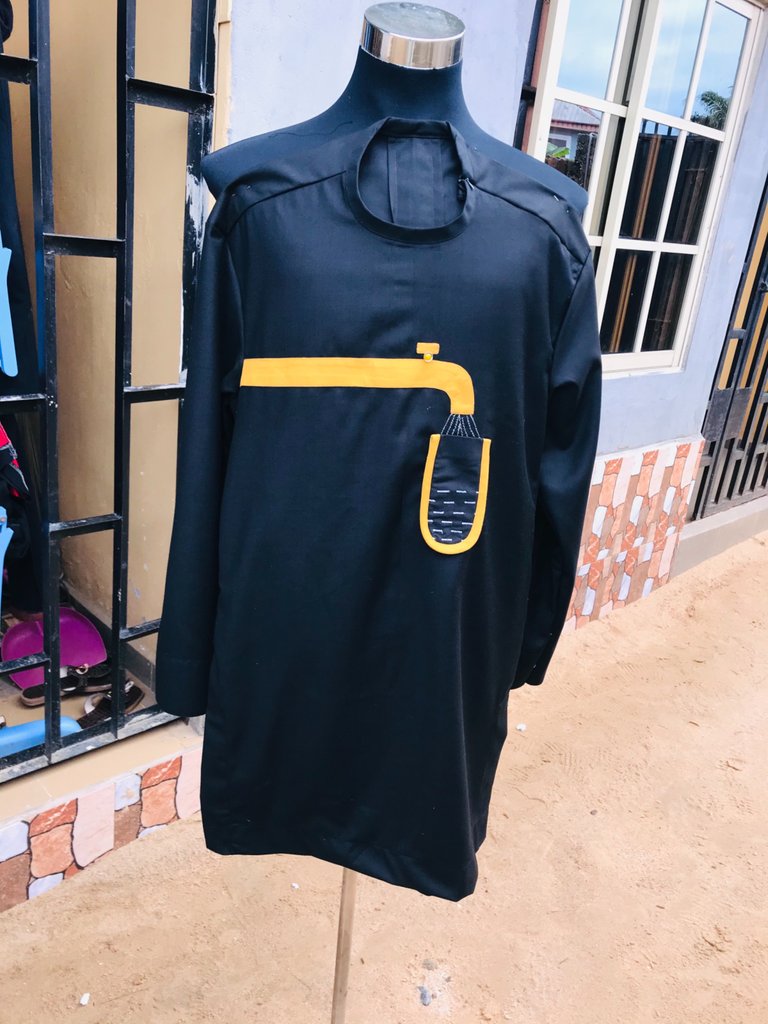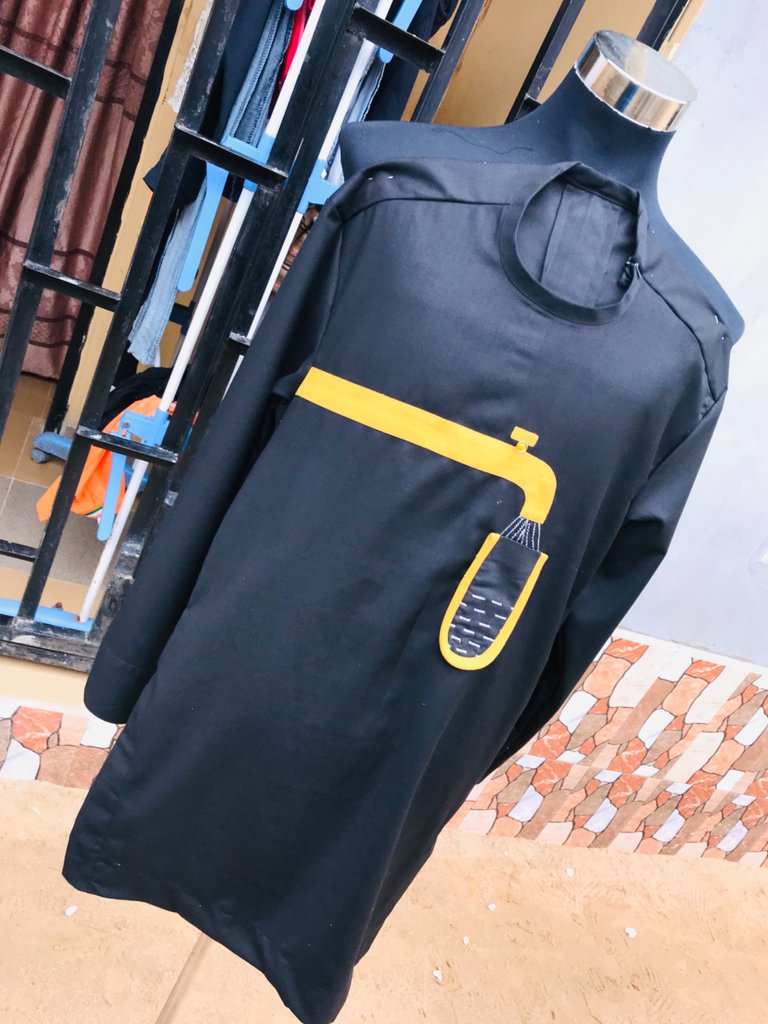 Thanks to all my well wishes, supporters and most importantly I thank all my extreme needlemovers who had keep supporting me and giving me the strength to keep holding on am so thankful to you all. I pray you do have a wonderful week ahead and a blessed day too, much love from your favorite brand❤️❤️❤️!!!!
Am glad to say this that some of my friends at my workplace, I told them about this platform @hive and @needlework community and they were like wow so this was the he reason for all those snapping you do here 😂 and me I was like is it your snapping or your phone 😂 so they all picked interest in it and two person agreed to join so am just waiting for there registration to conclude willing be having two new members soon!!
This post is proudly brought to you by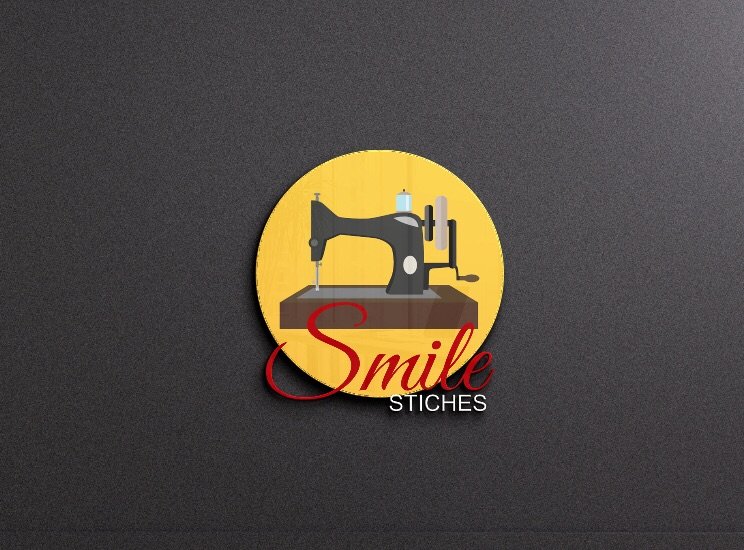 ---
---