Behind the scenes with solymi an introduction to the Cinetv community

Hello cineasts!
I have not shared anything in the cinetv community yet but I really enjoy reading all the content I can find on cinetv.blog
Today I would like to show you some photos I took while being behind the scenes on a movie set. For good reasons I can not disclose any personal information here but you can find a lot of Info on crew united.
The Title of the Movie is Ein ganzes Leben which means: a whole life
And tells the story based on a book by Robert Seethaler. The movie tells the story of a life of a simple labourer in the Alps. After a long life of hardship and only a few happy moments with his wife, he looks back with reconciliation as he is at the end of his life.
The project is still shooting in the alpine environment until the middle of July.
All photos are taken by me non of these pictures disclose any personal information on crew members etc.
So sorry but no pictures of actors and stuff.
I worked as a production driver and as an assistant in the production department. It is usual that we do more than one job on a set. My profession would be that of director but it is hard to get into that seat without learning from the big old guys.
The movie already shot some extremely nice pictures in winter, which I heard was a very very hard set to shoot. Winter in Ost Tirol Austria is in the Alps. Snow i deep and wet and heavy. Equipment catering and every department has to get to the base.
Driving in super deep snowy conditions is hard. So most of the smaller equipment gets hauled with snowmobiles.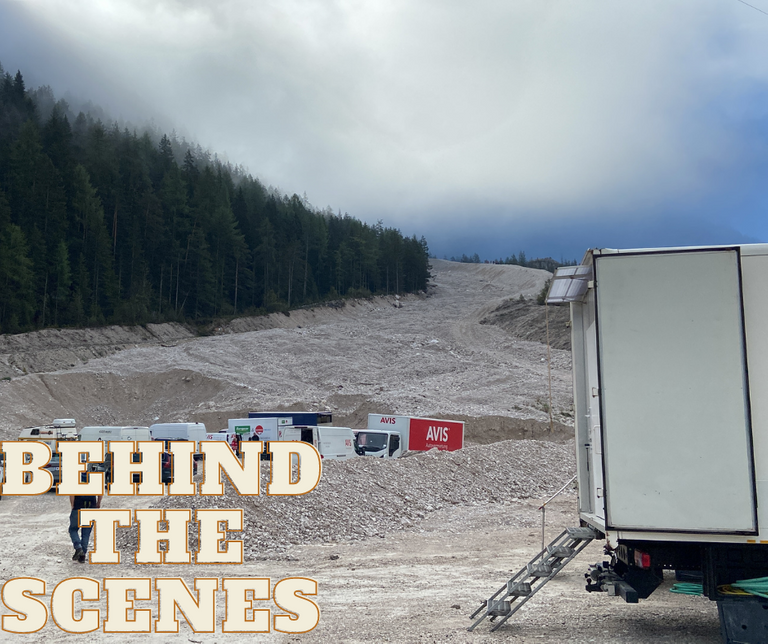 However it is is summer now and on the first 2 days of the shoot we where in the National Park close to the 3 Zinnen which is a beautiful landmark. We shot at a second world war bunker which is located in the middle of the mountains. I can only imagine how hard it must be to see such thing from an aircraft if you don't know what you are looking for.
The base was located outside of the national park area in a huge quarry or stonepit. From there we had to take actors and equipment to a small parking area and then they would drive up to the set on quads.
This was taken when I helped the crew of the audio department to bring their equipment up.
This short video is from our bumpy ride up to the bunker.
Up at the bunker we only had what was necessary. I could not take any pics on day one since I was scouting a location for the next week. On the second day I could visit the bunker. What you see is the back of our bunker with our mobile Toilets. Öklo is coming as a nice sealable bucket and a box with a toilet seat. Fortunately most of us took care of the bigger things downhill.
On day one the set was actually on top of the bunker. So everyone working on top had to be secured on a lifeline.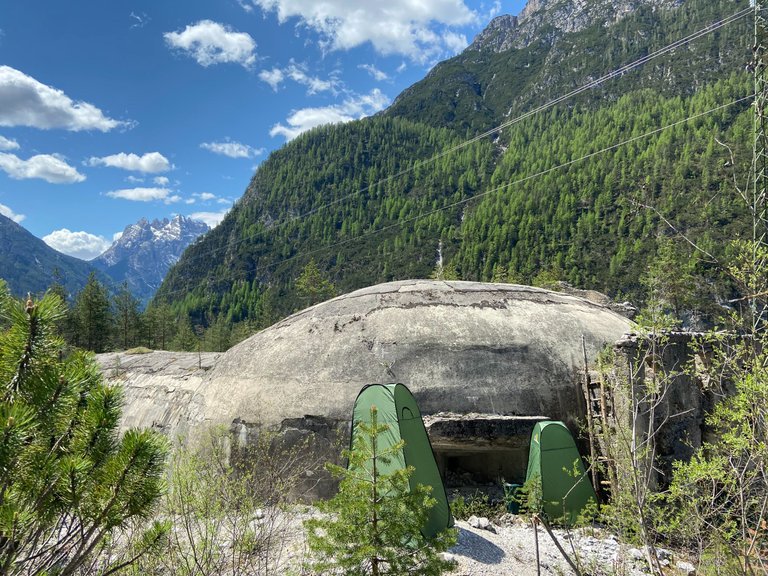 Another fun fact of the bunker is that it belongs to a collection of over 50 bunkers, all owned by a local artist. So if you need a bunker to shoot in let me know. Haha
Catering and other fancy stuff was kept to a minimum. We also had to take care of nothing staying behind, since we where in a national park after all. So this little desk and loading compartment was the kitchen. Water could be refilled from the canister.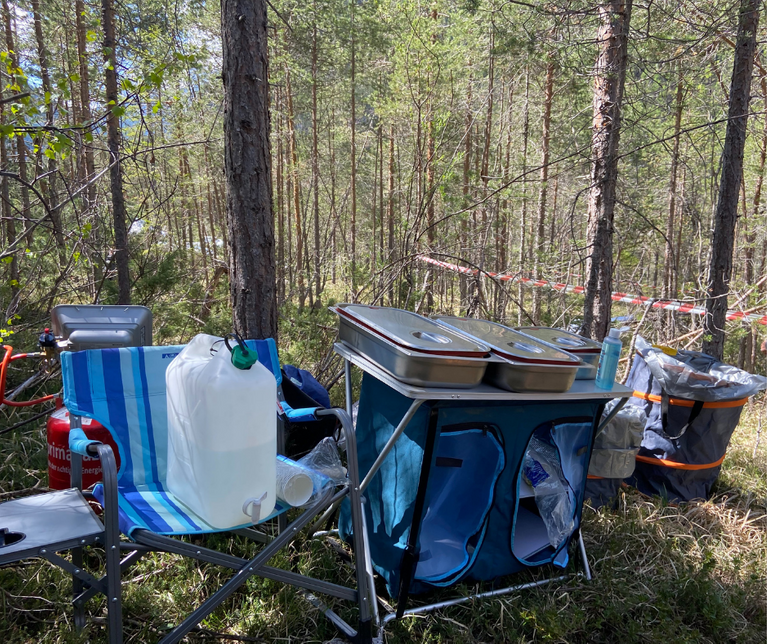 In the evenings we enjoyed Pizza and Pasta at the lakeside. Tirol is a beautiful place to have free time.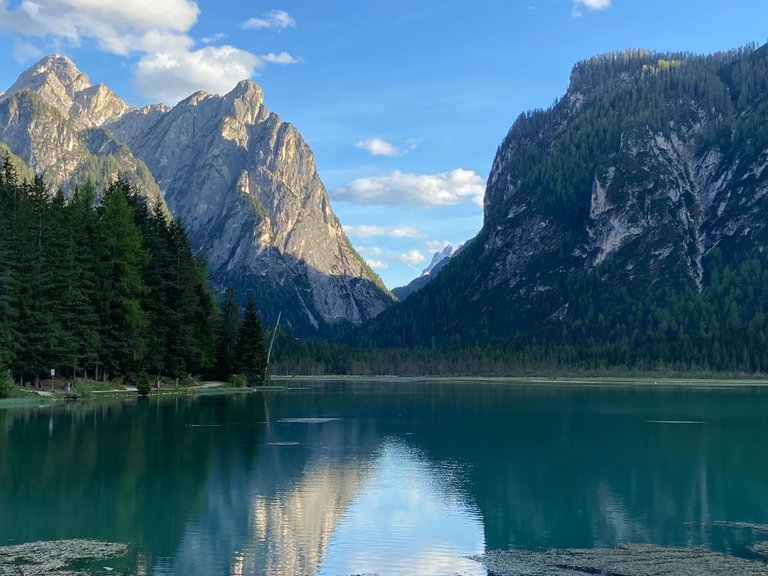 Or playing Rising Star with a view?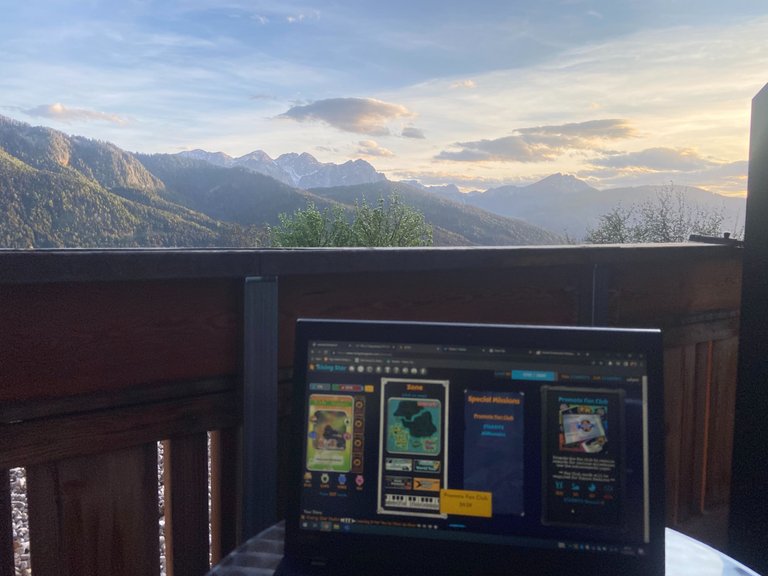 Later in the first week we did a full company move and relocated for the next few days.
I will show you some pictures the next time.
Hope you liked a little sneek peek behind the scenes. Since the production is still running I unfortunately can not enclose more than the environment and some fancy cars maybe. I hope you still liked it. If you did, hit that button to share it with your followers and friends.
Thanks for reading
cheers! Solymi
Gaming4.coin
---
---