SOONDAY™ – a new word creation and the artwork inspired by the moment of its birth
WEN?
How often have you read this in the discord chat? I am only on this chain since January but I can't count the times I read this or the other when? or WEN or When? or ? or wehn?? or any of its combinations.
Well, now there is an ultimate answer to this evergreen question.
the answer is merely simple and yet 100% accurate:
SOONDAY™
Up and coming artist @solymi created his 3rd NFT of the CUBFANS collection.
Taking advantage of the low mintingcosts celebrating the 1st birthday of @nftshowroom. Firts edition costs 5 swap.hive as before but each following edition costs only 0.1 swap.hive thats a 90% discount!
To celebrate the #mintyourartout the artist chose the birth of a new word creation in the discord server of @leofinance
First editions go to the participants visible on screen: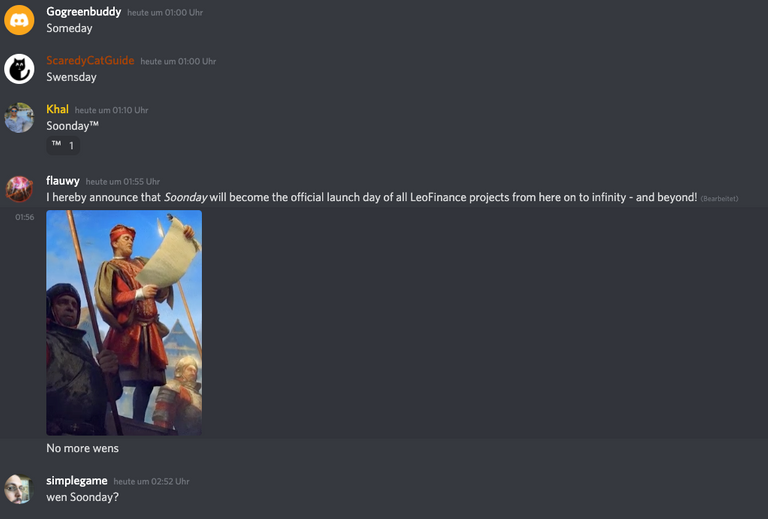 All other editions are sold for 1 cub you can ping me in discord.
or 3 swap.hive on my
If you buy with $CUB its cheaper but why would you spend it if you can compound it?

So please let me know in the comments or on discord what Khals account name is where he wants edition 1?
Have a nice day and #mintyourartout
Posted Using LeoFinance Beta
---
---