Today is LPUD Leo Power Up Day - participate and be a dolphin for a month
Hello lionesses lions and cubs! Today is the day to power up at least 200 LEO and take your shot at some chunky delegations provided by the OGs of Leofinance.io! If you want to find out about the rules and how to participate you will have to go to the post by @leogrowth
To be able to participate you will need to read that post and reblog it! Not this one! The one I show you below! (If you already hit the reblog button, well thanks for that)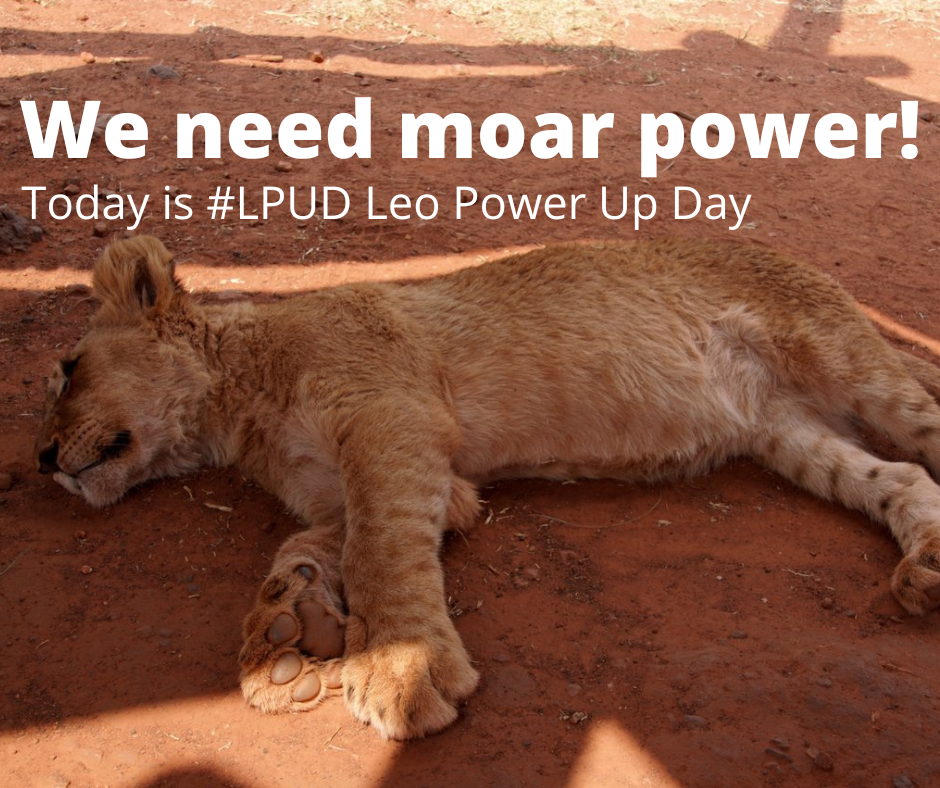 The title image has been created in Canva with the picture by @crazy-andy who posted this cub in the HIVE stock images community. View other animals in his original POST as a thank you I am also setting Andy as a 10% beneficiary for this post. Hit that upvote hard for Andy!
As of usual this post is solely for informational and recreational purposes! Non of the nonsense I write is in any form financial advice. Seriously, I am a film maker and not a financial expert. I am an expert in burning money! You can't imagine how expensive it is to shoot film projects. DO YOUR OWN RESEARCH! Be aware of the risks involved! I will not take responsibility for any of your actions! Only invest what you can afford to lose!
Thanks
why I power up LEO on Leo Power Up Day
#LPUD is a thing now. I think if more of us participate it will do the LEO ecosystem good and most importantly you will have more LEO power. More LEO power leads to higher rewards which makes your accounts grow even more. You can start stacking those LEO tokens faster before it will get super popular on mobile and defiantly have a jump in price.
Now that markets are bleeding there is no better time to enter the HIVE and LEO ecosystem. NFA, we could continue bleeding as down even more. Hive currently sits on 37 cents as of writing.(I am scheduling this post so this could be different on the 15th)
I believe in leofinance's long term vision of democratizing financial education. There is no reason for me to doubt that this goal will be achieved at some point in the coming years.
Yes I am talking years here, because every great project needs time. The launch of LEO MOBILE is one big important step on this roadmap. And guess what you can already download it from the google play store!
Power up 200 or more LEO today and win a LEOPOWER delegation
In the announcement post you can read up on how you can win a delegation! This post is just made to raise awareness if for some stupid reason you have not heard of #LPUD yet.
So go ahead and lay your hands on some LEO (it is cheap right now anyways) and power up at least 200 LEO on the 15th of June. That is today! Do not waste your time!
My 800 LEO are ready and sitting in my wallet to be powered up! Are you ready?
LFG
Let us see my wallet on leofinance.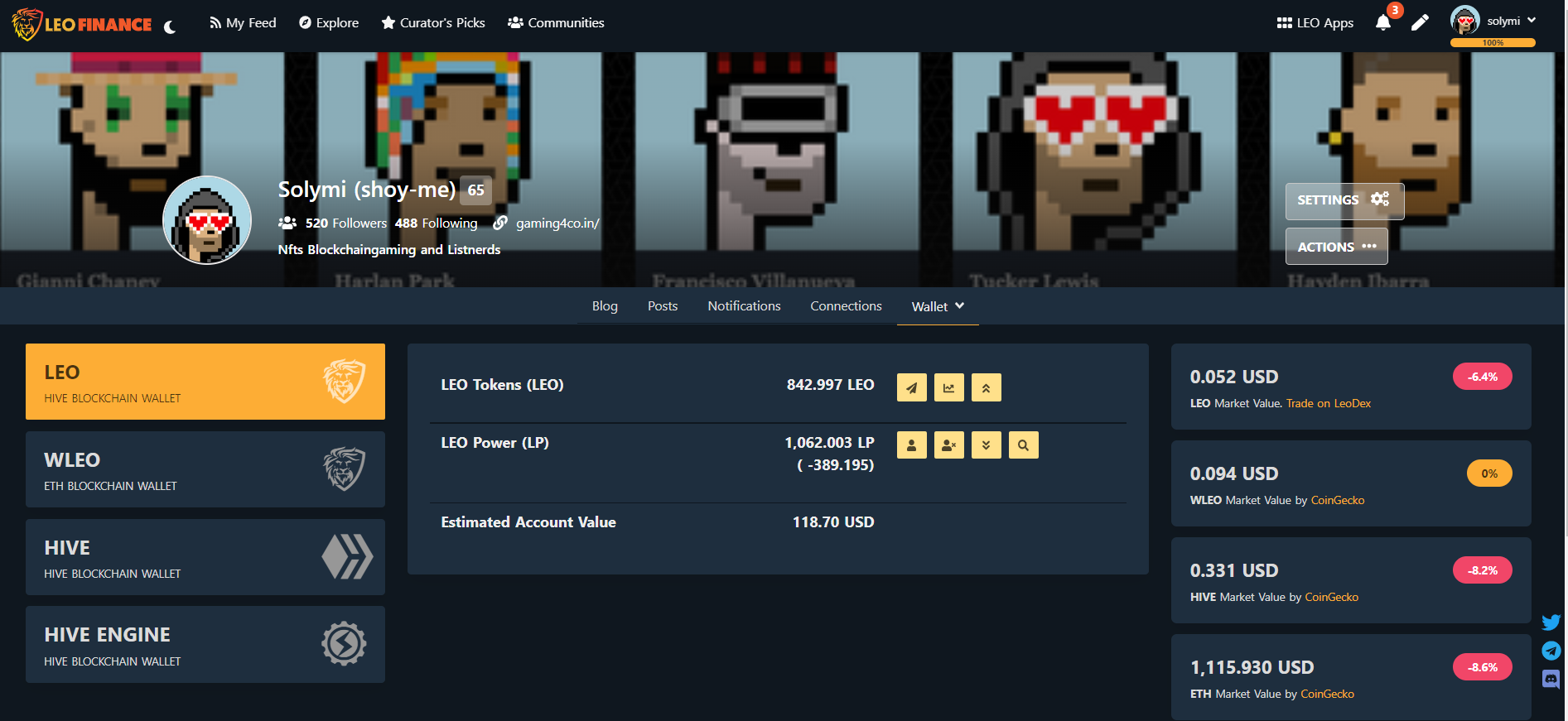 image source Leofinance.io
Now we power up the LEO! For that we click on the little arrows next to our LEO tokens! That little yellow button!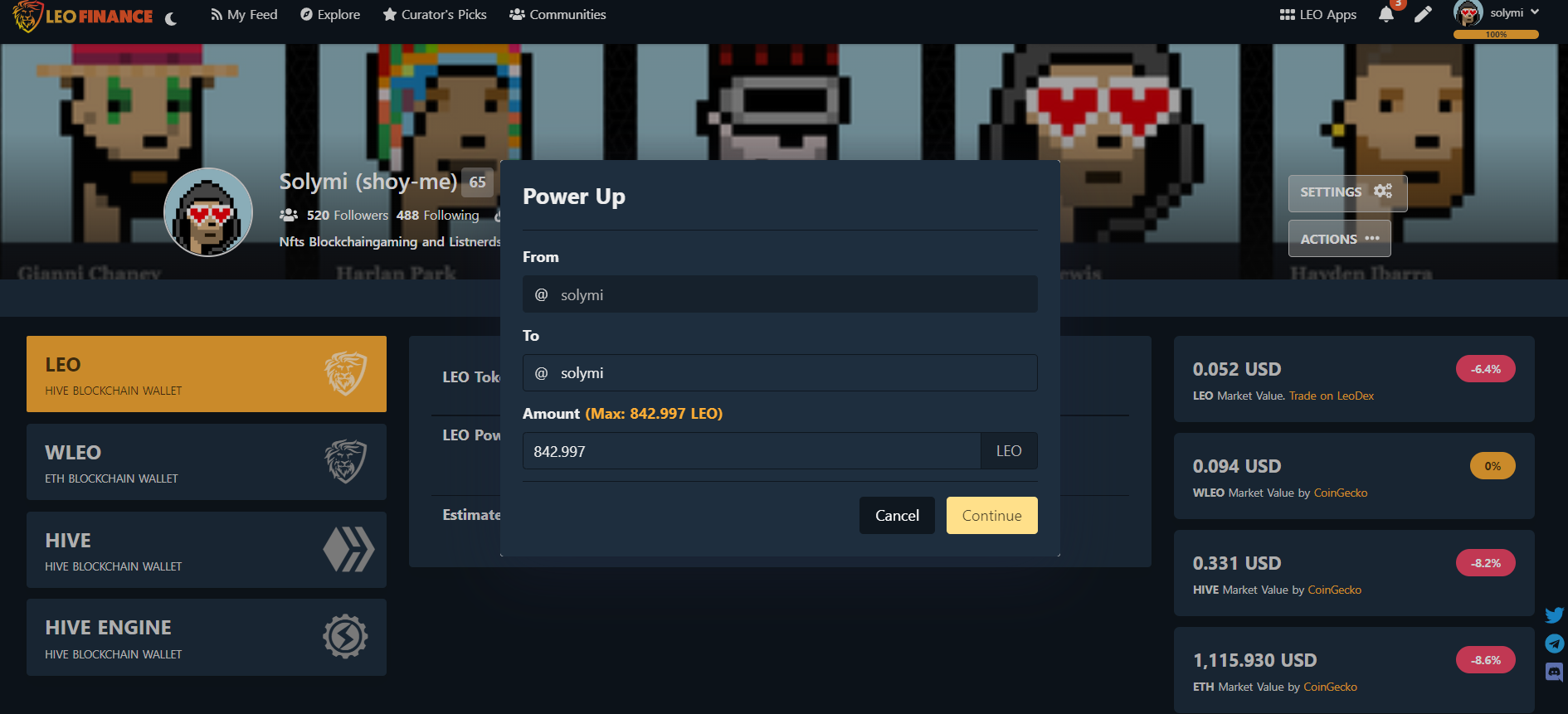 image source Leofinance.io
The power up window should show up as you see it above. Then we enter the number of LEO we want to power up. I just clicked Max, and all my liquid tokens will be powered up. After this we click on continue and sign the transaction in our keychain extension.
Done! We did it, my LEO power is now over 1900! This means my upvote will be worth more LEO as well.

As we are anyways doomed with a bear market for the rest of 2022 (no financial advice but this will not go away for a while...) it probably will get cheaper to power up more LEO! NFA!
I will try to add a bit every month as we go. Not everyone is the long term person. Getting rich quickly is still very attractive. But if you have a lot of patience and have a plan you will create wealth by showing up on Leofinance every day. You don't have to be a whale to make it here! You can generate a little LEO and HIVE each day by just reading curating and commenting! Just give it a shot and leave a comment, you might get rewarded in BEER or PGM or PIZZA!
Thanks a lot for reading this short post and if you found it informative and liked it do not forget to hit that follow button! I really appreciate your comments and I will try to answer all of your questions below if you have any.
LET'S CONNECT!
I would really find it helpful if you get into the discussion. You can find me on most of the hive discord channels and you can also contact me via my website https://gaming4co.in/ or 🆒🎮💰🆓.y.at just copy paste these emojis and the .y.at and see where it takes you ;)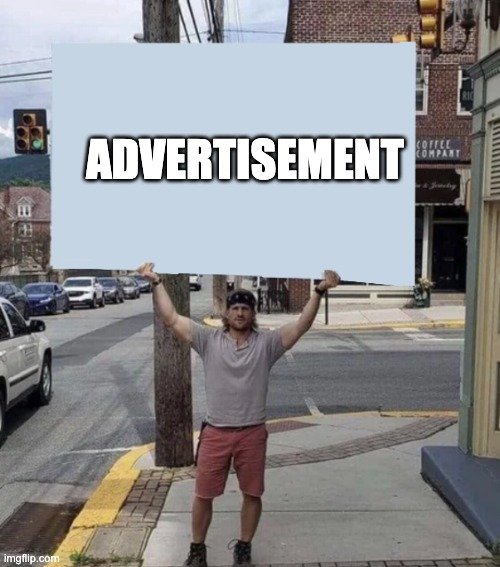 Protect your privacy with a secure VPN connection

Keep your funds secure with a hardware wallet!
Earn crypto for reading and sending emails!

Posted Using LeoFinance Beta
---
---