A walking tour from Floresta Station to Santa Lucia Station | Admiring the Medellin Subway PART 4
Greetings dear friends of the Architecture+Design Community, to continue showing you the Medellin Metro I went one day walking from Floresta Station to Santa Lucia Station. Remember that before I have told you that I am a person who is used to make long walks so I thought it was a good idea to do a walking tour and with my iPhone in hand I started my way through this short but interesting route, where I will show you other scenes about this architectural work that caught my attention and I'm sure you too.
The panorama has a lot to offer and more when we admire it calmly, as the aerial sections of the railway road and the elements that make up a complex scenario but that looks orderly at the same time. I especially emphasize that Medellín has very pleasant areas to walk through, like this one where you can see a cozy atmosphere mixed with the surprising image of an aerial section of the subway.
Saludos estimados amigos de la Comunidad Arquitectura+Diseño, para seguir mostrándoles el Metro de Medellín me fui un día caminando desde la Estación Floresta hasta la Estación Santa Lucía. Recuerden que antes les he dicho que soy una persona que tiene por costumbre hacer largas caminatas por eso me pareció una buena idea hacer un recorrido a pie y con mi iPhone en mano emprendí mi camino por esta ruta corta pero interesante, donde les mostraré otras escenas sobre esta obra arquitectónica que llamaron mi atención y estoy seguro que a ustedes también.
El panorama tiene mucho que ofrecer y más cuando vamos admirándolo con calma, como los tramos aéreos de la vialidad ferroviaria y los elementos que conforman un escenario complejo pero que luce ordenado al mismo tiempo. Especialmente resalto que Medellín tiene zonas muy agradables para transitarlas, como este donde se ve un ambiente acogedor mezclado con la sorprendente imagen de un tramo aéreo del metro.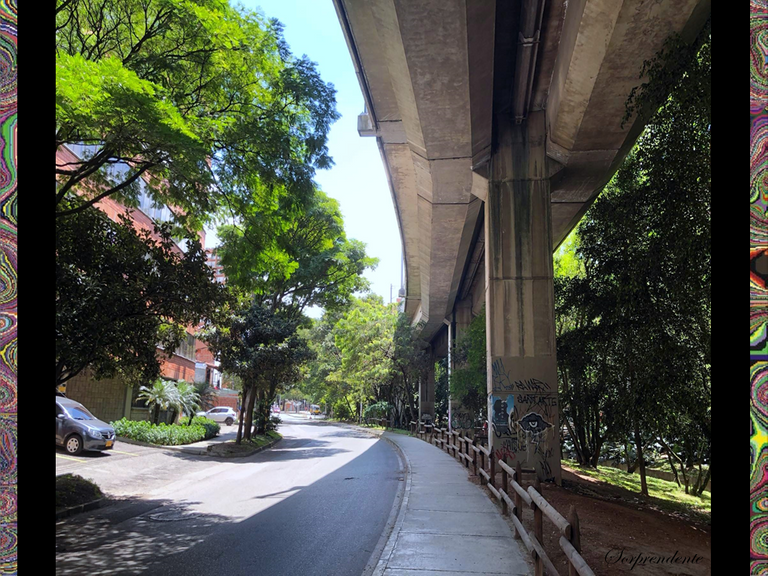 I initially arrived at Floresta Station which is on Line B of the Medellin Metro, only this time I wasn't going to travel by train.
En principio llegué a la Estación Floresta que está en la Línea B del Metro de Medellín, solo que esta vez no iba a viajar en tren.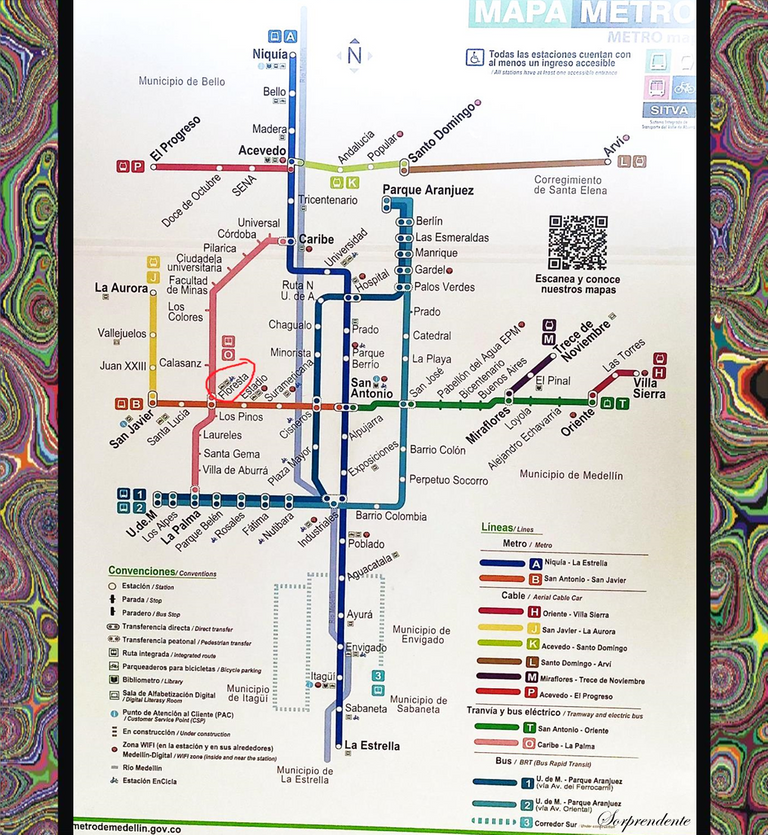 As you will see on the map, both stations are on the B line of the Medellin Metro and the ride is short between the Floresta and Santa Lucia stations. It only takes me about 10 minutes walking, but I did about 15 minutes while I stopped to take the pictures for you guys.
Como verán en el mapa, ambas estaciones están en la línea B del Metro de Medellín y el trayecto es corto entre las estaciones Floresta y Santa Lucía. Solo me toma como unos 10 minutos caminando, pero hice como unos 15 minutos mientras me detenía a tomar las fotos para ustedes.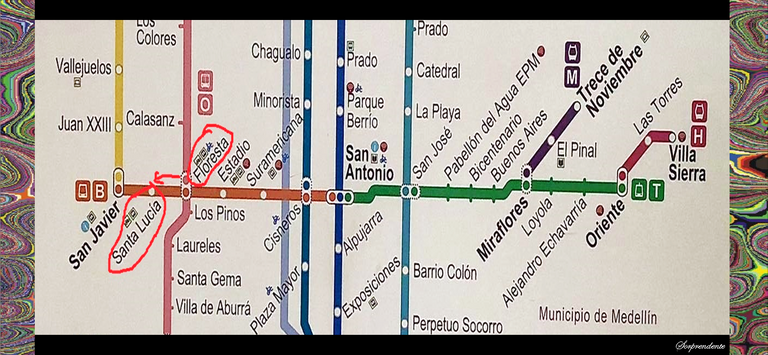 You can see the structure of the Medellin Metro as I walk and during the whole tour you will see the overhead track of the subway. The truth is that I decided to do the tour on foot because I wanted to show you this section that always goes overhead and take advantage of capturing photos of a channel that passes under the road structure.
Pueden ver la estructura del Metro de Medellín mientras voy caminando y durante todo el recorrido verán la vía aérea del metro. La verdad es que me anime a hacer el recorrido a pie porque quería mostrarles este tramo que va siempre por arriba y aprovechar captar fotos de una canalización que pasa por debajo de la estructura vial.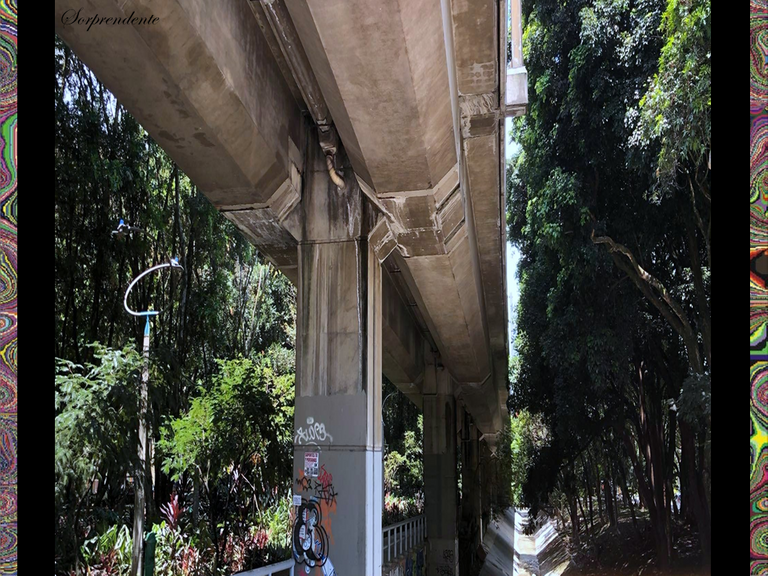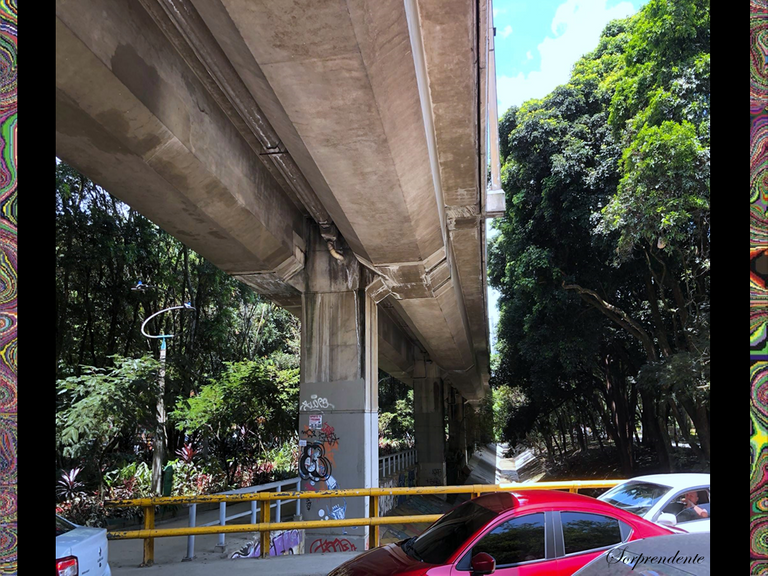 The existence of that channel discharging into the Medellin River is the reason for the subway track to be area in that part of the city.
La existencia de esa canal que descarga en el Río Medellín, es la razón para que la vía del metro sea área en esa parte de la ciudad.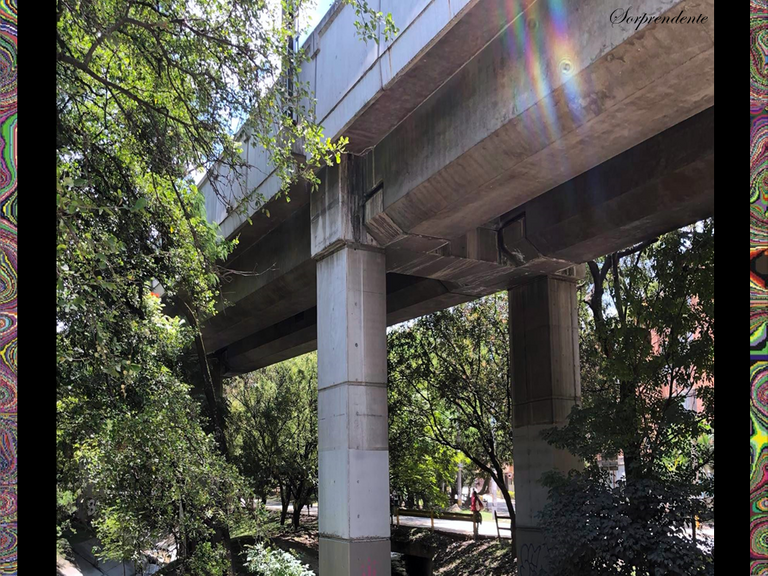 This channel is a stream in the west of Medellín, which crosses the Floresta and Santa Lucía sectors where the city's wastewater is discharged.
Esta canal se trata de una quebrada del occidente de Medellín, que atraviesa el sector de la Floresta y Santa Lucía donde se descargan las aguas residuales de la ciudad.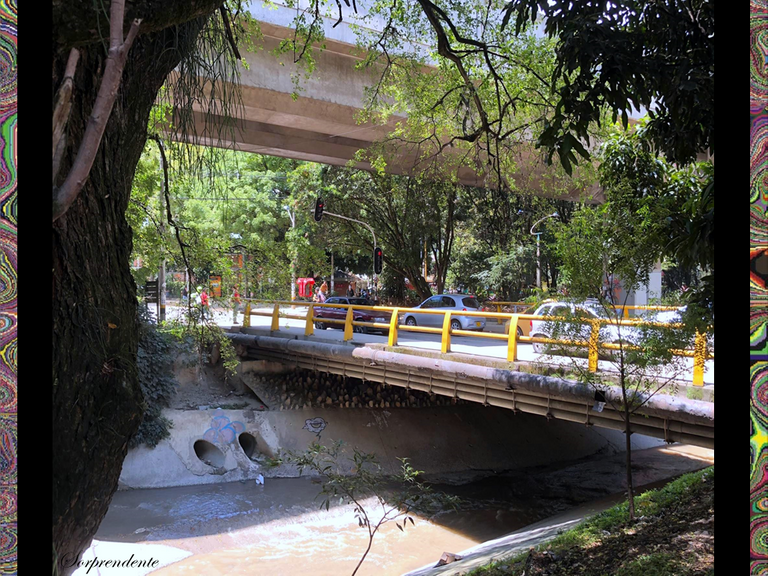 Here are other photographs of the tributary flowing down the canalization and into the Medellín River.
Aquí otras fotografías del afluente que baja por la canalización y llega al río Medellín.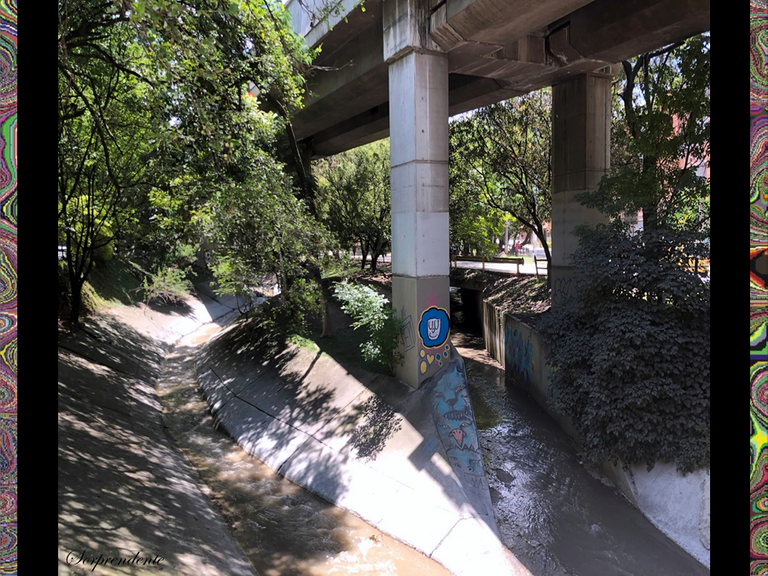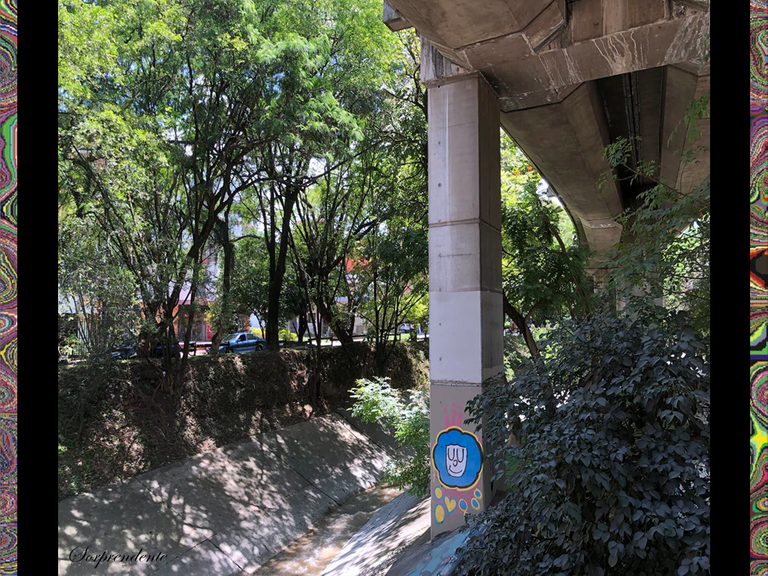 This is the road between Floresta Station and Santa Lucia, the latter is where we are going to arrive now as we continue walking. Can you keep up with me?
Esta es la vía entre la Estación Floresta y Santa Lucía, a esta última es donde vamos a llegar ahorita mientras seguimos caminando. ¿Me sigues el paso?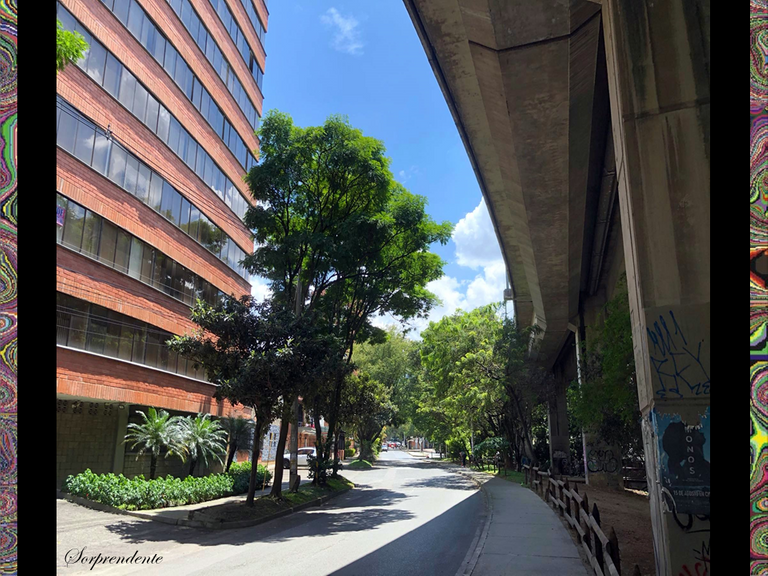 As you can see, the bad graffiti artists take advantage of all the spaces in the cities. It would be better not to dirty the city and let the good ones come and make artistic murals that decorate the city.
Como ves, los malos grafiteros aprovechan todos los espacios en las ciudades. Sería mejor que no se ensucie la ciudad y que lleguen los buenos para que hagan murales artísticos que adornen la ciudad.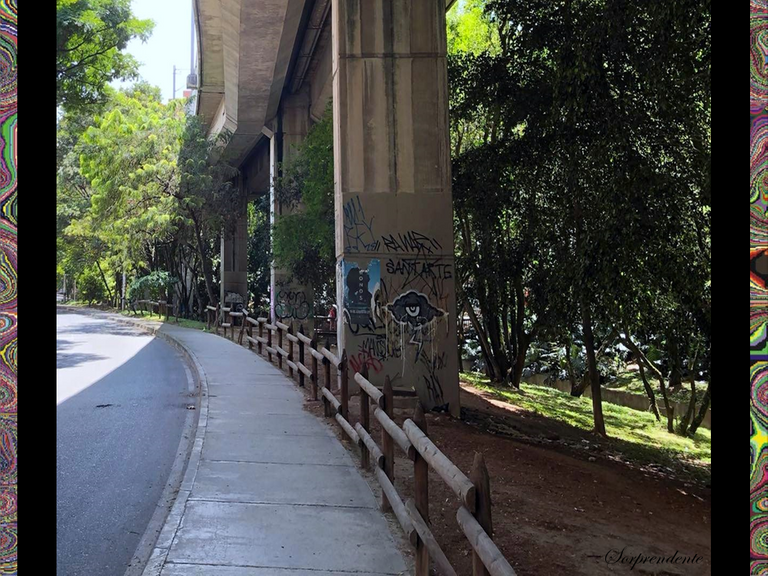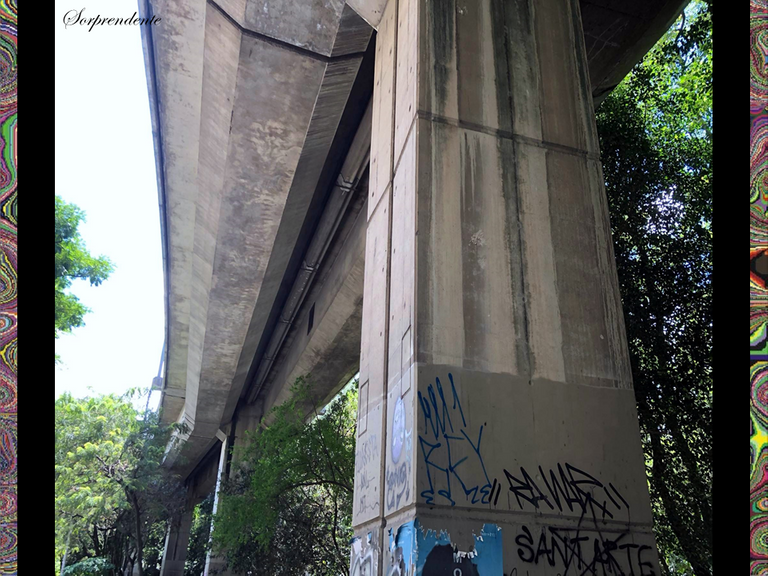 We continue to move forward and for a moment the view is welcoming, I felt the fusion between the urban and some rural environment. I think you can notice the simplicity of nature that goes parallel keeping company.
Seguimos avanzando y por un momento es acogedora la vista, sentí la fusión entre la urbano y algo de ambiente rural. Creo que pueden notar la simpleza de la naturaleza que va paralela haciendo compañía.
Wow, it is really impressive how complex all the elements that had to be taken into account for this mega construction, starting with the terrain. All possible flaws must be considered because just looking at the corpulence of this architectural giant you can feel the weight of its structure.
Vaya, si que es impresionante lo complejo de todos los elementos que se debieron tomar en cuenta para esta mega construcción, empezando por el terreno. Todas las posibles fallas se deben considerar porque solo mirando la corpulencia de este gigante arquitectónico se siente el peso de su estructura.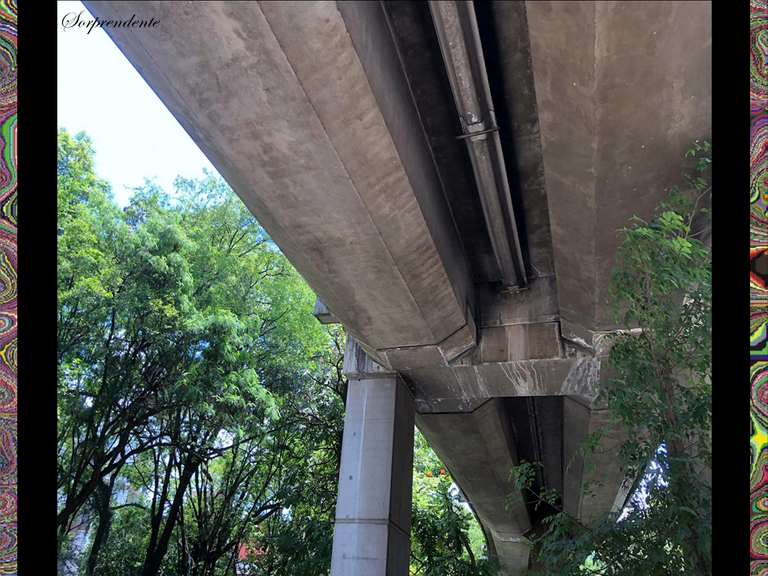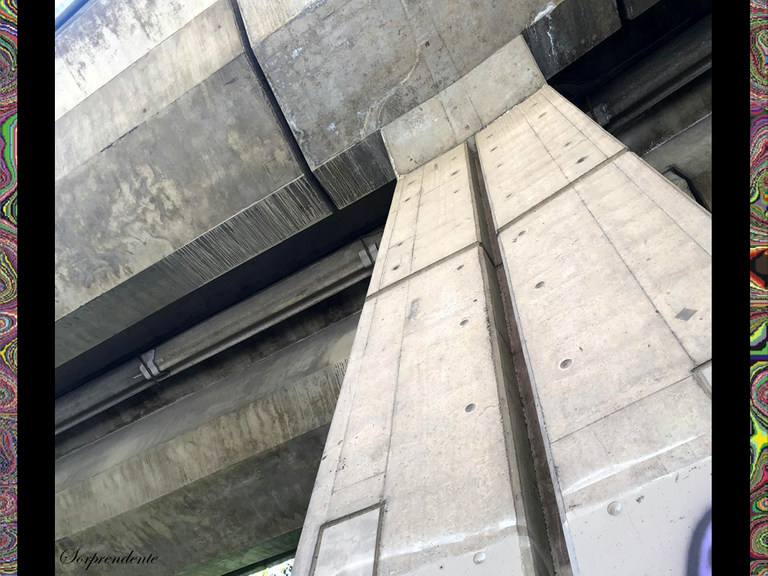 For a moment, I invested a few minutes for something else. Look at the colossal work, very strong and with an impressive thickness that makes it look solid. But with some risks that I highlight again as I did a few days ago.
Por un momento, invertí unos minutos para algo más. Miren la obra colosal, muy fuerte y con un espesor impresionante que la hace lucir sólida. Pero con algunos riesgos que vuelvo a resaltar como lo hice hace unos días.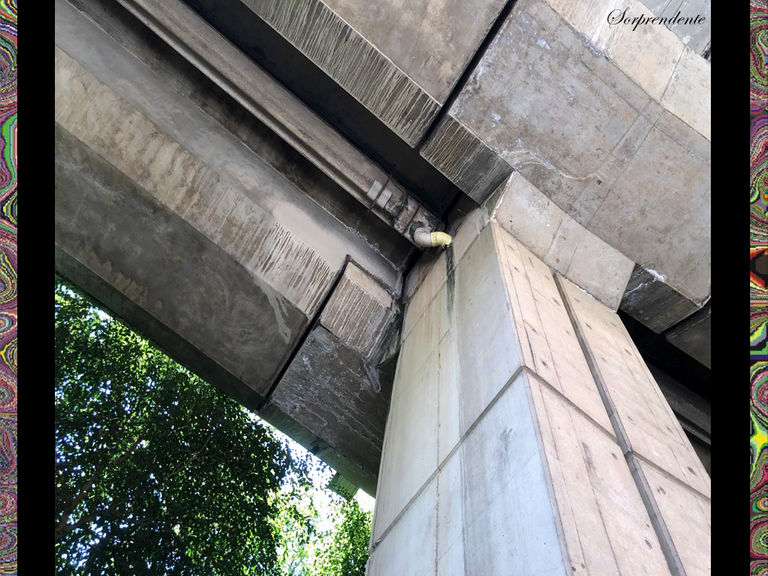 The leaks concern me, although hopefully they are being taken care of because it is a pattern I have noticed repeating itself.
Las filtraciones me preocupan, aunque esperemos que se estén atendiendo porque es un patrón que he notado que se repite.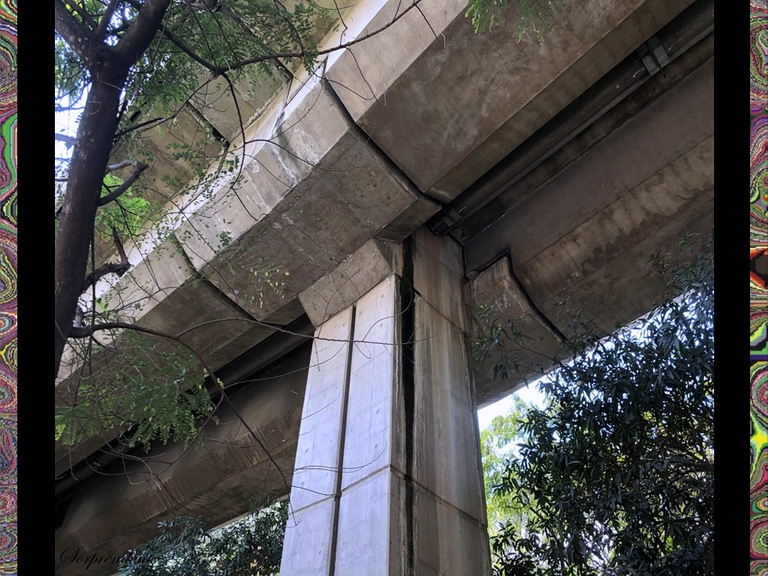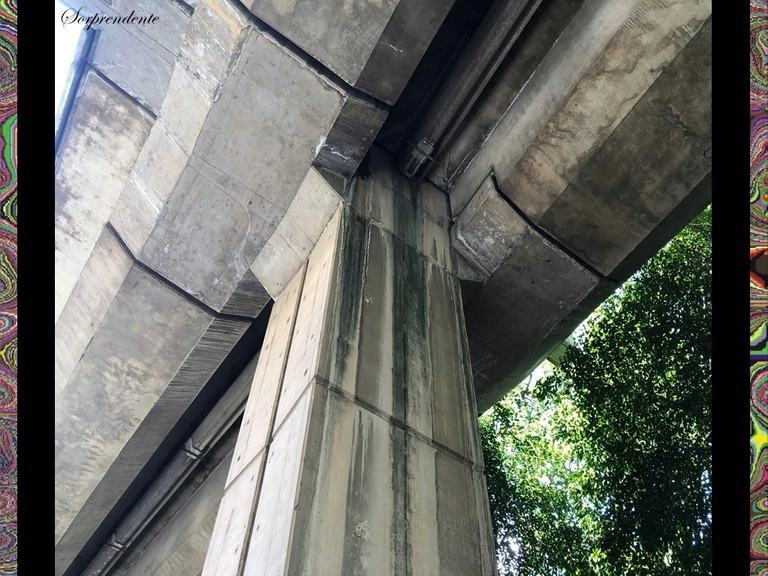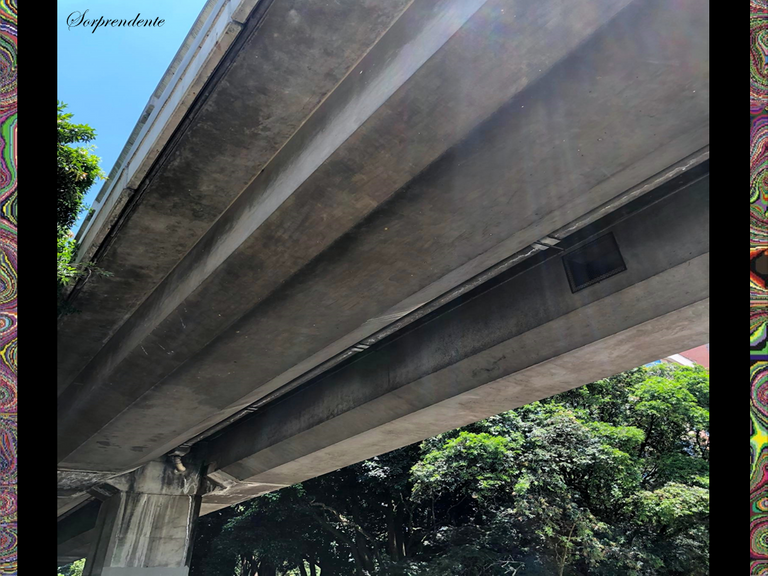 At the end of the tour you can see more crowds, in the vicinity of the Santa Lucia station there is more pedestrian and vehicular movement. Look at the informal commerce on the bridge under the subway track.
Ya finalizando el recorrido se ve más multitud, en las adyacencias de la estación Santa Lucía hay mayor movimiento peatonal y vehicular. Miren cómo funciona el comercio informal en el puente debajo de la vía del metro.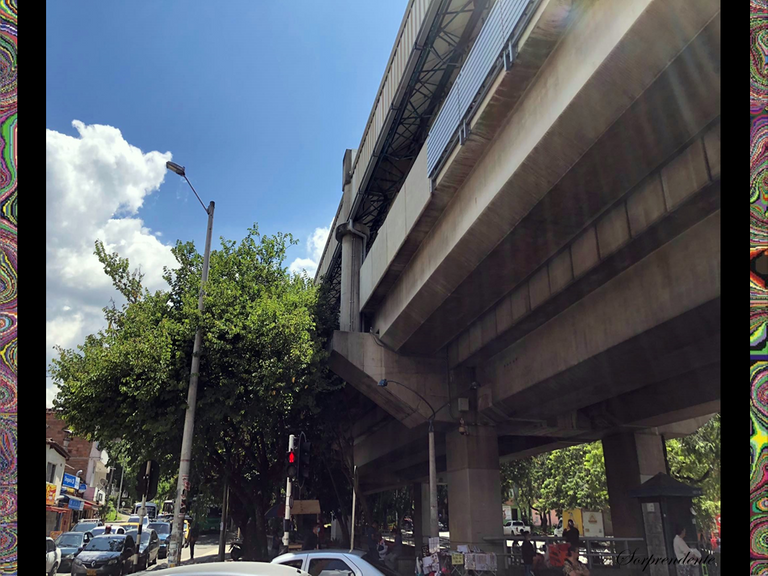 Well, I arrived at the Santa Lucia station, at the beginning you can see a bus stop that is abandoned, it no longer works and now the buses stop in a street that is further ahead but it is not an organized stop as such.
Bueno, ya llegue a la estación Santa Lucía, al principio se ve una parada de autobuses que está abandonada, ya no funciona y ahora los autobuses se paran en una calle que está más adelante pero no es una parada organizada como tal.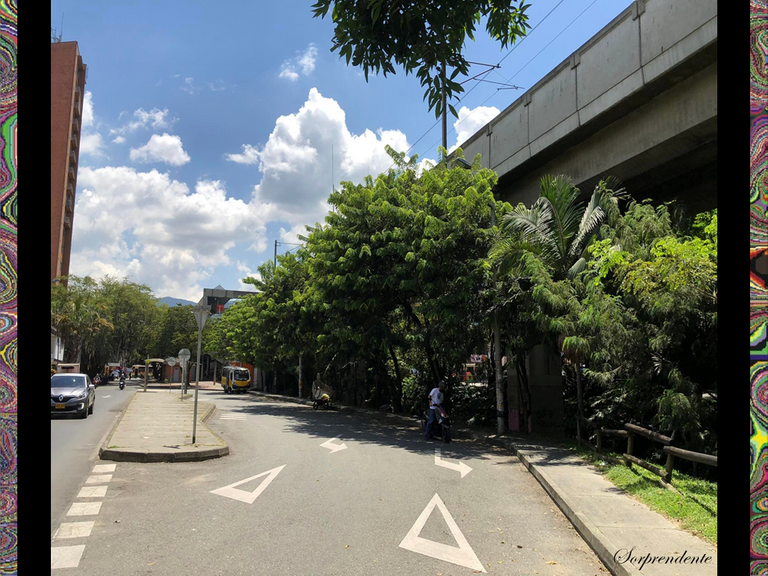 The train can be seen passing overhead track.
Se puede ver el tren pasando por la vía aérea.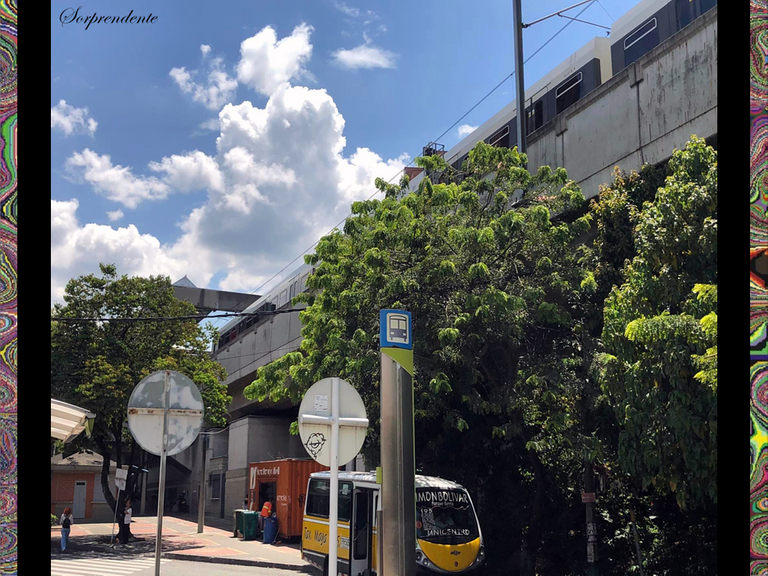 There is a facade of the Santa Lucia station that has in its surroundings commercial kiosks, it looks very organized that part.
Hay una fachada de la estación Santa Lucía que tiene en sus alrededores kioscos comerciales, se ve muy organizada esa parte.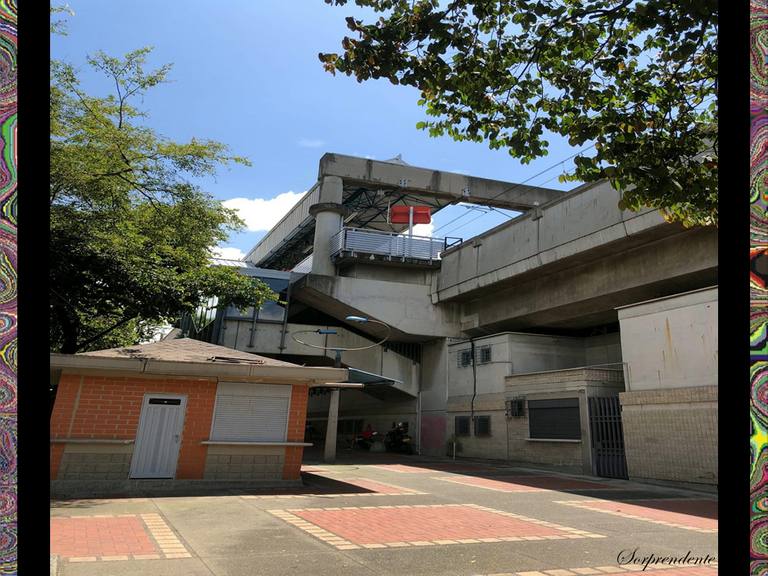 Zooming in, I saw the structure of this station in better condition. At least in appearance, from where I was standing, I could notice better conditions in relation to the leaks that are visible in other areas of this important transportation system.
Haciendo un acercamiento vi en mejor estado la estructura de esta estación. Al menos en apariencia, desde donde me encontraba, pude notar mejores condiciones en relación a las filtraciones que son visibles en otras zonas de este sistema de transporte importante.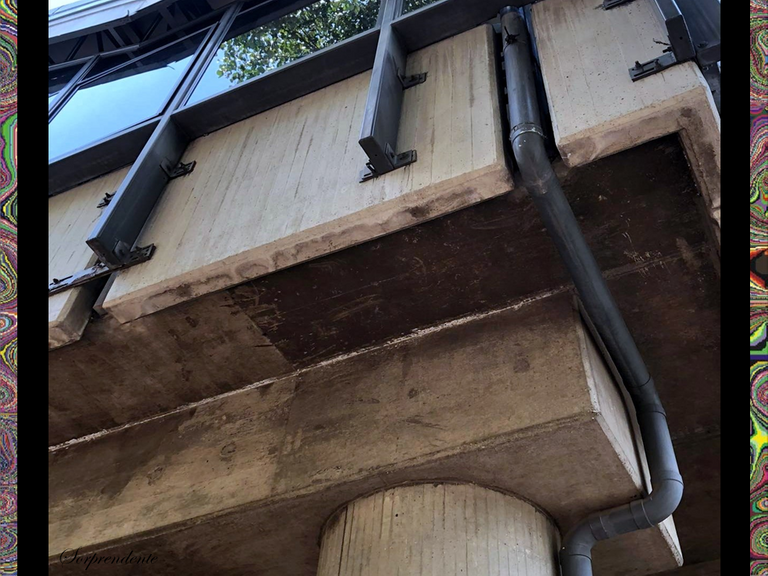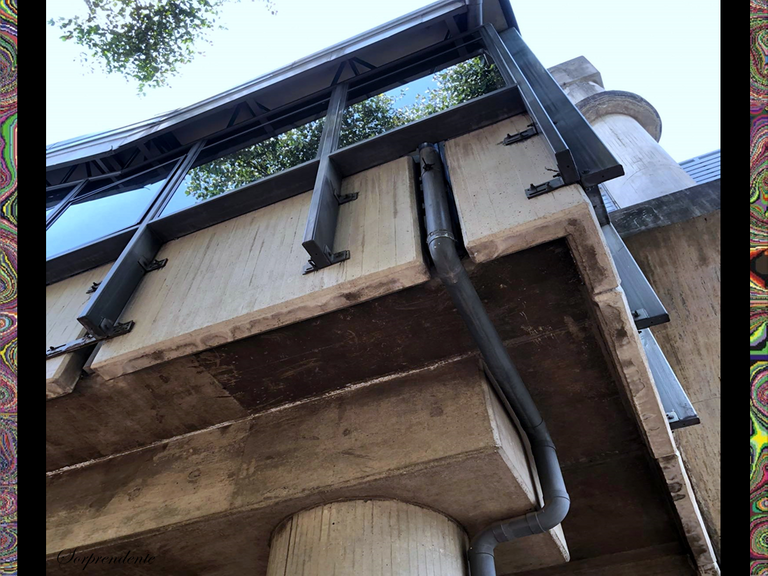 It is also appreciated in that station facade many windows, as I like the buildings. Yes, because it is important to receive natural light thinking in the use of renewable energy, this is a quality that I like the Medellin Metro and is a constant in the buildings of their stations.
También se aprecia en esa fachada de la estación muchos ventanales, como me gustan los edificios. Si, porque es importante recibir luz natural pensando en el aprovechamiento de energía renovable, esta es una cualidad que me agrada del Metro de Medellín y es una constante en los edificios de sus estaciones.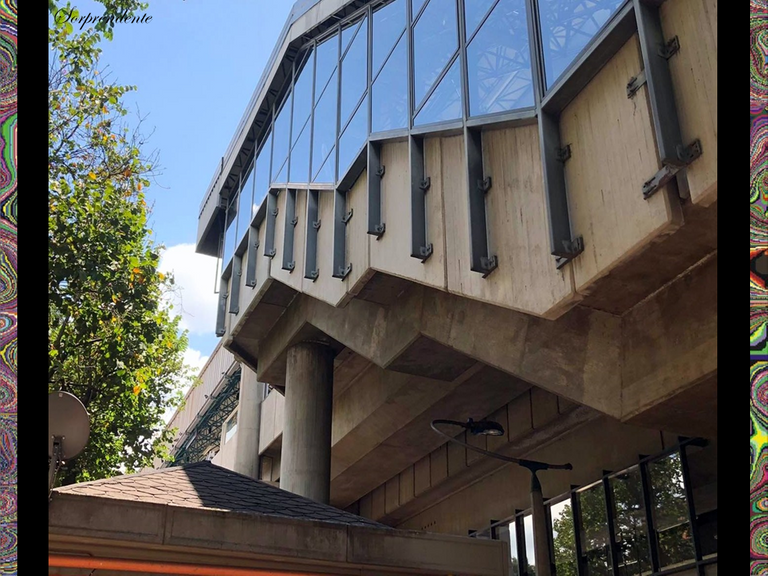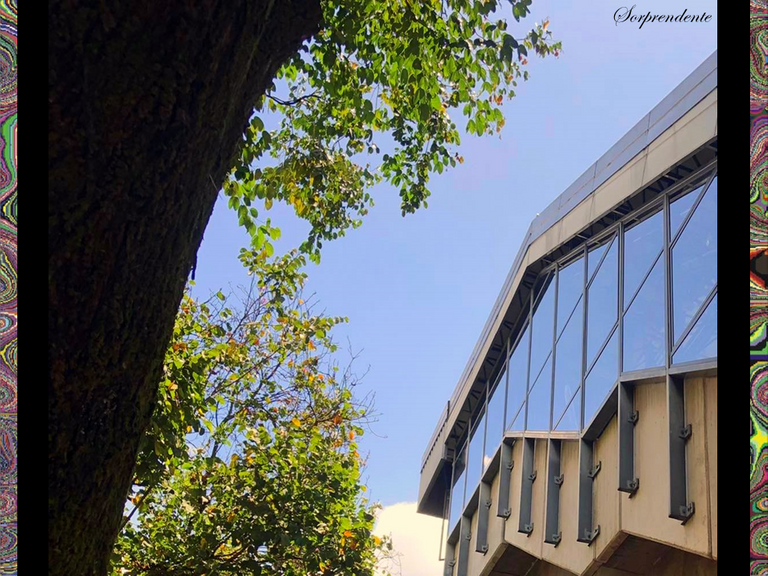 So much for the series of Medellín Metro stations that I started to show you several weeks ago. Thank you for your company during the tour 🚈
Hasta aquí la serie de estaciones del Metro de Medellín que les empecé a mostrar desde hace varias semanas. Agradezco su compañía durante el recorrido 🚈
This way you can see the previous publications:
Por aquí puedes ver las publicaciones anteriores:
Medellín Metro Stations | A Latin American Model Mega-Structure PART 1
Envigado Station of the Medellin Metro | Amazing Latin American megastructure PART 2
Floresta Station - Between risks and benefits | Medellín Subway PART 3
---
This publication dedicates 10% to the account @aplusd to support the valuable work being done in this wonderful community by the hand of @storiesoferne, to whom I am very grateful for the support I have received and also the one given to the rest of the architecture lovers. I make this delegation of my own free will and without any personal interest.
Esta publicación dedica el 10 % a la cuenta @aplusd para apoyar el valioso trabajo que se realiza en esta maravillosa comunidad de la mano de @storiesoferne, a quienes agradezco mucho por el apoyo que he recibido y también el dado al resto de los amantes de la arquitectura. Esta delegación la hago por voluntad propia y sin ningún interés personal.
---
---
Translated with www.DeepL.com/Translator
Bienvenidos a mi blog
Welcome to my blog
Gracias por tu visita
Thanks for your visit

Contenido original / Autor @sorprendente
Fotos e imágenes de mi propiedad.
Si desea usar alguna como referencia
destaque mi nombre como fuente: @sorprendente
Original content / Author @sorprendente
Photos and images of my property.
If you want to use one as a reference,
please highlight my name as a source: @sorprendente

C/Architecture+Design 🌀 C/Mundo Autismo
Logos propiedad de las comunidades. / Logos owned by the communities.
---
Nos seguimos viendo y leyendo. / We keep watching and reading.
---
---
---