Floresta Station - Between risks and benefits | Medellín Subway PART 3
Greetings my dear friends of the Architecture+Design Community, continuing with the tour of some of the Medellin Metro stations in Colombia I present you a very congested station, at least it was that way that day when I made the record of photos to bring you this publication. I confess that it cost me a little because I despair of being in large crowds and so this time I will show you the outside, which was very helpful because I could look more in details that caught my attention and that you will see in the development of this publication on Floresta Station.
Saludos mis estimados amigos de la Comunidad Arquitectura+Diseño, continuando con el recorrido por algunas de las estaciones del Metro de Medellín en Colombia les presento una estación muy congestionada, al menos así estaba ese día en que hice el registro de fotos para traerles esta publicación. Les confieso que me costó un poco porque me desespera estar entre grandes multitudes y por eso esta vez les mostraré la parte externa, lo que fue de mucho provecho porque pude fijarme más en detalles que llamaron poderosamente mi atención y que ustedes verán en el desarrollo de esta publicación sobre la Estación Floresta.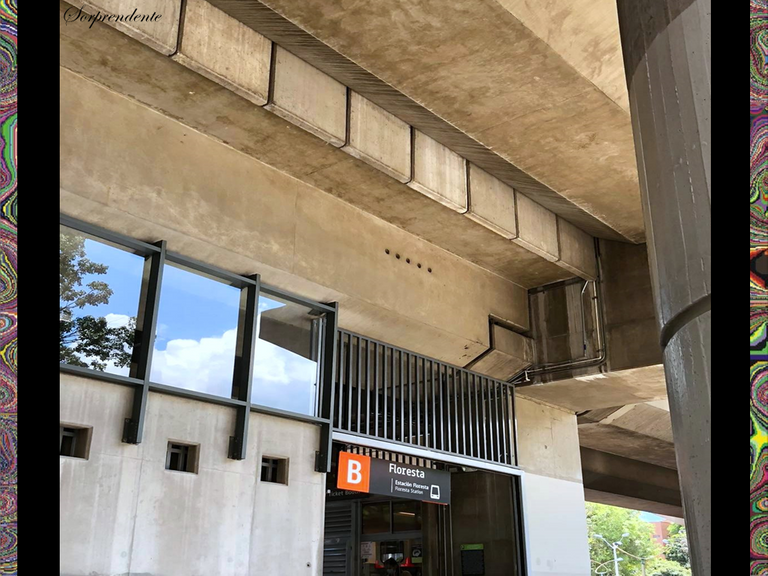 Wow! Yes it is a very crowded station, maybe because it is a rush hour although the area it is in is the reason for the heavy pedestrian traffic, however I remember that more so was San Antonio station, which is a transfer station and I could be calm in it as I showed you in the part 1 of this series of posts about the Medellin Metro stations. By the way, last May 3 was news for a riot due to the large concentration of passengers, that apparently was a chaos at the San Antonio station around 6:00 pm, but the day I made the publication everything was under control. But at Floresta Station I did not do well with the crowd and decided not to enter and watch all the movement from afar.
¡Vaya! Si que es una estación muy concurrida, quizás por ser una hora pico aunque la zona en que está es la razón para el gran tráfico peatonal, sin embargo recuerdo que más lo era la estación San Antonio, que es una estación de transferencia y pude estar tranquilo en ella como les mostré en la primera parte de esta serie de publicaciones sobre las estaciones del Metro de Medellín. Que por cierto, el pasado 3 de mayo fue noticia por un disturbio debido a la gran concentración de pasajeros, eso al parecer fue un caos en la estación San Antonio sobre las 6:00 de la tarde, pero el día en que hice la publicación estuvo controlado todo. Pero en la Estación Floresta no me fue bien con la multitud y decidí no entrar y ver todo el movimiento desde lejos.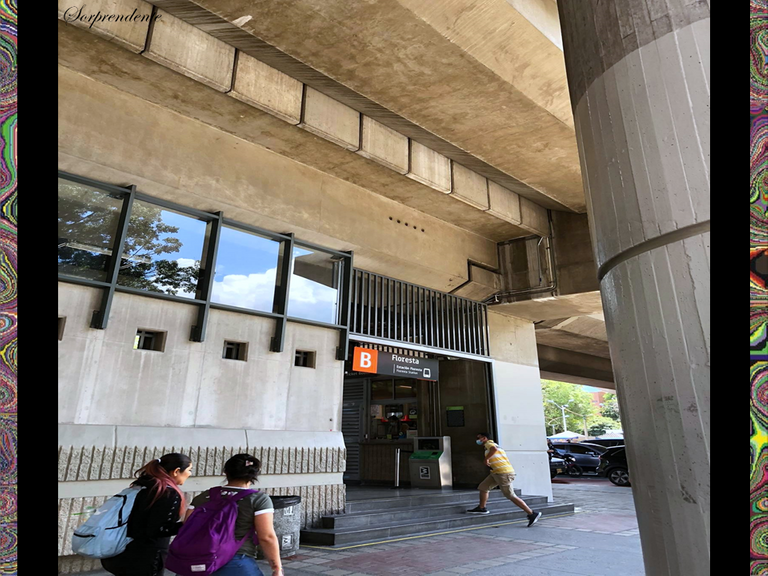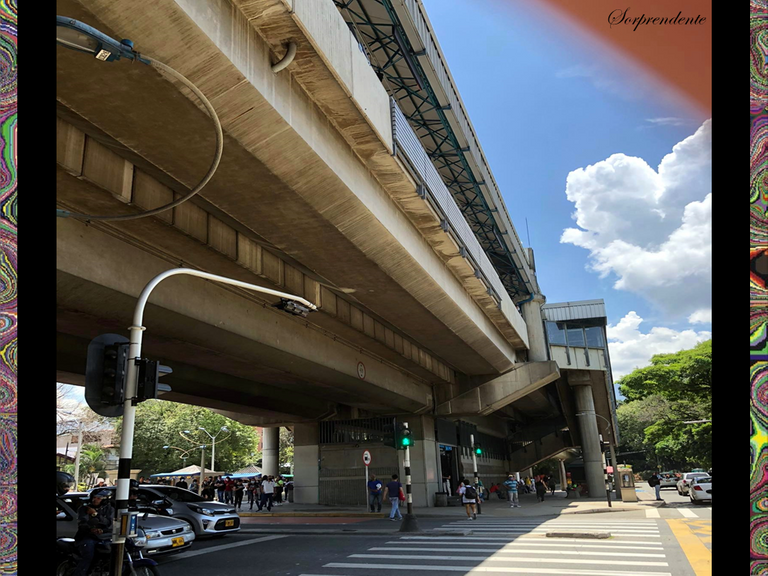 The congestion is noticeable in the streets, look at what the area is like. There is a lot of road movement.
La congestión se nota en las calles, miren como es la zona. Hay mucho movimiento vial.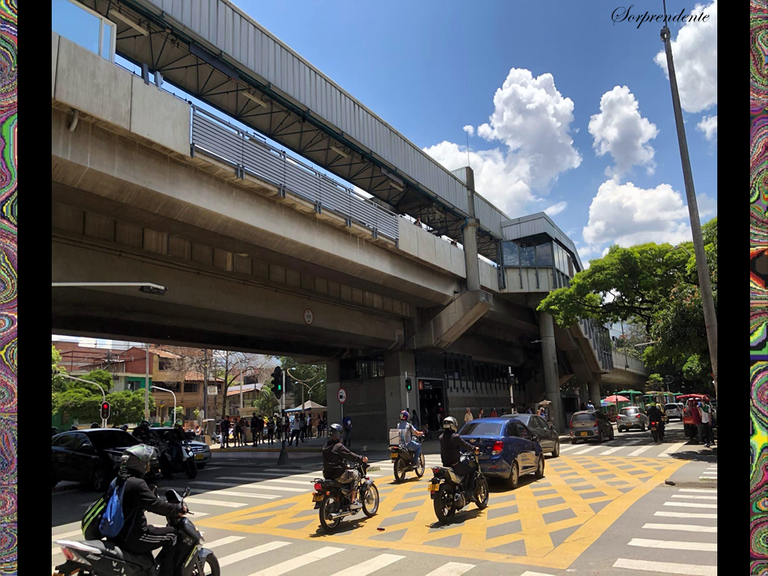 This station is in a conglomerate location in La Floresta among other established neighborhoods in the center of Medellín that make up the important Comuna n.º 11 Laureles-Estadio. By the way, of this commune I hope to be able to make you a publication in another opportunity because there is much to show of it.
Esta estación está en una ubicación conglomerada en La Floresta entre otros barrios establecidos en el centro de Medellín que componen la importante Comuna n.º 11 Laureles-Estadio. Por cierto, de esta comuna espero poder hacerles una publicación en otra oportunidad porque hay mucho que mostrar de ella.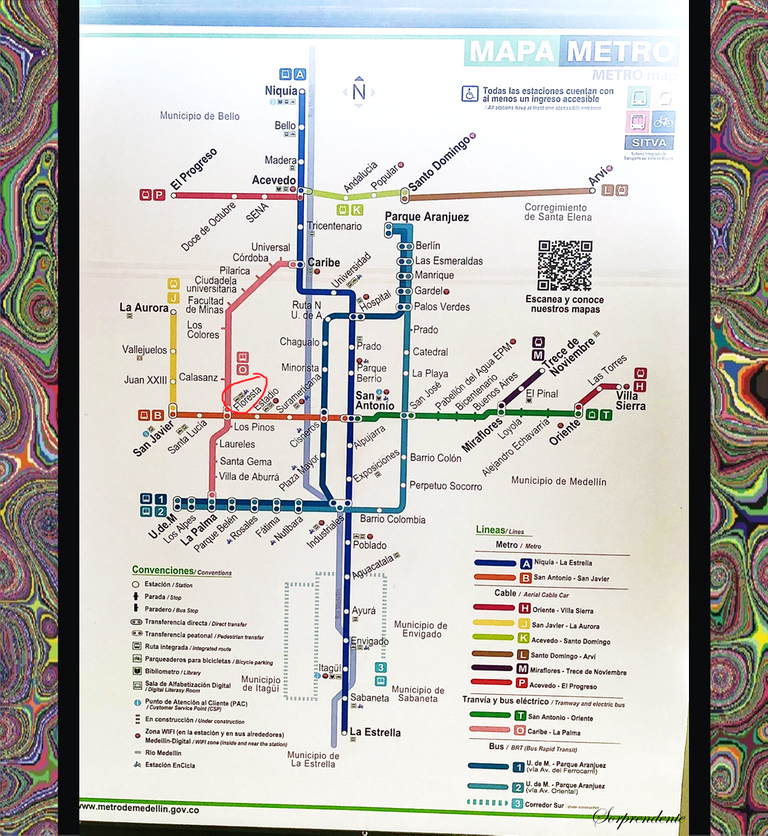 As you can see in the map, the Floresta Station of the Medellín Metro is on Line B.
Como pueden ver en el mapa la Estación Floresta del Metro de Medellín está en la Línea B.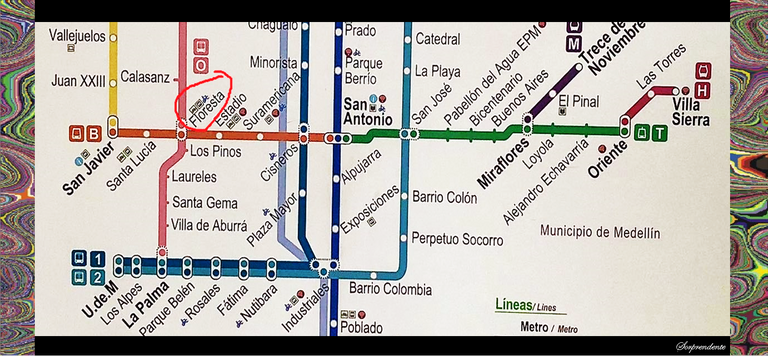 The station is on an elevated section of the subway, this feature is common in the Medellin Metro and I really like it.
La estación está en un tramo elevado del metro, esta característica es común en el Metro de Medellín y por cierto me gusta mucho.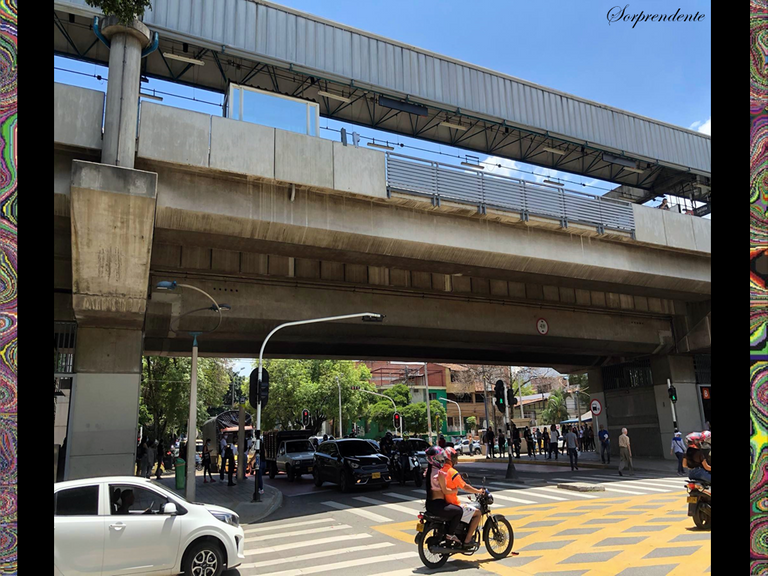 I am impressed by the imposing structure where the train tracks pass and you can see how it passes over the avenue.
Me impresiona la imponente estructura por donde pasan las vías del tren y pueden ver cómo pasa sobre la avenida.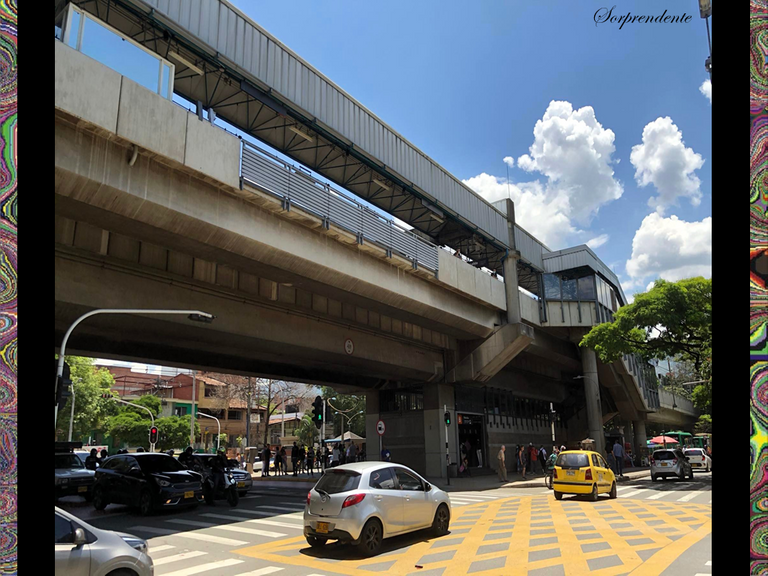 Definitely this giant of architecture is a work that like any structure requires a lot of maintenance. Thinking about the weight it supports and the crowd that uses it, I can imagine the attention that the company must follow for its care. I especially noticed with concern the visible leaks and this is a reason to keep an eye on the train system, its stations and the sections of elevated tracks that compose it.
Definitivamente este gigante de la arquitectura es una obra que como toda estructura requiere de mucho mantenimiento. Pensando en el peso que soporta y la multitud que la usa me imagino la atención que debe seguir la empresa para su cuidado. Especialmente noté con preocupación las filtraciones visibles y esto es una razón para tener los ojos puestos sobre el sistema de tren, sus estaciones y los tramos de las vías elevadas que lo compone.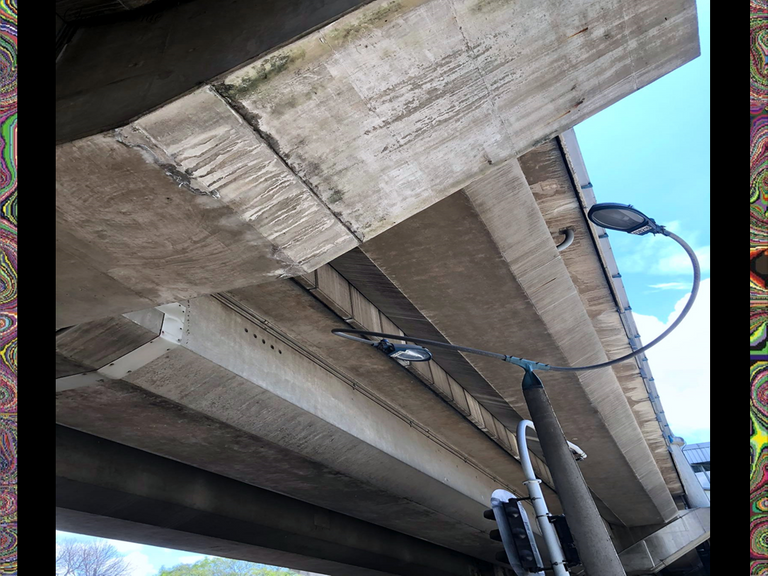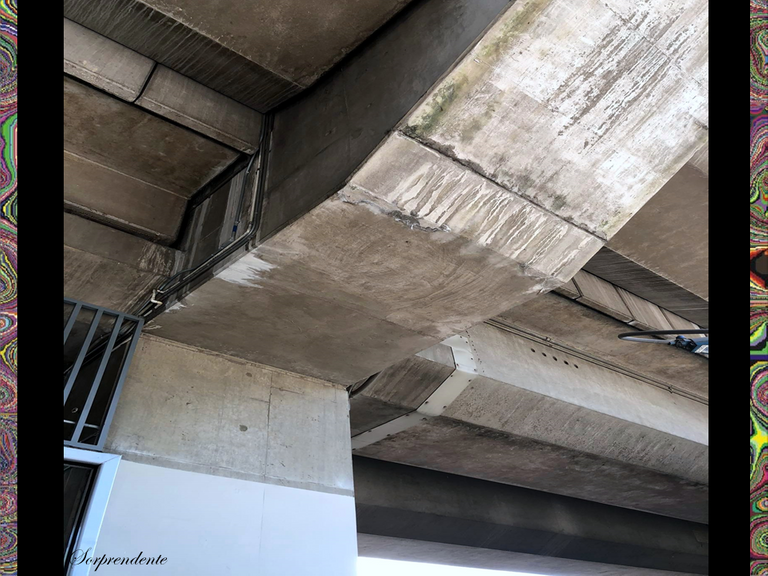 Walking around I could see the same situation and I also noticed that there have been attempts to solve the problem with some methods for this type of difficulties in concrete buildings.
Caminando pude constatar la misma situación y también se nota que ha habido intentos para solucionar el problema con algunos métodos para este tipo de dificultades en edificios de concreto.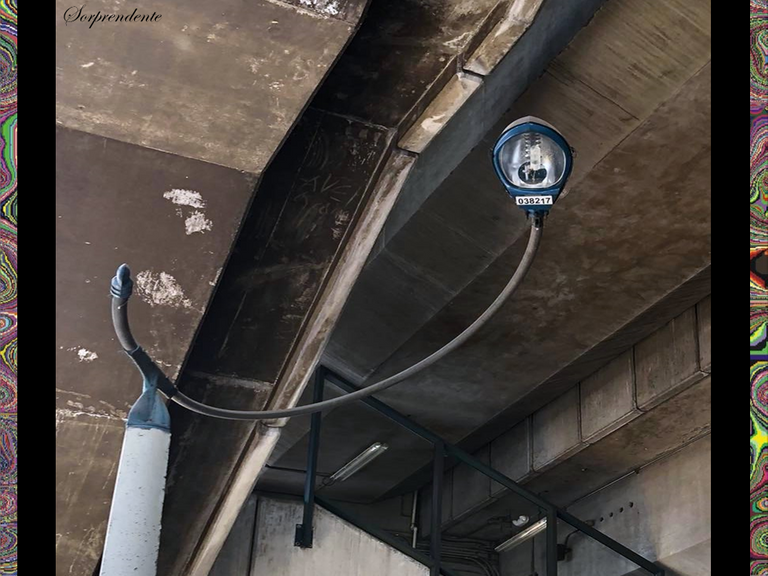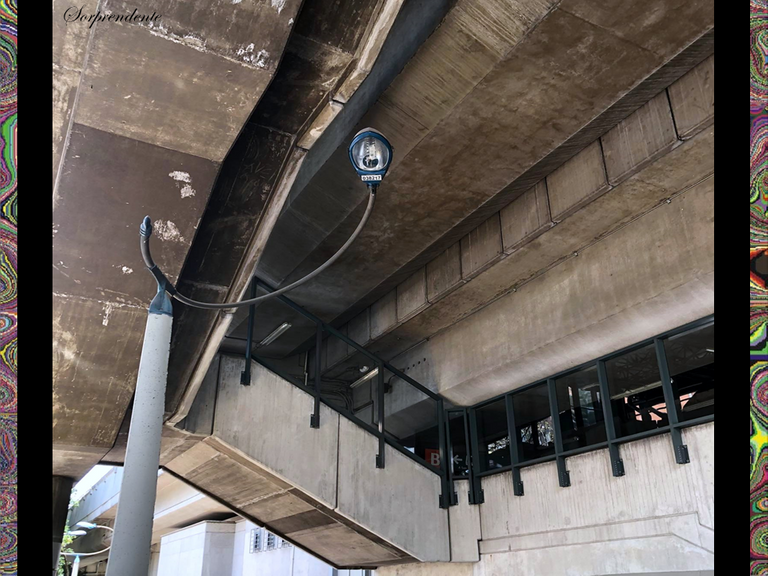 Of course, this requires a lot of effort for the repairs to offer the safety required for an architectural work of such magnitude. Especially for the people who use it and those who pass near this service of the Colombian city.
Claro, esto requiere de mucho esfuerzo para que las reparaciones ofrezcan la seguridad que demanda una obra arquitectónica de tal magnitud. Sobre todo por las personas que lo usan y las que pasan cerca de este servicio de la ciudad colombiana.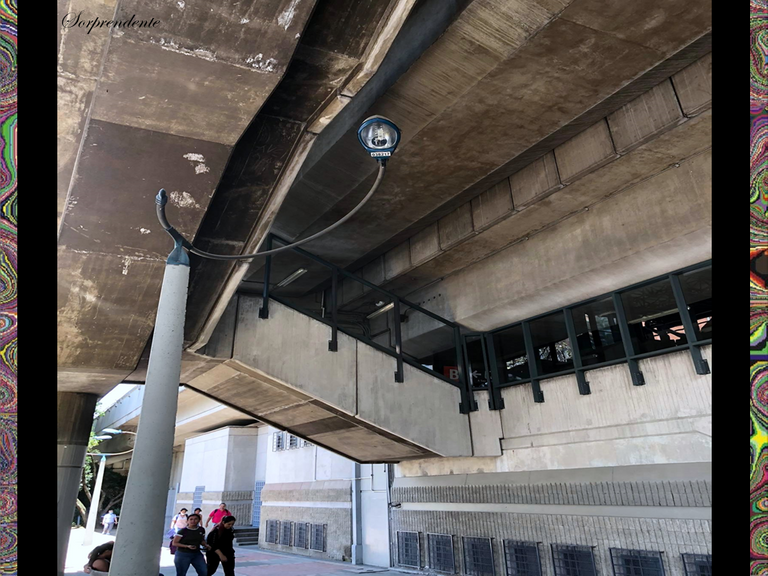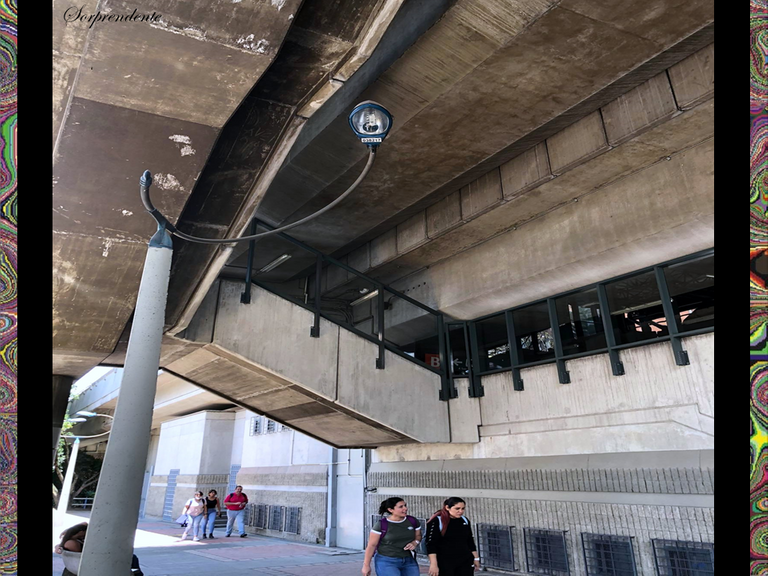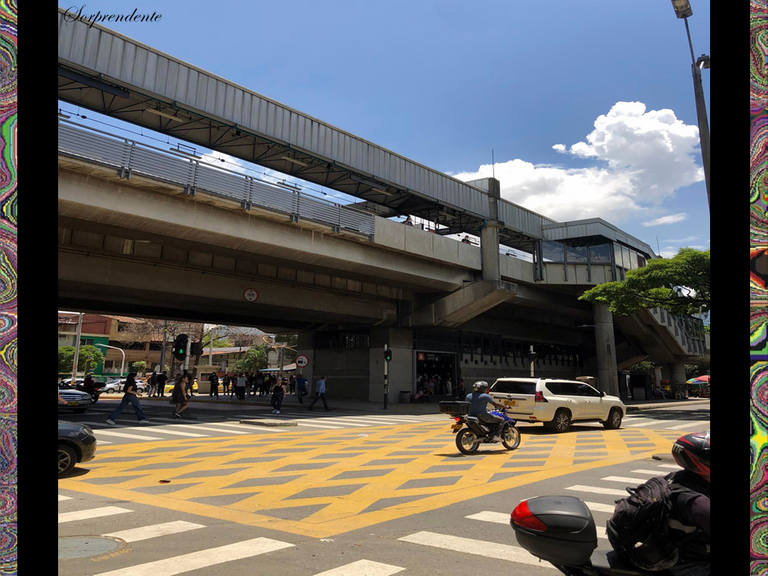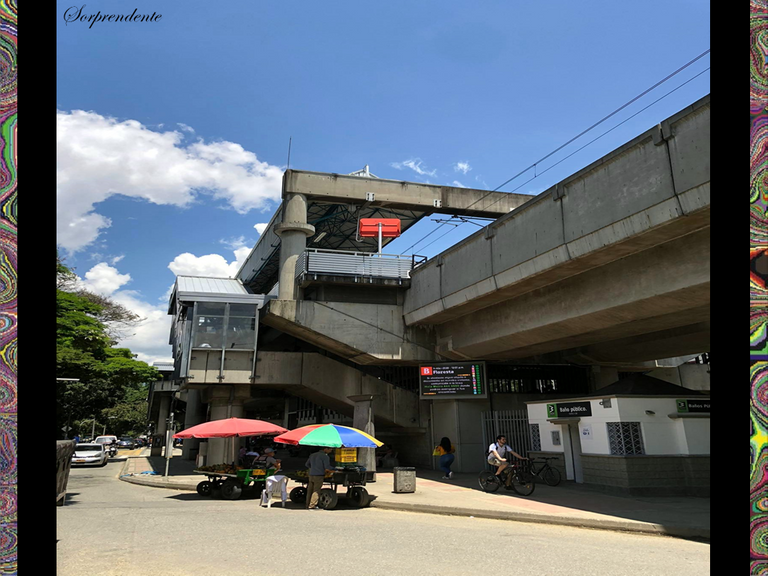 Among the photos of the Floresta Station, you can see the Bus Stop that is part of the metro service. These buses are also called metro or integrated buses because they belong to the same Medellín Metro. They are part of the Sistema Integrado de Transporte del Valle de Aburrá SITVA, but people simply call them "integrated". From the stops you can take a Metroplus or any other public transport bus in the city and they have special fares for passengers coming from using the train.
Entre las fotos de la Estación la Floresta, pueden ver la Parada de Bus que forma parte del servicio del metro. A esos buses también se les llama metro o integrados porque pertenecen al mismo Metro de Medellín. Son parte del Sistema Integrado de Transporte del Valle de Aburrá SITVA, pero sencillamente las personas le dice "integrados". Desde las paradas se puede tomar un Metroplus o cualquier otro bus del transporte público de la ciudad y estos tienen tarifas especiales para los pasajeros que vienen de usar el tren.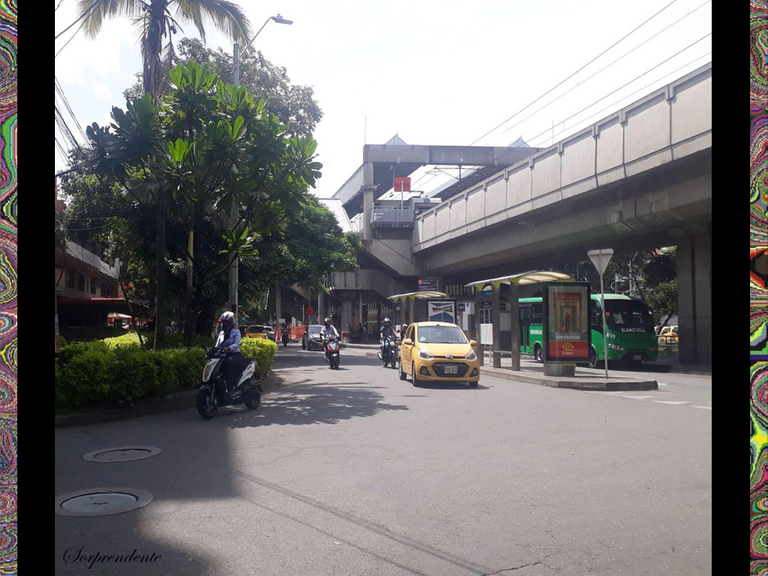 I felt it best to continue on my way home and headed for the subway bus stop. People get off the train inside the station and since they already paid a fare inside, at the main machine of the station to catch the train, they take the bus paying a lower fare. They give you a discount, but that is only when you come from using the train service. Now if you take the integrated bus directly from the street, you pay the full fare.
Sentí que lo mejor era seguir mi camino a casa y me dirigí a la parada de buses del metro. La gente se baja del tren dentro de la estación y como ya pagaron un pasaje adentro, en la maquina principal de la estación para agarrar el tren, agarran el bus pagando un menor precio del pasaje. Te hacen un descuento, pero eso es solo cuando vienes de usar el servicio de trenes. Ahora si vas a tomar el bus integrado directamente desde la calle, pagas el pasaje normal completo.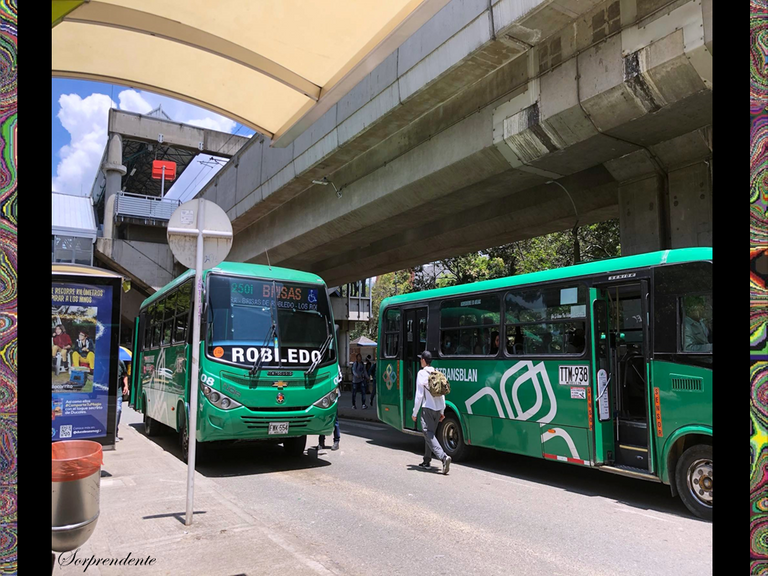 The bus stop is full of buses and you have to hurry to catch one.
La parada está llena de buses y hay que apurarse para tomar uno.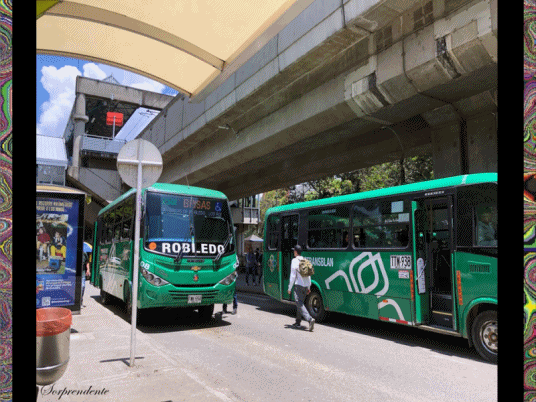 The SITVA reduces the number of transportation companies in the city and also benefits users through discounted prices.
El SITVA reduce la cantidad de empresas de transporte en la ciudad y también beneficia a los usuarios por sus precios con descuento.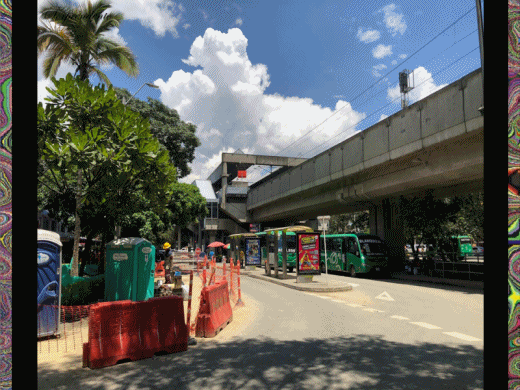 The aggregate transport system has established and well-built stops, although some of them are unused, losing part of the work, but at Floresta Station we see the operation of this stop and I go home at ease.
El sistema de transporte agregado tiene paradas establecidas y bien construidas aunque algunas de ellas están sin uso perdiéndose parte de la obra, pero en la Estación Floresta vemos el funcionamiento de esta parada y me voy tranquilo a casa.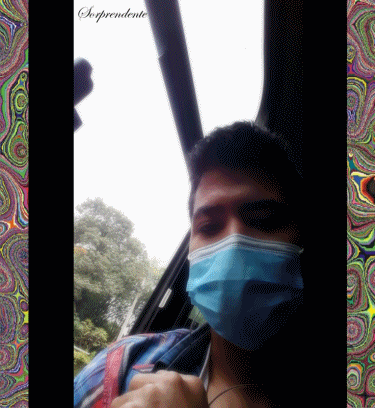 See you another day to follow a next tour of the Medellin Metro stations in Colombia, a work of Colombian architecture that deserves recognition and much attention in its structure for its proper functioning.
Nos vemos otro día para seguir un próximo recorrido por las estaciones del Metro de Medellín en Colombia, una obra de la arquitectura colombiana que merece reconocimiento y mucha atención en su estructura para su correcto funcionamiento.
---
This publication dedicates 10% to the account @aplusd to support the valuable work being done in this wonderful community by the hand of @storiesoferne, to whom I am very grateful for the support I have received and also the one given to the rest of the architecture lovers. I make this delegation of my own free will and without any personal interest.
Esta publicación dedica el 10 % a la cuenta @aplusd para apoyar el valioso trabajo que se realiza en esta maravillosa comunidad de la mano de @storiesoferne, a quienes agradezco mucho por el apoyo que he recibido y también el dado al resto de los amantes de la arquitectura. Esta delegación la hago por voluntad propia y sin ningún interés personal.
---
---
Translated with www.DeepL.com/Translator
Bienvenidos a mi blog
Welcome to my blog
Gracias por tu visita
Thanks for your visit

Contenido original / Autor @sorprendente
Fotos e imágenes de mi propiedad.
Si desea usar alguna como referencia
destaque mi nombre como fuente: @sorprendente
Original content / Author @sorprendente
Photos and images of my property.
If you want to use one as a reference,
please highlight my name as a source: @sorprendente

C/Architecture+Design 🌀 C/Mundo Autismo
Logos propiedad de las comunidades. / Logos owned by the communities.
---
Nos seguimos viendo y leyendo. / We keep watching and reading.
---
---
---