Medellín Metro Stations | A Latin American Model Mega-Structure PART 1
Greetings friends of the Architecture+Design Community, this is my favorite place to show the architectural structures that I visit since I met this magnificent space in Hive. After a time with little interaction I come motivated to continue together sharing content related to the magnificent architecture that surrounds us because although sometimes it seems that I disconnect from this world the truth is that it is not so and you know, the good son always comes home and here I am with you friends, lovers and connoisseurs of the art of architecture to show you part of the Medellin Metro in Colombia.
Friends, I have told you before that I enjoy the City of Medellin for having an admirable ecological culture and for being very orderly thanks to its well-structured urban planning. One of the things I admire and enjoy in Medellin is its Metro system even though I am a person who has the habit of making long walks thus discarding the use of any means of transport but there have also been many times I have used the subway, but this is the first time I decide to show it from my personal perspective and from the lens of my iPhone.
I will focus on the metro stations in its terrestrial train service and from this publication I will be presenting a series of publications to show you four stations of Line B of the Medellin Metro and in this first publication I will start with two stations, San Antonio Station and Santa Lucia Station.
Saludos amigos de la Comunidad Arquitectura+Diseño, este es mi lugar favorito para mostrar las estructuras arquitectónicas que visito desde que conocí este magnífico espacio en Hive. Luego de un tiempo con poca interacción vengo motivado para continuar juntos compartiendo contenido relacionado a la magnífica arquitectura que nos rodea porque aunque a veces pareciera que me desconecto de este mundo la verdad es que no es así y ya saben, el buen hijo siempre vuelve a casa y aquí estoy con ustedes amigos, amantes y conocedores del arte de la arquitectura para mostrarles parte del Metro de Medellín en Colombia.
Amigos, ya antes les he dicho que disfruto la Ciudad de Medellín por tener una cultura ecológica admirable y por ser muy ordenada gracias a su planeamiento urbano bien estructurado. Una de las cosas que admiro y disfruto en Medellín es su sistema de Metro a pesar que soy una persona que tiene por costumbre hacer largas caminatas descartando así el uso de algún medio de transporte pero también han sido muchas las veces que he usado el metro, pero esta es la primera vez que decido mostrarlo desde mi óptica personal y desde el lente de mi iPhone.
Me enfocaré en las estaciones del metro en su servicio terrestres de trenes y a partir de esta publicación les estaré presentando un serie de publicaciones para enseñarles cuatro estaciones de la Línea B del Metro de Medellín y en esta primera publicación empezaré con dos estaciones, la Estación San Antonio y la Estación Santa Lucia.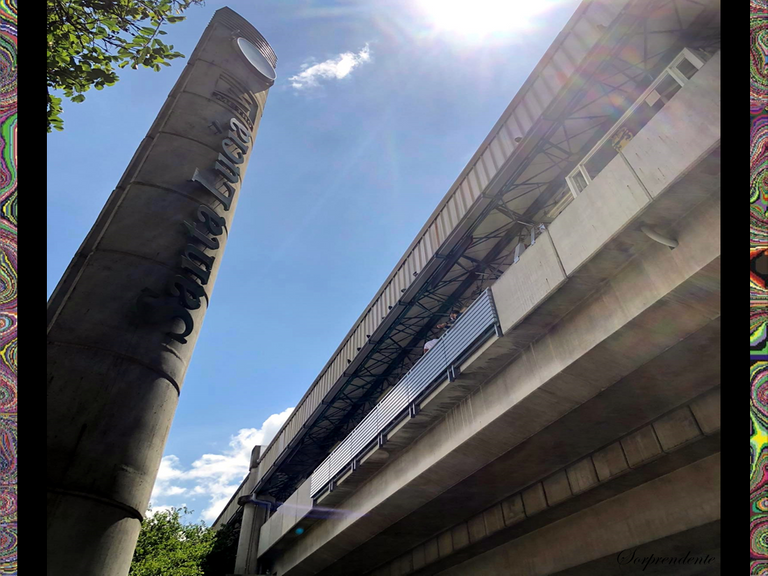 Really the Medellin Metro is an architectural work that consolidated the mass transportation system of the Aburrá Valley in Antioquia and in its almost 27 years is still an excellent work that stands out among other train systems in Latin America and every time I use it makes me remember the Caracas subway in my country Venezuela but the Medellin Metro has a lot of roadways on the outside and area which makes me feel very comfortable.
Realmente el Metro de Medellín es una obra arquitectónica que consolidó el sistema de transporte masivo del Valle de Aburrá en Antioquia y en sus casi 27 años sigue siendo una excelente obra que destaca entre otros sistemas de trenes en Latinoamérica y cada vez que lo uso me hace recordar el metro de Caracas en mi país Venezuela pero el de Medellín posee mucha vialidad en el exterior y área lo que me hace sentir muy cómodo.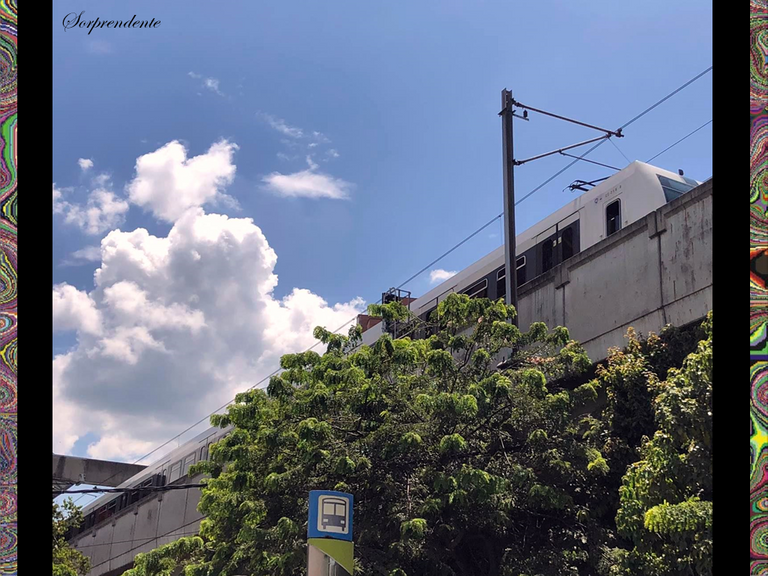 The Medellin Metro reflects a commitment to the care of the environment because it uses renewable energy, although it uses electricity, this is responsibly reduced and replaced by solar energy, a natural energy source par excellence, and this is a good reason to use this service to move in a sustainable way.
El Metro de Medellín refleja un compromiso con el cuidado del medio ambiente porque se sirve de energías renovables, aunque usa energía eléctrica esta es reducida responsablemente y se sustituye por la solar, fuente de energía natural por excelencia y esta es una buena razón para usar este servicio para desplazarme de manera sostenible.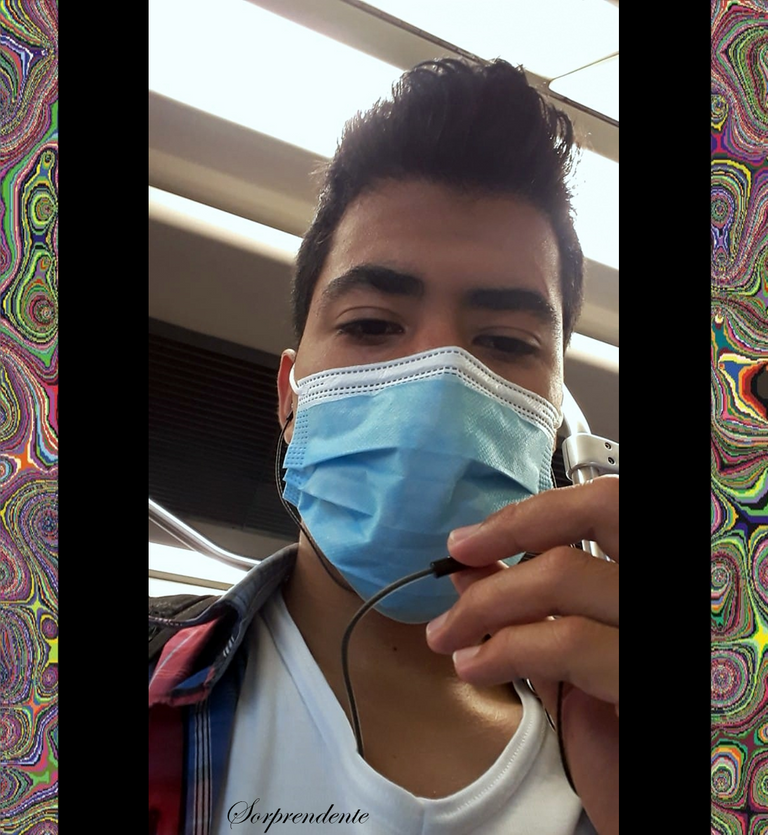 San Antonio Station
I decided to enter the San Antonio Station which is built to be a transfer station to different subway stations. See the large windows that allow the station to be illuminated thanks to sunlight taking advantage of natural energy.
Estación San Antonio
He decidido entrar a la Estación San Antonio que está construida para ser una estación de transferencia hacia diferentes estaciones del metro. Vean los grandes ventanales que le permiten a la estación estar iluminada gracias a la luz solar aprovechando la energía natural.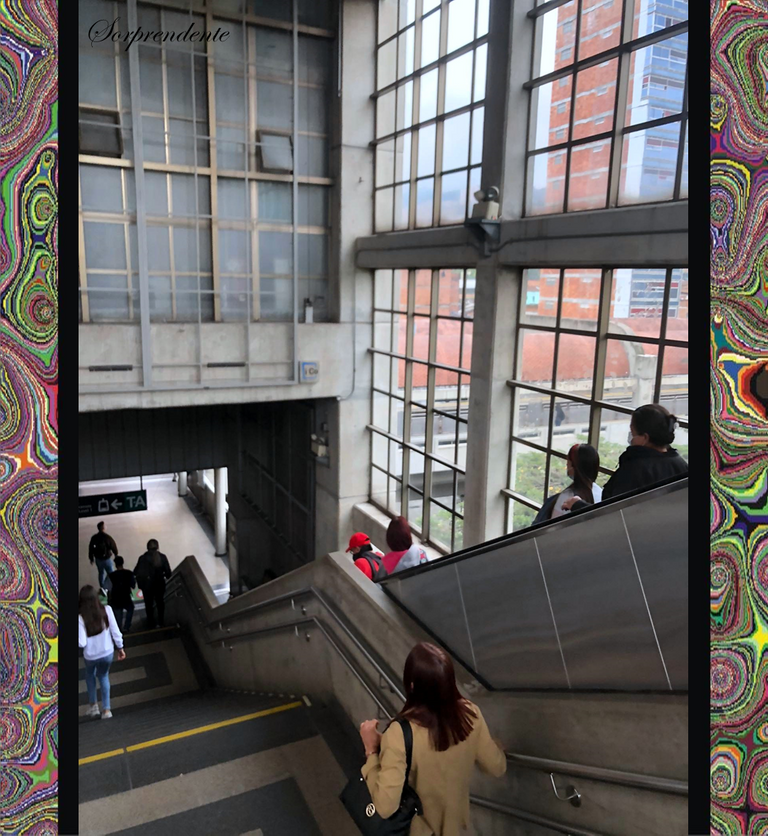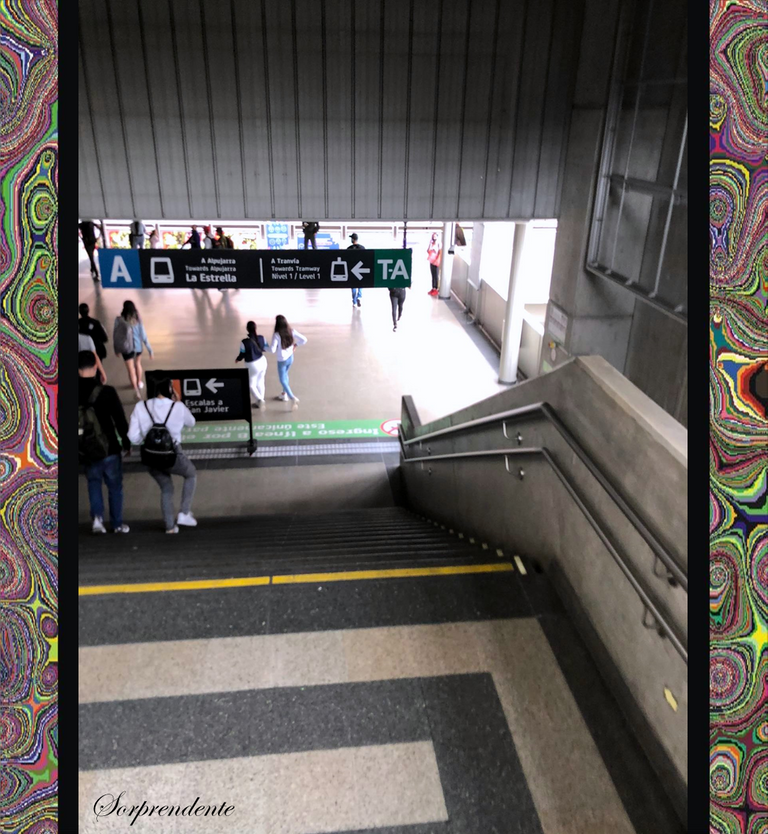 This station San Antonio is the junction of Line A, Line B and Line T-A. On the map there is a Line A which is from North to South and a Line B which is from East to West, that is to say from East to West and this Line B is where I will continue my route.
Esta estación San Antonio es la unión de la Línea A, la Línea B y la Línea T-A. En el mapa está una Línea A que es de Norte a Sur y una Línea B que es de Oriente a Occidente, es decir de Este a Oeste y en esta Línea B es donde continuaré mi recorrido.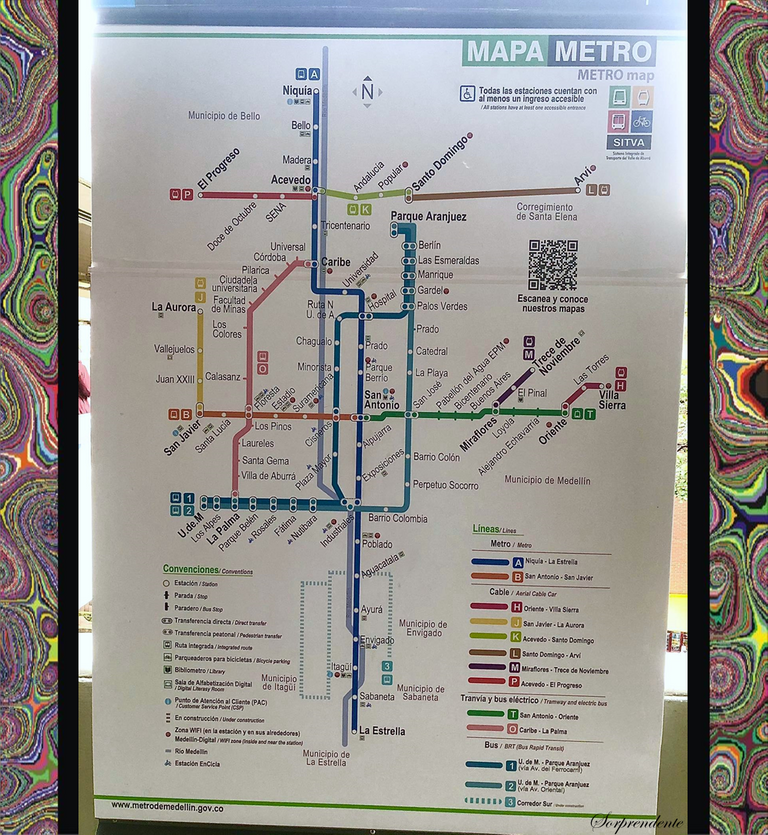 Lines A and B meet at one point which is San Antonio Station and is where people arrive and transfer to another train depending on where they are going.
Las Líneas A y B, se encuentran en un punto que es la Estación San Antonio y es donde las personas llegan y hacen transbordo a otro tren dependiendo hacia donde se dirigen.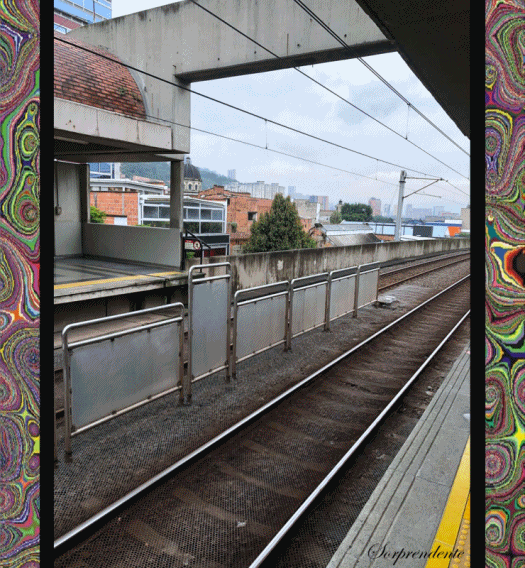 The tracks where you see the train arriving is the San Antonio Station, let's say it is the largest station and its design is very consistent to fulfill its function as a crossroads. It is a station with a lot of passengers in search of different destinations in a modern and important metropolis like Medellin.
Las vías donde se ve el tren llegando es la Estación San Antonio, digamos que es la estación más grande y su diseño está muy acorde para cumplir su función de encrucijada. Es una estación con mucha afluencia de pasajeros en busca de distintos destinos en una metrópoli moderna e importante como Medellín.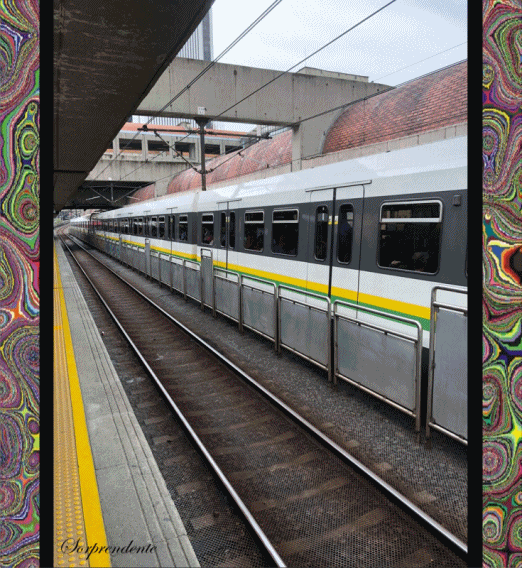 Santa Lucia Station
My destination is Santa Lucia station, which is located on the B Line.
Estación Santa Lucía
Mi destino es la estación Santa Lucía, que está ubicada en la Línea B.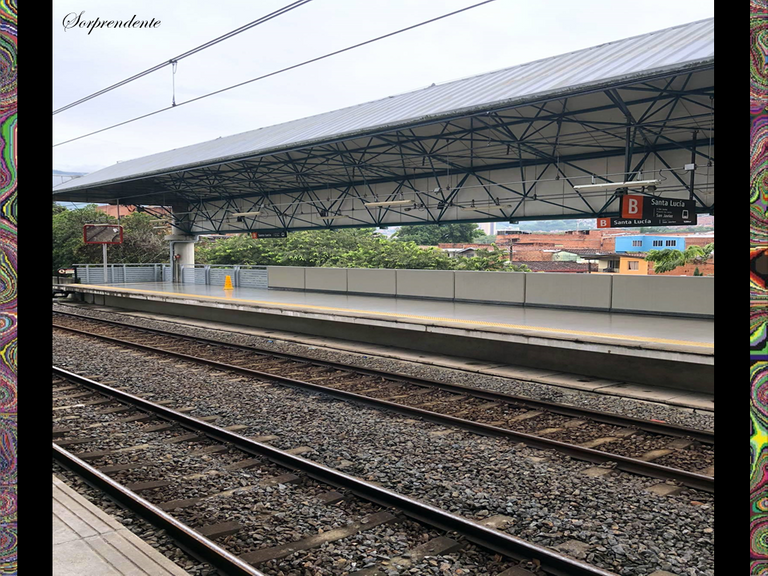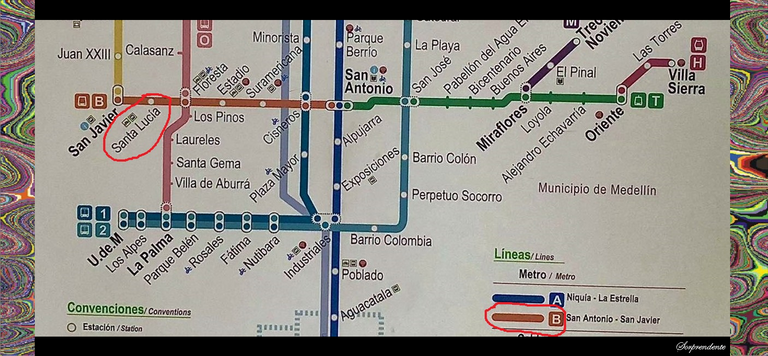 Already in the Santa Lucia station, it seems that the same panorama is repeated in relation to order and design in this large-scale work. But I am attracted to patterns when it comes to taking care of perfect lines that allow a perfect result like this mega construction. A clean uniformity is observed as a previous result of a creative idea for such a modern road system as this one.
Ya en la estación Santa Lucía, pareciera que se repite el mismo panorama en relación al orden y diseño en esta obra de gran envergadura. Pero a mi me atraen los patrones cuando se trata de cuidar líneas perfectas que permitan un resultado perfecto como esta mega construcción. Se observa una limpia uniformidad como resultado previo a una idea creativa para un sistema de vialidad tan moderno como este.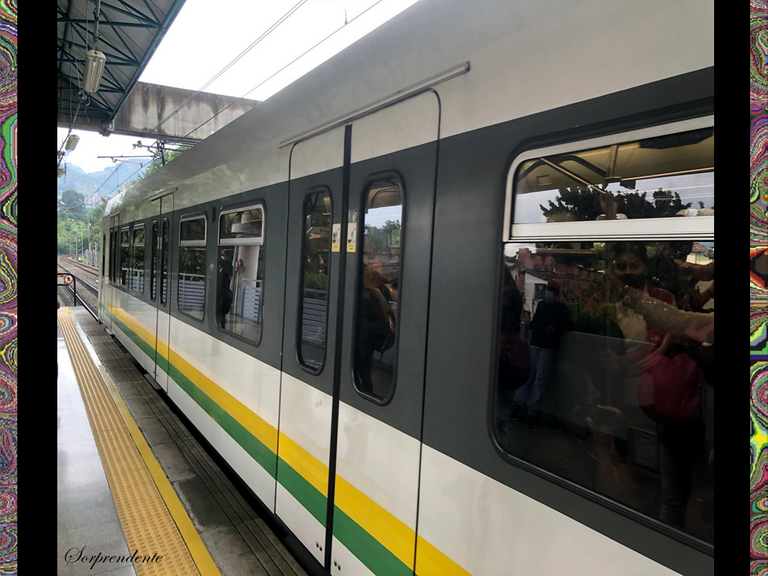 From the platforms I observe the train tracks that seem to have no end and that invite you to continue traveling to enjoy the transportation service. The typical gravel stones support and wrap the steel rails that extend 5.3 km on the B line.
Desde las plataformas observo las vías del tren que parecieran no tener fin y que invitan a seguir viajando para disfrutar del servicio de transporte. Las típicas piedras gravas sostienen y envuelven los rieles de acero que se extienden 5,3 km esto hablando de la línea B.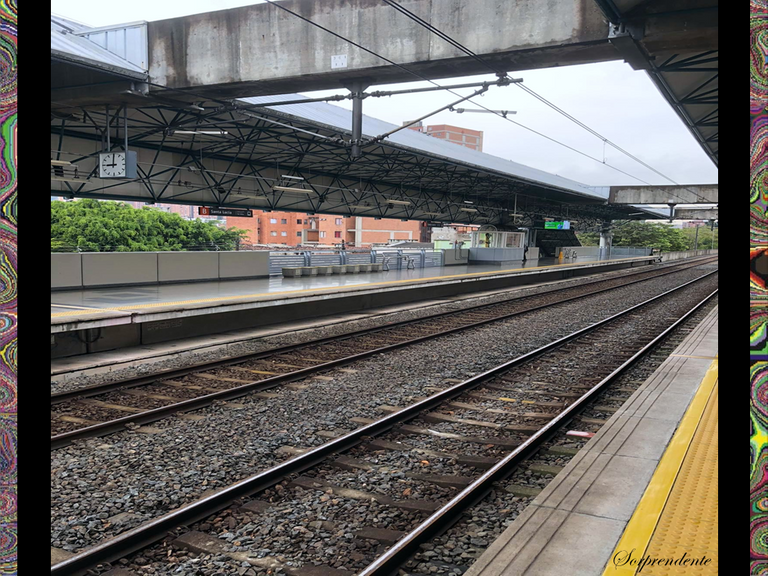 The rails of modern subways or train systems are made of steel, but the chemical composition is special to give it greater resistance. Steel is the right material to support the weight of the trains and technology has improved its strength properties.
Los rieles de los metros o sistemas de trenes modernos son de acero, pero la composición química es especial para darle mayor resistencia. El acero es el material adecuado para que se soporte el peso de los trenes y la tecnología le ha mejorado sus propiedades de resistencia.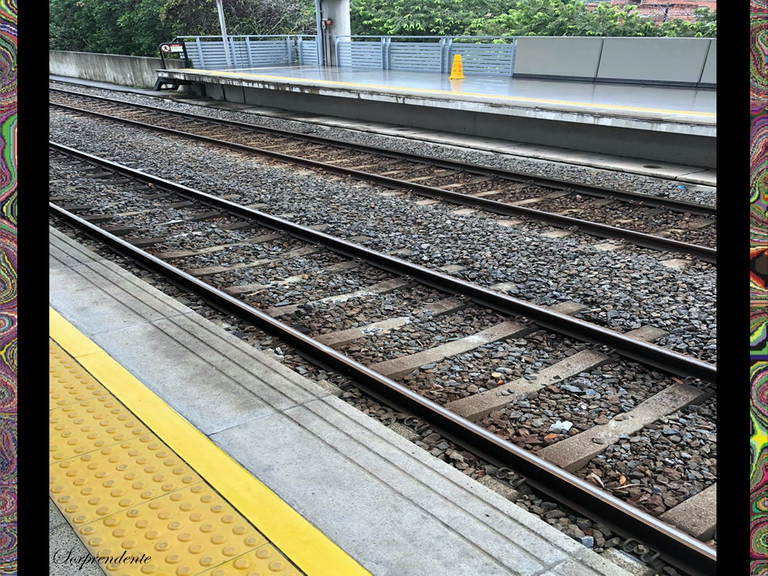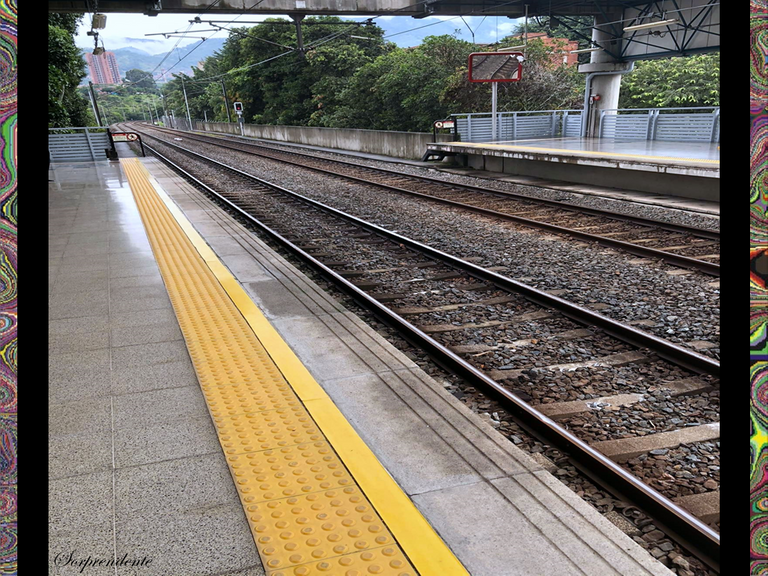 I want to continue showing the robust work from the outside and I leave the Santa Lucia station and outside you can see part of the congested Santa Lucia neighborhood where this Medellin Metro station is located.
Deseo continuar mostrando la robusta obra desde su exterior y salgo de la estación Santa Lucia y afuera pueden ver parte del congestionado barrio Santa Lucía que es donde se encuentra esta estación del Metro de Medellín.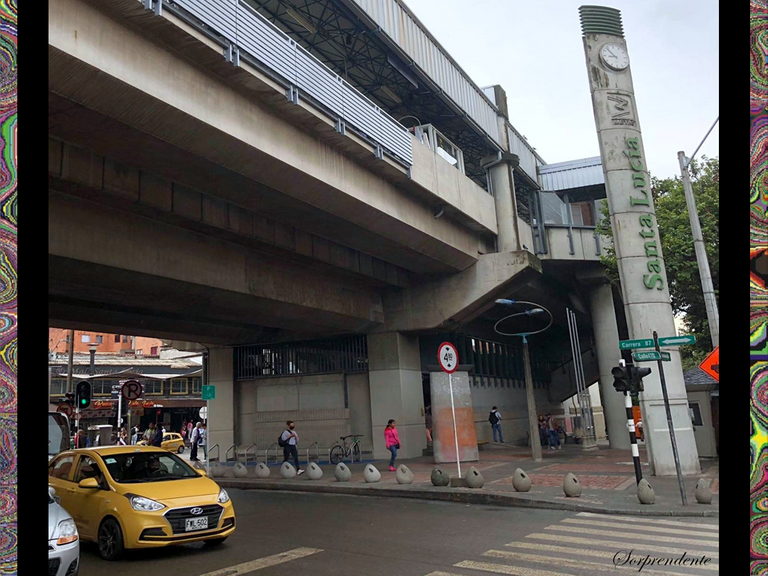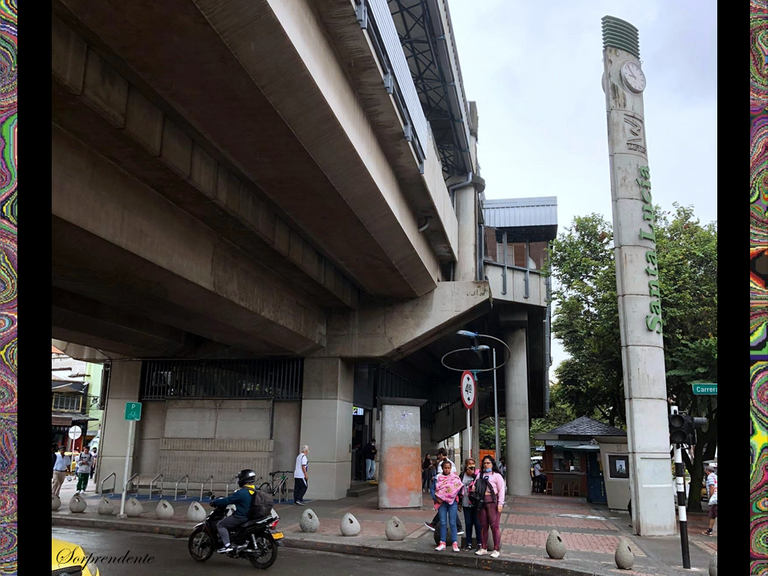 The strong concrete and reinforced concrete structure looks like a fortress, with wide columns and beams to erect and support the weight of the station. The structure rises up to where the overhead subway tracks will be and note the thickness of each piece and element that make up the station. The external part is visually different but the facades allow an important projection of the architectural works.
La fuerte estructura de hormigón y concreto armado parece una fortaleza, con anchas columnas y vigas para erguir y soportar el peso de la estación. La estructura se eleva hacia donde estarán las vías aéreas del metro y fíjense en el espesor de cada pieza y elemento que componen la estación. La parte externa es visualmente diferente pero las fachadas permiten una proyección importante de las obras arquitectónicas.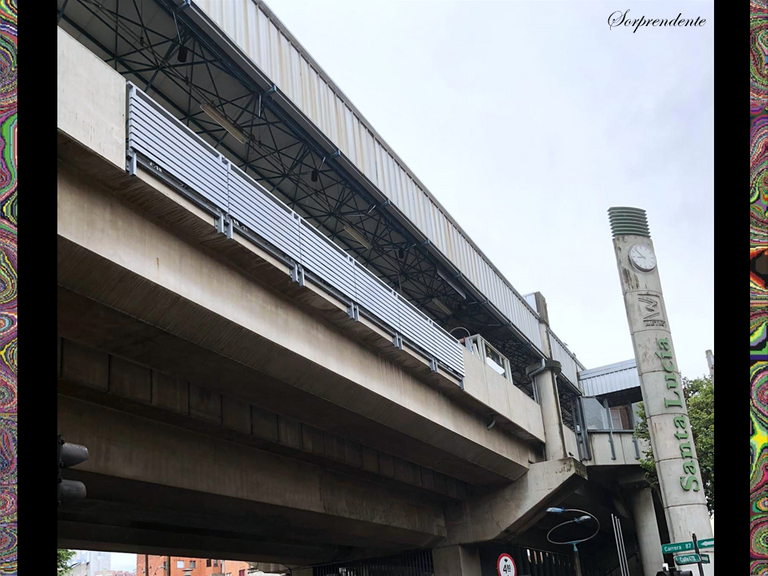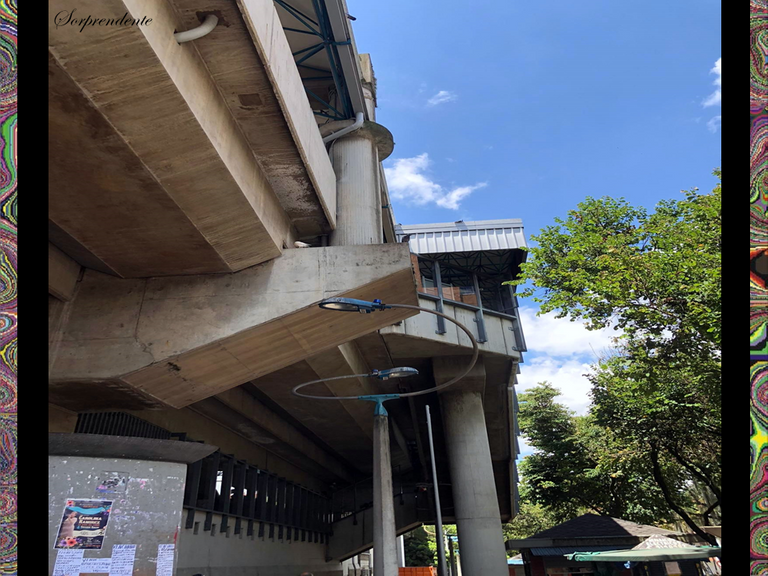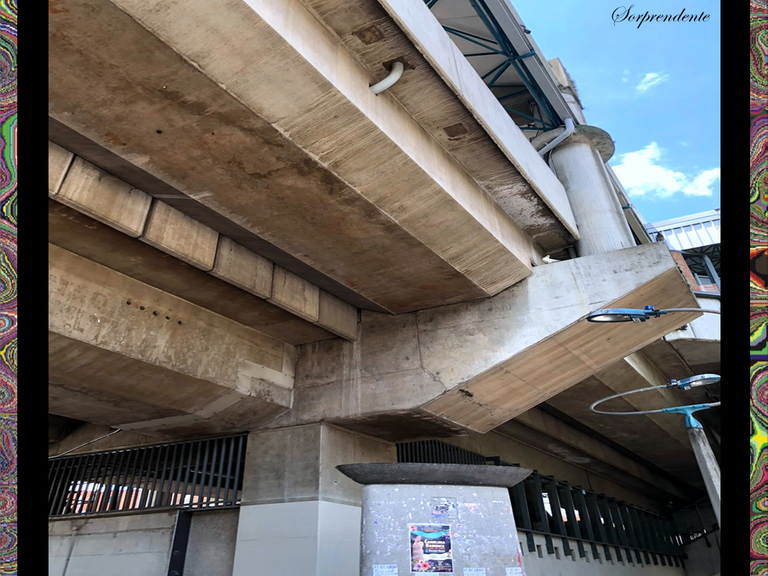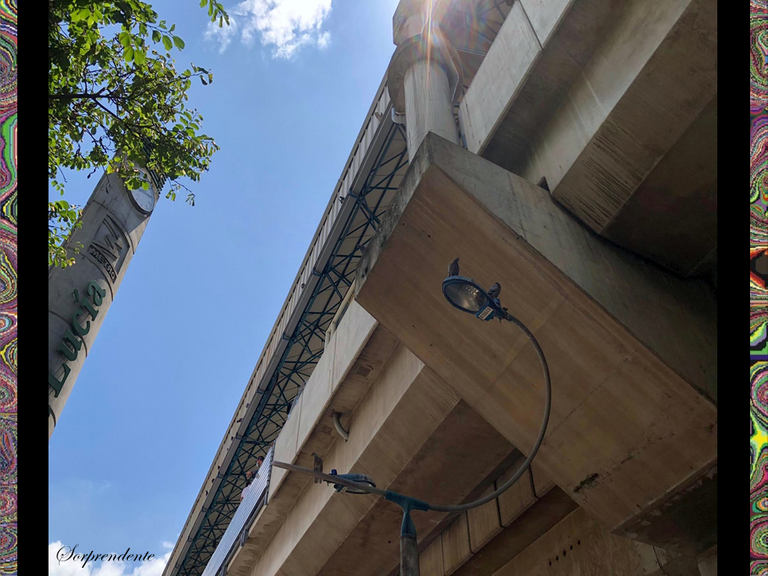 This is a work that amazes me and I thank you for joining me on this tour where I showed you San Antonio Station and Santa Lucia Station. The Medellin Metro is a great work of architecture and engineering in Colombia to give better quality of life to its inhabitants. I say goodbye for a few days because I will be back to show you other stations of the Medellin Metro.
Esta es una obra que me asombra y les doy las gracias por acompañarme en este recorrido donde les mostré la Estación San Antonio y la Estación Santa Lucía. El Metro de Medellín es una gran obra de la arqutectura y la ingeniería en Colombia para dar mejor calidad de vida a sus habitantes. Me despido por unos días porque volveré para mostrarles otras estaciones del Metro de Medellín.
---
This publication dedicates 10% to the account @aplusd to support the valuable work being done in this wonderful community by the hand of @storiesoferne, to whom I am very grateful for the support I have received and also the one given to the rest of the architecture lovers. I make this delegation of my own free will and without any personal interest.
Esta publicación dedica el 10 % a la cuenta @aplusd para apoyar el valioso trabajo que se realiza en esta maravillosa comunidad de la mano de @storiesoferne, a quienes agradezco mucho por el apoyo que he recibido y también el dado al resto de los amantes de la arquitectura. Esta delegación la hago por voluntad propia y sin ningún interés personal.
---
---
Translated with www.DeepL.com/Translator
Bienvenidos a mi blog
Welcome to my blog
Gracias por tu visita
Thanks for your visit

Contenido original / Autor @sorprendente
Fotos e imágenes de mi propiedad.
Si desea usar alguna como referencia
destaque mi nombre como fuente: @sorprendente
Original content / Author @sorprendente
Photos and images of my property.
If you want to use one as a reference,
please highlight my name as a source: @sorprendente

C/Architecture+Design 🌀 C/Mundo Autismo
Logos propiedad de las comunidades. / Logos owned by the communities.
---
Nos seguimos viendo y leyendo. / We keep watching and reading.
---
---
---