Breaking Records by Climbing Positions #Day 129 // Rompiendo Records Subiendo Posiciones #Día 129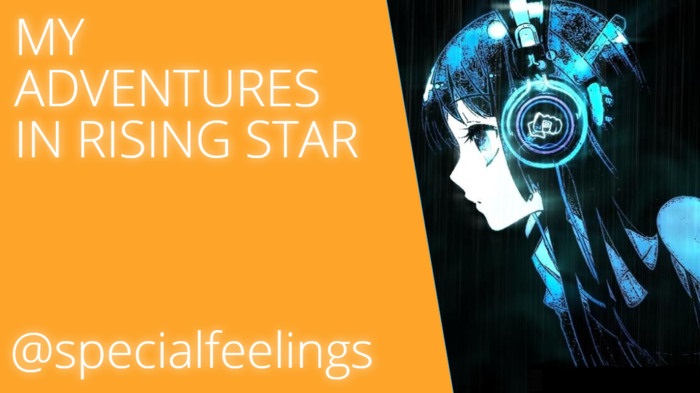 ENGLISH

Good afternoon! Here we are again on another Sunday. Time flies by, I still remember the previous Sunday as if it was yesterday wishing you a quiet and calm Sunday. So I wish you a peaceful Sunday. Let's see how my Rising Star adventure continues.
RANKING
Yesterday I didn't open packs, so my position in the ranking will depend on the weekly minutes played and the progress of the other players. I have tried to keep my pace of play, but I don't know if I will have increased or decreased my minutes played, so let's see my position today.

I have been analyzing and comparing the scores with respect to yesterday and I have seen a problem I had. Before yesterday I didn't have 3 cards loaded in my account (I guess it was from the last pack I opened that got stuck), but yesterday it did when I updated the cards, so in yesterday's ranking those 3 cards didn't count because they were stuck and hadn't been loaded in my account yet and they counted for today's ranking, since they were attributed to me yesterday.
Summarizing, in the ranking I have increased the number of cards in 3 with respect to yesterday and I have also increased the number of weekly minutes played. All this has made me reach my highest position in the ranking breaking a new record. My main goal is to stay in the top 100, so I hope I can stay in these positions away from the top 100 limit to be more relaxed.
FESTIVAL
The new festival is taking place in France and is the first festival to be held in Southern Europe, leaving behind all the previous festivals that had been held in Northern Europe. The festival in France will last until October 13th when it will be held in Spain.
I got my France wristband and it looks like this.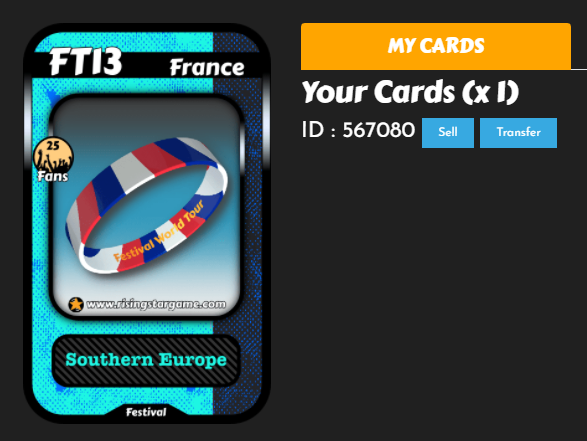 There have already been 13 festivals of which I have the 13 wristbands. My goal is to get all the wristbands from all the festivals.

MISSIONS
I already reached the 3rd zone in which I managed to unlock 5 missions, so I only have 2 more to unlock to be able to access the 4th and last zone of the game. When you reach a certain level it is more complicated to unlock the following missions because each level requires more experience. My goal is to reach level 175 to unlock the next mission. Today my level is 159.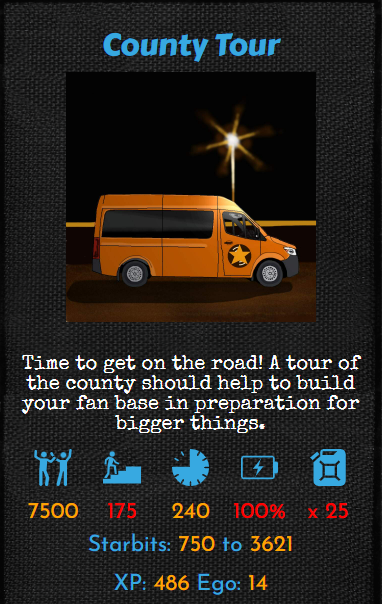 In addition to reaching level 175 I will also need 25 can of petrol cards of which I already have 10 that I needed for previous missions, so I will have to get 15 more cards. Each one has a price of 5000 starbits in the market.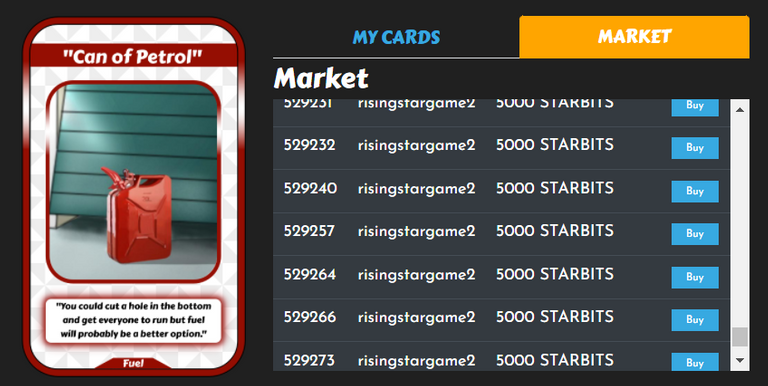 MY PROGRESS - DAY 129
TOTAL MISSIONS: 4397
CARDS: 1349
PERMANENT FANS: 50105
LUCK: 12467
SKILL: 74173
IM: 887
LEVEL: 159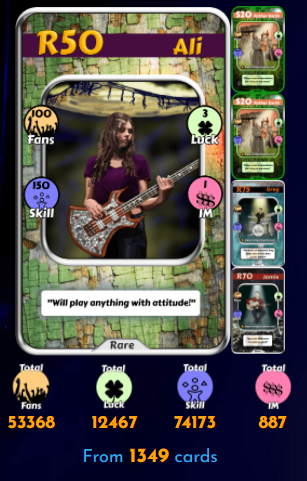 RANKING

And that's all for today! It was a great surprise to see that today in the ranking that I got the 3 cards loaded that were not loaded yesterday and to see that my weekly minutes continue to increase. I hope to continue like this for a long time. thanks for following my progress one more day! happy sunday!💋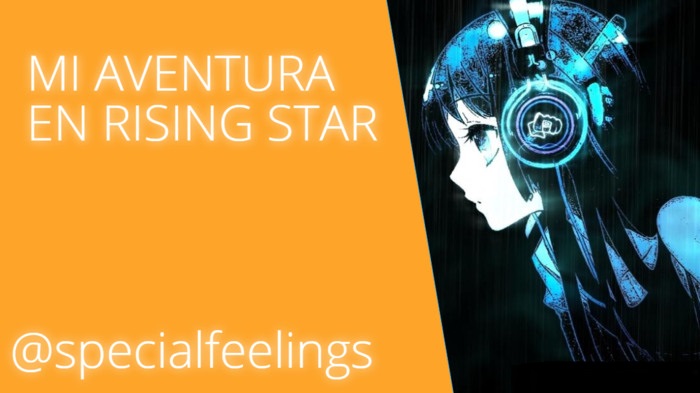 ESPAÑOL

¡Buenos días! Aquí estamos otro de nuevo otro domingo más. El tiempo pasa volando, todavía recuerdo el anterior domingo como si fuera ayer mismo deseando que tuvierais un domingo tranquilo y calmado. Así pues os deseo que paséis un domingo tranquilo. Vamos a ver como continua mi aventura en Rising Star.
RANKING
Ayer no abrí packs, así que mi posición en el ranking dependerá de los minutos semanales jugados y del progreso de los demás jugadores. He intentado mantener mi ritmo de juego, pero no sé si habré aumentado o disminuido mis minutos jugados, así que veamos mi posición hoy.

He estado analizando y comparando las puntuaciones con respecto a ayer y he visto un problema que tuve. Antes de ayer no me cargaban 3 cartas en mi cuenta (supongo que sería del último pack que abrí que se quedó trabado), pero ayer si lo hizo cuando actualicé las cartas, así que en el ranking de ayer esas 3 cartas no me contaron porque estaban trabadas y aun no se me habían cargado en mi cuenta y contaron para el ranking de hoy, ya que se me atribuyeron ayer.
Resumiendo, en el ranking he aumentado el número de cartas en 3 respecto a ayer y también he aumentado el número de minutos semanales jugados. Todo esto ha hecho que alcance mi posición más alta en el ranking batiendo un nuevo record. Mi objetivo principal es mantenerme en el top 100, así que espero poder estar en estas posiciones alejada del límite del top 100 para quedarme más tranquila.
FESTIVAL
El nuevo festival se está llevando a cabo en Francia y es el primer festival que se celebra en el sur de Europa dejando atrás todos los anteriores festivales que se habían celebrado en el norte de Europa. El festival de Francia durará hasta el día 13 de octubre cuando pasará a celebrarse en España.
Ya conseguí mi pulsera de Francia y se ve así.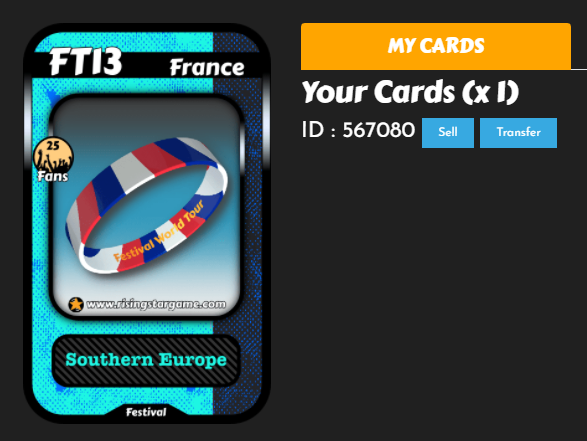 Ya se han celebrado 13 festivales de los que tengo las 13 pulseras. Mi objetivo es conseguir todas las pulseras de todos los festivales.

MISIONES
Ya alcancé la 3º zona en la que conseguí desbloquear 5 misiones, por lo que tan solo me quedan 2 más por desbloquear para poder acceder a la 4º y última zona del juego. Cuando ya alcanzas cierto nivel es más complicado desbloquear las siguientes misiones porque para subir cada nivel requiere de mayor experiencia. Mi objetivo es alcanzar el nivel 175 para desbloquear la siguiente misión. Hoy mi nivel es el 159.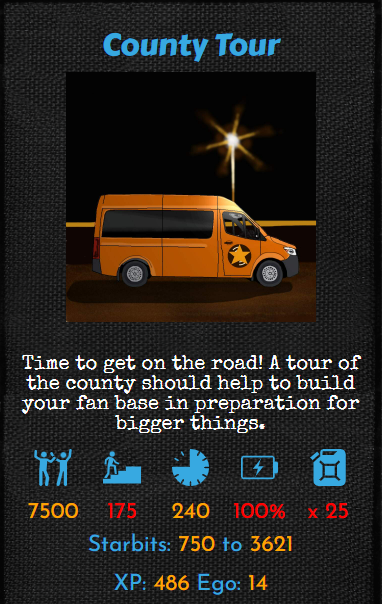 Además de alcanzar el nivel 175 también necesitaré 25 cartas de can of petrol de las que ya tengo 10 que necesitaba para anteriores misiones, por lo que tendré que hacerme con 15 cartas más. Cada una tiene un precio de 5000 starbits en el market.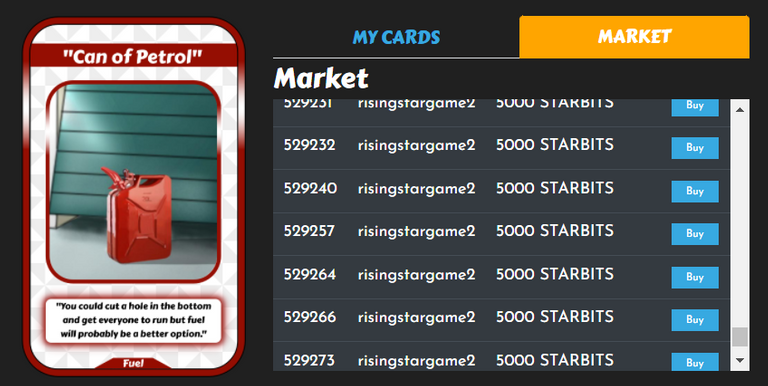 MI PROGRESO - DÍA 129
MISIONES TOTALES: 4397
CARTAS: 1349
FANS PERMANENTES: 50105
LUCK: 12467
SKILL: 74173
IM: 887
NIVEL: 159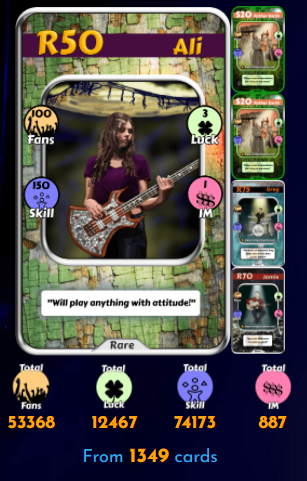 RANKING

¡Y esto ha sido todo por hoy! Ha sido una gran sorpresa ver que hoy en el ranking que se me han cargado las 3 cartas que no se habían cargado ayer y ver que mis minutos semanales siguen aumentando. Espero continuar así por mucho tiempo. ¡Gracias por seguir mi progreso un día más! ¡Feliz domingo!💋
---
---