More Packs = More Epic Cards! #Day 128 // ¡Más Packs = Más Cartas Épicas! #Día 128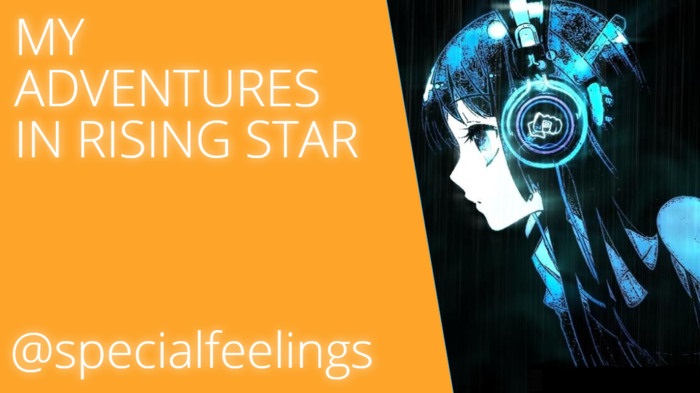 ENGLISH

How are you doing this Saturday? I hope you are enjoying the weekend. Let's see one more day of my daily progress on Rising Star. I managed to collect enough starbits to buy more packs, so let's check them out.












I don't know what's going on, but in the last few days I've been getting a lot of epic cards, it's incredible! I highlight Grace's epic card that appeared 2 times and is the only new card I add to my collection of all these packs.
RANKING
These packs were opened yesterday so they count for my position in today's ranking. So let's see my position today.

Amazing! Once again I beat my previous record and I reach my best position in the ranking, going up one more position. I have raised not only the number of cards for the packs I bought yesterday but also my weekly minutes played score. For now I am in a comfortable position and my place in the top 100 seems to be in no danger although I should not be confident. My main goal is to stay in the top 100 for some time and in the future to aim for more ambitious goals.
FESTIVAL
The festival is currently taking place in France and is the first festival to be held in Southern Europe (all previous festivals have been held in Northern Europe). This festival will last until October 13 when it will begin to be held in Spain.
I still haven't gotten the France bracelet and it looks pretty good.
I hope to get it today or tomorrow, since as you know my goal is to get all the wristbands from all the festivals. So far there have been 13 festivals (including the one currently being held in France) of which I have 12 wristbands, so soon I will get the one from France so I can have them all. These are all the ones I have.

MISIONES
I already reached the 3rd zone in which I managed to unlock 5 missions, so I only have 2 more to unlock to be able to access the 4th and last zone of the game. When you reach a certain level it is more complicated to unlock the following missions because each level requires more experience. My goal is to reach level 175 to unlock the next mission. Today my level is 158.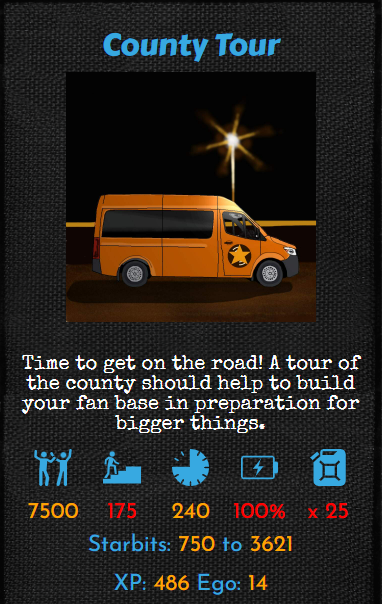 In addition to reaching level 175 I will also need 25 can of petrol cards of which I already have 10 that I needed for previous missions, so I will have to get 15 more cards. Each one has a price of 5000 starbits in the market.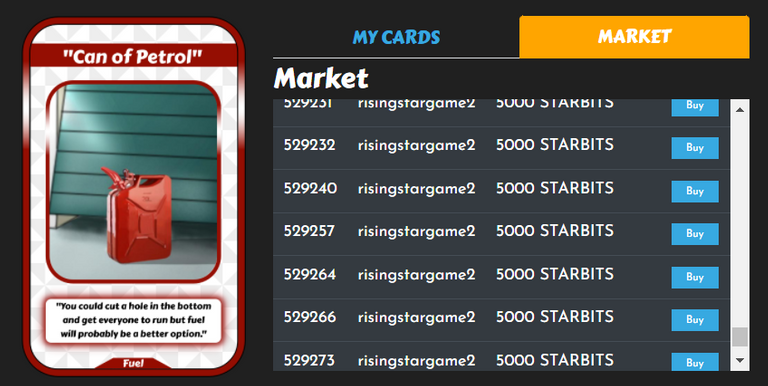 MY PROGRESS - DAY 128
TOTAL MISSIONS: 4336
CARDS: 1349
PERMANENT FANS: 50105
LUCK: 12467
SKILL: 70945
IM: 887
LEVEL: 158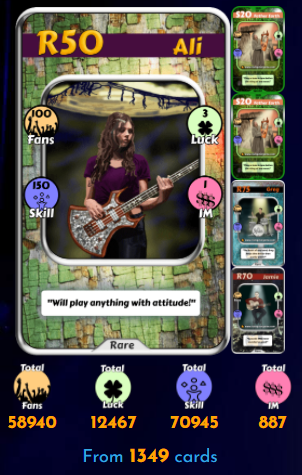 RANKING

And that's all for today! I don't know if I'm the luckiest person in the world, but lately I keep getting epic cards, it's crazy! All these packs will help me a lot to stay in the top 100, which is my main goal. Thank you very much for joining me one more day, see you tomorrow!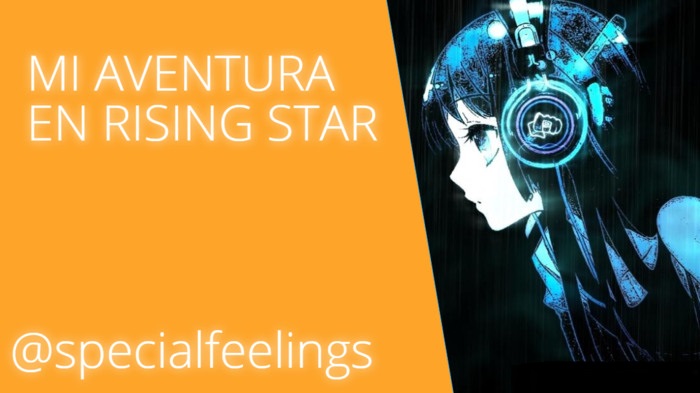 ESPAÑOL

¿Qué tal estáis este sábado? Espero que estéis disfrutando del fin de semana. Vamos a ver un día más mi progreso diario en Rising Star. Conseguí juntar suficientes starbits para comprar más packs, así que vamos a verlos.












No sé que está pasando que en los últimos días me están saliendo muchas cartas épicas. ¡Es increíble! Destaco la carta épica de Grace que me apareció 2 veces y es la única nueva carta que añado a mi colección de todos estos packs.
RANKING
Estos packs los abrí ayer por lo que cuentan para mi posición de hoy en el ranking. Así pues veamos mi posición el día de hoy.

¡Alucinante! De nuevo vuelvo a batir mi anterior record y alcanzo mi mejor puesto en el ranking subiendo una posición más. He subido no solo el número de cartas por los packs que compré ayer sino también mi puntuación de minutos semanales jugados. Por ahora me encuentro en una posición cómoda y mi puesto dentro del top 100 parece que no corre peligro aunque no debo confiarme. Mi objetivo principal es mantenerme dentro del top 100 durante algún tiempo para en el futuro aspirar a metas más ambiciosas.
FESTIVAL
El festival actualmente se está llevando a cabo en Francia y es el primer festival que se celebra en el sur de Europa (todos los anteriores se habían celebrado en el norte de Europa). Este festival durará hasta el día 13 de octubre cuando empezará a celebrarse en España.
Aun no he conseguido la pulsera de Francia y eso que se ve bastante bien.
Espero conseguirla hoy o mañana, ya que como sabéis mi meta es conseguir todas las pulseras de todos los festivales. Hasta ahora se han celebrado 13 festivales (incluyendo el que se está celebrando actualmente en Francia) de los cuales tengo 12 pulseras, así que pronto me haré con la de Francia para poder tener todas. Estas son todas las que conservo.

MISIONES
Ya alcancé la 3º zona en la que conseguí desbloquear 5 misiones, por lo que tan solo me quedan 2 más por desbloquear para poder acceder a la 4º y última zona del juego. Cuando ya alcanzas cierto nivel es más complicado desbloquear las siguientes misiones porque para subir cada nivel requiere de mayor experiencia. Mi objetivo es alcanzar el nivel 175 para desbloquear la siguiente misión. Hoy mi nivel es el 158.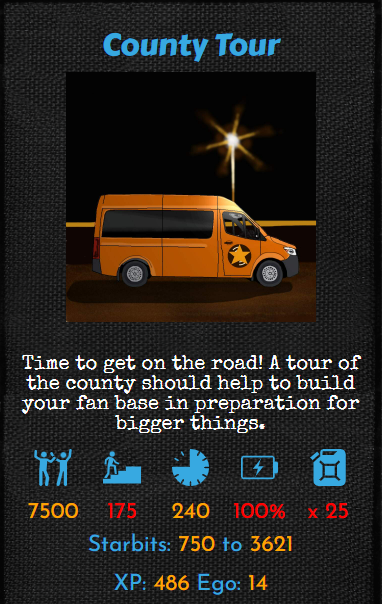 Además de alcanzar el nivel 175 también necesitaré 25 cartas de can of petrol de las que ya tengo 10 que necesitaba para anteriores misiones, por lo que tendré que hacerme con 15 cartas más. Cada una tiene un precio de 5000 starbits en el market.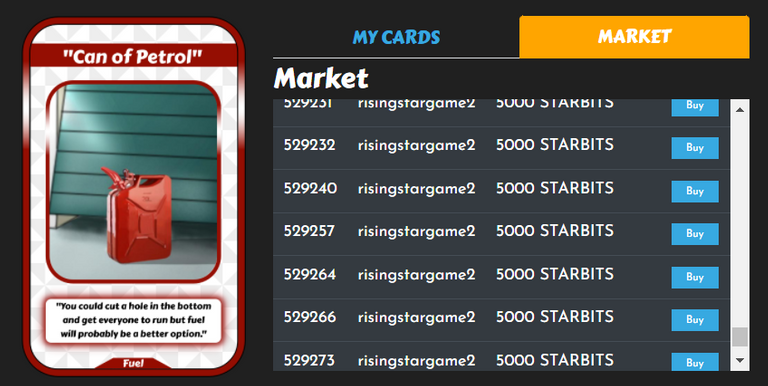 MI PROGRESO - DÍA 128
MISIONES TOTALES: 4336
CARTAS: 1349
FANS PERMANENTES: 50105
LUCK: 12467
SKILL: 70945
IM: 887
NIVEL: 158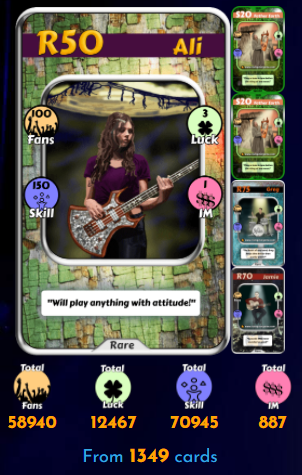 RANKING

¡Y eso ha sido todo por hoy! No sé si es que soy la más afortunada del mundo , pero últimamente no paran de salirme cartas épicas ¡Es una locura! Todos estos packs me ayudarán mucho a mantenerme en el top 100 que es mi principal objetivo. ¡Muchas gracias un día más por acompañarme! ¡Nos vemos mañana!💋
---
---