Selling Instruments + Starbits Price Update #Day 238 || Vendiendo Instrumentos + Actualización del Precio de Starbits #Día 238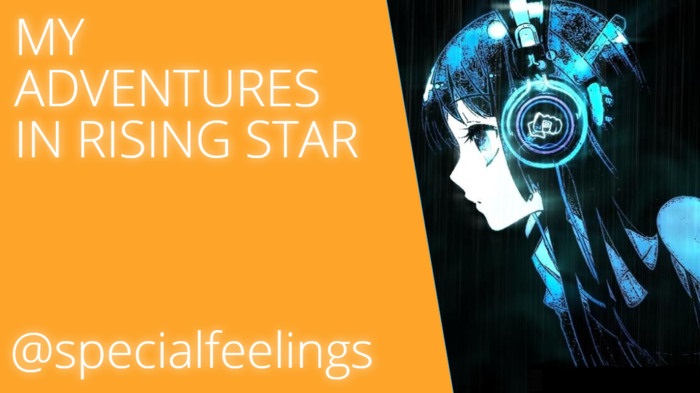 ENGLISH

Welcome to my Rising Star diary. Today I want to talk to you about how my instrument sales and purchases continue as well as keep you updated with the latest news about the price of starbits and my progress in the other areas such as the festival, the missions and the new Valentine's Day event.
Let's start by talking about the most important point these last days, the starbits price. The starbit price is also still at 0.0003 Hive today, so my strategy is still to sell the starbits I earn until the price goes down, because that's what I think will happen, but you never know.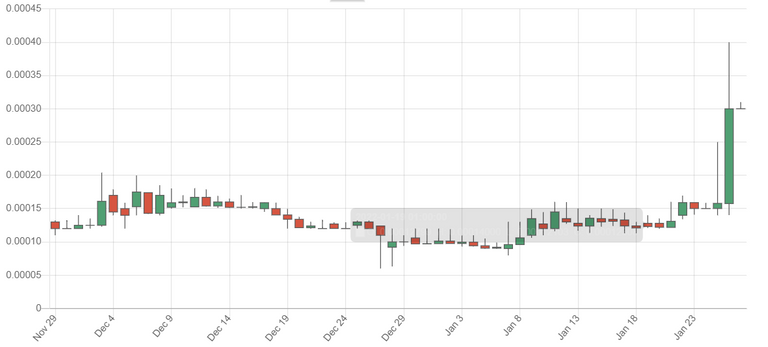 Yesterday the largest buy order that has supported this price for several days was 22,000,000 starbits. At the time of writing it is now at around 3,000,000.

For this reason I think the price will go down because in a few days we have seen how many millions of starbits in the buy order have been consumed as a result of a large amount of sales. If the price goes down I will start accumulating starbits and when the time is right I will start buying up to a million starbits so I can complete the Starbits Millionaire mission and go back to my usual routine of buying 12 packs almost every day. This is my idea, but it may not happen, so I will have to adapt to the circumstances and to what happens at any given moment.
By the way, I keep selling the instruments that are not useful to me in order to buy those that are useful for my music lessons. Today I put the following instruments up for sale🎸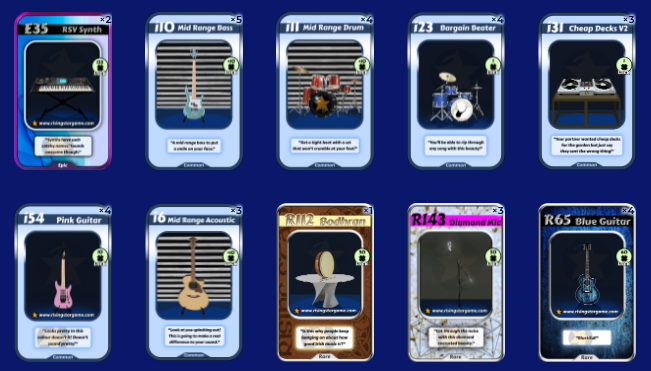 I managed to sell 8 common instruments that were of no use to me, so I bought 8 orchestral instruments. I was surprised by the price of the Tubular Bells that were at 610 starbits when usually their price was between 1000-1200 starbits, so I didn't think about it for a second and bought 8😅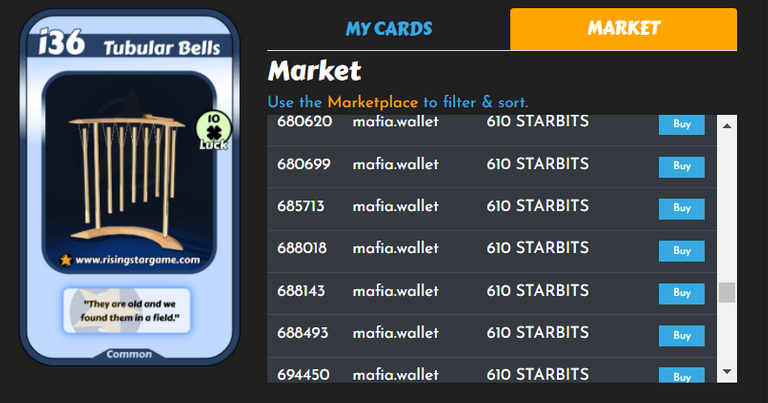 I got a little bit more skill points for each music lesson completed🚀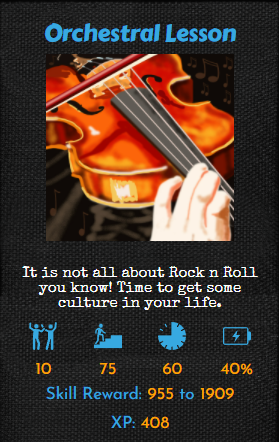 VALENTINE'S DAY
I can't bring you any news about this event, as I'm in the same situation as yesterday. My main goal will be to get Juliet's card in order to complete the Valentine's Day mission and get the Valentine's Day instruments.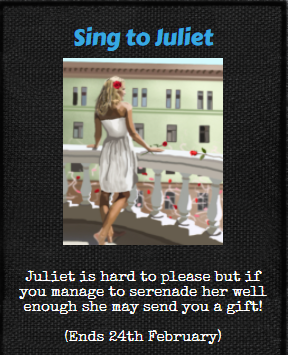 My main idea now is to wait and see what happens with the starbits price. This event ends on 24 February, so I have plenty of time to figure out what to do as events unfold.
RANKING
Yesterday I dropped one position to number 38. These days are being a bit crazy because of what is happening with the starbits price, so there could be some very big drops in my position. Let's take a look at my position today👀

I've moved up one position, which I find surprising because it's been several days without opening packs. Also, my weekly minutes played and consequently my total score went down a bit, but I still moved up one position so I expect that other players are probably doing the same as me (selling starbits and not buying packs). As I said before, these days are a bit crazy and the ranking should not be taken as something significant until the price of starbits stabilizes and everything goes back to normal. My goal is to stay in the top 50 until the middle of the year🔝
FESTIVAL
The festival is currently being held in Thailand until 2 February when it will be held in Taiwan🌏

I was able to get the Taiwan wristband the same day it was released so I recommend you to get it as soon as possible to avoid forgetting it. The wristband looks like this✨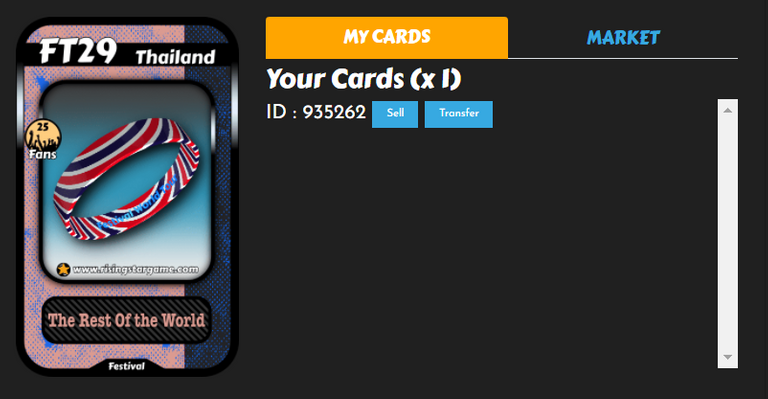 There have already been 29 festivals and I have got the wristband from all of them. My goal is to get the wristband from all the festivals.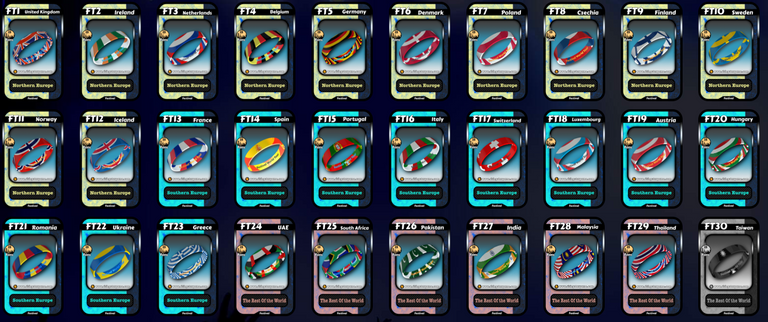 MISSIONS
I'm currently on the last island after unlocking all the zones on the map 🗺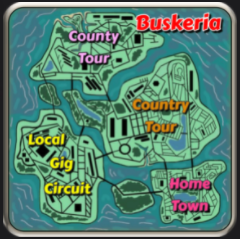 I've managed to unlock all the zones on the map, but I still have to unlock the missions in the last zone. I unlocked the first one and now I'm focused on unlocking the next one for which I need to reach the level 250🔥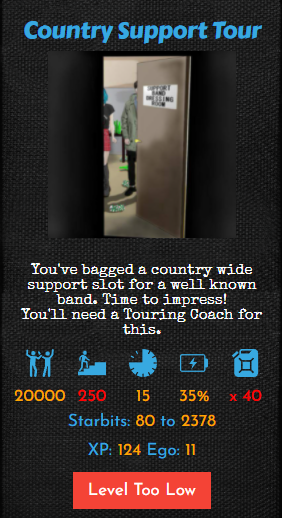 Today I've leveled up a new level and I'm already at level 223. Little by little I'm getting closer to my goal🚀
MY PROGRESS - DAY 238
TOTAL MISSIONS: 10733
CARDS: 4283
PERMANENT FANS: 177170
LUCK: 36141
SKILL: 368293
IM: 3218
LEVEL: 223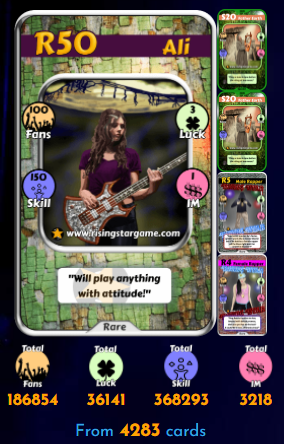 RANKING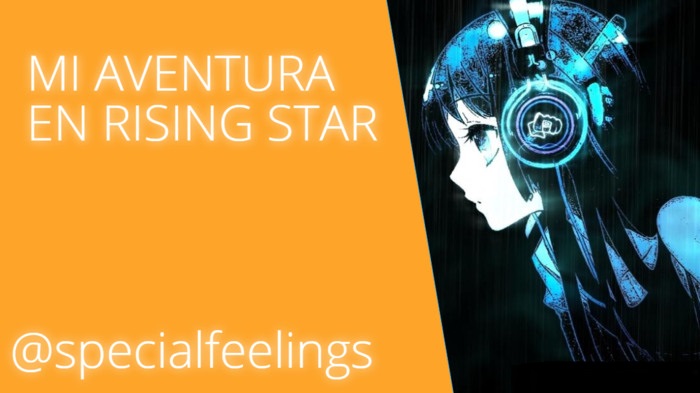 ESPAÑOL

Bienvenidos a mi espacio diario de Rising Star. Hoy quiero hablaros sobre como continúan mis compra-ventas de instrumentos así como manteneros informados con la actualidad sobre el precio de los starbits y mi progreso en los demás ámbitos como el festival, las misiones y el nuevo evento de San Valentín.
Vamos a empezar hablando sobre el punto más importante estos últimos días, el precio de los starbits. El precio del starbit sigue manteniéndose hoy también a 0.0003 Hive, así que mi estrategia sigue siendo la de vender los starbits que gane hasta que el precio baje, pues es lo que yo pienso que va a ocurrir aunque nunca se sabe.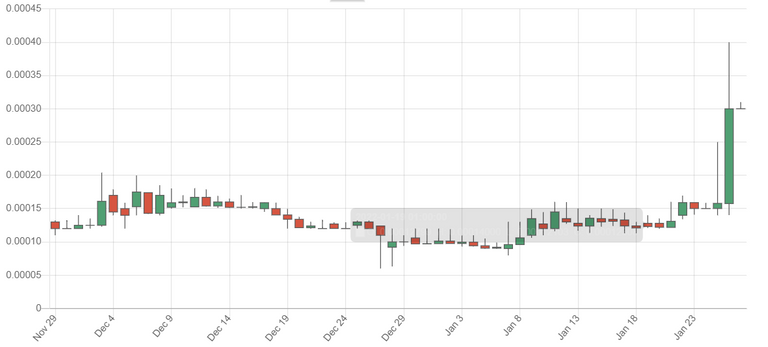 Ayer la orden de compra más grande que lleva soportando este precio durante varios días era de 22.000.000 de starbits. Al momento de escribir esta publicación ya se encuentra en 3.000.000 aproximadamente.

Por esta razón pienso que el precio bajará pues en pocos días hemos visto como muchos millones de starbits en la orden de compra se han ido consumiendo como resultado de una gran cantidad de ventas. Si el precio baja empezaré a acumular starbits y cuando vea el momento oportuno empezaré a comprar hasta llegar al millón de starbits para poder completar la misión de Starbits Millionaire y volver a la que era mi rutina habitual de comprar 12 packs casi a diario. Esta es mi idea, pero puede que no se cumpla, así que me debo adaptar a las circunstancias y a lo que vaya sucediendo en cada momento.
Por cierto, sigo vendiendo los instrumentos que no me son de utilidad para comprar aquellos que sí me sirven en las lecciones de música. Hoy puse a la venta los siguientes instrumentos🎸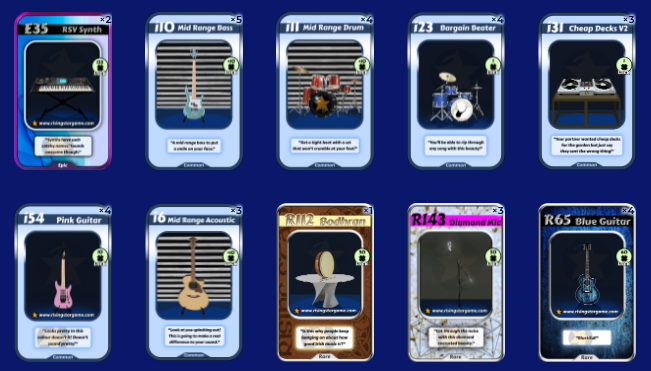 Conseguí vender 8 instrumentos comunes que no me servían, así que compré 8 instrumentos orquestales. Me sorprendió el precio de las Tubular Bells que estaban a 610 starbits cuando habitualmente su precio solía oscilar entre 1000-1200 starbits, así que no me lo pensé ni un segundo y compré 8😅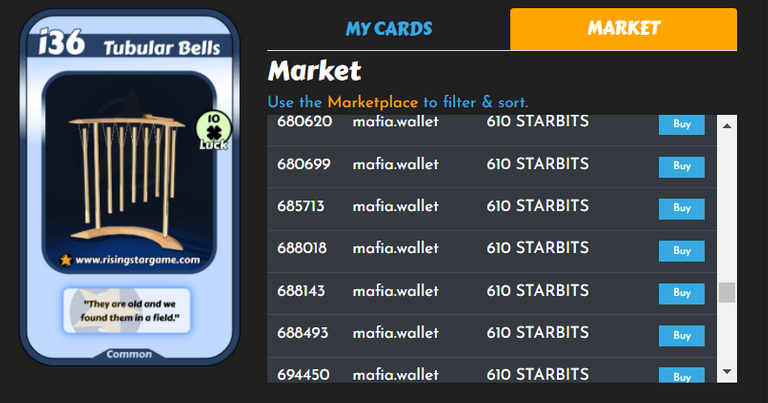 Me han aumentado un poco más los puntos de skill por cada lección de música completada🚀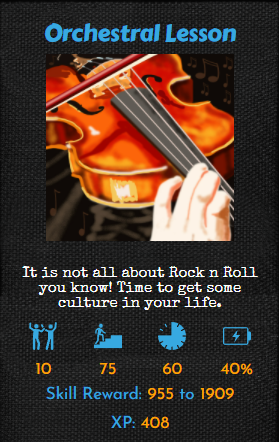 SAN VALENTIN
No os puedo traer novedades respecto a este evento, ya que me encuentro en la misma situación que ayer. Mi objetivo principal será conseguir la carta de Juliet para poder completar la misión de San Valentín y conseguir los instrumentos de San Valentín.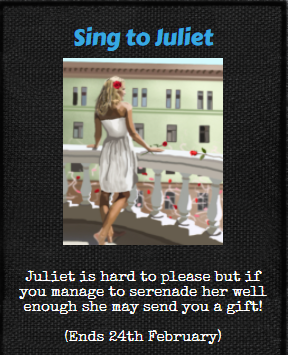 Mi posición ahora consiste en esperar a ver que sucede con el precio de los starbits. Este evento termina el 24 de febrero, así que tengo tiempo de sobra para pensar que hacer según se vayan desarrollando los acontecimientos.
RANKING
Ayer bajé una posición hasta la número 38. Estos días están siendo un poco locos por lo que está sucediendo con el precio de los starbits, así que puede haber caídas muy grandes en mi posición. Vamos a ver mi posición hoy👀

He subido una posición, lo cual me parece sorprendente porque ya son varios días sin abrir packs. Además, bajaron un poco mis minutos semanales jugados y en consecuencia mi puntuación total, pero aún así he subido una posición por lo que preveo que los demás jugadores probablemente estén haciendo lo mismo que yo (vender starbits y no comprar packs). Como he dicho antes, estos días están siendo un poco locos y el ranking no nos lo deberíamos tomar como algo significativo hasta que se estabilice el precio de los starbits y todo vuelva a la normalidad. Mi objetivo es mantenerme en el top 50 hasta mediado de año🔝
FESTIVAL
El festival se está celebrando actualmente en Tailandia hasta el día 2 de febrero que empezará a celebrarse en Taiwán🌏

Pude conseguir la pulsera de Taiwán el mismo día que salió y os recomiendo conseguirlas lo antes posible para evitar olvidos. La pulsera luce así✨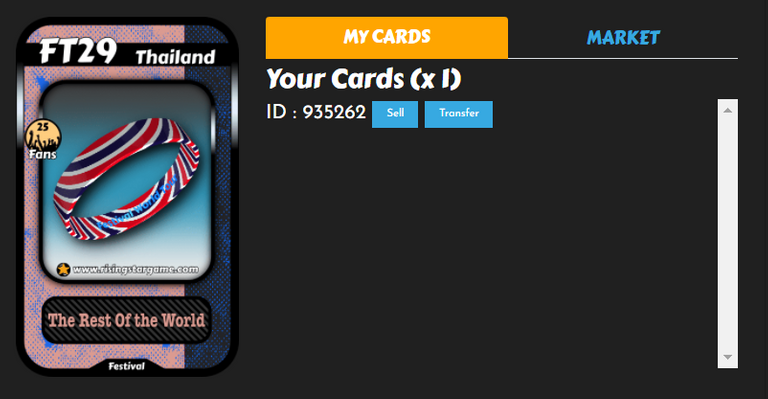 Ya se han celebrado 29 festivales y he conseguido la pulsera de todos ellos. Mi objetivo es hacerme con la pulsera de todos los festivales.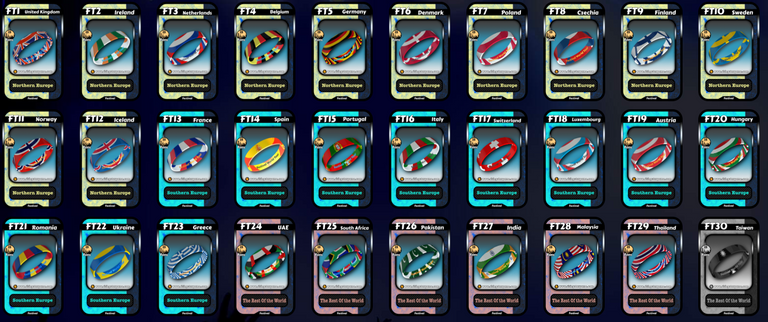 MISIONES
Actualmente me encuentro en la última isla después de haber desbloqueado todas las zonas del mapa 🗺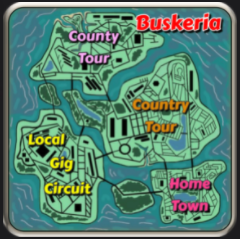 Ya he conseguido desbloquear todas las zonas del mapa, pero aun me faltan por desbloquear las misiones de la última zona. Desbloqueé la primera y ahora estoy enfocada en desbloquear la siguiente para lo que necesito alcanzar el nivel 250🔥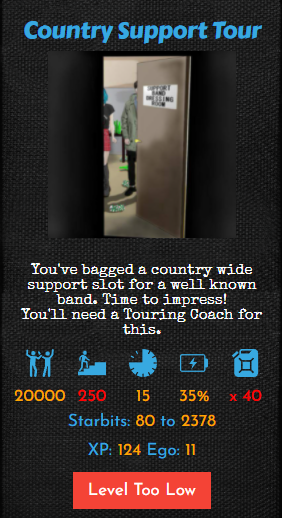 Hoy he subido un nuevo nivel y ya me encuentro al nivel 223. Poco a poco me voy acercando al objetivo🚀
MI PROGRESO - DÍA 238
MISIONES TOTALES: 10733
CARTAS: 4283
FANS PERMANENTES: 177170
LUCK: 36141
SKILL: 368293
IM: 3218
NIVEL: 223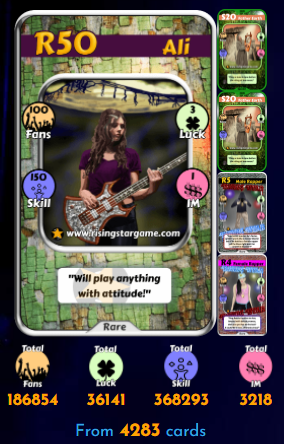 RANKING

---
---