My Favorite Soundtrack : For Now😃
Musics are Therapeutic
This is what I'll always say whenever I want to write about musics because I can't imagine a world without musics.
Nevertheless, I will be lying if I say I have a favourite music, do you know why?
I am someone who loves watching Movies and above all a Music addict.
This implies that I've watched uncountable movies and listened to millions of Musics and I can guarantee you that the music I once called my favourite in 2006 might not be anywhere near my favourite list this 2023.
I, for one, don't really buy the idea of having a particular music as my favourite music because I listen to musics based on my mood at that particular point in time and that makes that music my favourite for that period of time.
Regardless of that, I will be sharing my favourite movie song for this period, hehehe (I don't know when another song will toss it out of that top list)
The song is :
Song Name: Judgement Day
By singer-songwriter: Stealth
Released Date: 2016
I've written about the song in one of the #TTT to show you how much I really love the song.
This is a song I saw while watching the legal series, Suits (Season 5 episode 15)

Why I love this music
Even without watching the movie, you will really love this music if you calm down to listen to it although you would link it up better when you've watched the series.
Mike Ross was a fraud lawyer who has been practicing for many seasons without getting caught.
Anita Gibbs, a prosecutor brought it out to limelight when she had little evidences and was pressing charges against him and he had no option other than to convince the members of the jury that he is a certified lawyer or go to prison.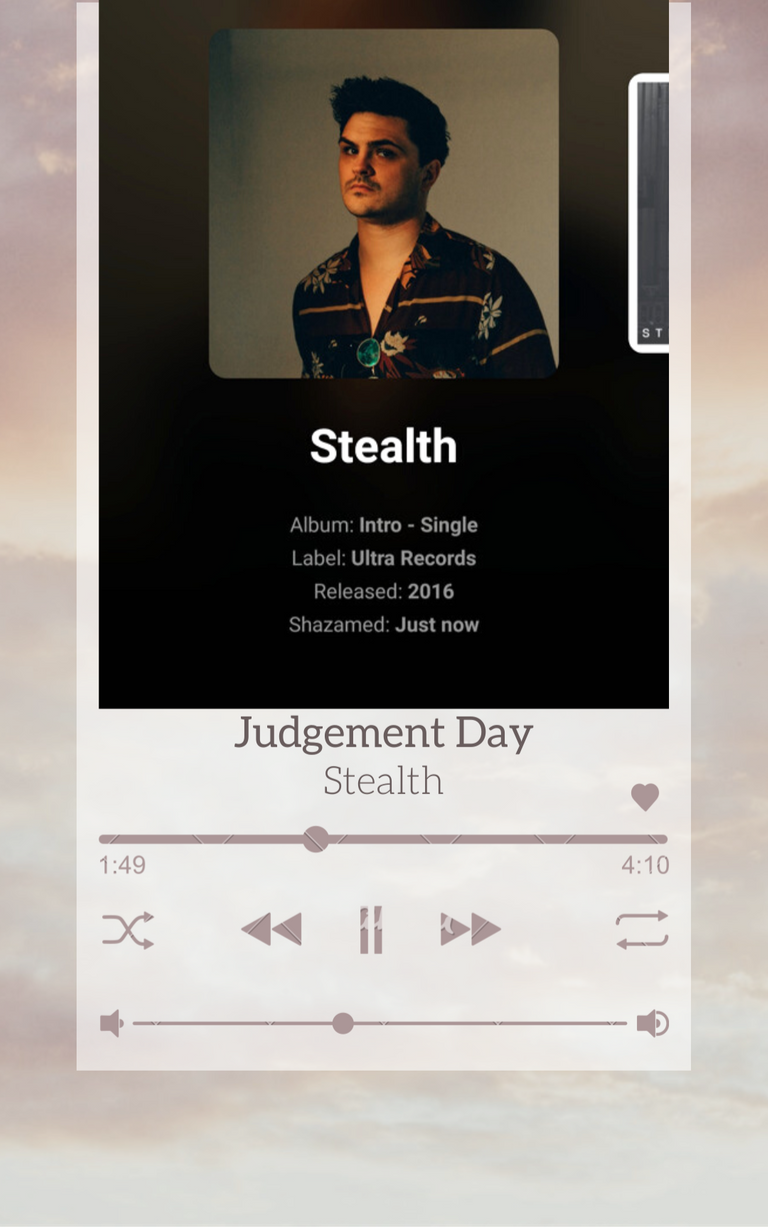 Designed using Canva with a screenshotted picture from Shazam App
This song helps me to remember that there are actions and consequences to whatever decision we make in life.
Most times in life, we are faced with many difficult moments where our decision changes a lot.
At those critical moments, this song reminds us that we will answer on the Judgement Day of the decision we made those days.
We won't always be right in our choices as we don't know what the future holds, no wonder Jon Bellion will say in his Maybe IDK song,
Although I guess if I knew tomorrow
I guess I wouldn't need faith
I guess if I never fell, I guess I wouldn't need grace
I guess if I knew His plans, I guess He wouldn't be God
So maybe I don't know, maybe I don't know
We might fail over and over again but it's our decision to continue rising up and trying until we succeed.
As humans, all we have Is the present to make decisions that will either favour or mar our future but we should always be willing to face the actions and consequences of those decisions....
That! Is What This Song Is All About.
Often times, we make the wrong choices and in those situations what do we do?
Do we battle with everyone that we are right despite our good conscience whispering to us that we did the wrong thing? Or
Do we admit to what we did, take a bow and apologize when necessary?

In the case of Mike Ross, he battled his good conscience for seasons upon seasons and finally got to admit to the wrong he did even when it was unknown to him that the jury wanted to rule in his favour.
He took the deal with Anita Gibbs even against his mentor's advice because that was what he believed to be right.

Asides from the powerful message the song sends, I really love the sweet voices accompanied by harmonious instrumental melodies backing it up.
It is really a song that we all have to play every morning and every night.
The song is currently my phone's ringtone, hehehe.
---
What about you, what is your favourite movie song?
Thanks for reading through 👍
---
---