HIVE mentioned as the next big thing in BTC-ECHO - authored by no-advice
During my daily news-crawling, I recently stumbled over this article. It is in german language and BTC Echo is certainly not a wide ranging medium. However, it was very interesting to read, that the author Sven Wagenknecht is considering Social Token as the next big thing on the blockchain.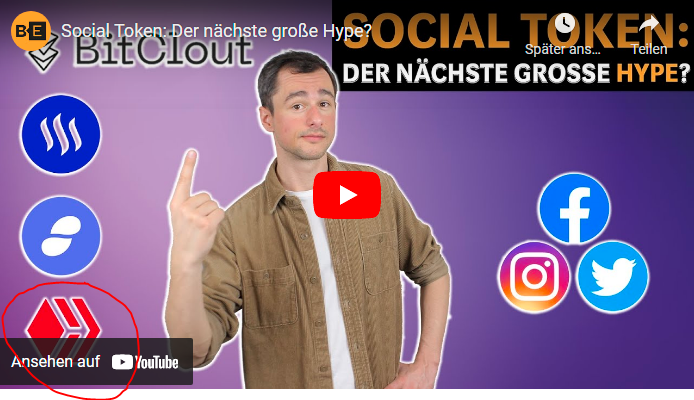 The article is describing the "brutal dynamic" that we are currently seeing in crypto. From DeFi to NFT the hype is switching within a few months of time and the next big thing is right around the corner. According to Mr Wagenknecht:
The term social token is rather vague and includes all tokens that can be assigned to individual persons or community networks.
As you see from the screenshot above, Mr Wagenknecht is actively referring to HIVE:
The three largest social blockchain cryptocurrencies alone - Status, Steem and Hive - have a combined market capitalisation of over one billion US dollars.
And is continuing to suggest...
...the dynamics in the sector suggest that social tokens are the next big hype. They build almost consecutively on NFT and expand its value creation. So if you want to be at the very beginning of a big hype, you might want to keep an eye on the social money projects. Looking at the innovation cycle, we are probably still at the very beginning here. Consequently, a bubble, with all the opportunities and risks, is probably still ahead of us.
From a marketing perspective, the Term "Social Token" is quite interesting. In a peer-group consisting of STEEM, STATUS, and HIVE our beloved Blockchain is able to really shine with everything that is already possible here. The different applications, frontends, games, tribes, and Tokens that are already in full use on HIVE and not only a future promise of a whitepaper are a clear advantage. The idea to market Social Media Token instead of a specific Blockchain might be an interesting approach anyway. A lot of "independent" journalists don´t like the sneaking suspicion of their readers that they are shilling a specific project. Writing about Social Tokens in general might relieve that suspicion. I really hope that the term Social Token will get the same audience as NFTs currently have and DeFi had short before. There is still enough time in this Bull Run to get the traction we need.
This was @no-advice for @spinvest-leo
Posted Using LeoFinance Beta
---
---