Spinvest-leo weekly update post 14-Aug-22
Welcome to the weekly update post for @spinvest-leo, where I (@jk6276) record on chain for transparency our transactions for the week, and update @spinvest investors with our progress.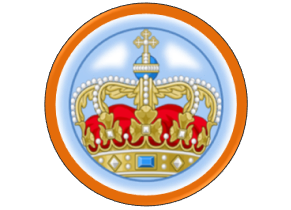 EMP Money.
A very nice week once again for Ethereum should translate to a good week for our EMP positions. Lets take a look.
Claimed 0.059 ESHARE

Swapped half to BLEO - received 181

Value for dividend = $16

Compounded the remaining back in to the farms.

Asset values this week:
ETH/EMP - $2032 (up $235)
BNB/ESHARE - $598 (down $92)
Interesting outcome overall this week. The ESHARE token has dropped, so the yield is lower and the ESHARE farm has lost value, but the ETH/EMP farm performed well, in line with the increase in ETH this week. Will be interesting to see if ESHARES recovers in the coming week. Anyway, overall value is up for the week so that is a win.
---
CUB Finance.
Claimed a total of 909 CUB from the farms.

Swapped half to BLEO - received 120

Value for dividend = $11

Compounded the remainder back in to the CUB/bHBD farm.

Asset values this week:
CUB/bHIVE - $922 (up $82)
CUB/bHBD - $869 (up $8)
Steady week - Dividend slightly lower, but asset values went up a bit so another win overall.
---
POLYCUB
A change this week. I decided to remove the SPS/polycub farm. These funds have been moved back to BSC and are pooled now as BNB/SPS on pancakeswap. More on this later in the report, but the main reason for the move was for a much higher yield from splinterlands than the Polycub position is yielding.
Still no income this week, as yield is still in locked funds. I can say that this weeks yield is around $10 at the current POLYCUB price.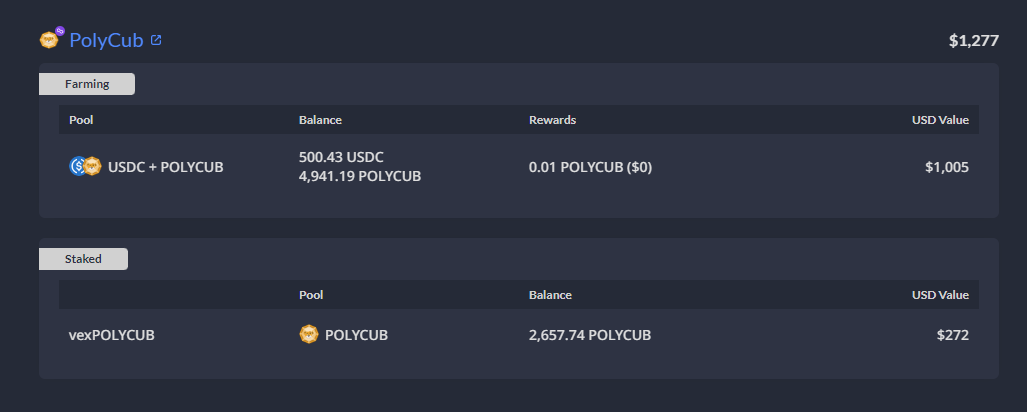 Asset values this week:
USDC/POLYCUB - $1005 (up $150)
vexPOLYCUB - $272 (down $10)
I topped up the USDC/POLYCUB farm a bit when I closed the SPS position, so that "up $150" is from extra funds, not value gains.
---
Splinterlands
After setting up the SPS pool on Polycub, I discovered a better option. Pooling SPS with BNB on pancakeswap has a significantly better yield, which is claimed directly on the Splinterlands site. So I removed the new pSPS position, and bridged the funds (minus a little top up mentioned above to the USDC/POLYCUB pool) back to Splinterlands and then over to BSC. This took a few days as the pSPS bridge failed, and it took a couple of days for a refund to come through.
Anyway, we still have some SPS to unlock, with a couple more weeks of unlocks. The yield for this pool will grow and boost the dividends a little in the coming weeks.
Claimed 120 SPS from the farm.

Claimed 17 SPS and 1.422 Vouchers from staking.

Transferred half to Hive engine.

Ended up sending 78 SPS to @spinvest for the dividend.

Value for dividend = $6
I left the remaining SPS for now, and will send it later today with the next unstake to BSC to add to the pool.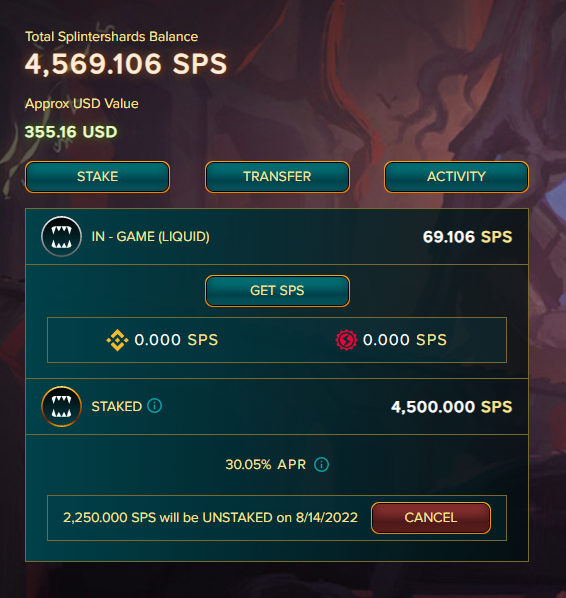 Total asset value this week (pool plus remaining stake)
SPS/BNB - $705
SPS stake - $355
Total $1060
It'll be a bit messy for a couple more weeks till the remaining SPS un-stakes, and is all in the pool, but I think this will be a good position moving forward.
---
HIVE
Sent 1.4 HBD from post payouts
Sent 18.4 LEO
Value from post payouts $3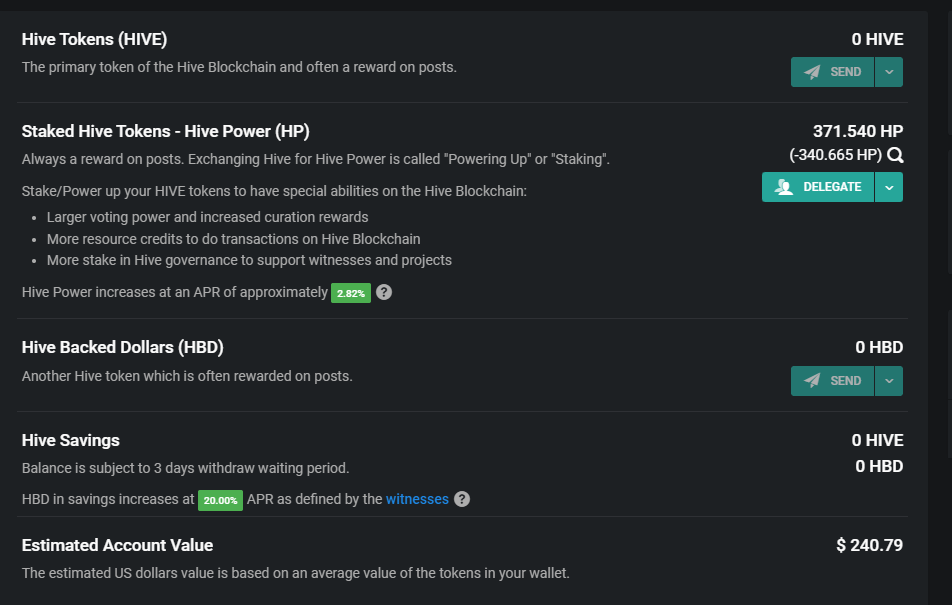 Asset value this week - $241 (up $23)
---
Summary
Asset value this week - $6999
Change since last week - up $165
Funds sent for dividends - $33
Change from last week - down $3
Funds sent from post payouts - $3
change from last week - down $4
So overall it was a solid week. Asset value slightly up overall, dividends a little down this week, but not majorly. I think dividends will increase a bit in coming weeks with the SPS position contributing more, and Polycub starting to contribute also.
After this report publishes, I am going to trade some stuff in the Hive Engine wallet to add a little more SPS.
Thanks for reading, have a great week ahead.
Cheers,
JK.
Posted Using LeoFinance Beta
---
---