How to retire from 1 BTC using HIVE and HBD in under 3 years!
Today we will look at how 1 BTC could retire you in 2-3 years from today using HIVE and HBD. Is this a clickbait title? I think no but you decide and let me know in the comments below. SPinvest is at heart get rich slow but for today, let's look at get rich fast!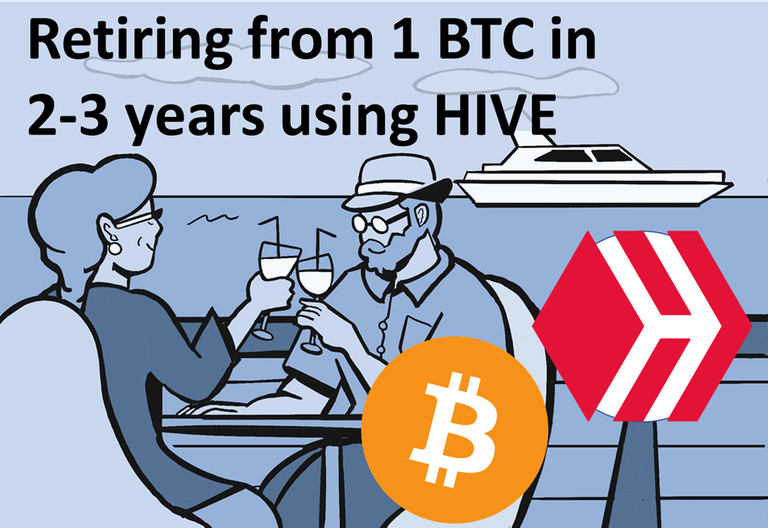 The strategy detailed below will work with any amount of BTC, i am aware that most people reading will hold small to no amounts of BTC but the technique is straightforward and can be applied to any crypto and will work in reverse as well.
Looking at BTC as the default currency
Everything is priced in dollars, pounds, euros, yen and other fiat currencies. When we talk about the price of HIVE, we talk about the $ price but do you what the BTC price is for HIVE today? I bet I could say any number and you'd believe it. When we look at the HIVE price in BTC, we see that that spread between top and bottom is very large.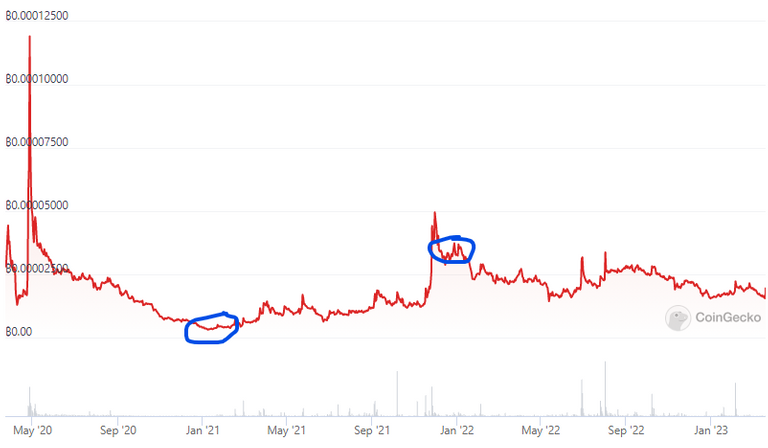 When we look at the price of HIVE in BTC for the month of Jan 2021, we would have beable to buy 300k HIVE for 1 BTC. The bullrun had started at this point and because BTC leads the pack with mid range ALT coins following after and lower market cap tokens increasing last. BTC in Jan 2021 had broke into new time highs and averaged $30k while HIVE was still down at under 15 cents.
1 year later when small market cap tokens caught up fully with the bull run, 1 BTC got you around 30k HIVE. BTC had 2x in dollar value but HIVE did a 15x between Jan 2021 and Jan 2022.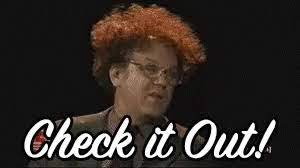 If you converted 1 BTC into 300k HIVE in Jan 2021 and waited 1 year, you could have converted that 300k HIVE into 600k HBD when HIVE was at over $2 for over a month in Jan 2022.
If you added them 600k HBD into your HIVE saving wallet, you would earn 120k HBD per year equal to $120k. You could withdraw 80% of interest and compound at 20% to proof yourself against future reductions in HDB interest rates.
And that's it? $96k income per year, $8k per month by the end of 2025 increasing by 20% each year after. Of course HBD interest rates could drop to 15%, 10% is even 0%. You could replace that with 20%+ from HBD/BUSD on CUBfinanace and if that falls off, im fairly sure there are stable LP's out there paying 15%+. HBD interest rates dropping would be more of a speed bump than a brick wall.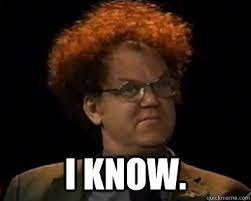 1 BTC + time * 3 transactions = Retirement
Hold 1 BTC
Wait until you can convert 1 BTC into 300k HIVE
Wait until you can sell HIVE for $2
Convert 300k HIVE into 600k HBD
Add 600k HBD to HIVE wallet and retire
The last cycle's ratio bottom was 340k HIVE to 1 BTC and its top was closer to 25k for 1 BTC. For this coming bullrun in 2024/25, i would be conservative and work within a range of
(2025)
Hold 1 BTC
Wait until you can convert 1 BTC into 250k HIVE
Wait until you can sell HIVE for $2
Convert 300k HIVE into 500k HBD
Add 500k HBD to HIVE wallet and retire
We can not expect HIVE to drop to under 15 cents again but I think aiming at 250k for 1 BTC will come maybe around the start of 2025 and then I'd expect HIVE to reach new time highs at the end of of DEC 25/ JAN 26 and aiming at $2 would be very conservative.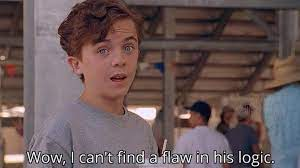 The Point is....
... there are lots of different ways to use crypto as an investment. The post above shows how to use the BTC to HIVE ratio to either 10x your BTC or set yourself up for retirement from 1 BTC. Converting 50k HIVE into 1 BTC today could be worth 300k HIVE in 2 years' time so it works in reverse as well. Why earn 8% from curation when you convert it to BTC, wait 2 years and buy back 5x more giving a yield of 150% per year.
There are hundreds of good cryptos and most of us are holding lots of different tokens on lots of different blockchains. It might be worth looking into the BTC ratio of your tokens and see if there are steps you could take to 3-10x your holdings. You could also use ETH but then you're in the ALT vs ALT game and that would be less predictable.
Anyways, what do you think? SPI has 1 BTC, should do this and take $100k in interest payments each year starting 2026? At 50% HIVE earning, that would be $50k per year for weekly dividends!! and $50k to invest. That would actually be insane, $1k today buys over 2000 HIVE which is 8x the current dividend pool.
The worst case would be we'd end up with a crap ton of HIVE tokens, haha
It is all a dream? could you retire from 1 BTC in 2-3 years?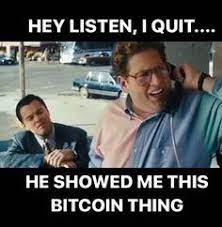 ---
---