SPinvest investment Updates - 21MAR21
SPinvest is a tokenized investment fund/club experiment open to all HIVE users. The concept of SPinvest is to get rich slowly by using time tested methods of earning, saving and compounding long term. We encourage long term investing on and off the blockchain. We hope someday everyone will HODL some SPI tokens that can be bought directly from hive-engine by search SPI.
SPinvest has a proven history of success
---
Hello, welcome to this weeks SPinvest update. As always let's jump straight into it.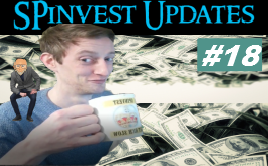 Update
Music4Life - M4L
Have you checked this out yet? M4L is one of the newest tribes on HIVE. They are music-focused but also dabble in gaming and NFT's. Its token VIBES is small at the start of its life and the inflation rewards are most bountiful at these stages. SPinvest is bought 1000 miners 4 weeks back when the tribe launched. We have earned 570 VIBES and there's liquidity to sell them for 270 HIVE. 18% in 4 weeks, thank you.
If you are interested in music at all, check this tribe out. They are almost complete their new UI frontend, they have added live streaming shows for performers, the VIBES tokens have been integrated into rising star and HASHking game, VIBES radio station is near completion, they will soon let videos be uploaded and they have added in a few token burning sinks. They are still only getting started, links below.
Launch Post - click here
Vibes.show Website - click here

SPinvest's HIVE POWER
Last week, I pulled a few leases to a total of around 42,000 HP. The 5-day cooldown has ended and the power-down began. We will receive our power down each Friday for the next 13 weeks. The HIVE funds will be transferred to another account so i dont spend it by mistake. After this we play the waiting game and see if CUB finance ever adds a bHIVE LP.

CUB FINANCE
Harvesting rewards are down for us but we still hold more than last week. Because our main investment into CUB is staking ETH, we are earning those big % ROI's but still better than what Nexo pays out. We have increased the SPinvest BSC by roughly 174 CUB.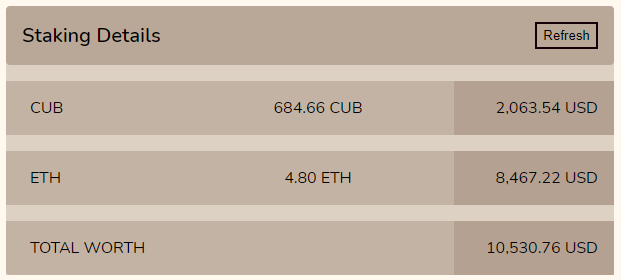 The @spinvest-leo BSC wallet held by @jk6276 holds a $900 bLEO/BNB LP, 240 CUB tokens and about 0.45 BNB for future LP entry. Not bad, i think the next 2-3 weeks will be brought for CUB as it's rewarding half tomorrow but the price will pump whenever new products/services are added to the site. We hope.

EDS miners still on sale!
I have been using small amounts from EDSM sales this week to provide a small buy back wall for EDS tokens at 1 HIVE. EDS token's or now paying out a weekly HIVE income of over 20% and these miners are still paying rewards of over 50% ROI.
The mining rewards pool is set at 20% for 2500 staked EDS miners. When only 1250 are sold and staked, the ROI will be 40% because same mining reward pool split between 1250 instead of 2500.
Dont sleep on these, once they are sold they are sold. I will releases an EDS mega miner in 3-4 months and this could boost the EDS token ROI to 40%+. This may sound like BS but I have an excel sheets with the numbers to show me it works. The only way to get EDS tokens are through miners are from the secondary market. Super small circulating supply, super high earnings. Nuff said.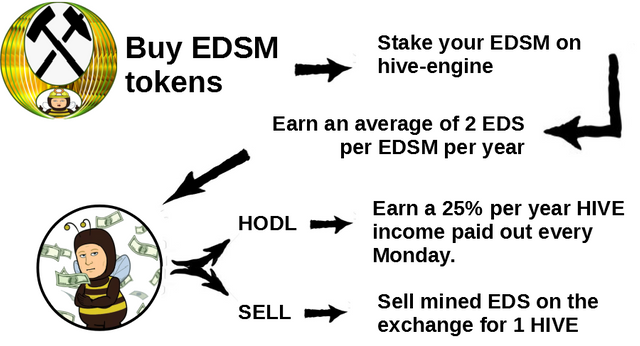 https://hive-engine.com/?p=market&t=EDSM

SPinvest Week 46
Solid week, earning were on par with last week at just under 1300 HIVE. This weeks divided of 124 SPI has already been issued and our bags have been pumping hard over the past few days with BTC, HIVE and LEO all mooning.
Total HIVE wallet balances are 92,353. The hive-engine wallet holds 133,592 HIVE's worth of tokens and off-platform investments or worth 220,116 HIVE. This gives is a total bag of 446,063 HIVE worth $189,130. With HIVE's current rise in value, our investments right now or perfectly balance at 51% HIVE investments and 49% non HIVE.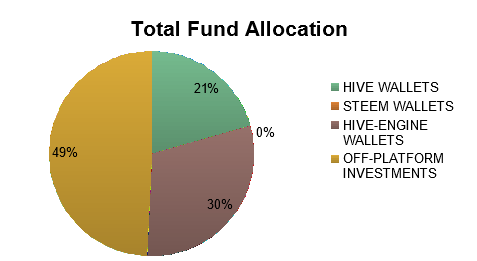 That's it
That's pretty much all the updates for this week, it's been a great week and we are winning the game. Thank you for taking the time to read through this, as always i hope you have a productive week and i hope your bags pump. Im @silverstakeruk representing @spinvest as always, have a good un.

---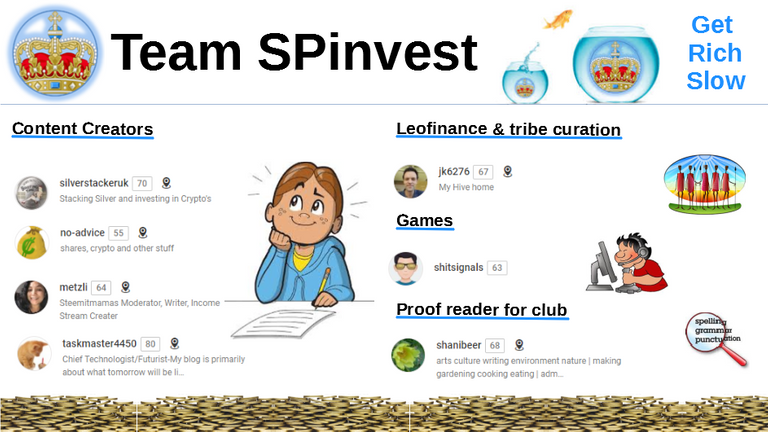 Today's post comes to you from @
Posted Using LeoFinance Beta
Posted Using LeoFinance Beta
---
---