Spinvest's weekly earnings and holdings report | Year 03 | Week 05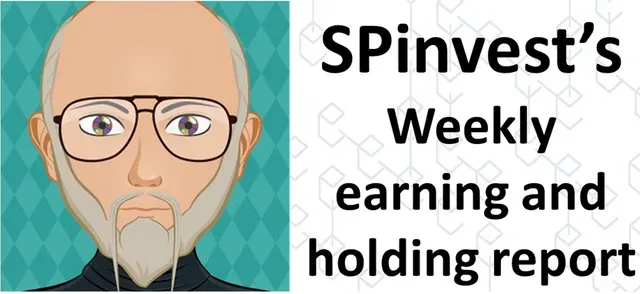 Hello, SPIer's. Today is Sunday and we end the SPI week with our weekly dividend payment this evening and every Sunday at 21.00 GMT.
What is SPI?
SPI tokens are growth investment tokens that pay a weekly dividend. They have been circulating for over 2 years, on STEEMHIVE. Mostly sold for 1 HIVE, each token today is worth over 4 times its HIVE issue value and 12x its dollar value. On top of that, token holders receive roughly 8% more SPI's every year from weekly dividends. We raised $13k from issuing SPI tokens for the first year which has been used to grow a diverse portfolio of investments, many of which provide streams of passive incomes. SPI tokens are part ownership of all SPinvest tokens/accounts, assets and income. The price of each SPI token is its liquidation value as SPI tokens are 100% backed by holdings. Handcapped to roughly 94,000, no more can be minted are issued. Adding, hold and compounding has us on the road to major growth and these tokens are still growing in value.
SPI tokens are part ownership in an actively managed fund. We have our hands in over 20 investments with the lion share being HIVE, BTC & ETH. We dont FOMO are chase pipe dreams. Tried and tested works best and is safest. Our motto is "Get rich slowly" and compounding down on sound investments is our game. You should invest in SPI tokens with the mindset of not selling for 3-5 years minimum. Let's have a look at this week's on-chain HIVE earnings.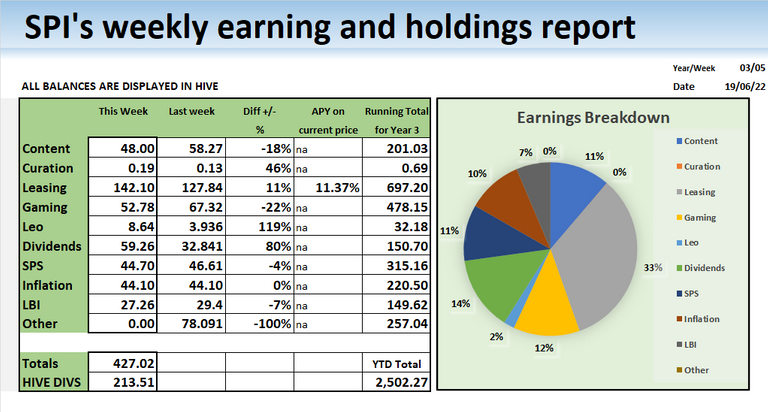 Earning for this week is pretty standard with no real big change anywhere. I have been posting hard on LISTNERDS and we've been getting lots of emails verified but sadly something has happened and they are having issues with a node is something. Long story short, just when we were due to send getting payouts, the system broke down and everything on the site is working at a snail's pace with no rewards being paid out in around 3 days already. We should have pulled maybe 300-400 per day so fingers crossed this is backdated. Either way, I continue to create emails as it's a great way to promote our posts.
I that BRO div's were good this week at roughly 4 times what they normally our. I think they have been selling alot of LEO miners and passing on some of the sale HIVE as dividends. I noticed they sold the last of their SPI tokens at a huge discount of 1.80 HIVE each. Anyways, SPI will hold it's BRO as it's hard to sell and now it's paying out HIVE dividends, it's worth holding again.
All in all, standard week of earnings. Not that much but SPI is a growth token at the end of the day.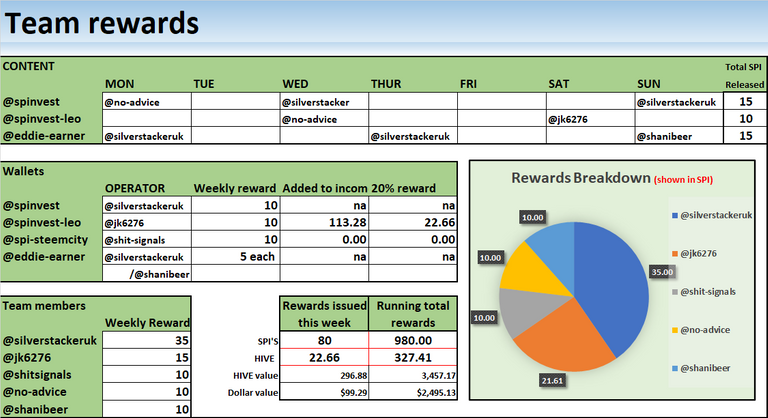 Been selling off a few things on hive-engine myself, mainly SPS and LEO but added a bunch of HIVE to the wallet. Not sure wheather to power it up or convert it to HBD. EDS is doing well for us as it's mini miners continue to sell and add more HP to that wallet.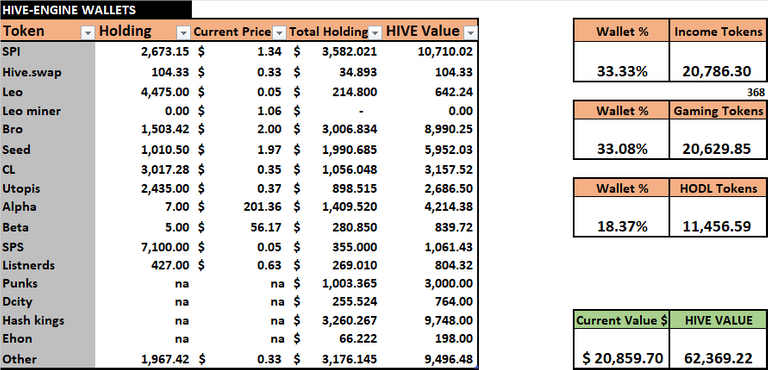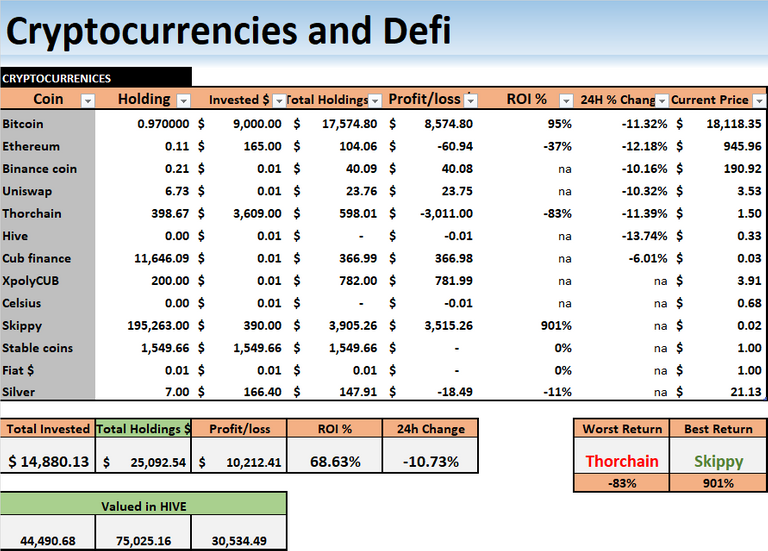 You'll notice that there's BTC back in normal crypto holdings. In light of the current Celsius. network drama, I bought SPinvest a Ledger Nano 6 plus and have moved over 0.97 BTC to it. My Binance is not limited and I had to pay some fees but i will got this topped up to 1 full BTC within the next few months.
Defi holdings below have been getting wrecked, I mean really wrecked. Our main defi holding being ETH is down 40% from last week and this not only hurts the value of our holdings massively, but it also has a huge negative effect on what we can earn from it as well. The good times are over boys and girls. We're officially back to the grind. Screw all this passive income stuff that's very profitable during the bull run, we need to get back to active incomes that require time and actual effect. The weeks of earning $1000 and more from defo are long gone are at least for a 1-2 years anyways.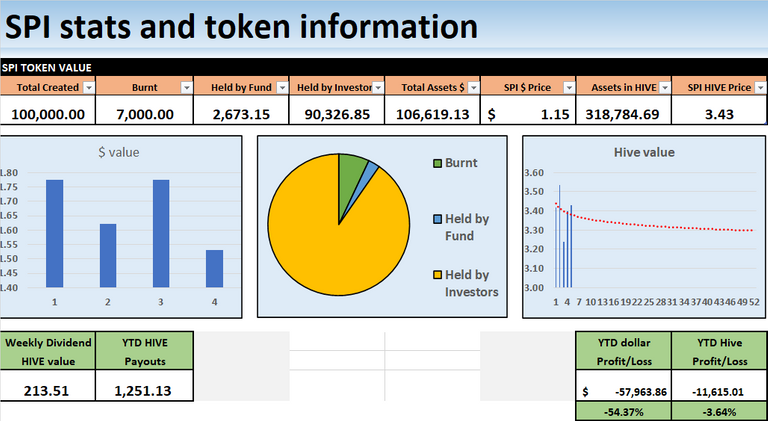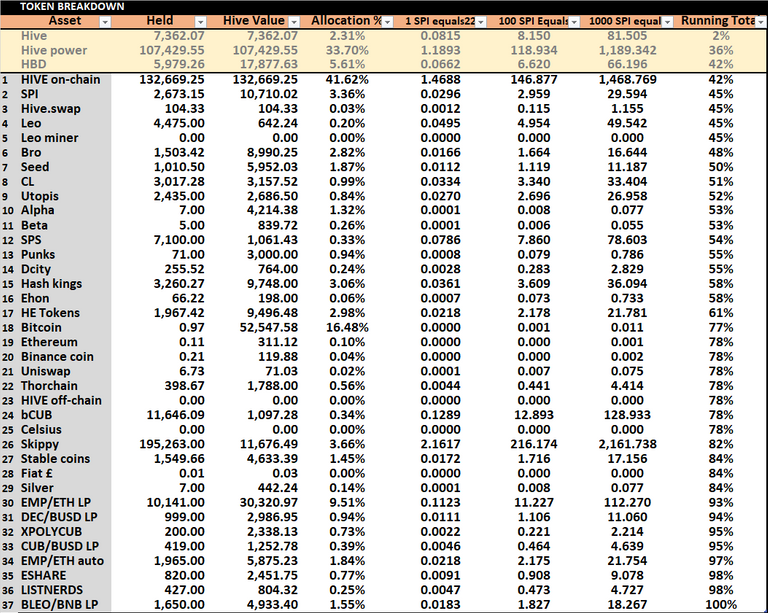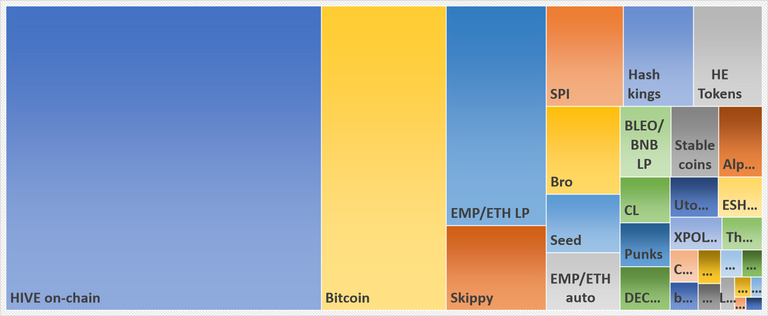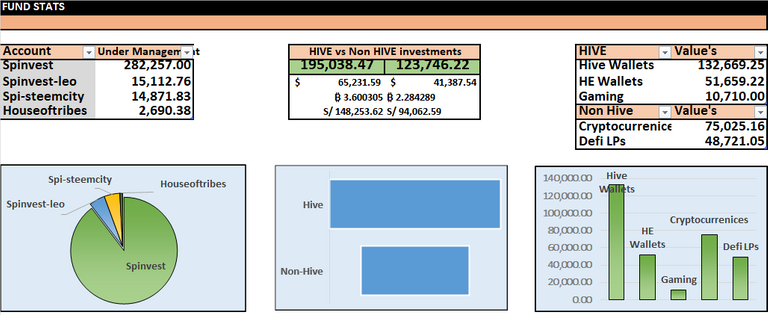 There's no other way to put it, this has maybe been one of the worst weeks over for SPI and even SPinvest as a whole. Every profit is down 20-30% in terms of dollars from last week. Im sure even you personal are down a bunch as all markets are crashing and in bear markets. With a looming recession and this being SPinvest's first proper bear market, it will be really interesting to see how long it lasts and how we can come out the other end. Last bear market, SPI bottomed at around $12k, we still have a long way to go and dont think we'll ever see this value again but im starting to try and guess how far SPI could fall. I feel $75-80k sounds about right to me but that is just a gut feeling.
Anyways, stay safe folks. I think the markets will continue to drop more over the next 5 months. We see a small bounce from the bottom as it's fallen alot but I honestly believe this is still the start of it and we'll see BTC under $15k, ETH under $600 and HIVE under 15 cents again. Now we play the waiting game while stacking stables.
Stay safe and have a great Sunday, dont worry about what is happening with the markets today if you plan to sell in 5 years plus.
Have a good one!


Thank you for taking the time to read through this week's SPI earnings and holding report. We post every Sunday to keep our investors up to date so please follow the account if you would like to track our progress.
---
---