Spinvest's weekly earnings and holdings report | Year 03 | Week 06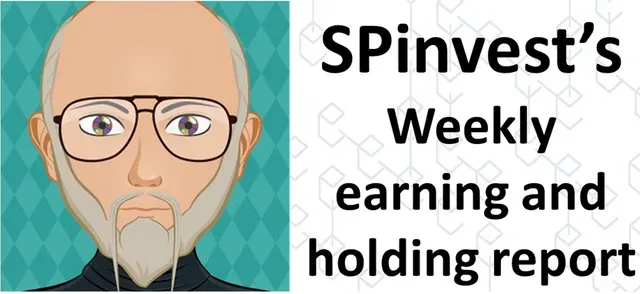 Hello, SPIers. Today is Sunday and we end the SPI week with our weekly dividend payment this evening and every Sunday at 21.00 GMT.
What is SPI?
SPI tokens are growth investment tokens that pay a weekly dividend. They have been circulating for over 2 years, on STEEMHIVE. Mostly sold for 1 HIVE, each token today is worth over 4 times its HIVE issue value and 12x its dollar value. On top of that, token holders receive roughly 8% more SPI's every year from weekly dividends. We raised $13k from issuing SPI tokens for the first year which has been used to grow a diverse portfolio of investments, many of which provide streams of passive incomes. SPI tokens are part ownership of all SPinvest tokens/accounts, assets and income. The price of each SPI token is its liquidation value as SPI tokens are 100% backed by holdings. Handcapped to roughly 94,000, no more can be minted are issued. Adding, hold and compounding has us on the road to major growth and these tokens are still growing in value.
SPI tokens are part ownership in an actively managed fund. We have our hands in over 20 investments with the lion's share being HIVE, BTC & ETH. We dont FOMO chase pipe dreams. Tried and tested works best and is safest. Our motto is "Get rich slowly" and compounding down on sound investments is our game. You should invest in SPI tokens with the mindset of not selling for 3-5 years minimum. Let's have a look at this week's on-chain HIVE earnings.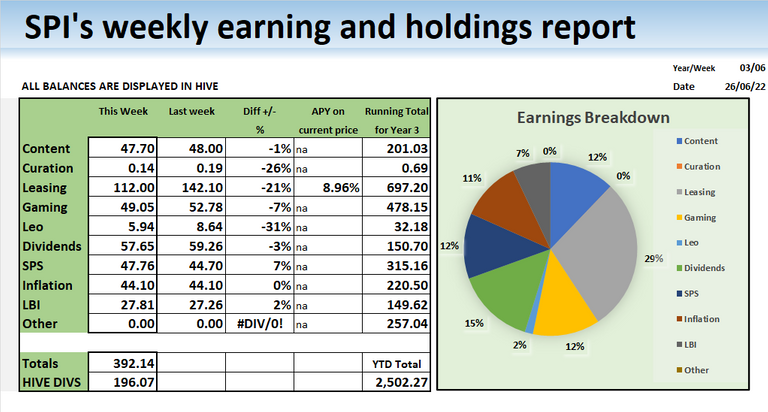 Earnings this week are on par with what has become the new normal of between 400-500 HIVE per week. As most will know, i've been working hard on ListNerds and we'll start to see the rewards from this in around 10 weeks from now. We're earning crazy amounts from it so we will hope the price of the token stays roughly were it is today.
We missed 1 days of rewards from leo.voter which happened last week as well. The APY we are supposed to get is 16% but lately im not seeing that even in weeks were we are paid 7 days. Could be that i work out the APY weekly instead of daily. Either way, we lost a little there this week. I'll go and see if I can create an open support ticket.
Things are ticking over as well as they can be. Its nice to see BRO and UTOPIS paying out decent rewards again, lets hope they can keep this up. For UTOPIS, i have no hope but for BRO, i hope they can keep this up a little longer.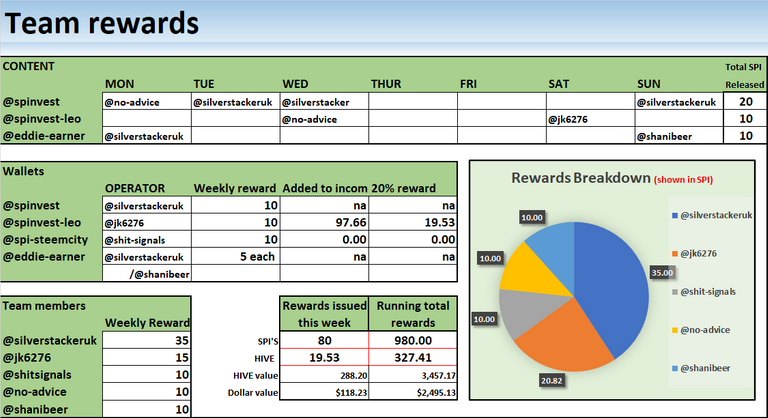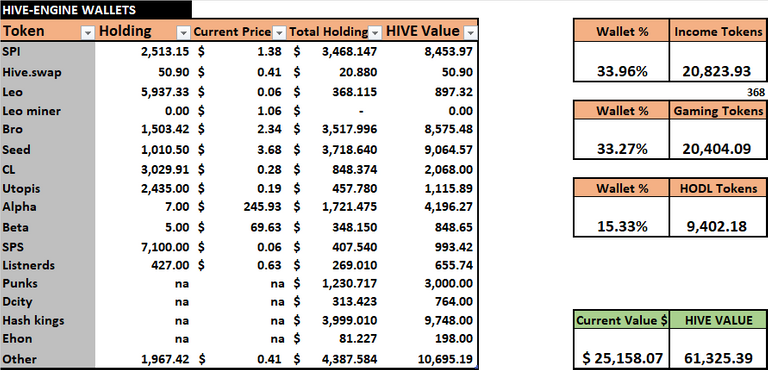 I've been debating weather are not if i could convert some more HIVE into HBD while the price of HIVE is 40 cent. I was thinking around 2500 HIVE into around 1000 HBD but im on the fence. Its nice to have some liquid. I bought back a few SPI tokens from the HE market and listed 1 ALPHA pack token for 650 HIVE so we can hope that sells this week.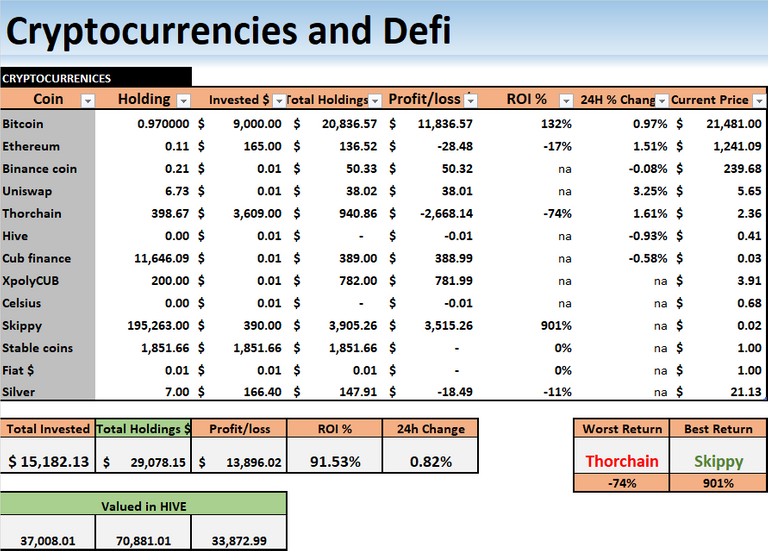 No changes here this week. I'd normally have added some stable tokens but i have not been harvests defi rewards this week. Sorry, i mean i have been harvest but not converting in BUSD, i've been holding the reward token. Without going into too much detail. EMP is currently under peg and has been for roughly 2 weeks because of a huge whale selloff. It has been recovering and when it's back at peg the reward token we are farming will be 2-3x in price so im holding it liquid till that point. I hope we can farm $50 today and sell it for $100+ in 3-4 weeks' time when EMP's peg is back to 1-1.
The crypto markets have gone up a little this week with looks like a dead man's bounce from the bloodbath we've had the past 1-2 weeks. Im heard on the street that Goldman Sachs is raising $2 billion to try and buy out Celsius that would be awesome and give us access to our funds again. I dont hold my breath but it's a little light at the end of the tunnel.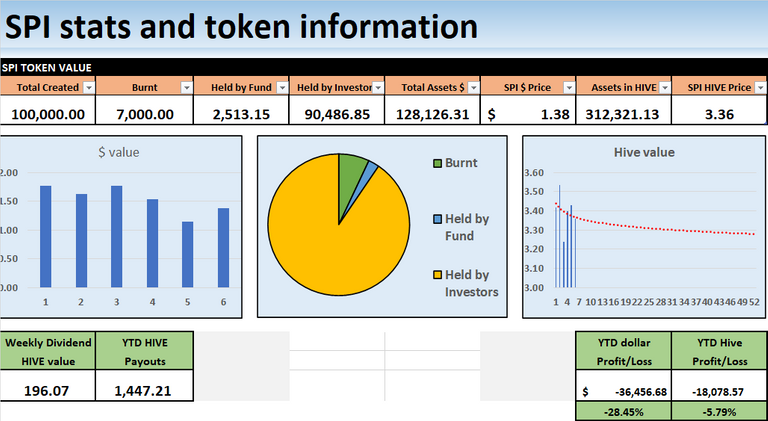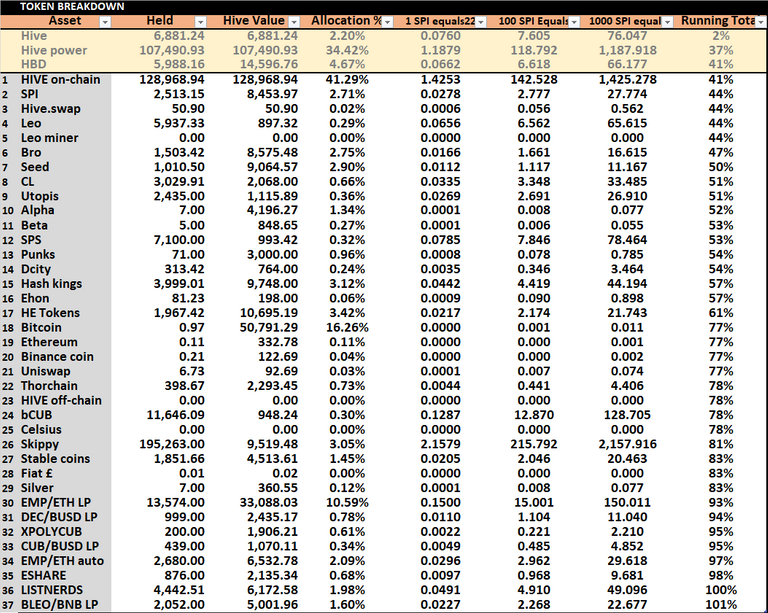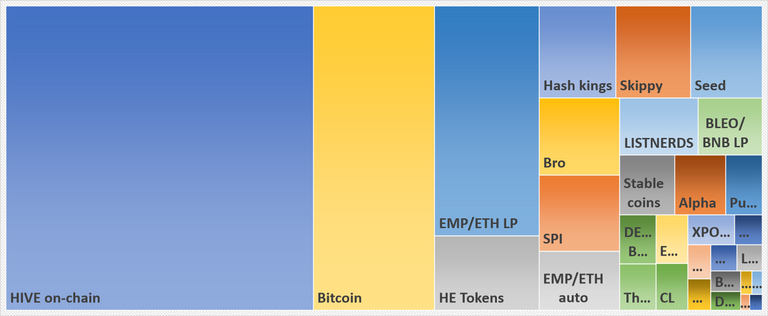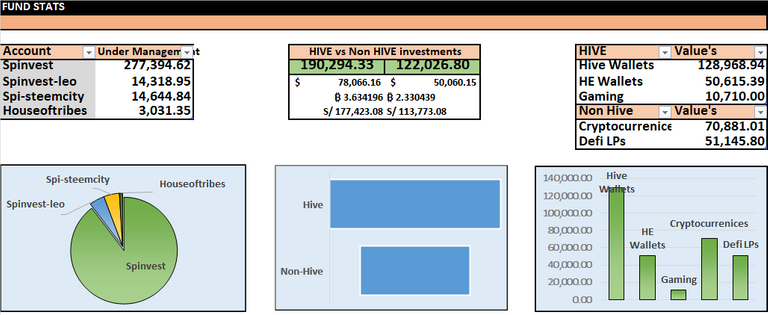 SPI tokens this week are around the same HIVE price as last week, a little bit down valued in HIVE but almost 30% up in dollar value from last week which is a great thing to see.
ListNerds are working well for us so far and i plan to start some unstaking soon and i will be doing this weekly to ensure we get a weekly income from it starting in 10 weeks. We are currently earning over 500 a day on average and im planning to unstake 150 tokens per week so not that much really, it's under 5% of what we currently earn. It costs roughly 250 HIVE to pay our monthly subscription and we'll be unstaking 600 ListNerds every month. I'll convert all 600 into HIVE, 250 are whatever it is depending on the price of HIVE will pay the subscription fee and the leftover will go toward weekly earnings and dividends. Today's ListNeds price is 1.2 HIVE so 600 would be worth 720 HIVE. We could say super roughly, 300 pay for the subscription and 400 will go toward dividends which works out to 100 HIVE per week which would increase are current weekly earnings and dividend by 25%. We would be cashing out 5% of earnings to pay subscription and give a boast to SPI dividends. I'll be stacking the rest to earn more and in the future, i will increase the unstaking amount. Anything with this can turn on a head because the price of HIVE could drop alot resulting in less competition for rewards as i'd guess alot of paying users are paying with HIVE. If the price of Listnerds goes down, i would need to increase the unstaking amount. Many, many things can happen so for this i can only really make a rough plan and then act with whats happening when variables happen.
Tired to keep that short but sorry. That's this week's report, I hope you liked it and as always, have a great Sunday and HIVE dividends will be shipped this evening.


Thank you for taking the time to read through this week's SPI earnings and holding report. We post every Sunday to keep our investors up to date so please follow the account if you would like to track our progress.
---
---