Spinvest's weekly earnings and holdings report | Year 03 | Week 10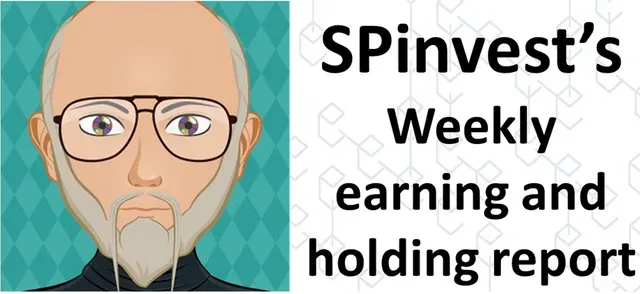 Hello, SPIer's. Today is Sunday and we end the SPI week with our weekly dividend payment this evening and every Sunday at 21.00 GMT.
What is SPI?
SPI tokens are growth investment tokens that pay a weekly dividend. They have been circulating for over 2 years, on STEEMHIVE. Mostly sold for 1 HIVE, each token today is worth over 4 times its HIVE issue value and 12x its dollar value. On top of that, token holders receive roughly 8% more SPI's every year from weekly dividends. We raised $13k from issuing SPI tokens for the first year which has been used to grow a diverse portfolio of investments, many of which provide streams of passive incomes. SPI tokens are part ownership of all SPinvest tokens/accounts, assets and income. The price of each SPI token is its liquidation value as SPI tokens are 100% backed by holdings. Handcapped to roughly 94,000, no more can be minted are issued. Adding, hold and compounding has us on the road to major growth and these tokens are still growing in value.
SPI tokens are part ownership in an actively managed fund. We have our hands in over 20 investments with the lion share being HIVE, BTC & ETH. We dont FOMO are chase pipe dreams. Tried and tested works best and is safest. Our motto is "Get rich slowly" and compounding down on sound investments is our game. You should invest in SPI tokens with the mindset of not selling for 3-5 years minimum. Let's have a look at this week's on-chain HIVE earnings.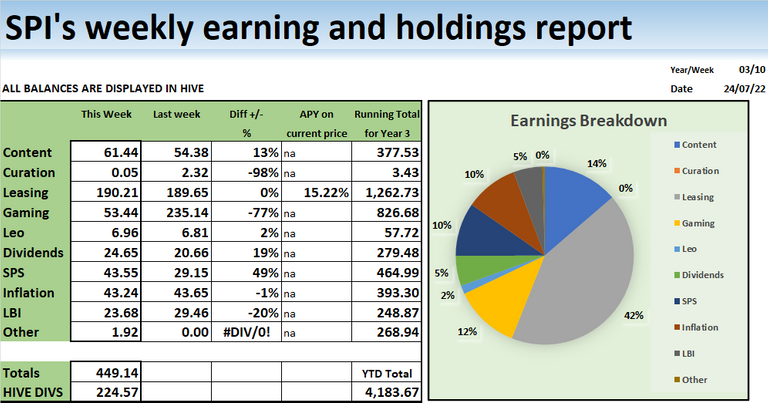 Earning this week are back to normal and we're back to under 500 HIVE. Overall, thi weeks earnings are better than the new normal of 400 HIVE as we have had good content rewards and the HIVE we are earning from leasing HIVE POWER has also increased. We are now delegating 60k HP to brofi and anything over that is delegated to do. voter. The sweet thing is we receive juicy upvotes from both accounts so it's sorta like having our cake (earning from leasing HP) and eating it too (getting big upvotes). It's nice when things work like this.
Earning from LISTNERDS this week have been fantastic and I unstaked another 4000 of those to become liquid in 10 weeks. That is 3 weekly unstakes done so far and maybe when these start coming, we'll get weekly earnings consistently over 500 HIVE again.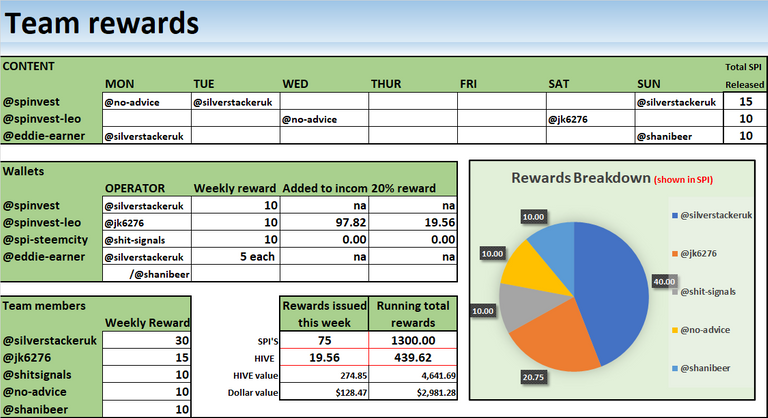 I have just seen i have forgot to update our eddie-earner holdings this week. I have wrote this before but not often. SPI owns @eddie-earner and the contents of it wallet. To work out what SPI's holding or in EDS, i simply take the amount of EDS tokens issued away from its powered up HIVE balance. Each EDS token is worth 1 HIVE and if EDS were to ever shut down, that's what token holders would get, you own 500 EDS, you'd get back 500 HIVE. If you've never heard of EDS and are wondering why buy if they are poegged to 1 HIVE? Well, they pay out a weekly HIVE income equal to 28% APY so they are the best IVE income token on the market. Anyways, ballpark there are around 27k EDS issued and the account has over 60k HP so SPI holds around 33k HIVE within EDS. Not bad for a small project run part-time by 2 people. If you watch this space, EDS will become a goated and desired token. Its model is so simple, that it cant fail. It's currently the only token under SPinvest that sells for its actual value is higher, haha.
Moving on from EDS, I was able to sell some UTOPIS is week. Im going to sell them off in batches of 200-500 pricing them at whatever the market is paying at that time instead of doing 1 big sell order and creating a wall for others to lean on. We received some student NFTs on dCity from a PUNKS airdrop. The airdrop ran for 1 week but sadly I only found out about it on day 4 day and missed 2 days due to a 24-timer set and my work schedule. We got 56 students and 84 students with debt, no idea what these means are what they are worth but im sure shitsignals will be more clued into this and he'll be able to tell me what best to do with them, dump them are send them to him so he can use them being the 2 options.
I have been tempted to sell 2 more ALPHA pack tokens as well but im on the fence.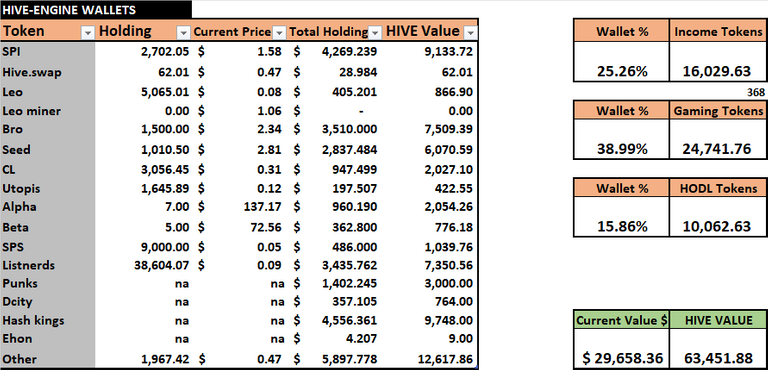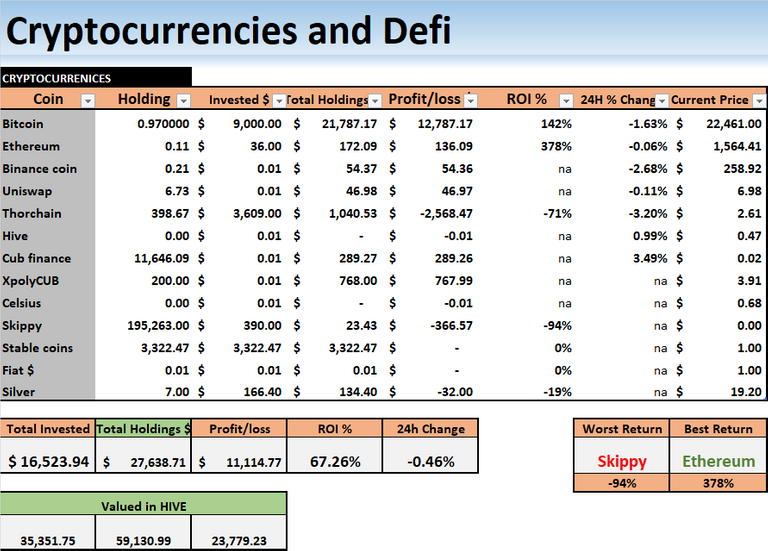 I was able to add a few more USDC to our holdings this week from selling some of the ESHARE we get from the EMP farming. The ESHARE price has been floating between $350-450 for the past 5-6 weeks as EMP is underpeg, it dropped all the way down to 0.80 6 weeks back, has slowly been gaining ground the past month and yesterday it jumped from 0.92 to 0.97. When EMP regains peg, the ESHARE token can be used for staking to earn a crazy APY in EMP tokens so it's price has jumped to over $700 with people knowing they can be used soon. Since EMP has been under the peg, I have not sold any ESHARE we harvest from EMP farming. I have been collecting it up knowing that when EMP regains peg, we can sell it off for double are more. We have been earning it while it's been around $400 and yesterday I sold it for $720 so in effect, I increased our farming havest APY by 1.8x. If the farm pays out 100%, we have earned 180% because we earned ESHARE low and sold it high.
ETH is up again this week so our wallet is up again because our largest defi holding are ETH connected. Most of the rest has increased a little.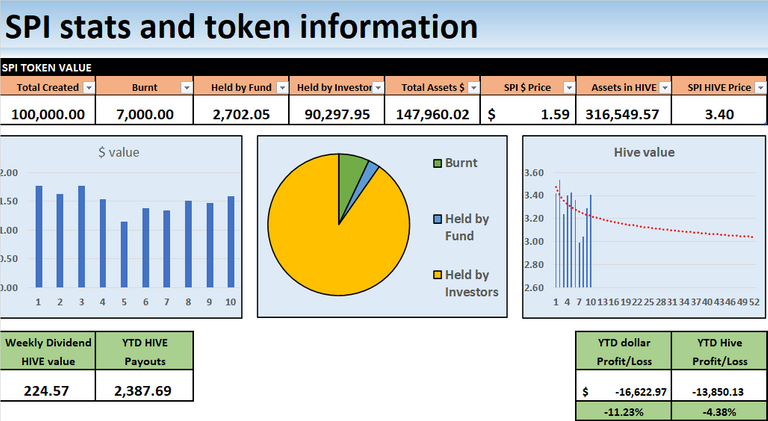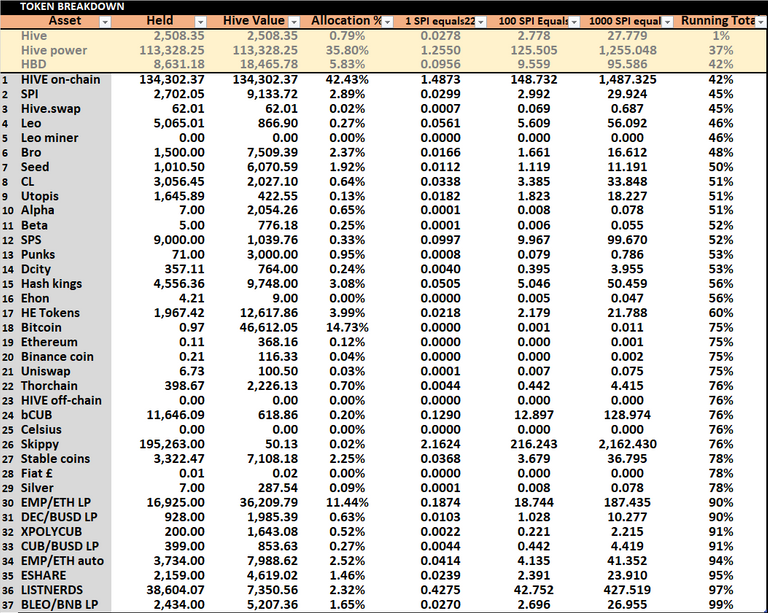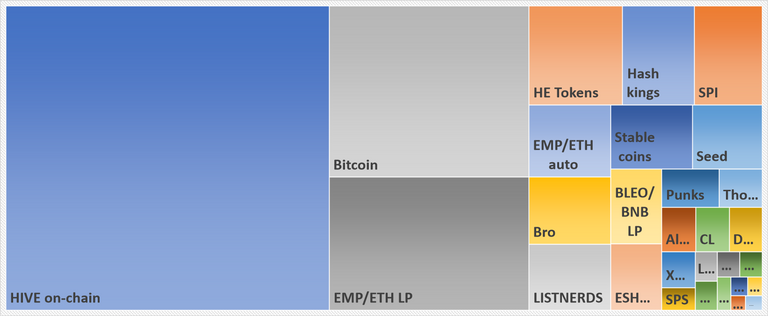 The SPI token ended the week with both a higher HIVE value and dollar value. This is a rare week as this does not happen very often, maybe 1-2 times per year. Cool stuff, means nothing to you but to me, seeing it increasing in both HIVE and dollar value in the same week is very strange to the point it feels like i have messed up inputting some numbers.
Overall, it's been a productive week and the markets have been good to us. Solid week all around. Enjoy what is left of your weekend folks, dividends will be shipped this evening and let's hope this coming week is as good as the last.


Thank you for taking the time to read through this week's SPI earnings and holding report. We post every Sunday to keep our investors up to date so please follow the account if you would like to track our progress.
---
---