Spinvest's weekly earnings and holdings report | Year 03 | Week 18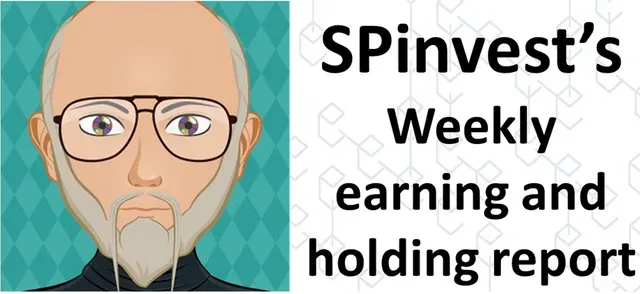 Hello, SPIer's. Today is Sunday and we end the SPI week with our weekly dividend payment this evening and every Sunday at 21.00 GMT.
What is SPI?
SPI tokens are growth investment tokens that pay a weekly dividend. They have been circulating for over 2 years, on STEEMHIVE. Mostly sold for 1 HIVE, each token today is worth over 4 times its HIVE issue value and 12x its dollar value. On top of that, token holders receive roughly 8% more SPI's every year from weekly dividends. We raised $13k from issuing SPI tokens for the first year which has been used to grow a diverse portfolio of investments, many of which provide streams of passive incomes. SPI tokens are part ownership of all SPinvest tokens/accounts, assets and income. The price of each SPI token is its liquidation value as SPI tokens are 100% backed by holdings. Handcapped to roughly 94,000, no more can be minted are issued. Adding, hold and compounding has us on the road to major growth and these tokens are still growing in value.
SPI tokens are part ownership in an actively managed fund. We have our hands in over 20 investments with the lion share being HIVE, BTC & ETH. We dont FOMO are chase pipe dreams. Tried and tested works best and is safest. Our motto is "Get rich slowly" and compounding down on sound investments is our game. You should invest in SPI tokens with the mindset of not selling for 3-5 years minimum. Let's have a look at this week's on-chain HIVE earnings.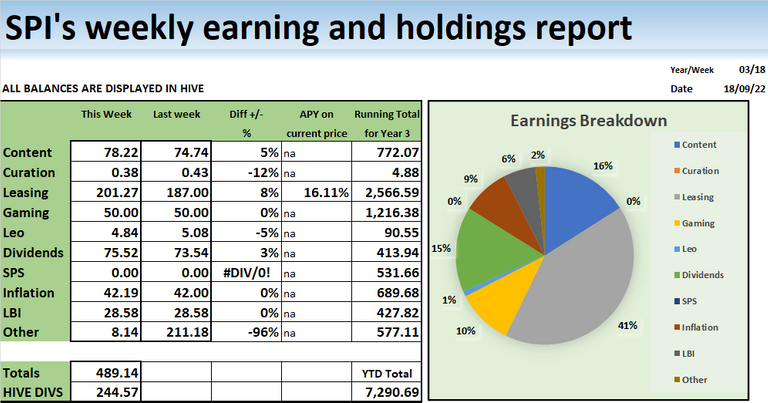 Earnings this week are not bad, last week we had a windfall of 190 HIVE from the SPK airdrop that we did not have this week but at 490 HIVE, we're doing ok and this is a better than normal week. I got word from shitsignals that he will be shipping 50 HIVE per week from the gaming account into our income for the foreseeable future so that's great news. Our average earning the past while have been 400ish so this boast of 50 per week is like a 12% pay rise for us.
Im expecting LISTNERD unstaking to start either r this week are next but im not too hopeful for what we will receive in terms of HIVE for these tokens as their value has collapsed much more than i could have planned for. I predicated a 95% token value drop within the 10 weeks from our first unstaking but it's looking like I was way off and the value has dropped by 99.9%. We'll maybe get a few hundred HIVE back if we are lucky.
Eitherway, im happy with earning 500 HIVE, this is still over $250 which is decent considering we only upload 3 posts per week with the rest coming passively.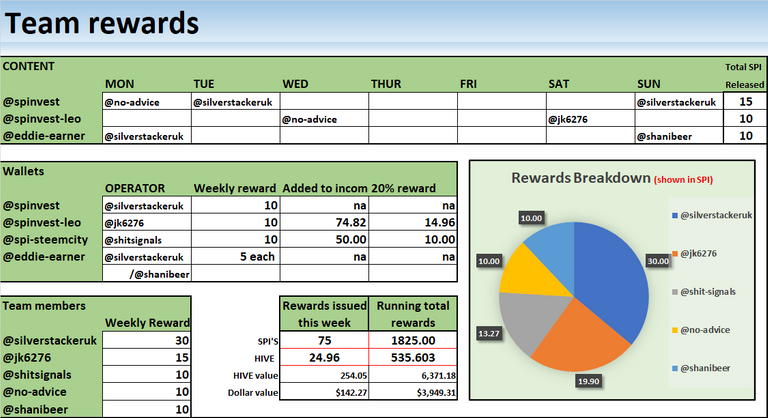 Our HIVE balance is up a little as i cleared out alot of HE tokens we dont need, things we'd got for whatever reason. Our HBD balance is still compunding down nicely, i add about 25 HBD per week to this from content rewards but we earn more in interest. 910 HBD from the balance above is held liquid as it's part of an ongoing HIVE/HBD trade im doing. I am always tempted to convert BUSD>HIVE>HBD and have 20,000 HBD but liquidity is a problem. I have no problem converting 1000 HBD worth of HIVE each day for 4-6 days to add but exiting 20,000 HBD into HIVE in a single day could be a problem. bHBD is not good to exit either as any trade-out will cost 2% at 1000 and up to 15% for 10.000+. I would like to add to this position but liquidity is key and instant is king.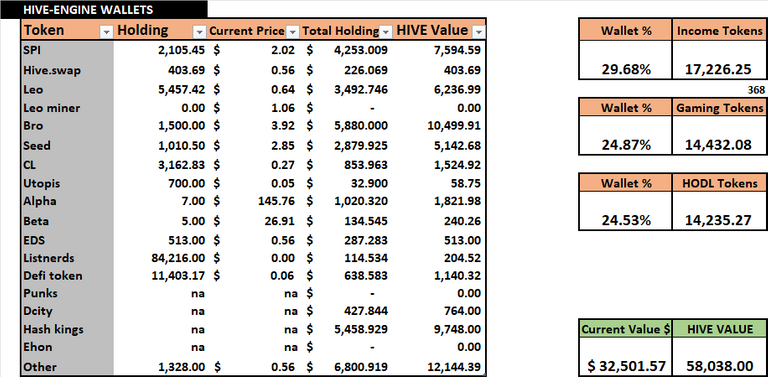 On my mission to provide a buy-back wall for EDS while building us a passive income at the same time, I converted some BUSD into HIVE and placed an EDS buy order for 350 at 1 HIVE each. You will see SPI starting to hold more of its own tokens such as EDS, LBI, CL and EDS miners. I will buy these mostly so I can give them away as SPI Royalty Rewards as parts of airdrops.
Im noticing that the price of both the APLHA and BETA Splinterland pack tokens are dropping pretty fast. Im not sure if to hold are sold a few more while prices are still decent. I sold most of our ALPHA's at over $500, a few at over $800 and our BETA's for over $250 so we did well when compared to today's prices.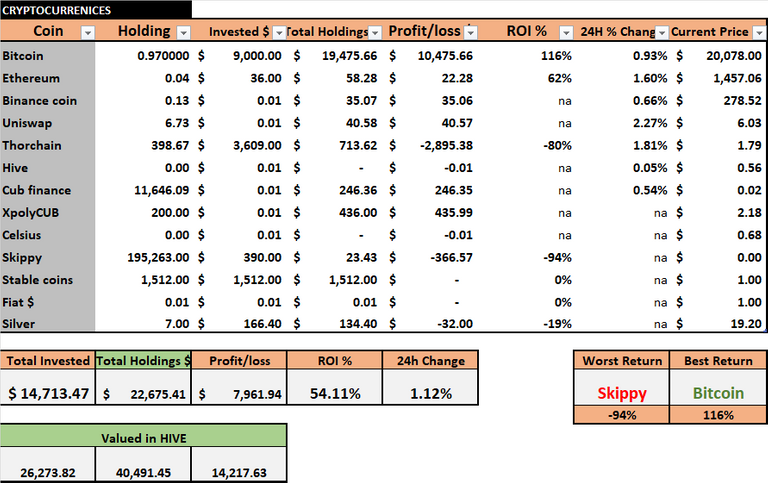 You'll notice that there are around $20,000 missing from our stable token holdings compared to last week. While i wait for the price of ETH to drop, i decided to park it else where to earn a few %. Nothing else to update really with crypto holdings. The 0.97 BTC is a little annoying and i will get round to buying at least .03 to get us into whole numbers but the timing is not right yet. That's a side mission.
Just looking at the price of ETH now and we're winning. I invested 10 ETH into EMP serveal months back and last week i pulled out 13 ETH as the platfrom is not doing great. I converted all this into 21,500 BUSD. The ETH merge has happened and as expected the ETH price is declining. Our BUSD today buys back 16 ETH giving a 3 ETH profit (if converted to ETH today) in just over a week. I feel the market is going to continue to decline over the coming months and we'll be able to back 20 ETH before year-end. We'll see what happens.

Now you can see where I parked our stables as it represents 80% of the chart above. I put our BUSD into 4BELT and staked the LP token to the kingdom on CUBfinance. It's earning 12% (10% auto compounded | 2% in CUB) which is better than the 4-5% on BELT itself so why not?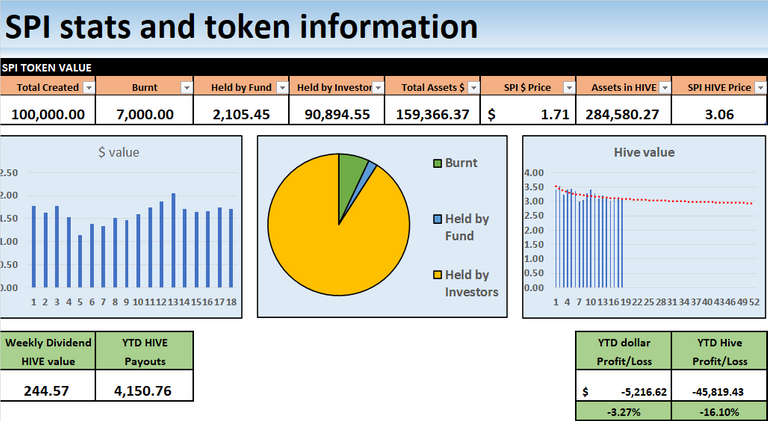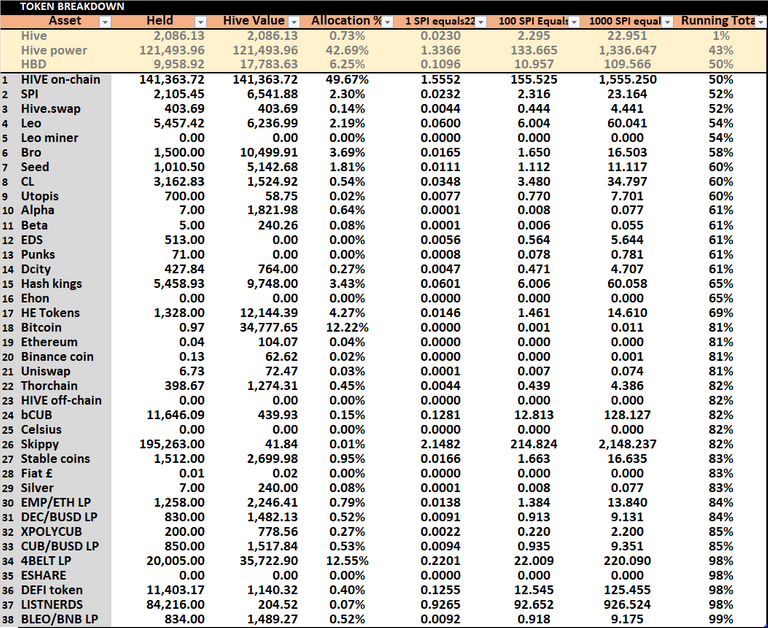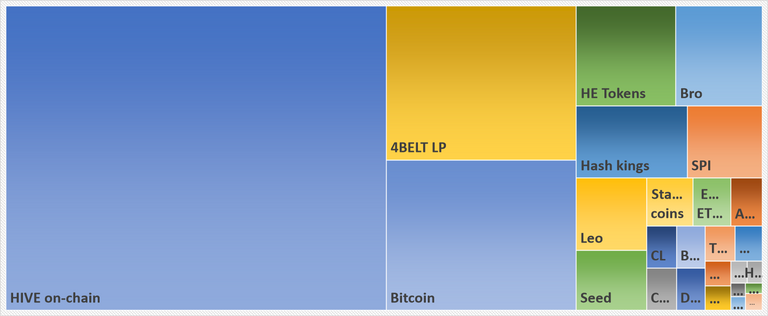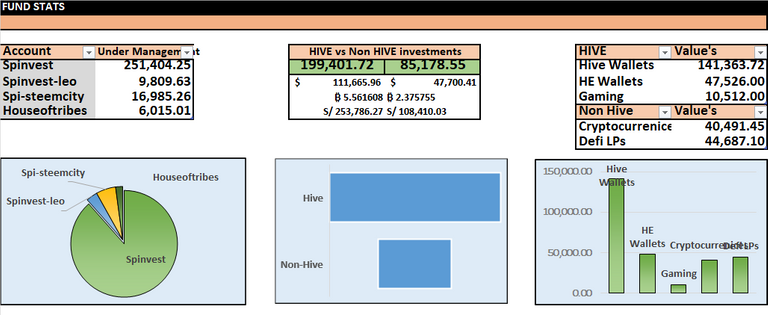 Not a back week all around, the markets are bleeding right now but they have been pumping the last 2-3 months on this ETH merge event so it is correction time and time to get on with this bear market. We want bargains!!
Quick update on the Royalty Rewards merch packs. Stuff has started to arrive and i'd like to get this incentive up and running by the start of next month. Keep an eye out for that, if you earn more than 1000 SPI tokens, be expecting a DM from my requesting a postal address to sent you a merch pack.
Have a great Sunday evening everyone, dividends should have been shipped already and lastly, have a great week.


Thank you for taking the time to read through this weeks SPI earnings and holding report. We post every Sunday to keep our investors up to date so please follow the account if you would like to track our program.
---
---