Spinvest's weekly earnings and holdings report | Year 03 | Week 26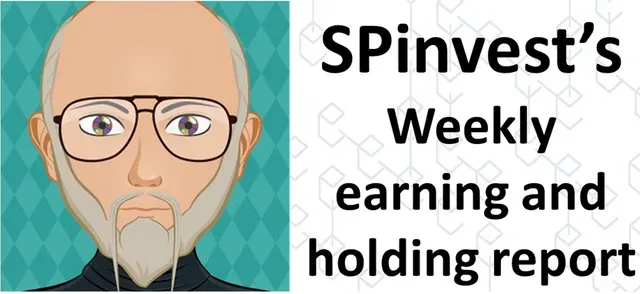 Hello, SPIer's. Today is Sunday and we end the SPI week with our weekly dividend payment this evening and every Sunday at 21.00 GMT.
What is SPI?
SPI tokens are growth investment tokens that pay a weekly dividend. They have been circulating for over 2 years, on STEEMHIVE. Mostly sold for 1 HIVE, each token today is worth over 4 times its HIVE issue value and 12x its dollar value. On top of that, token holders receive roughly 8% more SPI's every year from weekly dividends. We raised $13k from issuing SPI tokens for the first year which has been used to grow a diverse portfolio of investments, many of which provide streams of passive incomes. SPI tokens are part ownership of all SPinvest tokens/accounts, assets and income. The price of each SPI token is its liquidation value as SPI tokens are 100% backed by holdings. Handcapped to roughly 94,000, no more can be minted are issued. Adding, hold and compounding has us on the road to major growth and these tokens are still growing in value.
SPI tokens are part ownership in an actively managed fund. We have our hands in over 20 investments with the lion share being HIVE, BTC & ETH. We dont FOMO are chase pipe dreams. Tried and tested works best and is safest. Our motto is "Get rich slowly" and compounding down on sound investments is our game. You should invest in SPI tokens with the mindset of not selling for 3-5 years minimum. Let's have a look at this week's on-chain HIVE earnings.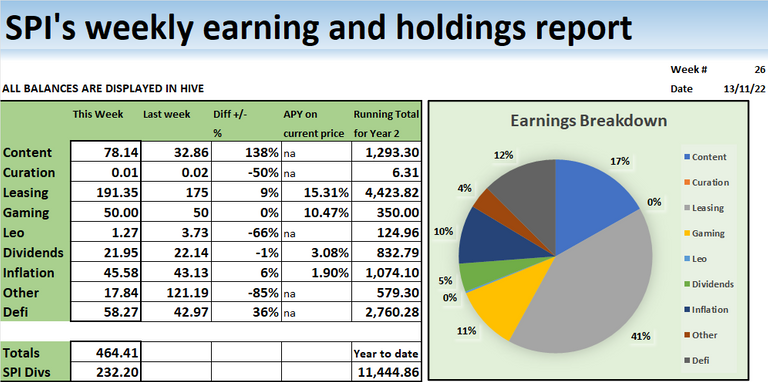 Earnings this week are ok, we did 460 HIVE which is around an average for us lately. I bought some new tokens this week brought to us by eco-instant. They are HIVE income tokens related to dCity and more particularly SIM tokens. These were 1 HIVE each and I got 500 for us. I will probably buy another 500 but I'll hold off. I believe that HIVE will continue to fall and in a few more months' time, we will be able to convert HBD into some HE income tokens, huge amounts that will increase our weekly earnings. Last bear market we focused on non-HIVE growth from HIVE earnings, this bear markets, we focus on building a bigger HIVE income.
We have been providing exit liquidity for EDS for the past few months and bought up near 1500 but for the past 2 weeks, people are putting in their own buy orders for over the 1 HIVE price so we've not been stacking much. On plus side, if this buying demand remains consistent for EDS at over 1 HIVE each. SPI will not need to provide exit liquidity anymore.
I will be focusing on adding more content to SPI over the coming weeks. As we head deeper into the bear market and rewards in terms of HIVE increase, we should take full advantage and stack as much as we can. I am going to be looking into AI assistant content writers because we can't find human content writers and this way, we can ensure that a diverse range of content is flowing from spinvest. We could even have a monthly post to collect content ideas.
We are going to be in a bear market for the next year and we all know are should no that the best time to stack is during a bear market. With little to do on the defi front as we wait for the prices to decline further, some focus will be put toward weekly earnings. I have already started this on a small level a few months back by buying up INCOME, LABFUND and EDS tokens with the plan to invest at a bigger level when the price is cheaper when things look like shit hit the fan.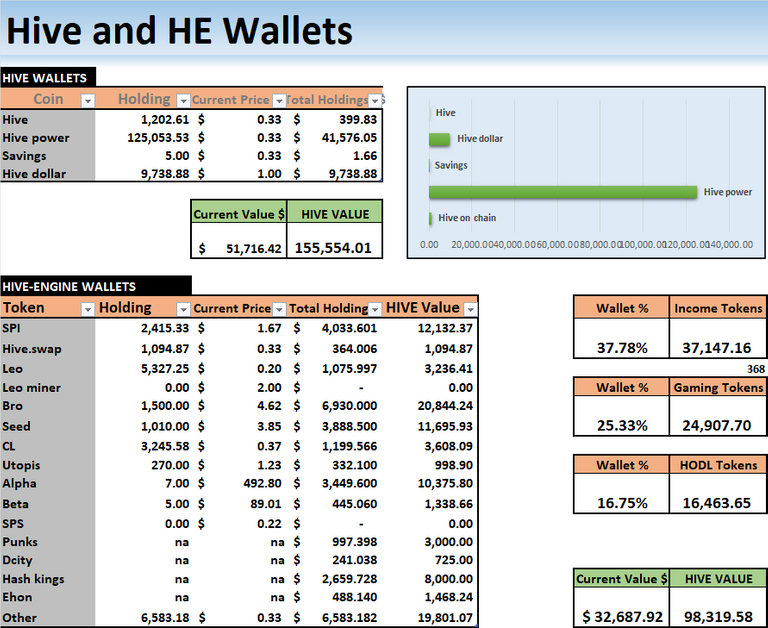 We continue to stick to the same plan and do little to nothing with our HIVE wallet. The HIVE goes in and goes out, none is being moved off HIVE. The HBD liquid balance is just growing a little each week and HBD savings are compounding down nicely. We only hold 140 HBD liquid, just saw it piled together above. We did have 400 but I spent some buying LABFUND tokens this week.
As I said last week, I need to update the table above as we are now holding a few tokens that will be long-term holds for us. Just thinking about it now, it could be a good idea to add a gaming section as well as dCITY, Hashkings and Ehon are not really held on hive-engine. Gaming has been growing massively for us and what was worth a few grand is now worth $13k plus. At today's crypto prices, this is 10% of the total fund. It's not ideal from my POV but I'll take it. Shitsignals is doing a perfect job at getting us into anything and doing so using the perfect strategy to roll profits from one into the next.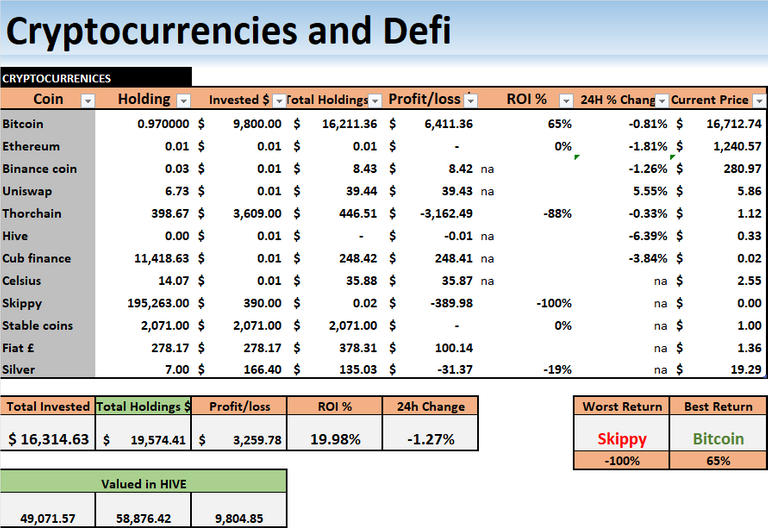 It's been a fun week with FTX shitting itself but it is what it is and it's just another bump in the road. It's just another Celsius or Luna event and we might see more, leveraged and ill-prepared for investors to cash out. For SPI to go insolvent, over 60% of tokens in circulation would need to request buy backs so we are pretty liquid.
Our holding took a beating this week, BTC is sitting at $16.7k and i think it'll only get worse. Im waiting for $1000 ETH and $15k BTC before i start to load up the boats. My plans will be the start and DCA into a few crypto each week and then when we have a black swan event, something like COVID, I'll go balls deep and drain our stable token holdings dry. We have a few black swan events each cycle and we'll cross our fingers 1 comes along while the markets are bottoming out or going sideways. Not gonna lie, we will need a little luck here. Im saying only a drop of 15-25% is more while BTC is under $15k is a perfect load-your-bags chance. It might never happen but I think it's worth the risk as it's possible to happen. We can have no idea what sort of black swan event will take place but we can be sure that black swan events will happen in the future, we're betting on one happening within the next 24 months. Plam B is buy back in when we know the next bull is soon. If you missed $4k BTC and got in at $8k, you'd still be happy with that today.
Defi holdings are doing ok. We're earning good harvests and compounding down into the CUB farm stable LP. JK is focusing a lot on SPS at the minute and earning good rewards from that also. I have put $3k into a new defi project, I'm not gonna say which one because I don't wanna promote it. It's a farm that's been released from a defi protocol that's been in operation for 2 years so it's I feel funds are safe. The operator is fully DOXXED and has a decent track record but it's one of these projects that will either do really well are really bad and this is why I don't say which farm it is. Anyways, I deposited $3k of BUSD/USDT LP into it that we can pull at any time so we have minimal risk to our funds. The harvests can not instantly be cashed out without paying a large tax, instead, I need to stake them and the longer I stake them the more tax discount I get. The plan is to hold the stable LP here until we've harvested enough to make it produce a self-sustaining income for us and then pull out our LP. This is my classic hit-and-run defi strategy. We deposit proper cryptos (eg stables) to earn the farm token, convert that farm token into proper crypto (eg BTC) and deposit it back into the farm. When the harvested crypto LPs (BTC) are worth more than the deposited crypto LPs (stables) we pull our deposited funds and freeroll. Its sounds complex but it's only a few actions.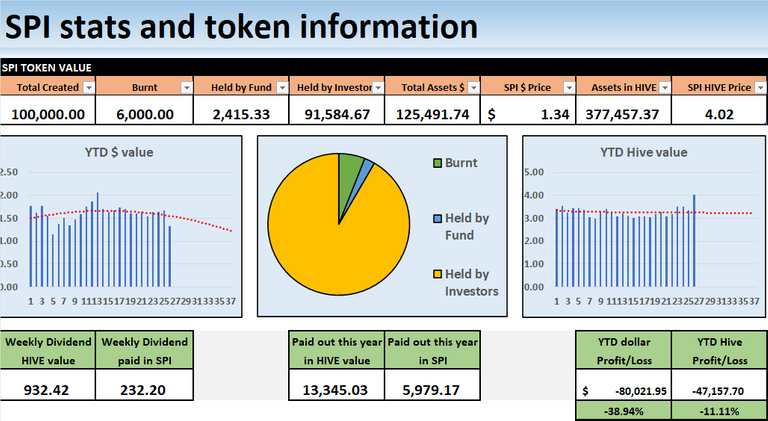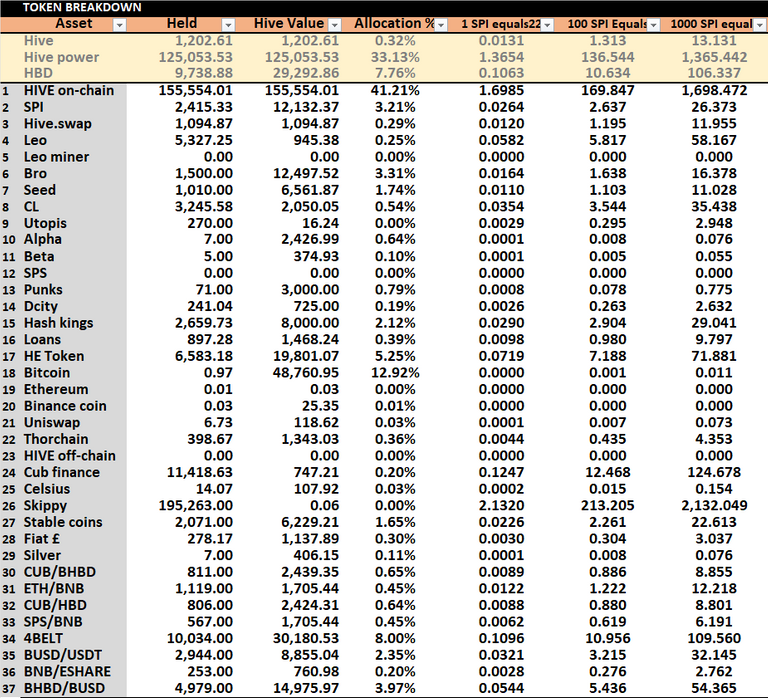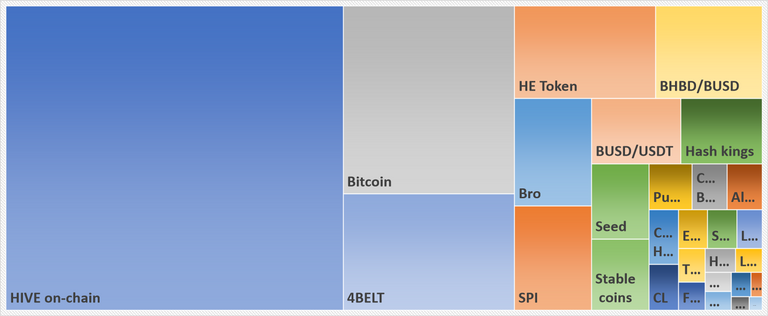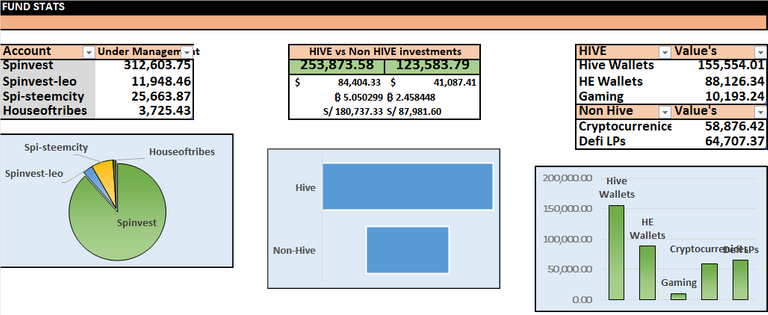 HIVE is down 34% for the week so it should new a surprise for us to see the value of the SPI token jump to over 4 HIVE each. At its current state, 25% of SPI is made of stable tokens. $10k in HBD, $10k in 4BELT, $5k in bHDB/USDT, $3k in BUSD/USDT and $2k liquid.
These stable tokens have been working as an excellent hedge for us against declining prices and what I have learnt from this market cycle is that we should have been converting defi harvests and LP tokens into stables much sooner. I started this around 6 months but if I had started 12 months ago, right now I'd be looking like the man. I think it will be the same the opposite when converting stables into typos and later might be better as we have the chance to hit a black swan event and get an awesome buy-in price. We are earning an average of 20% over our stable token LPs ranging from 5% to 130% so we have no problem growing at target even when holding stables.
I look forward to the coming months. As an investor, I don't want to see crypto prices crash further but as a fund manager, I want those bargains. I accept prices go up and down and market conditions take months or years to turn. It's only numbers on a screen, the rules to the game are not written but patterns appear and the longer you play the more you see. If you focus on the larger picture and not so much whats happening this week/month you see it differently. Anyways, thats enough waffle from me.
SPI is doing pretty good when all things are considered. Dividends will go out this evening folks as always. Not sweat the crashing market, its the way the markets work and in 2-3 years from now this will all just be a memory of when things were cheap.
Have a great Sunday and fantastic week folks,


Thank you for taking the time to read through this week's SPI earnings and holding report. We post every Sunday to keep our investors up to date so please follow the account if you would like to track our progress.
---
---