Spinvest's weekly earnings and holdings report | Year 3 Week 4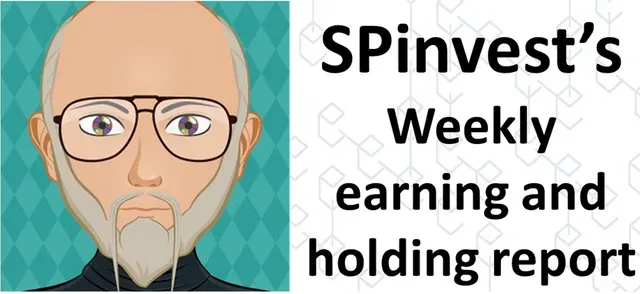 Hello, SPIer's. Today is Sunday and we end the SPI week with our weekly dividend payment this evening and every Sunday at 21.00 GMT.
What is SPI?
SPI tokens are growth investment tokens that pay a weekly dividend. They have been circulating for over 2 years, on STEEMHIVE. Mostly sold for 1 HIVE, each token today is worth over 4 times its HIVE issue value and 12x its dollar value. On top of that, token holders receive roughly 8% more SPI's every year from weekly dividends. We raised $13k from issuing SPI tokens for the first year which has been used to grow a diverse portfolio of investments, many of which provide streams of passive incomes. SPI tokens are part ownership of all SPinvest tokens/accounts, assets and income. The price of each SPI token is its liquidation value as SPI tokens are 100% backed by holdings. Handcapped to roughly 94,000, no more can be minted are issued. Adding, hold and compounding has us on the road to major growth and these tokens are still growing in value.
SPI tokens are part ownership in an actively managed fund. We have our hands in over 20 investments with the lion share being HIVE, BTC & ETH. We dont FOMO are chase pipe dreams. Tried and tested works best and is safest. Our motto is "Get rich slowly" and compounding down on sound investments is our game. You should invest in SPI tokens with the mindset of not selling for 3-5 years minimum. Let's have a look at this week's on-chain HIVE earnings.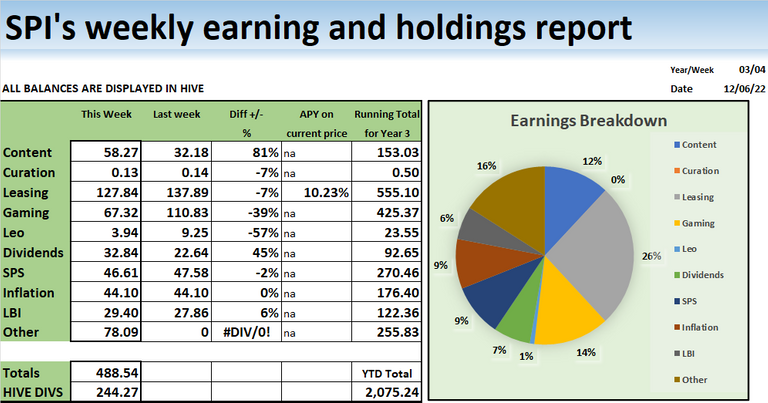 Earning this week is ok, at 490 HIVE they are pretty standard. We got that SPK airdrop this week so that was a nice boast and made up for losses from other places as the price of crypto crashes. We only received 6 payments from leo.voter this week for whatever reason, i tired to create a support ticket but could not so I guess I'll be DMing Khal soon to see if we can get that back.
We are 10 days into our LISTNERDS journey and pumping out 2 emails per day so we'll start to see the fruits of that labour coming back to us in 12-15 weeks i guess. We've already started to get targeted by downvoters but from what i see, this is normal as teams get together and selectively pick on people to downvote. If you have not heard of LISTNERDS before, you can check out through the SPI team link, it takes less than 1 minute to sign up with the HIVE keychain. It's a very simple way to make good money by doing little work. Getting 1 email verified can earn you 150-200 HIVE worth of LISTNERDS tokens easy if you're wondering why is SPI interested.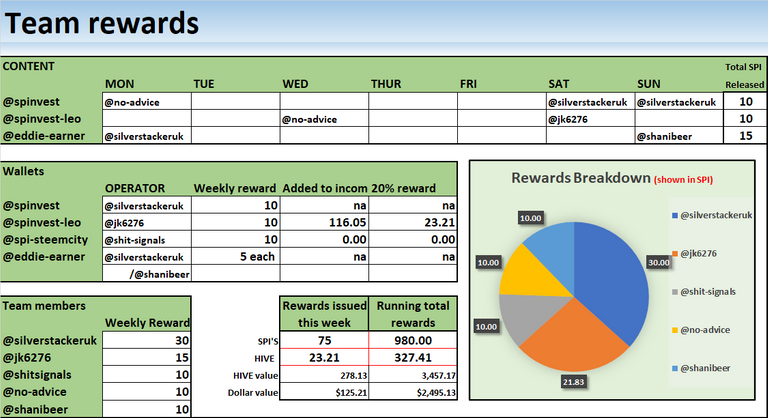 oUR hive wallet is doing ok, EDS has gave us a nice boast over the past week since the release of EDS mini miners tokens (only 1 HIVE each). Total HBD is at just under 6000 and im hoping when the price of HIVE is under 15 cents again, we can convert this is 32-35k HIVE but we're talking 12-18 months from now.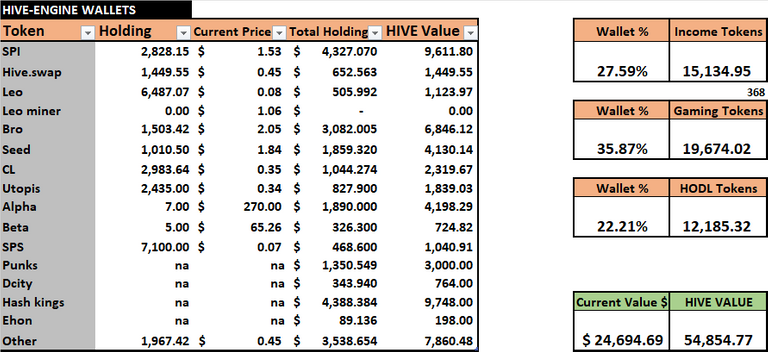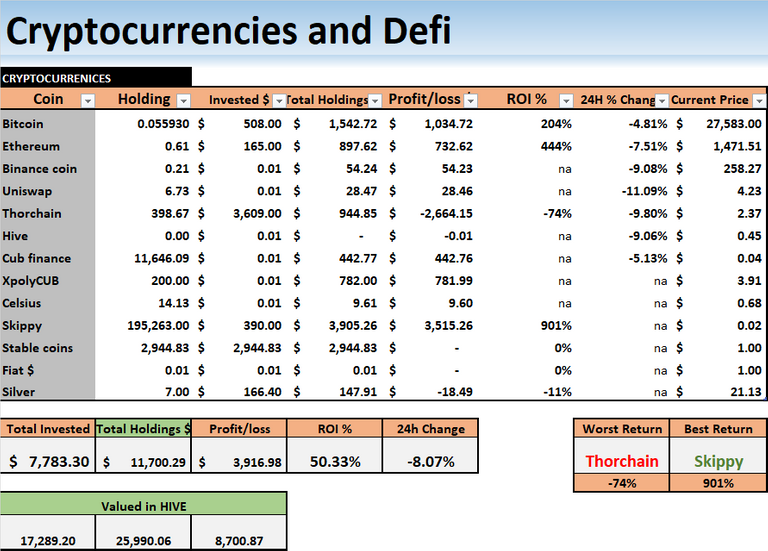 Not to much change with our crypto holdings, the market has been getting smashed so we roll with it. We added more stables tokens from EMP and have almost 3000 and it's nice to watch this pile up.
Defi holding are in the same boat, all smashed from the recent market downturn but this is no surprise and im sure whatever we are holding today will be worth less in a months time. No need to worry about this, all part of the market cycle, the hard part.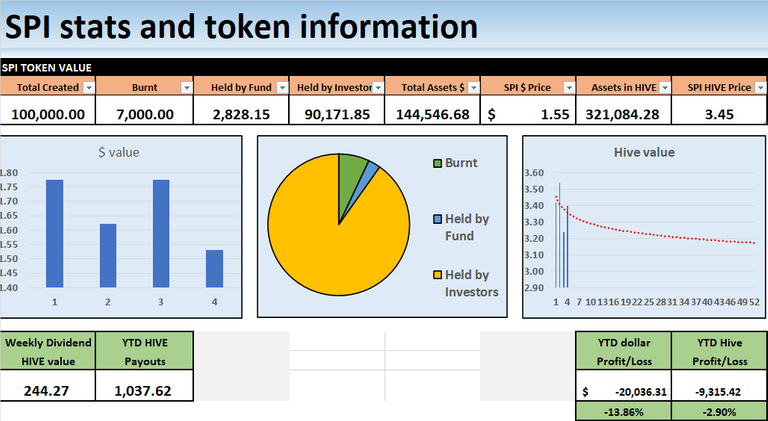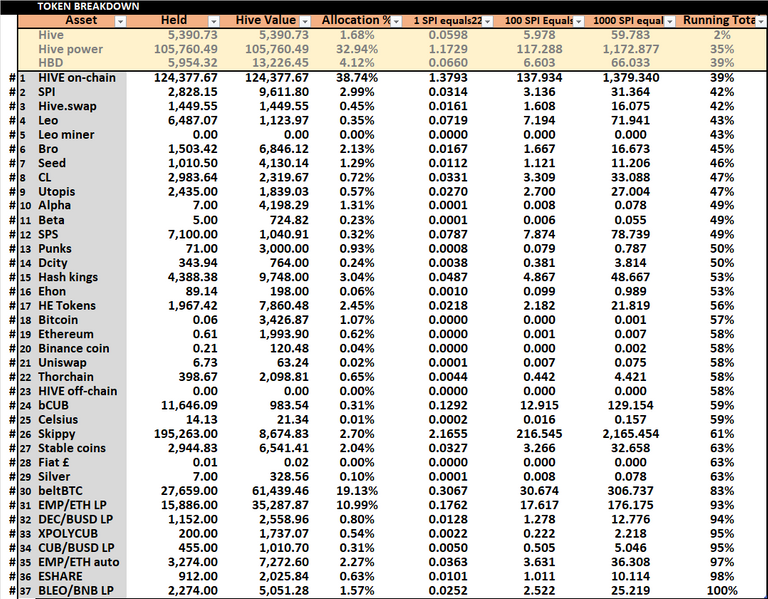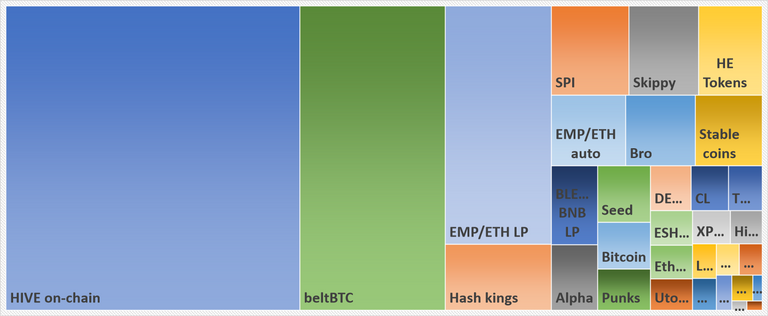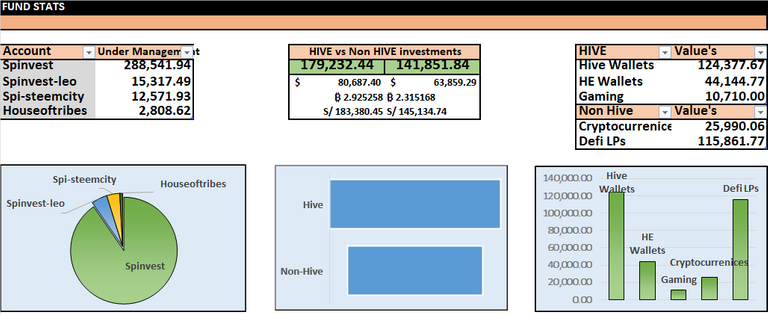 Nothing out of the blue this week, we struggle along as always increasing what we have even if the price is dropping. As predicted a few months back, the SPI HIVE price is starting to increase while the dollar value deceased. I know this might not mean anything to you now but in 2-3 years we're going to massive. We build all through he last bear market and topped out at near $500k this cycle, i have higher hopes for the next cycle.
I will be working hard with LISTNERDS for the next few weeks, promoting and building our team and of course trying to get as many email verified as i can. If you are not a member yet, please use the SPI team link. We are 5 strong now but i think we can do much better.
Have a great weekend everyone, divs will go out this evening.


Thank you for taking the time to read through this weeks SPI earnings and holding report. We post every Sunday to keep our investors up to date so please follow the account if you would like to track our progress.
---
---