Bayern Munchen Wins Der Klassiker Against Borussia Dortmund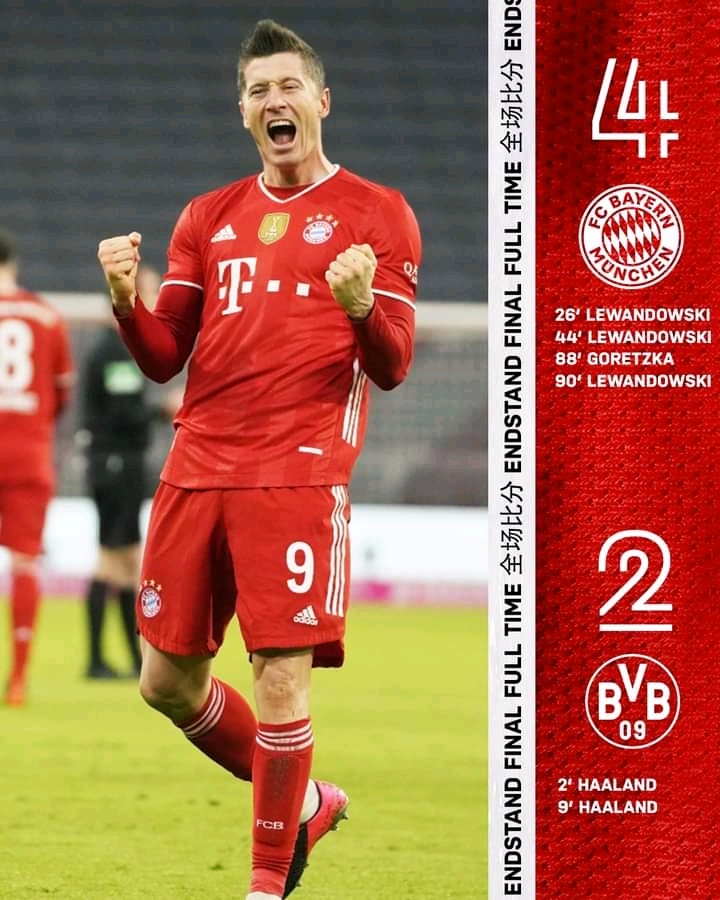 Bayern Munich successfully secured three points from Borussia Dortmund in the 24th week of the Bundesliga, Sunday (7/3/2021). The match titled Der Klassiker was held at the Allianz Arena Stadium and ended with a 4-2 victory for The Bavarians.
First Round
Unexpectedly, Dortmund immediately opened up the advantage two minutes into the game. Erling Haaland broke into Manuel Neuer with a hard shot from outside the penalty box after receiving feedback from Thomas Delaney.
After conceding, Munich launched an attack to create a goal back. But again they conceded again in the 9th minute. Erling Haaland beat Neuer for the second time after using a pass from Thorgan Hazard. Score became 2-0 for Dortmund excellence.
Conceded two goals, making Bayern Munich launch an all-out attack. After several attempts they failed to produce a goal, Lewandowski was finally able to reduce the position to 1-2 in the 26th minute after using a pass from Leroy Sane.
Lewandowsk scored again from the penalty spot in the 46th minute. The referee awarded Munich a penalty after seeing a VAR replay as Kingsley Coman was brought down inside the penalty area. Lewandowski, who ran as the executor, did not waste the opportunity, he managed to take the penalty perfectly. Until the first half, no more goals were scored.
Second Round
Entering the second half, Dortmund almost scored through Thorgan Hazard. But unfortunately, Hazard's shot was off the Neuer goal. Lewandowski nearly scored his third goal of the match in the 63rd minute had his shot not bounced over Dortmund's goal.
The match looks like it will end in a draw, but disaster befalls Dortmund. Leon Goretzka managed to bring Munich back ahead in the 88th minute. The score was changed to 3-2 for the advantage of the old house.
Shortly after that, Lewandowski scored a hat trick in this match two minutes after Goretzka's goal. The score was 4-2 and Bayern Munich won Der Klassiker through a superb comeback.
This victory made Munich's position at the top of the standings safe from being pursued by RB Leipzig. In other matches, Leipzig also won a 3-0 victory over Freiburg. Munich is still at the top of the standings with a collection of 55 points, two points different from Leipzig who are in second place.
Bayern Munchen Menangi Der Klassiker Lawan Borussia Dortmund
Bayern Munchen sukses mengamankan tiga poin dari Borussia Dortmund dalam lanjutan Bundesliga pekan ke-24, Minggu (7/3/2021). Laga bertajuk Der Klassiker itu dilangsungkan di Allianz Arena Stadium dan berakhir dengan kemenangan The Bavarians 4-2.
Babak pertama
Tanpa diduga, Dortmund langsung membuka keunggulan dua menit berjalannya laga. Erling Haaland membobol gawang Manuel Neuer dengan tendangan kerasa kaki kirinya dari luar kotak penalti usai mendapat umpan dari Thomas Delaney.
Usai kebobolan, Munchen pun melancarkan serangan guna menciptakan gol balasan. Namun lagi-lagi mereka malah kembali kebobolan di menit ke-9. Erling Haaland kembali memperdaya Neuer untuk kedua kalinya usai memanfaatkan umpan dari Thorgan Hazard. Skor pun menjadi 2-0 untuk keunggulan Dortmund.
Kebobolan dua gol, membuat Bayern Munchen melancarkan serangan habis-habisan. Setalah beberapa upaya mereka gagal berbuah gol, akhirnya Lewandowski mampu memperkecil kedudukan menjadi 1-2 di menit ke-26 usai memanfaatkan umpan dari Leroy Sane.
Lewandowsk kembali mencetak gol lewat titik putih pada menit ke-46. Wasit menghadiahkan penalti untuk Munchen setelah melihat tayangan ulang VAR dikarenakan Kingsley Coman dijatuhkan didalam kotak penalti. Lewandowski yang maju sebagai eksekutor tidak menyia-nyiakan peluang, dia berhasil mengeksekusi penalti dengan sempurna. Hingga babak pertama usai tidak ada lagi gol tercipta.
Babak kedua
Memasuki babak kedua, Dortmund hampir saja mencetak gol melalui Thorgan Hazard. Namun sayang, tendangan Hazard melenceng dari gawang Neuer. Lewandowski hampir saja mencetak gol ketiganya di laga ini pada menit ke-63 andai saja tendangannya tidak melenceng dari atas gawang Dortmund.
Laga sepertinya akan berakhir seri, namun petaka terjadi untuk Dortmund. Leon Goretzka berhasil membawa Munchen berbalik unggul di menit ke-88. Kedudukan pun berubah menjadi 3-2 untuk keunggulan tua rumah.
Tak lama sesudah itu, Lewandowski mencetak hattrick di laga ini dua menit setelah gol Goretzka. Skor pun menjadi 4-2 dan Bayern Munchen keluar sebagai pemenang Der Klassiker lewat comeback luar biasa.
Kemenangan ini membuat posisi Munchen di puncak klasemen aman dari kejaran RB Leipzig. Pada laga yang lain,Leipzig juga meraih kemenangan 3-0 atas Freiburg. Munchen masih di puncak klasemen sementara dengan koleksi 55 poin, selisih dua poin dari Leipzig yang berada di peringkat kedua.
---
---